Christmas is one of the happiest times of the year. It doesn't have to just be stressful for you and fun for the kids. Have fun with these 12 Romantic Days of Christmas and give your love life a whirl this holiday season!
12 Romantic Days of Christmas
Christmas brings a lot of joy to everyone. Having the family together, opening presents, and carrying out family traditions all add to the joy that comes with the holiday season.
The thing we tend to forget as the holidays get near is all the stress that tends to come with it. We worry about getting gifts to our neighbors, about getting rooms ready for the family to visit, and of course, about getting all of our Christmas shopping done and within the budget.
All the chaos and stress tends to get in the way of our romantic relationships with our spouse. This year, you don't have to let that happen. Follow these 12 Romantic Days of Christmas and feel the love in all sorts of ways this Christmas season!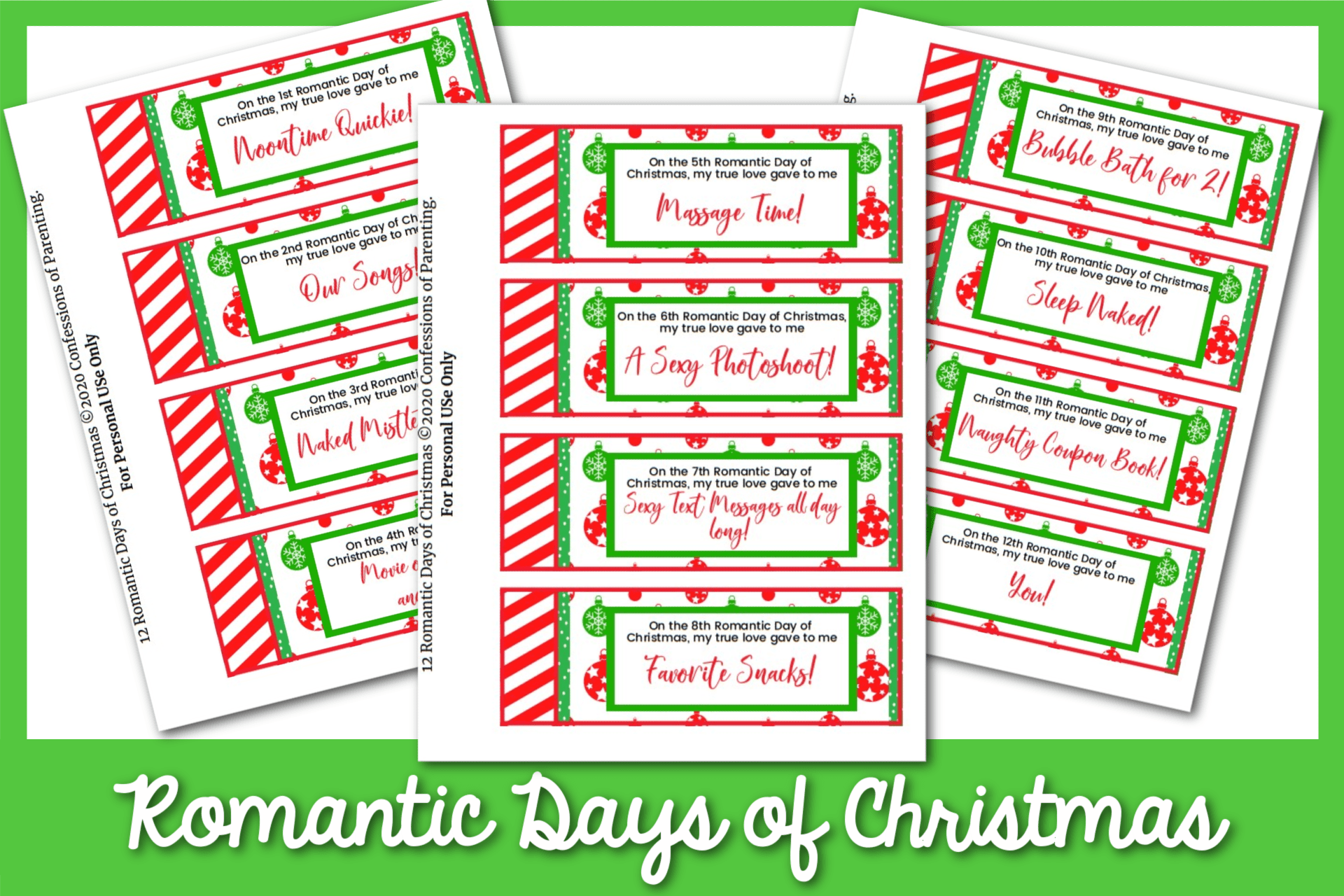 For more ways to connect to your Husband, try these!
The 12 Romantic Days of Christmas
Day 1
On the first romantic day of Christmas reconnect on an intimate level and meet up for a daytime "quickie!"
Trust me, our spouse will love it when you send a sexy text message telling them to come home for lunch!
Day 2
Make a playlist of all "your songs" from the years you've been together on Spotify, Apple Music, or on YouTube and share it with him.
You can write a letter explaining why each song is meaningful or you could listen to the playlist together and explain the songs as they happen.
Day 3
On day 3 of the romantic days of Christmas go ahead and get some mistletoe and hang it in your bedroom. Once the kids are asleep tell your spouse to meet you under the mistletoe naked and see where the night takes you!
Day 4
Watch HIS favorite movie and make his favorite Christmas treat to snack on. If you're at a loss for snacks, you could try making these yummy Eggnog Cookies or even some fantasy fudge and fulfill his other fantasies! WINK WINK!
Day 5
Give him a 10 min foot rub or back massage. You can make this experience even more fun by getting a nice massage oil. You could get relaxing massage oil or sensual massage oil.
Day 6
On the 6th romantic day of Christmas give him a Christmas card he will never forget!
That's right, go ahead and give him a Christmas card that let him know to put on something sexy and meet you for the sexiest photoshoot he will ever take part in!
Day 7
Once the 7th romantic day of Christmas go ahead and text your spouse every 30minutes during the day. Each time you text him, tell him something you love about him and an example of a time he showed it. You could also have some fun with this one if you're feeling a little crazy. Check out 50 Sexy Text Your Husband Wants You To Send for some ideas!
Day 8
On day 8 go ahead and make a basket of his favorite snacks or drinks and have it delivered to him at work! You could deliver it yourself, or leave it with a co-worker to put on his desk for a fun surprise!
Day 9
On the 9th romantic day of Christmas take a bubble bath or shower together after the kids go to bed. If you choose to do a bath together, try using one of these fun and sexy bath bombs. Who knows where this romantic bath will lead too!
Day 10
It's only a few days before Christmas don't let the romance end now! Tonight go ahead and sleep naked together and cuddle all night long. Your husband is guaranteed to love this night!
Day 11
We are nearing the end of the romantic 12 days of Christmas, but the romance doesn't have to end! Go ahead and give him a naughty coupon book and where the spice up your marriage can last all year long!
Day 12
On the final day of the 12 Romantic Days of Christmas, give him the best gift of all, YOU! That's right! Go ahead and wrap yourself up with a beautiful bow and wait for him to unwrap you!
It is the perfect ending to the best romantic days of Christmas!
You can guarantee that your spouse will love these ideas and you will begging for you to do the romantic days of Christmas all year long!
Be sure to download these free 12 Romantic Days of Christmas Coupons to help celebrate the 12 days of Christmas with your spouse!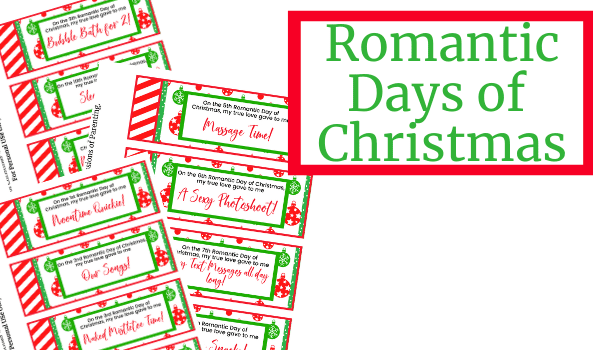 More Christmas activities, Check these out!