Your family will have so much fun as you celebrate April with this printable April Bucket list, full of inexpensive family fun ideas!
Celebrate April
April is at the center of springtime and can be so much fun!
The rain showers are starting to lead to blooming flowers. Kids are getting ready to enjoy every sunny day. The Easter holiday means extra family fun, and the world around you is starting to look extra beautiful.
If you are looking for some ideas of ways to get your full enjoyment out of this springtime month, make sure you download our free April Bucket List printable with all these fun ideas to mark off your bucket list!
April Bucket List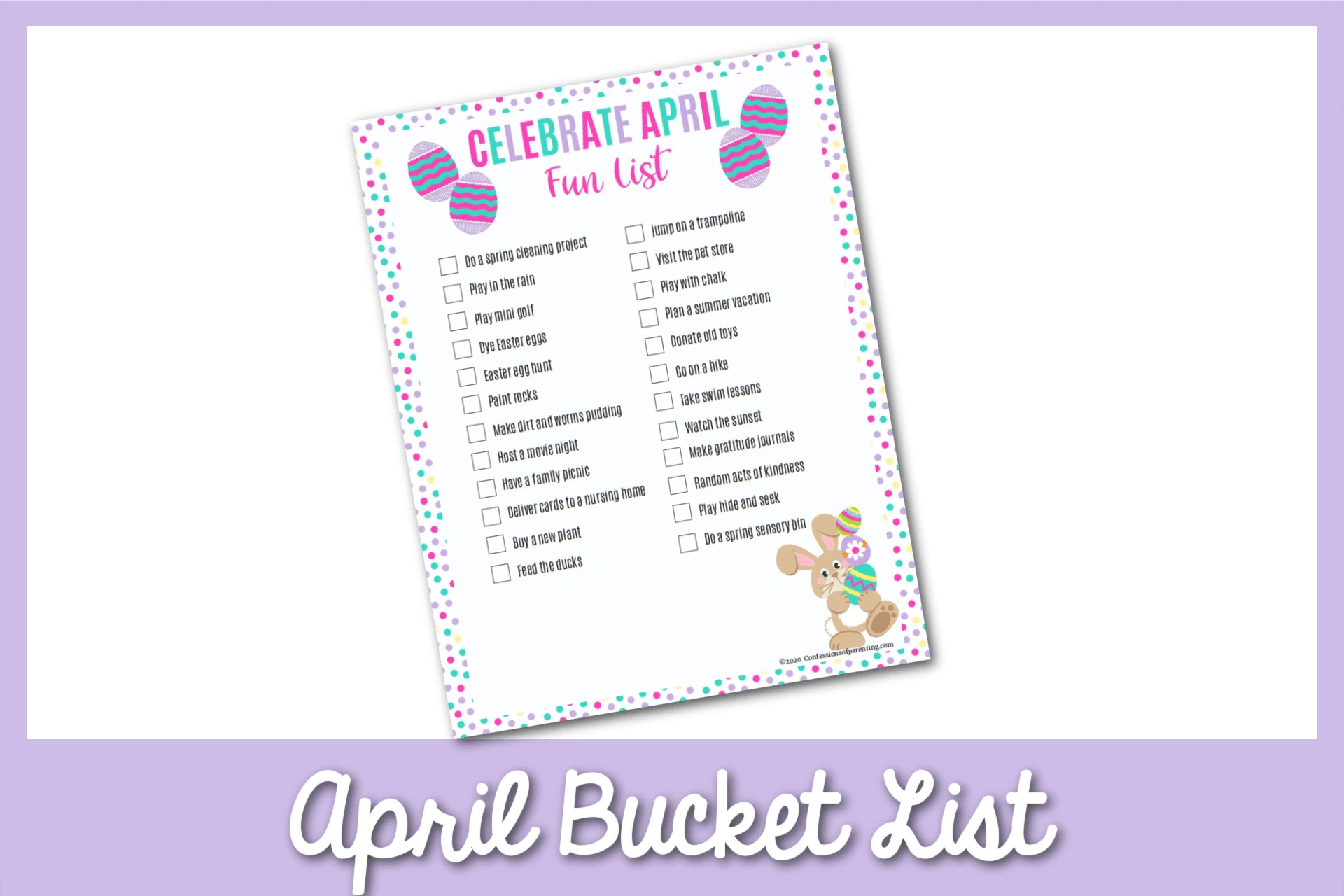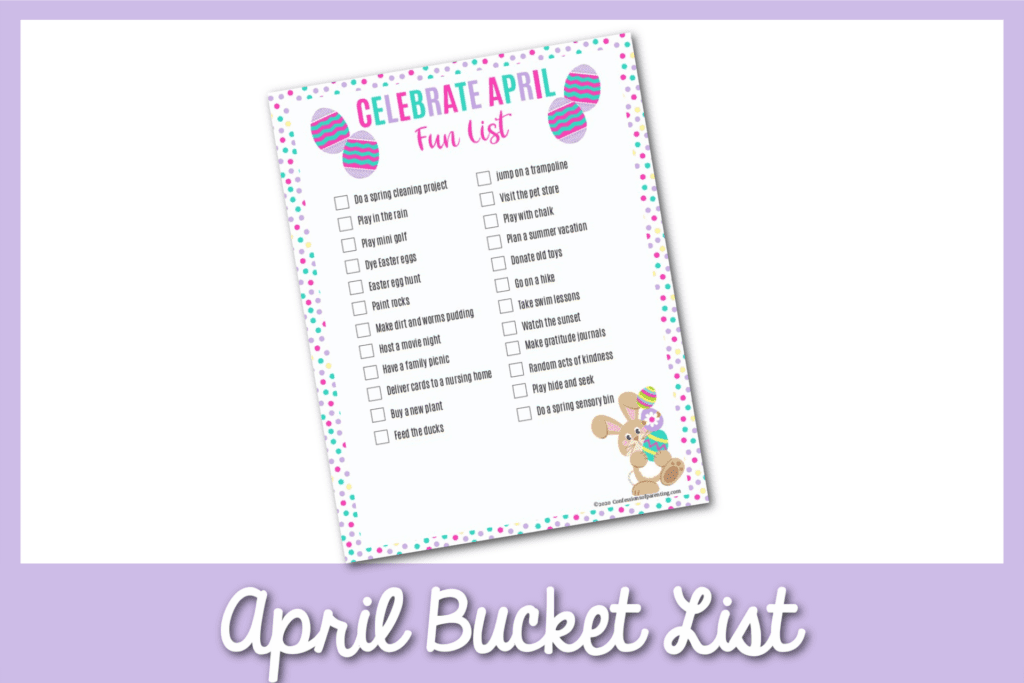 Do a spring Cleaning Project
Your April bucket list is about having fun, but sometimes you have to do some jobs, so this month tackle one of those projects you have been putting off forever.
Get together as a family and decide what project you are going to do. If you want your kids to be excited about helping make sure they are in on the choice!
They may look forward to making room for new toys, cleaning up their space in the garage, or getting a room ready to paint a new color.
Play in the Rain
Playing in the rain is a classic way to celebrate April! Put on those rain boots and go outside and enjoy!
Rain and muddy shoes may not seem like your first choice, but every once in a while it can be so much fun. Plus it's a great sensory activity for your little ones!
Let loose and spend some quality time making mud pies and splashing in puddles!
Play mini-golf
Have a fun game of mini-golf before it gets too hot outside to enjoy the day!
Many local mini-golf courses have family days so check out their websites to see if you can find any sweet deals.
Your kids will love golfing with you, and the memories will last a lifetime!
Dye Easter Eggs
Easter season means fun egg activities. Make sure you remember to do the classic egg-dying activity with your family.
If you're worried about the mess, look online for kid-friendly ideas. There are so many new innovative ways for your family to decorate some eggs that will make less of a mess.
Easter Egg Hunt
Another fun must do April bucket list activity is to have an Easter egg hunt!
Go the traditional route and put a treat inside the eggs and hide them all around the house. Or fill your eggs with non-food fun toys that the kids can play with!
You could even make this a repeated activity and put slips of paper inside the eggs with activity ideas like hopping like a bunny, jumping jacks, etc.
If you have older kids, try to fill the eggs with loose change rather than candy… our kids love this!
Paint rocks
Have you painted rocks before with your kids? It can be so much fun!
Grab some kid-friendly rock painting paint and gather some rocks. You can search together in your yard or pick some out at the local hardware store.
Paint your favorite things, self-portraits, or whatever you want. Pick a place to showcase them in your yard or garden.
Make dirt and worm pudding
What kid (or adult!) doesn't love eating dirt and worm pudding?
On a rainy day, stay inside and make some simple chocolate pudding, crush some Oreos, and grab some gummy worms and whipped cream.
If your kids are old enough, have them assemble their little gardens before you enjoy them together as a special treat.
Host a movie night
There's never a wrong time for a movie night. Grab your blankets and pillows and gather together to watch a family favorite movie.
Watch as a family or invite a few friends over to watch with you.
Make it extra special by making popcorn, cookies, or another treat to enjoy while you watch.
Have a family picnic
On one of those lovely breezy sunshine-filled days, celebrate April by having a family picnic outside or at a local park.
Make a special lunch together and grab your favorite outdoor blanket.
Don't forget to bring a frisbee or another outdoor toy to play after everyone finishes their meal!
Deliver cards to a nursing home
We love adding some service items to our April bucket list and one way we do this is by spreading a little springtime joy around your community!
Make cards together as a family and decide on a local elderly or nursing home that you can bring them to.
Most nursing homes welcome families to come and visit because their residents love playing with your little ones!
Buy a new plant
Add a new plant to your collection or get your first one. April is a great month to plant a flower or start a little garden.
If you don't know much about plants get a book at the library and decide as a family what you want and how you will take care of it.
Taking care of a plant is a great task for one of your little helpers!
Feed the ducks
Feeding ducks is another great April bucket list activity if you have little ones! See if you can find a local lake or pond where ducks like to hang out.
Do some research first about what ducks can safely eat, and then go have fun as they gobble up the food you are sharing with them!
Jump on a trampoline
Parents forget sometimes how much fun it can be to jump on a trampoline! Don't be afraid to get involved with this activity.
If you don't have a trampoline, visit a friend who does or check out a local trampoline park! Most communities have one and often they have family deals or special days to go jump together.
Celebrate April by jumping together and trying new tricks!
Visit the pet store
Even if you are not planning on getting a new pet any time soon, you can still go to your local pet shop for a fun trip.
Visiting the pet store is an easy way to learn about animals and get to see some cute fun friends!
Play with chalk
Use a sunny day as a chance to play with some fun sidewalk chalk!
Make a game like hopscotch or a maze, play Pictionary, or just doodle whatever you'd like.
If you don't have space at your home for chalk, bring it to a park!
Plan a summer vacation
If your family dreads these rainy times of the year, the best way to celebrate April may be to start planning for the sunny days ahead!
Get together and brainstorm what a perfect summer vacation would be. See what your kids look forward to doing and what you could reasonably do this summer as a family.
Donate old toys
If you have done some spring cleaning, April will be the perfect time to get rid of some old toys.
Check with younger families in your church, school, or friend groups and see who could use them. If no one wants them, take them to a local donation center.
If your kids struggle getting rid of toys read up on some tips on how to teach your kids to get rid of toys!
Go on a hike
April may just be the perfect month to go hiking. In most places, it is starting to warm up with some sunny days, but still be cool enough for a little outdoor exercise!
Pack a few snacks and some water and see what local trails you can try out. If you have little ones find a short hike with a park or something fun nearby!
Take swim lessons
Get your kids swim safe this April, by enrolling them in swim lessons.
Many local pools will offer swim lessons for all ages to get kids ready for some fun in the sun!
Especially if you plan on frequenting the pool or beach this summer, swim lessons are a great idea and you can get them out of the way early so when summer comes you are ready to go!
Watch a sunset
Celebrate April with a beautiful scene of the sun setting.
If you have little ones who may get impatient, talk about the sun and why it sets at night. You could even bring a sun-themes coloring page or activity.
Sit on your porch or somewhere you can see the sun and get ready for some serious beauty.
Make gratitude journals
There's no wrong time to teach your kids about gratitude.
Make your own journals where you can list off or draw pictures of things that you are grateful for. This is a great family activity and especially good for uplifting everyone's moods.
Do a random acts of kindness every day
Do a random act of kindness every day this month! Make it a competition if your kids like that, or just do it for fun!
Try to do as many acts of kindness you can inside and outside of the home. At the end of the month talk about all the fun things you were able to do to help each other or your friends and neighbors.
Play hide-and-seek
Play hide and seek. If it's warm enough play outside, or stay inside and play in a safe space.
Take turns finding each other and having so much fun doing it!
Make a spring sensory bin
Sensory bins are so helpful for kids' motor skills, sensory minds, and occupying them while parents get things done!
Use rice if you have little ones, or try water beads for older kids. Add in a few rainbows, eggs, or other spring-themed toys to scoop and play with in their bin.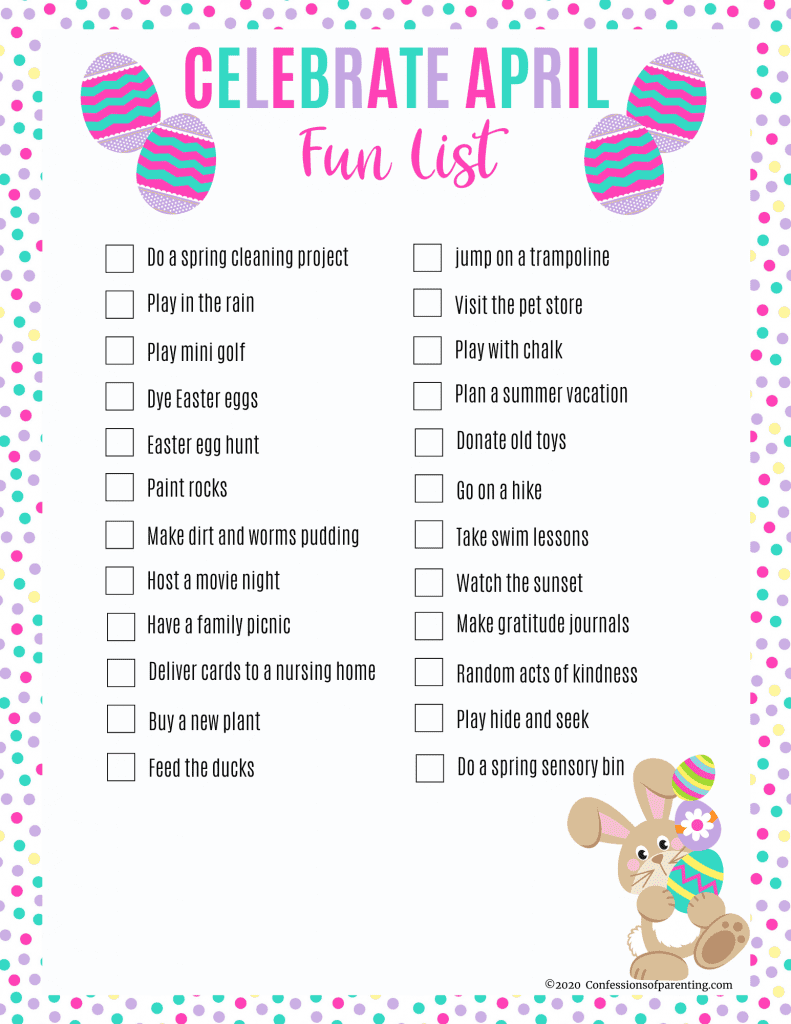 There you have it! Some great ways to Celebrate April with your family! What would you add to your April Bucket List? Share in the comments!
Looking for other ways to Celebrate all Year Long? Check out these posts!
Don't forget to save this Celebrate April Family Fun List on Pinterest so you can find it easily each April!