Make the most of your summer with these ideas to help your family Celebrate August! You don't want to leave any of these things off your August bucket list!
Celebrate August
It's the hottest month of the year and for most families, it's the last month of summer vacation! Time to make the most of the last bit of summer.
You don't have to spend a lot of money or time creating special memories for your family. Just try one of these simple activities that bring everyone together.
Soak up the sun with these august bucket list ideas that will help you and your family celebrate the month of August!
August Bucket List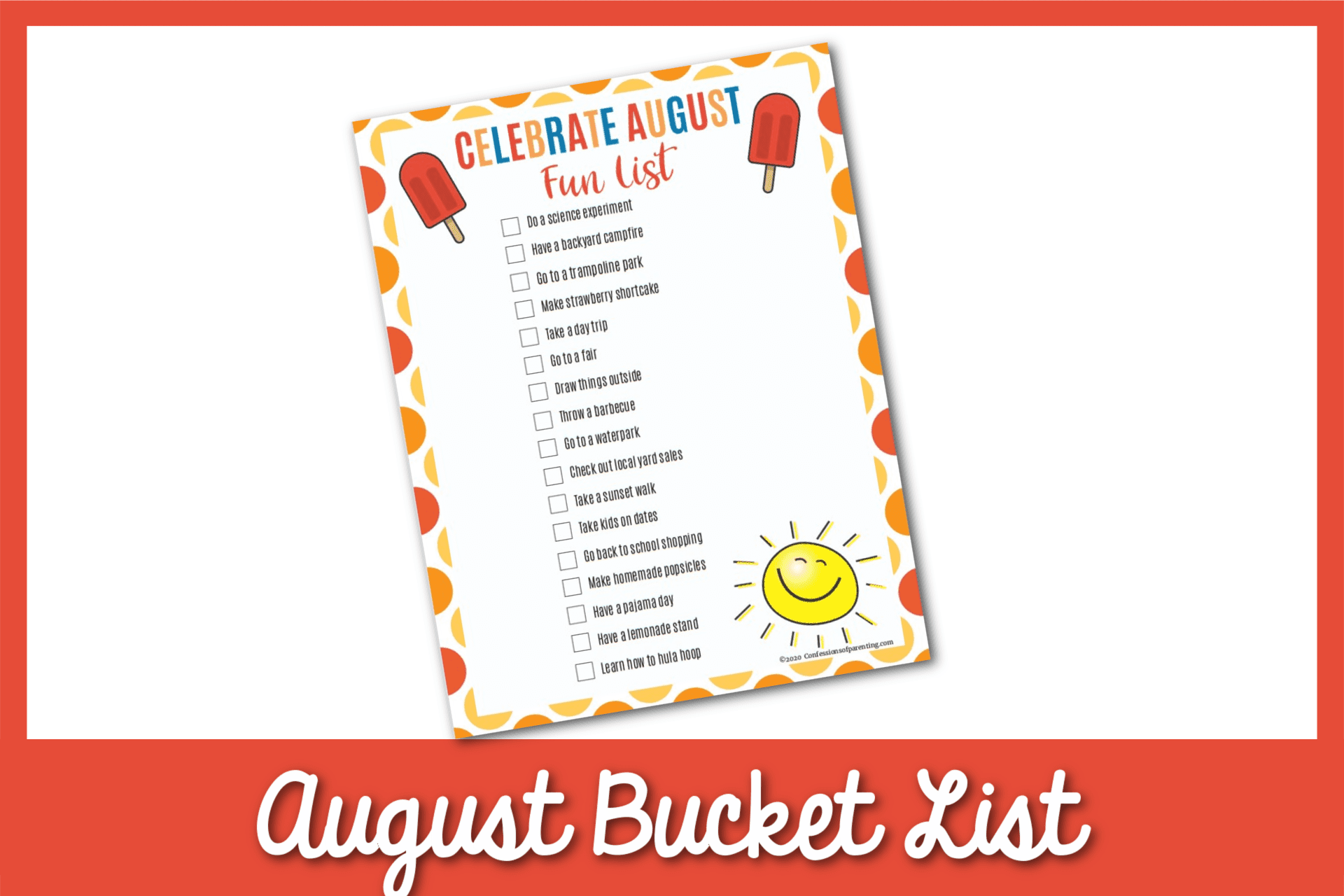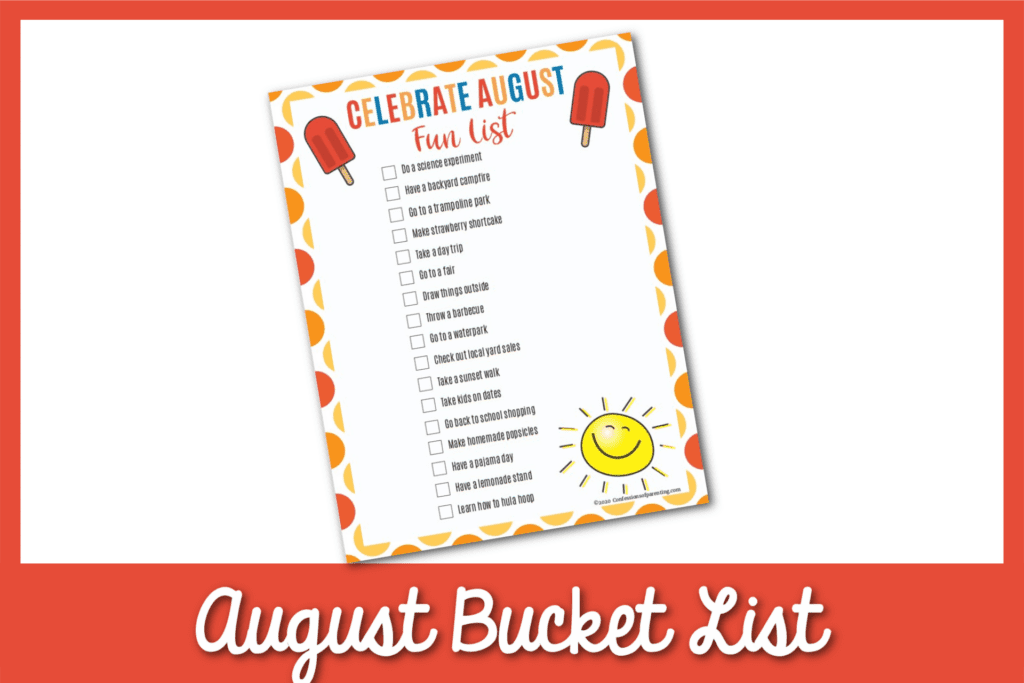 Do a science experiment
Get the kids excited about going back to school with a fun science experiment that you do as a family.
If your kids are old enough you could have them choose what experiment that they want to do.
Science experiments can be a lot of fun and some of them take barely any supplies or preparation. Find one that your family will love and try it out.
Have a backyard campfire
Use a fire pit if you have one or hang out with some friends that have one!
Roast hot dogs, make s'mores, or tell campfire stories together as a family. If you don't want to fuss with an actual fire pit, you could make some campfire treats in your kitchen and sit outside and enjoy them together.
Go to a trampoline park
Trampoline parks are like heaven to kids! They are so much fun and could be a great special activity for an August bucket list.
August is a great time for a trampoline park because the kids are still out of school and you can take the whole family! Don't be afraid to jump in there too!
Play soccer
Grab a ball and play some soccer together! It's an easy game to teach to your kids if they haven't played before so it's a good family sport.
Find a field or play in your yard if you have the space. If you have enough family members you could team up and play against each other.
Make strawberry shortcake
Strawberry shortcake is a great summer treat and strawberries are in season so you could even go pick them together before enjoying this treat!
It's also really easy to make so even your little ones could get hands-on and help put together this dessert.
It's delicious and a great family activity!
Do a puppet show
Make your own puppets out of paper bags, socks, or whatever you have laying around. Get everyone involved as you decorate the puppets and come up with a fun story.
This is a great activity to build creativity and it gives everyone a chance to be a little silly!
Record the puppet show and preserve those fun memories.
Take a day trip
Take a special trip and visit a nearby town that you've never been to before!
Do some research and see what there is to do, see, and eat in town and be tourists for the day. Summer trips don't have to be far away!
Go to a fair
Many towns and states have fair around this time of year. Check out your community and see what fun fairs that you can visit!
If there's a fair in town, you won't want to miss it! Petting zoos, street food, rides, and concerts are all things that you and your family could do at the fair.
Add some fun and memories to your August bucket list.
Draw things outside
This is a great activity that takes almost no preparation so you could do it anytime!
Sit outside or go to a local park and pick something to draw! You could decide as a family on something to draw and see all the interpretations, or you could each individually pick something!
If you have older kids and want to make this more special, you could use paint and you could all try painting something that you see outside!
Go to the movies
Celebrate August by going to the movies! It's summertime which means that the family can go to a cheap morning movie together!
See what movies are in the theatre and pick one that the whole family would like. Spoil yourselves with some popcorn and snacks and enjoy!
Throw a barbecue
Invite some friends over and have a barbeque!
Your family could decide to throw an end of summer party, or just have a barbeque for fun! Ask your friends to bring some food or supplies to help out and get ready to have some fun.
It's always nice to have an excuse to have some company over that you can spend the afternoon with!
Go to a waterpark
Beat the heat with an exciting day at your local waterpark. Grab the sunscreen, towels, and your favorite swimsuits and get ready for a family fun day.
If you have little ones who may not be able to enjoy this, consider getting a babysitter! It'll help you relax and have fun with your older kids.
Pack a lunch if they allow it and have a nice picnic at the park so you can play all day!
Check out local yard sales
Yard sales can be lots of fun if you make it a family activity.
Consider giving each member a budget, even if it's tiny, so that everyone can choose something fun to enjoy. Sometimes you can luck out with some great stuff at these sales!
Finish the day off with some ice cream or frozen yogurt for the perfect august bucket list item.
Take a sunset walk
When is the last time your whole family slowed down and went for a nice walk together? August's lovely warm evenings will make for the perfect time to do a sunset walk!
Walk around your neighborhood if there are sidewalks, or drive to your favorite walking trail. Taking a walk is refreshing and allows time for some good conversation.
Take kids on dates
Before the hustle and bustle of the school year begins, take the opportunity to spend some quality time with each of your kids.
If you have more than one child, it's probably rare that they each get some special time with some mom or dad. Having siblings means lots of sharing!
Show them you care with a simple mom date or dad date. Even something as simple as a park date will be treasured by you and your child!
Go back to school shopping
Ready or not! The school year is almost here and it's time to start preparing.
Help your kids get ready with all their supplies, including some fun new clothes if they've grown over the summer!
Don't forget mom supplies too! Get yourself a new planner, some lunch boxes, or anything else to help with this busy time!
Make homemade popsicles
Celebrate August with some yummy homemade popsicles! Popsicles are always a family favorite, but especially when you make them yourselves.
Not only is it a fun family activity to put them together and watch them freeze, but it's also healthier than most standard popsicles!
Have a pajama day
Spend the whole day in your pajamas and have a full-on family pajama day!
Life is too busy sometimes. Have a good relaxing day at home while you bake cookies, watch movies, read, play games, or whatever your family likes to do to relax.
Who doesn't love being in comfy pajamas?
Learn how to hula hoop
Hula hooping is way harder than it looks, especially when you are an adult!
Be a little silly and grab some cheap hula hoops to see who in your family can master it. See who can come up with the most creative trick.
Have a lemonade stand
Why not? Lemonade stands are so much fun! Grab a table and have the family color a sign to put on the table.
If the kids are older they could do a bit of math to see what a good price is and how much lemonade ingredients they will need.
Keep in mind that not as many people stop for these things in today's busy times, so it may be a good idea to send the word out through text or social media.
Have a kids choice day
Are you brave enough to let your kids make all the decisions for the day? Try a kids' choice day!
It's exactly how it sounds… say yes to everything reasonable thing your kids say and see where the day takes you!
Candy for breakfast? Sure! Go to a favorite park. Absolutely. Don't be nervous! It'll be fun and worth the memories.
Have a water fight
Grab your water guns, water balloons, or just some buckets and cups and get ready to have an awesome end of summer water fight.
Water fights don't take much planning so you can do this activity just about any time.
Just get outside on a hot August day and have fun soaking each other!
There you have it! Some great ways to Celebrate August with your family! What would you add to the list? Share in the comments!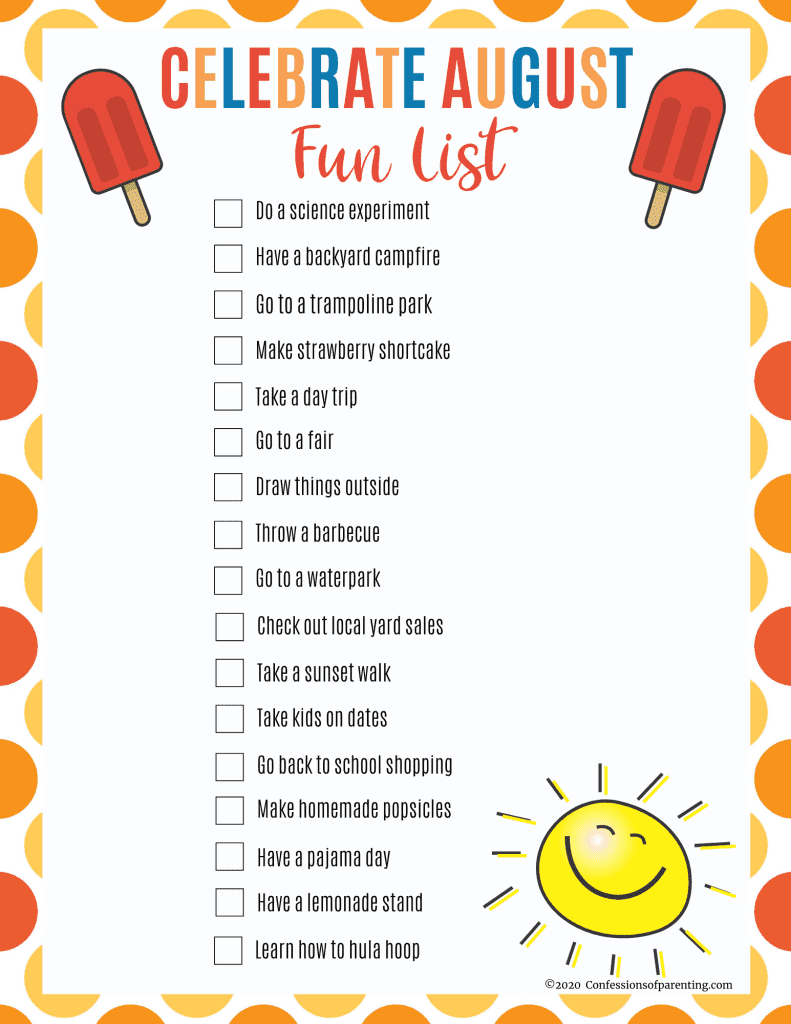 Looking for other ways to Celebrate all Year Long? Check out these posts!
We hope that you and your family enjoy these fun Celebrate August ideas! Be sure to share your experience in your stories on Instagram and tag us @confessions_of_parenting! We love seeing what you are up too!
Don't forget to save this Celebrate August Family Fun List on Pinterest so you can find it easily each August!