Start your baby on the right track with the right baby led weaning cup! Here are a few of the favorites that we recommend when it comes to baby led weaning.
The 10 Best Baby Led Weaning Cups
BLW isn't just about the solids. You want your baby to be successful with their drinks as well!
To help them out, make sure you use the best baby led weaning cups!

When to introduce baby weaning cups
You'll want to start including a cup in your baby led weaning process right about the time that you start with solid foods!
Even though your baby won't be having much to drink other than milk at 6-months they can still start learning the action of drinking.
So when you are ready to try BLW with food, try it with drinks too!
What your baby should drink from their baby weaning cups
Babies around 6-months are still focused on breast milk or formula. So your best bet is to try some of that milk in your favorite baby led weaning cup.
In addition to milk, babies can also have a small amount of water. Water can help regulate a baby's system, but you don't want to go overboard!
Most doctors suggest only 1-2 ounces per day at first, and then after a few months, you can add an extra ounce or two.
You can give your baby a tiny bit of juice, but most doctors will say to avoid it if you can. Avoid the extra sugar and go for real fruit and veggies!
If you are unsure about the amounts of safety of any liquids, make sure you talk to your baby's pediatrician.
What kinds of baby led weaning cups are the best for your baby
When choosing your baby weaning cup there are a few things to consider.
First, remember that BLW is all about growth and development. Challenge your beliefs about what babies are capable of!
Traditional soft sippy cups meant to be a next-step after bottle may be less effective for BLW than a sippy cup with a harder spout, or a spout moved to the edge of the lid.
You also may want to consider options other than sippy cups that will assist them while learning but still push them to get to that big kid cup soon!
Here are 10 of our favorites: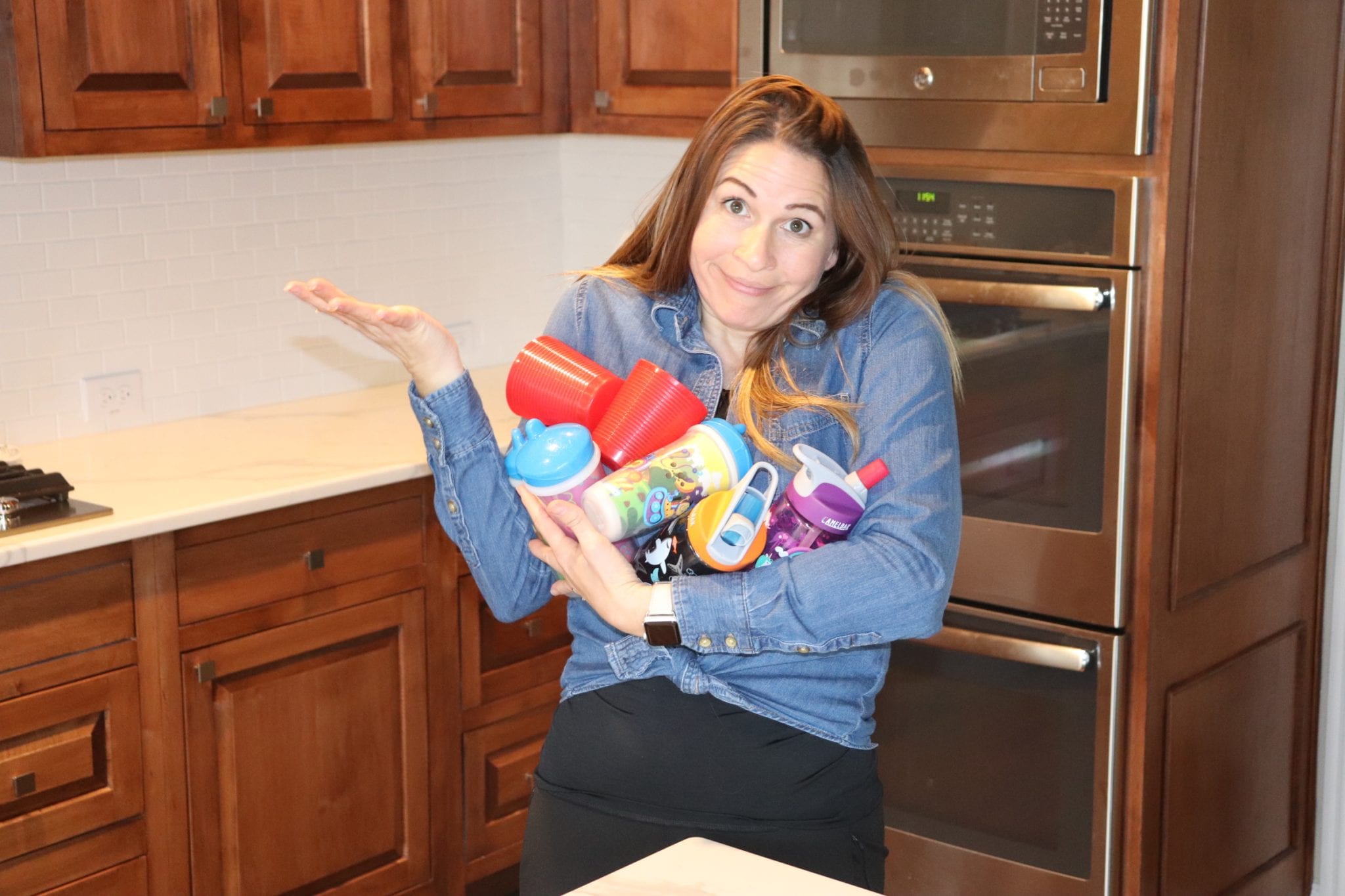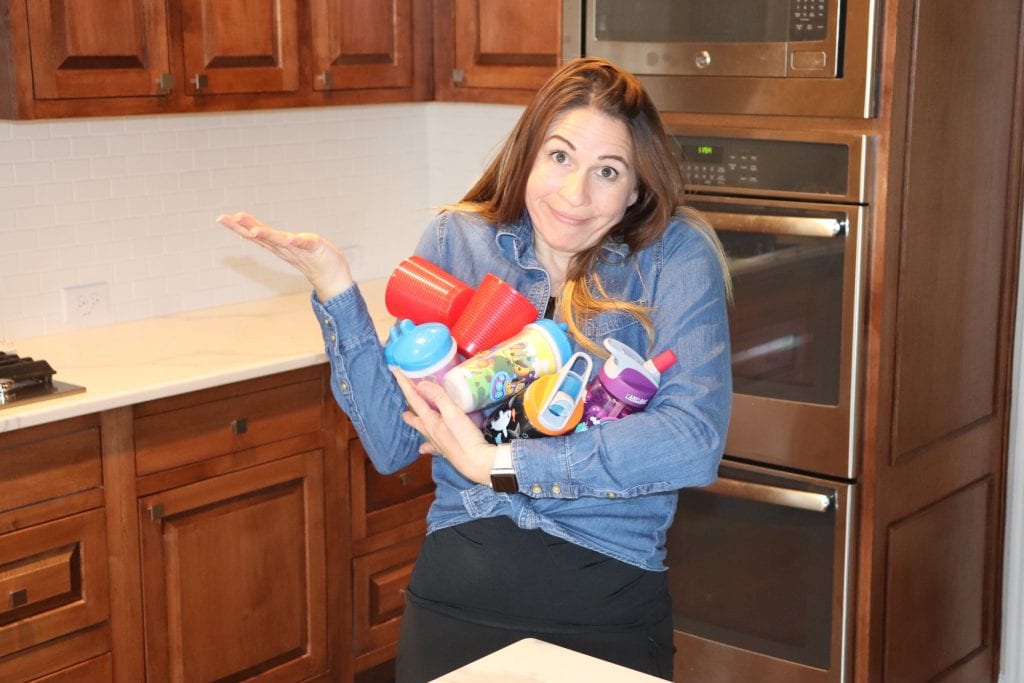 The 10 Best Baby Led Weaning Cups
~We are a participant in the Amazon Services LLC Associates Program. As an Amazon Associate, I earn from qualifying purchases.
Here they are! The 10 best baby weaning cups. Try any one of these for a good start to your baby's drinking journey!
This cute small sippy would be perfect for little hands.
These cups have handles to help with that drinking motion, and even though it has a soft spout it is on the edge of the lid which is more comparable to the usual drinking motion.
It also has a lid to prevent spills while traveling which is a huge bonus!
These are super unique and would be a great buy!
They come in multiple sizes, the spout is on the edge, and they have a travel cover to prevent spills.
The skinny design makes this a perfect baby led weaning cup and the stainless steel will keep your baby's drink at the perfect temperature.
These cups will be your BLW best friend!
The design of the cup is pretty brilliant. When the baby presses on any edge of the lid, it will open slightly and they can tip the drink into their mouth!
It replicates the motion of an adult drinking, but with a spill-proof lid that allows baby to be independent without mom or dad cleaning up spills!
Everyone grew up with some version of these cups, right?
These cups are definitely an old reliable option. These cups are really thin plastic, and they have texture on the outside that allows your baby to grab easily.
This specific cup uses straws instead of a spout which is an important skill to learn!
The great thing about these or similar options is that when your sweet young baby uses their new-found independence to throw them across the room, you won't be upset if they break. Super inexpensive and comes in a set!
These would be an especially good inexpensive option for a baby weaning cup to leave at grandma's house or bring on the go!
Just a regular cup!
Handing a cup over to your tiny wonder may make you a little nervous. This would be a great starter cup if you're apprehensive.
It's a good small size for little hands that will help your baby copy your drinking movements without any barriers.
If you aren't quite ready to hand over a cup to your little one, try this transitional option!
It's a regular cup, but it cups with a removable training lid to help avoid some of those bigger spills.
The lid is a simple tumbler style lid with a hole on one side that lets the drink come out. Your baby can test out the drinking movement in a slightly more spill-proof way!
These spill-proof baby led weaning cups would be a great addition.
This cup has a lid with a straw that can close so that it won't spill when not in use.
It also has removable handles which is a great feature for BLW! You can choose whether or not you want to use those handles with your little one.
Another great mini-sized cup for little learners is this Green Sprouts Learning Cup!
When looking for a baby led weaning cup you want one that will transition your child well to the action of drinking, this is a regular looking cup but it has handles on the sides!
Your baby will be able to pick up this cup with ease when they are testing out their drinking skills. Such a cool concept!
This is another great cup with a straw on top.
The lid slides over the straw so that it won't spill when you aren't using it, and it comes with grips on the side of the cup to help little hands grip easier.
Simple and reliable!
This is a great baby weaning cup option for when you are on the go.
It's a standard kids water bottle with a straw and would be great for BLW. It has a lot of cute fun patterns to choose from and it's a great size so it could fit a lot inside of it.
It seals up tight so it won't spill in your bag, and it comes completely apart for easy cleaning in the dishwasher!
There you have it! 10 great baby led weaning cups to introduce your child too!
What is your favorite baby led weaning cup? Share in the comments!
There are more great articles in our baby led weaning series! Check out these BLW posts:
Be sure to share your experience in your stories on Instagram and tag us @confessions_of_parenting! We love seeing what you are up to!