Backpacks are essential for all people, especially for moms. They can carry everything of their child inside these bags. IF you are looking for the best backpack purse for moms, then here are some of the best options.
Overall Favorites!
Overall our favorite backpack Purse for moms: Lily Jade Caroline Diaper Bag
Best Bang for your buck: Nevenka Brand Women Bags Backpack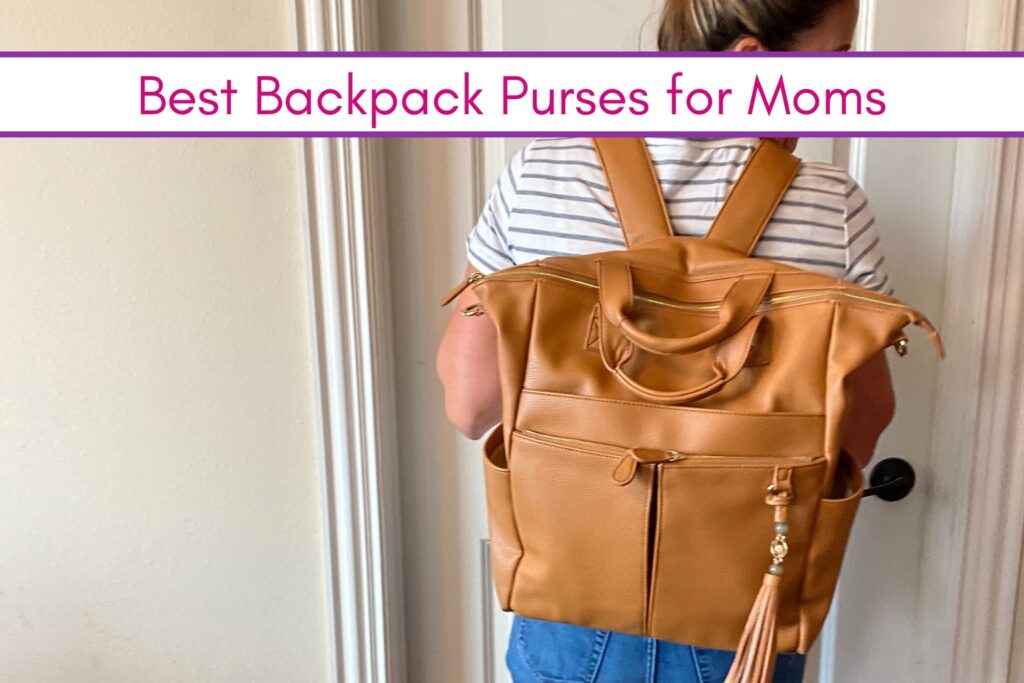 Looking for more must-haves for moms, check these out!
Toddler Diaper Bag Essentials
Must-Have Diaper Bag Essentials


This Skip Hop Greenwich backpack is made of durable leather and falls under the category of the luxury laidback purse. The color of the bag is earthen and it fits perfectly on the back. There are cushioned pads for convenience as well as five elastic interior slip pockets. One of the best backpack purses for moms.
If you are looking for one of th best purses / diaper bags that you don't mind paying a little bit extra for then you will want to grab the Lily Jade Caroline Diaper Bag. This bag is made from one of the highest quality leathers and looks amazing! I have had mine for over two years and it still looks brand new. It is perfect for a larger bag forr traveling with kids or an everyday bigger backpack purse for moms that you can easily carry all your stuff and your kids stuff. It is versatile too! You can swap this from a backpack to a bag you carry with handles in no time at all. Seriously my favorite mom bag of all time.
One of the best backpacks for moms. It is easy to use and affordable to buy. The backpack is water-resistant and has been manufactured for long-lasting. So many baby items can fit in this bag!
If you are looking for a colorful water-resistant purse, then this crossbody one is for you. The uniqueness of this bag is, this bag is equipped with an anti-theft RFID card. The zipper is smooth and easy to open or close. You can have this bag in eight different colors and the shape of this purse is also convenient to carry.
Are you looking for a backpack that can neatly organize all your belongings? Then Forma backpack diaper bag is ideal for you. It is made of mesh packing cubes and it is one of the bestsellers in the market. You will not only feel comfortable carrying this backpack but also will be happy to keep all the things inside it easily.
Blush Chromatics will offer you a huge range of colors to choose from. These versatile backpacks are equipped with multiple pockets. The microfiber fabric will keep your bag for the long run and it comes with a lifetime warranty from the company. This bag is completely washable in washing machines.
When you are searching for large-capacity bags, then this is the best backpack purse for moms. Surprisingly it has a total of 17 pockets and stroller clips as well. The special feature of this bag is its rubber feet at the bottom that keeps the purse straight. This vegan leather bag is every mom's choice.
The Landici leather bag is a great backpack purse for the everyday mom. It is very popular and made from leather only. With expanded space, this backpack is for daily use as well as longer trips. This is a multi-style diaper bag in one and it is a convertible also. The shape and size of the bag are ideal for women with multiple kids.
In terms of design and look, this backpack will get the highest marks. One of the most fashionable breast pump bags and is large enough for storage or even when traveling. It is manufactured keeping the size of all major breast pump brands like Avent, Medela, Evenflo, and Spectra in mind in the design.
If you are looking for a solid and superb backpack, then this is the best for you. With sophisticated design and foam padding, you can carry your child's milk, pumping accessories very easily. The compartments are organized neatly and the best part is, if you end up not loving the bag, the company will take it back without asking any questions.
From the name, you might think that this is only a breast pump bag, but this stylish bag is more than that. It is equipped with an innovative cooler and adjustable divider to keep all of your baby stuff. It comes in black color and water-resistant also.
This Kroser bag is made from PU leather and water-resistant also. The built-in USB port is the best feature in this bag. Multiple compartments are there to keep all your belongings very neat. It is durable and comfortable to carry also.
B&E Life Fashion Shoulder Bag is a favorite for women of all ages. This beautiful backpack purse has good-sized pockets and smooth zippers. The printed bags are a hit among women and the after-sales service of this company is very good. If you don't love this bag an unconditional return is arranged within 24 hours.
Want a mini diaper bag? Then this is the one for you. Go for this item which is durable as well as trendy. Available in four colors, these bags have multiple pockets and are easily washable by hand.
Midi backpack sketch is a rare backpack that has unique sketch graphics in the exterior part. This is trendy, stylish and there will be hardly any people who will not like this bag. You will love all the pockets that allow you to have space for you and your baby!
If you are planning to have a secured bag that will have anti-theft features, then the Travelon Heritage Tote bag is your best companion. It is equipped with an RFID system along with hidden pockets. The bag is easy to open and the inside space is enough to keep your belongings.
Good quality PU leather is the base of this backpack and its design is very good. It has an adjustable shoulder strap making it perfect to fit your body. There are 12 different colors available in this model and you will love the variety in colors.
Which backpack purse do you like the most? What are you looking for in a purse? Share in the comments!