Any new mom will love receiving one of these 25+ best books to give as baby shower gifts! These sweet books for baby shower gifts are sentimental, thoughtful, and will make any parent smile.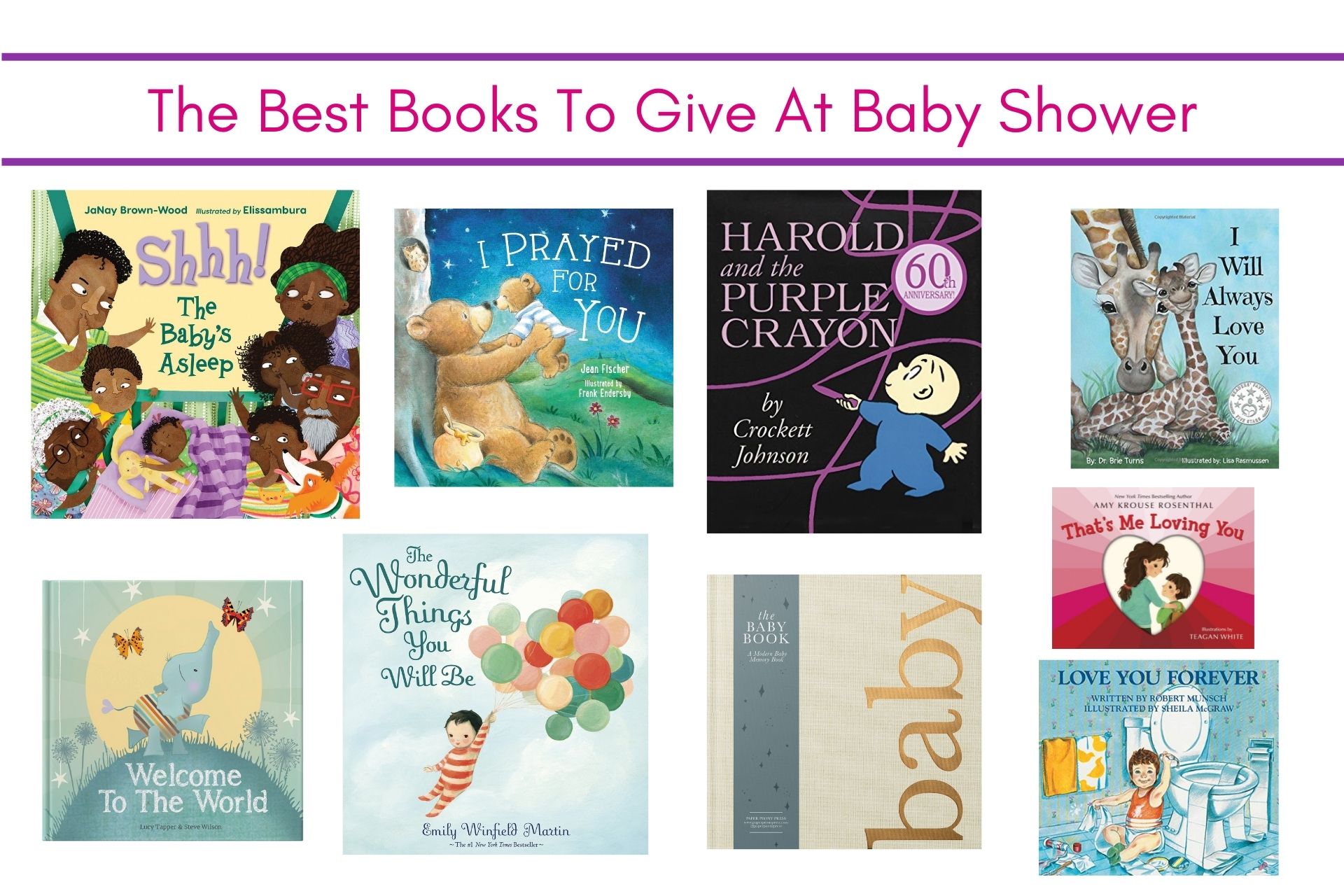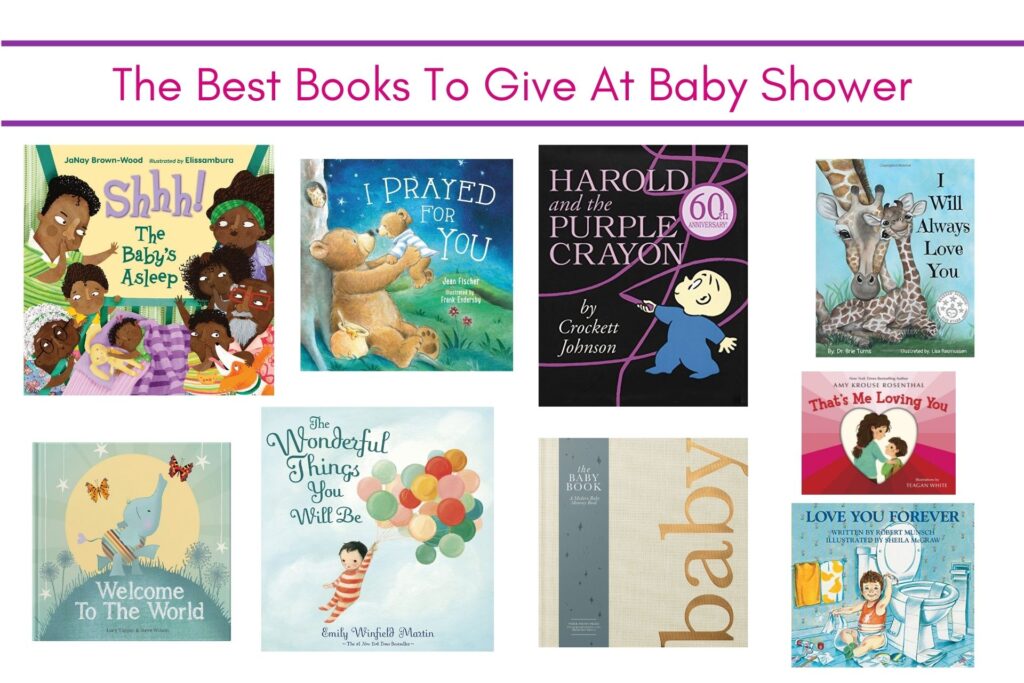 The Very Best Books For Baby Shower Gifts
Anytime I get invited to a baby shower, I spend so much time pushing my cart through the baby aisle or scrolling through Pinterest looking for the perfect gift baby shower gift. More often than not, I end up grabbing one of my favorite gifts… a book! And let me tell you, there are some great books for baby shower gifts!
Reading is one of my favorite parts of motherhood. It's such a happy time in my home! I've definitely built up a collection of books, filled with books for 2-Year-Olds, The 20+ Best Dinosaur Books For Preschool, and more!
In my opinion, you can never have too many children's books in your home. So from a brand new mom to a seasoned professional, you know a book will be a well-received gift.
You won't have to search, either, because I've got a list right here of the best books to give as baby shower gifts!
Why Parents Love Books for Baby Shower
Let me tell you why books for baby shower gifts are my go-to. First of all, like I said before, you can get overloaded with onesies and pacifiers as a new mom, but you'll never ever have too many books to choose from!
Books can also carry such sweet messages. Many of the books on this list of the best books to give as baby shower gifts are about motherhood, the bond between mother and child, and more. These are books that will touch a mom's heart every time they read it to their little one!
Other books can be such a lifesaver, like books that teach parents the important things to know about parenting, or books that help preserve memories.
And a bonus for the gift-giver, giving books for baby shower gifts is so easy. They are easy to find, easy to pick, and easy to wrap!
The 25+ Best Books For Baby Shower Gifts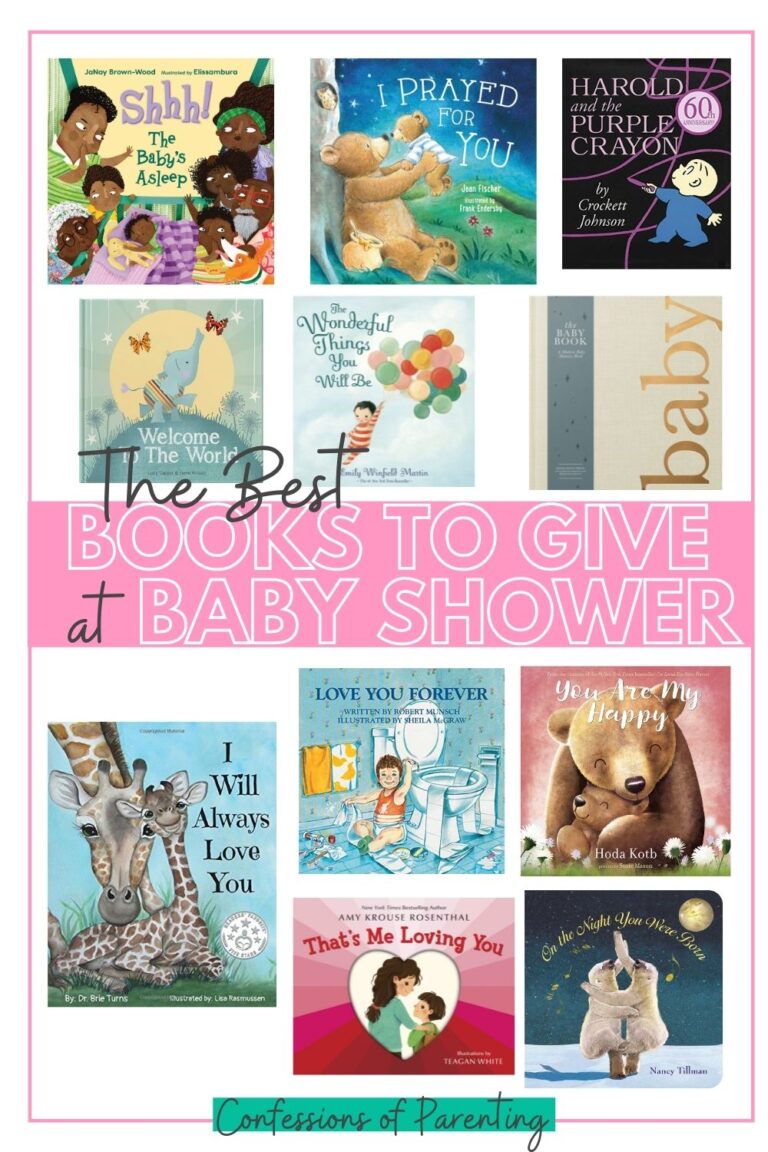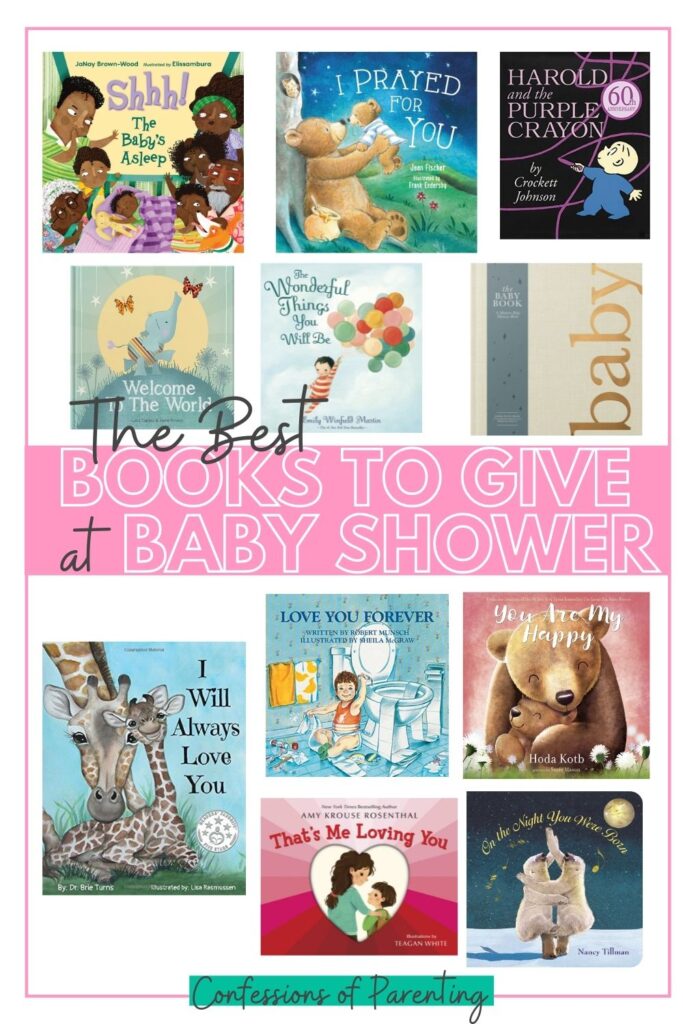 Ready for my favorites? Here's the 25+ Best books for baby shower gifts!
This sweet story has the most beautiful illustrations of animals and talks about powerful love from a mother's perspective.
This board book is perfect for growing hands to hold, and it's the cutest story about a bear hibernating as forest friends watch and learn!
Get the tissues ready with this one! This keepsake book is a warm welcome to a baby that the mother can enjoy reading to her little one many times over.
This set contains two classic books that are must-haves in every parent's collection! The big and little rabbits in this book jump as high as they can to prove how big their love is.
This book all about a mother and child is such a sweet gift to give at a baby shower, but it also will come in handy throughout parenthood! It's a story about a mother's love and how it stays with the child forever.
The pictures in this story are next-level amazing! This celebration of black and brown babies is beautiful, moving, and would make the perfect gift.
This book is one of our family favorites. It so beautifully captures the transition from a mother caring for a loving her baby to the grown baby caring for their mother in her old age. This heartwarming story would make a great present.
Another great sentimental choice is this cute elephant board book about how loved he is! It's got simple illustrations that are full of color so it's perfect for a new little one.
If you are looking for a more spiritual choice, this book is part of a series of "God Gave Us" stories full of divine love. This book features polar bears and a mother sharing how much she wanted her little bear cub.
I love that this book takes you from first breath and beyond and can get any mom excited about a little child changing and growing! This would be especially great for a mom who didn't have the easiest time getting their little one here.
Here's another family favorite that I would love to share with you! My kids can't get enough of this rhyming board book. It's a simple interactive book that your kids will enjoy from the baby years and beyond so it's a good one to have on your bookshelf.
This book is a great to add to your list of the best books to give as baby shower gifts! It's a short simple book but the text is meaningful and loving! It'll make any mom or dad smile.
This unique book is always a fun one to gift. It's a scientific and almost poetic lesson about the Earth and our time on it! It's absolutely beautiful and very influential for young children.
If we are talking about books for baby shower gifts, then you have to consider a baby book! It's the thing almost every mom wants to do but not many get around to doing! So give her a head start with this kit that'll help her preserve all her little one's memories.
I love that this book captures the anticipation and excitement of waiting for a baby to arrive. This sweet story would be perfect for any family, but especially for a mom expecting her first baby!
If you don't already have a book you love for your bedtime routine, you might have to grab an extra copy of this for yourself when you get one as a gift because it's so precious. These sweet bears snuggle up close and think about their day in the cutest and most loving way.
Some books just really capture and encourage imagination in a really special way, and Harold and the Purple Crayon is one of them! As the child finds a giant purple crayon, he uses it to create a whole adventure for himself. It's a must-read!
This touching book somehow captures all the emotions and love that happens in the first couple days after a baby is born! It's not only a great read for kids, but it's also something the parents will treasure and hold dear forever.
If your pregnant friend or family member has other children, I highly recommend gifting this book! It's a child-friendly board book all about the growth of babies during pregnancy and it's so fun to read. Even someone without other kids will enjoy looking through the book as their baby grows!
While most of these books are sweet and sentimental, this one is cute but way more on the funny side of things! It cracks me up to see this silly family all try to be quiet as the little baby sleeps. And kids are sure to be laughing too!
There aren't many books that are more classic than this one! Brown Bear, Brown Bear will help children learn colors and animals while enjoying the beautiful artwork within. Gifting a book like this is a great start to their children's book collection.
What mom doesn't spend time wondering just what and who their child will be? Especially at a celebration like a baby shower, it's so fun to help a mom or dad imagine their sweet new baby by gifting this book.
If you'd prefer a book for the parents instead of the baby, this book is a great help especially for new parents! Many parents are given so much knowledge and help for pregnancy but not as much once the baby arrives. This book has all the basics of what they will need to know!
It's no question that the day your child is born your whole world changes! And this book captures that perfectly. It's a great story to give to new parents who are about to experience such a beautiful moment.
Touch and feel books are so important for little hands! Even before the board book stories, your baby with love sensory books like this one where they can see beautiful simple colors and touch new things! And this book is a really cute one!
Looking for other book recommendations? Try any of these!