As moms we know how active our kids are and how much they love to climb on everything! But sometimes we can't take them outside to climb on the jungle gym and climbing on the outside of the stairs or the couch are not the best options. Finding the best indoor climbing toys for toddlers will help your kids be able to climb and explore inside safely!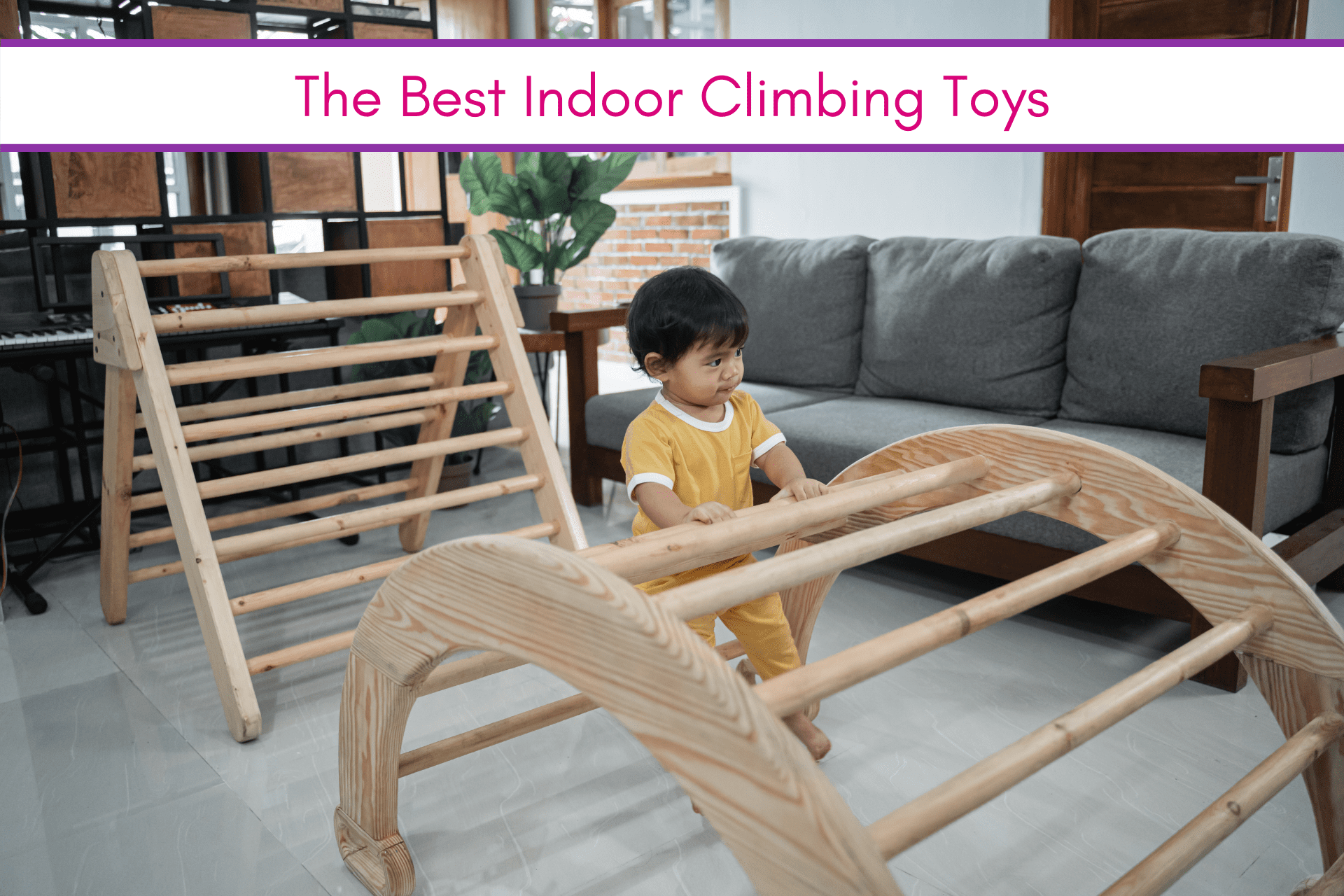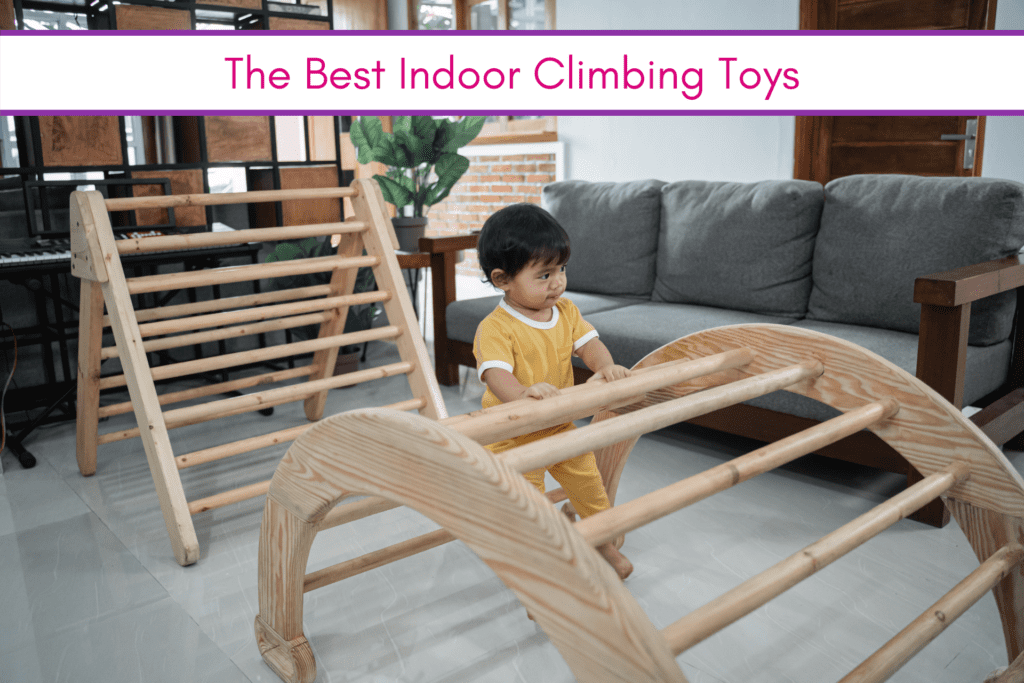 Our Favorite Indoor Climbing Toys for Toddlers
Overall Favorite Indoor Climbing Toy: Indoor Playground Climber Slide
Best Wooden Indoor Climbing Toy: WEDANTA Wooden Swedish Ladder Wall Set
Best Budget friendly Indoor Climbing Toy: Rainbow Craft 6.6FT Climbing Rope Ladder Ninja Ladder for Kids
Best Splurge Purchase: Step2 Naturally Playful Adventure Lodge Play Center Swing Set with Glider
What are Indoor Climbing Toys?
Climbing toys are designed and created to give your child a creative and safe way to climb. It allows kids to be super active, jump, slide, move, climb and develop motor skills right inside your home.
These indoor structures can go outside if you choose, but you would want to bring them in after you are done so they stay in good conditions. Usually indoor ones are easily foldable and not nearly as heavy as climbing equipment that was made for the yard.
Are indoor climbing toys good for toddlers?
Yes! They are great for toddlers. They help develop gross motor skills and help them develop creativity as they explore. Finding the right indoor climbing toys for toddlers is essential to ensure their safety! We are helping you find the very best ones!
The Best Indoor Climbing Toys for Toddlers
This would be the perfect indoor climbing toy for your kids, especially for toddlers starting from 1 year to 5 years old. This triangle ladder is designed for kids to climb up and down! It is made of natural oak wood without any chemicals which is a huge bonus for kids, especially toddlers. The ladder can be used for outdoor purposes also as it is covered with natural linen oil to help protect it from outside elements. It would be the best climbing toy as it prevents flat feet.
If you are looking for a bigger indoor climbing structure then this handmade triangle pastel rainbow is an excellent choice for kids who love to climb. The best part is that they used only natural materials for this ladder as this is made of plywood, aspen wood, eco paints, and eco wax. Also, it is carefully smoothed so that is safe to play with with added durability. The climbing ladder will help your toddlers to enhance their motor skills, balance control, and also increase their courage. We love that it has the crawling board as well! This ladder is recommended for kids from 1 year to 6 years.
If you are looking for an adventurous and multi-functional toddler climber for inside, then this would be the right choice.
The climber slide is made of natural wood and it is safer for kids from 2 years to 5 years. We love this compact indoor climbing toy because it included the slide, climbing rungs, as well as monkey bars! If you have the space in your house, this is a great addition.
Funphix Classic 316 Piece Construction Toy Set – Building Play-Structures for Indoors & Outdoors – Fun & Educational Learning Toys
This indoor / outdoor building set is a little bit different, but still fun for kids. If your child is interested in designing, analyzing, and planning they can get really creative building with this on. This is not only a toy for play, but also it will improve the children's teamwork, coordination, and motor skills. It will enhance the creativity of the child and also it will bring unlimited fun for your children.
If your kids would love to do ninja fun activities, then you have chosen the right indoor climbing toy. The ladder is made of superior quality so it would be the perfect outdoor climbing toy. This is easy to carry and also convenient to set up and children from 3 to 12 years can use this ladder. Most of the materials is made of polyester, plastic, and metal parts.
This outdoor and indoor climber is recommendable for kids from 1 to 8 years old. With this fun climbing toy they can spend hours of time climbing over and under and up the bars. As they play they will increase their strength as well. It comes with a 3-year warranty so if you have any issues in between, then you can contact them. We love that it can hold 750 pounds so that multiple kids can play with this at once. It is fairly large in size, so if you find you don't have the room in your house, it would be perfect for the year.
A perfect climbing net to train your kids and it can be used for both indoor and outdoor activities. As your child plays with this they will be able to increase straighten, coordination as well as motor skills. The net is made of high-quality polyester material which is resistant to oxidation. The installation is a simple process so you don't have to spend a ton of time putting it together so the kids can start playing quickly.
While this is not your typical indoor climbing toy that you would think of it is a great addition to a bedroom or playroom. You can use these climbing holds to secure to the wall so that your kids can climb up and down for hours of fun and entertainment. They come in bright colors to add a design element as well which is fun.
Be sure to follow the directions when setting this up to ensure everyone's safety when using it.
This climbing triangle is a versatile, engaging frame, and it will help develop motor skills, boost confidence, develop strength, and promote free play. Climbing and sliding are mainly used for both indoor and outdoor use. We love that this allows your child to explore in a whole new way. This also helps enhance the self-awareness of your child, and even promote their imaginative skills. It is designed for kids from 6 months to 5 years old.
Lil' Monkey Olympus Jungle Gym, Toddler Climber Playground – Folds Within Less than One Minute – Indoor and Outdoor Play Equipment for Kids
This toddler indoor climber is a really great option if you want something that can quickly be stored out of sight under a bed. It doesn't occupy much space and also it guarantees 100% fun to your children. This kind of ladder is suitable for kids from 1.5 years to 4 years old. It is certified by the ASTM, SGS sosafe for kids which of course is a huge bonus. As your kids play with this they will be enhancing their social skills and emotional maturity.
Who says outdoor climbing toys have to stay outside? This is the perfect backyard play toy (which easily comes inside) for your active children and it consists of plenty of rooms so the children can easily climb and play.
It will keep your child busy for hours. 4 friends can play at a time and gives plenty of great options of play to keep your child busy.
If you are looking for a softer material then you will want to look at these Vinyl Soft Play Forms. These are great climbing toys for crawling babies and lightweight toddlers.
This climbing toy is a lightweight, durable, and is an easy to clean toy. With virtually no set up your kids can begin playing with these in no time. I love that you can arrange the pieces in many different ways, or even use one piece at a time. Toddlers as young as 12 months can start having fun playing with these! This is perfect for the kids who want to climb but you are worried about them falling from too high up.
I had to throw in one outdoor climbing toy, because it was too cute not to include! This adventure lodge play center is the perfect toy for outdoor games, and it will promote active play with a friend that involves adventure and fun. Climbing is not only considered an exciting and fun activity, but it also promotes body strength. In this toy, you will be getting two stories for climbing with a wide variety of activities for them to do. This is a low-maintenance and kid-friendly toy.
The dome climber play center is tall and has some of the best features as it comes with real rock climbing hand grips and is made of a powder-coated steel construction. If your kids love outdoor fun and adventure, then this is for them. While it is made for outside, it would be completely epic to put in a playroom.
If you are looking for a multi-functional indoor climbing toy made of wood, we have a winner for you! This climbing toy is made of high-quality materials and is also deemed safe for kids. Here they can climb the ladder, the rope, or even use the bars. The one downfall of this is that you will have to secure it properly to a wall. so it is not something you can pull out and use and then put away.
If you are looking for an indoor climbing toy that can be taken apart and put back together then this might be the perfect choice for you. It is specially designed for kkids from 1 year to 5 years. This climbing toy involves a lot of fun activities such as playing, sliding, and crawling. It can be used indoors or outdoors. Your kids will never get bored of this game as it involves imaginative tasks. The climber is made of high-quality, non-toxic, and recyclable materials.
If you are looking for the most epic indoor climbing toy and you have the room, then you need to look at this Indoor Jungle gym! It has 8 incredible features that kids will absolutely love! It is designed for older toddlers / kids (ages 4-10) and the great thing about it is that you can actually fold it up and store it! You would be the world's best mom/dad if you ordered this for your child.
Never underestimate a slide for in the house! For all our kids we had this Little Tikes Slide and it was awesome! It provided so many hours of entertainment and joy at such a young age! It is super sturdy and a must buy toy if you have a climber!
You can find a lot of ninja warrior toys and this is one of the best because of how safe it is. Kids of all ages will love using these to climb from place to place. It is perfect for a really active child's bedroom secured from one point of the room to the other.
If you don't want to secure it in the house you can use it outside as well!
The last indoor toddler climbing toy that we love is this home gym. It comes with different features that your child will love. It has horizontal racks and bars, objects for them to climb, and bars for them to swing from. While this does need to be connected to the wall you will almost guarantee your kids playing with it every single day!
What was your favorite indoor climbing toy? Share with us in the comments!
Check out these other great posts for Toddlers!
Top 8 Best Toddler Toothbrush Options That Kids Love!