Are you looking for some of the best modest workout clothes that actually cover your body while you workout? We have scoured the internet to bring you some of the best modest workout clothes which includes sports bras, modest tank tops (and shirts), modest workout skirts, as well as shorts and leggings! Hopefully this list of clothes will help you feel confident and covered as you workout!
The Best Modest Workout Clothes
Overall Favorite Modest Sports Bra: CRZ Yoga Sports Bra
Best Bargain Sports Bra: Old Navy- Light Support Seamless Racerback Sports Bra for Women
Overall Favorite Modest Workout Shorts: Colosseum Active Women's Simone Cotton Blend Yoga and Running Shorts
Best Bargain Shorts: Hanes Sport Women's Performance Run Short
Overall Favorite Modest Workout Skirt:  FeelinGirl Women's Active Athletic Skort Lightweight Skirt with Pockets
Best Bargain Skirt: Women's Athletic Tennis Skirts
Overall Favorite Modest Leggings: Yoga Pants Workout Butt Lift Leggings
Best Bargain Leggings: Amazon Essentials Women's Performance Mid-Rise Full-Length Active Legging
Overall Favorite Modest Shirt / Tank Top: Women's Yoga Workout Tops Short Sleeve
Best Bargain Shirt: Mippo Workout Tops for Women
Best Modest Sports Bras (that actually cover you)
Finding a sports bra that is cute, offers coverage, and doesn't make you feel like you are falling out of it is actually harder than you think! We are sharing the best sports bra options that we think you will love!

It's no secret that this is by far my favorite sports bra I have ever worn. It keeps the girls in place while you are doing a variety of different exercises from running to biking to yoga, you will feel secure doing it. You will love the support it offers you. And the strappy back is one of my favorite features, especially when you pair it with an open-back modest tank top for extra airflow while working out.
One of the best swim and sports bras you can wear is this one. It is lightweight and quick-drying too. This classic racerback bra is ideal as a sports bra. The quality fabric also offers you UPF 50+ sun protection features. The shape of the bra will allow you to continue your workout for a long time.
This sports bra offers light support for low impact exercise. Apart from sports, it is ideal for yoga, barre, pilates, and other everyday activities. The best feature of this bra is to give light support for all cup sizes. If you are looking for a light support sports bra, then this is your ultimate choice.
Available in multiple colors, this bra is designed for yoga exercise. Its slick and low friction support creates the perfect feeling for yoga. Fabric is very good and it comes with optional pockets also along with removable cup options. This is a free-flow sports bra and you will love it to wear.
We love this bra because it is quick-drying and breathable. Made from recycled polyester, we love this bra because it keeps sweat away from your body. Machine wash this bra so that you can use this bra multiple times in a week without having to worry about hand washing it. This printed bra has all the cushions to give you long-lasting comfort.
The Flex Sports Bra comes in all sizes. This might be one of the most flexible sports bras of all time. Also available in various colors. Comfortable to wear and will become confident in any sports activities.
Belle is a trusted name in the sports bra segment. This high-impact bra has features like adjustable straps and closures that you will absolutely love. It is stretchable as well as breathable too. The moisture-wicking feature is available in this type and is made of polyester. You will feel comfortable wearing this bra for a longer period of time.
This sports bra is ideal for strength sessions and spin classes, hello Peloton rides! This bra is 77% polyester and 23% spandex and is ideal for any sports activity. This racerback sports bra with a properly shaped cup will give you a shapely look also.
Wear an AthLeta Conscious Crop sports bra and feel the difference. The material is also comfortable to wear and you can do any sort of activity without any trouble. One of the most flexible sports bras available in the market. Whether you are doing High or low impact exercise you will feel so much support in this bra.
Ivory Tommy Bra comes up with a square neck that is made from 10 recycled plastic bottles. Comes in various attractive colors and different sizes.
Zella Body Fusion Sports Bra with high impact support and is ideally fit for any running or cross-training activities. This high neck bra also has bounce control making it perfect for runners. It will keep you cool also with its halter back design. The halter design makes this fusion bra a trendy one. 
Modest Workout Shorts
There is nothing worse than exercising feel like your bum is hanging out the whole time, am I right? These modest workout shorts have withstood the test of time and we are excited to share our favorite finds with you! 

CRZ is one of my favorite workout brands because I feel like the quality is 100% there on a budget that is affordable. You will love these shorts. As you wear them they don't ride up and they offer the coverage in the bum you want without them getting in the way while exercising, especially when running. These come in a ton of colors so that you can grab a pair for every day of the week.
Hanes Sport short is made of 100% polyester and features a dolphin hem. It also has solid taping trims and this cool inner brief that will give you total comfort. You will love the wide waistband that will give you ample options for perfect adjustment. This is an ideal short for any type of sporting activity. 
If cotton blended with polyester is your preferred material for your workout shorts, then this colosseum active women's Simone yoga shorts are best for you. The shorts body is of double layer and is ideal to wear with a sports bra or a tank. Available in multiple colors, these cotton-blend shorts are perfect for yoga and running.
C9 champion women's knit sport short is an imported item with 100% polyester makes. It has a pull-on closure and a low-rise design. It wicks moisture, dries faster and you can throw them in the wash with the rest of your clothes. The shorts are very comfortable and you can wear them for long hours, trust me I have many times.
Available in navy, grey, and camo color, this short is ideal for your yoga workout. The elastic closure is very good and the tummy control feature will become one of your favorite features of these shorts. This high waist short has three secure pockets also and it's stretchy in every case. The fabric is very comfortable for all your workouts
The non-see-through fabric and high waist to control the tummy are the main features that are so appealing to these modest workout shorts. The outside pockets are ideal to keep your phone in and the solid colors allow you to wear a variety of fun shirts with them. These are ideal for any yoga exercises.
For comfort and control, this flexible short is one of the best. You will look awesome in this short and the secure back zipper will be a feature you will fall in love with as wella s the high waist and drawstring closure. The price is very affordable and you can choose as per your choice.
If you are looking for casual printed shorts, then this is for you. The material is a mixture of cotton and rayon equally and you will look good to wear with a sports bra or tank tops. These are very comfortable and durable as well making them a great option.
These yoga running shorts have one of the best designs. You'll love the inner lining and the incredibly useful pockets. This is one of the best-selling athletic shorts on the market. This set of shorts are ideal for any athletic movement or yoga exercise.
If you are pregnant and wanting to workout then these maternity shorts are best to wear in the summertime with a tee. You can wear these for all your exercise needs or for relaxing. The design is trendy and the material is very comfortable to wear.
High-quality fabric, high waist design, and side pockets are the best features of these Love2Mi maternity yoga shorts. The material is also of premium quality and you can wear them for all your working out that you love doing.
Modest Workout Skirts
I am a huge fan of workout skirts. Whether you are playing tennis, golf, running or doing something else they are perfect because they are lightweight and breathable. Finding ones that actually cover you can be a challenge though. These are our favorite modest workout skirts on the market currently.

Made from lightweight material, this is one of the most secure and comfortable two-layer skirts you will find. There is a headphone cable hole and is capable of wicking away sweat very quickly to keep yourself cool. This lightweight skirt will feel very light and you can exercise freely which is a huge plus.
This women's athletic tennis skirt has a super comfortable wide waistband which makes it incredibly comfortable to wear. These skirts can hide your belly a bit and give you the tummy control that you love. It is suitable for any movement and its moisture-wicking formula is great. The inner pockets and stylish design are the added features. If you are a tennis lover, then this tennis skirt can be your ideal companion.
FIRST WAY Women's Athletic Tennis Skirt with Built-in Shorts
Available in jazzy red, grey, and black, these are the most comfortable modest workout skirts you will ever come across. It is trendy, attractive, and has a modern design. It is stretchy enough to move all over and is lightweight too. The 2 in 1 design is attractive along with the availability of side and ball pockets. The dual advantage of skirt and shorts makes this dress the most adorable one to a variety of body types.
This skirt is a great design – skirt on the outer side and shorts inside. Because of the double layer, you can enjoy your sports without any worry of feeling like you are not covered. Made from nylon, this skirt has a wide elastic waistband and internal drawcord for comfortability. This lightweight skirt has pockets also making it perfect for those who love to hold things in their pockets while working out.
Four convertible pockets are its main feature along with built-in mesh lines. Your movement will be free and this skirt is ideal for playing golf and tennis. You can even wear it while swimming, cycling, or running. The design is very good and it looks best for women with longer legs. The pockets are a reasonable size and you can keep your small belongings inside the pocket.
This skirt is very soft and you can move very freely in it without feeling restricted. This is made from skin-friendly material and even has a mesh panel on both sides for better air circulation.
The Tennis golf skirt is a multifunctional skirt with a pull-on closure. There are pockets on each hip underneath and is a fashionable skirt to wear even when you aren't working out. The material is of nylon polyester-spandex blend which will make you feel so comfortable while wearing it.
Available in multiple colors, this skirt is a two-layers. Both the inner and outer parts are of a high quality that make it very comfortable to wear. You will feel comfortable while playing. It is perfect for playing tennis, golf and for any fitness activities.
RBX Active Everyday Casual is a stylish skirt to wear and its functional waistband will help you feel like you have a customized fit. You will love the multiple pockets that this skirt has. The design is very attractive and has a variety of colors to choose from.
Ultrafun active tennis skirt is made from polyester mainly and spandex. It is soft, lightweight along with quick-drying features. There are hidden pockets that can be used if necessary. Equipped with a back pleated design, this is a very attractive one and comes with an elastic waistband.
Pants/ Leggings
We love modest workout leggings and pants, not only for working out, but let's be honest for everyday where as well cause this mama lives in her yoga pants!

Shimmer active legging comes in various colors. But rose gold probably is the color that you will like most. These leggings are very comfortable to wear. You will love how these fit all types of bodies.
These are hands down one of my favorite pairs of leggings on the list! You will love the high-waisted design that helps you with tummy control if that is your thing. The side pockets are perfect for holding your phone and these are great for all types of exercise or when you are wanting to pull off the athleisure look for the day.
This stretchy and moisture-wicking legging will be your best companion. It is comfortable to wear and you can relax wearing it. These are super comfortable no matter what sport you are participating in.
Butt lift leggings perfect for your next Yoga workout. You can wash them in the washing machine and the pull-on design is something you will love. The contours are form-flattering and it gives your butt a streamlined look. If you are planning to do yoga, cycle or even run you will love how these leggings adapt to your workout.
Available in multiple colors like red, pink, green, blue, black, and grey, the yoga pants workout leggings are ideal for any workout. If you want a covered leg, then this is the best for you.
This legging comes with a wide waistband and moisture-wicking material. Available in different colors and sizes, this legging is ideal for yoga exercises or going to the gym.
If you want to wear comfortable leggings during your workout, then this yoga pant is best suited for you. It has features like butt lift, squat proof, and the fabric is stretchable as per your body. It is available in multiple attractive colors and you will love to wear this also.
The new 2021 model of Phiscokat comes with a wide and higher waistband. It will control your tummy and will give you enough comfort while exercising. The material is stretchable and deep side pockets are helpful to keep a phone even. It's cozy, comfortable, and ideal for any sporting activity.
Modest Workout Tank Tops / Shirts
Finding modest workout tank tops and shirts can be a little more difficult because you want to make sure that you stay covered and cool all at the same time. These are some of our favorite modest workout tops.

You will get four pieces of quality tank tops from Boao in this collection. There are different variations in color and available in all sizes. The material is comfortable enough for you to not be worrying about the fit of the clothes while you are working out. YOu will love how lightweight and breathable these shirts are. These basic crop sleeveless racerback tank tops can be ideal for a workout.
This workout top is trendy and ideal for fashion-conscious women. The sleeveless racerback tank top with a big armhole will allow you for free movement in all directions. It is perfect for any workout or yoga or gym session. The material is very comfortable and it will fit perfectly with your body. There are various colors available so you will find the ones that fit your style the best.
If you are looking for fashionable tops, then go for the Miusey women's short sleeve v neck one. Flowy tunic, short sleeves, and v neckline are the major features of this tunic top. It drapes nicely so that it does not cling tight to your stomach. You can try this casual t-shirt if you love to go along with the fashion trends.
While you are working out or doing yoga, you will love short sleeve tops to help you stay cool. These shirts not only help your body move freely but also will love the look of them as well. The fabric is super comfortable, so comfortable that you could easily weather all day. Different colors are available and they will be as per your desired size.
Kimmery's short sleeve v neck yoga shirt is very popular among women. The material of the item is a very soft that you can wear for hours comfortably. The fit is also very good and the V neck will add a special look to your yoga shirt. It is available in a variety of sizes and different colors.
What are your favorite modest workout clothes? What do you look for when finding workout clothes? Share with us in the comments!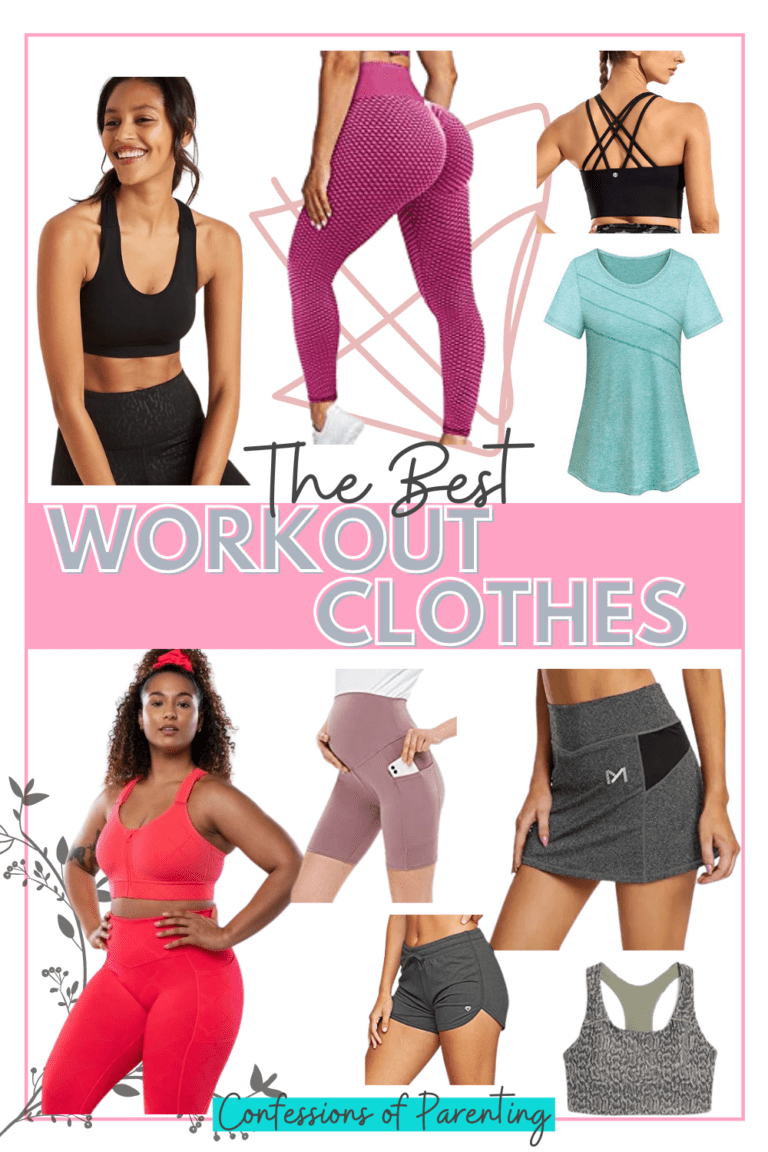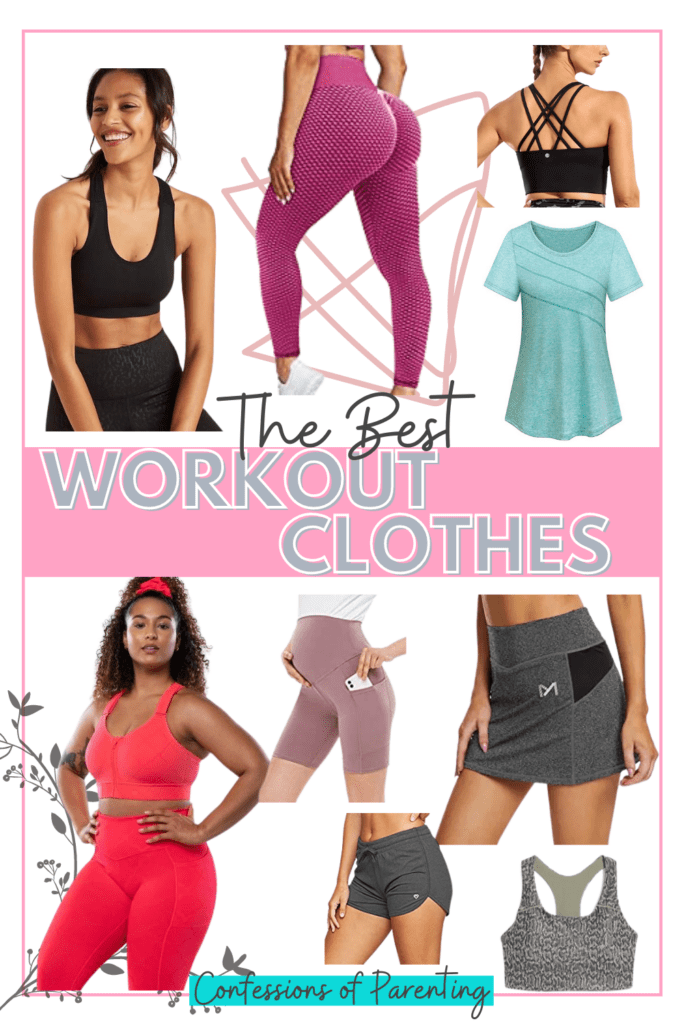 Ready for more modest clothes ideas? Check out these other great posts!