Get ready to Celebrate February with this free printable to help you celebrate February with these fun family activities to help you celebrate the month with your kids and family.

Celebrate February
Can you believe it is already February? Which means conversation hearts, sugar cookies, love, and other fun activities. If you are looking for simple ways to celebrate February with your family, then we have the perfect list for you!
Today we are sharing our Celebrate February Free Printable (Scroll down to grab yours!) It is filled with inexpensive fun ways to connect and create memories with the ones you love the very most!
Are you ready to Celebrate February together with your family?!
Start a "Things I love" challenge for the month.
As a family, try to come up with one thing or person that you love each day of the month of February.
It's a good opportunity to think of your blessings and have fun getting to know what everyone in your family loves!
You could even make a fun display in your home to add your items to each day so at the end of the month, you have a big display of love.
Make Valentine's Treats
There are so many sweet yummy treats to choose from to make as you Celebrate February.
Some great Valentine's treats we love are our pink ombre pancakes, our Valentine's Day hot chocolate, or of course our strawberry cake mix cookies.
So, make some treats to enjoy as a family, or package some up to deliver to friends and family members. Making the treats together will be a fun, messy, delicious activity!
Assemble Valentines
Since Valentine's Day is coming up fast, take the time to put together Valentine's as a family. Instead of having mom put them all together last minute, make it a family activity.
Grab some simple ones from the store and add on some treats, or find a cute DIY option that you can piece together as a team.
Do a Valentines Scavenger Hunt
Make your family members feel extra special by setting up a Valentine's Day scavenger hunt for them.
We have a great scavenger hunt that we have already for you if you want to give it a try!
Heart Arrow Target Practice
Make your own arrow and cut out some paper hearts for some quick and easy target practice!
To make an easy arrow, cut out a heart and tape it to one end of a straw as to be the point of the arrow. Super easy and fun for hours with your family!
For little ones, practice throwing the arrow and for your older kids set up different heart targets with points for a fun competition.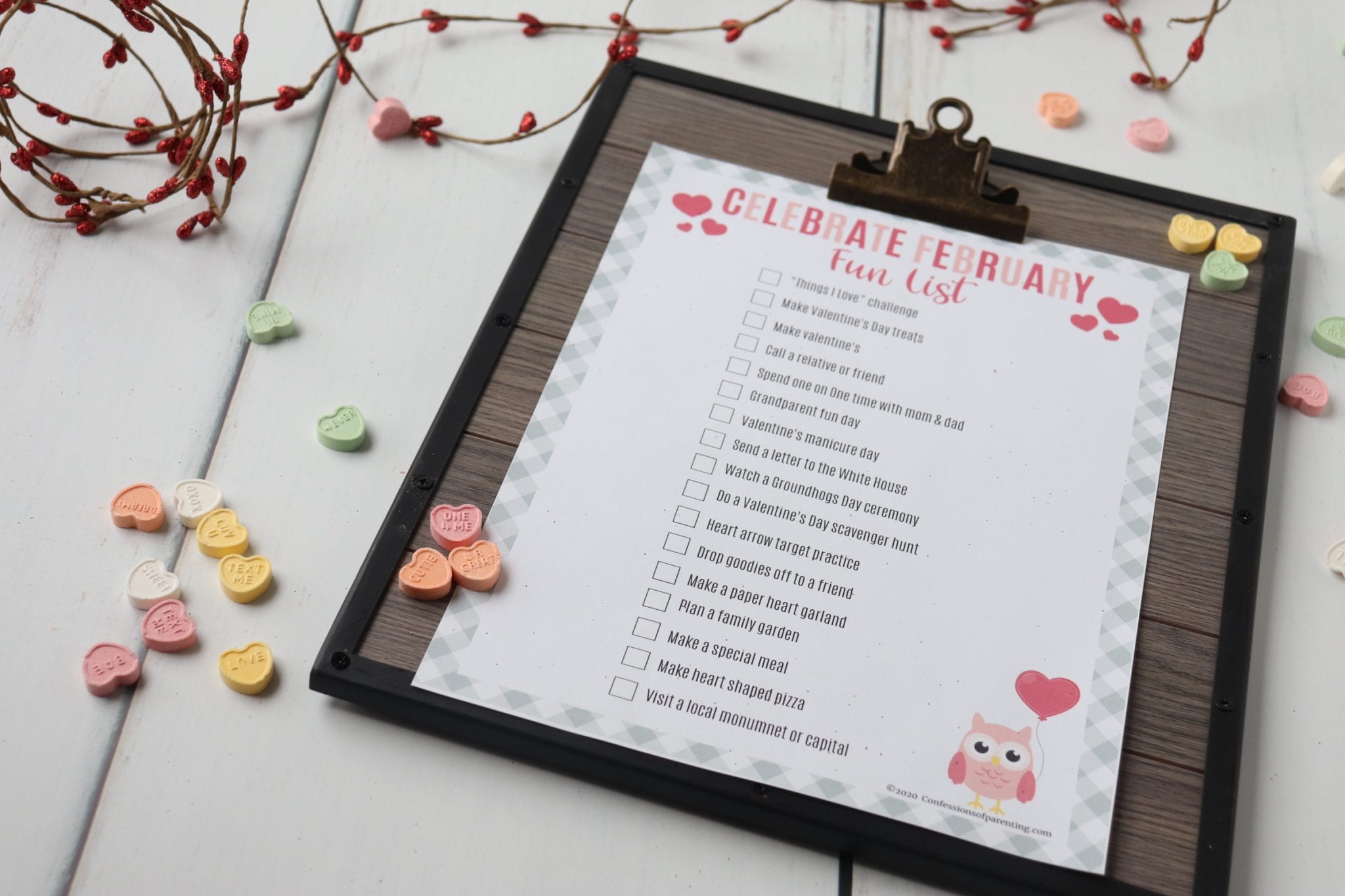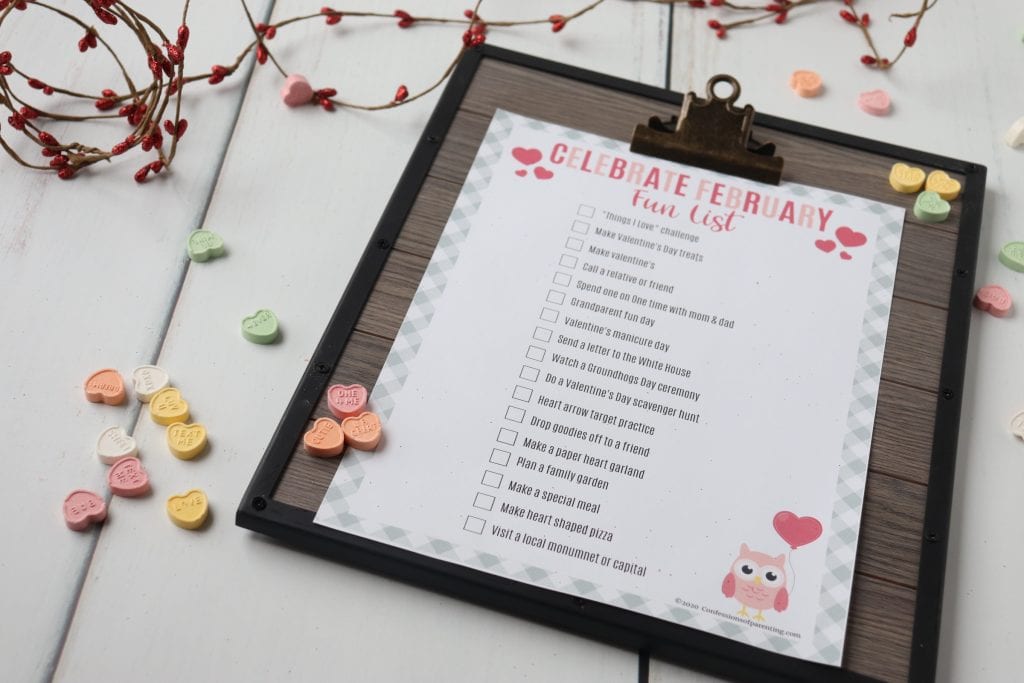 Drop off Cards or Treats to Friends
It's always fun to surprise your friends with special treats or cards.
Have each family member choose a couple of friends or neighbors and drive around making special deliveries. It will be so much fun surprising everyone and they will love being thought of.
Call a relative or friend and let them know you love them!
February is the month full of love! Call someone and let them know that you love them!
Kids can do this too and everyone can take turns making quick phone calls. Everyone will be so happy and thankful for these sweet calls.
Make Paper Heart Garland
Either make cute garlands to hang up on the wall by cutting out hearts and stringing them together, or make a countdown to Valentine's Day.
The garland will help mom and dad out with decorating! A countdown will also help your littles understand the concept of time!
Take your kids on individual special dates
Valentine's Day doesn't have to be a date night for mom and dad! Take the chance to take each of your kids on a special date!
These dates don't have to be anything fancy, but taking the chance to make a special time for your child is so important. They will love feeling special, and you will get some much needed one-on-one time!
Make plans for a family garden
February is the perfect time to plan out your family garden for this Spring.
Learn about plants and flowers by reading books, going to a class together, or asking friends. Once you've decided what you want to grow, you can draw pictures, make plans, and get excited about a new family project!
Grandparent Fun Day
If you have grandparents nearby, organize a fun day with them!
Go to a museum, a park, the zoo, or another family outing. Sometimes grandparents get left out of these fun family days and everyone will enjoy having them tag along.
Have your kids help you make a special meal
Maybe you could make a special meal as a surprise for your spouse, or you could just all learn a new skill together!
Kids love getting involved and helping with things like this.
Have daughters? Valentine's manicure day!
If you have daughters, have a manicure day!
Trim and beautify each other's nails, pick out your favorite polish, and paint each other's nails. It'll be a special treat for all of you!
Make a pizza shaped like a heart
Pizza night is every family's favorite night! Grab your favorite pizza dough or make your own easy pizza crust from scratch.
Try to work together to shape your pizza like a heart for some extra fun. Decorate with toppings and enjoy your pizza together.
If making a heart shaped pizza isn't your thing, cut your pepperoni heart shaped instead!
Send a letter to the White House
President's Day is in February! Learn about the current president and each of you write a letter to the White House.
Take the chance in your home to talk about the role of presidents. Print off some coloring pages or activity sheets about presidents for younger kids!
Visit a local monument or capital
Take a trip to a close monument or capital that you can learn about!
On the way there you could talk about what happened or happens at the location and why it is important. See if you can organize a guide or a tour for your visit for some extra help.
Watch the groundhogs day ceremony
Groundhogs Day is so much fun! It's turning into a bit of a lost holiday, but it's a fun one to get involved with.
Pay attention to the groundhog with your kids and see if there is going to be an extra-long winter or not!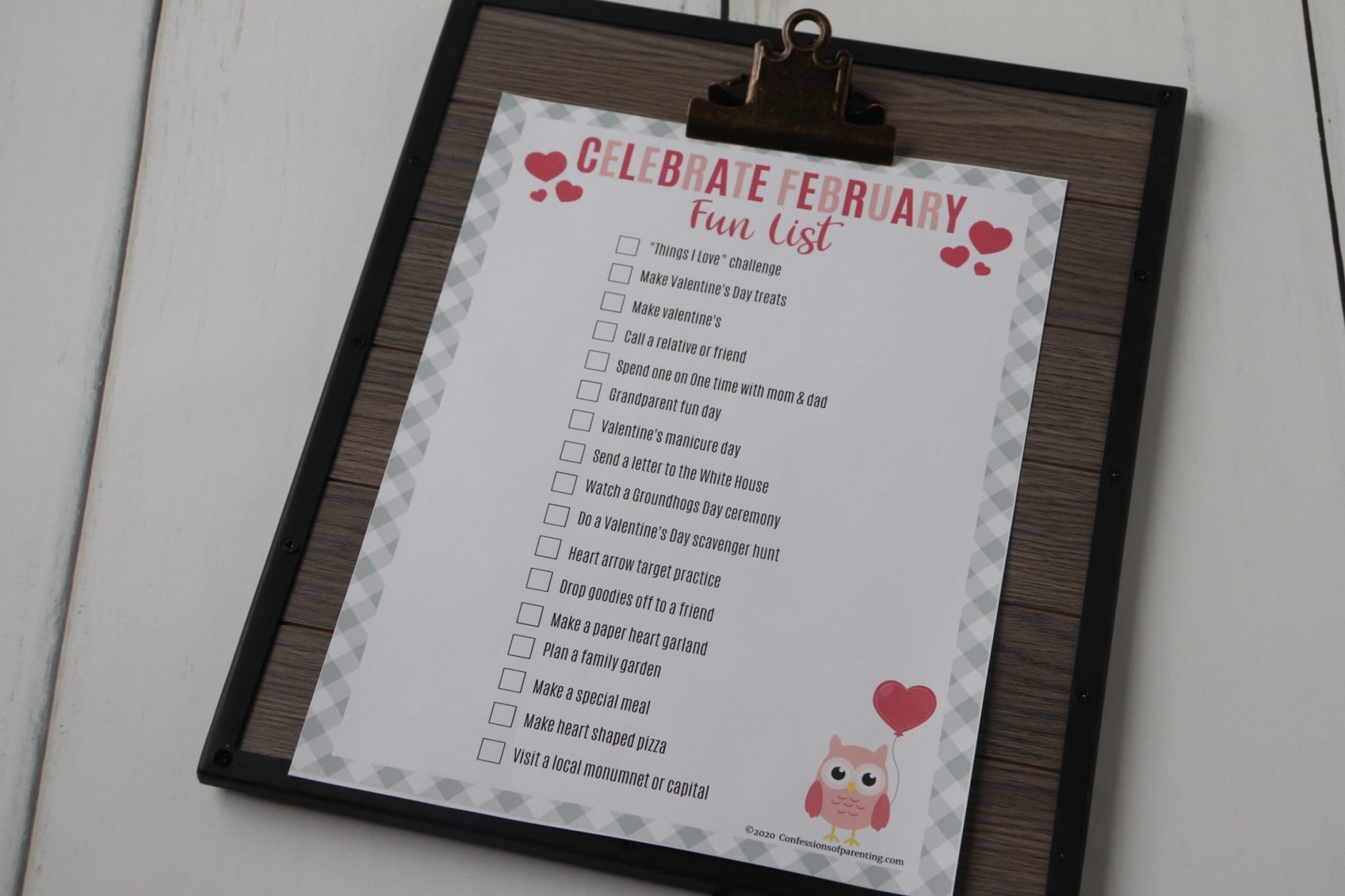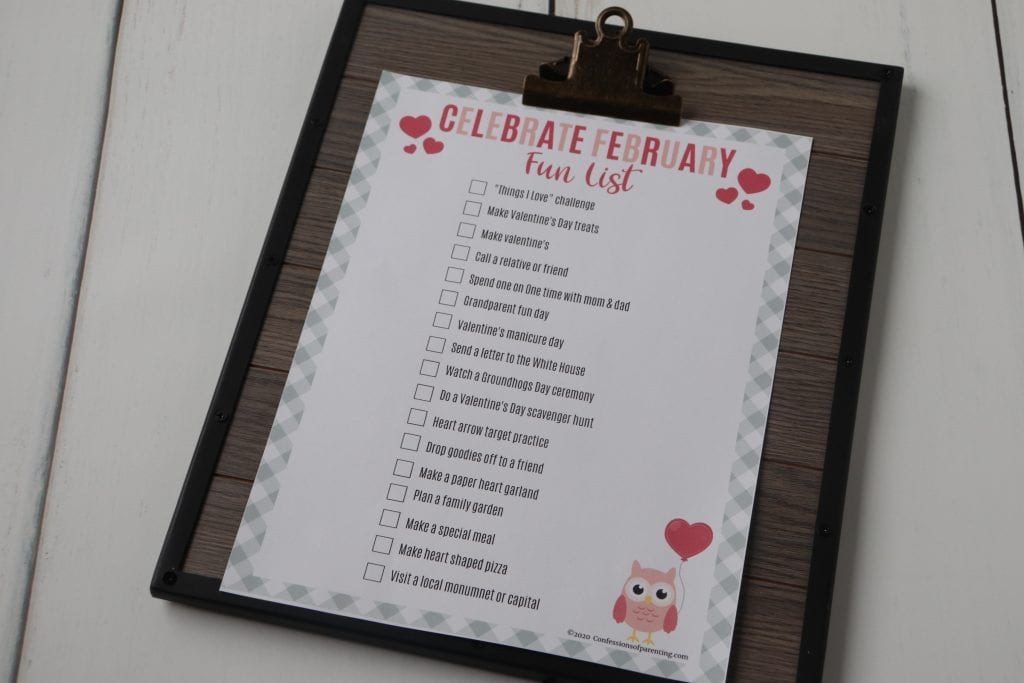 There you have it! Some great ways to Celebrate February with your family! What would you add to the list! Share in the comments!
Looking for other ways to Celebrate all Year Long? Check out these posts!
Celebrate March
Spring Bucket List
Spring Break Bucket List
We hope that you and your family enjoy these fun Celebrate February ideas! Be sure to share your experience in your stories on Instagram and tag us @confessions_of_parenting! We love seeing what you are up too!
Don't forget to save this Celebrate February Family Fun List on Pinterest so you can find it easily each February!