Are you Looking for a fun way to celebrate your kid's birthday? Well, we have just the right dessert that will wow everyone at the party! It is Rainbow cereal ice cream cups!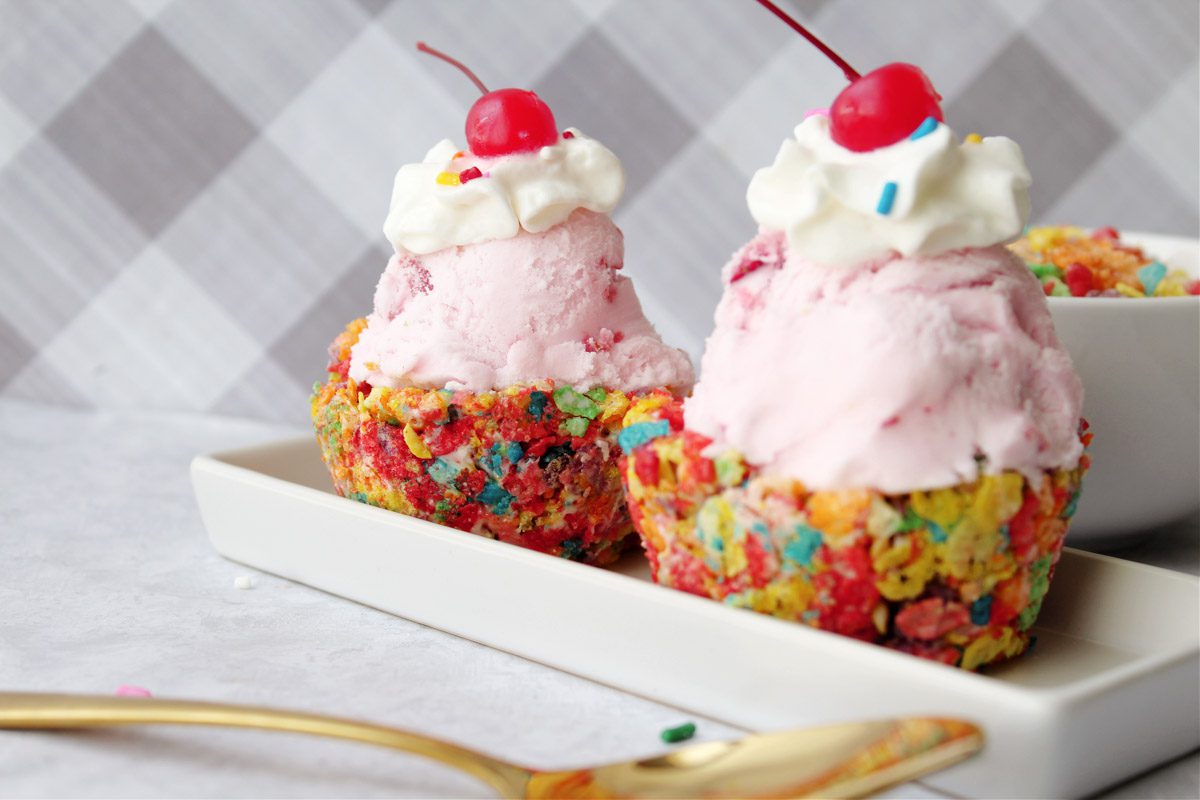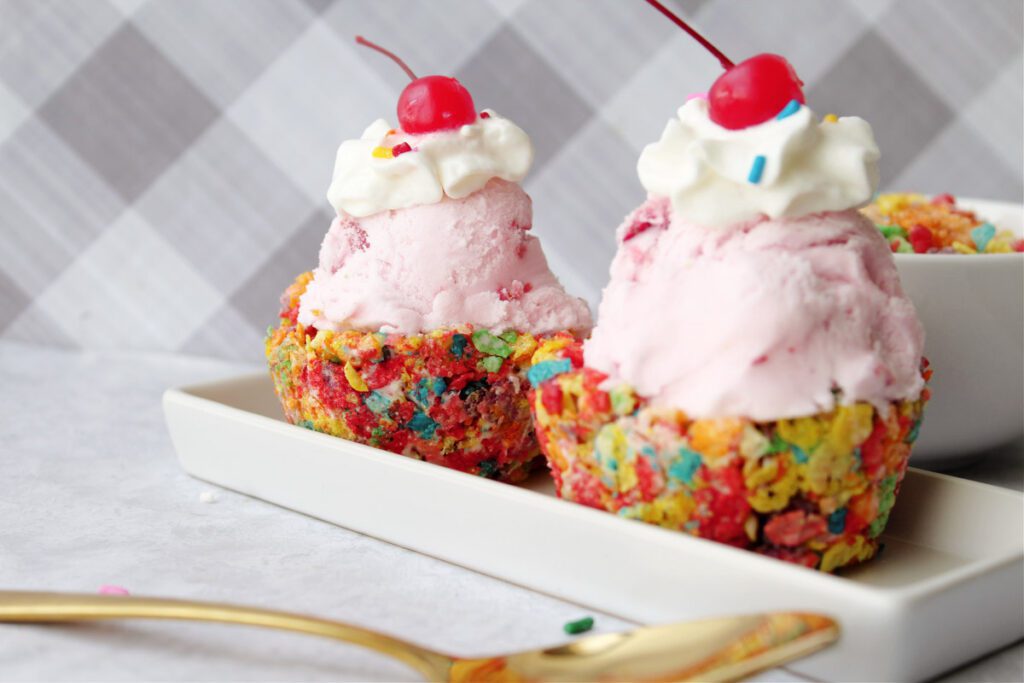 These amazing edible ice cream cups are made using three simple ingredients, i.e., butter, marshmallow, and rainbow cereals. Shaped into small cups or bowls, you can use these to serve ice cream or any other dessert. These are super fun to make and so fun for the kids to enjoy.
Make these in advance and store them for later.
You can use these edible cups for birthday parties, gender reveals, Christmas, or any other occasion. These are not just for kids, but adults will fall in love with them as well.
Love cereal treats? Try our Firecracker Rice Krispie treats and our Oreo Rice Krispie treats.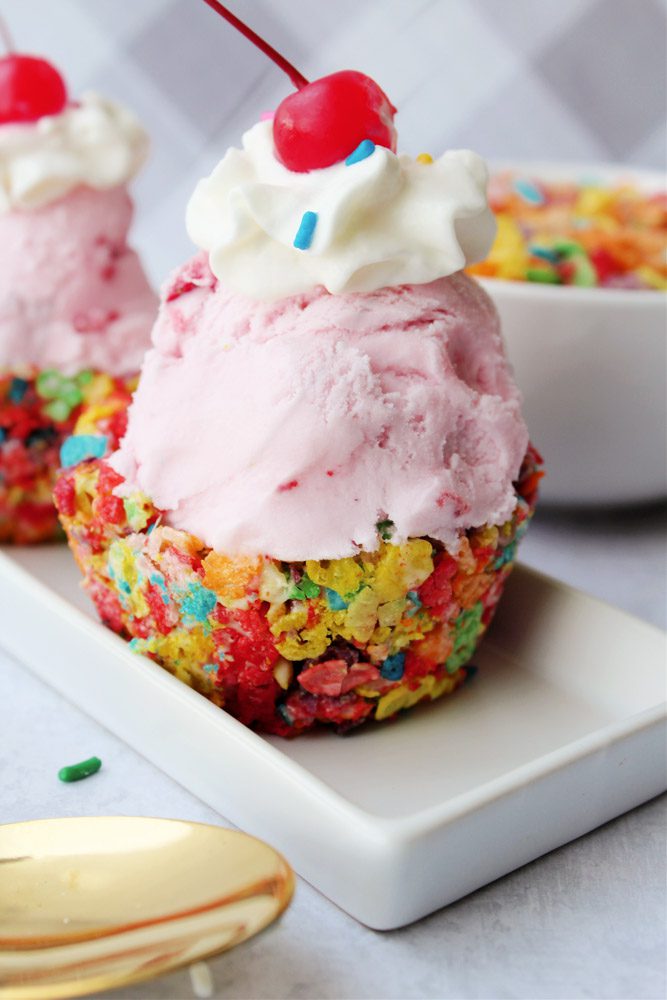 What are Cereal Ice Cream Cups?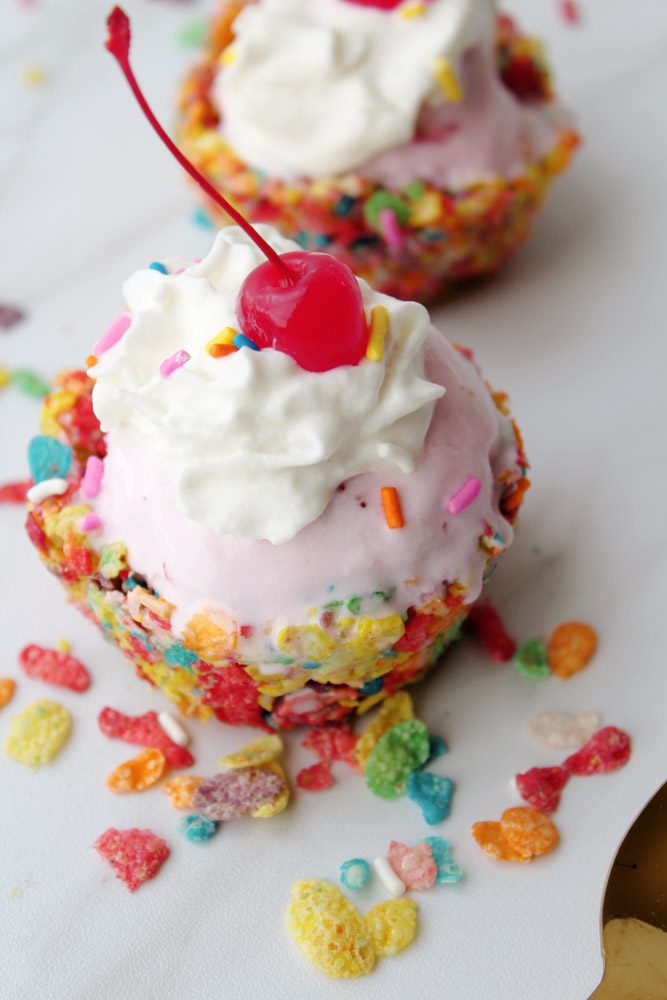 In simple words, Cereal ice cream cups are a modern twist on the traditional rice krispies we all love.
These are actually edible ice cream cups that you can use to serve ice cream or any of your favorite cold desserts. These cups are not only super delicious but are so fun to serve ice cream in. 
These Cereal Ice Cream Bowls are super easy to make, and you can make them using your favorite cereals.
Ingredients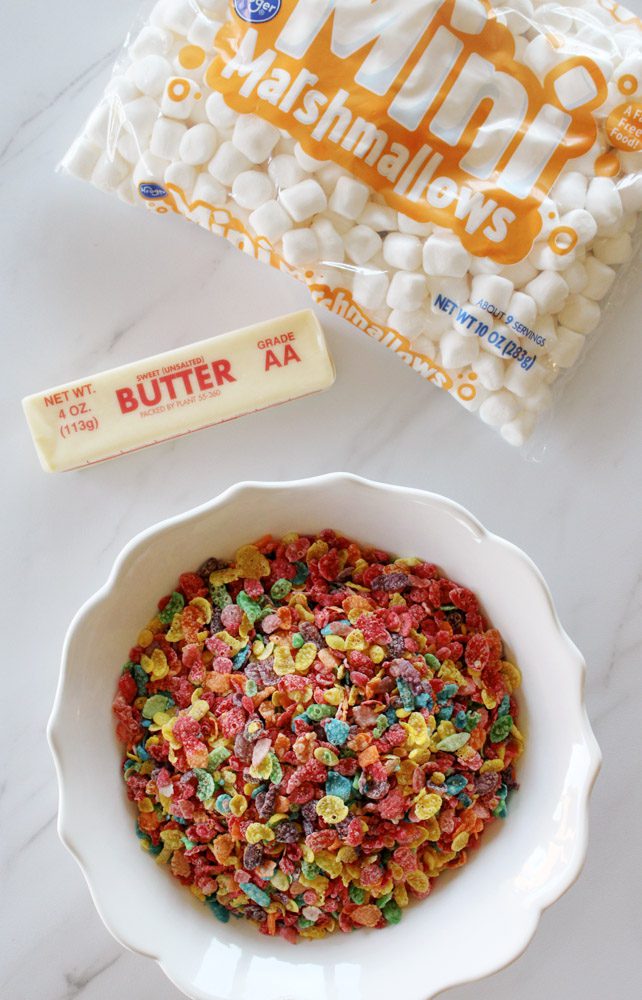 You can make these Rainbow dessert cups using only three simple ingredients!
These cups are fun and effortless to make. Here is what you need to make these cups and enjoy a tasteful dessert in them:
Butter: The first ingredient that you will need to make these delicious Rainbow ice cream cups is butter. Make sure you are using unsalted butter; otherwise, you will taste salt which won't be very pleasant.
Marshmallows: The next main ingredient used for this recipe are marshmallows. Their fluffy texture melts in your mouth. Marshmallows are everyone's favorite and wok as a binding agent as they begin to melt. I have used mini marshmallows as they are convenient to work with and then tend to melt better. You can use medium-sized marshmallows as well if you prefer.
Fruity Pebbles cereal: The hero of this recipe is the type of cereal you prefer.for this recipe we were going for the rainbow theme so naturally we chose Fruity pebbles cereal. You can use any type you prefer, even the classic Rice Kripsies.
Ice cream: I have used ice cream to fill my Rainbow dessert cups. You can, however, use any other dessert of your choice as well. You can use any flavored ice cream or pudding to fill these cups. Even a fruit salad will work!
For topping:
Whipped cream: Whipped cream is like a cherry on top when it comes to desserts. It goes well with every dessert and is super tasty and simply irresistible.
Red maraschino cherries: Red maraschino cherries are sweet, plump, and juicy and the perfect addition to this ice cream treat!
Rainbow candy sprinkles: What is rainbow dessert without rainbow sprinkles? Add them to the top if you prefer!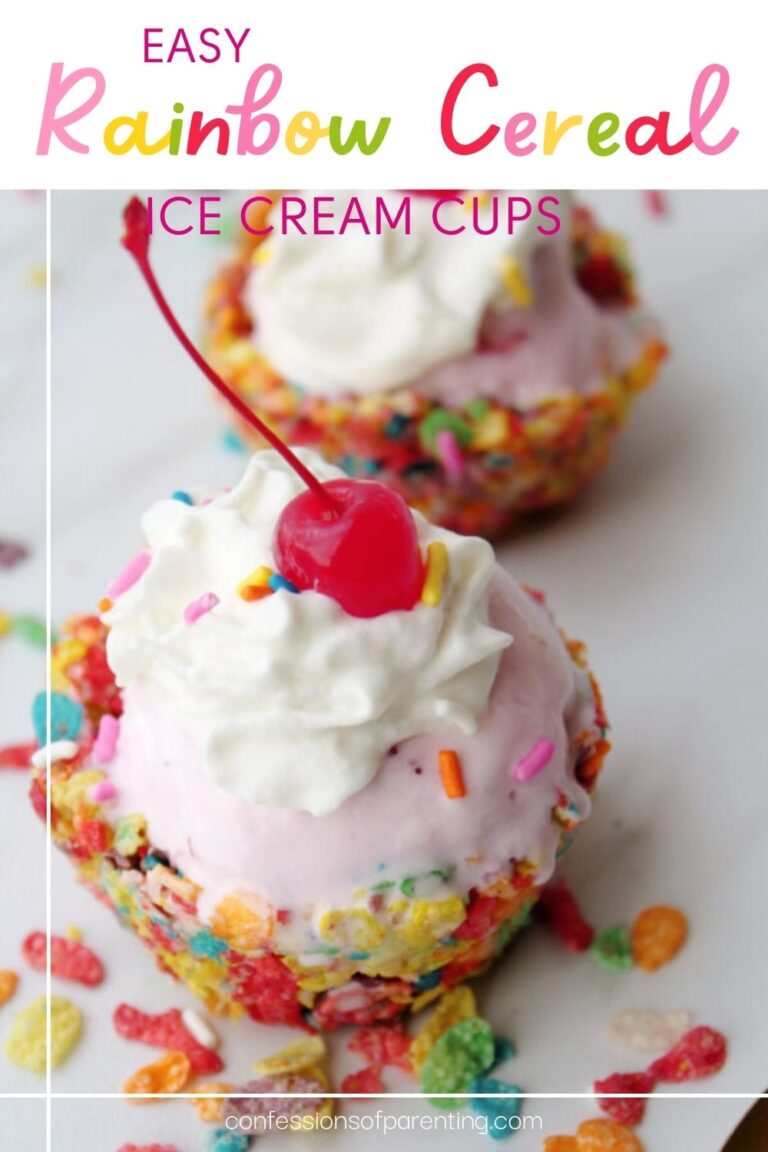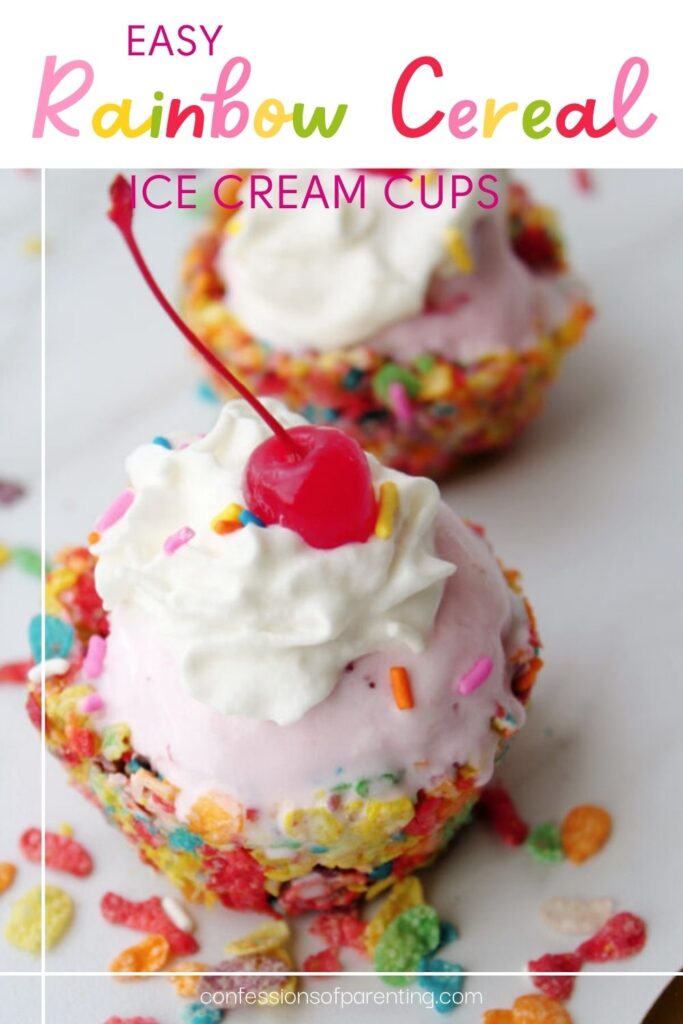 How to Make Rainbow Cereal Ice Cream Cups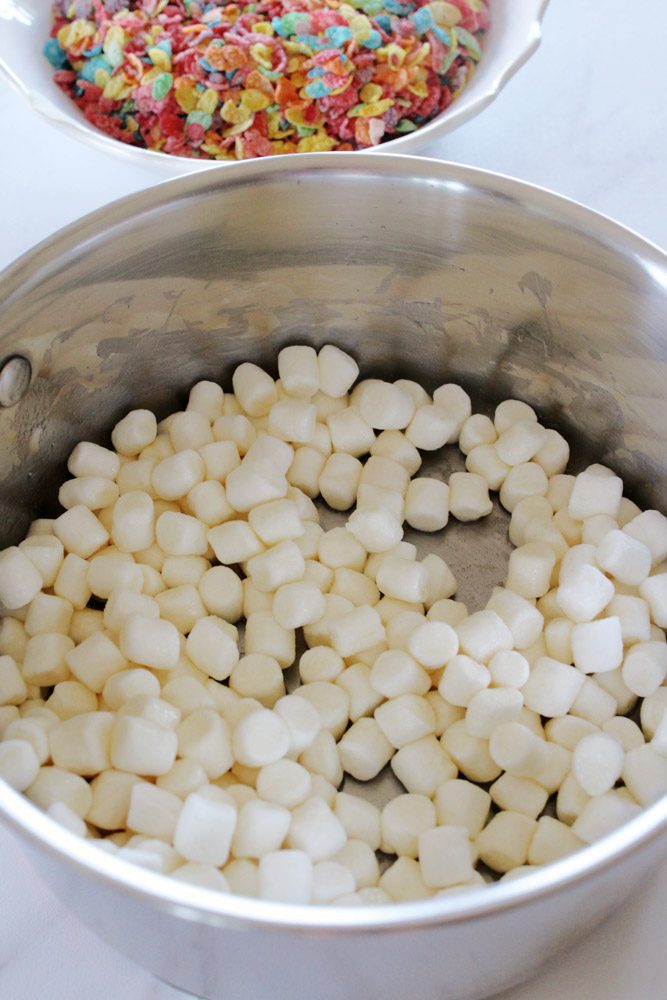 In a large dutch oven over medium heat, melt butter.
Slowly add in marshmallows, and stir constantly until smooth and melted.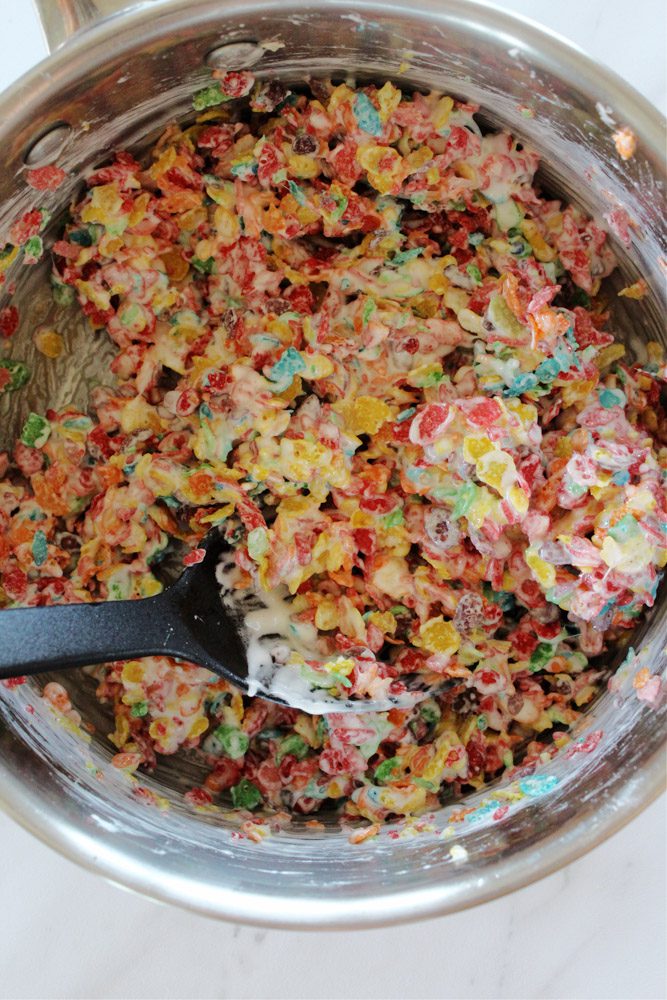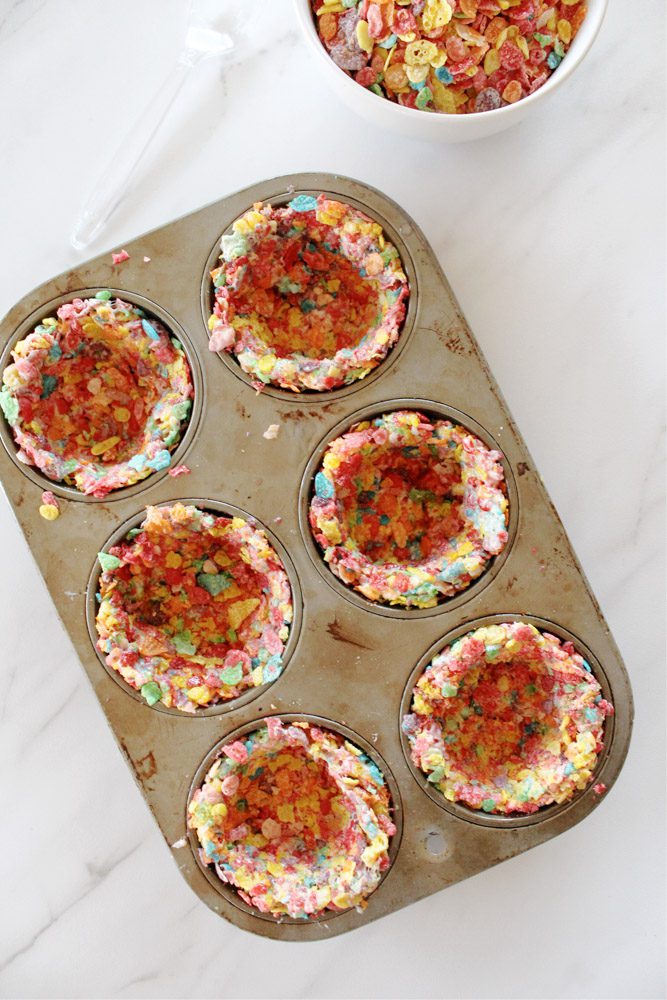 Remove from heat, and stir in Fruity Pebbles cereal until fully coated.
Lightly coat muffin tin with cooking spray or brush with oil.
Divide mixture into muffin cups, and press to form into the shape of a cup.
Tips: The back of a spoon coated with cooking spray works well or lightly coating your hands with water. Be sure to form a "well" in the center of each cup.
Allow to cool in the refrigerator for at least 15 minutes.
Remove from the muffin tin and fill each cup with ice cream, whipped cream, and sprinkles or your choice of any dessert!
Enjoy!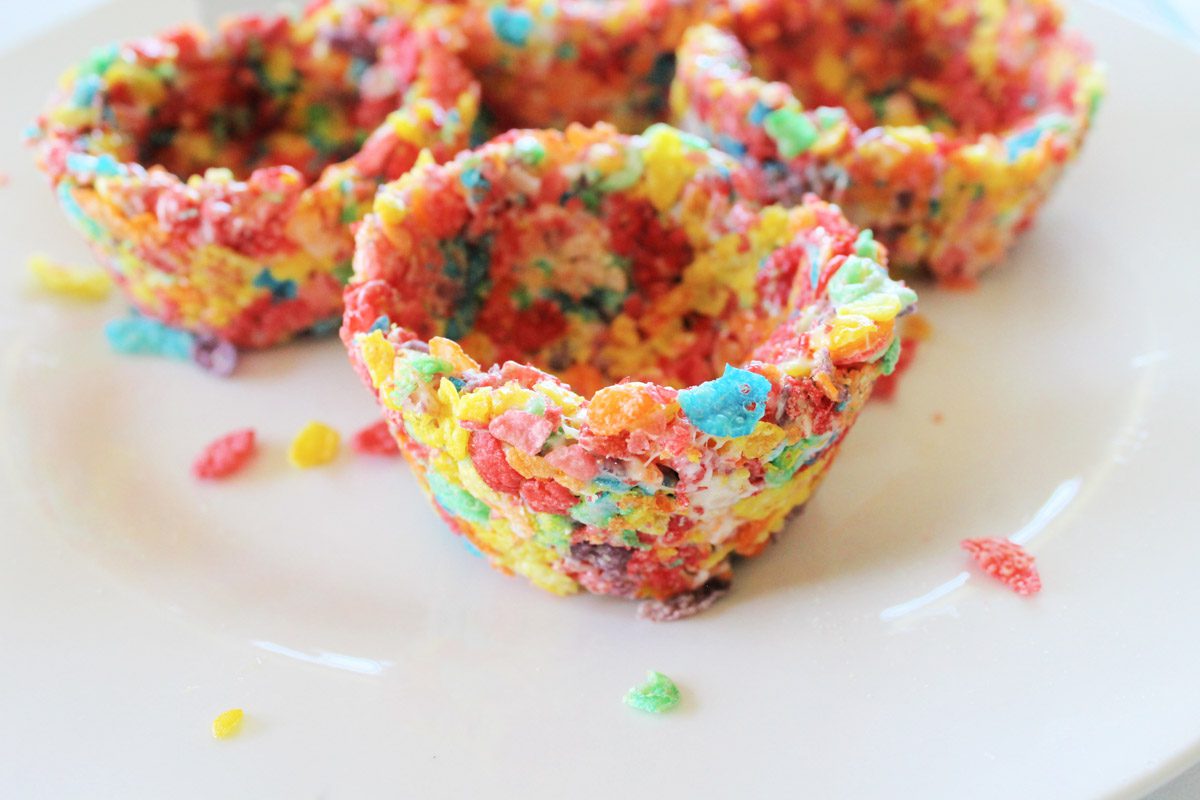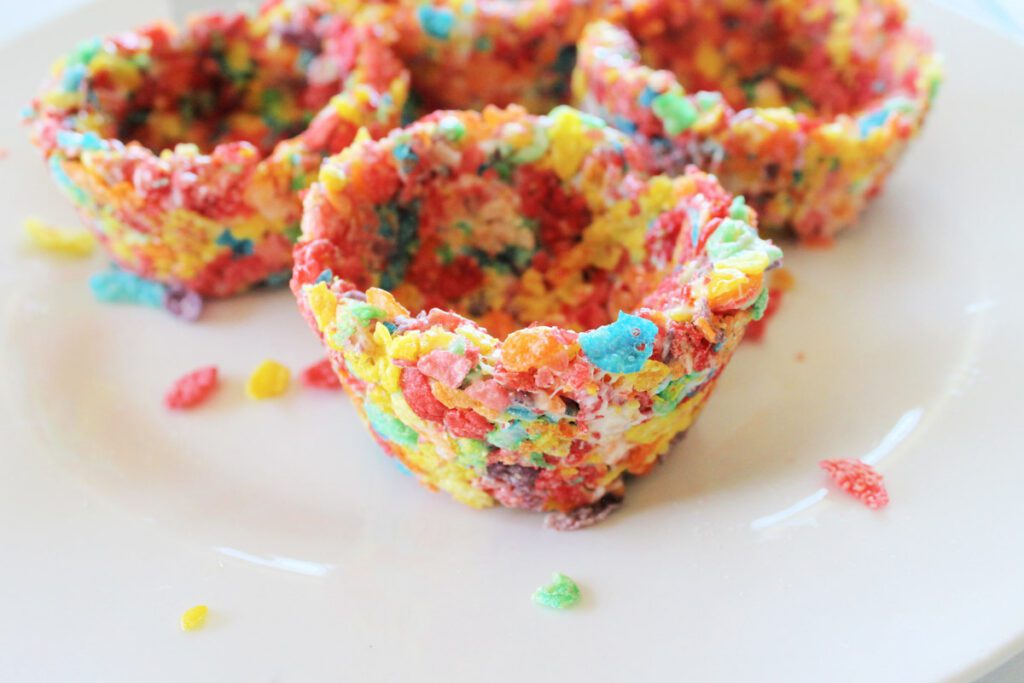 Tips, Tricks and FAQs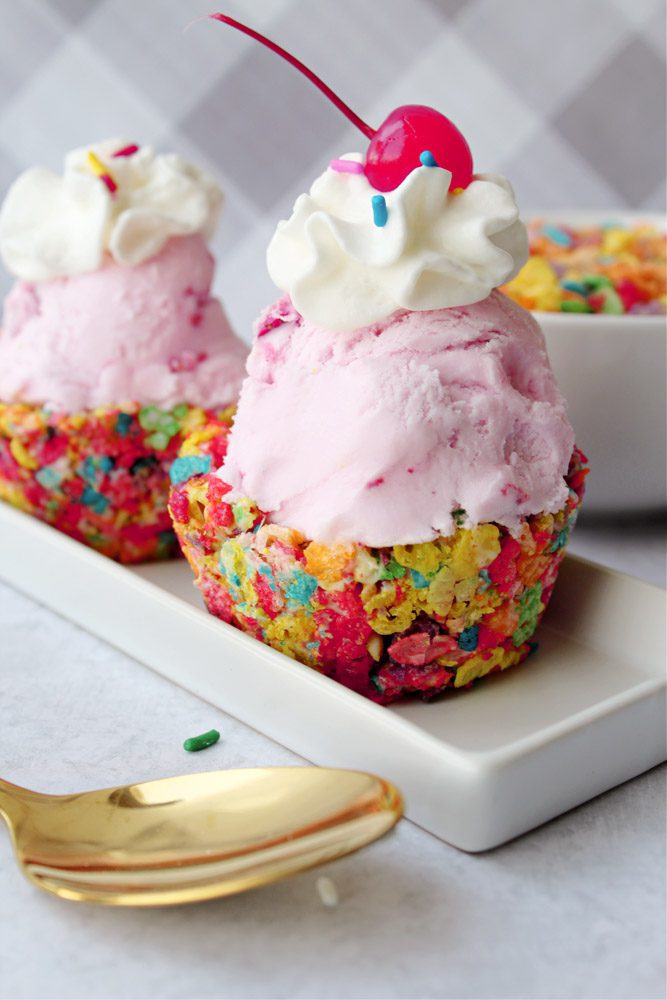 Although making these Cereal Ice Cream Bowls is super convenient and effortless, we have a few tips and tricks to make this process a breeze. These are:
We recommend melting your butter and marshmallows over the stove, however if you are in a hurry you can do this in the microwave. Melt butter in a microwave-safe bowl. Once it melts away, add the marshmallows and microwave at a 15-second interval. Stir the marshmallows in-between intervals until they melt completely. Then add the cereal, mix well, and you are done.
If you have gluten allergies, choose gluten-free cereals.
You can either shape the mixture using your fingers or back on the spoon to make a perfect well. If you are using your fingers, wet them first. If you are using a spoon, spray cooking spray so that the mixture doesn't stick to it.
You can top this dessert with almost anything. Add chopped nuts, raisins, granola, strawberry syrup, or chocolate syrup. Get creative!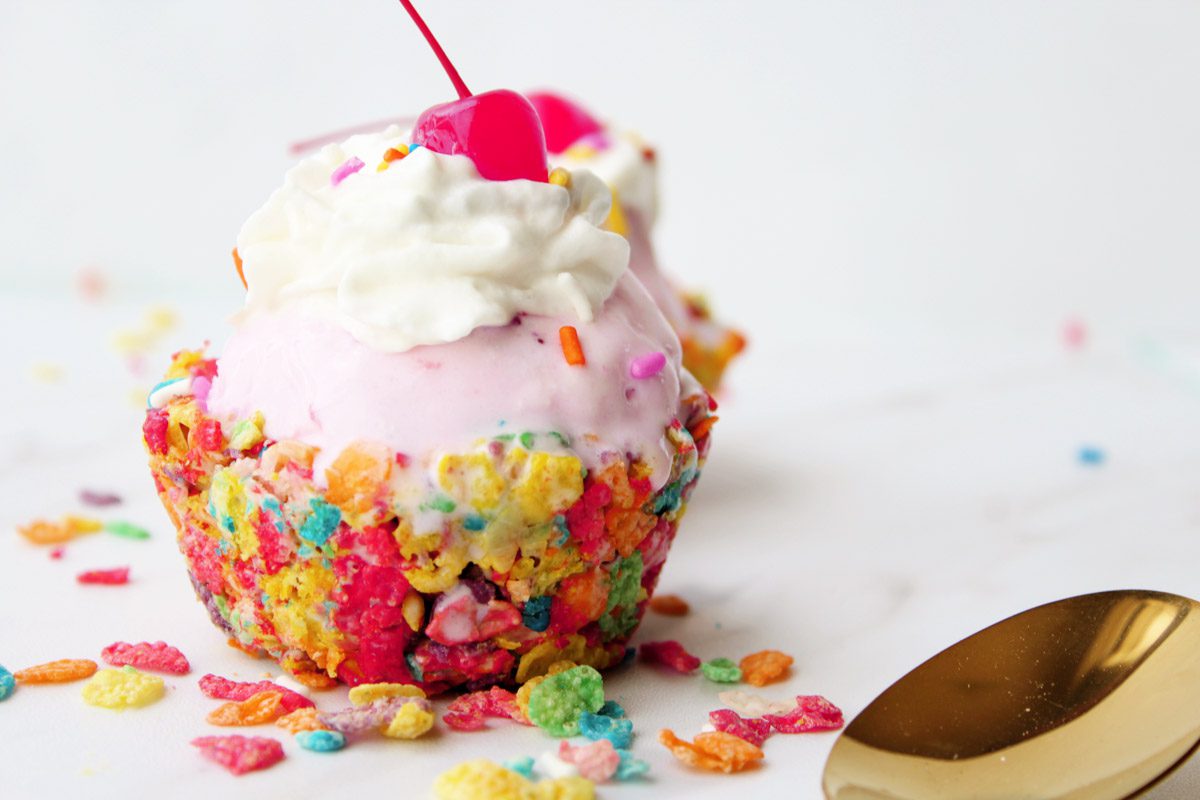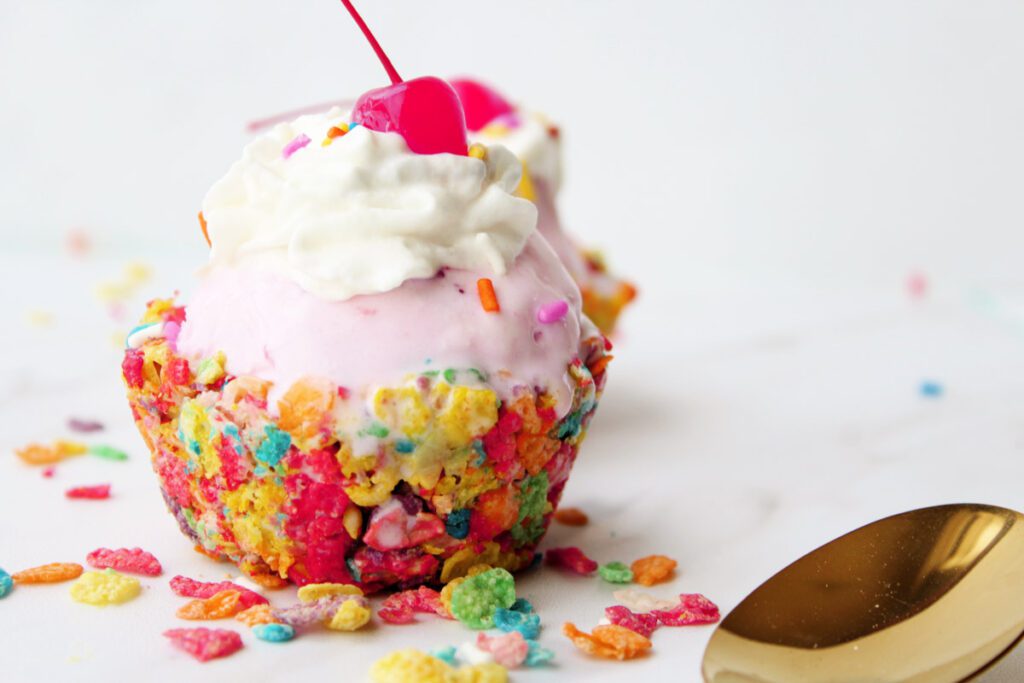 How to Store Cereal Ice Cream Cups?
These bowls will keep in an airtight container at room temperature for up to 3 days.
To make them last longer you can store them in the fridge for up to 1 week.
Rainbow Cereal Ice Cream Cups