These 20+ Christmas books for preschoolers are the best choices to read with your 3-5-year-olds this year! These books have a simplicity and imagination you won't want to miss.
Christmas Books For Preschoolers
It's Christmas time and I'm bringing out all our boxes of Christmas ornaments, trees, decorations, and of course our Christmas books for preschoolers!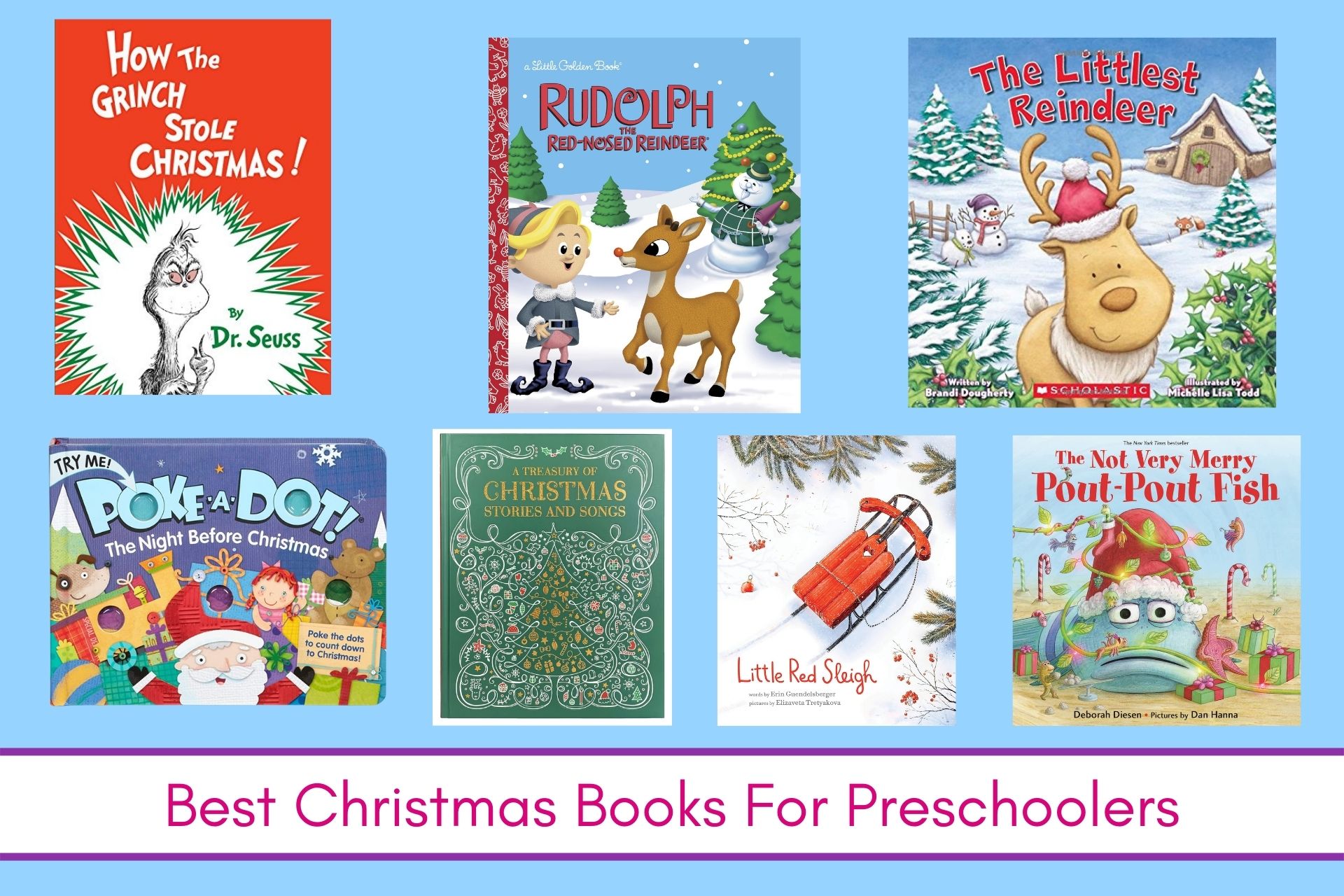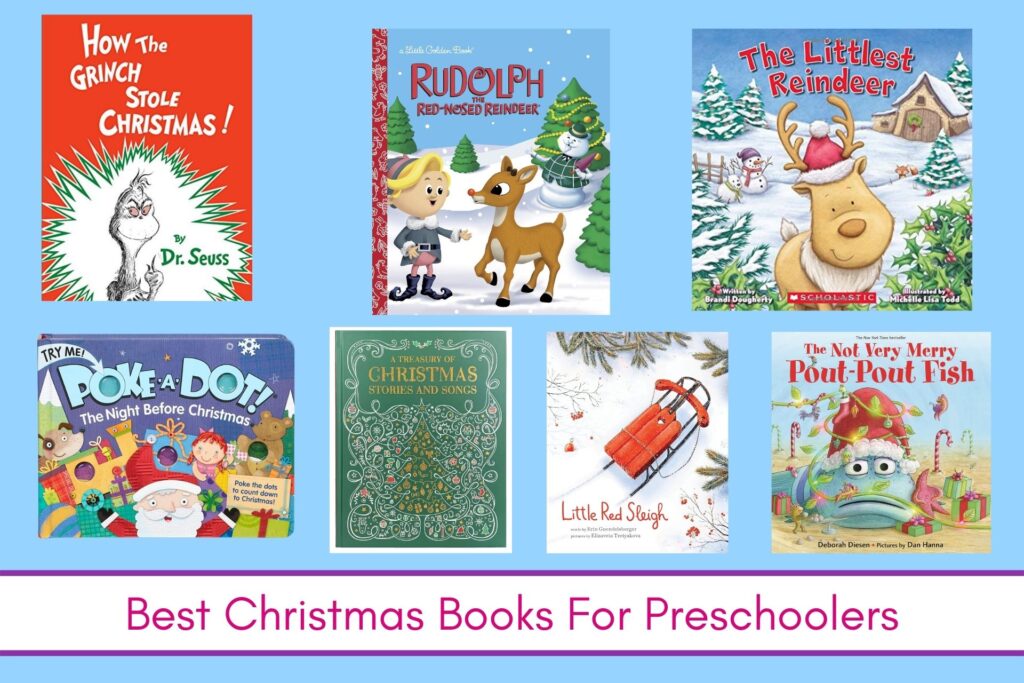 Is there a more magical time in your life than Christmas when you're a young child? There's so much imagination and wonder and of course excitement with every Christmas cookie and wrapped present.
And since this season always reminds me of how important spending time with family is, I love snuggling up and reading Christmas stories with my kids!
These Christmas books for preschoolers are simple to read, have beautiful illustrations, and celebrate the best parts of the season! Find the list below!
More book recommendation posts you'll love
The 20+ Best Christmas Books For Preschoolers
Here's my favorite this Christmas season! Check out these sweet Christmas books for preschoolers.
I think my favorite part of the Christmas season is breaking out this silly Christmas story! This Elf makes it clear that he doesn't sit still and you can try as hard as you want but you won't be able to catch him!
Bill Cotter's series of interactive books are my preschooler's favorite right now and we love this Don't Shake The Present book! Your child will have to move, turn, and shake the book to play with the sweetest purple monster as he checks out a Christmas present.
The Grinch is a must-have for Christmas with your kids! Dr. Seuss always tells stories in a fun way and watching the Grinch change his heart and learn to love Christmas is so sweet and heartwarming!
We got this Christmas book last year as more of a decoration because it's so beautiful but my preschooler ended up loving it! It's a mix of classic and new stories about the Christmas season plus lots of Christmas songs too. It's a great one to keep on your coffee table all season long.
When Santa tests out a new reindeer one Christmas he gets loose and Santa's night turns into a wild goose chase looking for the lost reindeer! This is such a silly book that I love to read with my younger kids.
You can't have Christmas without this classic book! There's plenty of versions of this story but I love the beautiful illustrations in this one so it's a personal favorite.
Okay, this book is seriously adorable! This oatmeal cookie gets a little insecure when he sees all the other cookies on the table. He needs help from some friends to learn that it's what is on the inside that matters!
We can't get enough of these Poke-A-Dot books! If you don't have one yet, it's basically a book full of popping bubbles that you can press as you read the story and it's so satisfying and fun.
This sweet story about a little sleigh with a dream is a perfect Christmas book for curious preschoolers! She wants so bad to be Santa's sleigh, even when others tell her she can't.
Another heartwarming underdog story is The Little Reindeer where Dot the reindeer can't quite keep up with his friends but really wants to help Santa with his sleigh! I love empowering my little ones and showing them they can do anything if they work hard.
This isn't a storybook, but I still love it for preschoolers! It's a combination of an alphabet book and an I-Spy book with a Christmas theme that makes it extra fun.
This fun book with a big-name author is a total hit. Counting the "sleeps" until Christmas just like in this cute story is definitely something we do in our house, especially with preschoolers who are so filled with excitement!
I can't even count how many times I read this with my preschooler last year for Christmas and even long after! The bear family gets excited to meet Santa as Brother teaches Sister about how to write the best Christmas list.
These construction vehicles have an important job to do on Christmas night and when they finally get it done they can enjoy their Christmas presents. If your preschooler is a fan of cars and trucks, this is a sweet Christmas read!
These classic Christmas stories remind me so much of my childhood and I love sharing them with my kids! Rudolph The Red-Nosed Reindeer is one that has to be on your bookshelf during Christmas time.
Speaking of classics, The Polar Express is award-winning and so beautiful to read. It's got such an amazing story that will boost your preschooler's imagination and curiosity!
I am definitely gifting this book to my kids' grandparents this year because it's such a sweet Christmas book about the grandparent-grandchild relationship. Who doesn't love making cookies with their grandma?
If you haven't read the original Pout Pout Fish book, go grab it now! And though we love the original, this Christmas book is even better (and sillier)! It's simple to read and has bright beautiful art.
I love the simplified version of the Nutcracker to read with my preschooler! In fact, if you are like us, after you read this together you'll be buying a set of little nutcracker ornaments to play with. This book is so dreamy!
This short simple story has to be on your Christmas list! Llama Llama is so sweet and though this board book only takes a minute to read, it perfectly showcases the best parts of the Christmas season!
More Book Recommendation Articles