Christmas is all about caroling, decorating the trees, fun gatherings, and enjoying Christmas drinks the whole family can enjoy! We are rounding up our favorite Non-Alcoholic Christmas Drink recipes better known as Christmas Mocktails!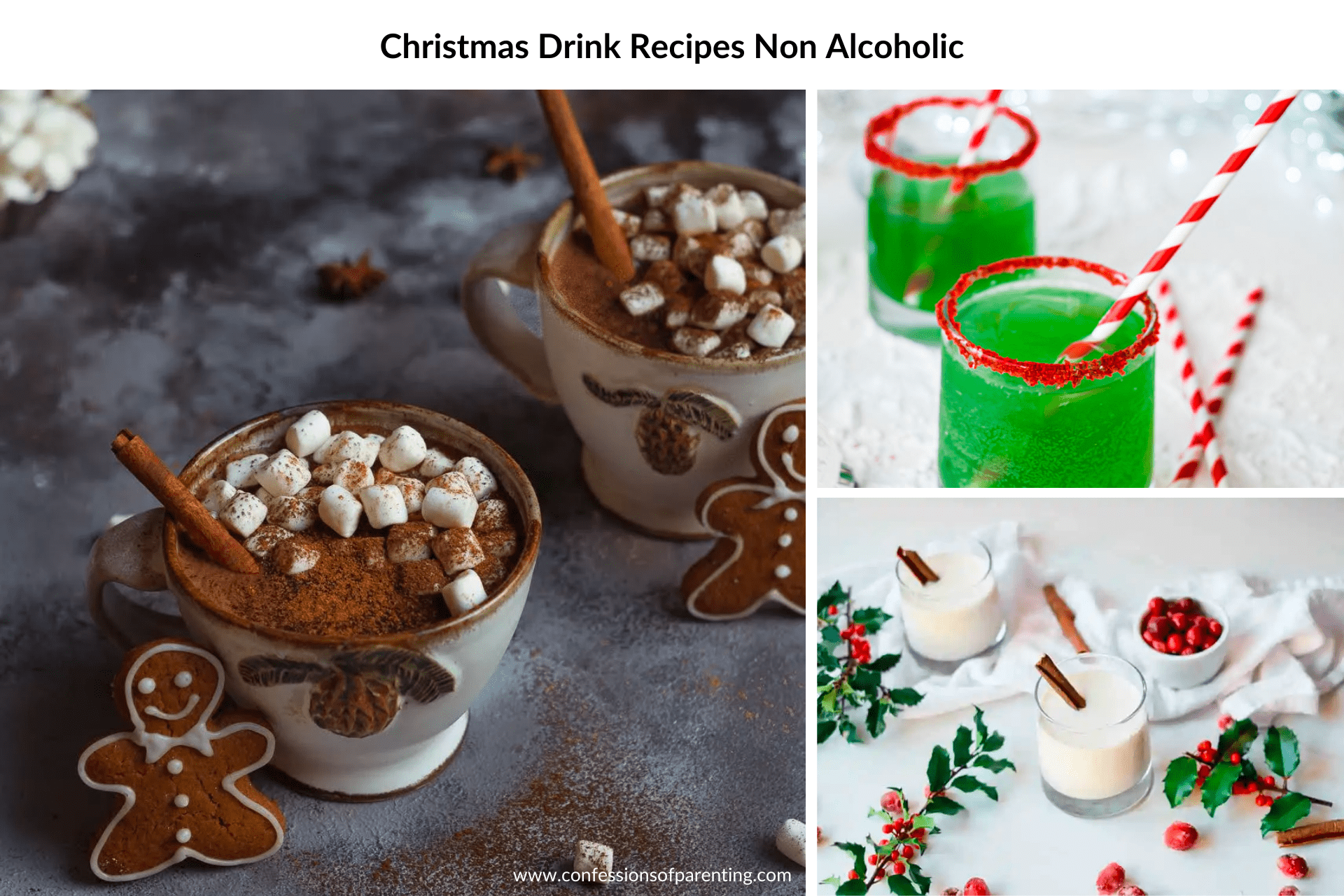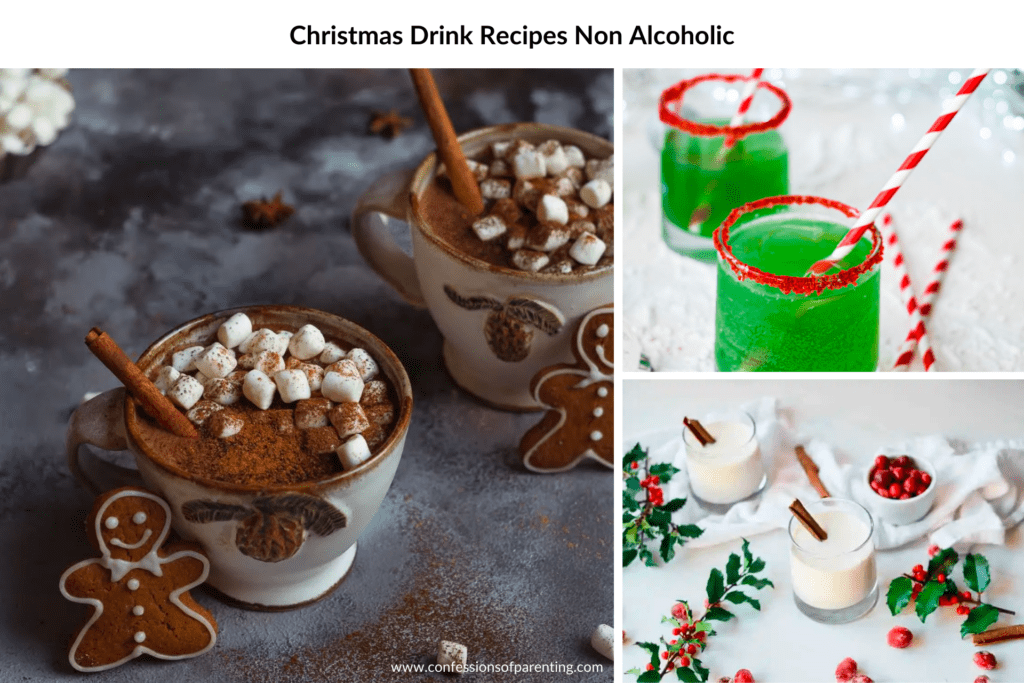 The Best Christmas Mocktails
When December hits I feel like we start spending so much time gathering together with the people we love! One of my kids' favorite things to enjoy at these gatherings is Christmas Mocktails and other fun Christmas drink recipes! All the ideas on this list are simple, easy, and super delicious!
What is a Christmas Mocktail?
You may be wondering what is a mocktail? A mocktail is a non-alcoholic drink that everyone can enjoy. It is basically a cocktail without the liquor.
Should you serve warm or cold Christmas drinks?
It is really up to you if you choose to serve warm or cold drinks to your friends and family this holiday season. We have tips to help you keep your drink warm or cold based on what you are serving!
Cold Christmas Drink Recipes without Alcohol
Serving cold Christmas drinks is always fun! This may include things like milkshakes and slushies and a whole collection of other drinks! The problem is you want to keep them cold, so naturally, we want to add ice. The problem with that though is that the ice quickly melts and makes the drink watery. The solution: get silicone ice trays and pour your drink into the tray and freeze it. That way when you add ice to your drink, you are actually just adding more drink that is frozen. As it melts it does not water down your drink!
You can also freeze your garnish additions. For instance, if you are serving your drink with cranberries, freeze these ahead of time and then add them to help keep the drink cold.
Hot / Warm Christmas Drink Recipes
When serving warm Christmas drinks you want to ensure that the drinks stay warm. I love to use my crockpot for this! I add the drink to the crockpot and set it to a warm setting. when doing this, you only want to keep your drinks with milk and cream on warm for 1-2 hours, any longer and you may find your drinks start to curdle. If you are serving hot chocolate, we love to serve it as a hot chocolate bar! The kids love it too as an extra bonus!
Serving Suggestions
When it comes to serving your non-alcoholic Christmas drinks it may be hard to figure out how much to make because you don't want to run out!
Serving Tips
Plan for each person to drink 1-2 glasses within the first hour and a half a drink for every house after that.
Make it festive by using red and green glasses even if they are solo cups!
Garnish with festive colors such as cranberries or springs of mint or rosemary.
If using real glasses, make the rims fancy! Dip the rim of the glass in lemon juice and then dip it in a bowl of sanding sugar. Allow it to dry for a very festive look!
Peppermint sticks and candy canes are always a great addition.
Add Christmas straws for a fun way to drink your favorite Christmas drinks.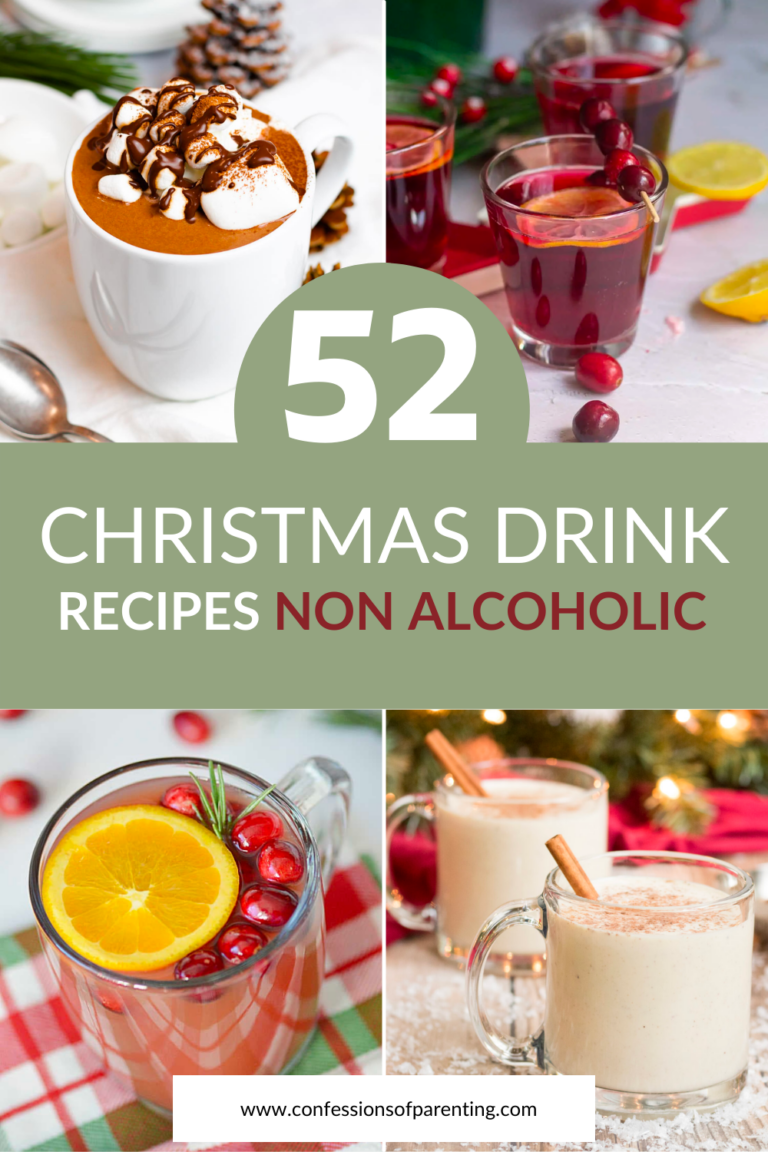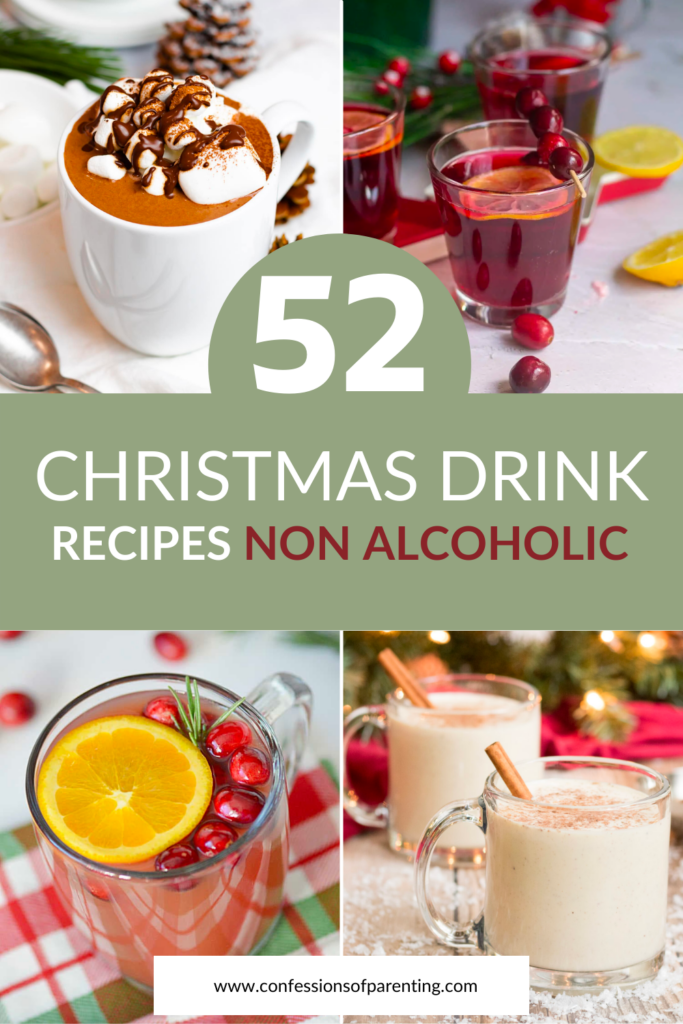 Christmas Drink Recipes Non-Alcoholic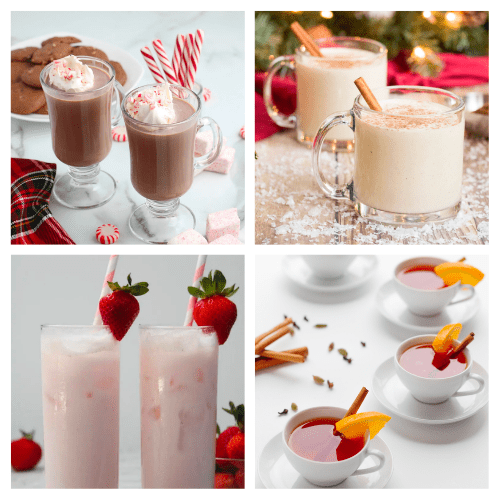 Effortless Peppermint Hot Chocolate by Frosting and Glue
Easy Homemade Non-Alcoholic Eggnog Perfect for Kids by Confessions of Parenting
Strawberry Horchata by The Six Figure Dish
Orange Spice Mulled Tea by Maple + Mango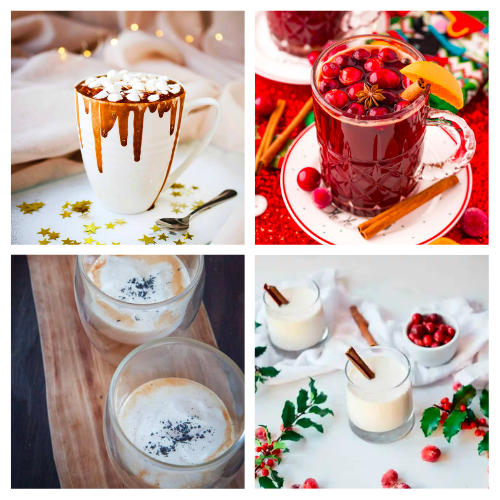 The World's Creamiest, Most Delicious Hot Chocolate by Saving Talents
Kinder Punch by Sugar and Soul
Salted Caramel Drink by Eat the Love
How to Make Spiced Cinnamon Milk by Marathons & Motivation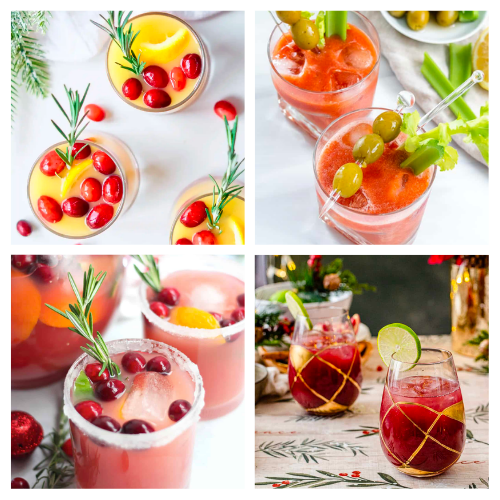 Holiday Orange Juice Mocktails by Marathons & Motivation
Virgin Bloody Mary by Plantbased on a Budget
Cranberry, Orange and Ginger Mocktail by Slow the Cook Down
Christmas Morning Punch by Limoncello Kitchen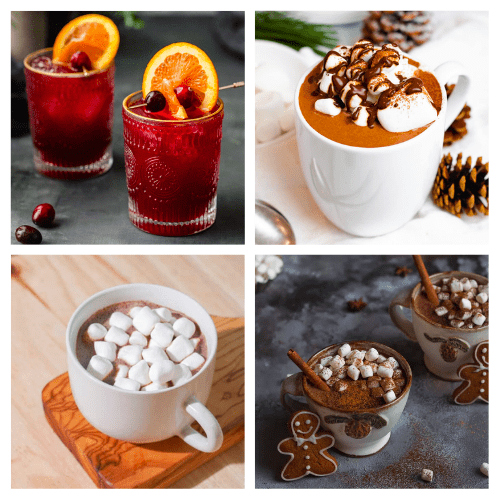 Cranberry and Orange Juice Mocktail by Limoncello Kitchen
Rich & Creamy Homemade hot Chocolate by Drive Me Hungry
Homemade Oat Milk Hot Chocolate by Slow Living Kitchen
Classic Hot Chocolate by Tasha's Artisan Foods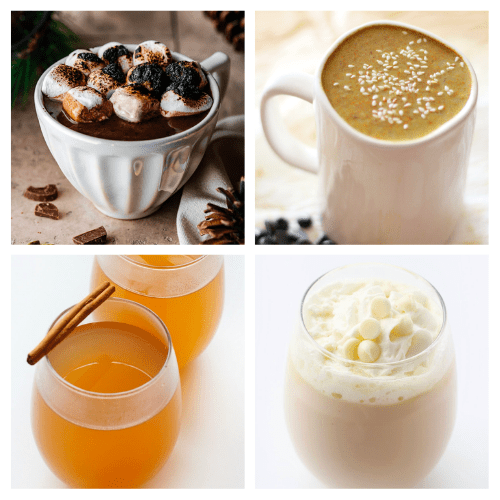 Chai Hot Chocolate by Masala & Chai
Healing Tahini Hot Chocolate by Strength & Sunshine
Homemade Apple Cider (No Added Sugar) by Strength & Sunshine
Vegan White Hot Chocolate (Gluten-Free, Allergy-Free) by Strength & Sunshine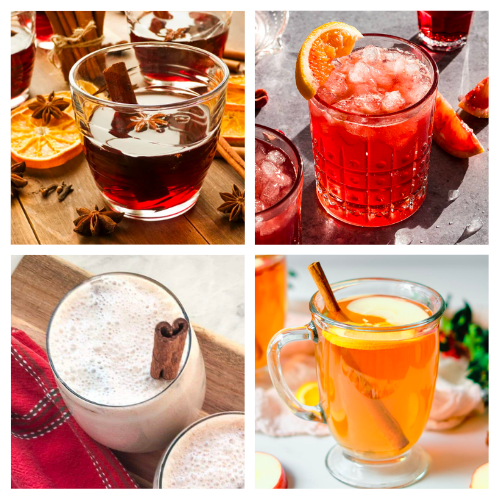 Cherry Mulled Mocktail Recipe by In The Playroom
Sparkling Blood Orange Cranberry Mocktail by Wholefood Soulfood Kitchen
No Sugar Added Horchata by Champagne & Coconuts
Hot Spiced Christmas Tea by A Taste for Travel
Cranberry Mocktail by The Littlest Crumb
Instant Pot Hot Chocolate by Bites With Bri
Orange Blossom Mocktail Recipe by This Mama Cooks!
Festive Kiwi Mocktails by Casa Desai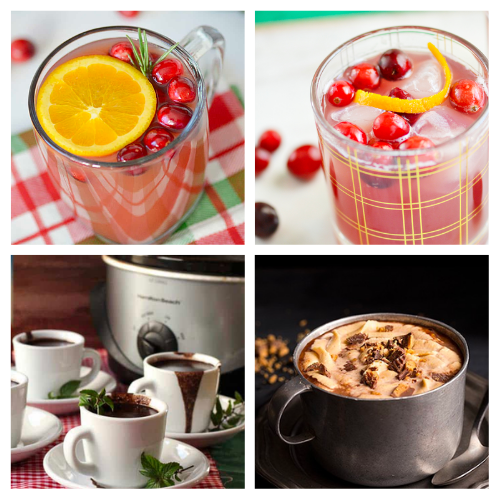 Cranberry Cider in the Slow Cooker by Finding Zest
Cranberry Pineapple Mocktail by Finding Zest
Crock Pot Hot Chocolate by Joy Filled Eats
Peanut Butter Hot Chocolate by Homemade in the Kitchen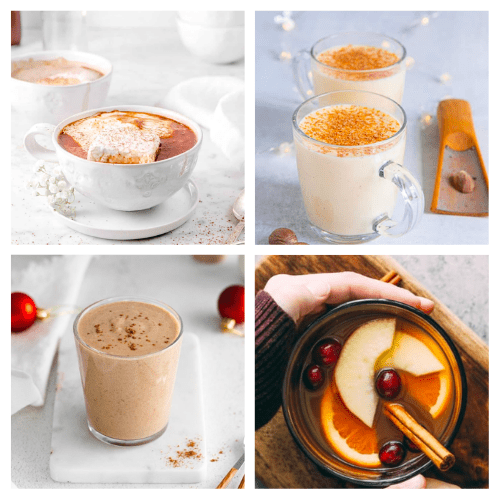 Creamy Double Chocolate Hot Cocoa by Bakers Table
Boiled Custard by Greedy Gourmet
Paleo Eggnog by Texanerin Baking
Homemade Apple Cider by Spend with Pennies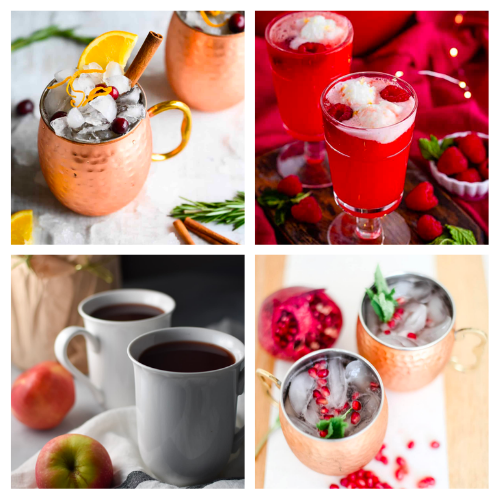 Cranberry Moscow Mule Mocktail by Art From My Table
Christmas Punch With Sherbet by Flavor Mosaic
Homemade Winter Wassail by The Dizzy Cook
Pomegranate Mocktails by The Dizzy Cook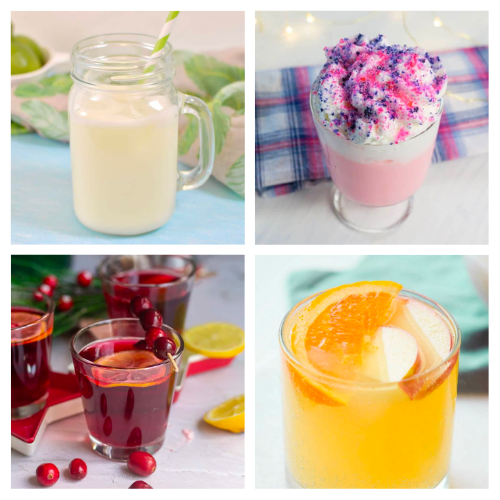 Brazilian Lemonade by Simple Living Recipes
Sugar Plum Hot Chocolate by Wondermom Wannabe
Cranberry Ginger Ale Mocktail by Vidhya's Vegetarian Kitchen
Fizzy Crockpot Apple Cider For Kids by In the Kids Kitchen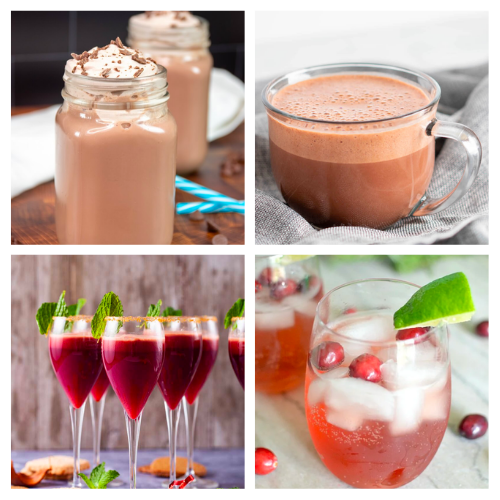 Keto Whipped Hot Chocolate by The Soccer Mom Blog
Keto Hot Chocolate by How 2 Do Keto
An Elegant Non-alcoholic New Year's Drink by My Chefs Apron
Christmas Cranberry Spritzer by The Suburban Mom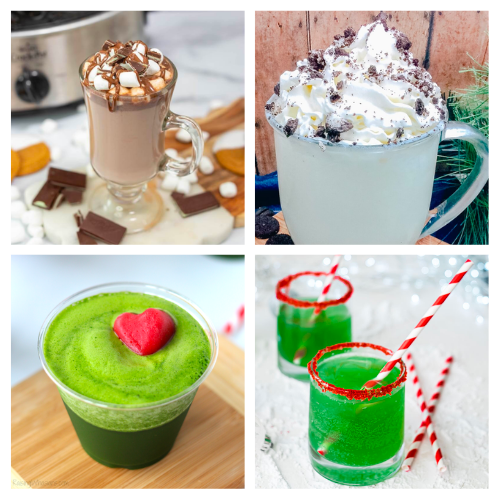 Crockpot Andes Mint Hot Chocolate by The Soccer Mom Blog
White Hot Chocolate (Made with Oreo Creme) by The Soccer Mom Blog
Kid-Approved Christmas Grinch Punch by Raising Whasians
Grinch Punch by Recipes From A Pantry