Ready to make Christmas lights extra special this year? Playing our Christmas Light Scavenger Hunt will make it a magical Christmas season with friends and family!
Christmas is almost here and it's our favorite time of year! We love drinking hot chocolate, decorating the house, planning acts of kindness for others, and playing a round of winter bingo. As a family, we have a yearly tradition of looking at Christmas lights in our neighborhood. To make our tradition extra special this year, I created a Christmas Light Scavenger Hunt.
This scavenger hunt is a great way to keep your kids engaged while they look at Christmas lights. A scavenger hunt will help them notice all the details and feel the excitement of Christmas time! Plus it's the perfect addition to our Christmas Scavenger Hunt.
If you are looking for a new and exciting family tradition, then this free printable is just what you need this Christmas!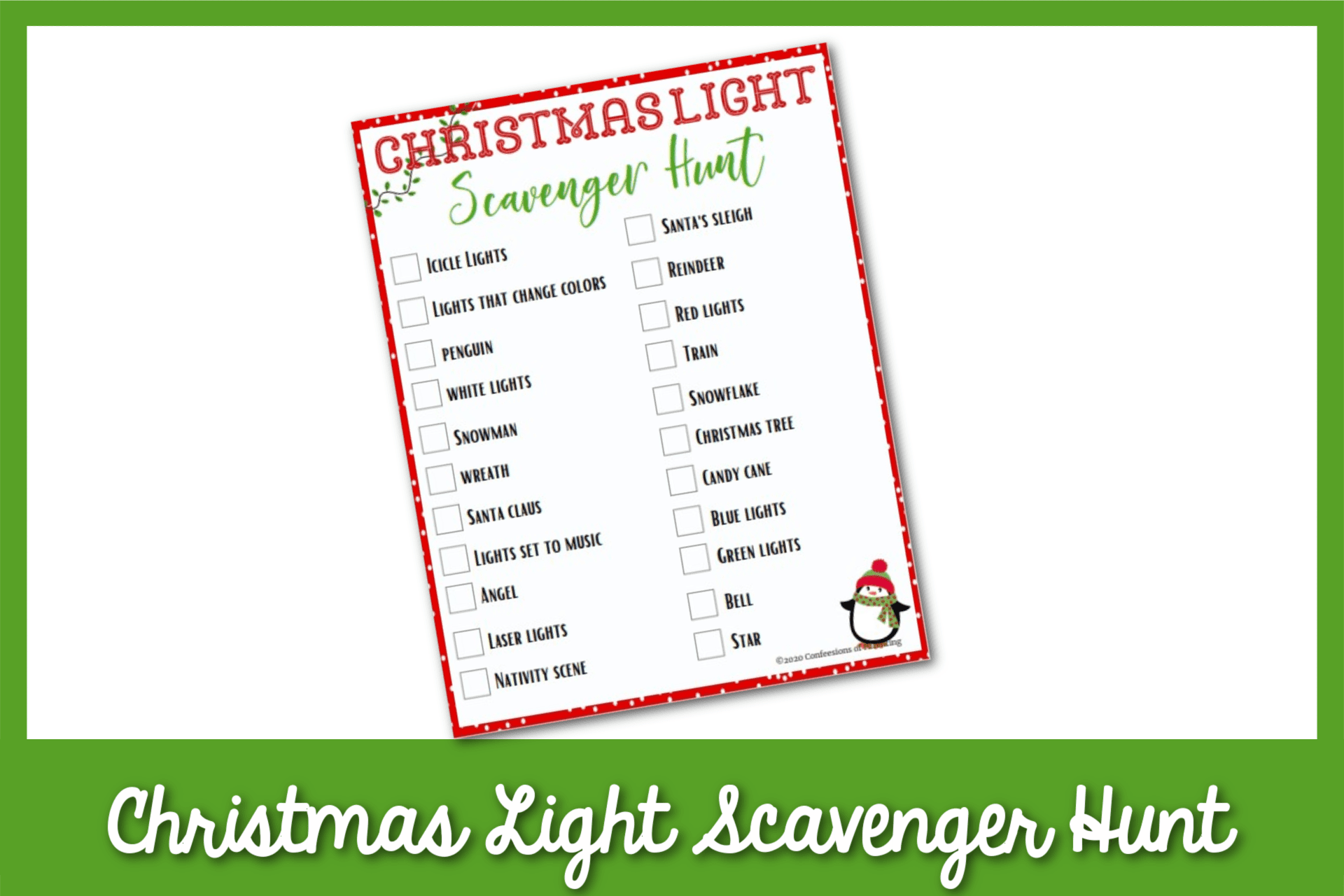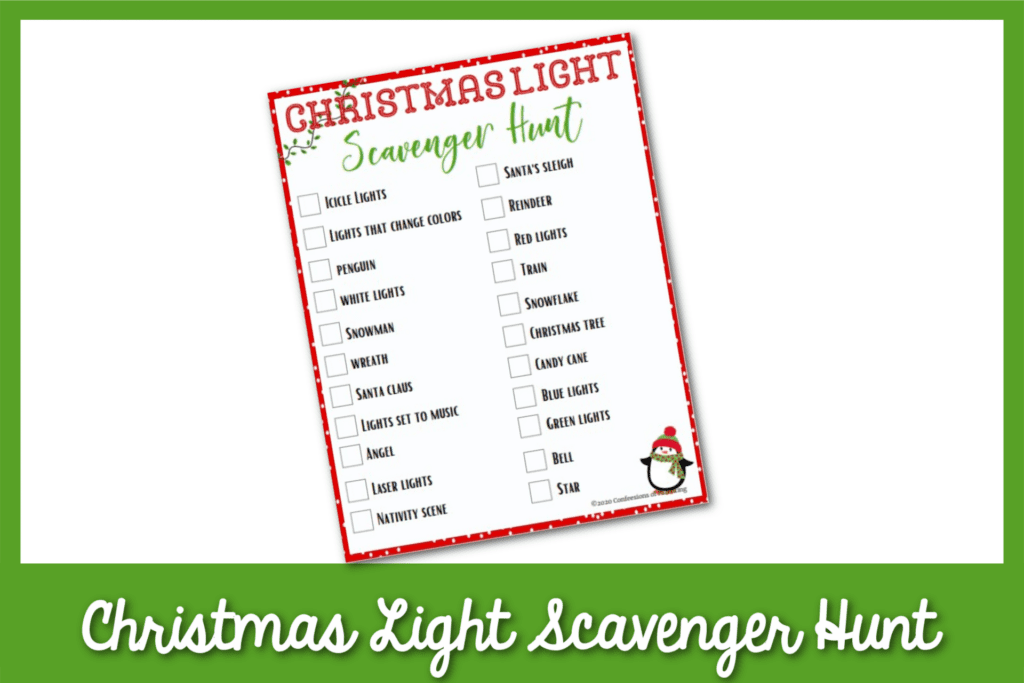 Why Scavenger Hunts
I love using Scavenger Hunts as a family activity because they are fun and productive! It's an easy way for me to get the whole family organized and involved in an activity. Best of all, scavenger hunts encourage exploration and independent discoveries.
As your kids' search for the items on their scavenger hunt list, they make observations and work on key developmental skills. There is nothing better than fun activities that are also beneficial for your kids' development!
What makes scavenger hunts even better is that everyone can play, no matter the age! With older kids and family members, it's always fun to make it a competition. Without the competition, we still have a good time searching together.
Using this will also be a great way to kick off the holiday season. It's an activity you could do anytime during December or you can add it to your Christmas Eve traditions.
Check out these other great Scavenger hunt ideas!
How to do a Christmas Light Scavenger Hunt
I love this Christmas Light Scavenger Hunt printable because you can adapt it to fit with your regular Christmas light traditions. Whether you are walking through the neighborhood or driving through town, you can easily search for the items on the list. Just print it out and take it with you!
If you have a lot of people hunting, you can divide into groups or go as individuals. With younger kids you can simply let them search, explore, and find the items. With older kids or adults, add in some competition to keep everyone motivated!
If you decide to make it a competition, consider some fun prizes for the winners like opening an early present, choosing which Christmas treat to make, or picking the next movie to watch.
Before heading out, it's a good idea to print copies for each group or person. I always love finding themed Christmas stickers or Christmas stampers to make it even more fun to check things off the list as you go!
Adjusting Scavenger Hunts for Different Ages
It can be hard to find an activity that works for a group of varying ages but this Christmas Light Scavenger Hunt really is perfect for all ages! It's easy to adjust to keep everyone engaged and having fun.
With little ones, it's a good idea to give them a partner or two that can help. Just make sure your little ones still take the lead with their partner helping when needed. Toddlers and young children love exploring so each new discovery will be exciting for them! Just explain what they are looking for and let them go on an adventure!
Teens are known for not wanting to participate in activities, but it's easy to change up this scavenger hunt to get them excited about it. You can make them a group leader or turn it into a competition with prizes.
Christmas Light Scavenger Hunt
Here's my list of Christmas light scavenger hunt ideas! Grab your free printable below!
Icicle lights
White lights
Penguin
Snowman
Wreath
Lights that change colors
Santa Claus
Lights set to music
Angel
Laser lights
Nativity scene
Santa's sleigh
Reindeer
Red lights
Train
Snowflake
Candy cane
Blue lights
Green lights
Christmas tree
Bell
Star
Grab your Christmas Light Scavenger hunt by joining our Confessions of Parenting VIPs where you will have access to 100s of free printables for free!
How Do I access my free printables?
Fill in the form above. You will receive an email in your inbox. If you don't see it, check your spam folder! You will then click to confirm your subscription. Once confirmed, you will be taken to Airtable (a different website) where all our free printables will be waiting for you! It is free to sign up for Air Table!
How Do I Print a PDF?
You'll need a program that supports PDFs. Adobe Acrobat is a great option. Open the program, click File, then print. Select your printer and the number of copies you want to print. Be sure you click double-sided if you want it to print on both sides.
Can I resell these?
You may not resell any printable found on our website or in our resource library. You may use them for class parties, at church, at home, or in the classroom. You may get these printed at an office supply store or copy center at your own expense.
Ready for More Christmas Games? Try these!
Great Scavenger Hunt Ideas to Try