Invite the excitement and magic of Christmas into your home this holiday season with our list of 50 Magical Christmas Quotes for Kids!
Christmas time is such a wonderful time of year! It's full of gifts, family, delicious food, and beautiful decorations. But Christmas time is especially busy as well. Shopping for gifts and planning during the holiday season can easily distract everyone in our family from the real meaning of Christmas. That's why I love to find ways to slow down and take some time to focus on the true meaning of Christmas.
One of our favorite family traditions during Christmas is reading inspirational Christmas quotes for kids. They are easy for everyone to understand and they quickly get us into the Christmas spirit! We love to read them and then talk about what they mean. It's so special for me to hear my kid's responses and see Christmas through their eyes!
I always love to add in some gratitude quotes as well to make sure we express gratitude at Christmas. If you missed our Thanksgiving quotes or gratitude quotes for kids, be sure to check them out so you can add some gratitude to your holiday season!
Our Favorite Christmas Quotes for Kids
Christmas, my child, is love in action.

— Dale Evans
Christmas renews our youth by stirring our wonder. The capacity for wonder has been called our most pregnant human faculty, for in it are born our art, our science, our religion.

— Ralph Sockman
Blessed is the season which engages the whole world in a conspiracy of love.

— Hamilton Wright Mabie
Probably the reason we all go so haywire at Christmas time with the endless unrestrained and often silly buying of gifts is that we don't quite know how to put our love into words.

— Harlan Miller
Christ was born in the first century, yet he belongs to all centuries. He was born a Jew, yet He belongs to all races. He was born in Bethlehem, yet He belongs to all countries.

— George W.Truett
Children make your Christmas Merry.

— Erma Bombeck
I heard the bells on Christmas Day; their old familiar carols play, and wild and sweet the word repeat of peace on Earth, good-will to men!

— Henry Wadsworth Longfellow
At Christmas, all roads lead home.

— Marjorie Holmes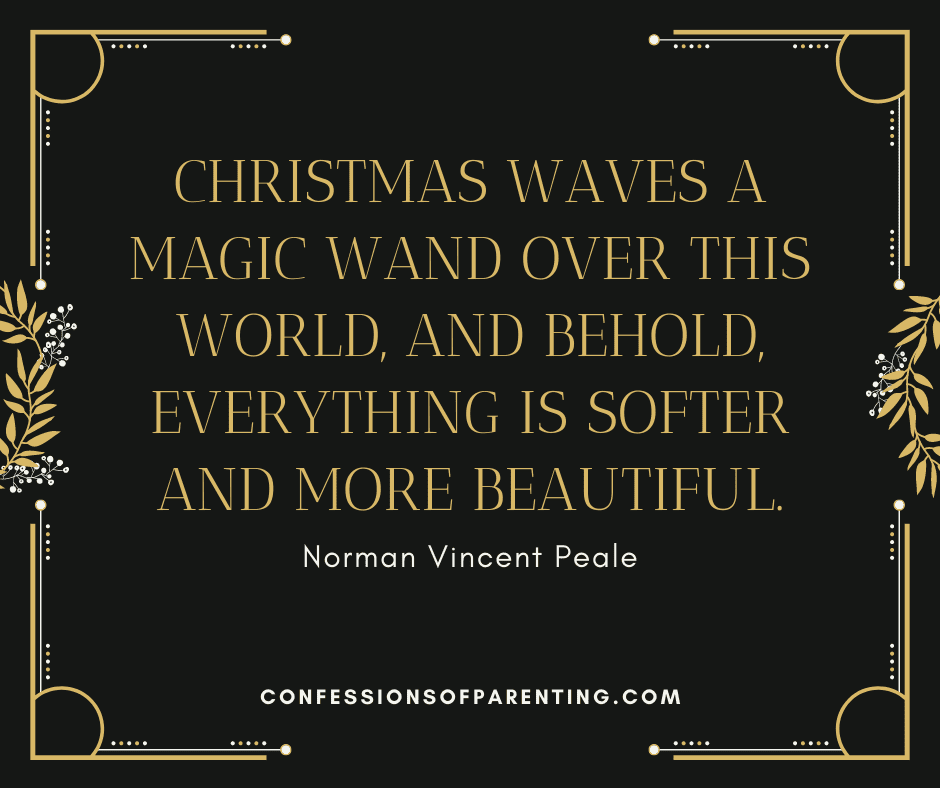 Christmas waves a magic wand over this world, and behold, everything is softer and more beautiful.

— Norman Vincent Peale
We've had bad luck with our kids on this Christmas — they've all grown up.

— Christoph Morley
A Christmas gambol oft could cheer; The poor man's heart through half the year.

— Walter Scott
Christmas is a time when you get homesick – even when you're home.

— Carol Nelson
I will honor Christmas in my heart, and try to keep it all the year.

— Charles Dickens
Christmas is sight, especially the sights of Christmas reflected in the eyes of a child.

— William Saroyan
If 'ifs' and 'buts' were candy and nuts, wouldn't it be a Merry Christmas?

— Don Meredith
The best way to spread Christmas cheer is singing loud for all to hear.

— Will Ferrell, Elf
Christmas! 'Tis the season for kindling the fire of hospitality in the hall, the genial fire of charity in the heart.

— Washington Irving
Christmas: the only time of year you can sit in front of a dead tree eating candy out of socks.

— Anonymous
Unless we make Christmas an occasion to share our blessings, all the snow in Alaska won't make it 'white.'

— Bing Crosby
May you never be too grown up to search the skies on Christmas eve.

— Anonymous
Christmas, my child, is love in action.

— Dale Evans
One of the most glorious messes in the world is the mess created in the living room on Christmas day. Don't clean it up too quickly.

— Andy Rooney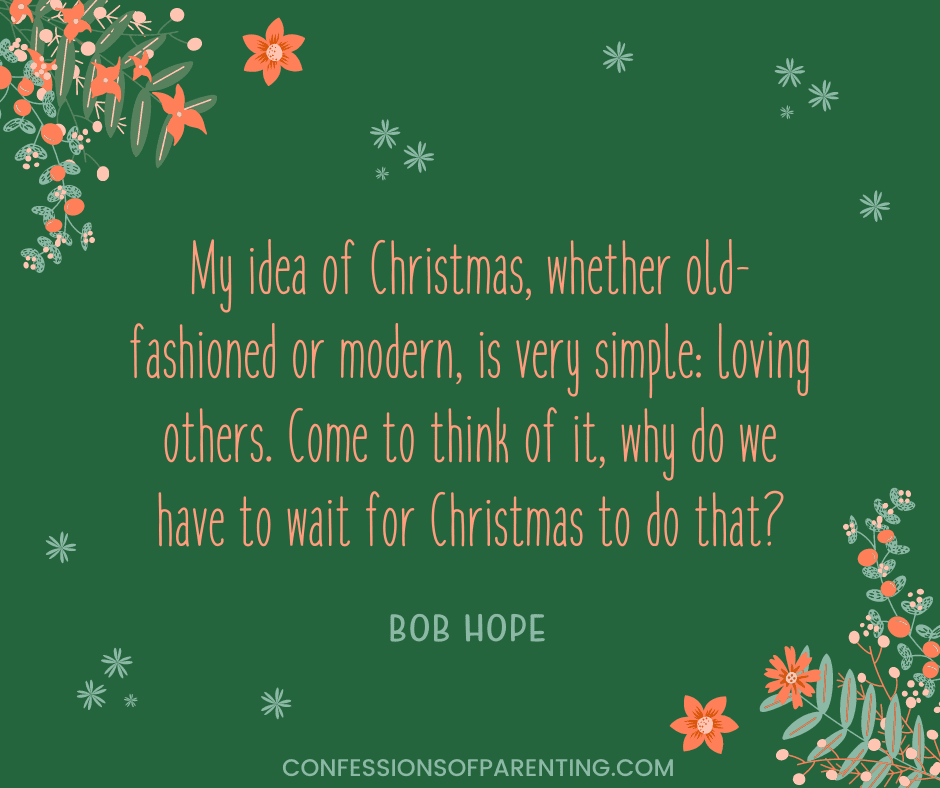 My idea of Christmas, whether old-fashioned or modern, is very simple: loving others. Come to think of it, why do we have to wait for Christmas to do that?

— Bob Hope
Maybe Christmas, he thought, doesn't come from the store. Maybe Christmas… perhaps… means a little bit more!

— The Grinch, by Dr Seuss
A good conscience is a continual Christmas.

— Benjamin Franklin
Never worry about the size of your Christmas tree. In the eyes of children, they are all 30 feet tall.

— Larry Wilde
Christmas is a tonic for our souls. It moves us to think of others rather than of ourselves. It directs our thoughts to giving.

— B.C. Forbes
Christmas isn't a season. It's a feeling.

— Edna Ferber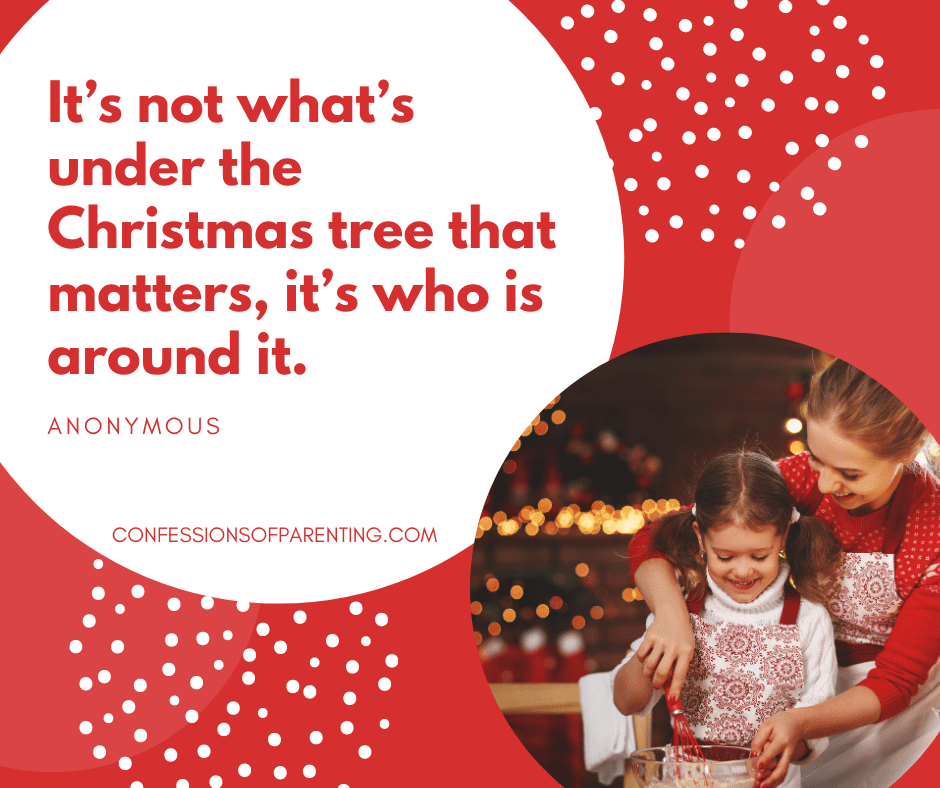 It's not what's under the Christmas tree that matters, it's who is around it.

— Anonymous
Christmas, my child, is love in action. Every time we love, every time we give, it's Christmas.

— Dale Evans
A lovely thing about Christmas is that it's compulsory, like a thunderstorm, and we all go through it together.

— Garrison Keillor
Christmas Prayer: Guardian angel pure and bright, please lead Santa here tonight.

— Unknown
That's the true spirit of Christmas; people being helped by people other than me.

— Jerry Seinfeld
Three Wise WOMEN would have asked directions, arrived on time, helped deliver the baby, bought practical gifts, cleaned the stable, made a casserole, and there would be peace on earth!

— Anonymous
It's Christmas in the heart that puts Christmas in the air.

— W. T. Ellis
Christmas is not a time nor a season, but a state of mind. To cherish peace and goodwill, to be plenteous in mercy, is to have the real spirit of Christmas.

— Calvin Coolidge
Christmas is like candy; it slowly melts in your mouth sweetening every taste bud, making you wish it could last forever.

— Richelle Goodrich
Christmas is a day of meaning and traditions, a special day spent in the warm circle of family and friends.

— Margaret Thatcher
Some people are born for Halloween, and some are just counting the days until Christmas.

— Stephen Graham Jones
Christmas gift suggestions: To your enemy, forgiveness. To an opponent, tolerance. To a friend, your heart. To a customer, service. To all, charity. To every child, a good example. To yourself, respect.

— Oren Arnold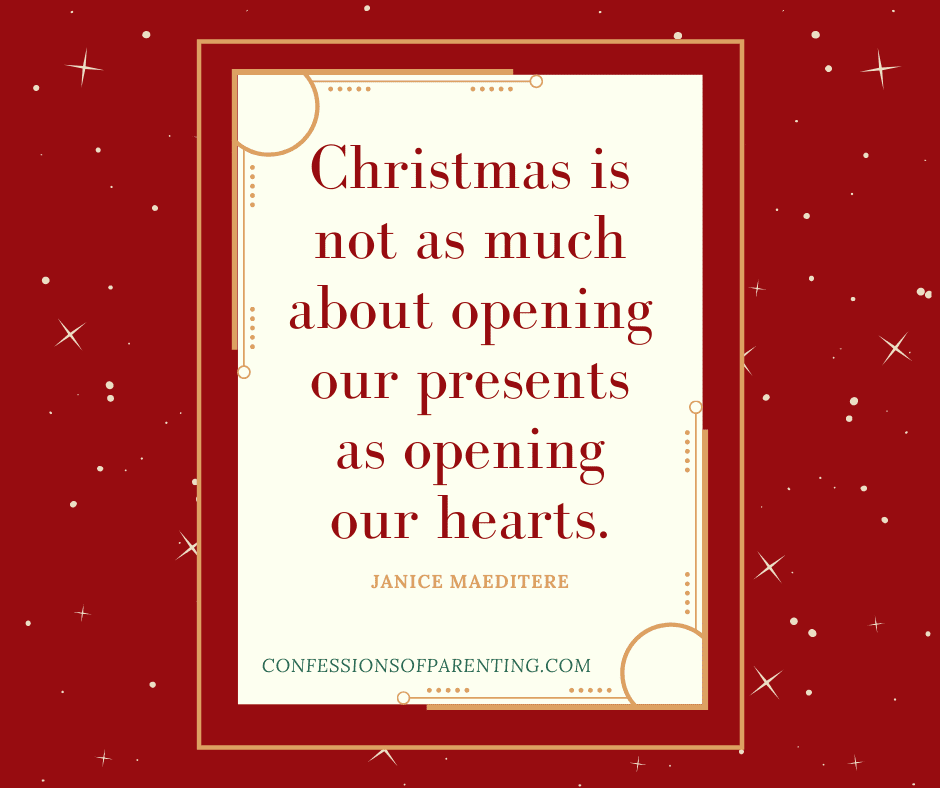 Christmas is not as much about opening our presents as opening our hearts.

— Janice Maeditere
Christmas Eve, a perfect night to express affection for your family, to forgive those who failed you, and to forget past mistakes.

— Unkown
Christmas magic is silent. You don't hear it – You feel it. You know it. You believe it.

— Kevin Alan Milne
May the spirit of Christmas bring you peace, the gladness of Christmas give you hope, the warmth of Christmas grant you love.

— Anonymouse
The best of all gifts around any Christmas tree: the presence of a happy family all wrapped up in each other.

— Burton Hillis
Christmas isn't about candy canes or lights all aglow, it's the hearts that we touch, and the care that we show.

— Mickey's Once Upon a Christmas
From home to home, and heart to heart, from one place to another. The warmth and joy of Christmas, brings us closer to each other.

— Emily Matthews
Love came down at Christmas, Love all lovely, Love Divine, Love was born at Christmas, Star and Angels gave the sign.

— Christina Rossetti
Gifts of time and love are surely the basic ingredients of a truly merry Christmas.

— Peg Bracke
Even as an adult I find it difficult to sleep on Christmas Eve. Yuletide excitement is a potent caffeine, no matter your age.

— Terri Guillemets
Now you have 50 magical Christmas quotes for kids to share with your family! Which quotes are your favorite? Tell us in the comments!
Looking for more magical moments? Try these fun Christmas games to play with the kids!
Ready for More Christmas Games? Try these!