Feeling overwhelmed with the daily duties of being a mom? Add some needed self care into your routine with this daily self care checklist for moms!
Daily Self Care Checklist for Moms
Being a mom is wonderful and a huge gift but it sure can be tough at times! Often, moms spend their days giving away most if not all of their energy to their kids, spouse, and other responsibilities leaving them feeling like an overwhelmed mom.
If you are a mom, it is amazing that you choose to take the left-overs of that energy and time, if there even is any. But guess what? You deserve that energy too!
This doesn't mean it isn't important to take care of your kids. It's just a reminder that sometimes the best way to take care of your family is by taking care of yourself by practicing self care for moms!
One of the best ways to get started with that? Make a daily self care checklist!
Why you need a daily self care checklist
Moms, perhaps more than anyone, need time to refuel and get back to feeling their best!
Making a list of daily self care activities that are a priority in your routine is simple and helpful.
These items don't have to be big, time-consuming, or complex. They just need to be things that help you take a little time for yourself to feel better.
I promise it will not hurt your sweet kids to take this time! If anything, you'll have more energy and a positive attitude to give them the attention that they need!
To help you get started, here's a list of great items for a daily self care checklist for moms!
Take a shower
Taking a shower doesn't seem like it needs to be on a checklist, but it's one of those activities that gets skipped by moms during a busy day!
If you need extra time to fit a shower in, wake up fifteen minutes earlier!
Even if you have to drag yourself out of bed, you will have a better day after starting it off with a nice long hot shower!
Have a morning routine
Routines are essential for keeping your brain happy and healthy with all the family business.
Having a routine doesn't mean that every minute has to be scheduled. It only means that you have a few typical events that keep your morning moving!
Knowing what you need to do each morning helps you prepare and be more time effective. It also leads to a much more productive day!
I love following this morning routine to get more done in the mornings!
Read or listen to a book
Read something or listen to something that you really enjoy! Take a break and relax from your day.
Even if you can only squeeze in a few minutes, reading is great for your mind and your emotional well being.
If you can't find the time, download a podcast or listen to an audiobook that you enjoy. Let it play while you work around the home, run errands, or play with the kids.
Go outside
Being a mom can sometimes feel alienating when you have so much to do inside the home.
Get some time outside in the fresh air and let yourself take a deep breath of relief. Fresh air is good for your body and it relieves a lot of emotional and mental pressure.
If the weather isn't great where you live, just go for a quick walk, go for a drive, or open all the windows so you can feel a bit freer.
Drink water
Between drop-offs and pickups, laundry, appointments, and crossing items off your to-do list don't forget to drink some water!
We all know that water is good for our health and wellness, but it's easily forgotten during a busy schedule.
If you need a reminder, get a fun new water bottle that can tag along with you on all your errands!
Cross something off your personal to-do list
This doesn't mean that you should cross something else off your family and home to-do list, which may feel never-ending.
Do something that you have been putting off for yourself!
Write in your journal you forgot about.
Read that article your friend told you about.
Watch that show you love.
Do that craft you were admiring.
Do something fun or needed that you've been pushing aside.
Say no
This isn't an active thing that you need to do every day, but it's important to remember!
Say no to your kids. Say no to your friends. Say no to your spouse. It's okay to say no.
Of course, you should always be willing to help others, especially your family members. But if your plate is already full, don't be afraid to say no to their requests.
Moms have a habit of taking on too much. If you are guilty of that, say no or refer whoever is asking to someone who has the time and energy to help!
Be social
You can be social in many different ways, but however you like to be social, make sure that it's a priority!
Moms need friends too! Meet up with some friends, have a play-date, go to the library or children's museum, or even just simple text or call a loved one to chat.
One of my favorites is just Facetiming a friend in the middle of the day and catching up for a few minutes!
Even in a house full of kids and with a loving spouse, it can feel lonely being a mom! Get out of your comfort zone and spend time with friends!
Become part of our Instagram tribe and be social with us over there!
Give a task to your spouse
If your spouse is available, ask for help!
Many husbands will say that the main reason they aren't being helpful is that they don't know where to start!
Be specific and ask for help with something you aren't going to get to that day.
If they are willing, you could even ask for a little break while they watch the kids. Give yourself fifteen minutes to relax, close your eyes, or do something you've been putting off while dad takes over!
Take vitamins
Don't forget to take your vitamins!
Take your favorite multivitamins as part of your daily routine. Or you could meet with your doctor to see what specific vitamins you are needing. An extra boost of a vitamin you are missing could be just what you need for an energy boost!
Meditate
Put aside some time in your day to meditate in whatever way you like best.
Meditation can be broadly applied, but if you want some extra help there are tons of videos, manuals, courses, and other things to help you get started.
At the very least, let the kids play while you take five minutes to shut your eyes and let your mind be free!
Write in a gratitude journal
Writing in any type of journal can be therapeutic, but a gratitude journal may be exactly what you need to lift yourself up!
If you have trouble coming up with ideas, try getting a gratitude journal that has prompts to help you out!
Adding daily writing in a gratitude journal to your daily self care checklist will remind you that even on the very worst days you have something to be thankful for.
Wash your face
Cleanse your face with a simple cleanser or go big and do a fun face mask you have been wanting to try.
Washing your face is not only good for your skin, but it just feels good! It feels like a fresh new start and gives a boost of energy. This is a must for your list!
Exercise
If regular exercise isn't part of your usual routine, start simple! Go for a short walk with your kids, do a yoga video, or get more involved with your kids' play.
If you are thinking right now that you don't have time for daily exercise… make time! It needs to be a priority. It's good for your body and cleansing for your mind.
Just get moving and start small! Check out our list of free workouts you can do at home for some at-home workout ideas!
Have a quiet hour
Newsflash. It doesn't matter how old your kids are or if they are napping or not. You are allowed to have an hour to yourself!
Take the chance to get some much-needed alone time.
Tell your kids to read, color, or do another activity quietly in their room while you get some space. Independent play is healthy and good for child development, and independent mom time is great too!
This is a great time to check off some self care items, or to get something done that is much easier without juggling kids.
Meal plan
Plan out what you are having dinner before dinner time begins! Grab our free meal planning templates to help you get started!
You can find simple ways to plan each week or even month, but if that doesn't interest you just take a moment each morning to think about dinner.
Planning out your meal will alleviate so much stress around mealtime. You can prep more beforehand, and you are likely to have healthier meals.
If you don't know what to cook be sure to follow our weekly meal plan. Or sign up to get it delivered right to your inbox!
[mailerlite_form form_id=12]
Grab your Free Daily Self Care Checklist here to print off so you can remember to take care of you!!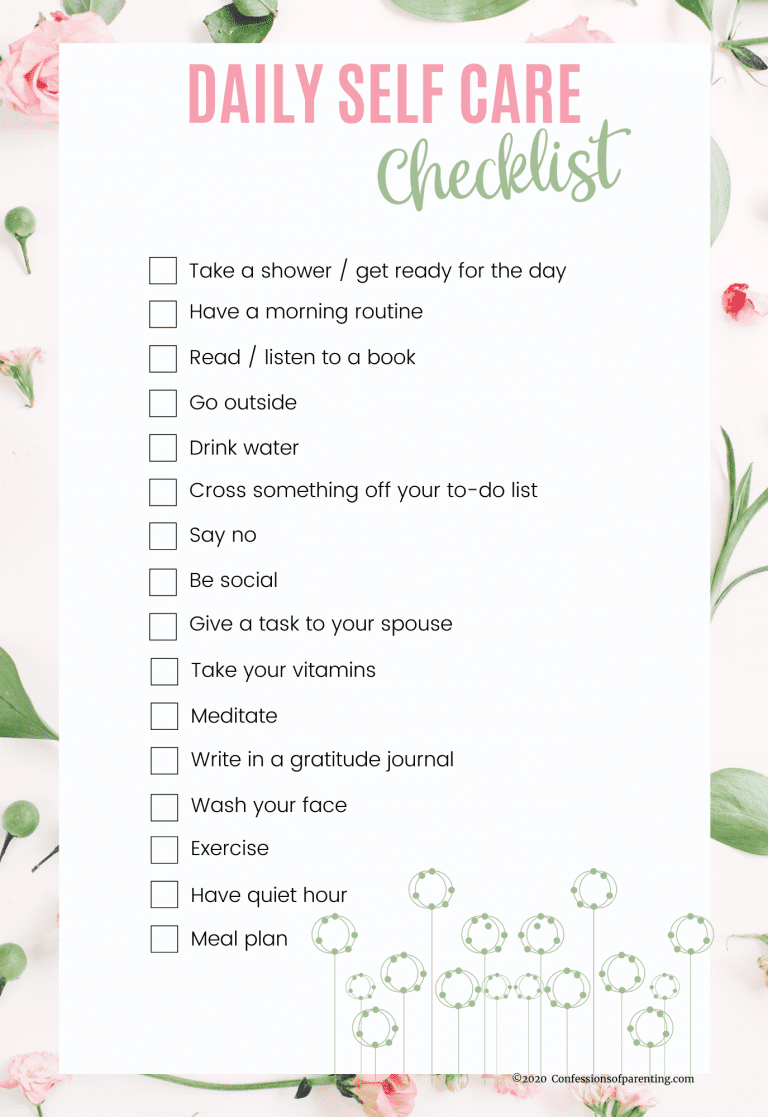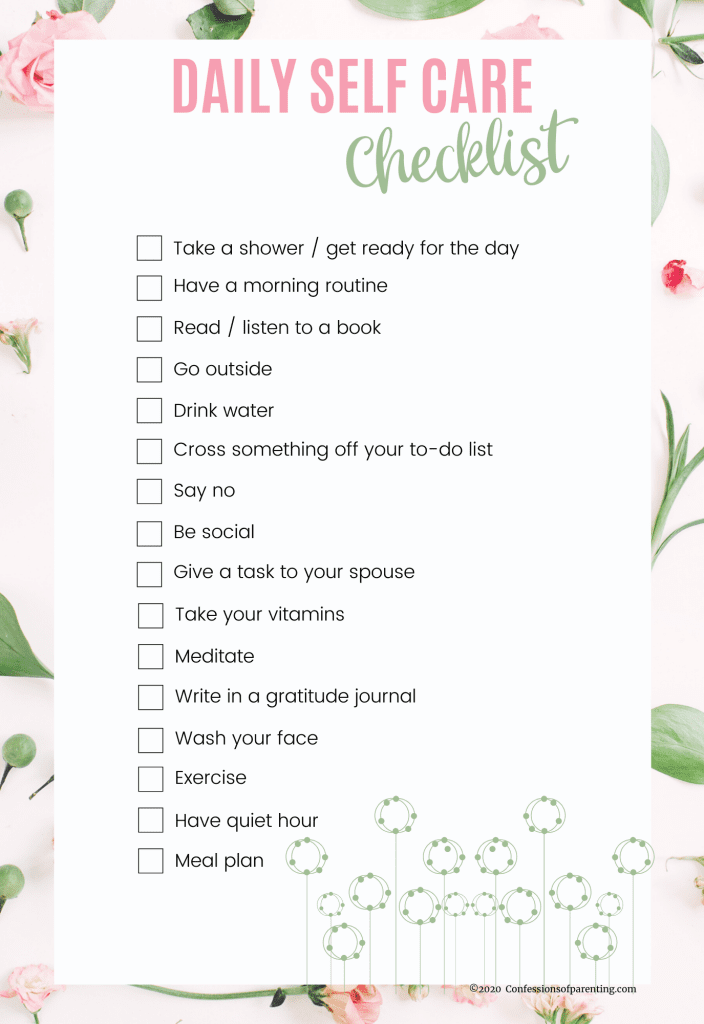 What is something you would love to have on your daily checklist? Share in the comments!
Check out other helpful posts for moms!