Celebrate December with these easy family fun ideas! You'll want to add each of these simple ideas to your December bucket list this year!
Celebrate December
Happy holidays to you and your family! Can you believe the year is just about over?
There is so much to do in December, so it can get really busy around your home. If you want to make family time a priority despite this, make sure that you check out this list of December bucket list ideas.
You won't want to miss any of these ways to celebrate December. Make sure you scroll down to get your printable!
December Bucket List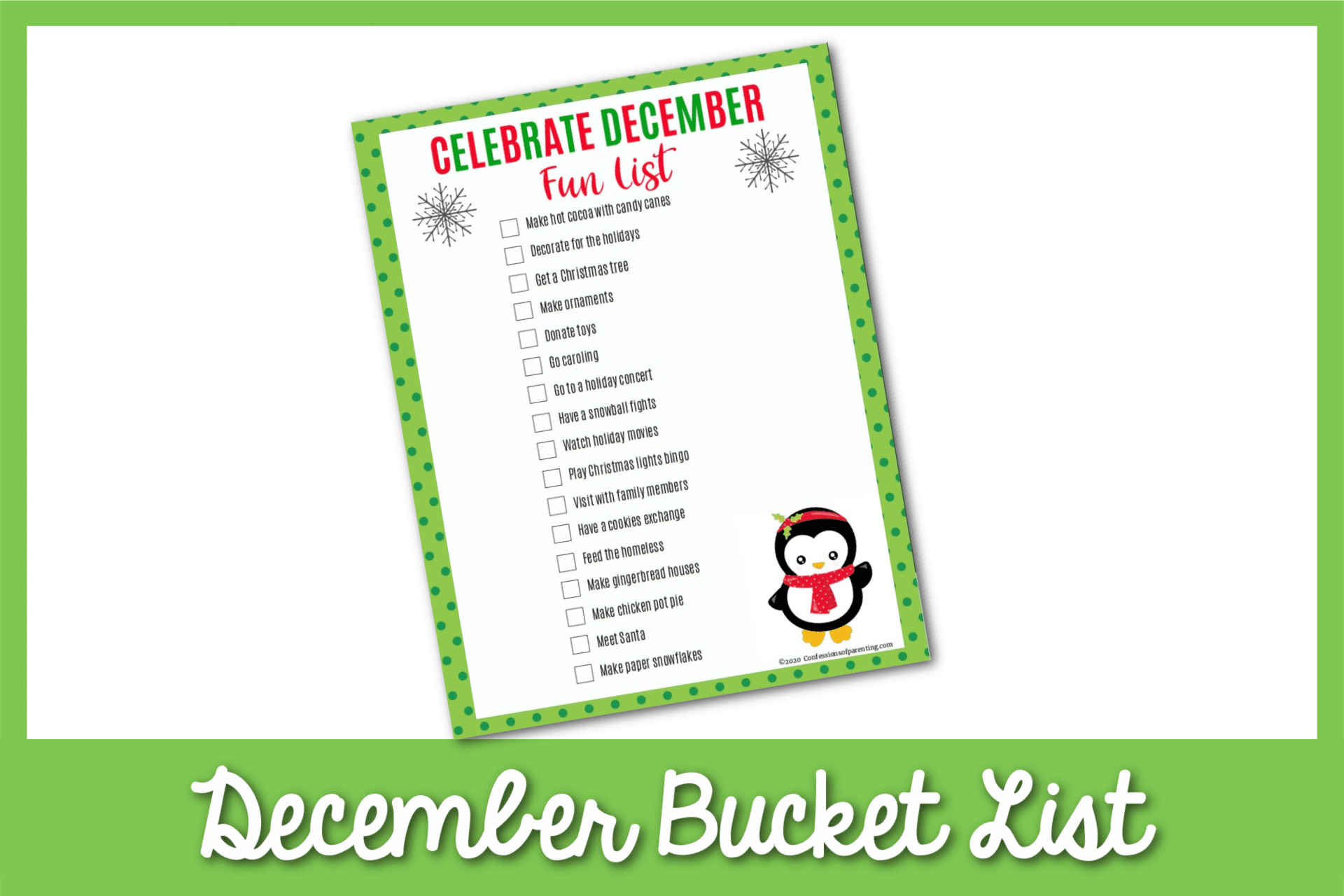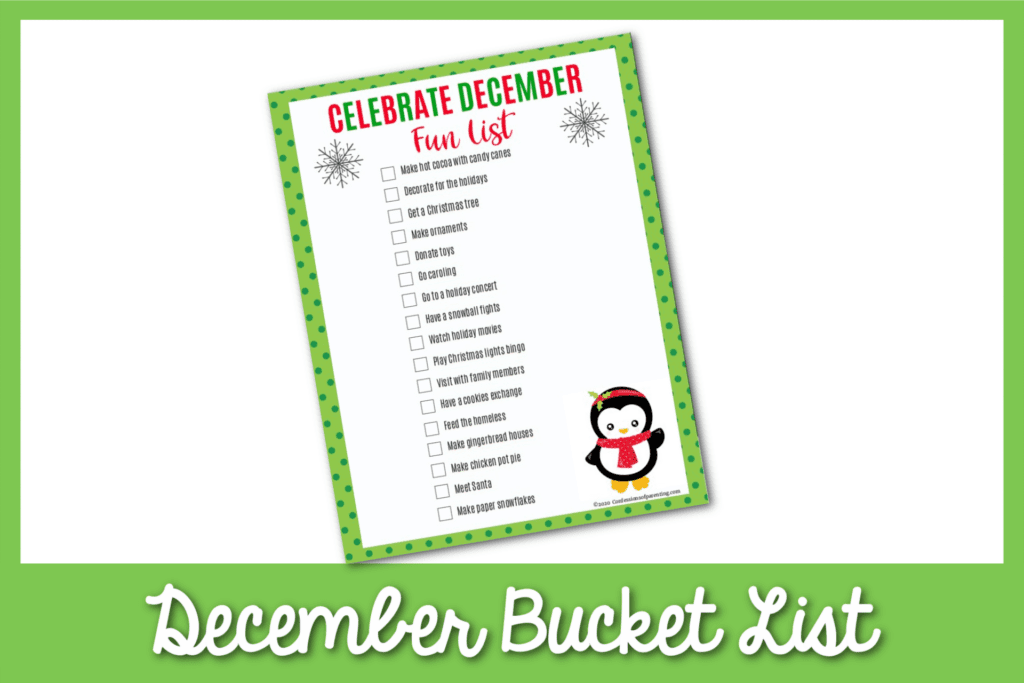 Make hot chocolate with candy canes
Put a holiday spin on this great winter drink. Make some of your favorite hot chocolate and use some candy canes to stir and add that peppermint flavor!
If you want to avoid some sticky hands, crush up the candy cane and sprinkle it on top of your hot chocolate. Of course, you can always set up a hot chocolate bar for lots of fun all season long!
Decorate for the holidays
Celebrate December by adding a little holiday spirit to your home! Get out your box of Christmas decorations or make some new ones to add to your home.
Put on some holiday music and see how you can get your kids involved as you transform your home into a wintery dream!
Get a Christmas tree
You can't decorate your home without a beautiful Christmas tree!
Whether your family chooses a real tree or a fake one, it's so much fun to pick your tree out and bring it home. It's the perfect addition to your holiday decorations.
Add decorations and ornaments and you'll be all ready to go!
Make homemade ornaments
Making homemade ornaments is a great family tradition if you don't already do this.
You can watch for a family's growth throughout the years in size and creativity as you look at all the year's ornaments that they have made.
Make their handprints with clay, add memories into a glass ornament, cut out a paper gingerbread, or try another fun simple ornament!
Donate toys
Get together as a family and pick a few toys that you can donate to a cause that helps families with their Christmas presents.
Consider talking to your kids more seriously about how some kids don't receive gifts and see what your kids are willing to give up to help someone in need.
Make sure that mom and dad are donating something so they are part of this activity! Think about how to teach kids to give away toys to make it easier!
Go caroling
Caroling is a little less common nowadays, but it is a really great way to celebrate December with your family.
Learn a few holiday songs and practice them together before you visit friends and neighbors spreading holiday cheer!
You could also invite friends to sing along with you as you carol and see how many people join!
Pass out Christmas cards
Most people send out their cards in the mail and that's just fine… especially if they are being sent far away!
But if you want a fun December family activity, think about hand-delivering your cards this year to local friends.
Make it a fun night and bring candy canes, songs, or other fun holiday things with you. People will appreciate the thought behind this fun activity.
Go to a holiday concert
A lot of churches and community centers hold holiday concerts during December and you won't want to miss them.
Holiday music has a special way of putting everyone in a sweet peaceful mood. It's also a lot of fun to be able to see some local choirs perform.
Have a snowball fight
Team up or do a free for all and have some fun! If the snow has been getting you down this winter, make the most of it and bring out your inner child.
When you're done with your snowball fight, go inside and warm up with some hot chocolate and warm pajamas!
If you don't have any snow where you live, get some cotton balls or crafting puff balls to throw at each other and have an indoor snowball fight.
Watch holiday movies
What's your family's favorite holiday movie? Celebrate December with a movie marathon of some holiday favorites!
Snuggle up on the couch and pop some popcorn so that you can enjoy a special movie night together.
Play Christmas light bingo
Here's a twist on your usual family drive through neighbors to look at Christmas lights in people's yards.
Put together a few bingo boards with different items that you would usually see in Christmas decoration setups. Santa, different colors of lights, reindeer, and nativity scenes would all be good things to include.
Have your kids fill it out like you are playing bingo as you see things throughout the drive. Use stickers or something else simple to mark and see who gets bingo first!
Visit with family members
Add a memorable visit to some family members to your December bucket list. Whether they are near or far, make an effort to visit with some people that you don't see often!
At the very least, talk on the phone or video call them to catch up and let your kids see their family members.
Have a cookie exchange
Holiday calories don't count, right? To have a cookie exchange, have each family bring a dozen cookies to the party.
Once everyone arrives, have everyone fill up a plate with a dozen cookies of whatever variety they'd like. Everyone should leave with the same amount of cookies but all different types!
This is a really fun event and leaves everyone with some delicious new treats!
Feed the homeless
There are many chances to feed the homeless and give back to your community during the holiday season. Many groups organize events that your family could get involved with to help with this needed cause!
If you have little ones that you don't want doing this, you could also make care packages as a family to pass out!
Make gingerbread houses
Making gingerbread houses is such a fun activity!
Grab some premade kits or make your own gingerbread for your houses. You can even use graham crackers instead to keep it extra simple.
Layer on as much candy as your kids want and make some beautiful masterpieces to display in your home during the season.
Make chicken pot pie
Spend the evening together eating a delicious warm meal. Chicken pot pie is pretty simple to make and is a great winter dinner idea.
It's also kid-friendly. Have your kids stir up the filling and place the shells in the pie dish. It's a different take on the usual chicken and vegetable meal!
Meet Santa
Take your family to go meet Santa! You can meet him all over the place, but if you want to save some money check your local library, church, hospital, and other public places. Many of them have free opportunities to meet Santa!
Don't forget to take pictures of this fun meeting! Your little ones may not be too thrilled at the time, but it will be a good memory.
Make a Christmas countdown
Use a classic Christmas advent calendar or another creative way to countdown to Christmas!
This is especially helpful if you have young children. Time is a difficult concept to understand but it can be easier if they have a visual to look at.
Try out making a paper chain to rip off daily, or a big calendar that the kids can make "x"s on each day.
Make ugly Christmas sweaters
Grab some cheap sweaters at your local thrift shop or wherever you would like.
Sit down as a family with some paint, yarn, glitter, and whatever supplies you have sitting around and see what you can come up with!
This would be an especially fun activity if your family has a Christmas party coming up so that you could all wear your masterpieces together!
Make paper snowflakes
Another super fun winter activity to do with your family!
Let your older kids go to town coming up with unique shapes and cuts to make in their snowflakes. If they need some help, you could draw some ideas that they could cut out.
For younger kids, have them color the paper before you cut the flakes out, hang the finished ones on the wall, or something else safe and fun!
Read The Night Before Christmas
A great December bucket list item is reading The Night Before Christmas to your kids on Christmas Eve.
It's a classic tradition and it's a fun way to get them excited about the holiday to come. Hopefully, the story will help them wind down and get some sleep too!
Have a baking day
You may end up having many of these, but having a baking day is a must during December. There are so many yummy treats that need to be made.
You could pass some treats out to friends and neighbors, make some for a party, or enjoy some at home with the family!
Try to share the burden of all this baking and let the whole family get involved!
Go to a New Year's Eve party
Go to a party on New Year's Eve or throw one yourself!
If you have young kids you may want to celebrate the new year a bit earlier than midnight, but you can still have a fun toast of juice or cider with the family.
Whenever you decide to celebrate, enjoy that time with people you love and get excited about a fresh new year beginning.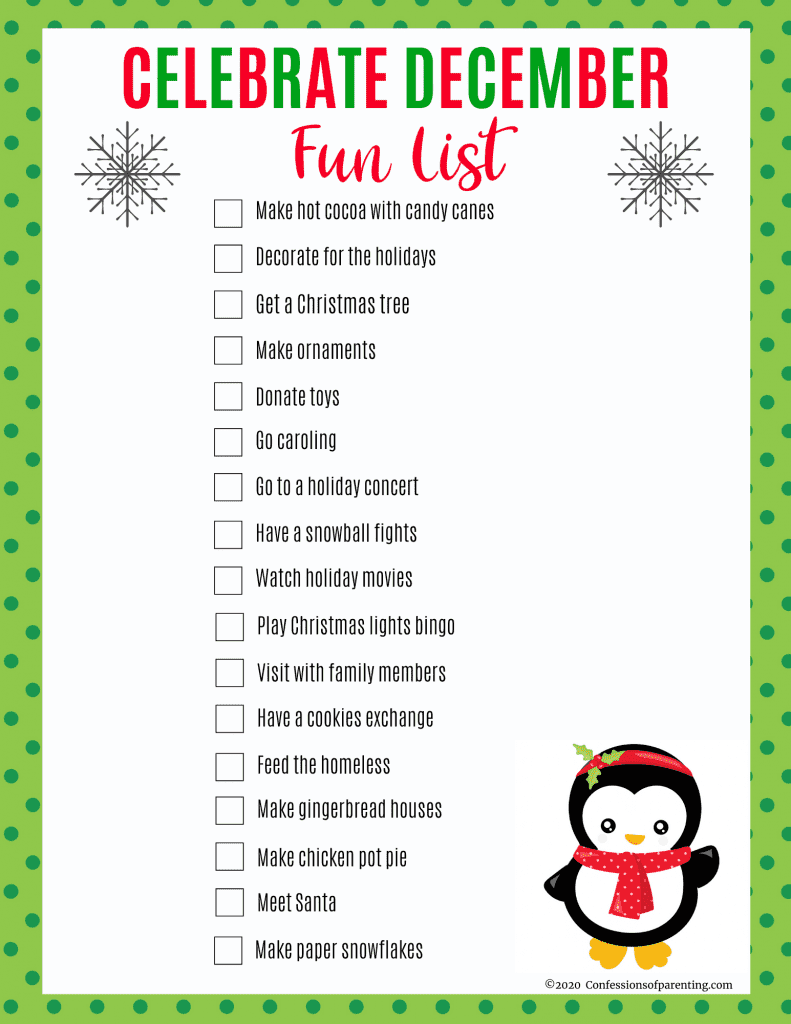 There you have it! Some great ways to Celebrate December with your family! What would you add to the list? Share in the comments!
Looking for other ways to Celebrate all Year Long? Check out these posts!
Don't forget to save this Celebrate December Family Fun List on Pinterest so you can find it easily each December!
We hope that you and your family enjoy these fun Celebrate December ideas! Be sure to share your experience in your stories on Instagram and tag us @micheletripple! We love seeing what you are doing!