Your friends and family will love how delicious these classic deviled eggs are, and you will love how simple this deviled eggs recipe is!
Perfect Deviled Eggs
Whenever our family gets invited to a potluck I always volunteer to bring deviled eggs. Why? Because my kids love them and they feed a crowd well!
Also, I have become a pro at cooking hard-boiled eggs, so it's an easy recipe to whip together really quickly.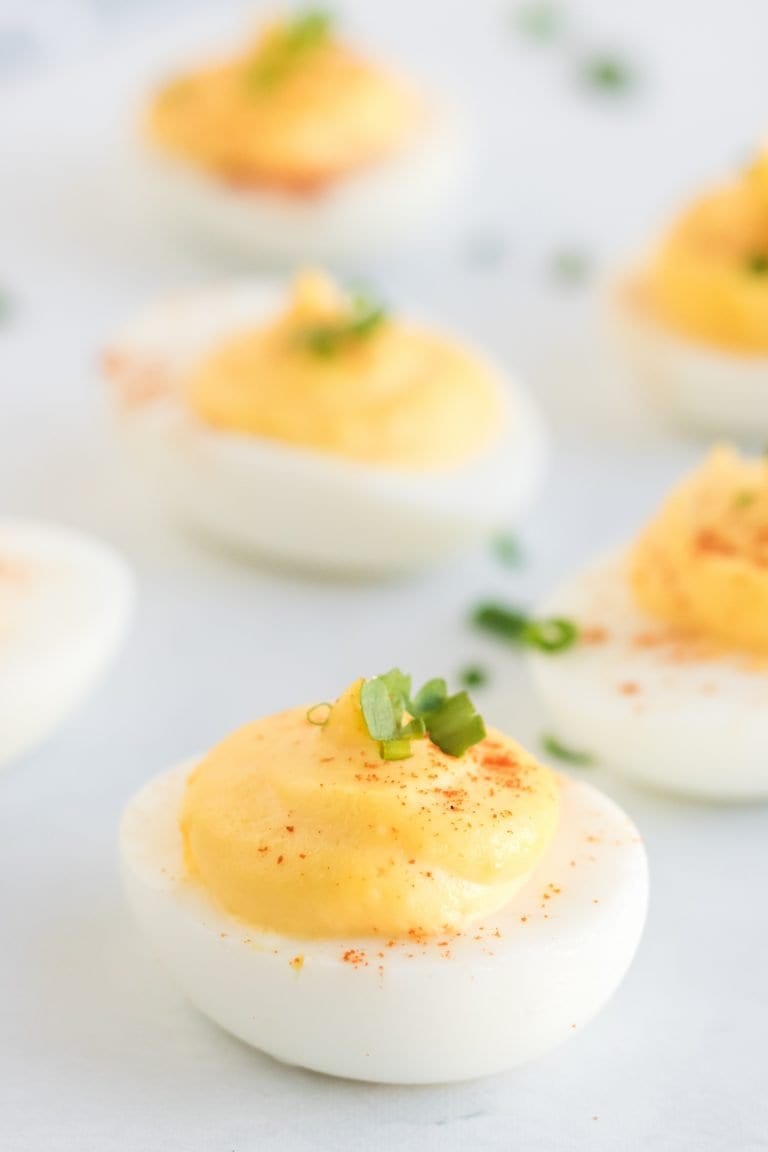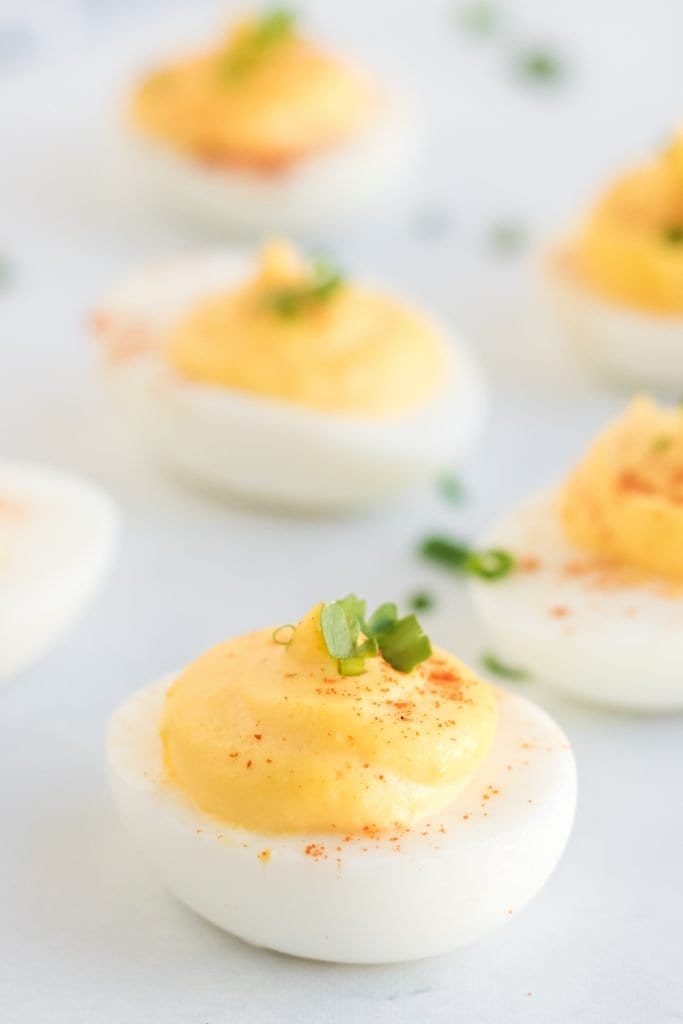 Deviled eggs can be used as an appetizer or a side and you don't need any extra utensils to eat them. Classic deviled eggs are perfect for any occasion!
So if you're on the hunt for the perfect deviled eggs recipe, you're in the right place!
Deviled Eggs Recipe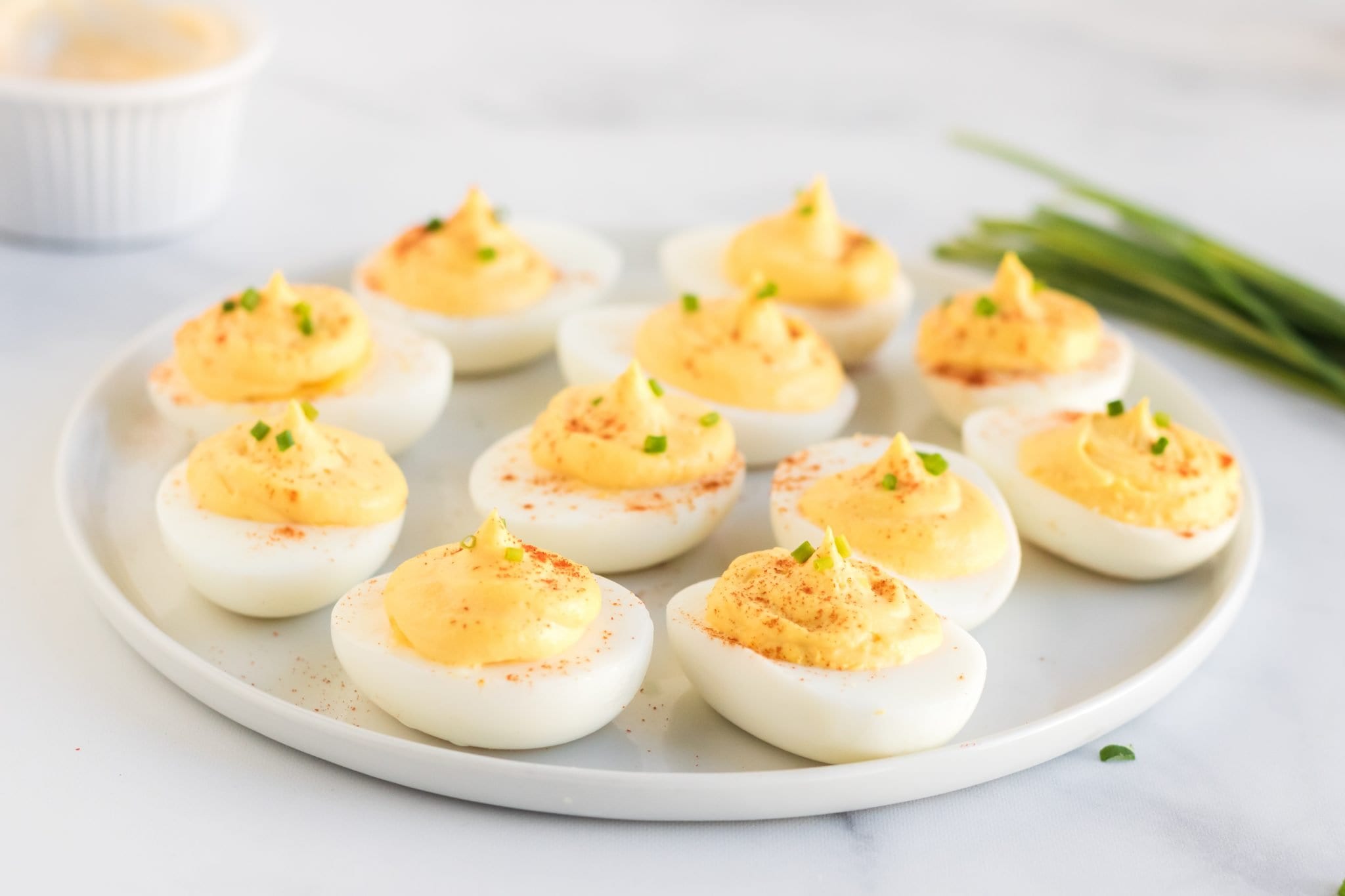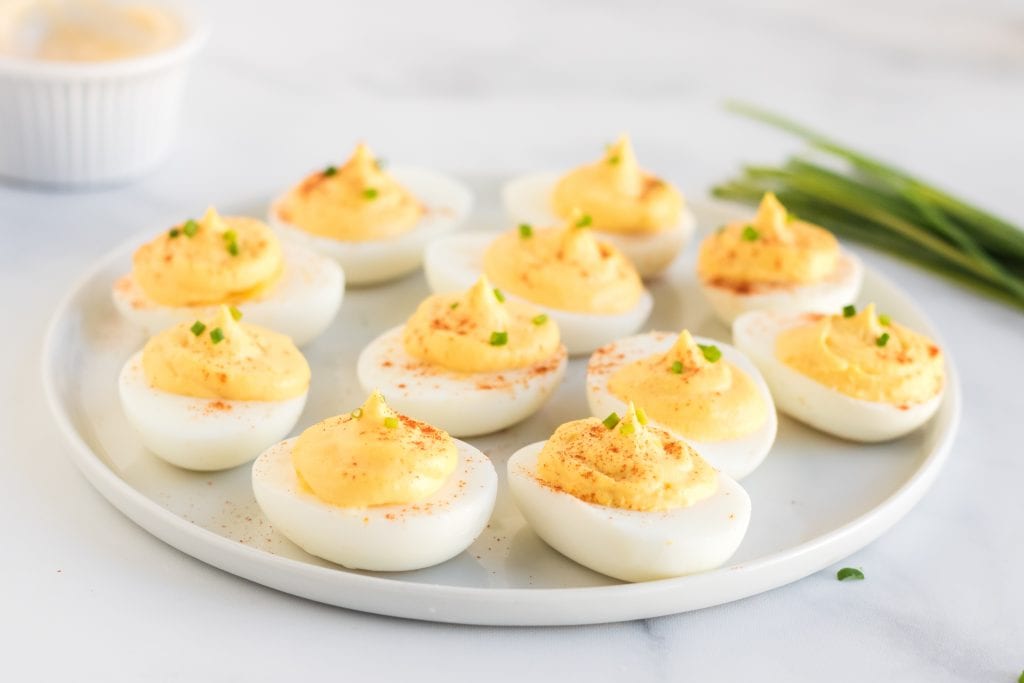 Serves: 12
Prep Time: 20 minutes
Cook Time: 11 minutes
Chill Time: 1 hour
Total Time: About 1 ½ hours
Ingredients for Deviled Eggs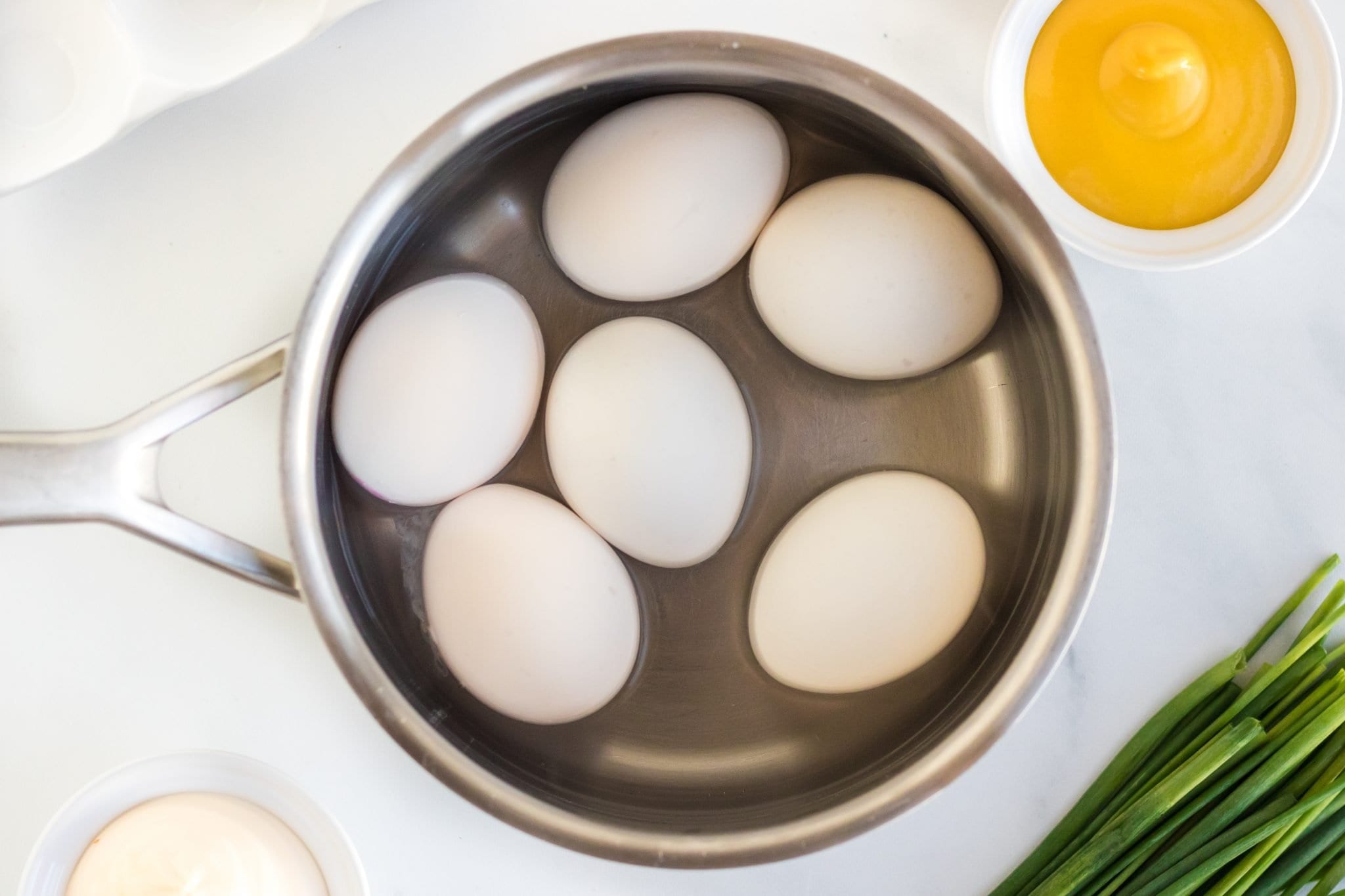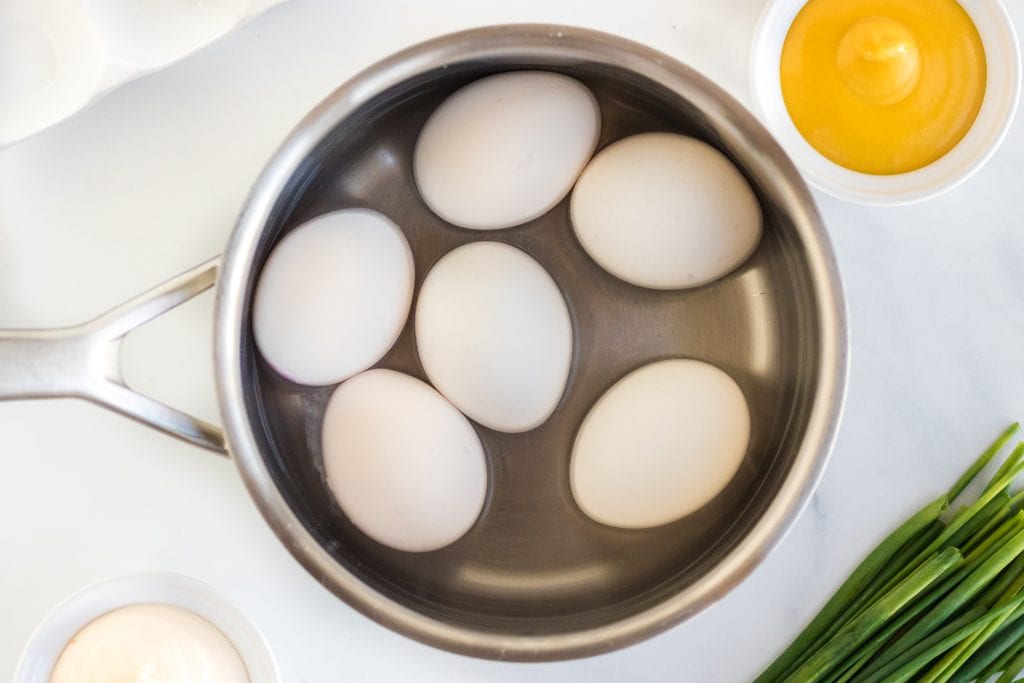 6 eggs
¼ cup mayonnaise
1 teaspoon yellow mustard
¼ garlic powder
Salt and pepper to taste
How to Make Deviled Eggs
First, you are going to hard boil your eggs. Check out the best way to hard-boil eggs!
After chilling your hard-boiled eggs for at least an hour, peel them under cool running water to make sure all the shell pieces are removed.
Slice each of the eggs in half lengthwise so that you have 12 egg halves. Remove the yolks and place them in a small bowl.
Add to the yolks the mayonnaise, mustard, garlic powder, salt, and pepper. Mix together until smooth and creamy.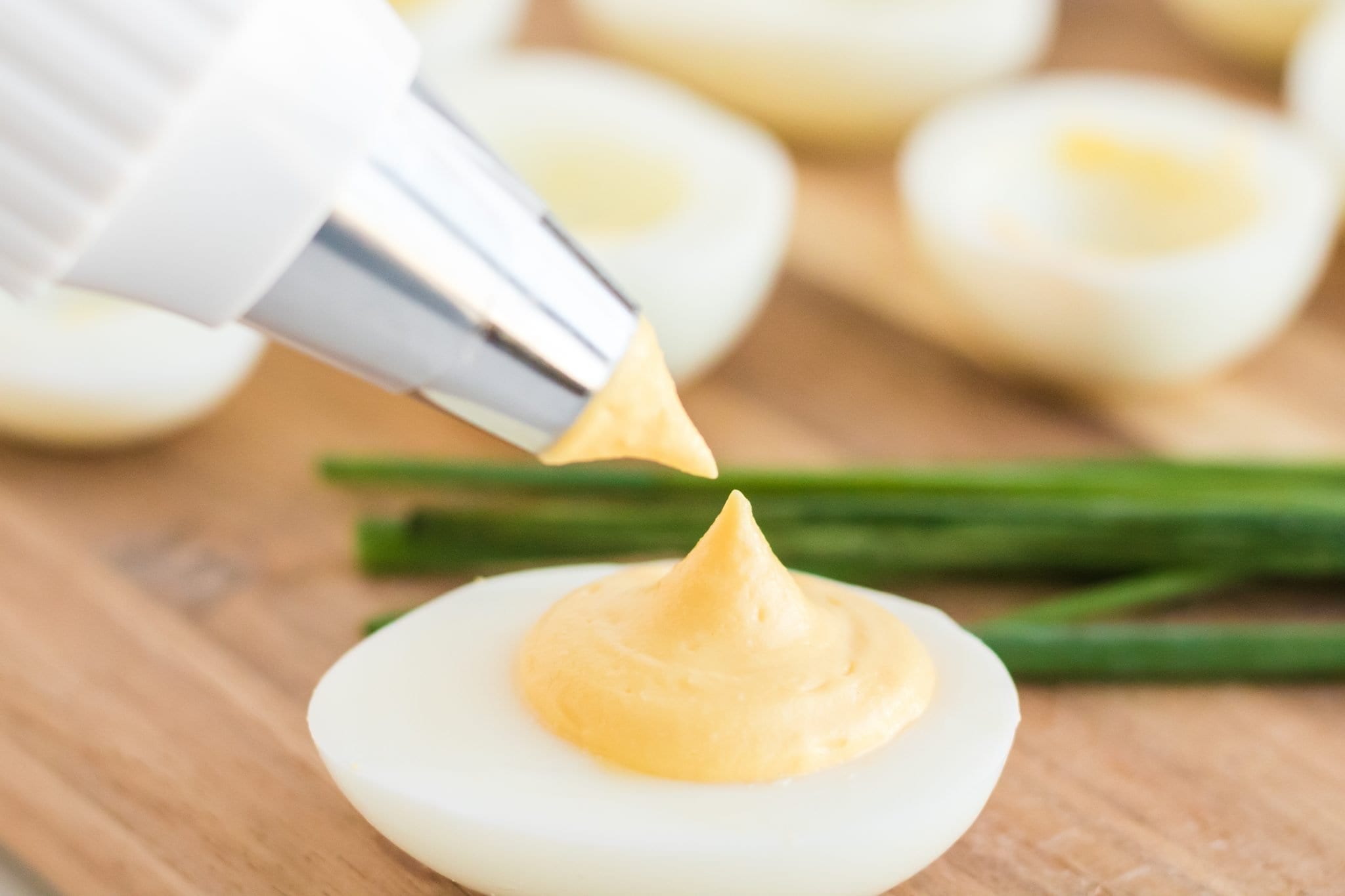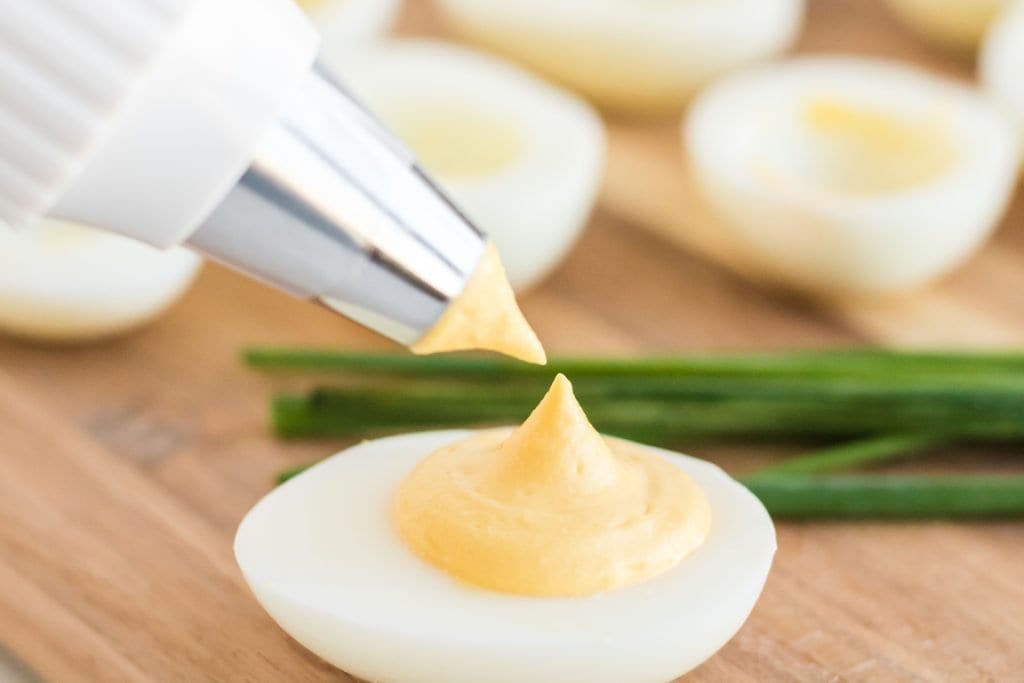 Fill your egg whites with the filling and garnish with whatever you'd like! Some great garnishes for deviled eggs are paprika, chives, parsley, or green onion.
Cover and chill in the fridge for an hour or more before serving!
Tips and Tricks for Deviled Eggs
If you are wanting an especially smooth and creamy filling, try using an electric mixer! It will help to get those yolks mixed in perfectly for a professional-looking filling. If you are going for a more classic deviled eggs look, feel free to mix with a spoon!
You can absolutely make the deviled eggs in advance, but if you are going to be making them more than 24 hours before serving they will keep better if you chill the whites and filing separately. Assemble your eggs shortly before you serve.
If you don't like the look of filling your deviled eggs with a spoon, try using a piping bag for a beautiful look! If you don't have a piping bag use a large Ziploc bag and cut the tip for an easy replacement.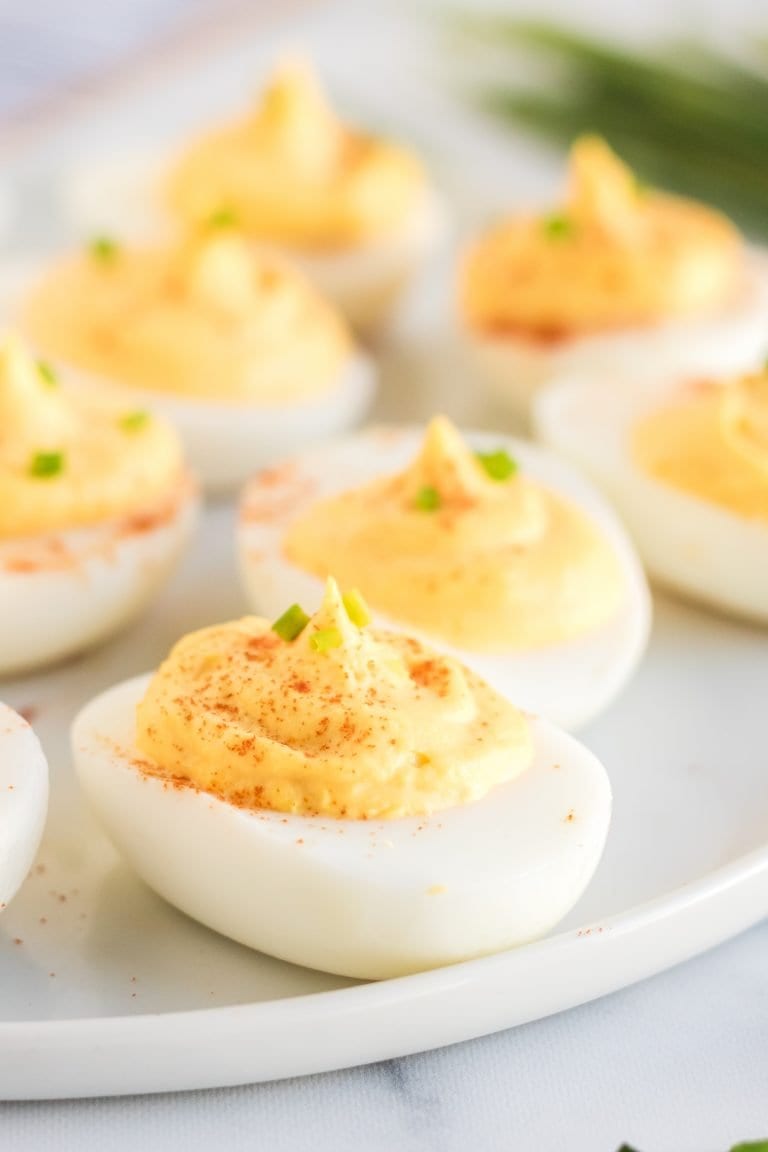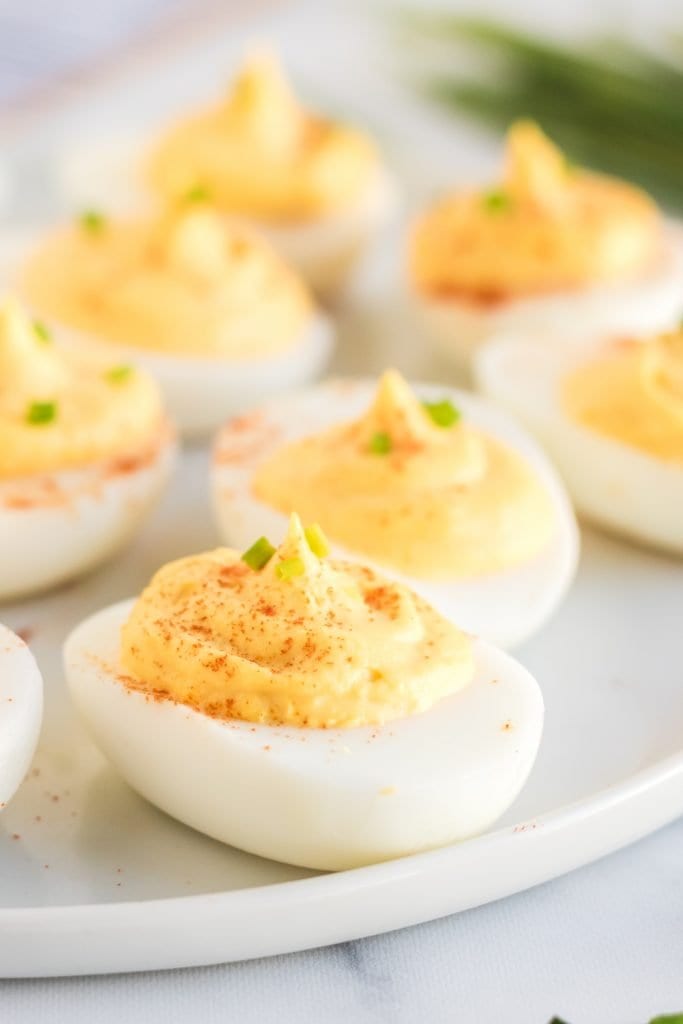 How far in advance can I make deviled eggs?
You can make deviled eggs up 1-2 days before serving.
If you are short on time, you could hard boil the eggs up to a week in advance but after peeling, cutting, and making the filling, you don't want to wait more than a couple of days before serving.
If you do decide to make them early, just make sure you keep the whites and fillings separate until the day of!
How do you get boiled eggs to peel easily?
All of my best tips for boiling eggs that are easy to peel are in my post on How to Make Hard-Boiled Eggs. But if you're looking for a quick tip, make sure your eggs aren't super fresh. Older eggs peel easier!
Also, make sure you submerge your fully cooked eggs into ice water immediately after they are done. This helps a lot.
My most favorite way to make easy peel boiled eggs though is to use my Instant Pot. It always works!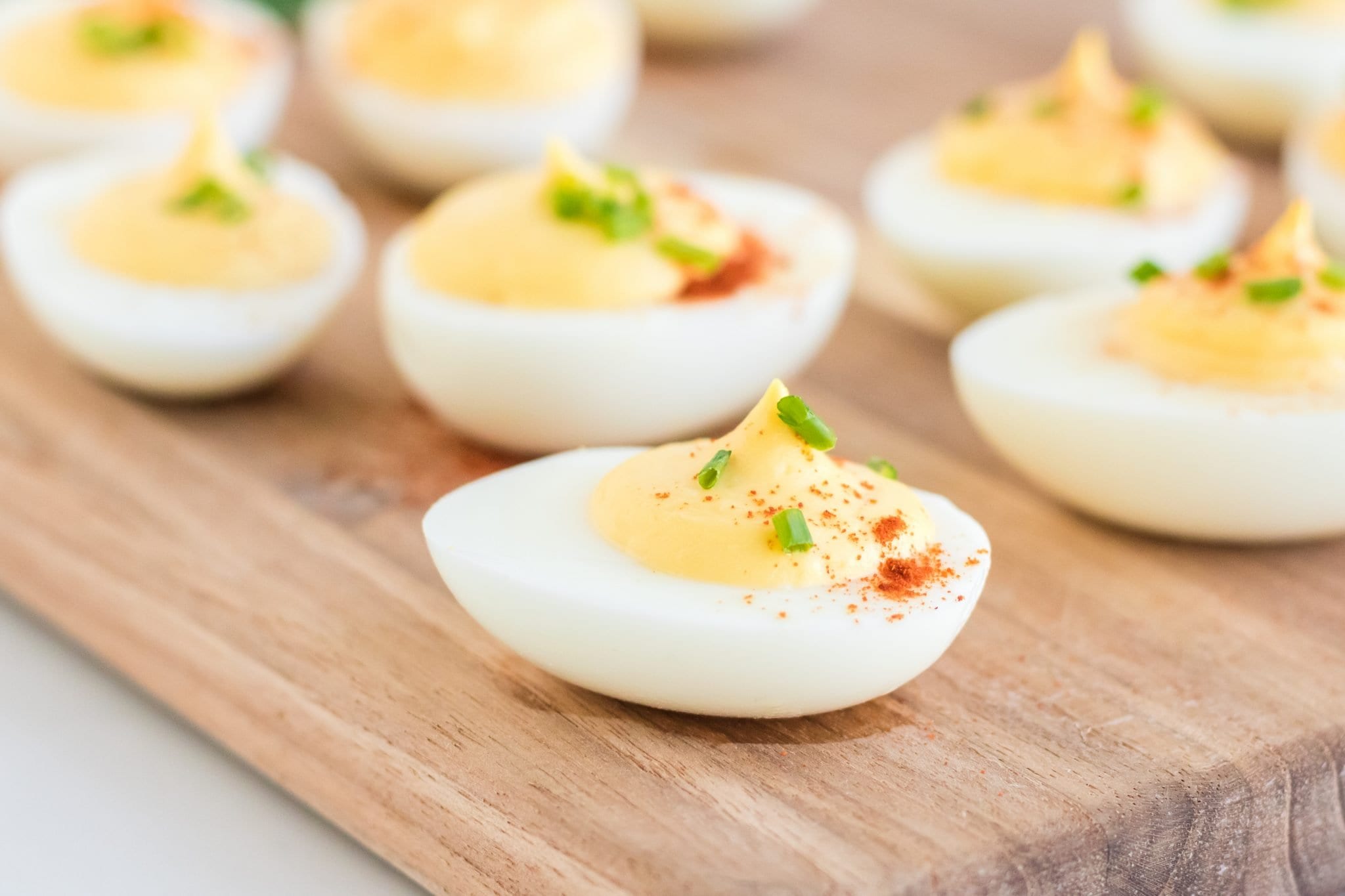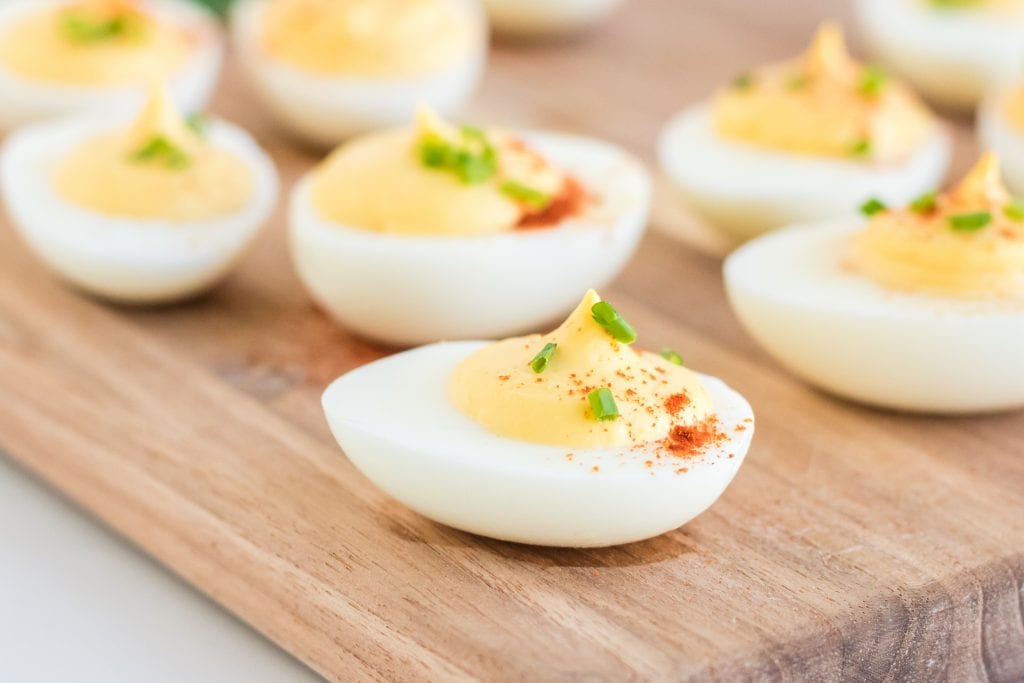 Why do they call deviled eggs "deviled eggs"?
The word "deviled" in relation to foods has roots in the 18th century and referred to foods with zest or spice. Eggs were called "deviled" if they were served with mustard, pepper, or other zesty ingredients.
Our current devilled egg is also referred to as filled eggs, stuffed eggs, or dressed eggs depending on where you live!
Are deviled eggs served cold or warm?
Definitely serve deviled eggs cold!
Because of the traditional cold yolk and mayonnaise filling, you are going to want to make sure that your eggs are completely chilled before shelling them and chill them an additional hour once prepared!
How do you store deviled eggs in the refrigerator?
If your deviled eggs are filled, just cover them up with plastic wrap and put them in a stable space in your fridge!
You may not want to mess up the look of your beautiful filled eggs, so you can put a few toothpicks in your eggs to keep the plastic from touching the filling.
Or if you want to leave your eggs completely untouched, invest in one of these amazing deviled eggs containers that will keep them beautiful and fresh!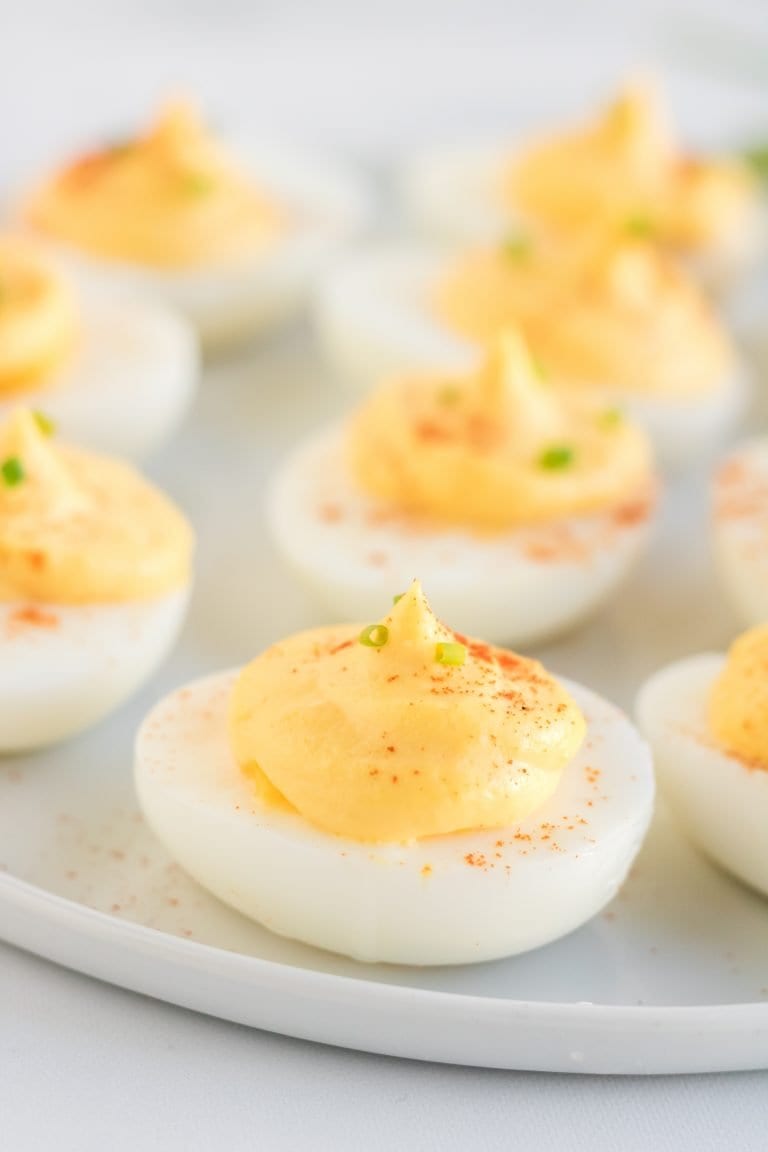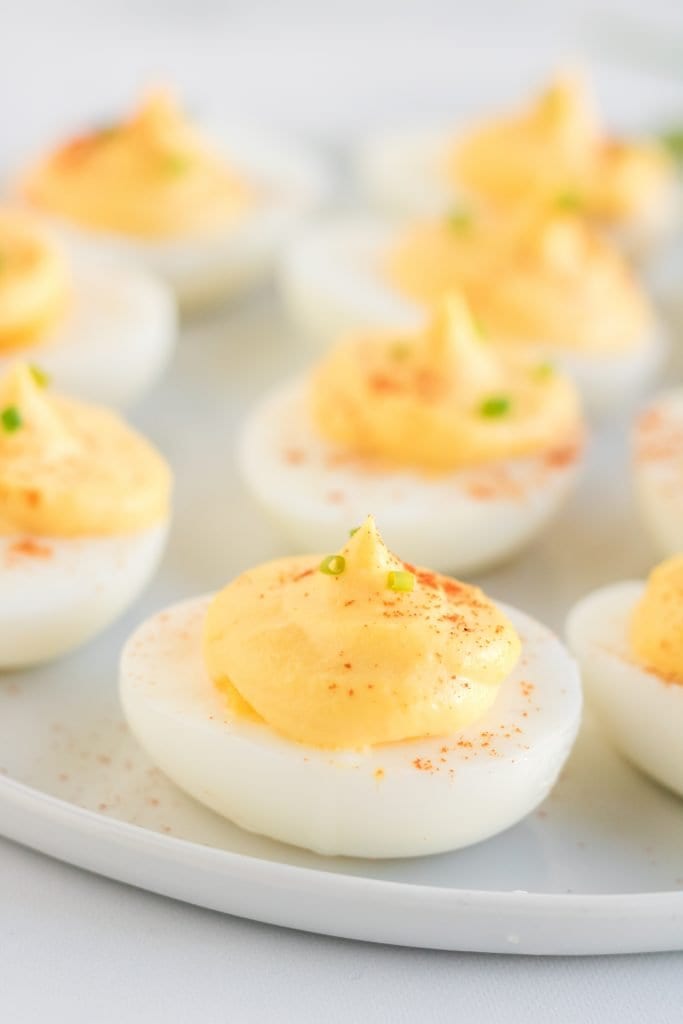 How long will deviled eggs keep in the fridge?
This all depends on when you boiled your eggs.
The general rule is that hard-boiled eggs will last for about a week. After you prep and fill them, this timeline shouldn't change if you are keeping them chilled and fresh.
So if you boiled your eggs 2 days ago and filled them today, they should last about five more days.
However, for the best freshness and quality, you are going to want to store the filling and the egg whites separately for those days!
Can deviled eggs be frozen?
Technically your deviled eggs can be frozen, but it's not recommended.
The filling should be able to be frozen and thawed with relatively good results, but the whites will have an unappealing textural change once thawed.
Share with us in the comments how your Deviled Eggs Recipe turns out! And tag us on
Instagram
with a picture of your recipe! We would love to see it!

Check out these other great recipes:
Yield: 12 deviled eggs
Deviled Eggs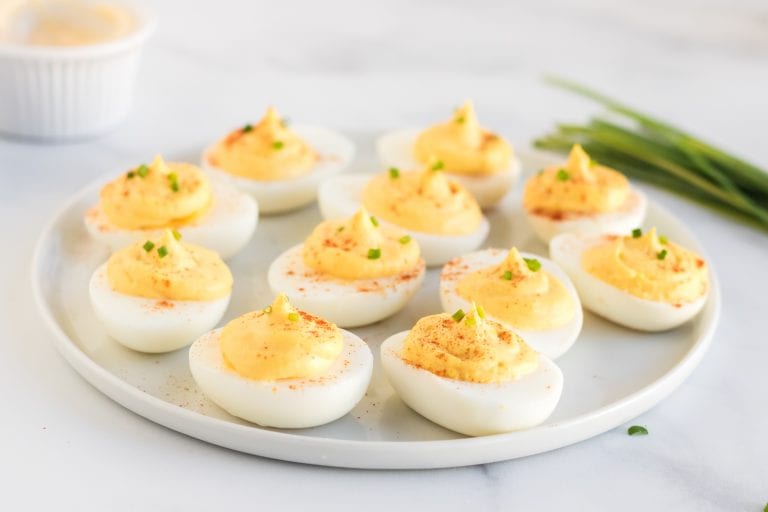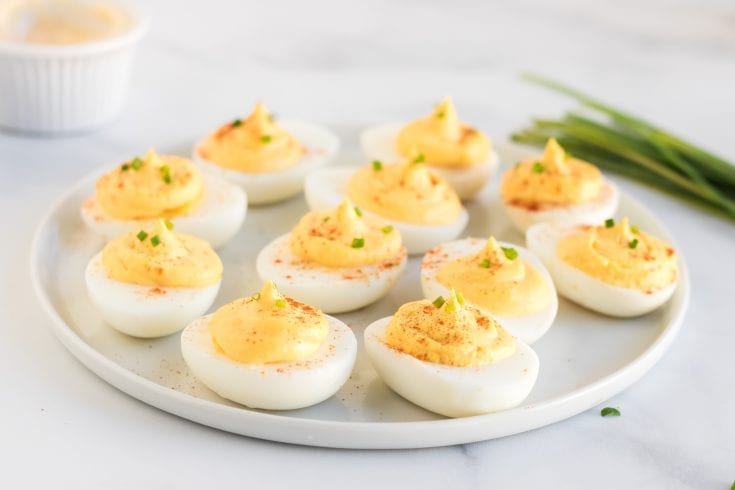 Your friends and family will love how delicious these classic deviled eggs are, and you will love how simple this deviled eggs recipe is!
Total Time
1 hour
31 minutes
Ingredients
6 eggs
¼ cup mayonnaise
1 teaspoon yellow mustard
¼ garlic powder
Salt and pepper to taste
Garnishes: Paprika, Chives, Parsley, Green Onion (Paprika and chives are the classics)
Instructions
Fill the bottom of a pan with about 1-2 inches worth of water. (Just enough to steam the eggs) Bring the water to a boil.
Once the water is boiling, gently lower the eggs into the water or place it in a steaming basket. Cover the pan with a lid.
Lower the temperature to a gentle simmer and cook the eggs for 11 minutes for hard-boiled eggs, and 6 minutes for soft.
Remove the eggs from the water, test one. Once done to desired consistency, shock the eggs in an ice bath.
Let them cool completely before peeling.
When the eggs are cool, peel them under cool running water.
Slice the eggs in half and remove the yolk from both sizes. Place the yolks in a small bowl and set the egg whites aside.
Add the mayonnaise, yellow mustard, garlic powder, and salt and pepper to the bowl. Use an electric mixer to get an extremely smooth and creamy filling.
Fill each egg white half with the yolk mixture. Garnish with paprika and chives if desired.
Cover and chill in the fridge for one hour before serving.
Notes
I highly prefer my filling to be mixed with an electric mixer but if you like chunky rustic eggs you can mix them with a spoon or fork. 
If you are making these the day before, I recommend chilling the egg whites and yolk filing separately, then assembling them right before you serve. 
You can use a spoon or a piping bag to fill the eggs.
Don't forget to save this Deviled Eggs Recipe on Pinterest so you can find it next time you are looking for a perfect side dish your friends and family will love!