Attention all moms of little ones who love dinosaurs! You don't want to miss my list of the very best dinosaur books for preschool perfect for use at home or in the classroom during dinosaur week.
Dinosaur Books For Preschool
I feel like everyone has a kid at some point that loves dinosaurs, especially at preschool age! So I had to gather up a list of the best dinosaur books for preschool that I can read with my kids.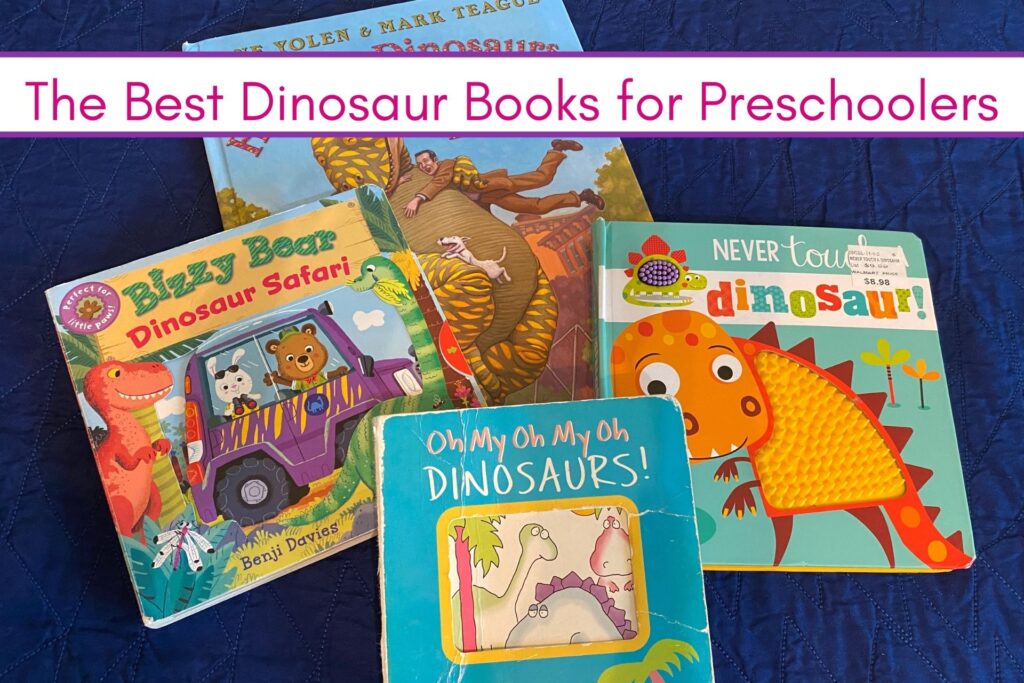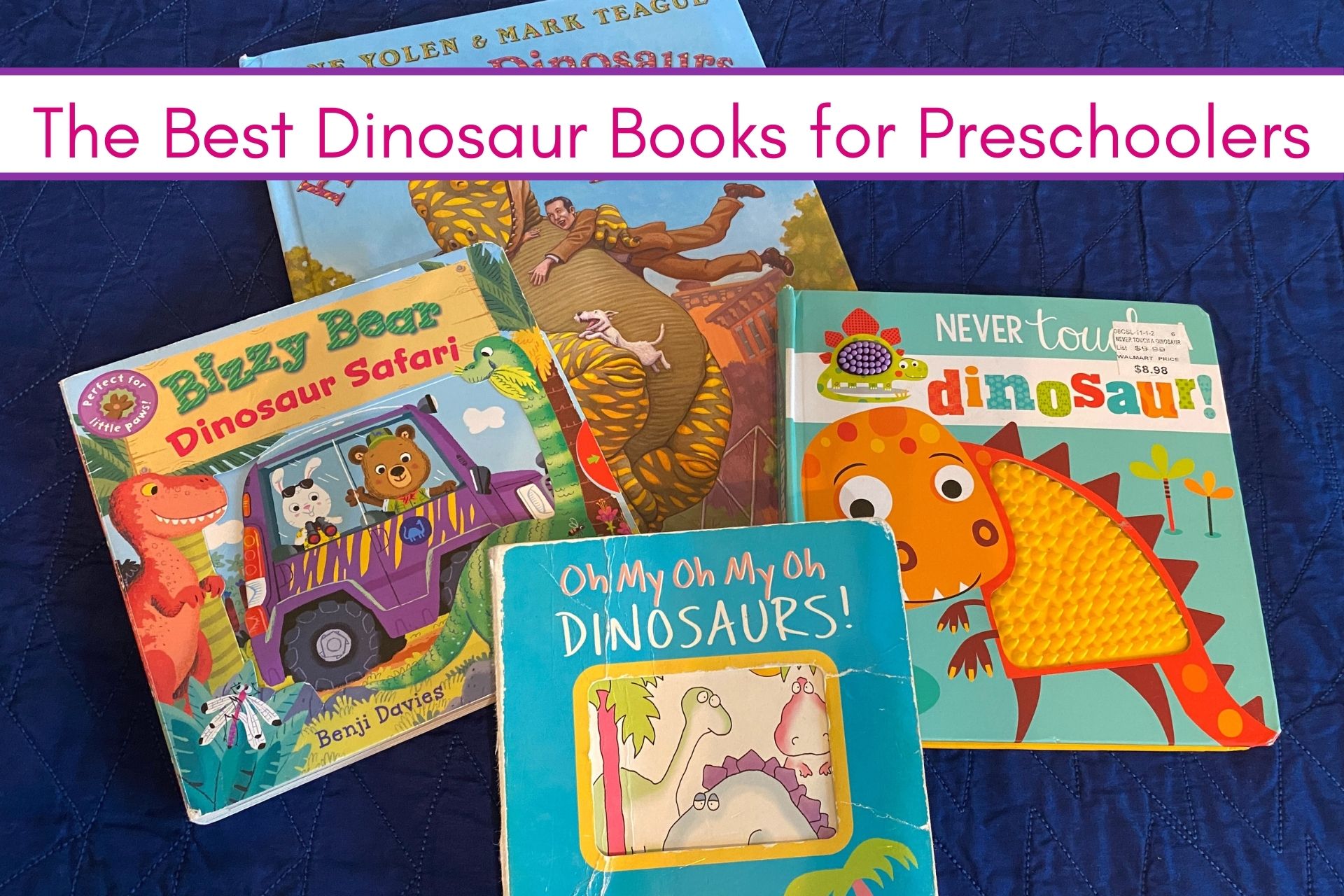 Preschool is so fun. It's one of my favorite ages because kids are learning so much and becoming little people with their own interests, dinosaurs being a very common one.
The great thing about dinosaur books is that there are so many different types out there. There are sweet books with dinosaur characters, informational picture books with facts, and plenty of silly books about dinosaurs.
It's hard to know where to begin, but lucky for you I've looked through tons of books and found what I think are the 20 best dinosaur books for preschool age children!
If you have a dino lover in your house, be sure to check out our dinosaur jokes for some hilarious jokes to share with your kids.
More Great Book Recommendations for Preschoolers
The Best Dinosaur Books For Preschool
Ready for the list? Here are our favorite dinosaur books for preschool!
To this day this is still my preschooler's favorite dinosaur book! Not only do we see great pictures of dinosaurs, but it helps us all remember that even when mischief happens we still love one another!
This Bizzy Bear book is the perfect book for active preschoolers. This is a quick interactive book to get your kids excited about reading!
We love this alphabet book! It's not all about dinosaurs but it teaches about silent letters by using the example of Pterodactyl which is always a favorite dino!
This sweet story shows a big-kid dinosaur that is so ready to meet its little brother or sister! This book is such a feel-good read and would be especially great for a child becoming a big brother or sister!
National Geographic is always a great place to start if your child is interested in anything science related and this Dinosaur book does not disappoint! It's got so much information about dinosaurs in a fun, simple, preschool-friendly way.
Pete the Cat becomes Cavecat Pete in this tale about friendship, picnics, and of course, dinosaurs! When the different dinosaurs don't get along, Pete steps in to help and bring everyone together.
Natia tells a fantastical story here about a boy going on an adventure to find a dinosaur egg and take perfect care of it. This book is sure to take your preschooler right into a dino-filled world.
The Cat in the Hat teaches all about dinosaurs in this Dr. Seuss book that your preschoolers will absolutely love! It's part of a great series that tries to teach kids a few simple concepts about various topics like dinosaurs.
Sometimes you just need a silly book, and this Dinosaurs Love Underpants always does the trick in my house. Follow these dinosaurs in the story that just can't get enough of underwear!
The little boy in this story has a large dinosaur as a friend, but he can't seem to find him! I love this simple story about fun and friends.
I'm all about children's books that teach a lesson, especially at the preschool age. This story is about a dinosaur learning to have more patience and feel better when waiting. I can't think of many lessons that are more important for this age!
Bedtime is one of my favorite times to read books with my kids, so having a dinosaur-themed bedtime book is perfect for my preschooler and me! This one is so sweet and will likely become a new favorite!
If you have a true dino-loving preschooler in your life, then this picture book full of facts about dinosaurs is a great place to start. Your kids will be amazed at all the things that they learn!
I absolutely love this story! An adorable t-rex is desperate to make his friend feel better but is struggling to hug them with his little arms. My kids get a kick out of it and even better, it's a great story about overcoming obstacles!
You won't be able to sit down with your preschooler and read this in one sitting, but this book is a great informational book about all sorts of dinosaurs! It's meant for children too, so it has plenty of pictures and keeps things simple and fun.
A young boy learns a lesson when his curiosity gets the best of him and he gives a dinosaur a crayon despite everyone's warnings. The dino starts scribbling everywhere until a lot of silly problems start happening. We love this funny storybook!
This book is perfect for any child who loves ballet and dinosaurs. The main character in the story wants to be a ballerina but since she is a large dinosaur she has to work extra hard to make her dreams a reality!
You won't be able to put down this sweet and silly story about dinosaurs learning to read! I've also heard from many teachers that this is a classroom favorite, especially for the preschool age.
Can you imagine a farm where all the farmers are dinosaurs?! This classic book takes such a funny idea and makes it into the best preschool story! It's so hilarious watching such big bulky dinosaurs working with the animals.
Dinosaurs always seem to be getting into some kind of trouble, just like our preschoolers! In this story, they make a huge mess and the pictures show how much fun they had all night making it.
It's pretty common for preschool-aged kids to be shy as they are entering a more social time of their life. So I love this story about a dinosaur hiding in the bushes because he's shy and learning to meet friends!
Dinosaurs and builders? I can't think of much more fun than that! This short picture book is a perfect fun story that helps teach about dinosaurs and construction!
More Preschool Posts You'll Love