Give your Christmas Elf the entrance it deserves with this Elf on the Shelf Arrival Letter printable! Your kids are sure to get excited when they see this cute letter!
Elf on the Shelf Arrival Letter
I've got all the Elf on the Shelf arrival ideas this year for one of my favorite holiday traditions, and the first thing on my list is this Elf on the Shelf Arrival Letter!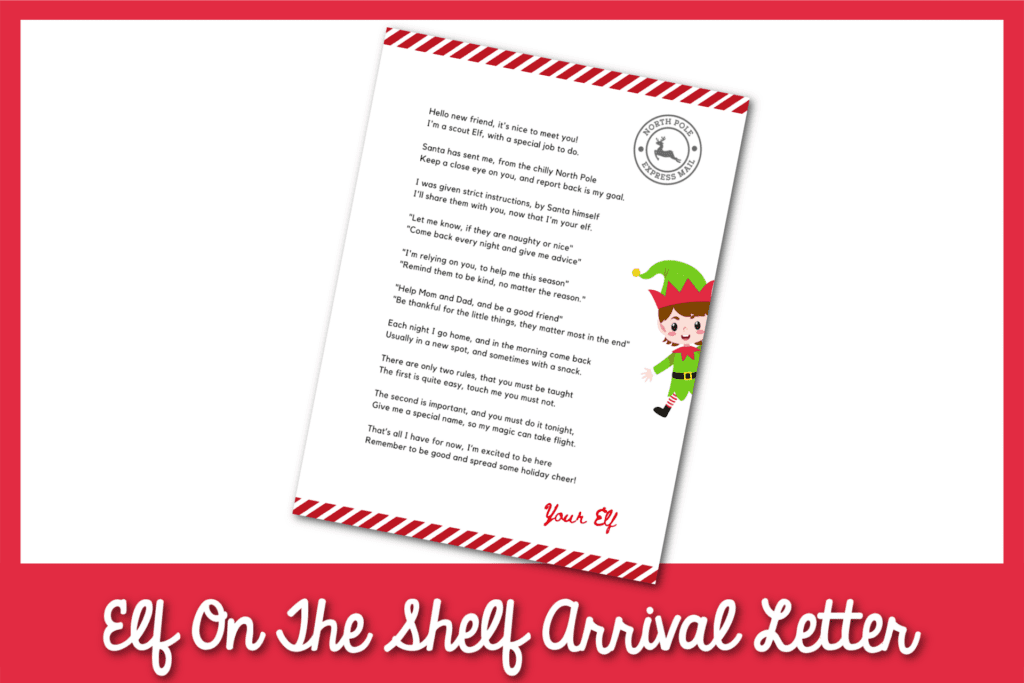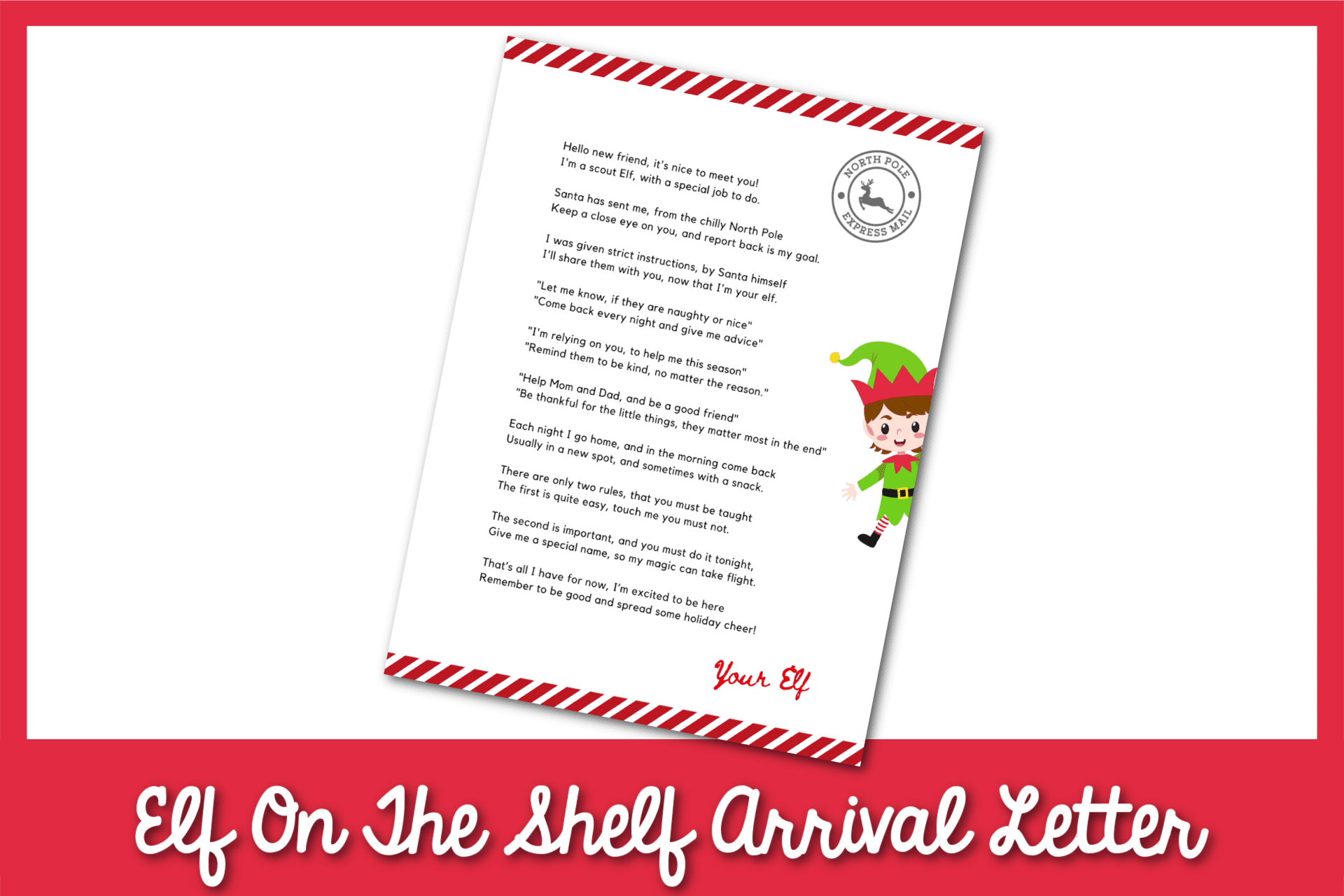 Believe me, I know Elf on the Shelf can feel like a lot of work! But I promise with my help, it won't feel like work at all.
It's something I love doing for my kids. It really does kick off the holiday season in our home. When the Elf is here, I know all the Christmas games, movies, hot cocoa, and all that other fun holiday stuff is soon to follow!
And if you are getting ready to bring out your Elf this year, you won't have to worry about a thing because I've got your Elf on the Shelf Arrival Letter Printable ready to go!
More Elf on the Shelf posts you'll love 
Making a Perfect Elf on the Shelf Arrival Letter
Elf on the Shelf is meant to be a whimsical and fun tradition, so in my opinion, you need a letter that gets that vibe started right away!
My favorite thing about my downloadable letter is that it's so positive and magical. Not to mention how easy it is to just download, print, and set out!
I especially like the emphasis on the Elf encouraging kindness from the kids, mom, dad, and everyone in between! I sure don't mind seeing my kids start to step up their nice-ness leading up to Christmas.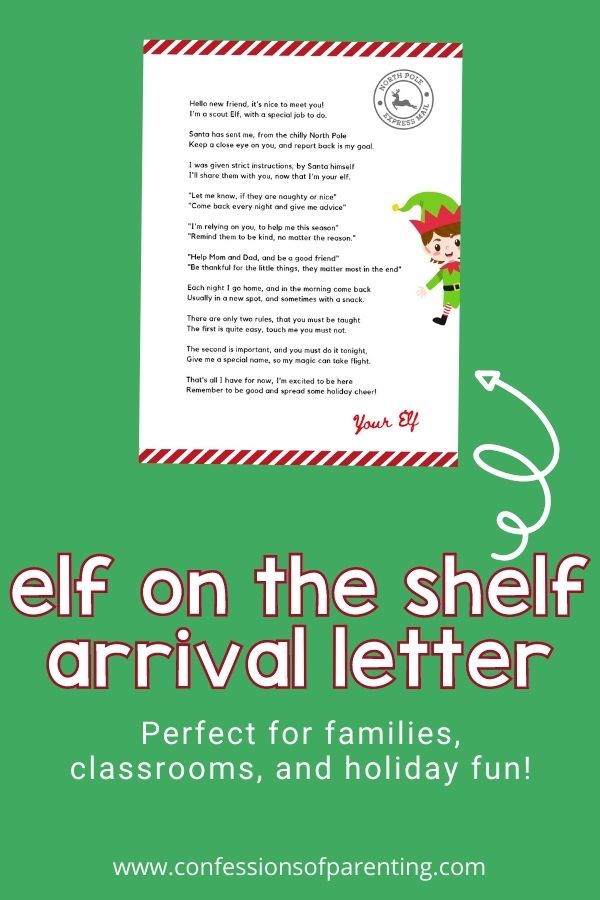 Is Elf on the Shelf Worth the Hype?
If you are still reading but you're not convinced about Elf on the Shelf, I'm here to change your mind! Because most of all, I'm a huge fan of Christmas traditions and I've seen how they have brought my family together. That's why I love Elf on the Shelf.
My kids truly light up as they search for the Elf all season long. And it never hurts to have your kids think another set of eyes is on them to keep them on the "nice list!"
If you plan it right, it's all the hype without a ton of work! Sure, you can make it intensive with whole scenes. But you can also keep it simple and just move the elf around a few times. Of course, with things like my Elf on the Shelf Arrival letter, it's even easier.
However you choose to do it, Elf on the Shelf is just plain Christmas-filled fun!
Elf on the Shelf Arrival Letter Tips
Are you a first-timer with the elf? Here are some of the tips I wish I knew that will help as you get started with your Elf on the Shelf Arrival Letter:
Find the Right Place for the Letter
You'll want to make sure that you put your letter somewhere that your kids will find it in the morning or whenever you choose to start.
They'll know to search for it in days to come, but at the beginning, you'll want to put it somewhere that they will definitely see it. Try the breakfast table or your favorite couch to snuggle on!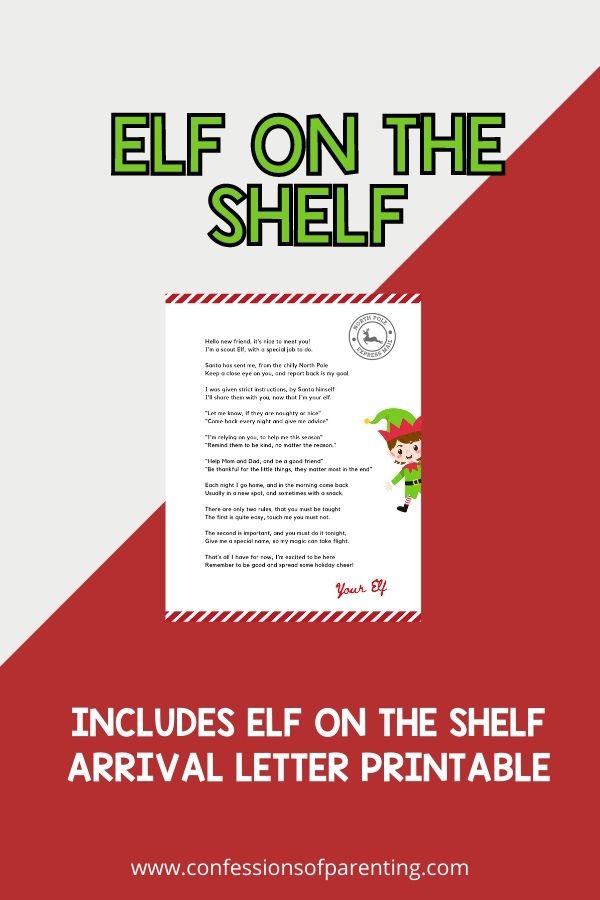 Enlist Helpers
If you have older kids, this is truly their time to shine! Have them help you set up the elf and your Elf on the Shelf Arrival Letter and get them excited about helping throughout the holiday season. My older kids usually have even better elf ideas throughout the season than I do!
Buy Your Elf Early
If you don't have an elf yet, make sure you grab one early! I can't tell you how many friends have told me they want to start the tradition but they can't find one at the store. Get ahead of the game and grab an elf now!
Don't Put Your Letter Out Until You Are Ready
I can't stress this enough! I often get too excited and put my Elf out before I've planned anything and end up with a lot of late nights trying to find ideas on Pinterest before the morning. Even just having a few days ready in advance will really set you up for success.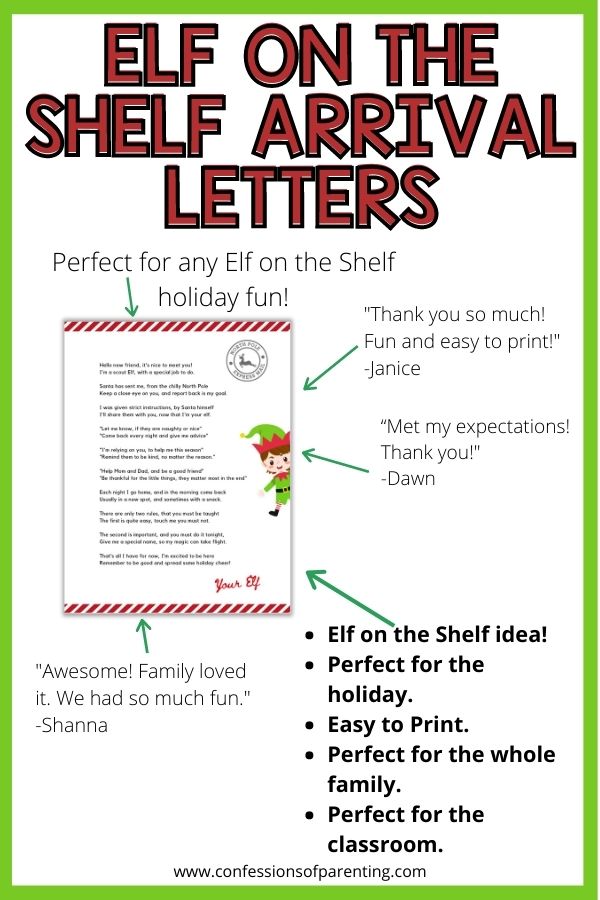 How to Use My Elf on the Shelf Arrival Letter
Want to download my Elf on the Shelf Arrival letter? Here's how you can do it.
All you need to do is grab the download link below and print out the letter. You can print it at your local print shop or at home. I love my HP + Printer because with all my printables I can skip the trip and print things easily and beautifully at home.
After you've printed out the letter, it's ready to set out with your Christmas Elf. I'm going to grab some of my favorite festive ribbon and roll up the letter like a scroll for the Elf to hold. I can't wait!
Ready for More Christmas Games Or Printables? Try these!