These 20 fall books for preschoolers are just what you need when you start seeing the leaves change colors! You won't miss summer a bit when you're snuggled up reading one of these cute fall stories together.
Fall Books For Preschoolers
Summer is coming to an end and I am so ready to welcome in the autumn season with these 20 fall books for preschoolers!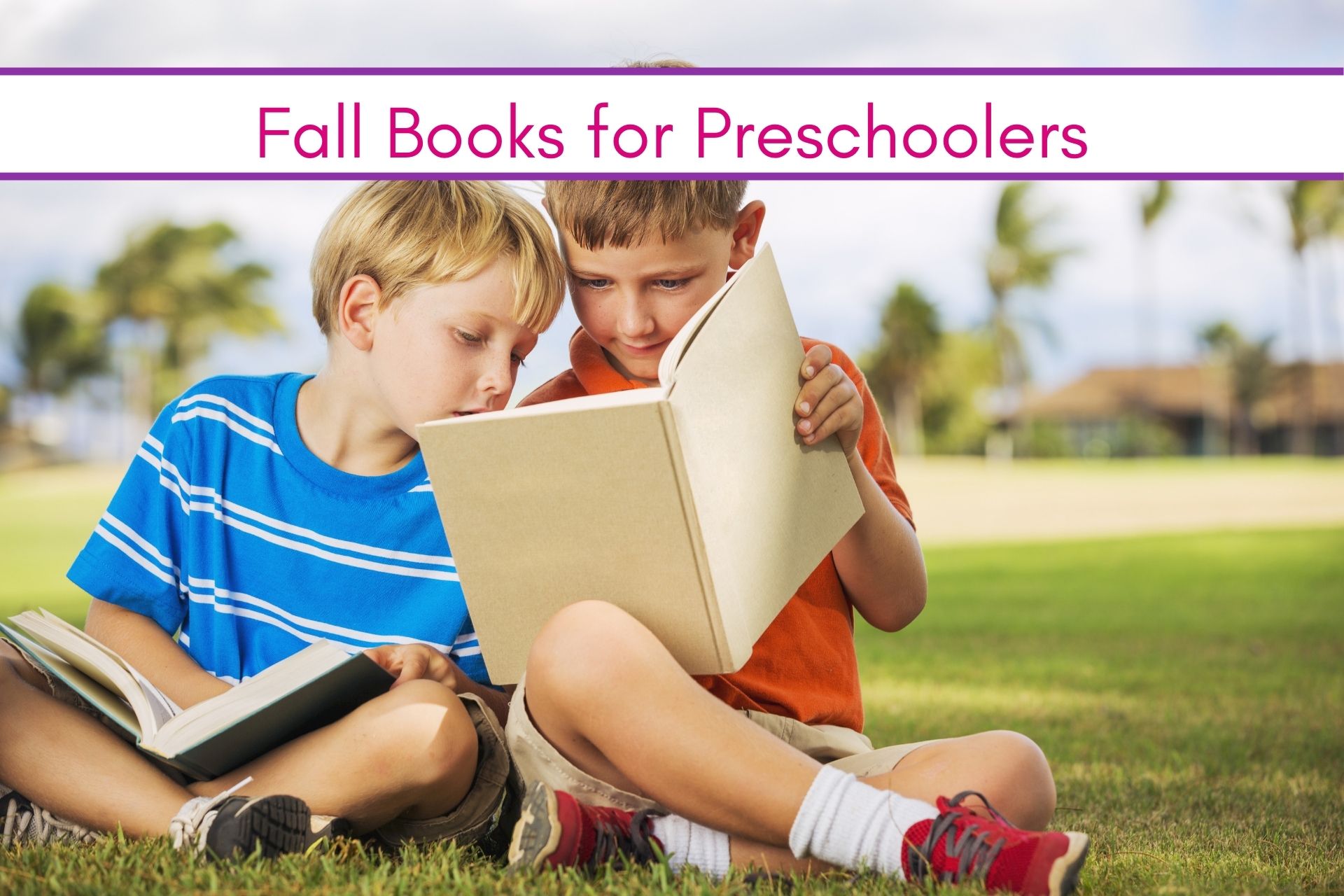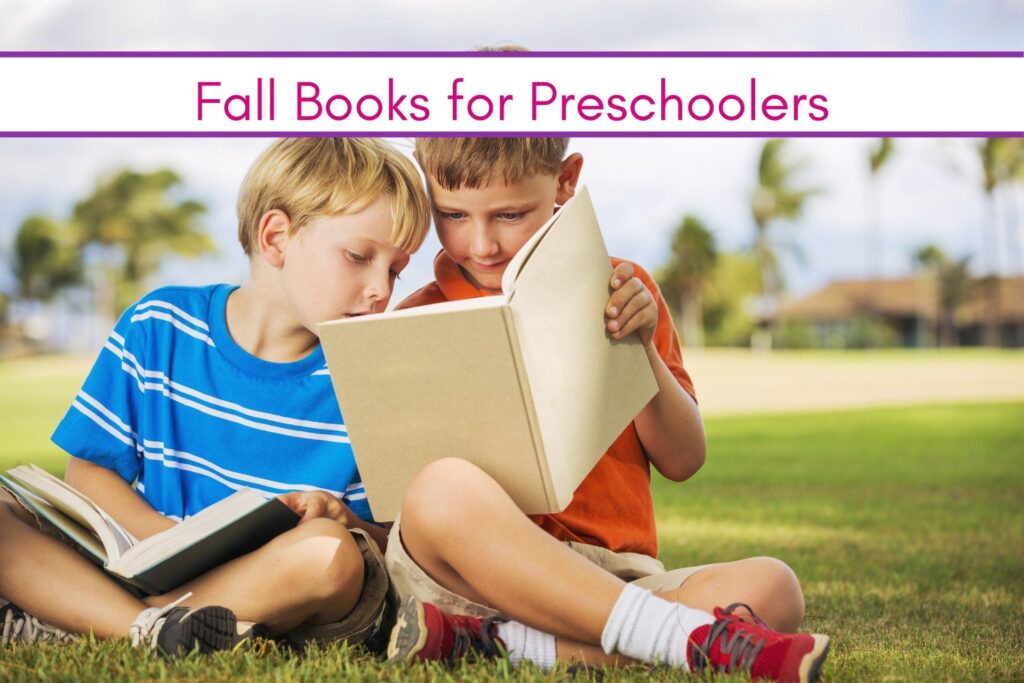 Autumn is one of my favorite times of the year. The leaves are changing colors, we are eating our weight in apple cider donuts and hot chocolate, and of course, there is plenty of time spent cuddled up on the couch reading together. 
I love passing on my love of fall to my kids and these stories help me do that while at the same time teaching them the science behind the changes that fall brings. It doesn't get any better than that!
Between these fall books, my Halloween books, and my Thanksgiving books, we are all set this autumn and I can't wait to get reading!
More fall posts you'll love
why i love fall books for preschoolers
If I know anything about preschoolers it's that they are so curious! I think I hear "why" about 100 times a day!
Books are a great way to help your young kids learn and feed their imaginations. So when they inevitably start having questions as the leaves change color and the weather shifts, any of these fall books for preschoolers will do the trick!
And even more importantly, reading these stories together will help bring you even closer together!
Fall Activities
This fall is so easy to spend time with your kids and your family with our fun fall activities. We have so many fun activities to choose from; they are so easy! All you have to do is download, print, prep (less than a couple of minutes), and start playing!
Simple family time is the best time and creates long-lasting family memories that you and your kids will remember forever!
My 10 Favorite Fall Books For Preschoolers
Here they are! My very favorite fall books for preschoolers that I'm planning to read with my kids this year.
This book is truly beautiful for all ages but especially great for preschoolers who are so eager to learn. It follows a simple acorn and teaches about how it grows and changes during the season.
This flap book is beyond cute! It's got full pop-ups that add more to the story that teaches all about the autumn season.
This is a family favorite all year long in my home! My kids love this silly Halloween tale that gets us in the mood for the spooky part of the autumn season.
This sweet book teaches all about the process of growing a vegetable we all think of when we think about autumn… pumpkins! This would be a great book to read with your preschooler before heading to the pumpkin patch.
Anna Dewdney does it again with this Thanksgiving-themed Llama Llama book. Thanksgiving is right at the heart of Thanksgiving and the level of this book series is perfect for preschoolers!
National Geographic created this amazing book that has real pictures and teaches about the changing seasons. It does a great job keeping the information simple for young kids but still informative.
Kevin Henkes shows the amazing beauty of fall in this picture book! From apples to pumpkins, to leaves, he captures just what autumn is about. And he even has a coordinating book for every other season!
Follow this confused squirrel through his adventure of finding out why the leaves are leaving his favorite tree. This sweet story is a great way to teach about fall in a less textbook way!
You'll fall in love with the curious little squirrel as he tries to embrace the fall season and get ready for the winter! And this book is a simple board book which is also great for little ones learning to read.
Leaves changing color is a magical thing, and this book explains how it happens each autumn. You'll love the way it teaches about fall and the activity it includes in the book to try with your kids!
I remember reading the original There Was an Old Lady book as a child and I was so happy to see this fall version! I can't wait to read it with my kids and see how they put an autumn-themed spin on a classic.
Another fall take on a classic is this fun story about some friends who go on an adventure to gather up some leaves as they fall to the ground. Your kids will love the poem-like story!
Apples and Pumpkins follows a little girl and her family as they visit a farm with pumpkins, apples, and more! The simple layout and pretty pictures make this at the top of my list of fall books for preschoolers this year.
This book is so sweet and would be a great one for a grandparent to read with a preschooler! In this story a man and his granddaughter welcome fall and all the beauty it brings.
I love a good counting book for my little ones, and this fall counting book is perfect! It's got all the fun of the autumn season and weaves in some simple math practice for your preschooler!
We are big Pete the Cat fans in our house, so I know this is going to be a favorite! Pete is hesitant about summer being over and fall beginning, but learns soon that there is a lot to love about fall!
I love the idea of this peek-through style book. It teaches about the seasons in a fun interactive way as it shows a tree changing and growing. 
Say bye-bye to summer with this fun tale about seeing the first signs that autumn is here! From the animals to the leaves, you'll say hello to it all here.
The Berenstain Bears have been around forever and for good reason! This Harvest Festival book shows brother bear and sister bear learning to count their blessings as they learn about harvest time.
I'm big on the illustrations that come in children's stories and Little Tree has some of the finest. This lovely minimalistic story shows a tiny tree changing and growing as the fall arrives.
More Fall Articles