Santa's helper by day, superhero by night! Transform your Elf on the Shelf into the hero of your kids' dreams with these printable Elf on the Shelf Superhero Costumes! This will be an exciting surprise for your kids will love in the morning! Even better, it's super simple to pull off with this quick and easy download.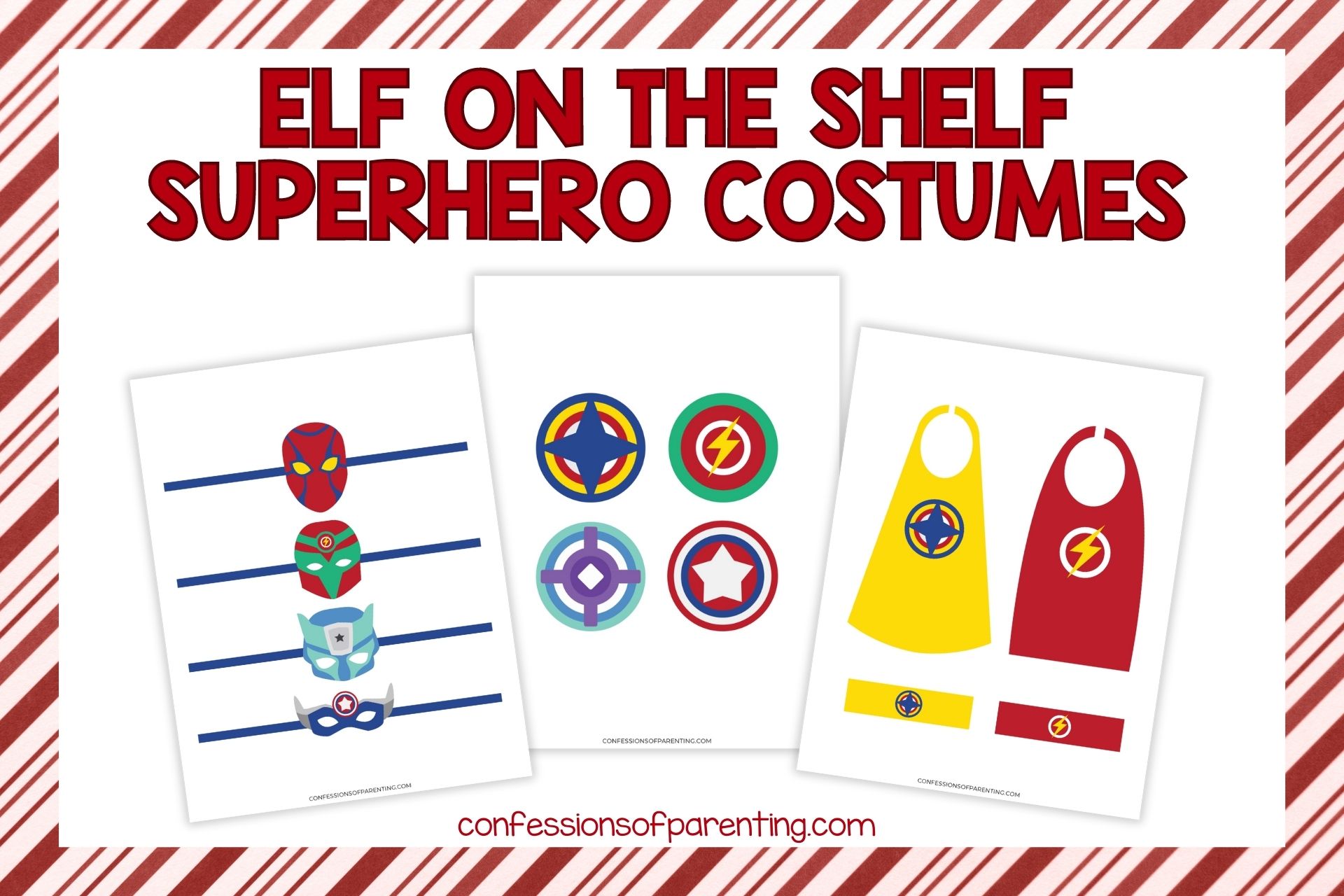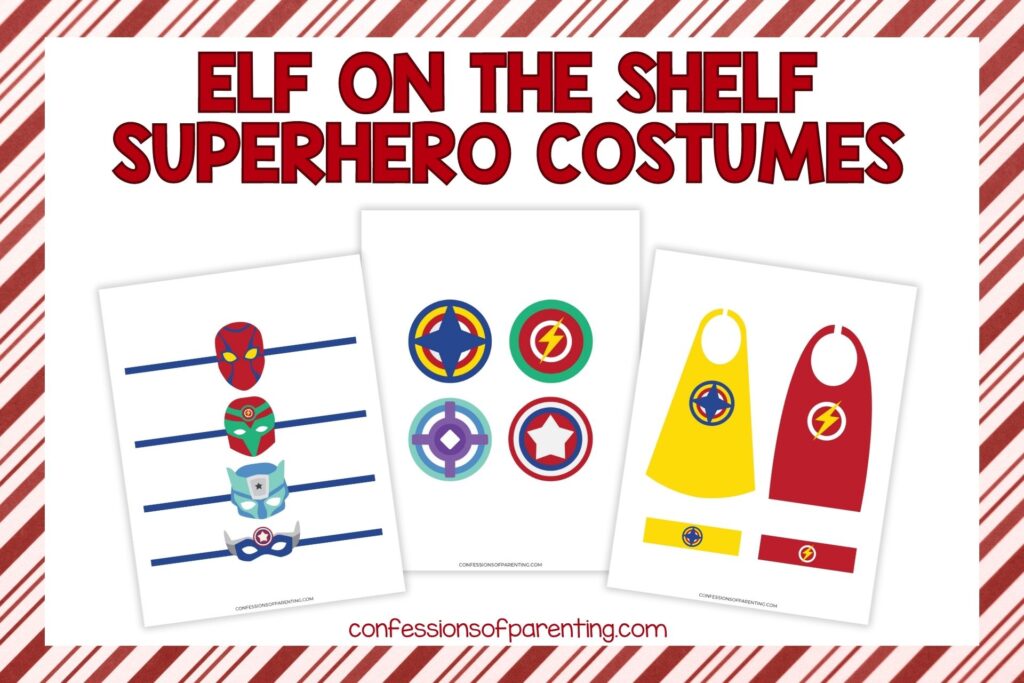 It's the most wonderful day of the year for your kids when their Elf returns from the North Pole! Our Elf, Lucky, always comes with a fun elf on the shelf arrival letter for the kids to read to really help them get into the magic of the season. Even my teens join the fun, knowing that their favorite traditions, like Christmas Minute to Win It game night, are coming soon brought to them of course by their elf!
Elf on the Shelf is a magical tradition loved by everyone. If this is your family's first year with your Elf on the Shelf, it is a great honor to name your Elf! Be sure to check out our list of Elf on the Shelf Names to get some magical name ideas!
Why have an Elf on the Shelf?
As if the holidays weren't busy enough, now parents are expected to keep track of an Elf on the Shelf too (and remember to move it every night)?
We know that it can seem like too much of a hassle, but it's a great way to keep the magic of Christmas alive for your kids. When kids have an Elf on the Shelf in their home, they are transported into a world of whimsy and enchantment.
They're given more opportunities to use their creativity and imagination as they explore the holidays through the eyes of their Elf on the Shelf! Your whole family can enjoy the fun as they share memories of the Elf on the Shelf's past antics, and guess what they'll do next!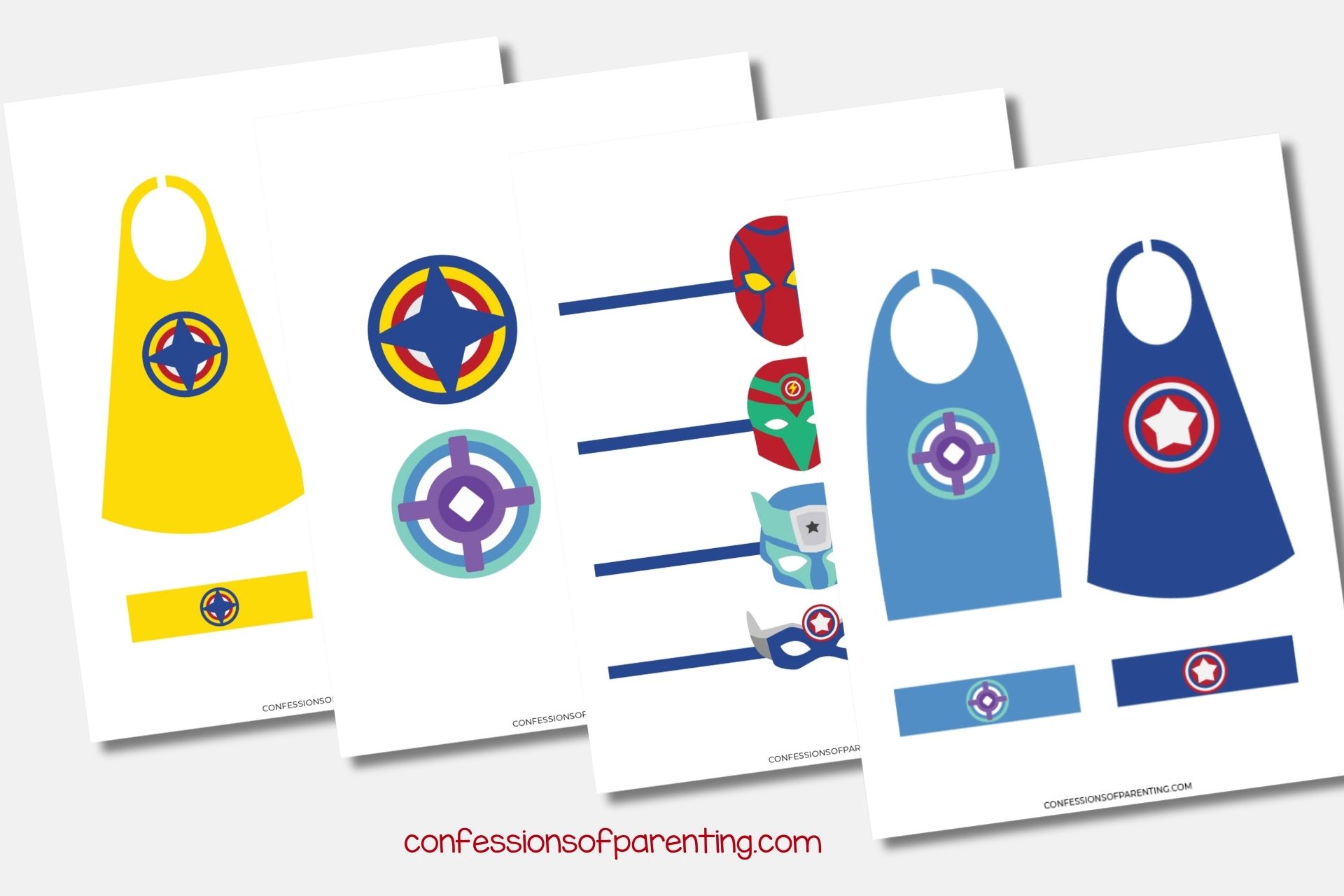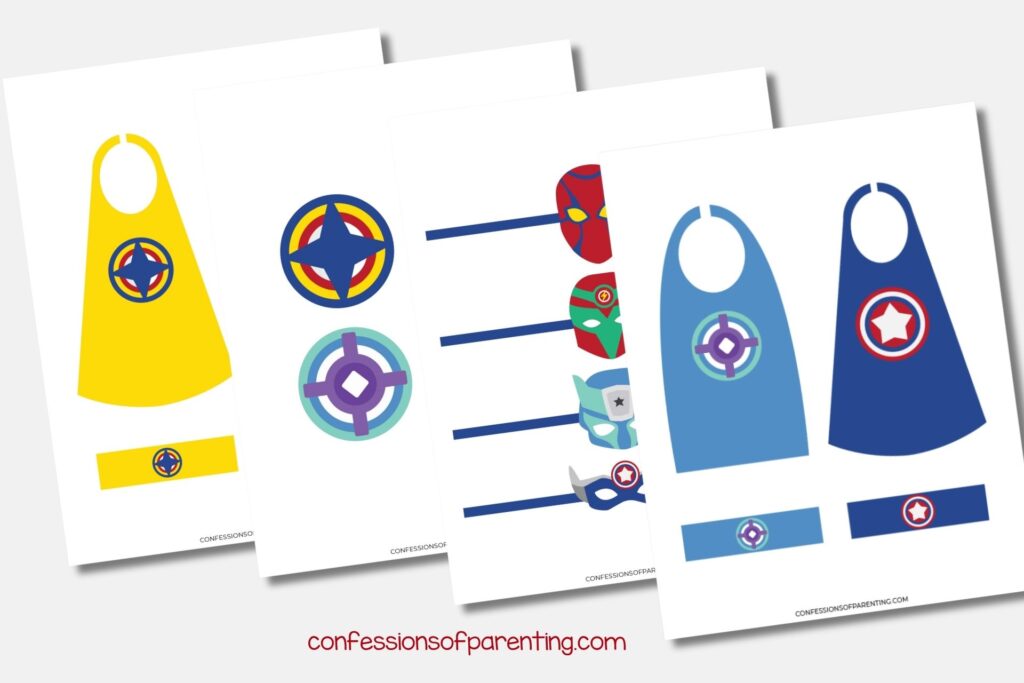 Easy Elf on the Shelf Superhero Costume Ideas
I always feel like a super mom when my kids excitedly look for their elves as part of their morning routine as Christmas approaches. They love to see what mischief they were up to the night before! That's why I love ideas like these Elf on the Shelf Superhero Costumes. The costumes set the stage for my kids to imagine countless creative adventures for their elves!
These superhero costumes come together quickly with just a few supplies!
Supplies
Elf on the Shelf (or another similarly sized doll, like a Barbie!)
Printable Costumes
Scissors
Tape/Glue
Directions to Make the Elf on a Shelf Costume
Step One
Print these cool Elf on a Shelf superhero costumes on sturdy paper, like cardstock.
Step Two
Pick which costume you'd like your elf to wear and cut it out.
Step Three
Tape or glue the mask to your Elf on the Shelf.
Step Four
Attach the cape around your Elf on the Shelf's neck and shoulders. For the finishing touch, set up a heroic scene for your Elf on the Shelf to save the day!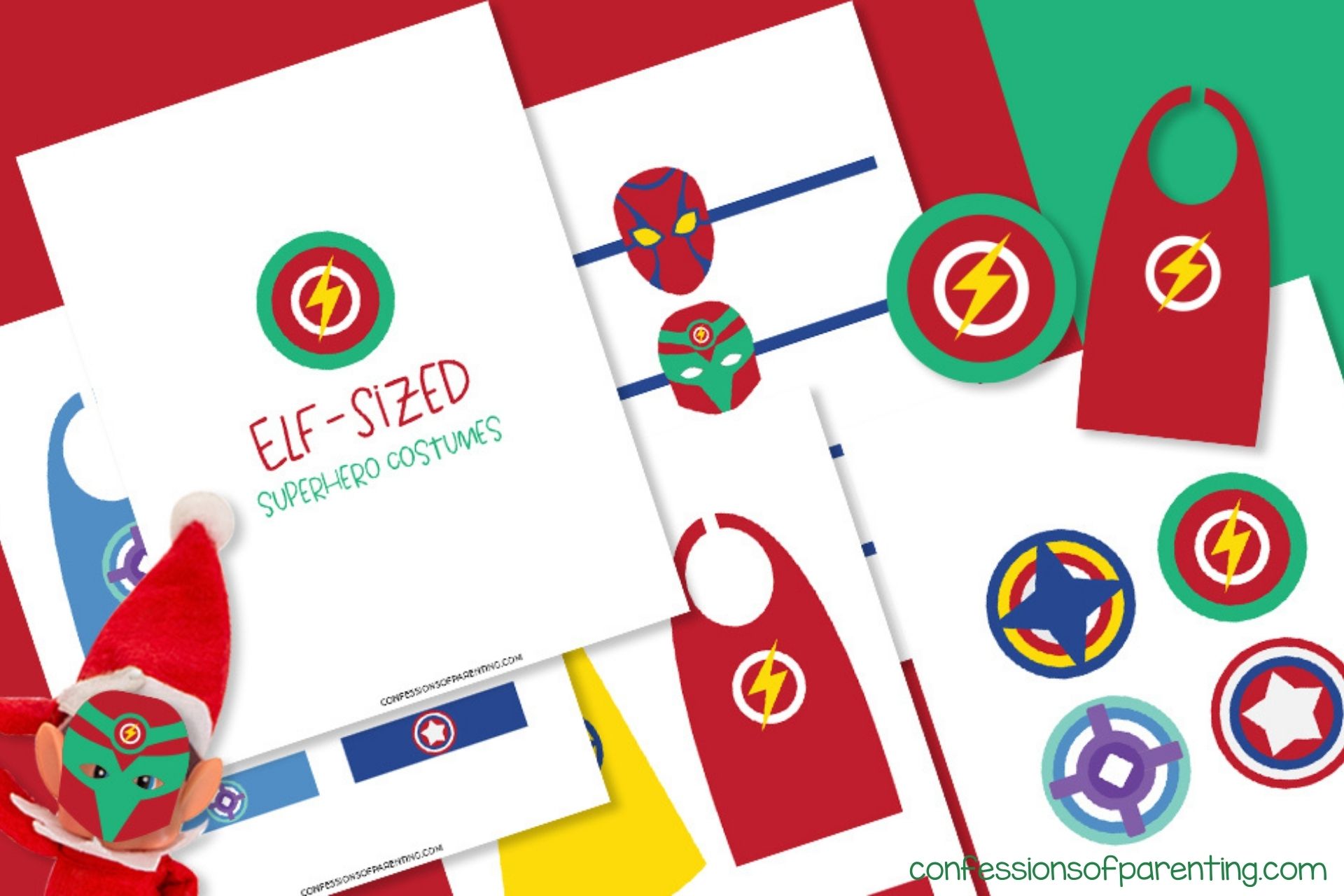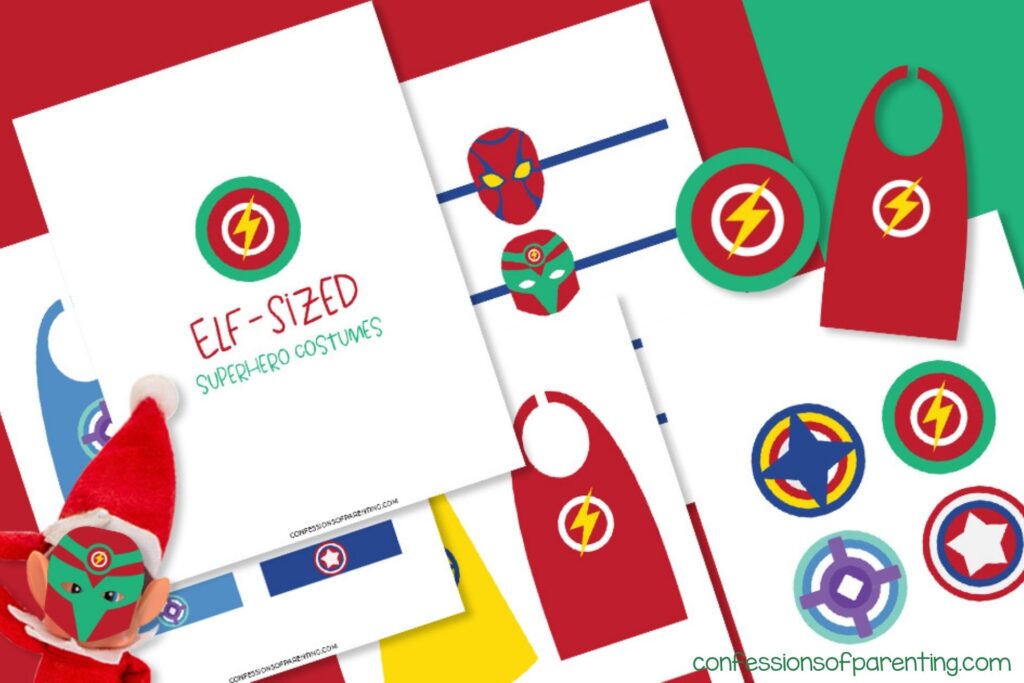 Setting the Scene with Your Superhero Elf on the Shelf
Now that your Elf on the Shelf is ready for action, your options are limitless! Let your creativity shine and set up a scene worthy of a superhero. Here are a few ideas to help you get started:
Attach a small piece of string to your ceiling fan and wrap the other end around your Elf on the Shelf's waist. He'll look like he is flying around the room!
Have your Elf on the Shelf strike a Superman pose with her hands on her hips! You may need a small piece of tape or string to help her stay in place.
Gotham City citizens know the bat signal is the best way to call for help. Print out an extra superhero symbol or create your own using construction paper. Then, tape it in a corner near your elf as if it was seen lighting the night sky!
More Elf on the Shelf Ideas:
Don't forget to share your elf on the shelf with their superhero costume with us on Instagram! Tag us @micheletripple. We can't wait to see the fun!
How Do I access my free printables?
Fill in the form above. You will receive an email in your inbox. If you don't see it, check your spam folder! You will see an email with your free printable.
How Do I Print a PDF?
You'll need a program that supports PDFs. Adobe Acrobat is a great option. Open the program, click File, then print. Select your printer and the number of copies you want to print. Be sure you click double-sided if you want it to print on both sides.
Can I resell these?
You may not resell any printable on our website or in our resource library. You may use them for class parties, at church, at home, or in the classroom. You may get these printed at an office supply store or copy center at your own expense.