These gifts for ice cream lovers will make your friends and family melt! If you are looking for ice cream gifts, you're in the right spot because this list has the coolest ice cream inspired items around!
The Best Gifts for Ice Cream Lovers
Anyone else shopping for someone who loves ice cream? Well, listen up, because I've collected a list of the most fun gifts for ice cream lovers that I can't wait to wrap up!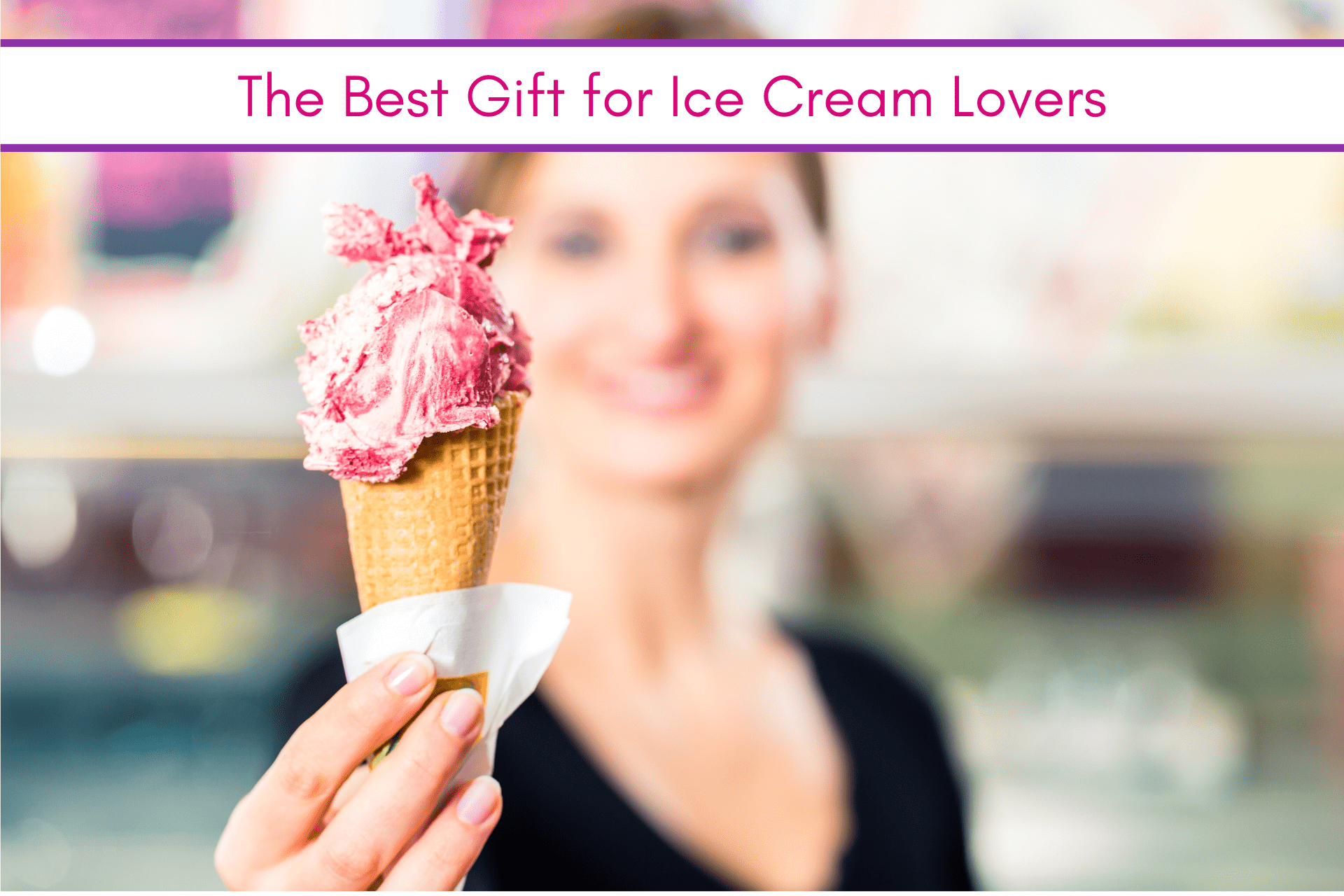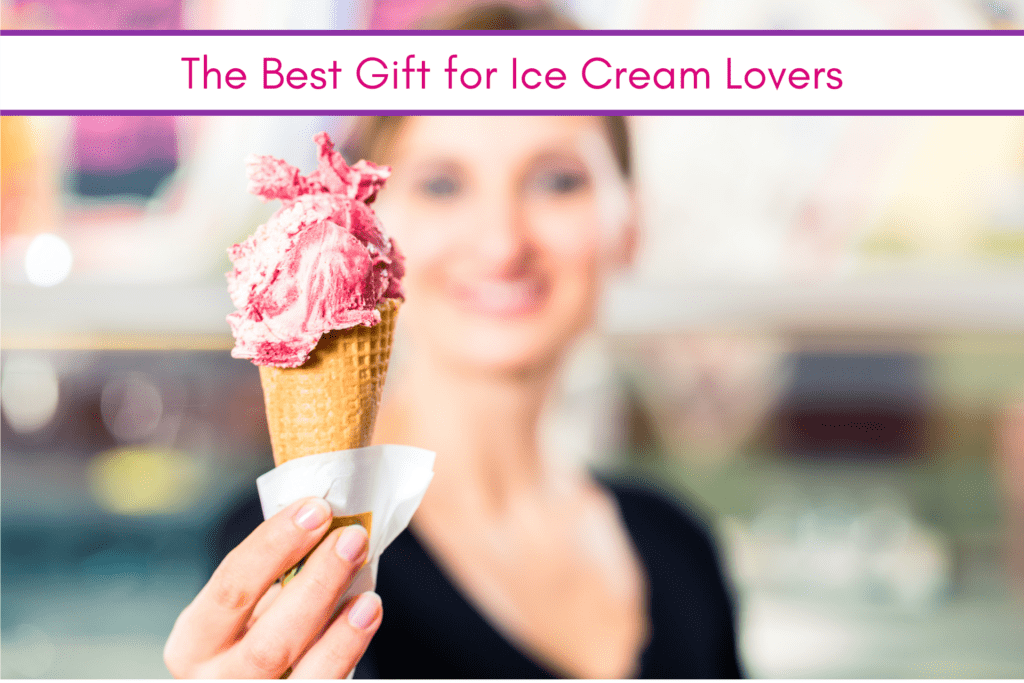 I love giving gifts to my friends and family. It's so much fun to search and find a perfect personalized gift that I know they'll enjoy. And the ice cream lovers in my life are about to get some seriously amazing things!
Whether it's a pair of ice cream socks or a brand new soft-serve machine, there are so many great and unique options out there for ice cream gifts.
This list truly has something for everyone! From kids to adults, girls to boys, soft serve lovers to cone lovers, you'll find exactly what you need here.
More gift idea posts you'll love
20 Gifts for Ice Cream lovers
These gifts for ice cream lovers are just what you need for anyone in your life that can't resist a cold treat. But don't be surprised if you find something for yourself too!
Pink Scoop and Stack Ice Cream Scoop
Forget everything you think you know about ice cream scoops because this pink scoop and stack ice cream scoop is amazing! Not only can you use this scoop with even the hardest ice cream, but this scoop makes such fun and unique ice cream cylinders for your dishes or cones. And bonus, it's so easy to clean!
Dessert Fruit Soft Serve Maker
Ice cream lovers will swoon at this dairy-free soft-serve machine! In just seconds, you can create easy dairy-free fruit soft-serve ice cream using frozen fruit. It's easy, so much fun, and great for those hot summer afternoons!
Play and Freeze Ice Cream Ball Ice Cream Maker
How fun is this ice cream ball maker?! If you've got kids or fun-loving adults you are shopping for, this is the perfect gift. All you need to do is prepare the machine with your ice cream ingredients and then shake the ball or pass it around for about a half-hour until it's frozen.
Can you imagine playing catch with this during the summer and then enjoying some homemade oreo ice cream? It'll be your new favorite way to spend a summer day.
Greenco Ice Cream Bowls and Spoons
I'm having serious flashbacks because we had a set of spoons and bowls just like this as kids and they were highly coveted by both kids and adults. This set of 12 cute ice cream bowls makes eating ice cream even more fun than it already is. They're dishwasher-safe too so it's no extra work at all!
USB Powered Night Light as Wall Decor
If you are looking for a gift for serious ice cream lovers, this cool USB popsicle night light is a great option. It'll take any wall from boring to fun and it's made from safe and flexible materials for any room.
Host Insulated Ice Cream Bowl
No matter how fast you eat it, ice cream always seems to melt, but this Host Insulated Ice Cream Bowl keeps your ice cream perfectly cold the whole time you eat it. It's also got easy 360-degree silicone grips and is made from BPA-free plastic so it's totally kid-friendly too.
Homemade Rolled Ice Cream Maker
If you haven't tried rolled ice cream yet, you're missing out! Basically, you add an ice cream base with any of your favorite mix-ins and let it freeze solid on a chilled surface. Then you scrape it up into little rolls and enjoy!
It's so yummy. And this rolled ice cream maker helps you make it right at home! This is such a fast, easy, and fun way to make ice cream so it's an ice cream lovers dream come true.
Waffle Cone and Bowl Maker
No cones at home? No problem! With this waffle cone maker, you can make a fresh waffle cone in just 3 minutes or less! It comes with simple tools that help you shape your hot waffle into a cone or a dish and after trying it you won't want it any other way.
Automatic Frozen Yogurt, Sorbet, and Ice Cream Maker
The Cuisinart Ice Cream maker is absolutely amazing. This fully automatic machine makes 2 quarts of ice cream, frozen yogurt, or sorbet at a time. You can add your ingredients and then sit back and relax while it churns and chills into a creamy delight.
Nostalgia Flavor Electric Bucket Ice Cream Maker
Another great option for an ice cream lover who needs their own machine is this Nostalgia ice cream maker! It can make a whole 4 quarts at a time which is great for groups and parties.
It's fully automatic, and it's made with real wood so it makes a lovely addition to any home.
Bewaltz Ice Cream Cold Cup Tumbler
This double-wall insulated tumbler makes your cold drinks last so much longer! Not only is it great for milkshakes and other iced drinks, but it's designed like an old-fashioned milkshake which makes it way more fun.
Kawaii Ice Cream Tableware Party Supplies
If an ice cream lover in your life is having a birthday, this set of ice cream decorations and supplies is the best way to make their day extra special! I love the colors and the ice cream pictures that look good enough to eat.  
Junket Ice Cream Mix Bundle
Junket Ice Cream Mix makes making ice cream at home so much easier! All you need to do is mix the package with milk and whipping cream. The boxes include instructions for making ice cream with or without an ice cream machine so absolutely anyone can enjoy these fun mixes. This pack comes with 2 packs of 3 yummy flavors so fun nights can happen all summer long!
Ghirardelli Squeeze Bottles
Ghirardelli sauces are to die for and these extra-large bottles will keep you stocked on this ice cream topper for quite a while! This premium sauce pack includes chocolate, white chocolate, and caramel so everyone has what they are looking for.
Wilton Naturally Flavored Assorted Sprinkles and Jimmies
You can't have an ice cream sundae without sprinkles on top! And these Wilton sprinkles pack has everything you need. These naturally flavored toppers are perfect for ice cream, cakes, cookies, or any other sweet treat.
His and Hers Ice Cream Spoons
Know any couples that love ice cream? These adorable his and hers ice cream spoons would make the sweetest gift for any holiday or event a great wedding present!
Funny Ice Cream Shirt
How funny is this ice cream shirt? I don't know about you, but I think about ice cream a lot! And I would love to have this funny shirt to wear. Wear that love of ice cream with pride!
Dripstik No Mess Ice Cream Cone & Frozen Treat Holder
I think this no-mess frozen treat holder might be the most genius thing I've ever seen! I can't tell you how many times I've had to clean my floors and swap out the kids' clothes after eating a melting treat. But these holders catch all the drips and make clean up so easy. And guess what? It even doubles as a popsicle maker!
Melting Ice Cream Apron
Whoever is gifted this fun ice cream apron will want to ditch all their plain ones because this is so fun! Of course, it also protects from any splashes or spills so if your ice cream lover likes to cook or bake this apron is perfect. The neck is adjustable, too, so you know it'll fit perfectly.
Novelty Dress Socks
Give your feet a special treat with these soft, comfortable, and breathable ice cream-themed socks! I can't wait to use these as a stocking stuffer for someone in my family who can't resist frozen treats.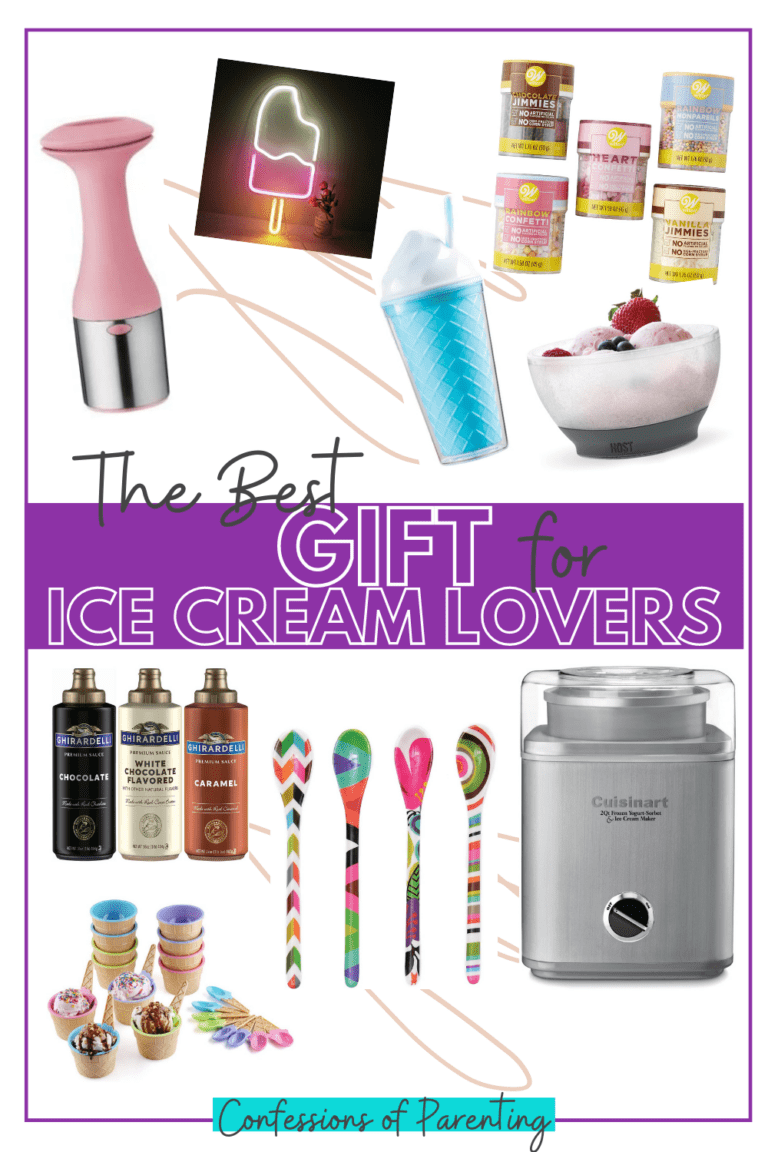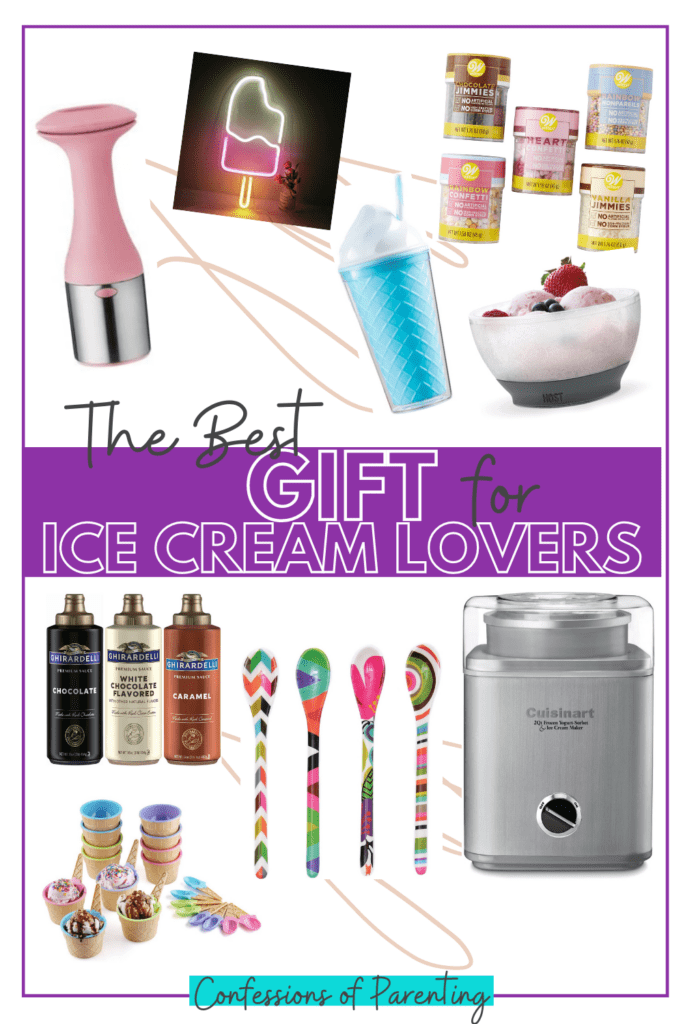 More Gift Idea Articles