Greek Chicken Kebobs with Tzatziki sauce is a staple in our house as it combines lemon herb grilled chicken that is then dipped in a delcious homemade tzatki sauce that can be made with greek or plain yogurt!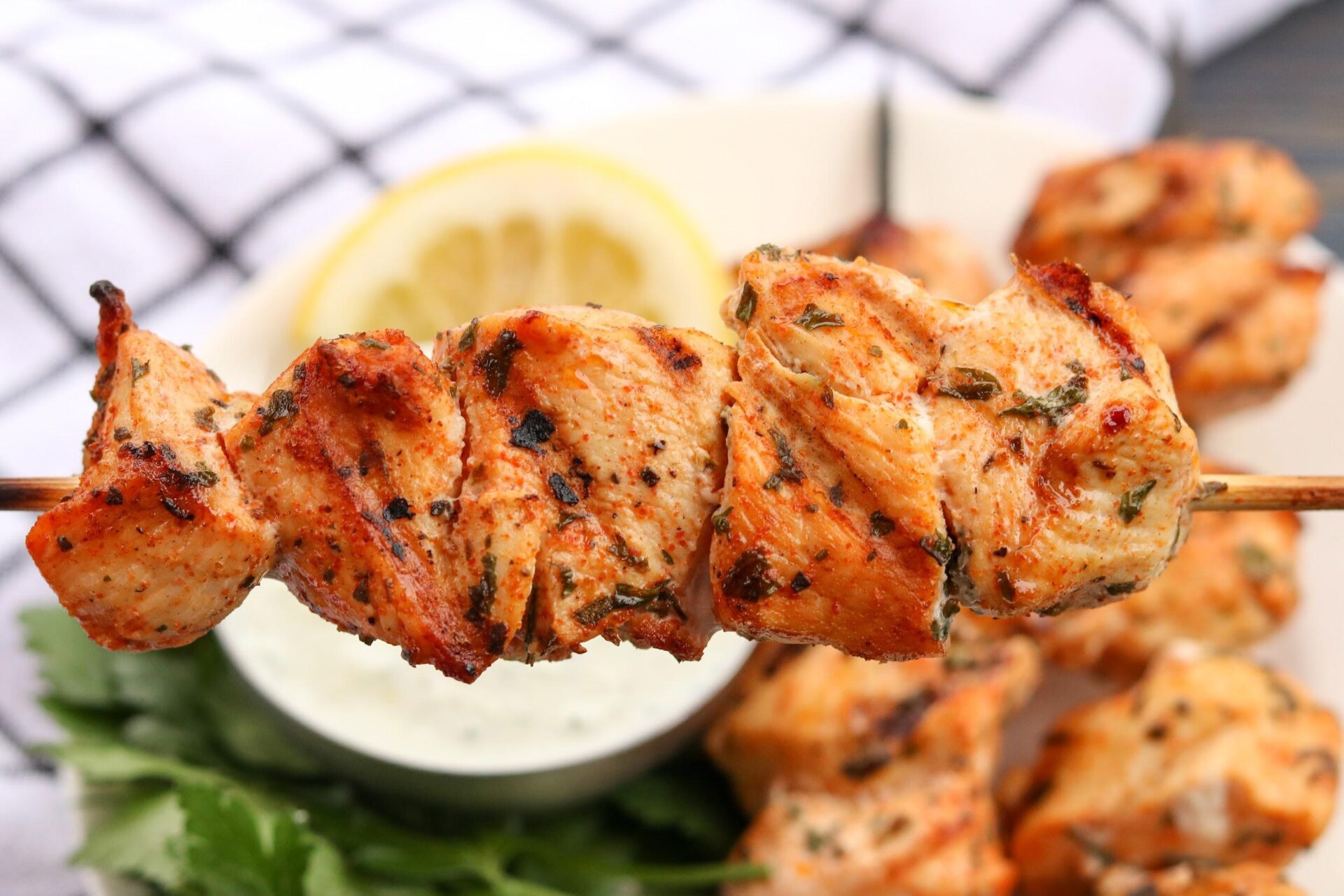 Lemon Herb Grilled Chicken with Homemade Tzatziki Sauce
Summer is for sitting around the pool soaking up the sun enjoying your friends and family, not for slaving away in the kitchen! That is why I am so in love easy main dishes like this Greek Chicken Kebobs recipe with a simple homemade Tzatziki Sauce.
These grilled lemon herb chicken skewers are ready in 42 minutes, but let's be honest we are not working the whole time because it includes at least 30 minutes of marinating bin a simple light marinade! So we are really only looking at less than 15 minutes of work! This is the perfect recipe to enjoy on a hot night that you don't feel like turning on the stove or oven! Try our other favorite shrimp kebobs as well for another dinner outside around the pool!
Looking for more Chicken Recipes? Try these favorites as well!
Greek Chicken Kebobs with Tzatziki Sauce
Serves: 4-6
Prep Time: 30 minutes (including marinating time)
Grill Time: 12 minutes
Total Time: 42 minutes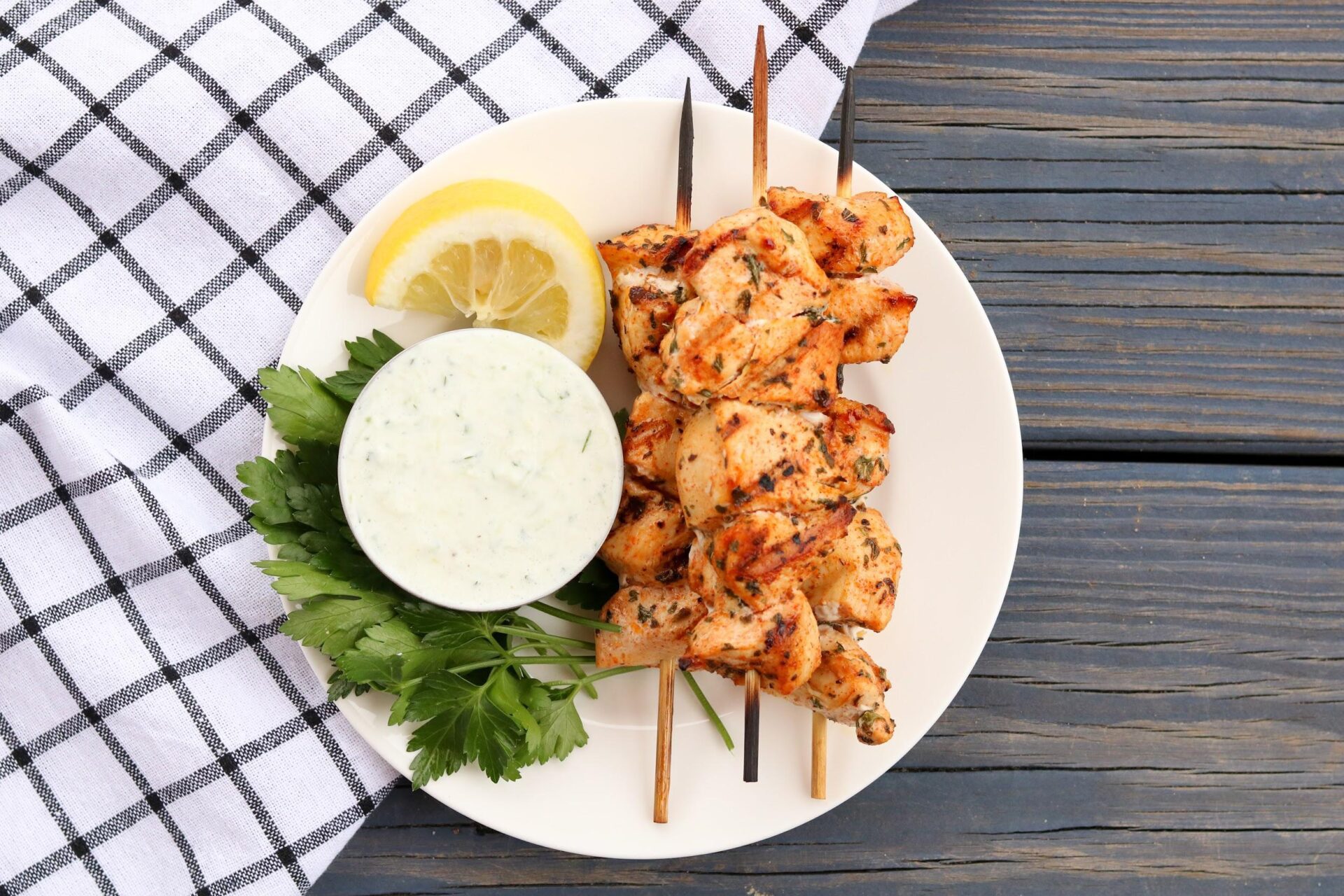 Ingredients for Grilled Lemon Herb Chicken Recipe
2 lbs boneless, skinless chicken breasts cut into 2-inch pieces
2 Tablespoons Olive Oil
½ of a lemon, juiced
1 teaspoon dried oregano
1 teaspoon dried parsley
¼ teaspoon cayenne pepper
¼ teaspoon salt
Homemade Tzatziki Sauce for dipping (recipe below)
How to Make Greek Chicken Kebobs With Tzatziki Sauce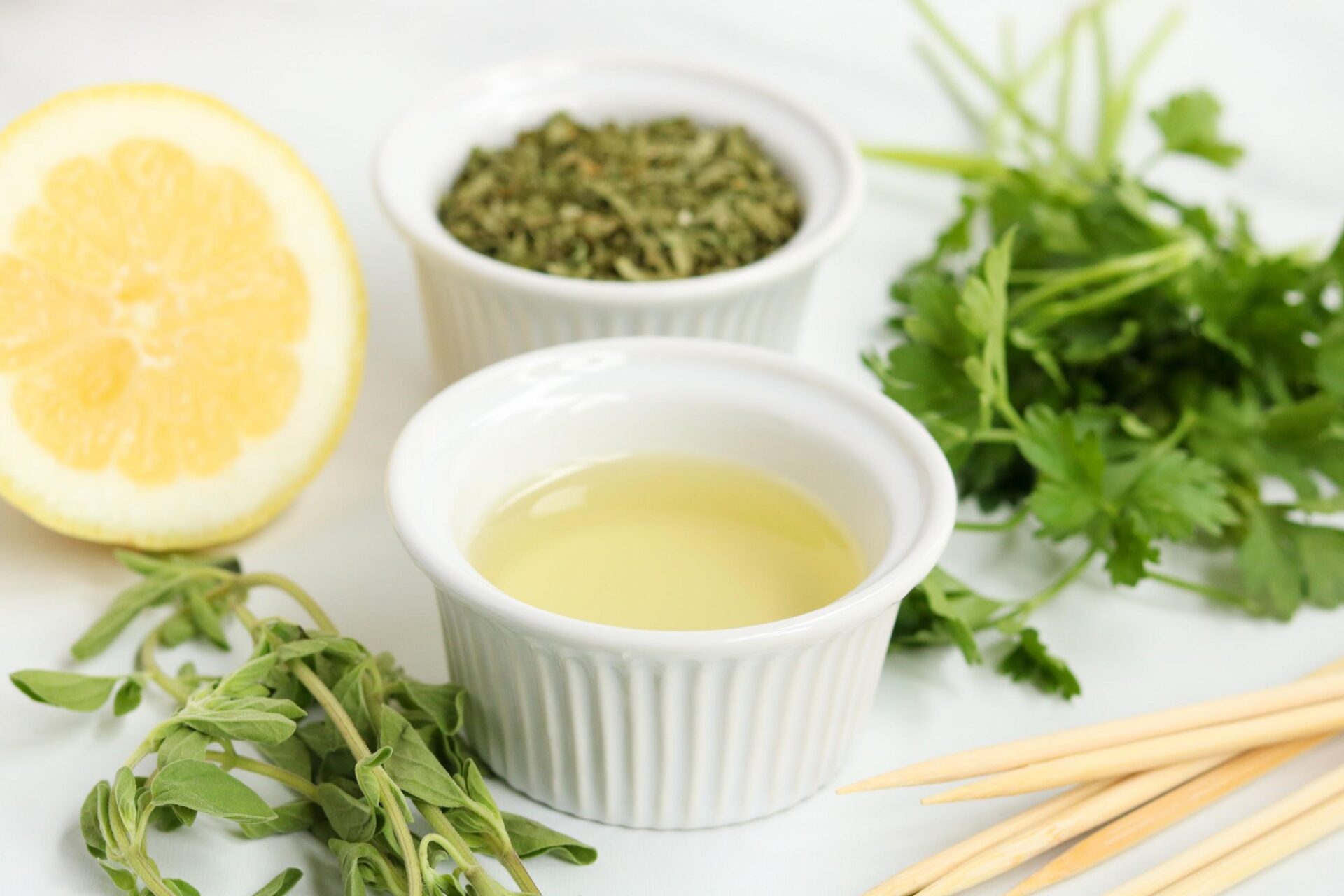 In a small bowl, mix together the olive oil, lemon juice, oregano, parsley, cayenne pepper, and salt. If you don't love spicy things then add a little less cayenne pepper. On the other hand, if you like things a bit spicier then add more cayenne pepper! Adjust according to what you and your family enjoy!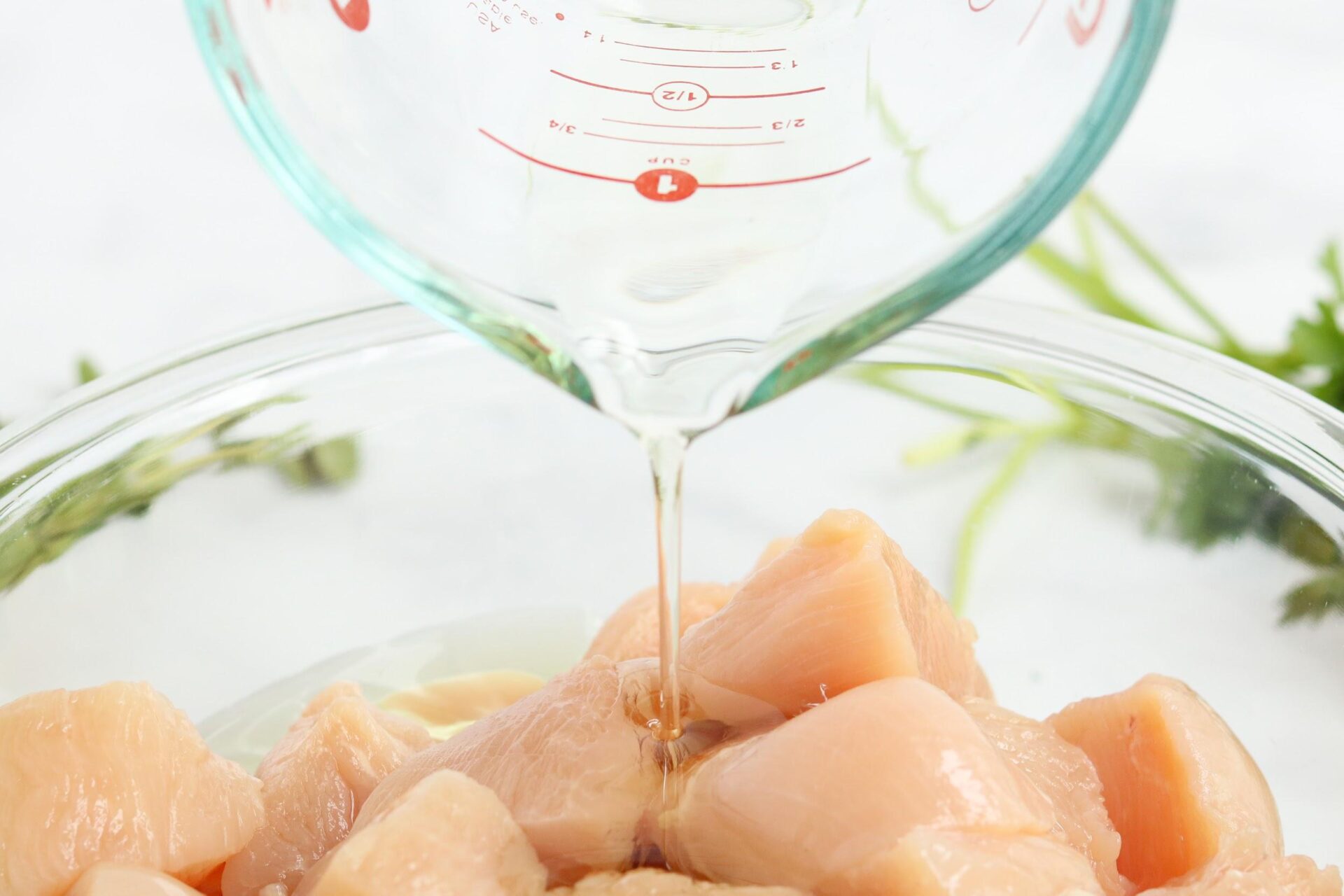 Next add the chicken, making sure each piece is covered.
Cover and refrigerate for at least 30 minutes or overnight.
If you don't have a bowl big enough or if you are feeling especially lazy (like I do most of the time) you can throw it in a Gallon Ziploc bag and dump the marinade on top! Viola! Simple, easy and it doesn't take up a lot of fridge space!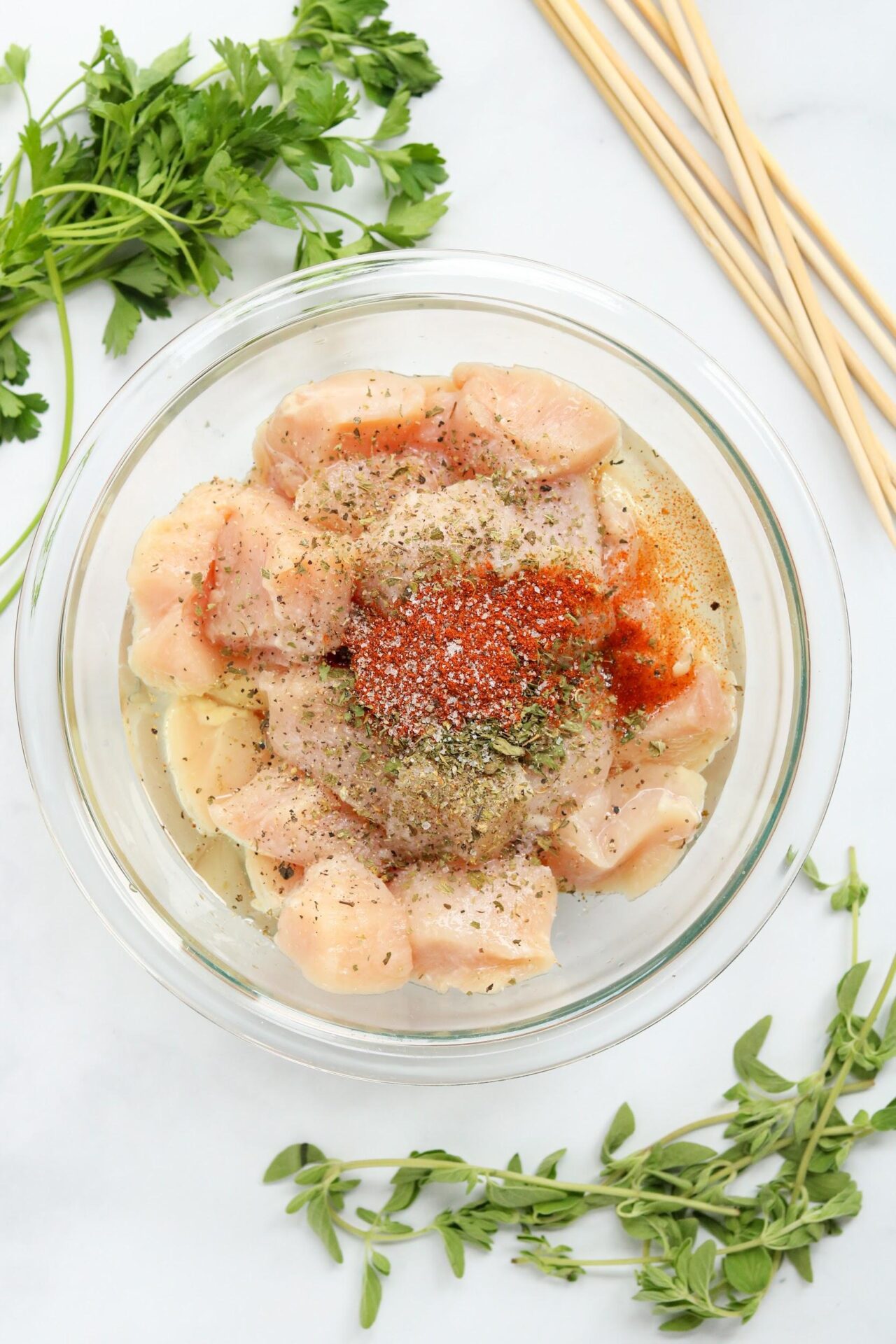 When you are ready to cook the chicken head outside and set the grill for medium-direct heat. I have found for best flavor, use a charcoal or gas grill. When this isn't an option, a grill pan will work just fine!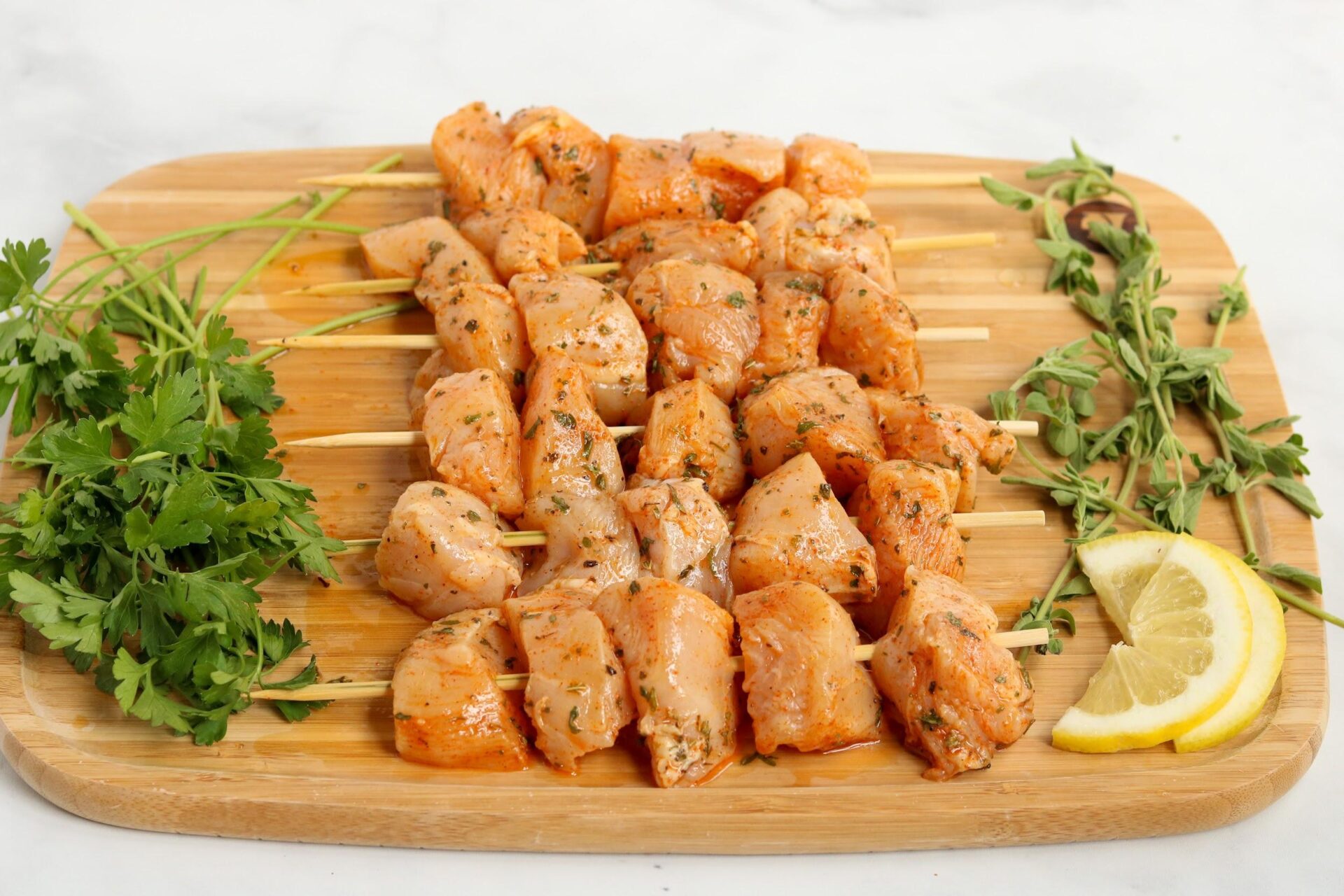 While the grill is heating thread chicken pieces onto skewers be sure to soak your wooden or bamboo skewers 20 minutes in water before threading the chicken on. This helps the sticks to not burn.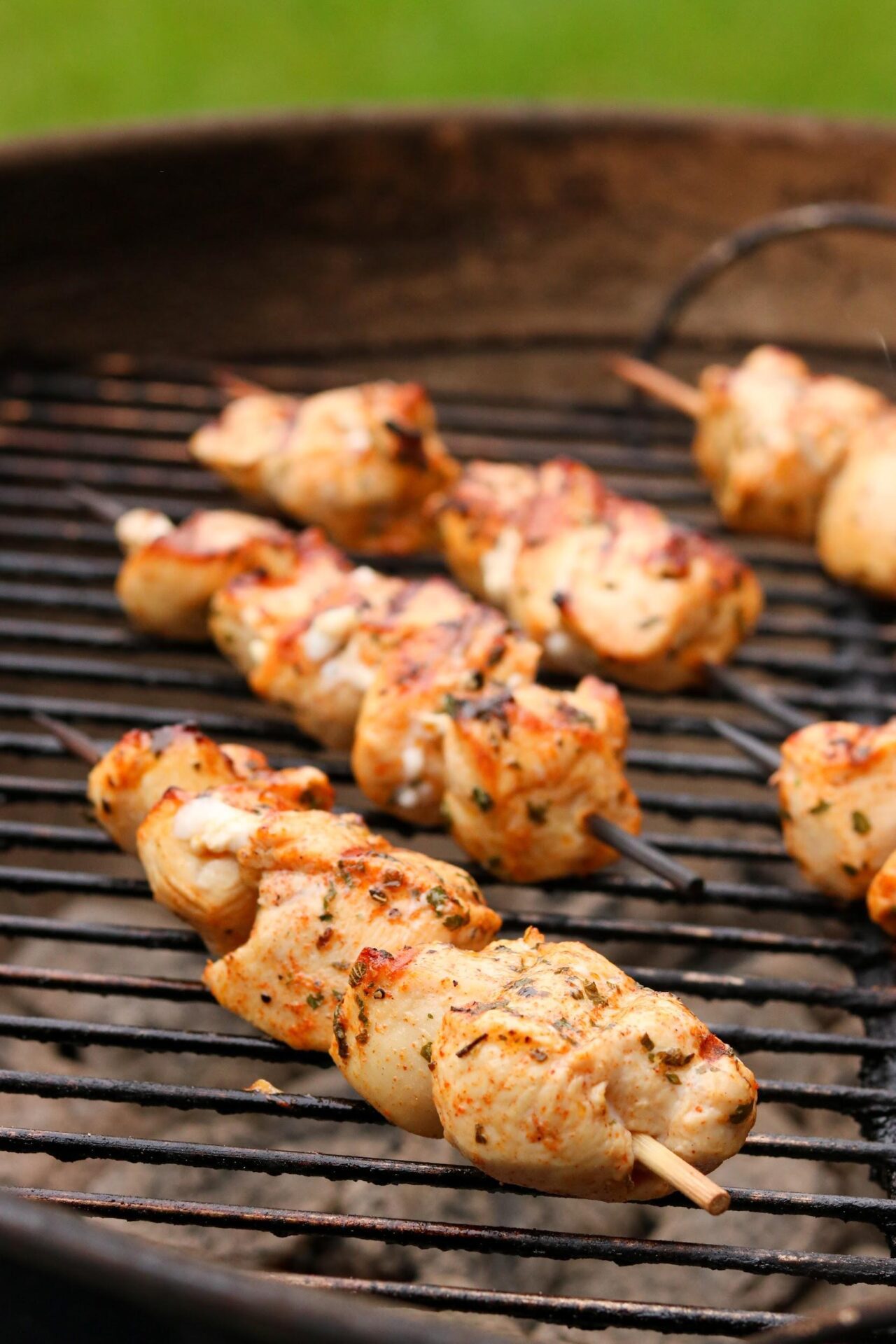 After the grilled lemon herb chicken is on the skewers place them on the grill for about 12 minutes total. Flip the chicken once halfway through cooking or until internal temperature reaches 165 degrees.
Homemade Tzatziki Sauce
Serves: 4-6
Prep Time: 10 minutes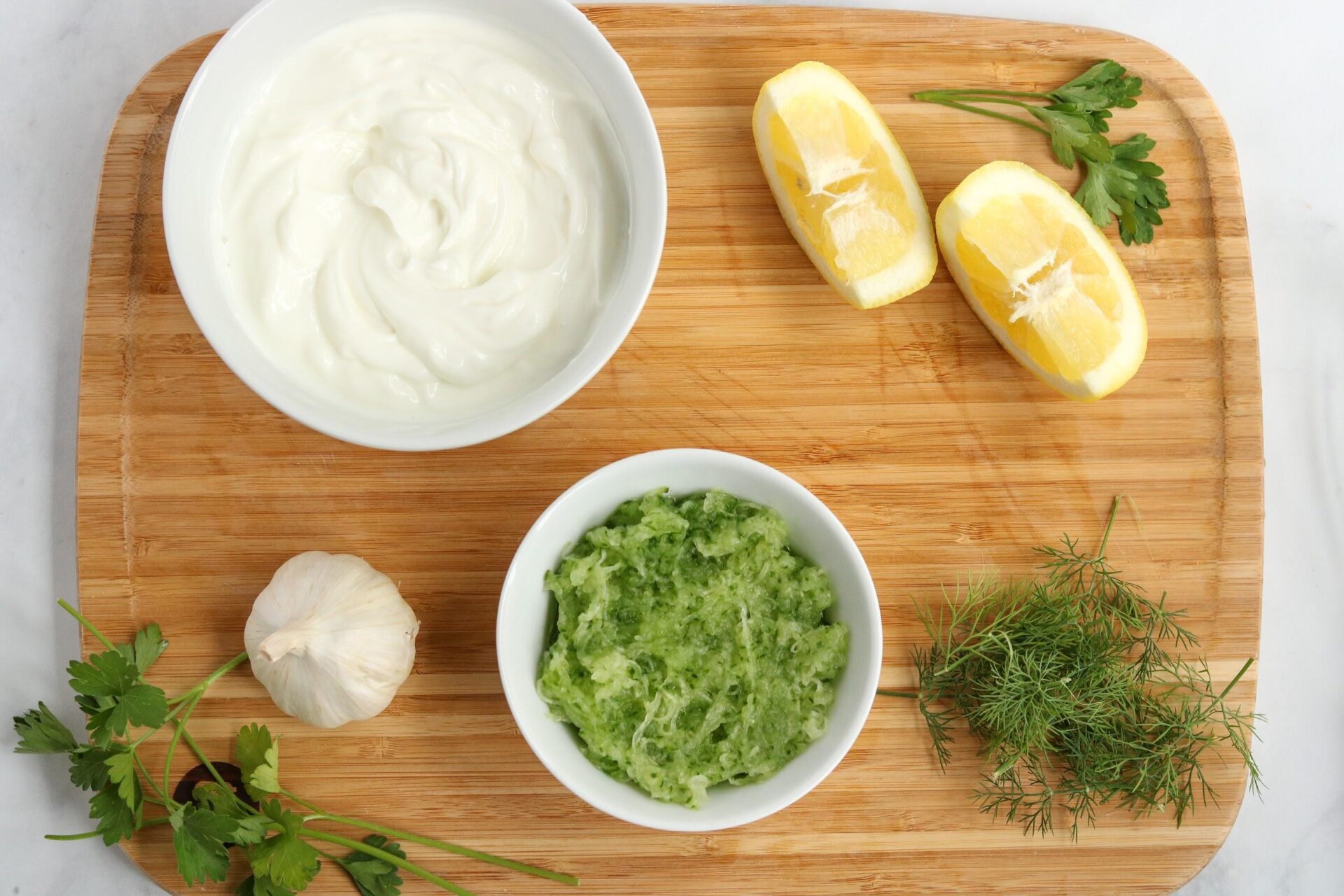 Ingredients for Homemade Tzatziki Sauce:
2 5.3 ounce containers of plain Greek yogurt or plain yogurt
½ cup of seeded, grated cucumber
2 Tablespoons fresh dill, finely chopped
2 Tablespoons fresh lemon juice
2 fresh garlic cloves, finely minced
¼ tsp salt
⅛ tsp pepper
How to Make Homemade Tzatziki Sauce
You are going to love this recipe for Tzatziki Sauce! You are almost guarenteed leftover tzatzki sauce to use on just about anything!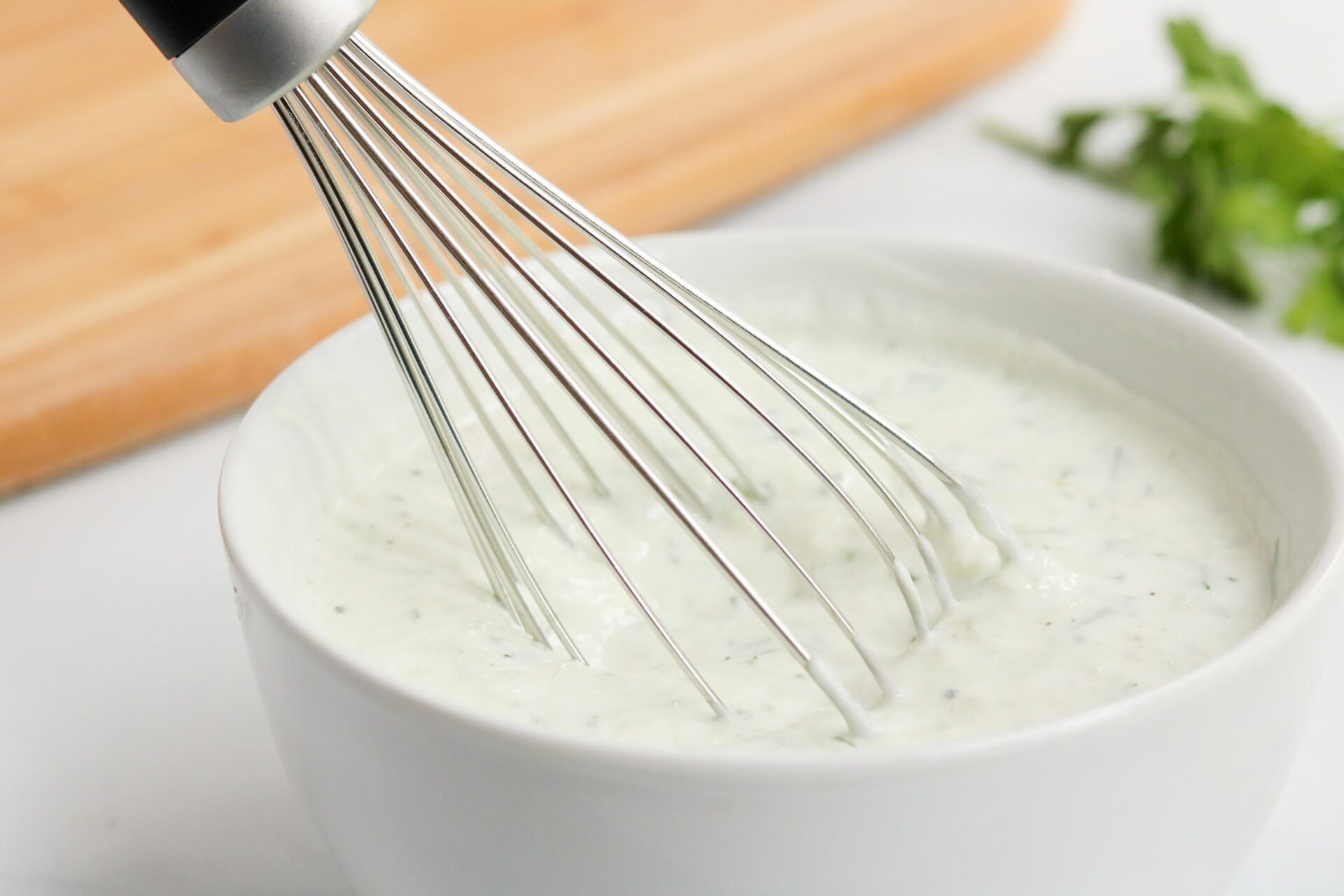 To make Homemade Tzatziki Sauce it really is simple! Just mix all the ingredients in a bowl and serve with chicken or chopped fresh veggies.
Be sure to drain the excess liquid out of the bowl after grating your cucumbers.
This Homemade Tzatziki Sauce is perfect because it can be served immediately, but as you let it sit the flavor improves.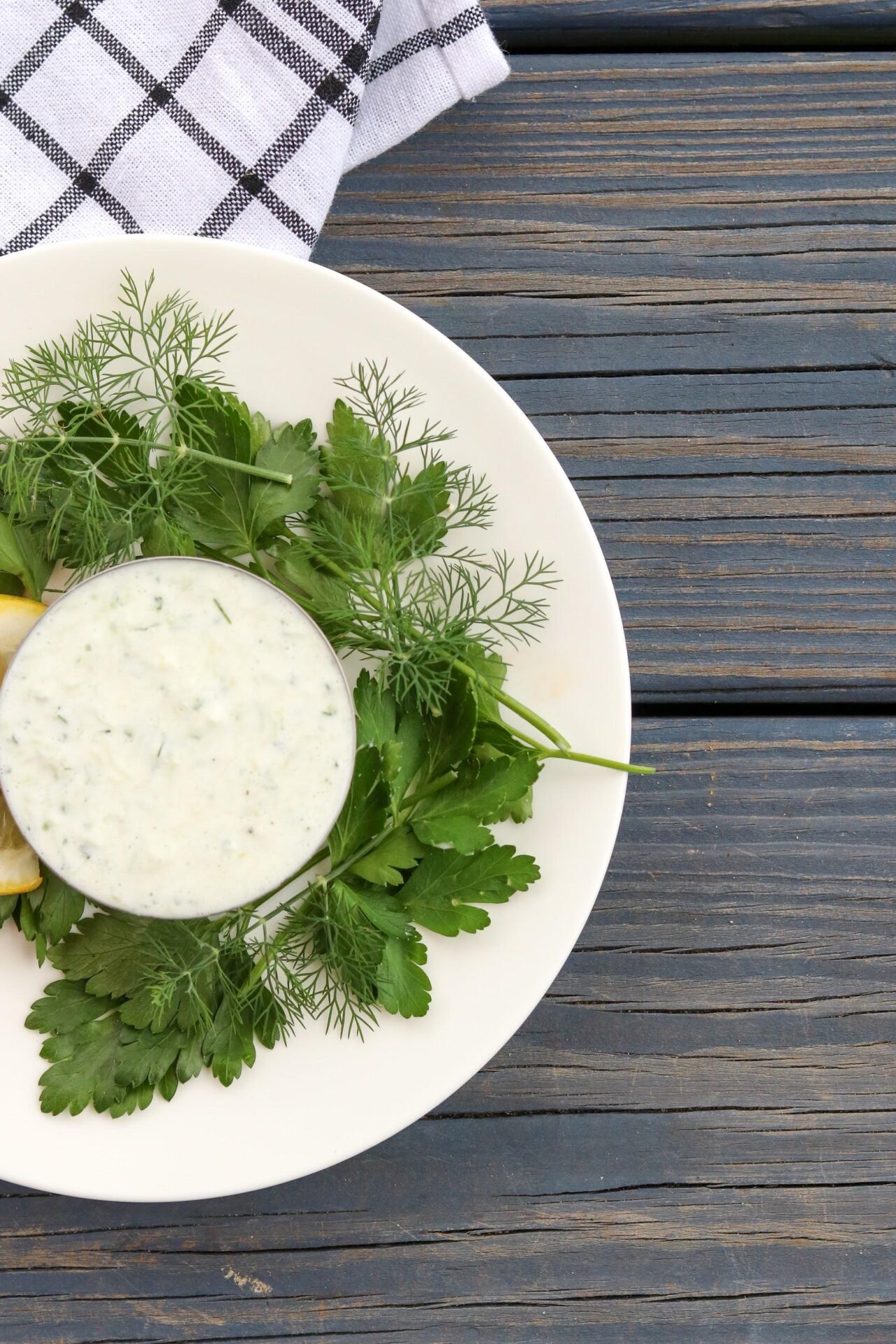 Storage
You will want to store your leftover Tzatziki Sauce in an airtight container for up to 4 days. The consistency will change but it will still have good flavor!
Can you freeze tzatziki sauce?
Yes! You can freeze tzatziki sauce. You will want to place it in an airtight freezer safe container and freeze for up to 3 months. The texture will change over time, but it will still have great flavor.
To thaw place in the fridge overnight.
Becuase it freezes so well many people often make a huge batch of Tzatziki sauce at once.
Leftover Tzatziki Sauce
Since you will have a lot of leftover Tzatziki sauce you might be wondering what you can do with it! Some great options are
topping your favorite meat with it! Tzatziki is great with chicken, pork, lamb and steak!
Dip Veggies! Grab a handful of veggies and get dipping.
Make lamb or chicken pitas
Check out these other Main Dishes
Love what you see? Leave a comment and don't forget to rate it below! We always love knowing how your recipe turns out! Don't forget to tag me on Instagram @micheletripple to show me your finished product!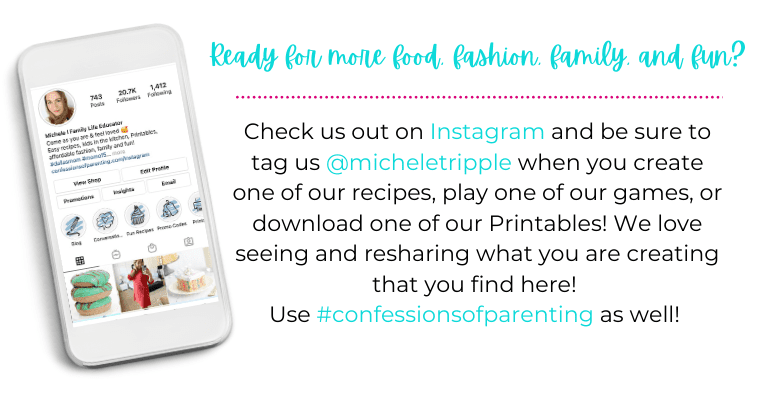 [mailerlite_form form_id=12]