Summer is here! So let's celebrate June as a family this year with this June Bucket list. And don't forget to grab your free June bucket list free printable!
Celebrate June
Your family is likely starting to get antsy about the summer vacation that is soon approaching, but don't forget to enjoy this fun month of June!
Your family will love finding the opportunities to celebrate June and find joy in the warm summer breezes and the approaching break from school! Here are some great activities to add to your June bucket list that you can do all together as a family!
Don't forget to scroll down and grab our free June bucket list printable!
June Bucket List Ideas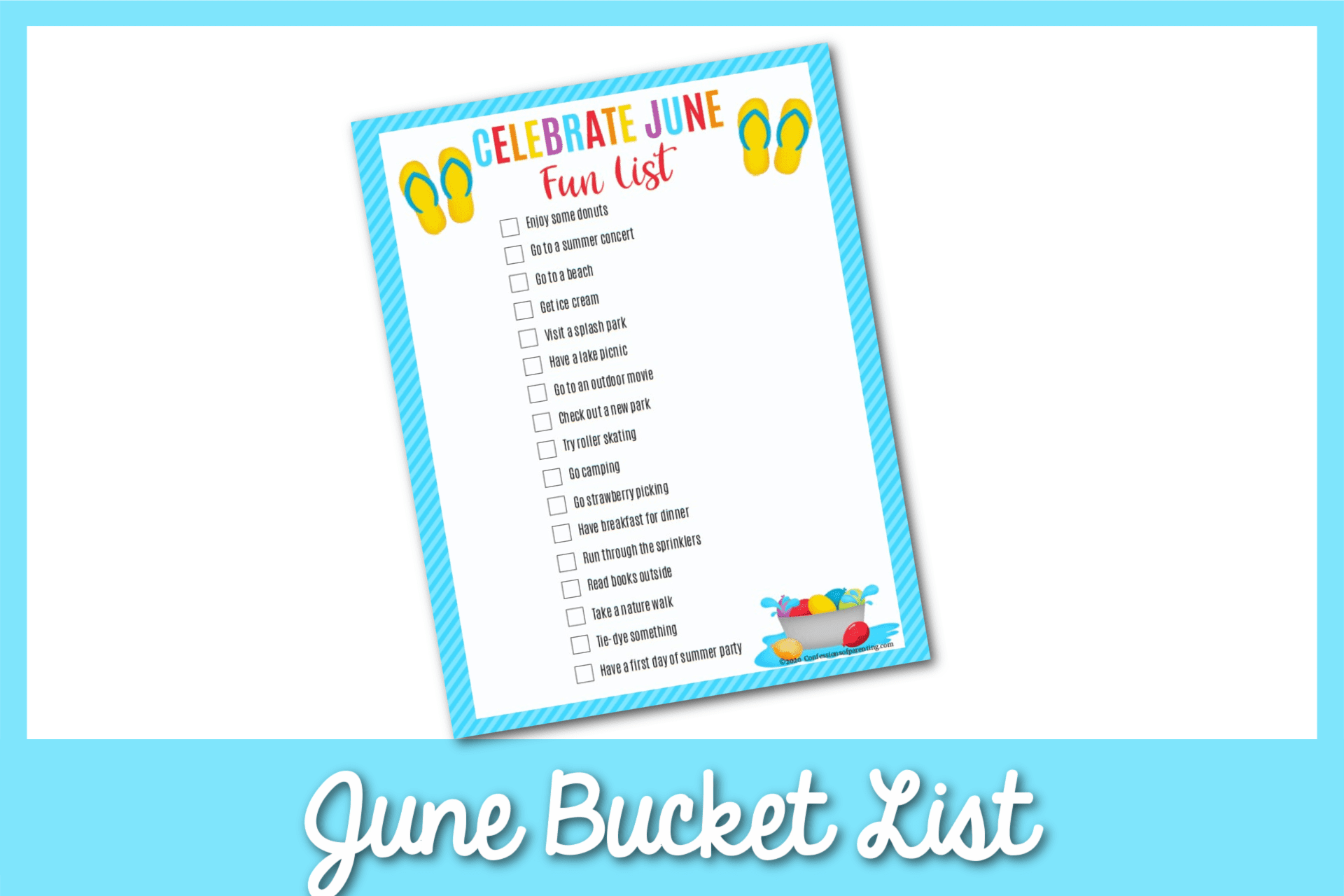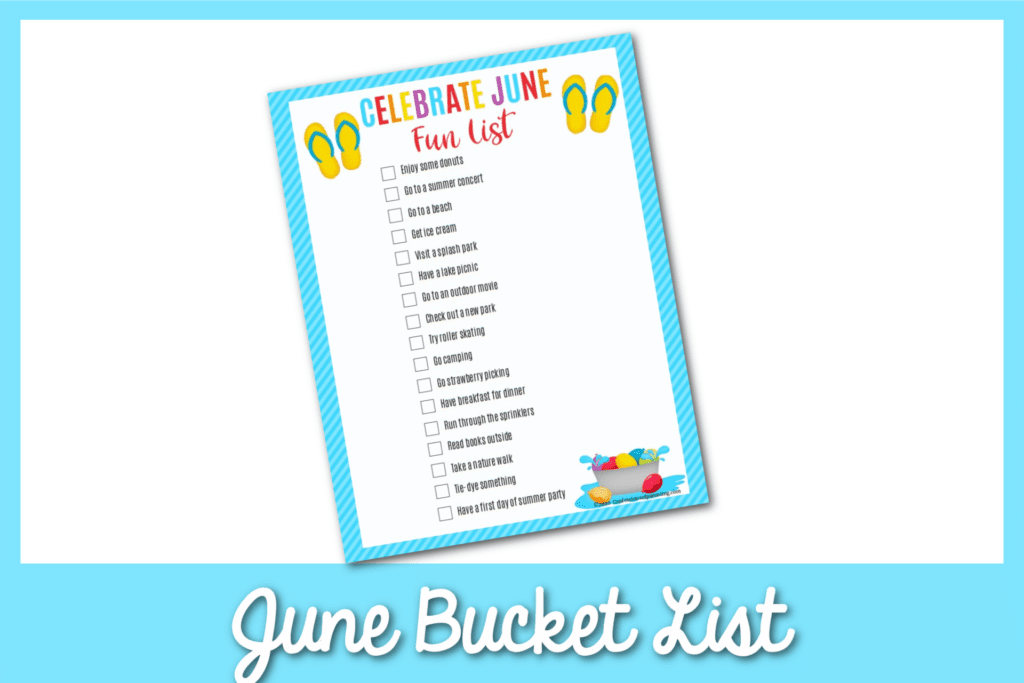 Plan a first day of summer vacation activity
The first day of summer is quickly coming. If your kids can't stop talking about it, make a fun activity out of deciding on what you are going to do on your "first day of summer vacation"!
Get together and decide what would be the best way to kick off the summer vacation as a family right!
Enjoy some donuts
National donut day is on June 5th this year so of course eating donuts has to make the June bucket list.. Don't miss an opportunity to enjoy some yummy donuts!
Go visit your local donut shop or try out a new donut recipe at home. It's easier than you think to make homemade donuts!
Go to a summer concert
There are tons of concerts and festivals throughout the whole summer so go visit one and listen to the live music.
If you have small kids you can find a local community concert, or if your kids are older you can go as a family to a real big concert. So much fun!
Bonus if you can share one of your favorite bands or singers with your kids!
Go to a beach
It's finally getting warm enough for a beach day! So pack your bags and grab your beach scavenger hunt and go have fun!
Go to a local lake or beach and enjoy some fun in the sun together as a family. It can be so much work taking the family to the beach but it will definitely be worth it!
Don't forget towels, sunscreen, and your favorite beach toys while you celebrate June in the warm salty air.
Get ice cream
Take the family to your favorite ice cream shop and try out some new flavors!
If it's a nice day you could even enjoy the ice cream outside at a park while kids run and play.
Visit a splash park
There is something magical about splash parks in the summertime with your younger kids. They will go crazy about it!
Put on their swimsuits and bring a few buckets and water toys and have a blast at a local splash park.
Have a lake picnic
A must on your June bucket list is to have a picnic at a local lake or pond!
Most lakes have picnic tables, but you could also bring a blanket to sit on the floor during your picnic.
Pack a yummy lunch or stop at your favorite restaurant and pick something up to bring. You could even bring some water clothes to play in the water once you're finished eating.
Go to a new park
You probably have a favorite park that you often go to, but take a leap and go to a new park that you haven't been to before!
There are so many park guides online or you can ask your friends and neighbors what parks they like going to.
You might find your new favorite park!
Go to an outdoor movie or make your own outdoor movie
Outdoor movies are so much fun! There is something so special about watching a movie on a warm summer evening.
Take your family to the drive-ins, or look up community events where they show movies at local parks or community centers.
Or set up your own outdoor movie in the backyard!
Try roller skating
If your kids are old enough you can try out roller skating as a family! Most places rent out skates for your family to use if you don't have any.
Go to a local park or trail and skate together for a good workout and a chance for some great family together time!
Go camping
The best way to celebrate June is by going camping as a family!
The springtime rain is likely gone and it's not yet too hot for a fun trip to a local campground. Pack up your tent and outdoor supplies and get ready for a fun night under the stars!
Don't forget s'mores ingredients and your camping scavenger hunt!
Go strawberry picking
Going strawberry picking is a fun and delicious family activity for your June bucket list! Research local strawberry patches and get ready to get picking!
Plan out what fun things you can do with your strawberries. You can freeze them for smoothies, make pies, strawberry freezer jam, or other fun treats, or enjoy them plain.
Have breakfast for dinner
The end of the school year often means a lot of busy days!
Take it easy one night and have breakfast for dinner! Fry up some bacon and eggs, make pancakes, or enjoy another favorite breakfast dish that will save you all some time.
I'm sure you will have no complaints!
Play frisbee
Go outside and learn how to toss a frisbee back and forth to each other!
Try new tricks or see who can throw it the furthest. They even have fun glow in the dark frisbees so you could make this an extra special evening activity!
If you have older kids teach them how to play ultimate frisbee for a fun competitive night together.
Run through sprinklers
Are your kids begging to play in the water but you don't want to pack everyone up for a pool or beach day? Turn on your sprinklers and let your kids go crazy!
Sprinklers are a kid's best friend on a warm summer day! So grab the perfect sprinkler for kids and Celebrate June and that new summer heat with a fun day playing in the water!
Jump rope
Jump ropes seem like they aren't very popular anymore but we all have memories of playing with them!
Get a few ropes and do some jumping practice, or get a long jump rope and do some double dutch!
You can look up fun jump rope games too that you can play together as a family!
Read books outside
There is something so peaceful about reading a book outside. This may become one of your family's favorite simple summer activities.
Find good spots in your yard, or go to a local park and bring books for the family. Enjoy the warm breeze while you read together.
If you have little ones, bring picture books or coloring books to keep them busy while older kids read.
Take a nature walk
Before it gets too hot outside, celebrate June with a little nature walk or hike as a family!
If you have a national park nearby you could make a trip, or you could go to a local botanical garden or another nature park.
Bonus if it has a park or something fun at the end for your little ones!
Tie-dye something
Make some fun tie-dye shirts, pillow cases, or other fun things!
Tie-dye is pretty inexpensive so if you have older kids this is a good chance to use their creativity and make something they will treasure!
If you haven't tie-dyed before look up different design ideas online. They can be really simple and fun to try.
Visit a farmers market
Summertime means farmers markets are all over!
They can be a great chance to learn and teach your kids about local agriculture and local businesses. You can often find something fun and new to try out.
Most farmers markets have delicious street food for you to try as well! Yum.
Have a first day of summer party
The first day of summer this year is on June 20th! Celebrate the summer season with a fun summer party!
Invite some friends over and play some water games, or stay simple with your family and grab ice cream or another summer treat.
There you have it! Some great ways to Celebrate June with your family with this June Bucket List! What would you add to the list? Share in the comments!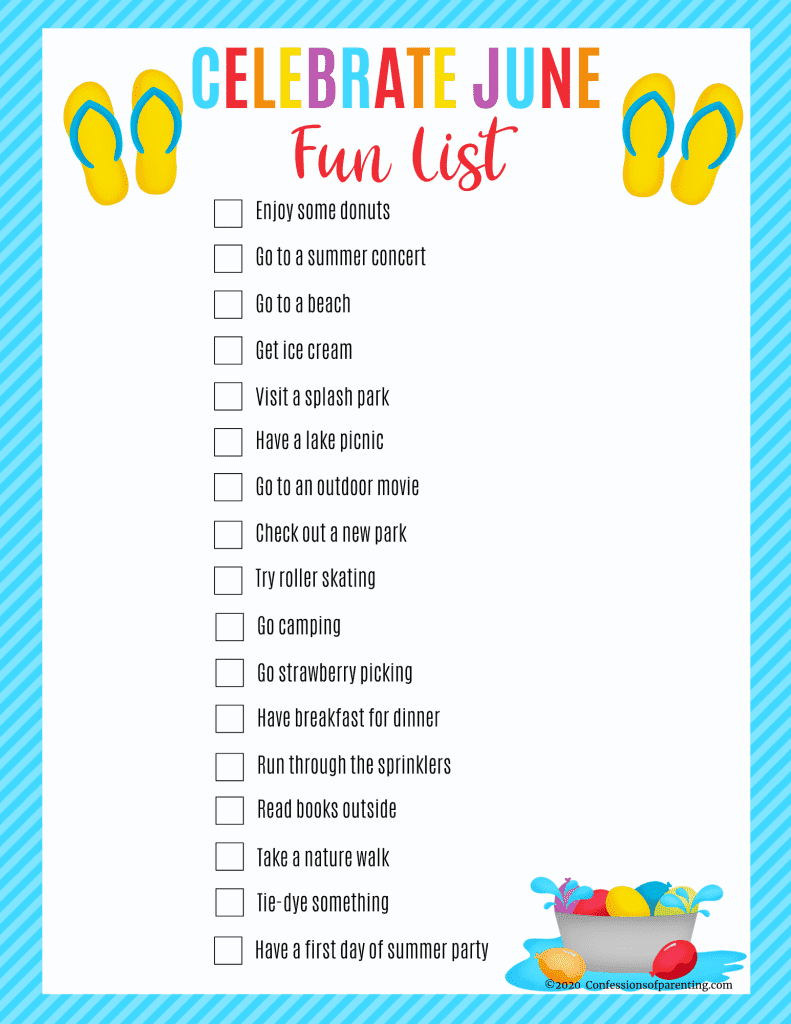 Looking for other ways to Celebrate all Year Long? Check out these posts!
We hope that you and your family enjoy these fun Celebrate June ideas! Be sure to share your experience in your stories on Instagram and tag us @confessions_of_parenting! We love seeing what you are up too!
Don't forget to save this Celebrate June Family Fun List on Pinterest so you can find it easily each June!