March is here are you ready to celebrate March all month long? As you celebrate why not find fun things to do with on this March bucket list printable!
Celebrate March
March is here and it is time to celebrate with a bunch of fun activities to do throughout the month with your family.
These March bucket list ideas (download below) are easy and fun and I am pretty sure your whole family will love them, so check out this fun list of things to do in March!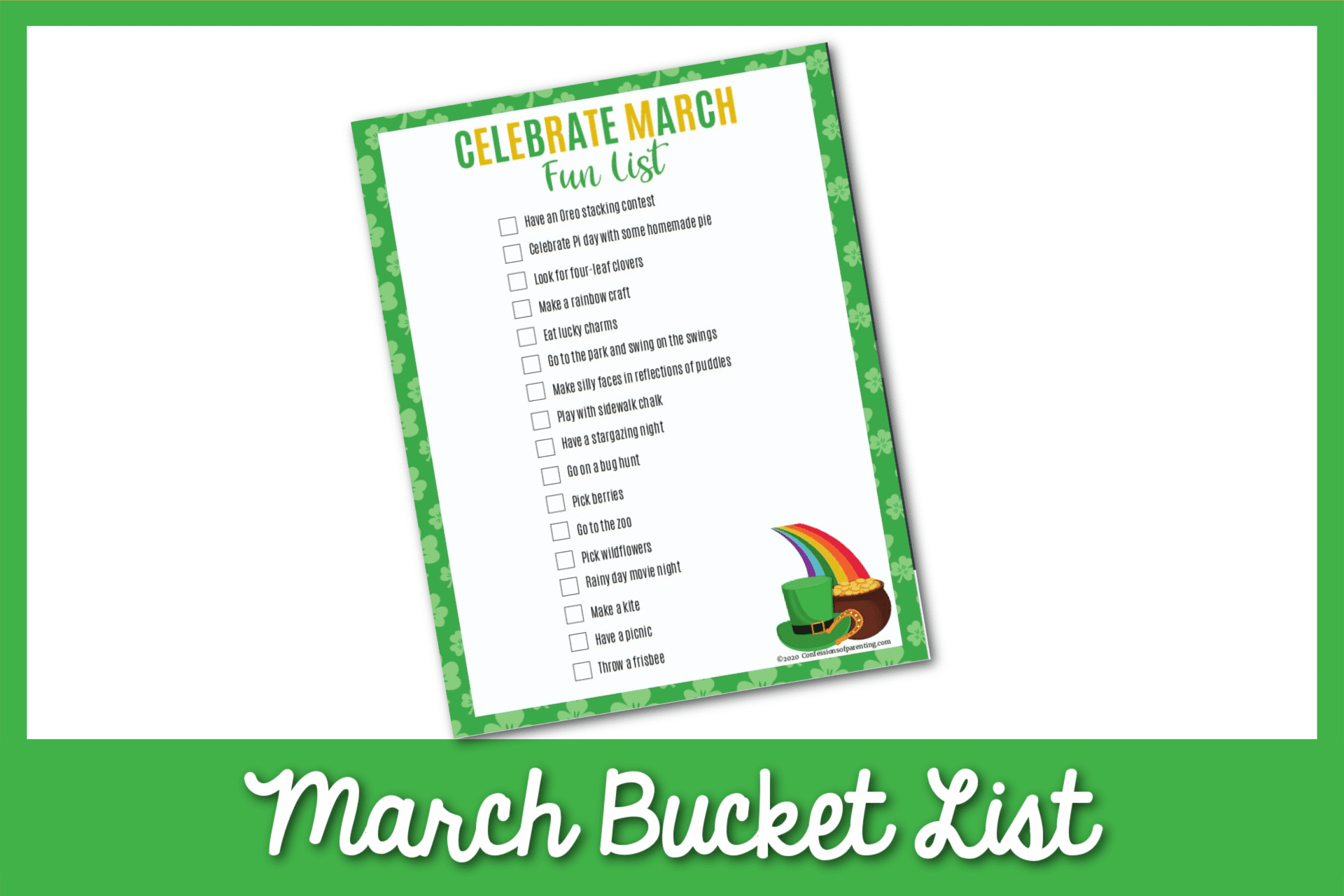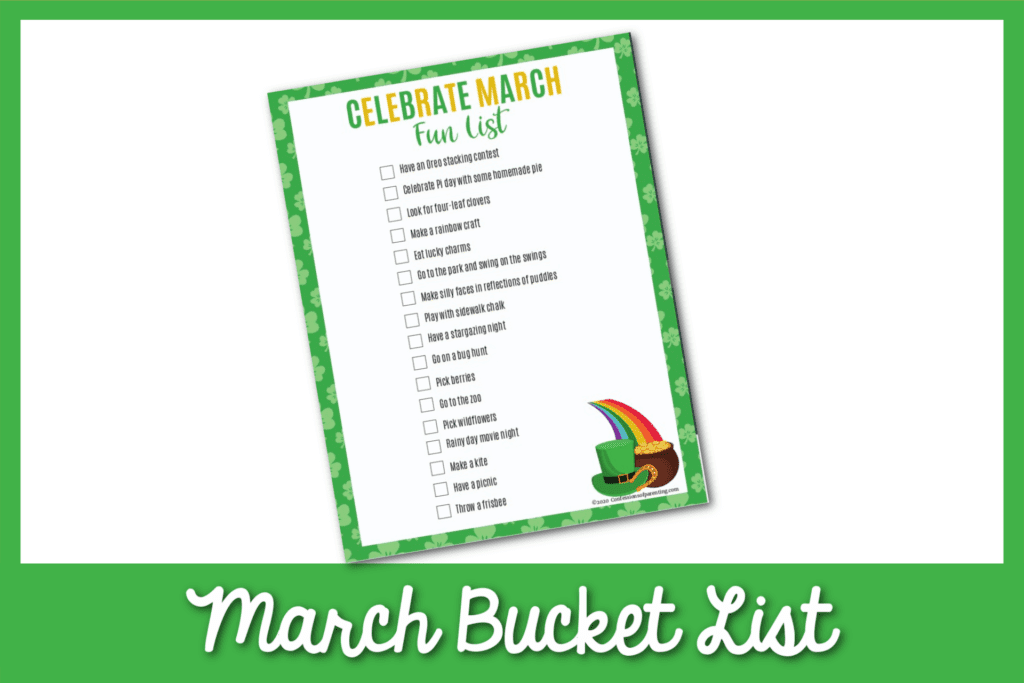 Have an Oreo stacking contest
March 6th is National Oreo day so what better way to celebrate March than eating Oreos and playing games as you eat them!
Play an assortment of Oreo games this month. Balance a cookie on your forehead and try to get it into your mouth without using any hands. Stack up Oreos as tall as you can with your mouth!
Or keep it simple and try a new Oreo flavor!
Celebrate Pi day with some homemade pie
March is full of yummy holidays. Pi Day is on the 14th and it is a great chance to have some delicious pies!
Many stores have pies on sale, or you can make your own apple crumble pie as a family. The important thing is you are eating pie as you Celebrate March.

Look for four-leaf clovers
St. Patrick's day may have you feeling lucky! So don't forget to look for four-leaf clovers and mark it off your March Bucket list
With all the rain is probably bringing lots of clovers to look through, and if you find a lucky four-leaf clover be sure to bring it home and save that precious memory for a bit!
Make a rainbow craft
Rainbow crafts are the perfect way to celebrate March. They come in all shapes and sizes. So, grab some paper and color your best rainbow or paint a rainbow-colored picture.
Hang up your pictures up during the rainbow season and enjoy the art your kids have made.
Eat lucky charms
No March bucket list is complete without eating Lucky charms for breakfast! This is a great idea for St. Patrick's day to get everyone excited about a fun holiday.
See who gets the most magical charm marshmallows in their bowl!
Swing at the park
If it's not too wet and rainy outside, go swing together at the park!
Sometimes adults forget how fun it is to swing and relax for a bit. Take turns pushing each other and have a fun outdoor day together.
Make silly faces in reflections of puddles
With all the March rain, there is nothing better than finding puddles you can see your reflection in and making fun funny faces. If you can't see your reflection, go run through the puddles together.
Play with sidewalk chalk
March might mean a few warmer days which makes it perfect to go outside and enjoy the beautiful weather.
Grab some sidewalk chalk and draw pictures together. Do some portraits of each other and make a big sidewalk family picture! Or make a hopscotch court and play together.
Have a stargazing night
Check stargazing off your March bucket list on a clear night. Gather a bunch of blankets and cuddle up together while you look at the stars.
If you live in a bigger city, drive out of town a bit and find a park to stop at to watch the sky light up.
Bug hunt
If you hate bugs, this might not be the activity for you, but your kids will love it!
Try to find some new bugs all over the yard. If you don't know what kind one is, try to figure it out and learn about them and what their purpose is.
Watching bugs can be pretty fascinating!
Pick berries
Celebrate March and go berry picking!
Find out what is in season and pick some berries together. Hopefully, you get enough berries and you can make some into pies, jam, or another fun treat.
Go to the zoo
With the school year not yet over and the weather warming up, March is one of the best months to go to the zoo.
The Zoo is a really fun family activity, especially if you have animal lovers in your family. Go to one of the zoo's classes or shows as you enjoy the beautiful weather.
Pick wildflowers
Go through your neighborhood or a nearby park and pick a bouquet of wildflowers to Celebrate March and the fact that spring is coming!
There are some really pretty flowers out there. You could even look up what they are called if you are curious.
Rainy day movie night
Movie nights are so much fun, especially on rainy days! ! Have someone in the family choose their favorite rainy day movie and gather around to watch it together.
Make sure you have some yummy snacks and you each have a cozy spot. Enjoy the time together watching a movie!
Make a kite
Learn how to make a kite this month!
Making a kite together is a really great bonding experience.
If you can get it to fly it will be so exciting and rewarding.
Get ready for those summer trips to the beach and make a few kites to flow in the wind.
Have a picnic
Make a few sandwiches, grab some fruit and have a quick picnic!
Even if you just set up a blanket in your backyard, it'll be something different and fun that you can do.
The kids will especially love this fun new way to eat lunch. Bring a few games or toys to play with afterward and enjoy being outside.
Throw a frisbee
Throw a frisbee around to each other to finish off your March bucket list. See who can throw the best, the farthest, the most accurate, or other fun games.
You can even play ultimate frisbee if you know how!
Getting outside and moving is always a quality family activity.
What is on your March Bucket List? Share in the comments!
Ready For More Bucket List? Check This Out!
Don't forget to save this March bucket list on Pinterest so you can find it easily!