These Mardi Gras Color By Number pages are such a fun way to celebrate this unique holiday! Just download, print, and get coloring!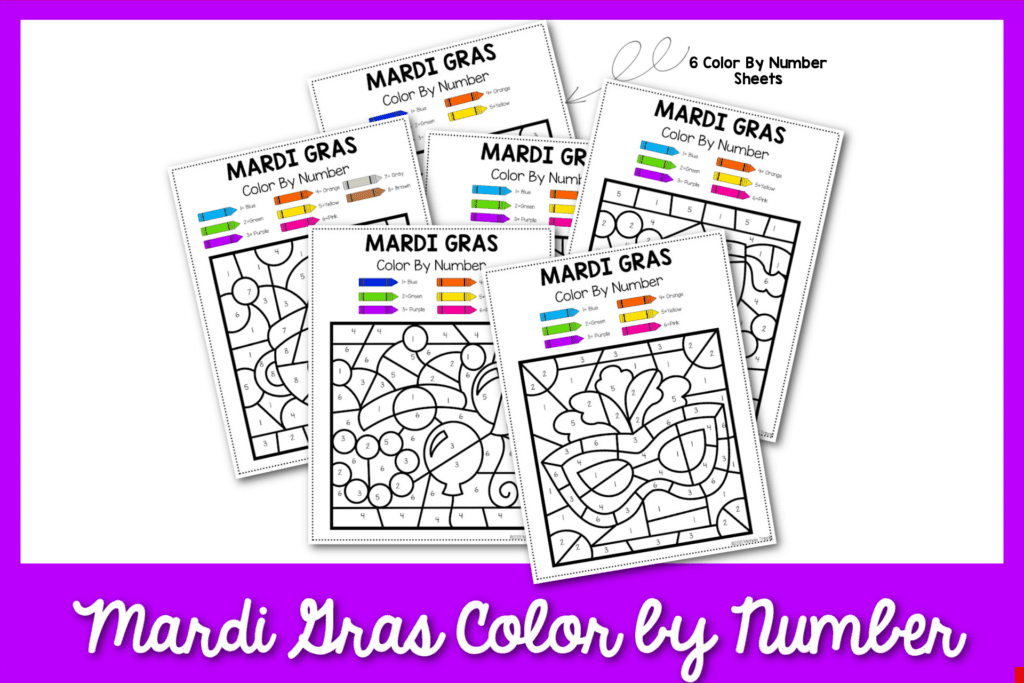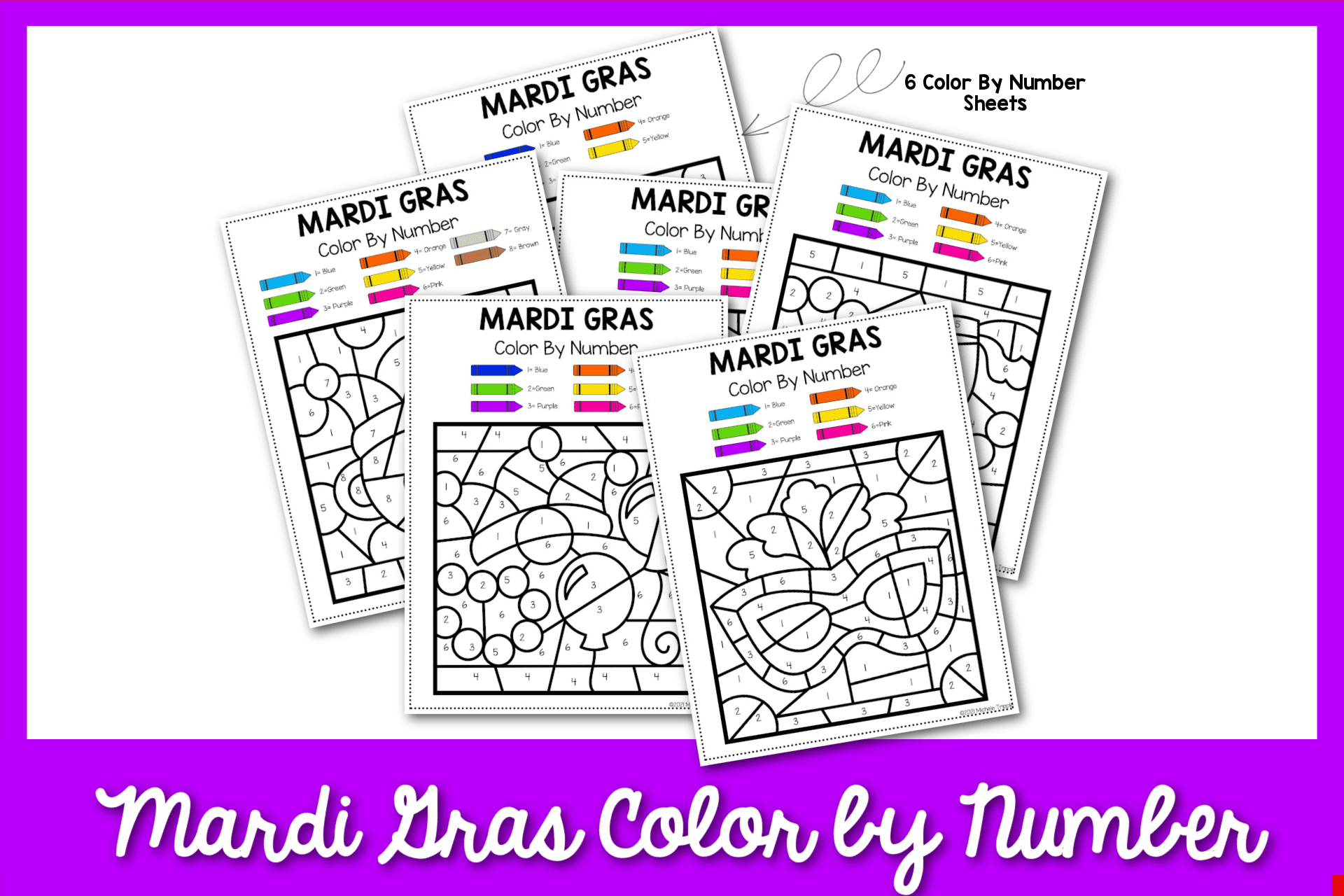 Mardi Gras Color By Number
Mardi Gras is such a fun holiday! Celebrate at home or in the classroom with our Mardi Gras Color By Number pages!
My kids love learning about different holidays and celebrations.
This year for Mardi Gras we decided to create these fun Mardi Gras coloring pages. The kids loved discovering the hidden images as they followed the color by number directions. For more color by number fun you will want to grab our 100 Days of School Color By Number, Veterans Day Color By Number, and our Back to School Color By Number.
What's included in our Mardi Gras Color By Number pack?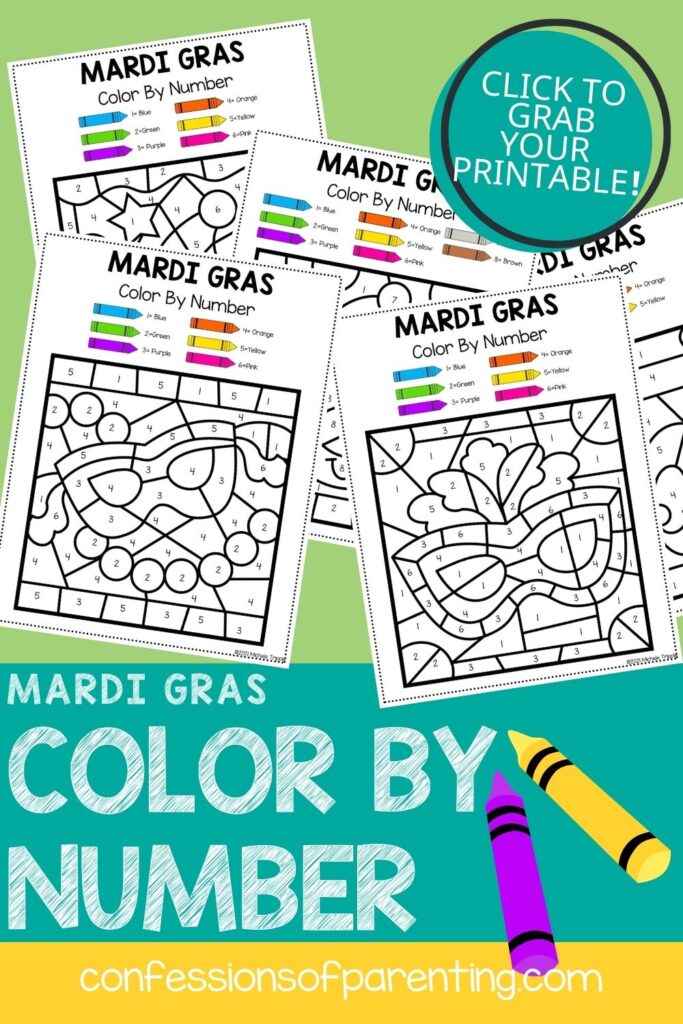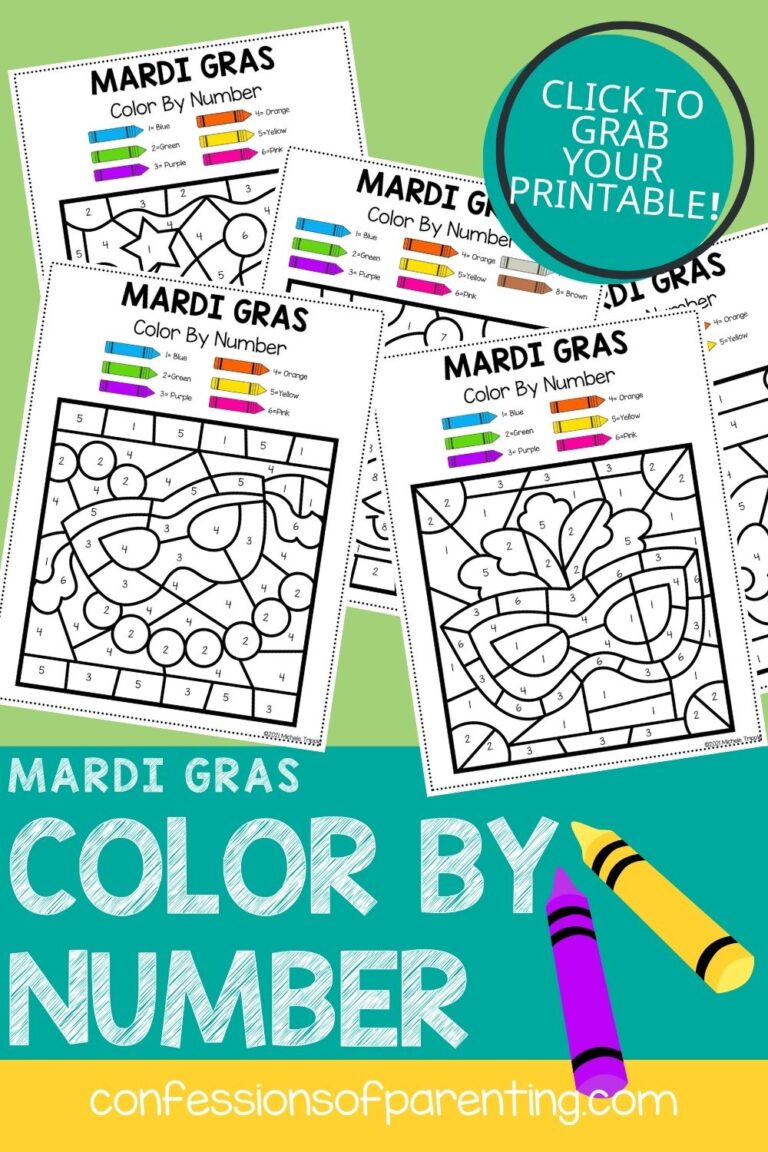 A Capuchon (a Hat)
Masquerade Mask with Feathers
Masquerade Mask with Beads
Fleur-de-lis (French Lily)
Man Wearing a A Capuchon (a Hat)
A Capuchon (a Hat) with Stars
What are the Benefits of Color By Number?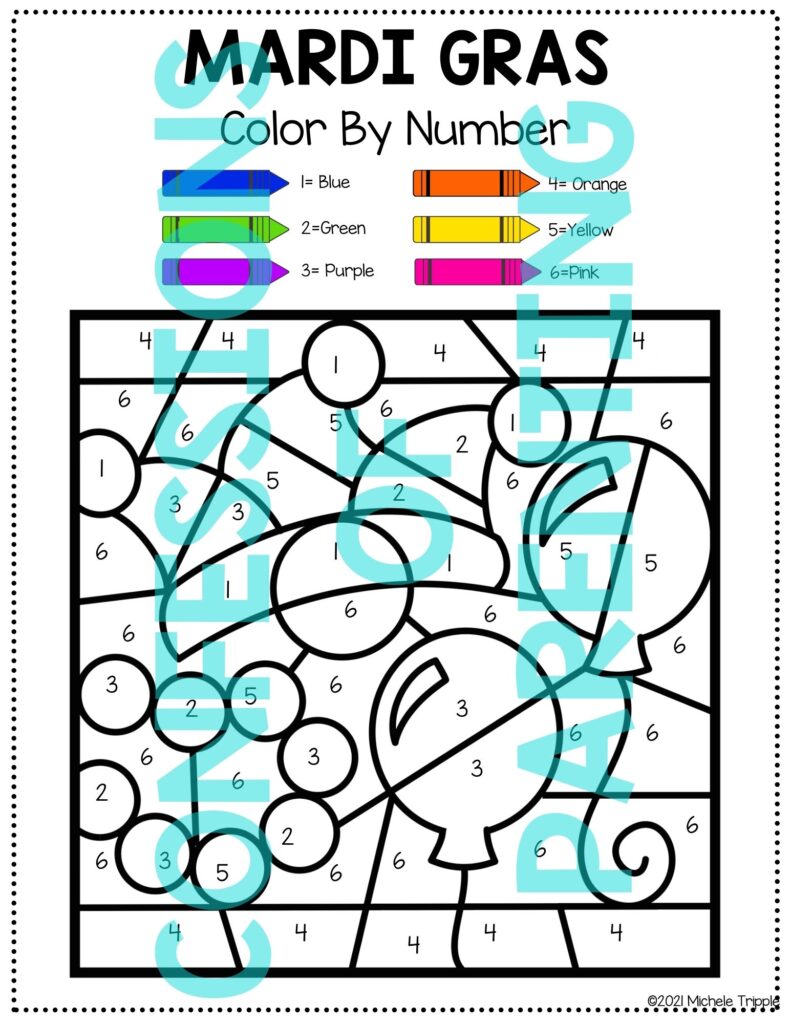 There are so many benefits when introducing your kids to color by number sheets.
Children can practice their reading skills, their number recognition, and their color names all at the same time as they read the name of the color and see what number it's associated with.
Children can also get better at their fine motor skills by learning how to color in the lines. I know that sounds like old news, but coloring in the lines gives kids important skills for later in life!
Children can also feel the satisfaction that comes from starting and finishing a task.
These are just a few of the reasons I love giving my children color by number pages!
They are able to continue learning and developing their skills in a fun way. A way that doesn't make it seem like they are in the classroom.
How Can I Use Color By Number Pages?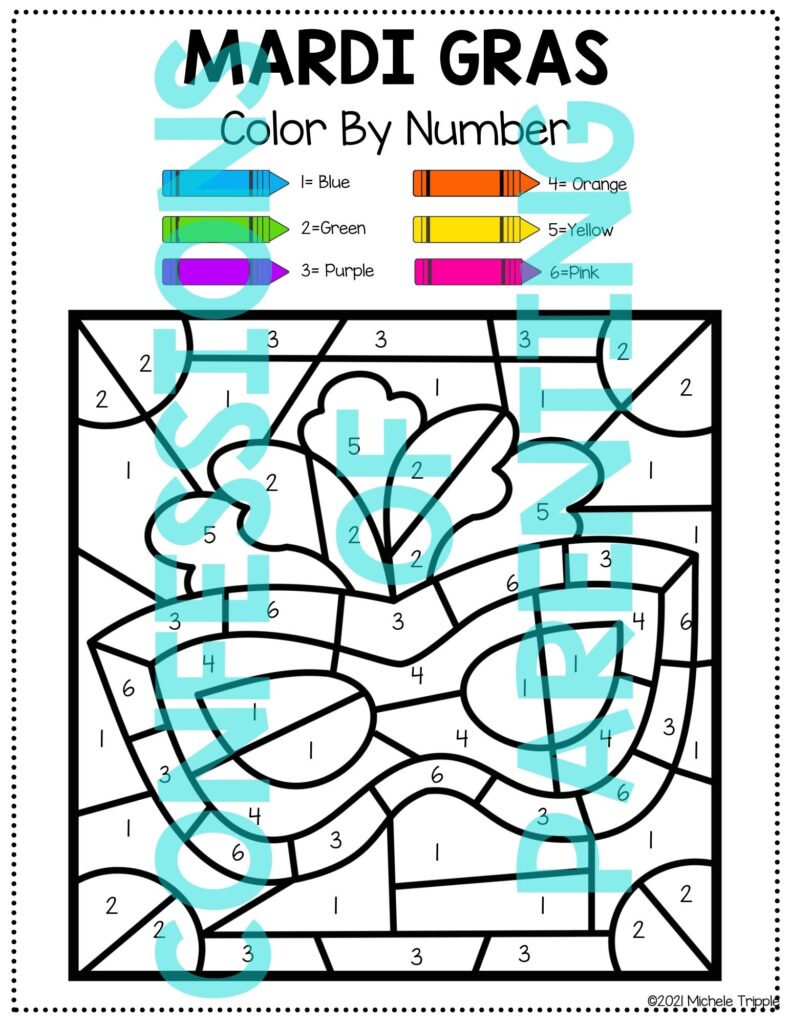 There are so many ways to se these Mardi Gras color by number sheets. Here are some of my favorite ways to use color by number pages!
These pages are so easy to pack up and take with me when my kids and I are out. I really love using storage clipboards! They have been my life saver! My kids can put their coloring pages, crayons, pencils, whatever in these clipboards and we get to stay a little cleaner as we get things done.
I have enlarged the picture and made it poster size before. Whenever I do this my kids insist on coloring with their jumbo crayons.
Laminating these pages is a great way to make them last longer. All you need after that is some wet erase, or dry erase markers.
Something I've done to make math more enjoyable is to replace the numbers with simple math problems. When they solve the problem the answer will be the number to the corresponding color. This helps homework time go a lot smoother.
Mardi Gras Color By Number Sheets
Ready to grab the whole collection of Mardi Gras Color by number sheets? You can grab them right here! If you want to try a sample first, be sure to join our free email list for your sample.
Helpful Tools We Love When Downloading Printables
Printer– I love my HP+ printer that uses Instant Ink. I love it because we can use as much color ink as you want for one low cost starting at $.99/ month for ink. Try it out for free here!
Cardstock- I always recommend printing on cardstock. This makes it way more durable so you don't have to worry about printing it time and time again.
Laminator / Laminating Sheets- Again, for added durability, grab a laminator and laminating sheets so that you can use this again and again!
Scissors (I seriously love these ones)
Dry Erase Pens- Use dry erase pens so that you can wipe your laminated printable clean over and over again for endless use!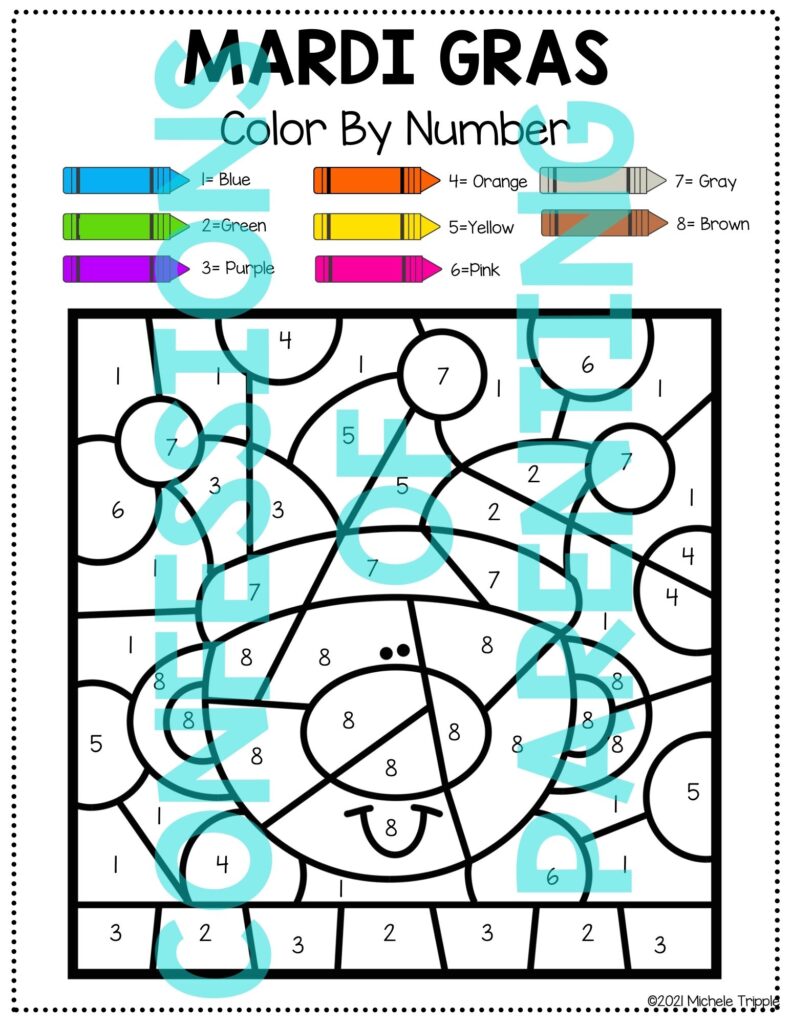 More Color by number Worksheets to try
And if you want some great coloring Pages try these!
How Do I access my free printables?
Fill in the form above. You will receive an email in your inbox. If you don't see it, check your spam folder! You will see an email with your free printable.
How Do I Print a PDF?
You'll need a program that supports PDFs. Adobe Acrobat is a great option. Open the program, click File, then print. Select your printer and the number of copies you want to print. Be sure you click double-sided if you want it to print on both sides.
Can I resell these?
You may not resell any printable on our website or in our resource library. You may use them for class parties, at church, at home, or in the classroom. You may get these printed at an office supply store or copy center at your own expense.