This Halloween matching game is the perfect Halloween game to do with the kids. Just download our free Halloween matching game, print out, laminate for extra durability, and play again and again.
Between this, our Halloween Bingo, and our Halloween Would You Rather Questions there is something for everyone this spooky season!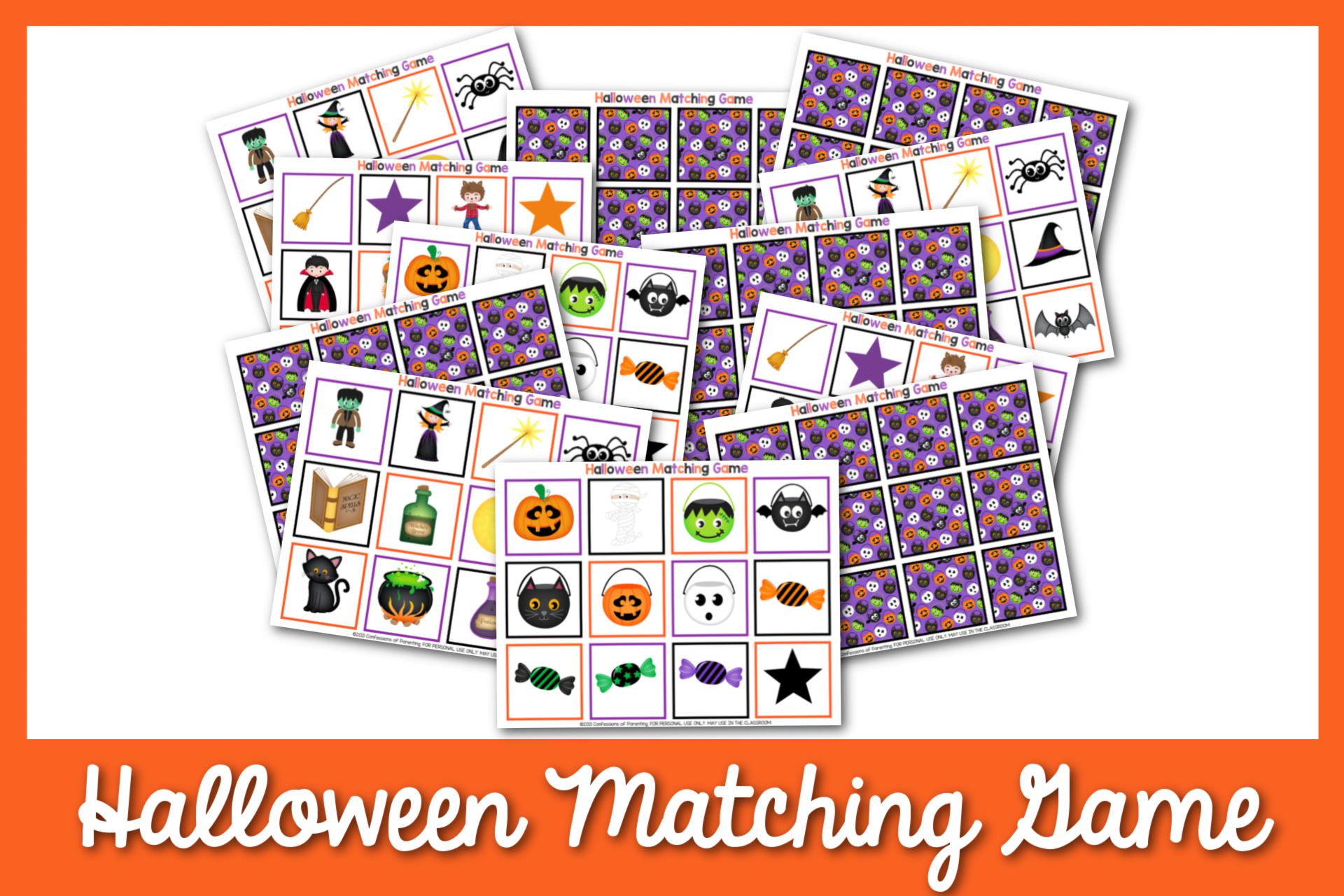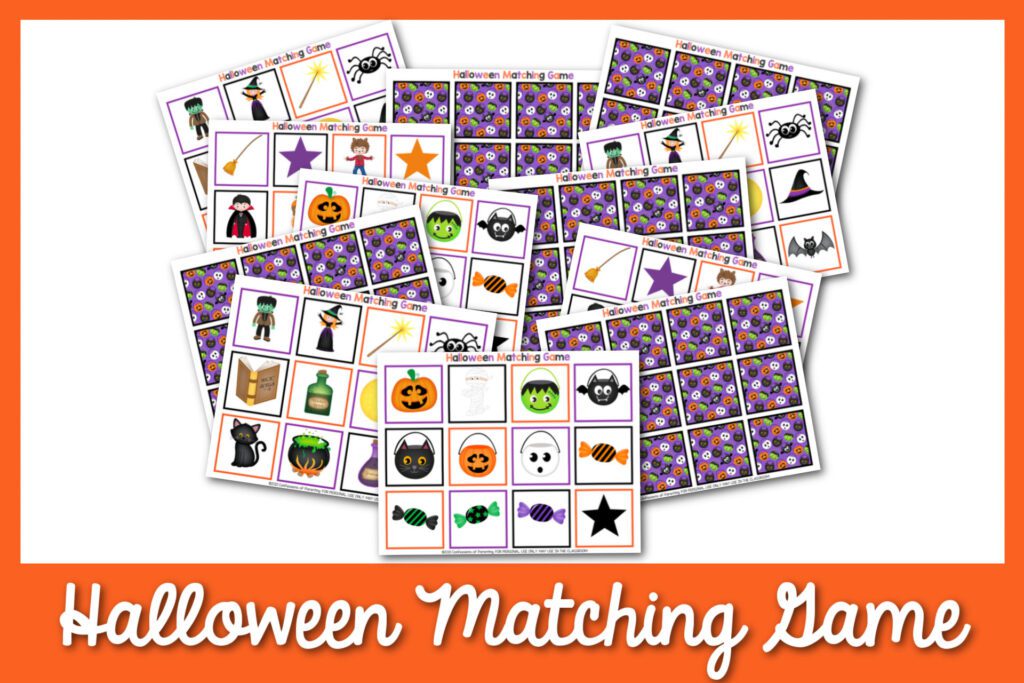 Halloween Matching Card Game
I feel like when any child turns 2 to 3 years old buying them Memory is a staple! And can I tell you that all my kids have been obsessed with it! So this year we decided to take their Memory game obsession and create our very own Halloween matching card game. Can I tell you that they have been begging to play it seriously every single night since we made it?
The Benefits of Halloween Matching Game
Matching Games are not only fun , but great for growth and development!
 They teach kids concentration, help them improve memory skills, teach them vocabulary, as well as how to tell them if objects are the same or different!
It's also a great game to have on hand because it's so easy to play! There's no setup and next to no clean up so you could have it ready in a second when you need an activity for your little one.
How to Play this Halloween Memory Game
Memory is so fun and simple that is why it is great to teach little ones how to play Halloween Memory! Once the game is cut, laminated and ready to go you can follow these simple steps.
Turn all the cards face down on your playing surface and mix them up.
Once mixed, you will want to lay them in rows. If you are playing with all 36 cards you can put them in 6 rows with 6 cards in each row.
You will then decide who will go first. It can be who has the next birthday, the oldest, the youngest, however you decide is great.
The first player will turn over two cards. You want to teach your to just flip them over in the same spot that they grabbed it from. (I know easier said than done). If the cards do not match the player will turn them back over and it is the next person's turn. If they do match then they will pick up their pair and place them in a pile next to them. This player will get to go again and look for another match. This player will continue with their turn until they do not get a match by flipping over two cards.
The next player will go following the same rules. This continues until all the pairs have been found.
Once all the pairs are found, each player counts their matches to see who has the most. The person with the most matches wins.
Note for Playing With Younger Kids
Playing with all 36 cards will be a lot! Grab out a few to start and gradually add more cards each time you play together.
Free Halloween Memory Game Printable
This free Halloween memory game printable includes 36 pairs of matching cards. They have tons of fun, bright colorful Halloween graphics that your kids will love like
Frankenstein
Witch
Wand
Spider
Magic Spell Book
Witches Brew
Full moon
Witches hat
Black cat
cauldron
Potion
Bat
Broom
Purple star
Cute Werewolf
Orange star
Dracula
Pumpkin girl
Zombie girl
Purple Witch
Orange star candy
Candy corn
Haunted mansion
Ghost
Pumpkin
Mummy
Frankenstein Trick or Treating Bucket
Bat trick or treat Bucket
Cat trick or treat Bucket
Pumpkin Trick or Treat bucket
Ghost trick or treat bucket
Orange and black stripe candy
Green stripe candy
Green star candy
Purple Stripe Candy
Black Star
Helpful Tools We Love When Downloading Printables
Printer– I love my HP+ printer that uses Instant Ink. I love it because we can use as much color ink as you want for one low cost starting at $.99/ month for ink. Try it out for free here!
Cardstock- I always recommend printing on cardstock. This makes it way more durable so you don't have to worry about printing it time and time again.
Laminator / Laminating Sheets- Again, for added durability, grab a laminator and laminating sheets so that you can use this again and again!
Scissors (I seriously love these ones)
Dry Erase Pens- Use dry erase pens so that you can wipe your laminated printable clean over and over again for endless use!
Printing Tips
We have made it easy for you and given you the entire pair of Memory cards, so you will only need to print it once.
The download has Halloween paper squares in between the pages of the Halloween cards. This is the back if you would like to use. Just be sure to print your cards double sided to use them. This is completely optional.
Free Halloween Matching Game
Join our Free Confessions of Parenting VIP club and get our Halloween Matching Game in our resource library with all our other free printables. If you aren't quite ready to join, you can grab it right here!
More Free Halloween Printables
How Do I access my free printables?
Fill in the form above. You will receive an email in your inbox. If you don't see it, check your spam folder! You will then click to confirm your subscription. Once confirmed, you will be sent an email with your free printable.
How Do I Print a PDF?
You'll need a program that supports PDFs. Adobe Acrobat is a great option. Open the program, click File, then print. Select your printer and the number of copies you want to print. Be sure you click double-sided if you want it to print on both sides.
Can I resell these?
You may not resell any printable found on our website or in our resource library. You may use them for class parties, at church, at home, or in the classroom. You may get these printed at an office supply store or copy center at your own expense.