Check out these ways for you and your family to celebrate May with this May bucket list! These ideas are simple and inexpensive and come with a May bucket list printable to check off all your fun adventures!
Celebrate May
Can you believe it's already May? We are almost halfway through the year!
The sunshine is finally coming out and your family is likely getting antsy for summer vacation to soon begin.
Here are some sure ways to have the best time while you celebrate May this year. Don't forget to scroll down to download your May bucket list printable!
May Bucket List Ideas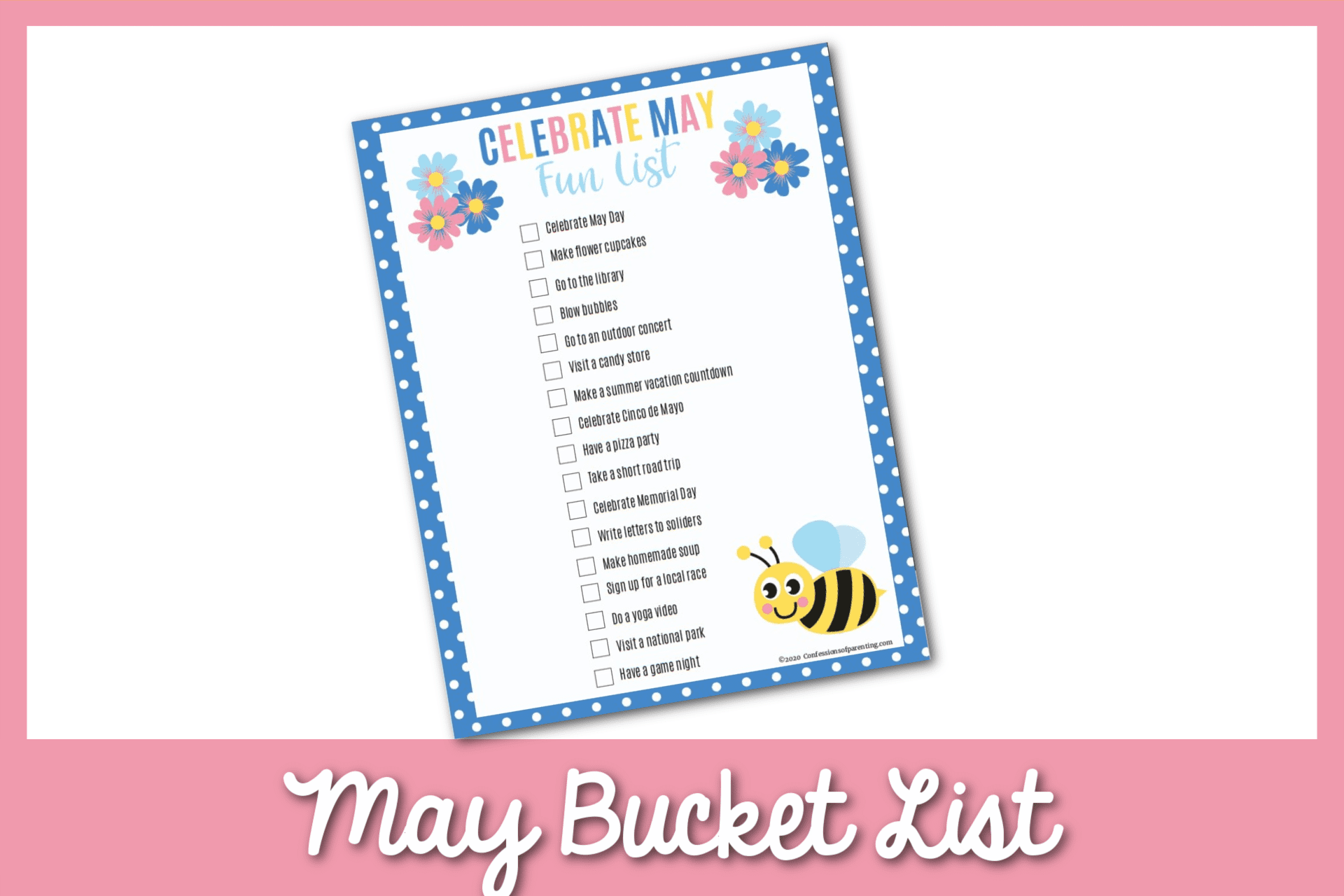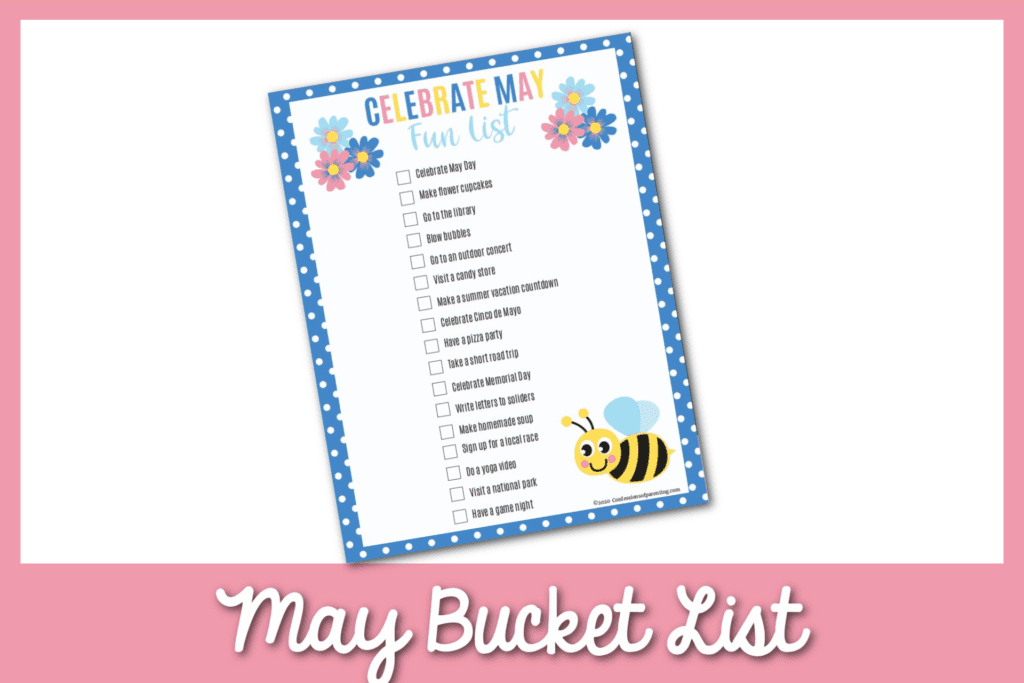 Celebrate May Day
Have you celebrated May Day before? May Day is on May 1st and can be a fun thing for your family to do together.
Essentially May Day is a spring festival celebration. A simple way that a lot of people celebrate is by gathering wildflowers together and dropping them off at your neighbors' doorstep.
Spread some cheer in your neighborhood and have fun celebrating spring!
Make flower cupcakes
It doesn't have to be a special occasion to make some yummy cupcakes. Make a small batch for your family and decorate them together to look like flowers.
Make sure you get a picture of your whole cupcake garden to remind you of this fun activity.
Buy new swimsuits
Depending on where you live, swimsuit season may be just around the corner!
Check out these modest swimsuits for girls, modest swimsuits for tweens, modest swimsuits for teens, and modest swimsuits for moms!
If you have growing kiddos, you are going to need some new suits for summertime! Get ahead of the game and go shopping for some fun ones together. To be honest, Amazon has some great swim suits at great prices!
Your kids are going to get so excited for the first chance to wear them this summer!
Go to the library
Whether you have little ones at home or all your kids are in school, take a family trip to the library.
Go to a class together, visit a storytime, or play with the library's toys and games. Make sure you all grab a new book to bring home with you!
Blow bubbles
Younger kids love blowing bubbles! So why not make a game out of it and try to pop bubbles with your elbows, toes, or ears!
For older kids, you could get some unpoppable bubbles and see what fun things you can make!
Clean the garage
You may not be able to convince your kids that cleaning the garage is a good way idea for yout May bucket list, but it definitely can be!
Make it a game or a competition, or talk about what fun outdoor toys you could get with a clean space for this summer!
Go to an outdoor concert
Celebrate May and mark another activity off your May bucket list by attending an outdoor concert. Most communities have free or cheap outdoor concerts that can be so much fun!
On a nice May day, grab a blanket and some snacks and gather together to enjoy some music and do something new.
This would also be a great mom date or dad date with one of your kids!
Have a game night
Enjoy a night of games and quality time. You could pull out your favorite card game or try a new card game that you haven't before.
Whatever you do, it'll be fun to celebrate May by spending time together as a family laughing and playing.
Visit a candy store
How many times have your kids begged to go to the candy store when they pass it in a mall or a nearby shopping center?
Take the family on a special trip, and set a reasonable limit of how many candies each of you can bring home to try.
Sometimes candy stores have live candy making or super fun new candies you have never seen. It can be a real treat!
Make a summer vacation countdown
This is an especially good idea if you have kids that are in school because everyone is usually ready for summer by now.
Make a paper chain, a large calendar, or some other visual way that the kids can see how many days are left until summer vacation.
It'll be a fun activity to make and it will also help your younger kiddos get a better grasp of time!
Celebrate Cinco de Mayo
Celebrate Cinco de Mayo this year! Take the opportunity to talk about different cultures and how they celebrate their holidays!
Enjoy your favorite Mexican food dish and have fun eating and chatting together as you learn about different cultures!
Have a pizza party
National Pizza Party Day is May 15th this year. It's no question that this is a holiday that deserves some celebrating!
Grab a pizza for your family or invite some friends over to celebrate with you. You could even make some pizza together as a family and have fun decorating them with your favorite toppings.
Take a short road trip
Most kids have a 3-day-weekend because of Memorial Day, so take a short road trip.
Decide on somewhere relatively close that you and your family could go visit for a couple of days during the break from work and school.
Celebrate Memorial Day
Memorial Day is on the 25th. Take the opportunity to discuss with your children what Memorial Day is in remembrance of.
You could even talk about your ancestors or family members that your kids may not remember and start a conversation about those who we have lost.
Visit a National Park
There are so many beautiful National or State parks that your family could go to visit and may is the perfect month to do it.
They won't be as busy as they will be during the summer and the weather is perfect!
Write letters to soldiers
Memorial Day can also be a good chance to teach your kids about those serving our country.
Find a resource where you can send letters to soldiers and make cards to send to them. Younger kids can color pictures and older children can write notes!
Make homemade soup
It might be your last chance to make some delicious hot soup for your family before it gets too warm!
If you have soup lovers in your home don't forget to celebrate May by enjoying a delicious soup. Check out our Instant pot potato or copycat Panera Broccoli cheddar soup.
Sign up for a local race
Even if you are not into running, doing a short race as a family can be so much fun!
They have bubble runs, color runs, glow runs, and all sorts of fun family-friendly activities that you can do that may be coming to your community.
Show your kids the importance of getting outside and getting active!
Do a yoga video
Did you know they have so many yoga videos online that you can do alone or with your family?
They even have special kid-friendly videos that turn the yoga moves into fun stories. Try one of these new videos out and have fun doing something different!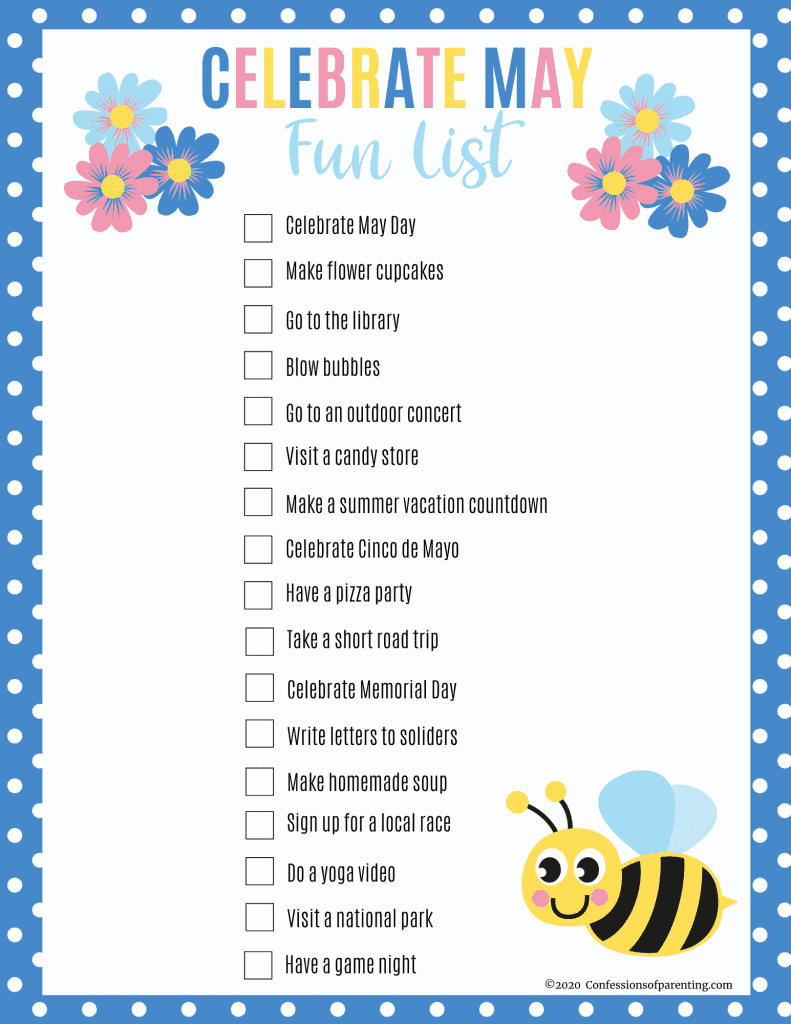 There you have it! Some great ways to Celebrate May with your family on your May bucket list! What would you add to the list? Share in the comments!
Looking for other ways to Celebrate all Year Long? Check out these posts!
Don't forget to save this Celebrate May Family Fun List on Pinterest so you can find it easily each May!