Are you looking for some great modest dress options? We are sharing these great modest dresses for women that you will love and fit in any budget.
Modest Dresses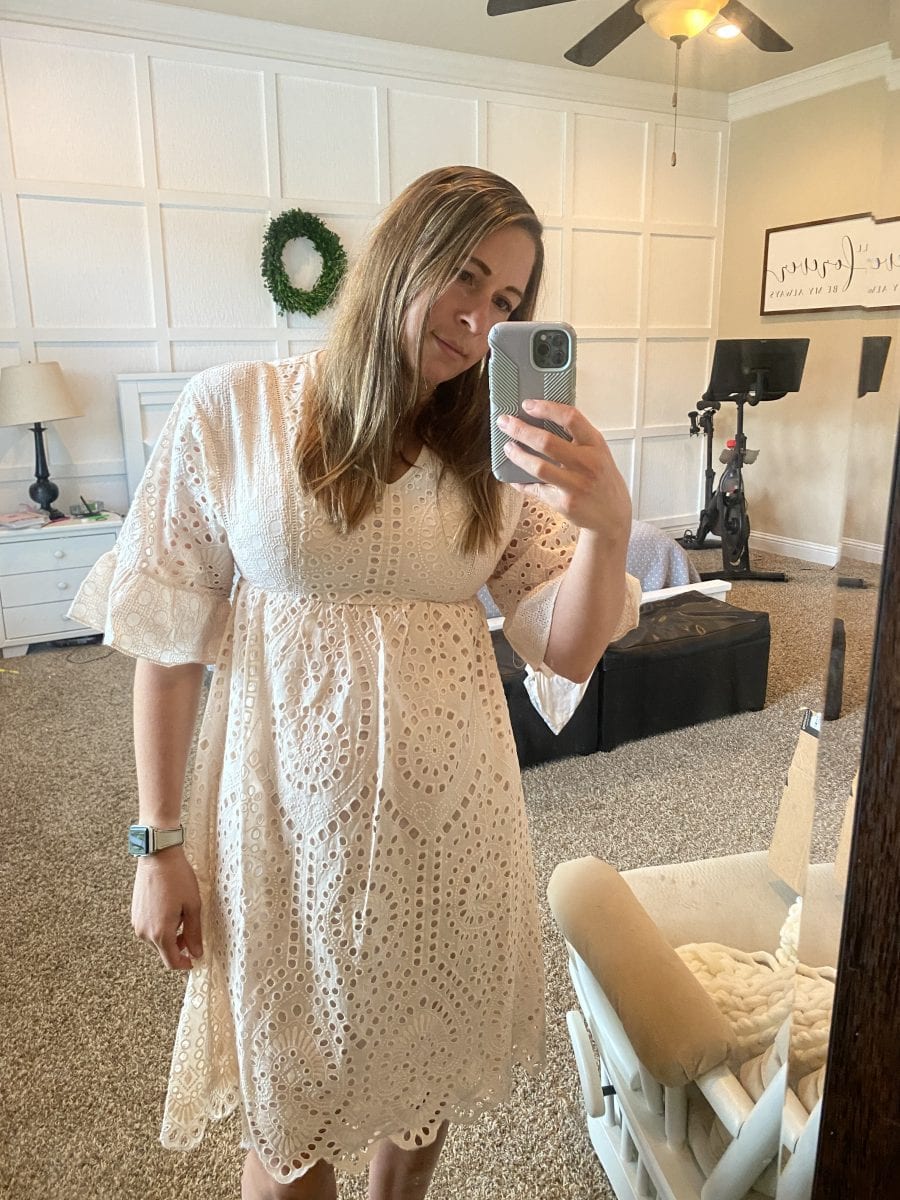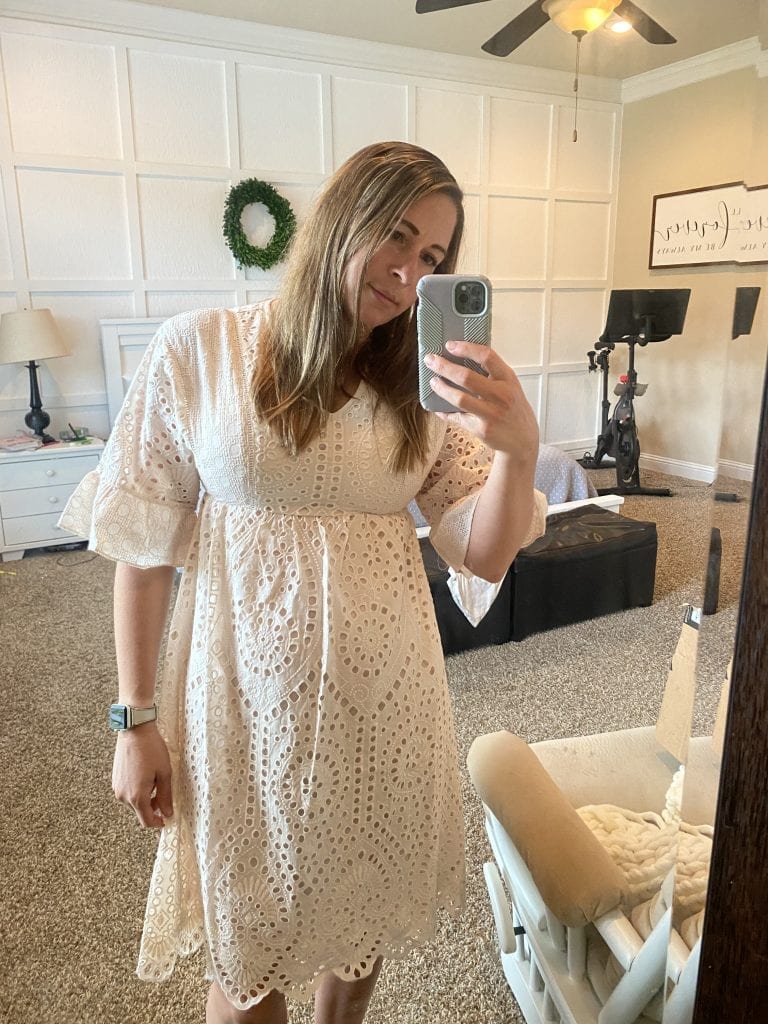 Are you constantly on the lookout for cute and affordable modest dresses, but feel like you are constantly striking out?
Well, good news because we have searched high and low to find some of our favorite modest dress options that are available right now! We are also sharing our favorite modest dress shops so that you can continue to check back all the time to find cute modest dresses all year long!
What is Modest Fashion?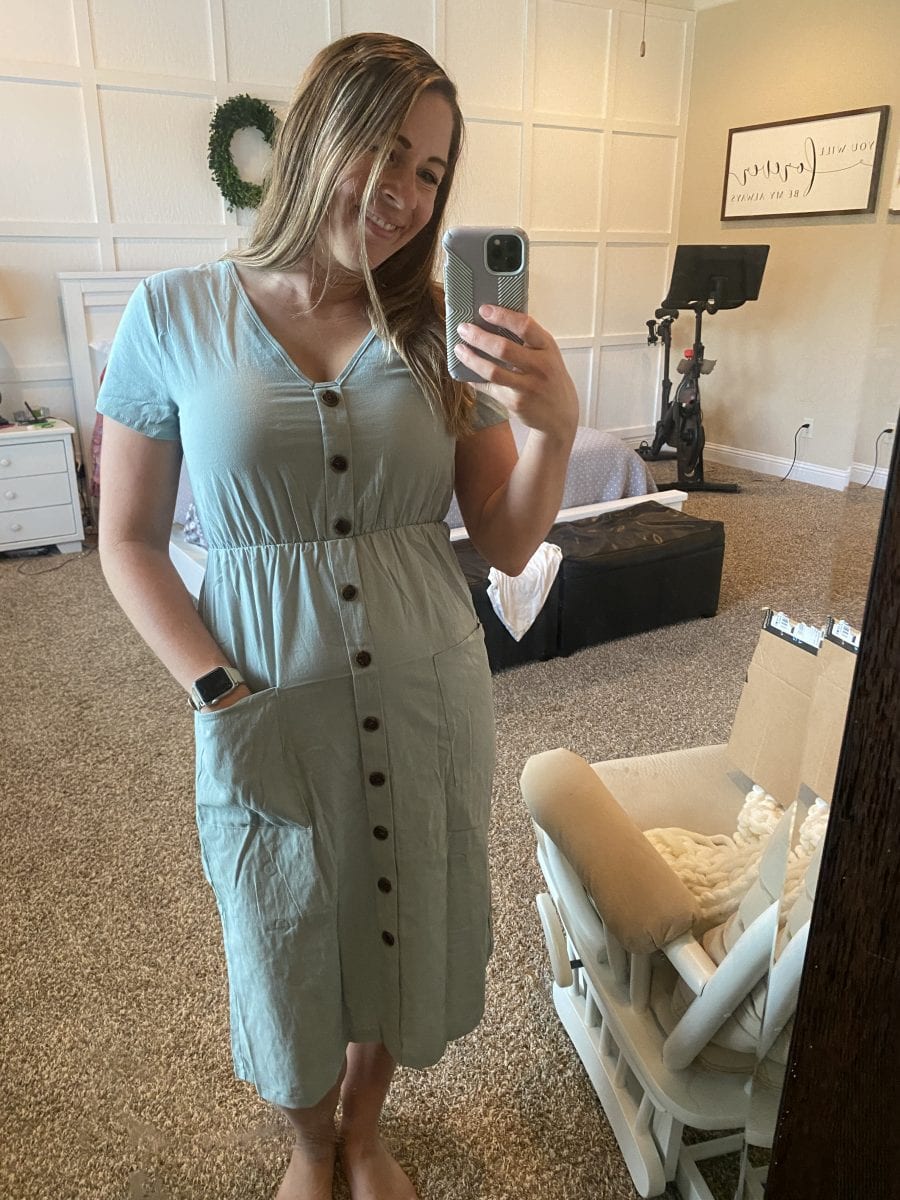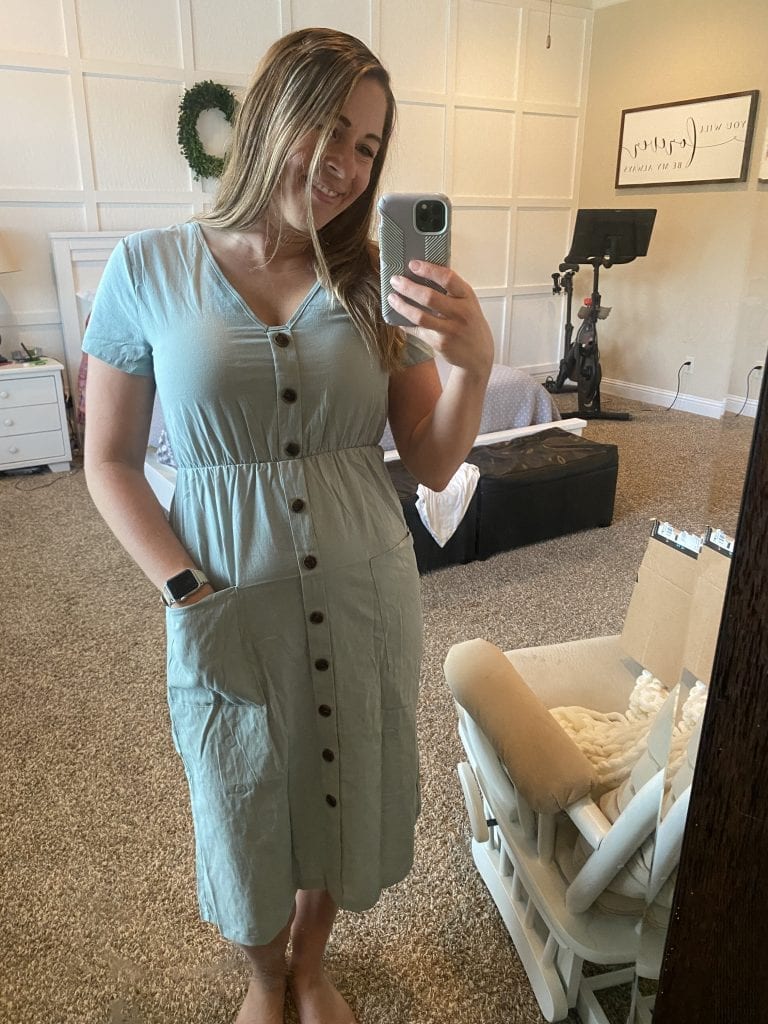 Modest fashion is a little different for everyone. For some, it is knee length with sleeves and for others, it is long enough that they can feel comfortable getting on the floor playing with the kids with a cute dress on.
The modest important thing about finding a modest dress is that you feel comfortable in it.
So with that being said, we are sharing all different types of modest dresses for all different body styles and budgets to help you find a dress that you love!
Modest Dresses for Women

This versatile dress has adorable balloon sleeves with a round neckline. The classic stripes is a cute design along with an elastic waist which makes it super comfortable. And you can't go wrong with pockets.

This cute modest dress has a super fun print with soft, stretchy material. It's lightweight and perfect for all occasions. The criss cross back is beautiful detailing with a v-neck.

Check out this cute swing casual dress! It's lightweight and even has pockets. It's the perfect dress to dress up or down and would look great with a jean jacket or some fancy heels.
Modest Dresses with Pockets

Look at this stylish midi dress with bold stripes and a tie waist. The blue stripes are perfect for a fun beachy feel.

If you're looking for a cute trendy dress, this is the PERFECT choice! Take note that the buttons are not functional, so you don't have to worry about peep pockets. There are great color choices and it's so comfortable.

Look at this flowy dress that is also nice and stretchy. This dress is so comfortable to ear and is a great choice for any occasion. Dress it up or down with a jean jacket or a cardigan. Even pregnant moms would be comfy in this dress choice!
Modest Church Dresses

Check out this faux-wrap maxi dress design. The Boho floral print is gorgeous and the v-neck leads into a flattering elastic waistband. A front-slit gives this dress a little something different.

If you have had your eye on the trendy lace eyelet dresses, this is the modest dress for you! This dress has fun bell sleeves and is a midi length dress and so very comfortable!

This short sleeve dress comes in so many different prints and has a comfortable fit. The length is perfect and functional for all occasions.

This Boho dress is a favorite! The v-neck has a button to keep it closed at the top and the ruffle hemline gives a comfortable flowy feel. You can even cinch the waistline because it has a drawstring!

Check out this fashionable Boho style dress with a cute floral print. It's nice and long and the material is breathable.
Modest Maxi Dresses

If you're looking for a versatile long maxi dress, this is stretchy and perfect for any season.

If you're looking for a beautiful flowy loose-fitting dress, this one is for you! It can be casual, but you can also dress it up with some fun accessories.

Leopard print is super trendy right now, but there are also tons of other prints and options for this cute versatile dress too! Check out how perfect the weight of the fabric is for every season.

This lightweight dress is perfect for any day or any time. Wear it out and about taking care of kids or dress it up and wear it to church! It's comfortable, keeps everything covered.

Check out this frilly dress! It has a cute off the shoulder look with ruffles at the bust. It's fully lined and has a beautiful unique look.
Modest Long Dresses

This beautiful dress is a beautiful long maxi dress with a more dressy look. It can definitely be worn more casual, but is perfect for anything you want to wear it for!

The casual easygoing flower print is all the rage and this relaxed casual short sleeve dress is perfect for spring and fall!

This mixed pattern dress is a gorgeous maxi that has a fun breezy feel. The v-neckline is trendy along with the flutter sleeves that totally complete the look. Pair with some cute sandals or boots for any season!
Modest Maternity Dress

A scoop neck dress that is the perfect length for a growing pregnant belly. This dress is nice and stretchy, and the black is easy to pair with whatever style you are going for whether it's casual, business, or dressy.

The sleeve length on this dress is so cute! And the print is so pretty. This dress has a nice snug fit with the perfect length almost to the knees providing good amount of coverage.

This the perfect casual dress for everyday wear. But you can also dress it up with a cozy cardigan or classy jean jacket and tennis shoes. Comfort is definitely key while pregnant though, and this dress surely checks that box while being stylish.

Looking for all-in-one look that is effortlessly elegant? This pretty dress has sleeves that drape and a nice high empire waist for a flattering look. It also has great coverage for comfort.

The simple details are what make this dress perfect for pregnancy! It offers a simple square neckline with a flowy fit for comfort.
Modest Nursing Dresses

If you're looking for a fun and functional dress, you have found it! It's a nice casual dress with the pull-up option for nursing your baby. And what makes it even better? This dress has pockets!

A short-sleeved dress with cute pockets and the simple pull-up option for breastfeeding. I love the length on this one!

This dress is so versatile. Although it's labeled as sleepwear, it's cute enough to wear out and about! It has sleek zipper side openings for easy access with nursing and nice flowy comfortable fabric.

Did you say stretchy dress? This dress is stylish and the perfect length for any occasion. It has easy access with the simple pull up section in the front for nursing.
Great Small Shops for Modest Dresses
Mindy Mae's Market
Caroline Floral Midi Dress

Gorgeous spring dress with a round neckline and short sleeves! Light stretchy material makes this dress comfortable and easy to dress up or down.
Miley Midi Dress

A fully lined midi dress with gorgeous ruffle details and balloon sleeves is definitely a win in my book! Pair with some cute sneakers and a cute jean jacket and you have the perfect outfit combo.
Better Than Basic Dress

This midi dress has a fun tulip style hemline and cute ruched detailing. It's super stretchy so it could also comfortably be worn during pregnancy!
Jane

This dress is the definition of comfort! It has a very loose fit and is perfectly paired with a jean jacket and cute sunhat.

This adorable dress is the perfect balance of comfort and style! It has the slightest hint of a flutter sleeve and the tie waist is the perfect detailing. The mix of soft pattern and a solid really make this dress super versatile.

This trendy dress has a cute flutter sleeve and a ruffle high low hem. The pattern is really feminine and stylish.
Liam and Company
Selina Flutter Sleeve Midi S-XL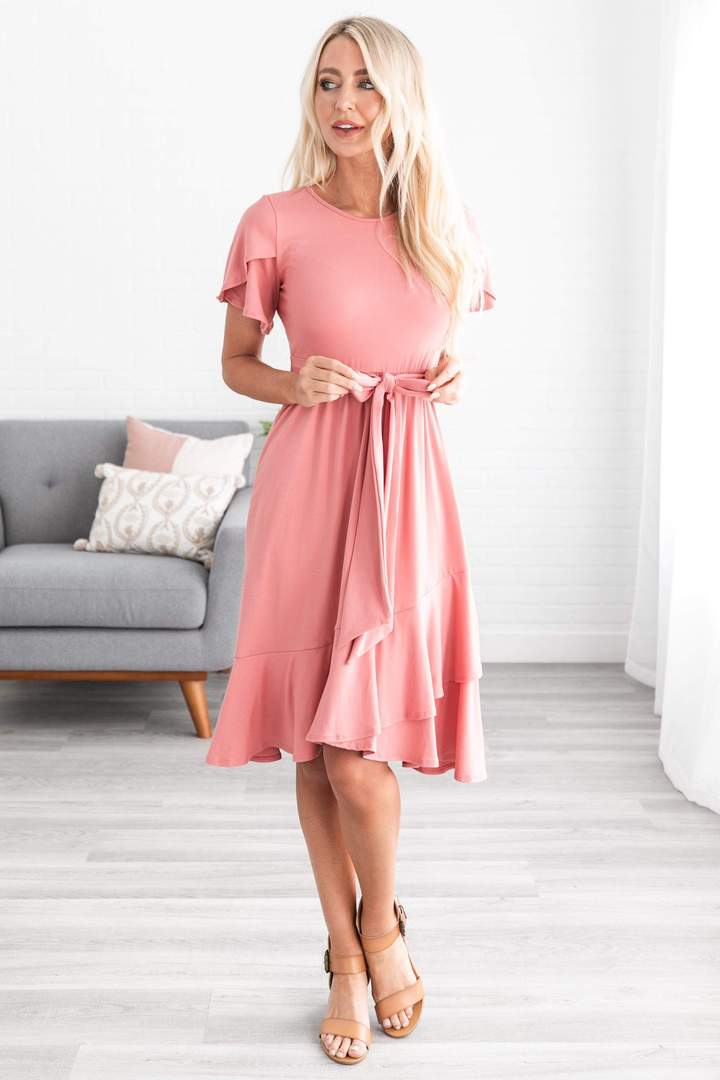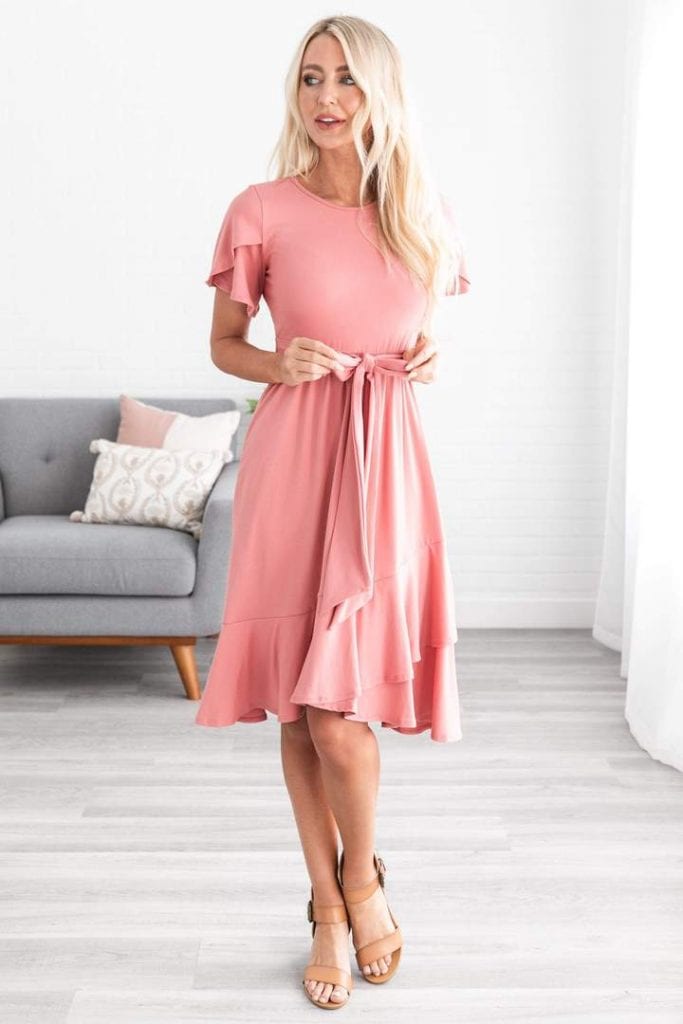 You can't go wrong with flutter sleeves and a gorgeous ruffled hem. This fun and comfortable midi dress is perfect for any casual event!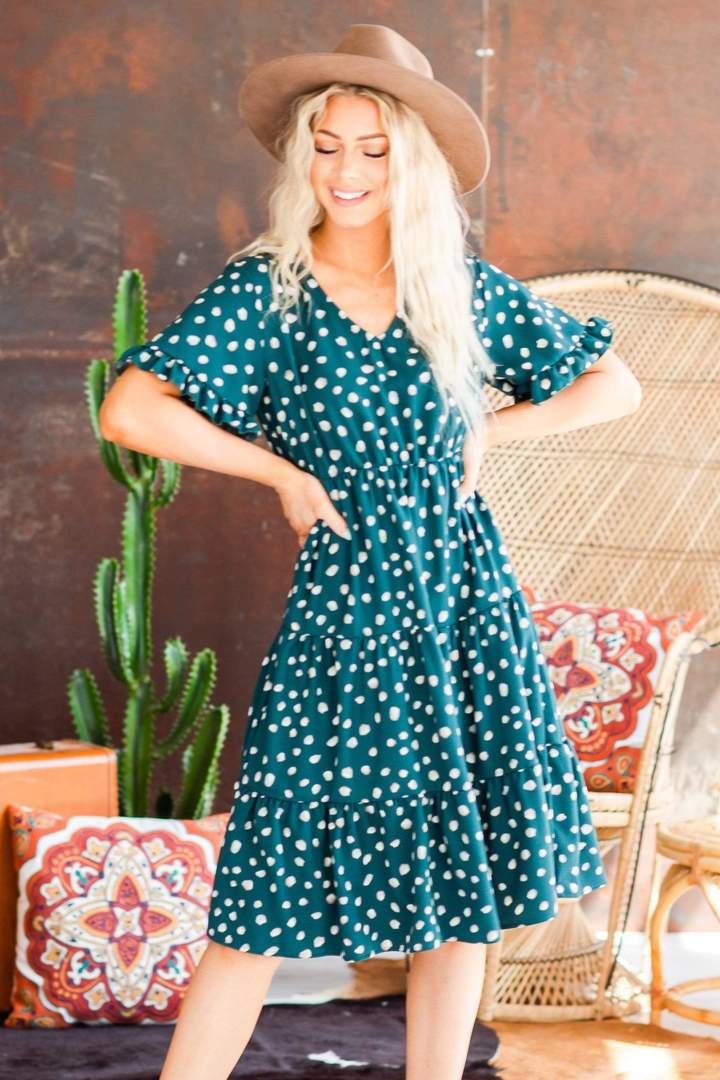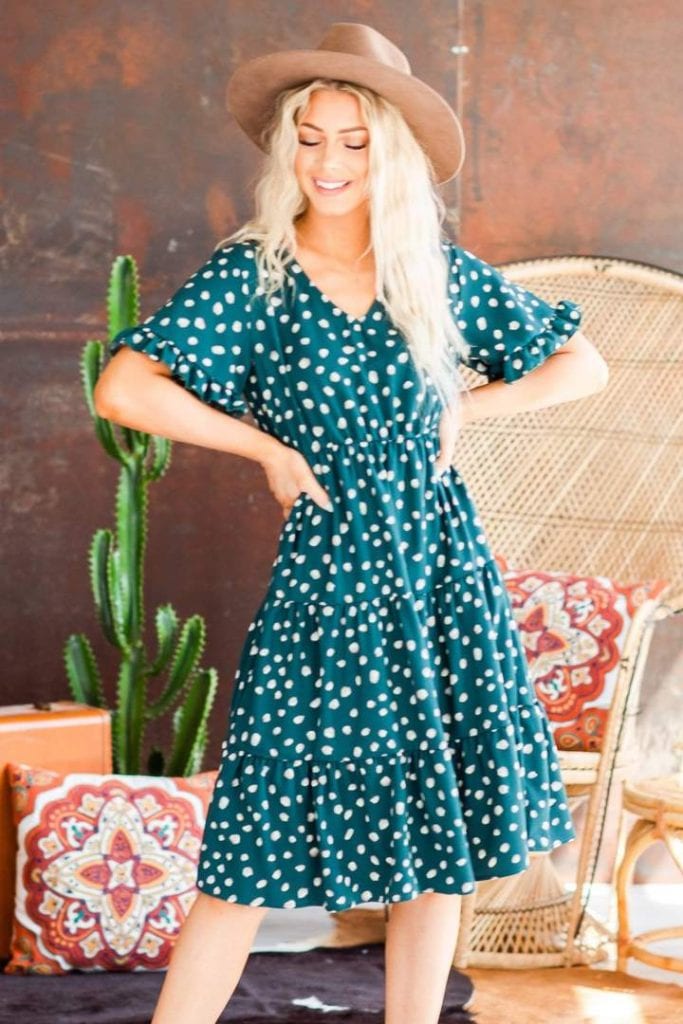 Check out this super cute polka dot fabric on this midi dress! It's flowy and lightweight making it perfect for any season of the year.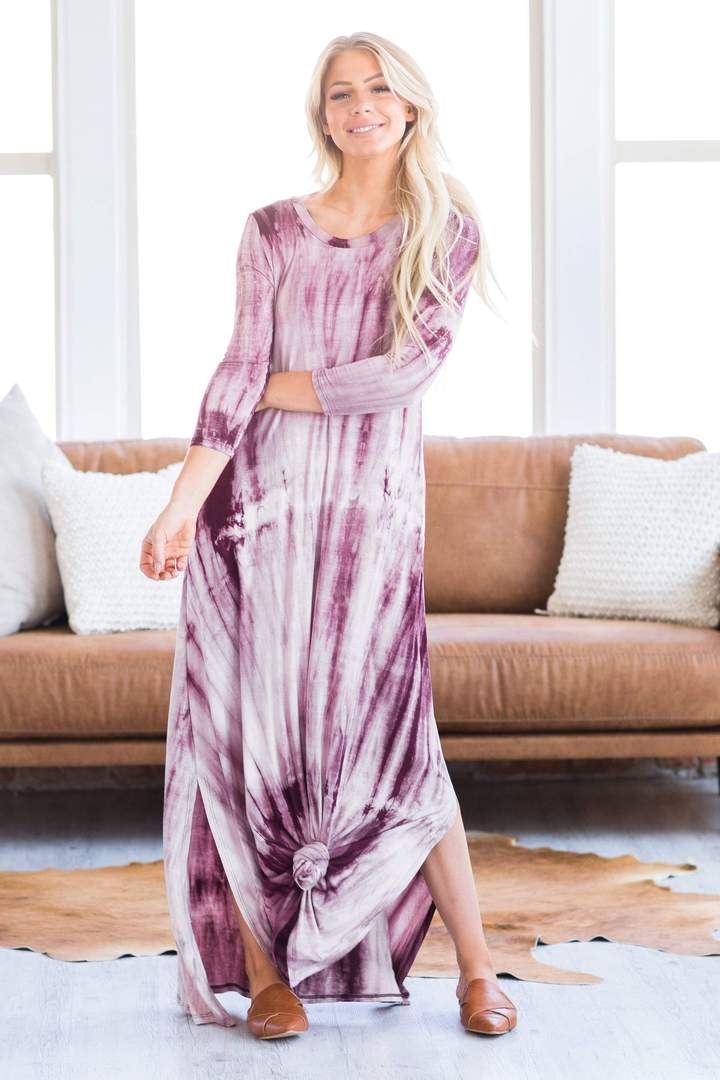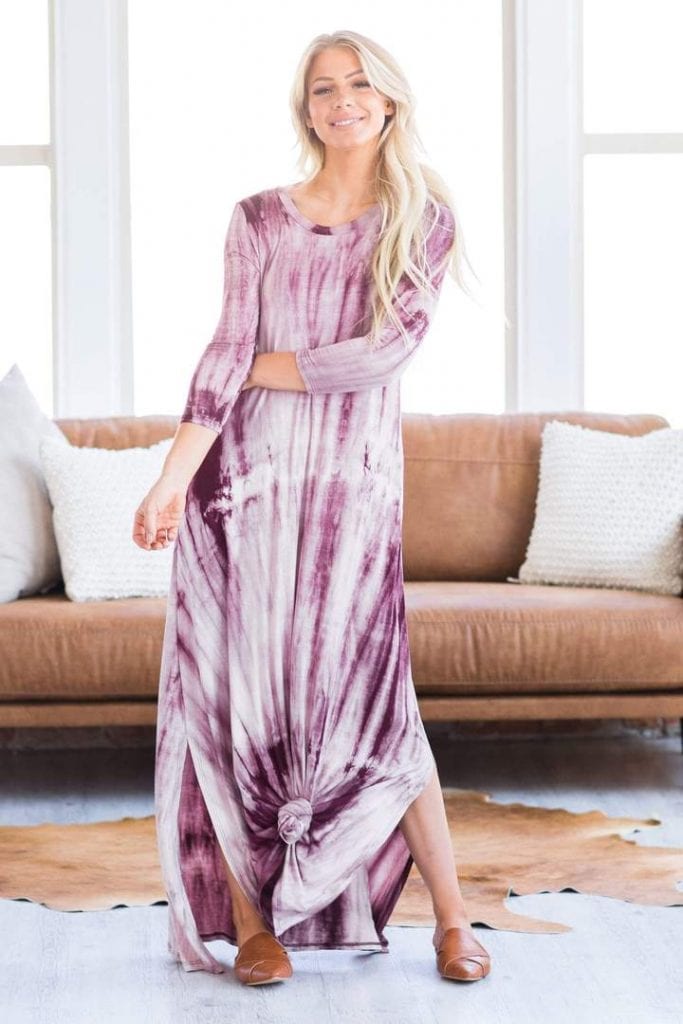 Tie dye is so trendy right now! This fun maxi retro dress is perfect to dress up or down and pair with a cute jacket.
More Modest Clothing Ideas
Mommy and Me Swimsuits