Add more spooky and silly into your October with these October bucket list ideas! Celebrate October with some simple family activities.
Celebrate October
October is full of crisp evening air, pumpkins, costumes, parties, and other fun activities! If you want to make the most of this fall month, check out this list of October bucket list!
These activities are simple and inexpensive and perfect for the whole family. Don't forget to scroll down to download our October bucket list printable.
October Bucket List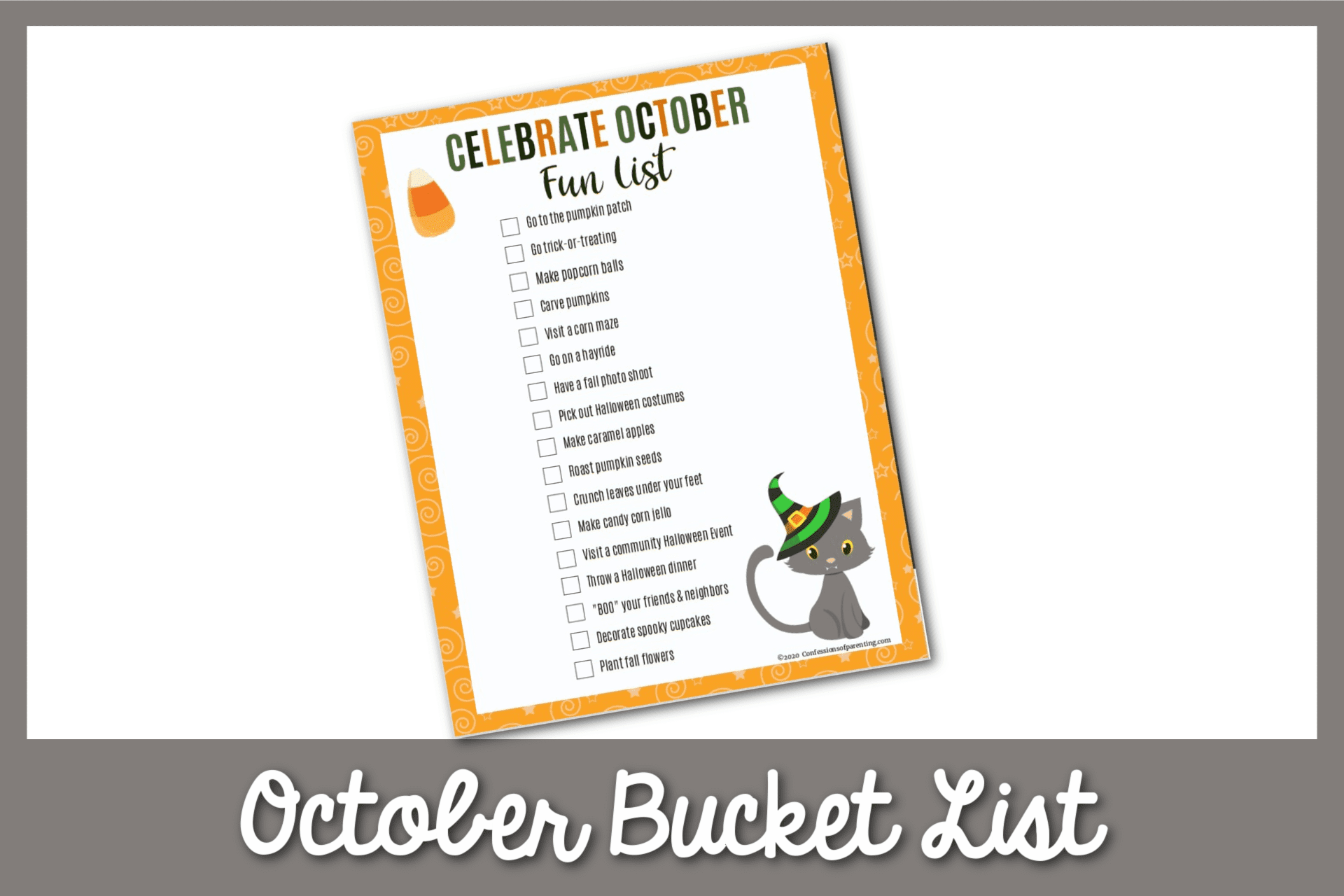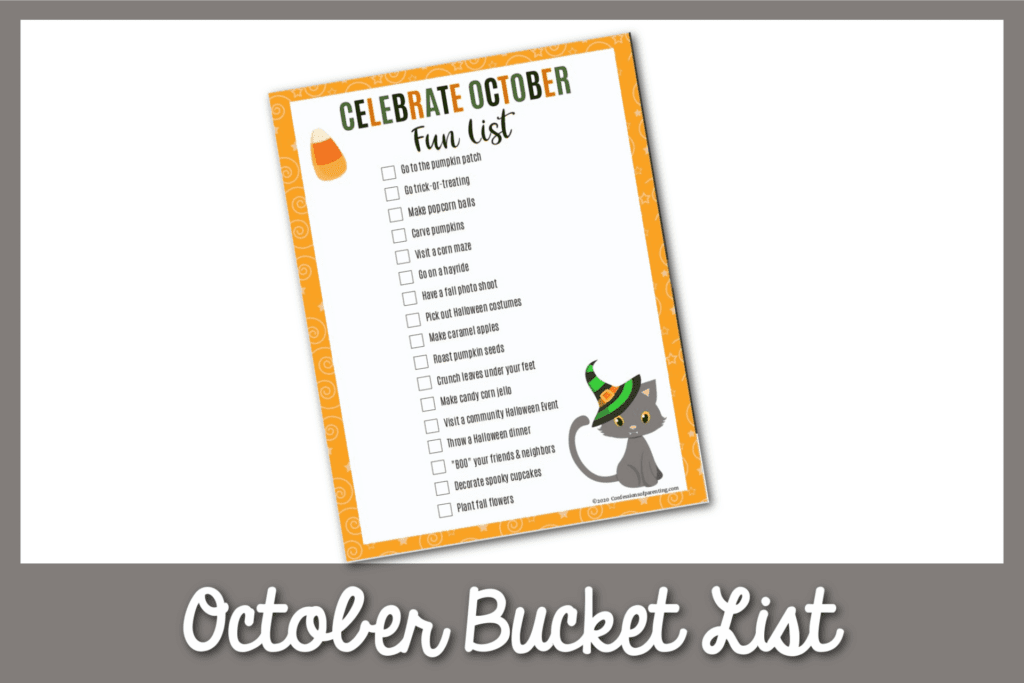 Go to the pumpkin patch
This is a classic way to celebrate October. Find a local pumpkin patch and have fun with your kids looking at all the different pumpkins.
Most farms, zoos, museums, and other locations with patches usually have a lot of fall activities to do along with the path too.
Don't forget to grab a few pumpkins for carving later!
Go trick-or-treating
You can't miss trick-or-treating with your kids! Get dressed up and celebrate Halloween together and you go door-to-door looking for treats.
This is a great way to increase neighborhood and community interaction and build fun relationships with the people around you!
A lot of people meet up with friends, too, so you can have a fun Halloween spent together.
Make popcorn balls
Popcorn balls are so yummy… and super simple too! All you need to do is melt some marshmallows and pop some popcorn and add in all your favorite candies and designs.
This is a great hands-on activity to do with kids too. Have them wear gloves or baggies on their hands to avoid sticking and mix all the ingredients. They will love it, and it's a great sensory activity.
If you have little ones who can't eat popcorn, make them a part of the activity by making a cereal ball for them. Use your favorite breakfast cereal and mix the same way as the popcorn!
Carve pumpkins
Whether or not you decide to attend a pumpkin patch, you have to include carving pumpkins on your October bucket list!
Draw your design first with an expo marker or pencil and cut away! If your kids don't like scooping out the inside of the pumpkin, try putting baggies on their hands.
For little ones, give them some baby-safe paint and let them decorate a pumpkin! There's always a way to get them involved.
Visit a corn maze
Try out a local corn maze! They have mazes simple enough for young kids and some more tricky ones for teens and adults.
Try not to get lost together, or split into teams and see who gets out of the maze first!
Make pumpkin bread
Are you a fan of pumpkin-flavored everything during the fall season? If you can't get enough, you definitely need to make some pumpkin bread!
We have a great recipe for moist pumpkin bread for you to try!
This would also make a great gift for friends or neighbors!
Have a fall photo shoot
Fall is a great time to take family pictures and pictures of your cute kids!
Not only is the weather comfortable and allows for some flexibility of wardrobe choices, but it's also beautiful outside with the colors changing and makes for a great backdrop.
You can also have these pictures ready early for when you are sending out your Christmas cards this year!
Pick out Halloween costumes
It's doubtful that you will forget to do this with your kids bringing it up so often, but don't forget to celebrate October by picking out some Halloween costumes or decide to DIY Halloween costumes.
Go to a costume shop and see what they find. Or if you kids know what they want to be, check online for some great options.
If you are feeling overwhelmed by the cost of costumes, try organizing a little costume swap! Someone you know likely has a costume perfect for one of your family members!
Make caramel apples
You can't celebrate October and fall without some delicious old fashioned caramel apples. Yum!
It's a lot of fun to get hands-on with your kids melting the caramel and dipping in some fresh apples. Adding topping on them might be your family's favorite part!
If that seems like too much work but you still want to add this activity to your list, try making a simple caramel dip together and cutting up some apples to dip. So easy!
Roast pumpkin seeds
If you are looking for something to do with all those pumpkin seeds that you pulled out of your pumpkins, try roasting them!
It's just about as simple as it sounds. Rinse all the pumpkin goop off of them and let them dry. Then toss them in a bit of oil and roast them up. When they come out of the oven you can add some cinnamon, sugar, salt, or your favorite seasoning.
Crunch leaves under your feet
Family time doesn't have to be complex! Take advantage of those crunchy leaves falling all over your yard and neighborhood and crunch them up under your feet.
See how many you can collect and make a huge pile of them. Jump in and watch the beautiful colors fly all around.
Make candy corn jello
This is a fun treat and also somewhat of a scientific project for your family!
Grab some white, yellow, and orange jello as well as some plastic cups that you can see through. Teach your kids about jello and how it will set as a solid in the fridge! It's like magic to kids.
Start with one color and let it set. Then repeat with the other colors. By the end of the project, you have cups of jello that look like candy corn!
Visit a community Halloween event
Most churches and community centers host family-friendly Halloween parties and events during the whole month of October.
See what is being offered locally and have some spooky fun with your family. It also gives your kids more chances to wear their cute costumes!
Throw a Halloween dinner
If you have family friends with kids, throw a Halloween dinner before kids go trick-or-treating!
This is a simple low-prep potluck style dinner that gives the kids something to do while they impatiently wait for their treats. It also helps give them a healthy meal before all that candy!
Have a theme like "soup night" or something fall-ish and have everyone bring something to share.
"BOO" your friends and neighbors
Start the "You've been BOO'ed" train in your neighborhood or friend group!
A "BOO" train is simply a way to build friendships and brighten someone's day. You can do this in a variety of ways. You can leave treats, a note, some pictures from your kids, or anything else fun.
The important thing is that you tell them to keep the train going and "BOO" someone else. This is a great October bucket list item to build some community joy!
Decorate spooky cupcakes
Use your favorite cupcakes recipe or cake mix and make some delicious and spooky cupcakes!
Make them for friends or make them to eat as a family, but make sure you decorate them all together! There's so many fun ways to get creative making ghosts, mummies, and other silly characters.
Make a Halloween craft
Grab your supplies and make some Halloween-themes crafts to decorate your home or share with friends and neighbors.
Make a ghost out of streamers and paper plates, or paint a pumpkin and add some glitter or stickers.
Get creative and find a craft that everyone in the family can enjoy together!
Go square dancing
Have you ever gone square dancing with your family? It is such a blast! There are a lot of dancing halls all over and some of them teach lessons!
If you can't find somewhere in your area, go online and see if you can pick up a few moves. Teach them to your kids for a fun night of dancing at home.
Plant fall flowers
Add a lovely fall touch to your garden or yard with some fall flowers.
Look for flowers with deep shades or red, orange, yellow, and brown. Make sure to talk to someone who knows about plants in your area and see what will work best with your weather and climate.
Go on a hayride
Don't forget to include going on a hayride on your October bucket list for your family. There is something so calming and unique about hayrides, especially for your little ones.
Many Halloween events have them, as well as farms and pumpkin patches in your area. Get ready for some fall fun with your family.
Decorate bags for trick-or-treating
Skip the store-bought Halloween buckets and make your own special bags to hold your kid's treats.
Go with your kids' costume theme, or make some simple spooky bags. Get creative and see what you can paint, color, or create for this year's trick-or-treating!
There you have it! Some great ways to Celebrate October with your family! What would you add to the list? Share in the comments!