These Patriotic Mini Cheesecakes are sure to be a huge hit this year! It is the perfect way to enjoy dessert. These are easy to make, taste delicious, and are always a huge hit!
Patriotic Mini Cheesecake Recipe
The smell of freshly baked cheesecake is something that brightens the senses. However, it's not just the smell but the visual appeal and, lastly, the flavor of these cheesecakes that are heavenly.
This Mini cheesecake recipe is a simple, quick, and utterly delicious way of celebrating an occasion. These bite-sized cheesecakes are cute and fun. Get creative and customize these to every occasion and enjoy!
For more patriotic desserts be sure to try our 15-minute Patriotic Trifle and our Patriotic Oreo Truffles.
Add a couple 4th of July activities and have a patriotic party or gathering! Check out our 4th of July Bingo, Charades and Scattergories for some fun ideas.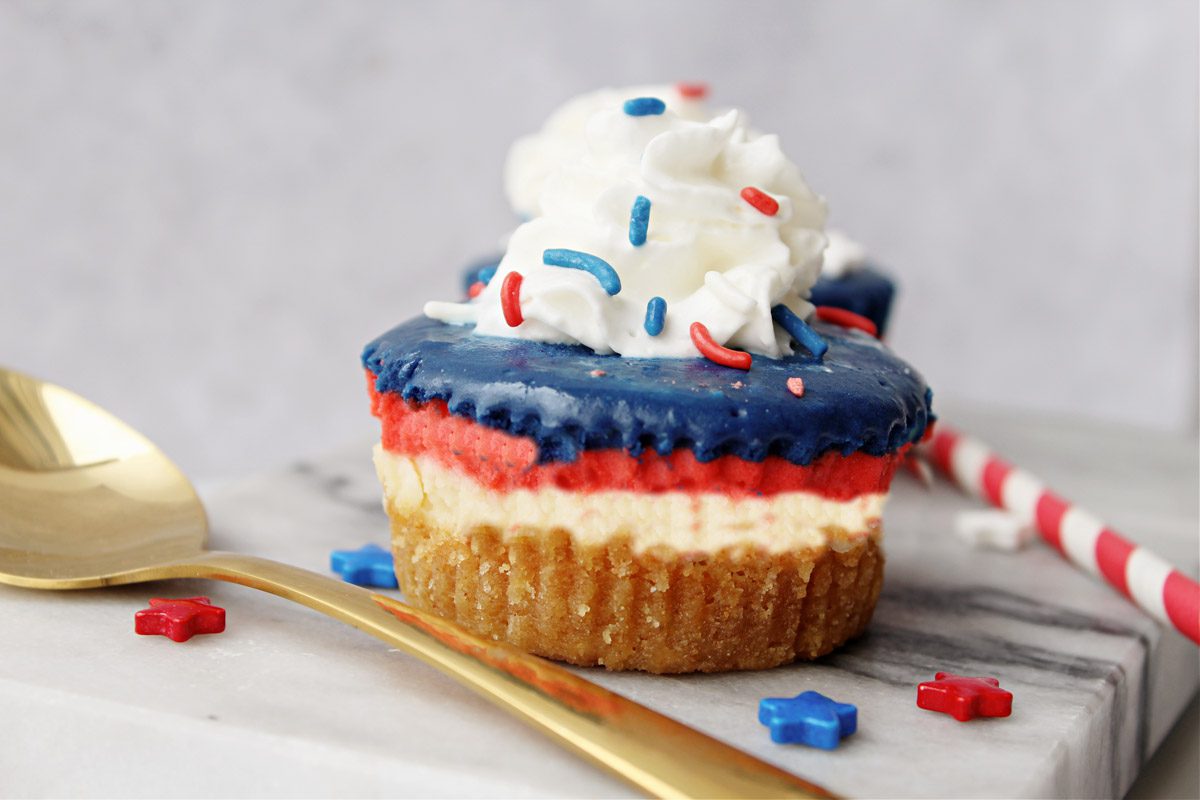 What is a Mini Cheesecake?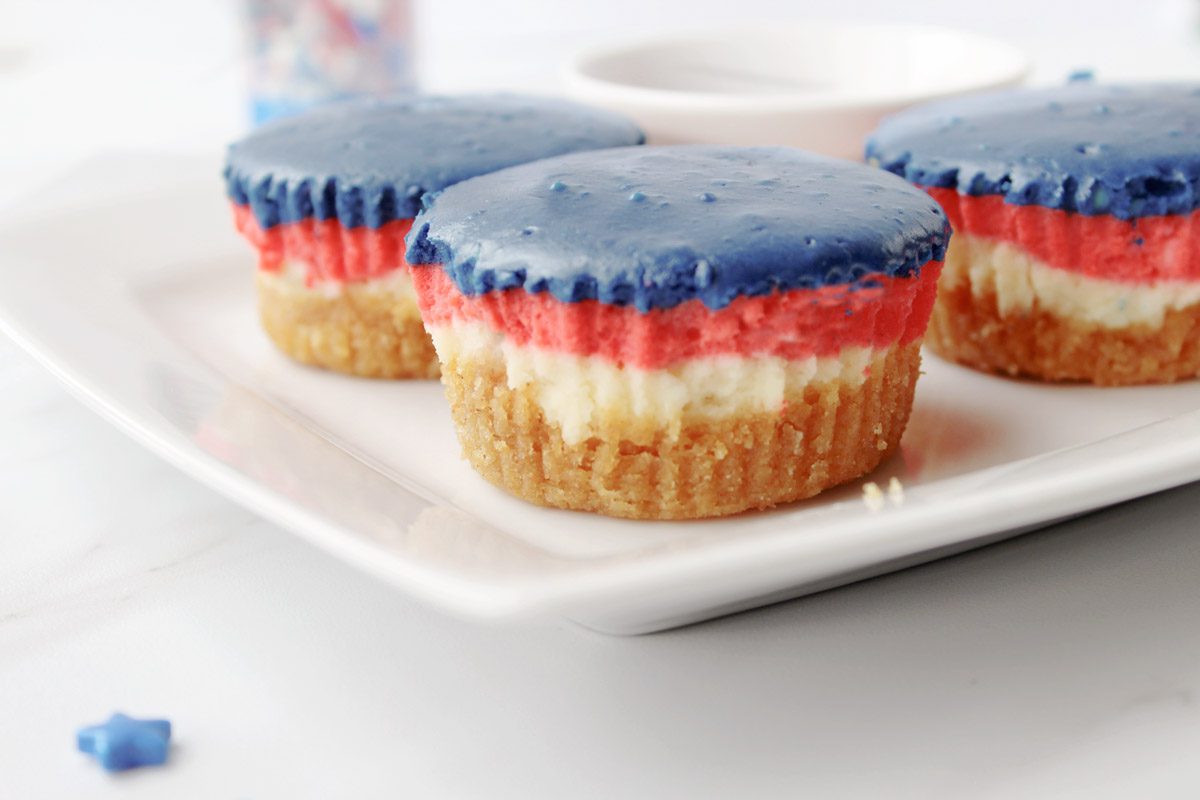 A mini cheesecake is a smaller and bitesize version of a traditional cheesecake.
A cheesecake is a tart having a biscuit base that usually consists of graham crackers, Oreos, or shortbread cookies and a cream cheese filling.
The cheesecake has a rich cheesy flavor, soft center, and a hard buttery crust that is simply irresistible.
Ingredients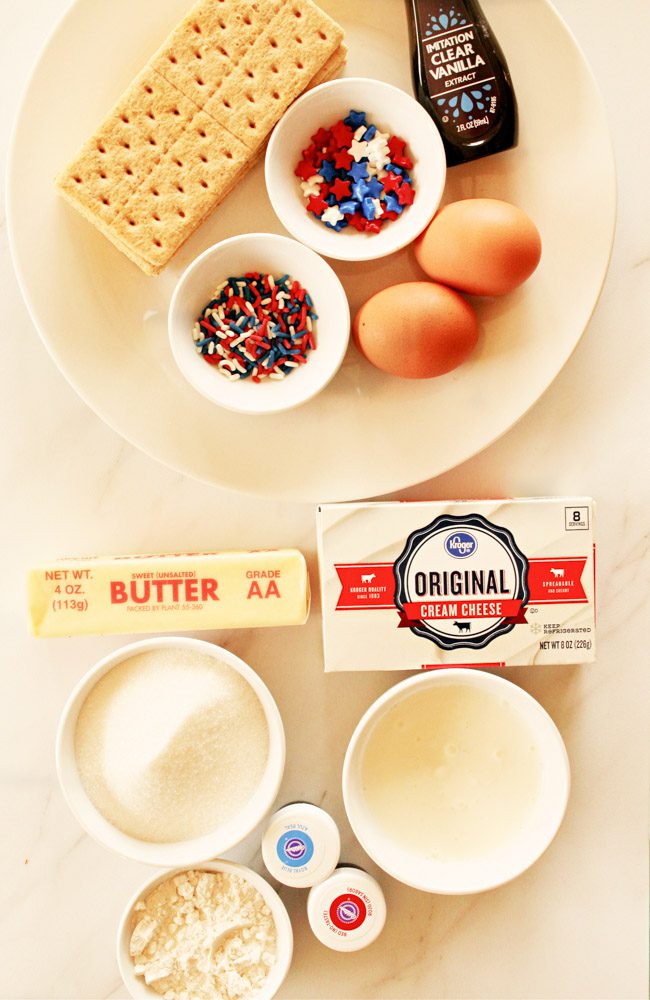 This patriotic mini cheesecake recipe has two main components, i.e., the crust and the filling. Here is everything you will need for each component:
For the crust:
Graham cracker crumbs: The main ingredient you will need to make the crust is graham cracker. You can easily get these crackers from any grocery store. Simply crush them or blitz them in a food processor so that they are crumbly. Be sure you opt for the plain graham crackers when making these.
Sugar: Since this is a dessert, you will need sugar in the crust to get that sweetness. I have used white granulated sugar for this recipe, but you can use light brown sugar as well.
Butter: Melted butter gives the crust a texture. It acts as a binding agent, ensuring the crust has a structure.
For the filling:
Cream cheese: The main hero of the filling is the cream cheese. It is not just creamy in texture but has a sweet and slightly tangy flavor that shines through the final product. You will want to use full fat cream cheese in this dish.
Sugar: Add white granulated sugar to bring in sweetness.
Sour cream: Adding sour cream to this mixture will make it smooth. Sour cream adds moisture to the batter giving it the right texture.
Flour: Adding all-purpose flour to this mixture will alter the texture of the cheesecake a bit. It will make it a bit cakey. It will affect the texture but not the flavor.
Vanilla extract: It adds a rich flavor to the cheesecake.
Eggs: Eggs are perfect thickening agents. These give the mixture a dense texture and the right consistency.
Food color: Because we are making Red, White, and Blue Mini Cheesecakes, we will use Blue and Red gel icing colors. You can use any color according to the occasion.
Toppings: Top the mini cheesecake with whipped cream and sprinkles.
How To Make Patriotic Mini Cheesecakes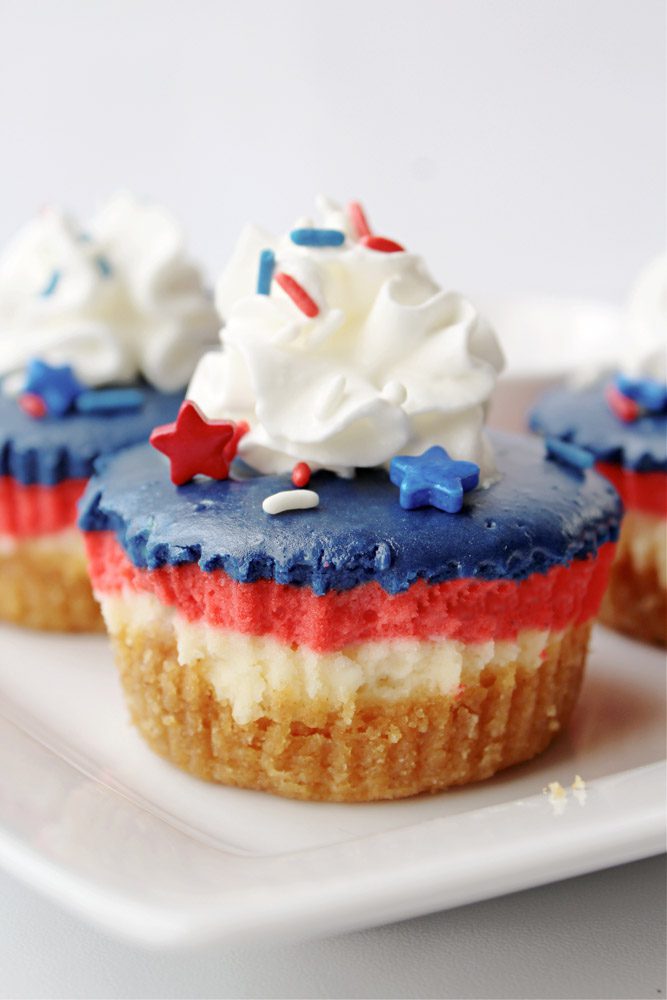 Preheat the oven to 325˚F. Use a cupcake pan and insert liners into the pan.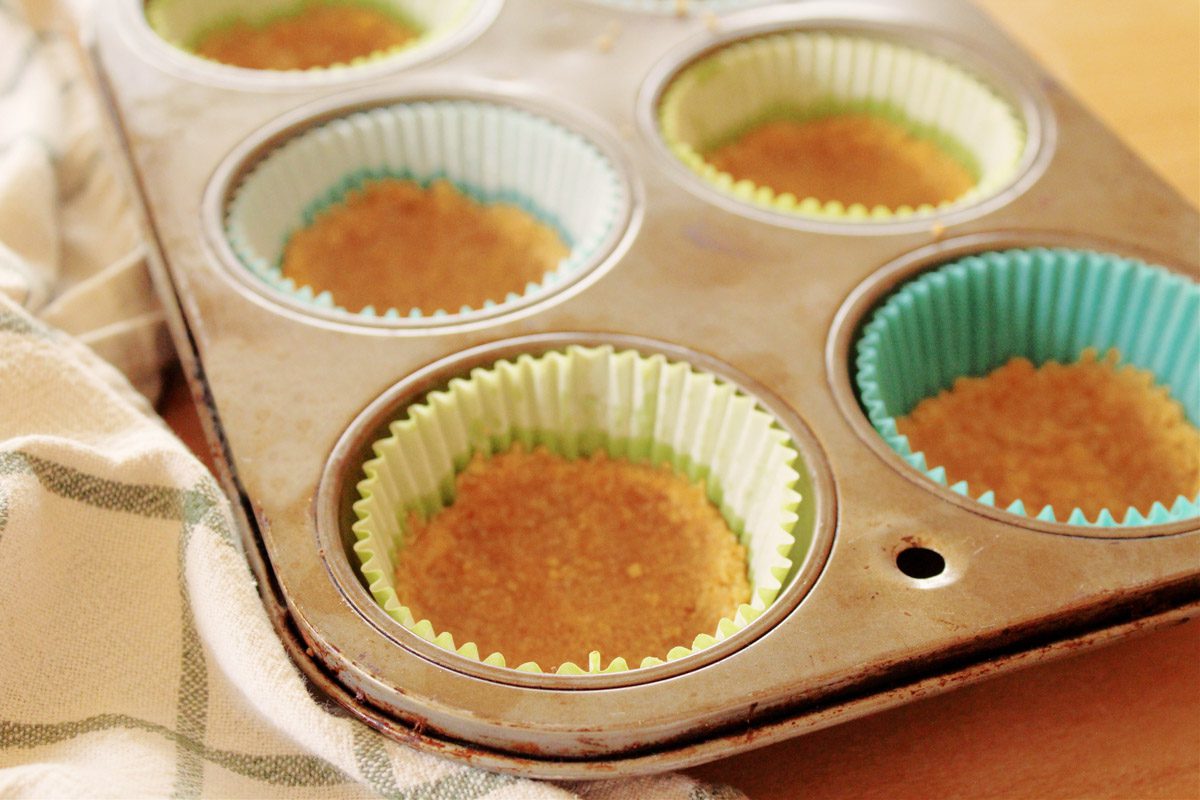 In a medium-size bowl combine graham cracker crumbs, sugar, and butter. Stir until fully combined. Divide the mixture and spoon into the bottom of the cupcake liners, and press down firmly into the bottoms.
Bake the crust in the oven for 5 minutes. Remove from the oven and allow to fully cool.
Reduce the oven to 300˚ F. In a large bowl, mix the cream cheese, flour, and sugar on low speed until combined. Scrape down the sides to ensure all ingredients are mixed. Then add in vanilla extract and sour cream and fully combine.
Add eggs one at a time and slowly beat after each addition.
Divide the cream cheese mixture into three bowls. Leave one white, add gel coloring to one bowl, and blue gel coloring to the other bowl. Mix gel colors until you reach your desired shade.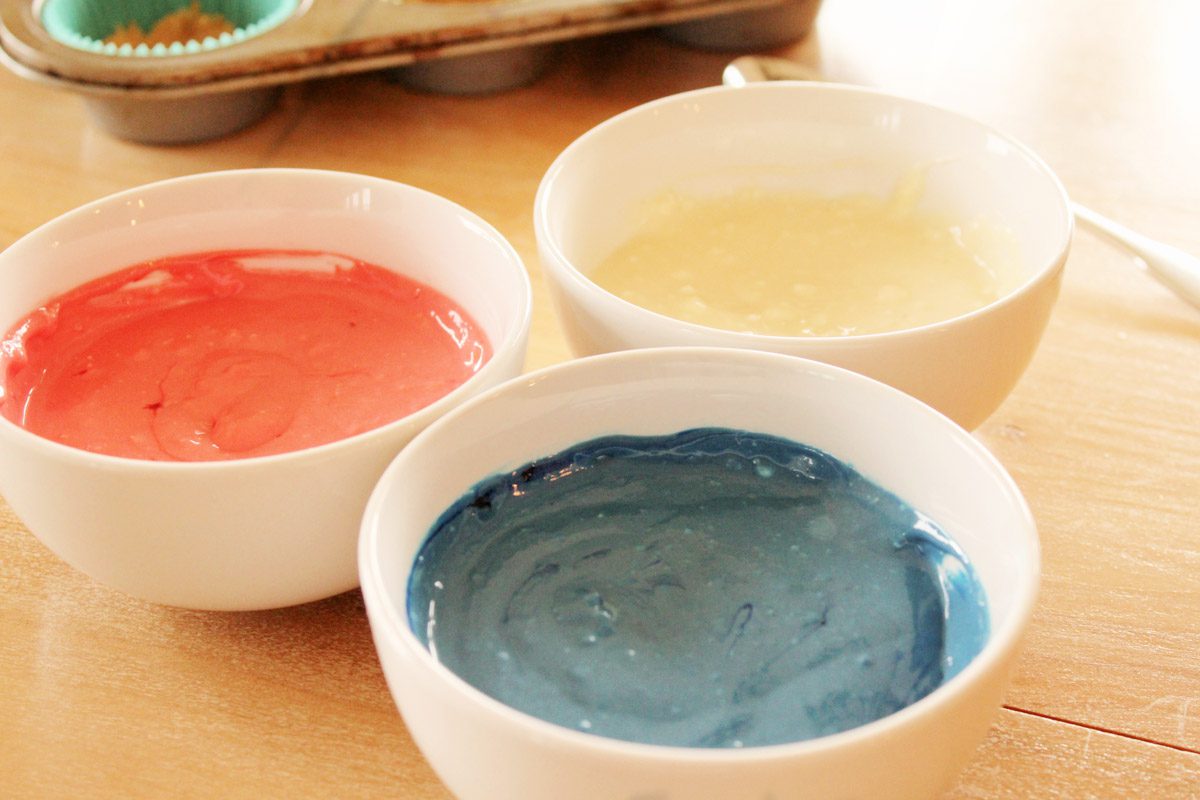 Spoon the white batter into each cup, then layer red batter and top with blue batter. Continue with all cupcake liners. Each cup should be almost filled to the top.
Bake for 18-20 minutes, then turn off the oven and leave cheesecakes in the oven with the door closed allowing them to sit for 10 minutes.
Crack the oven door and allow mini cheesecakes to cool for an additional 15-20 minutes.
Remove from the liners and top with additional toppings as desired.
Enjoy! ☺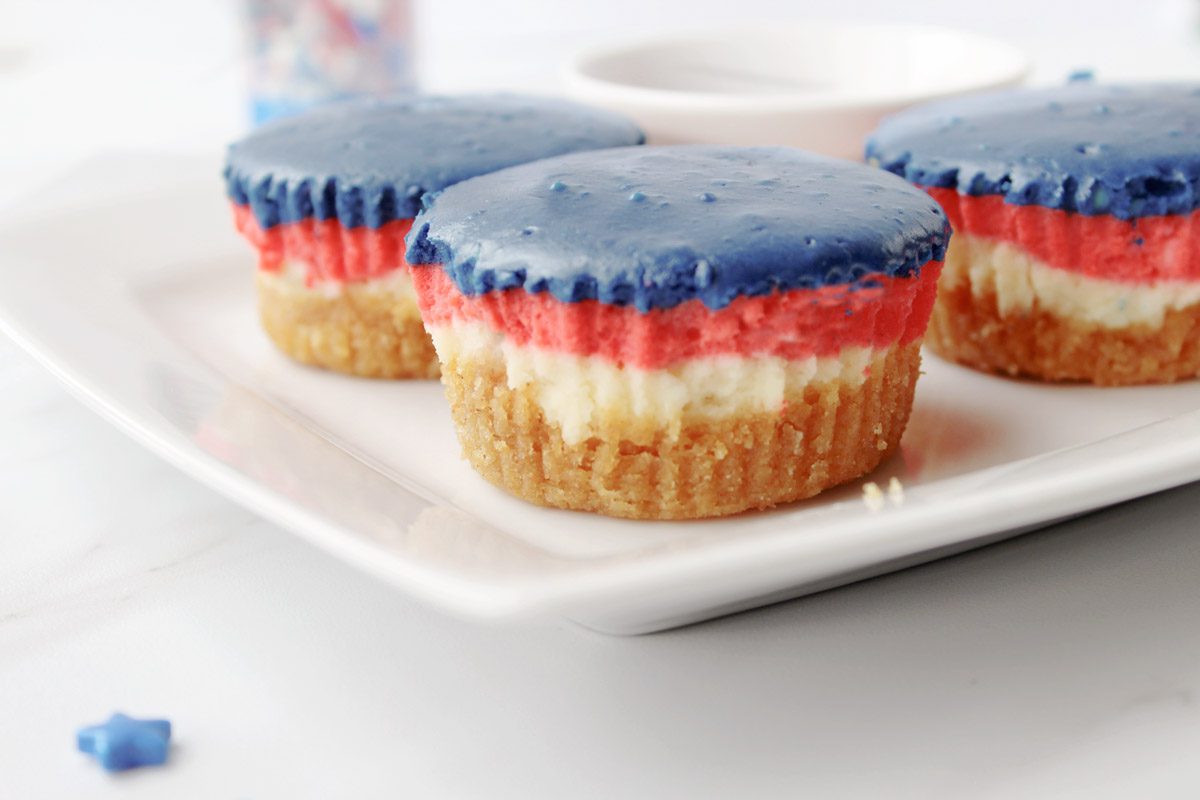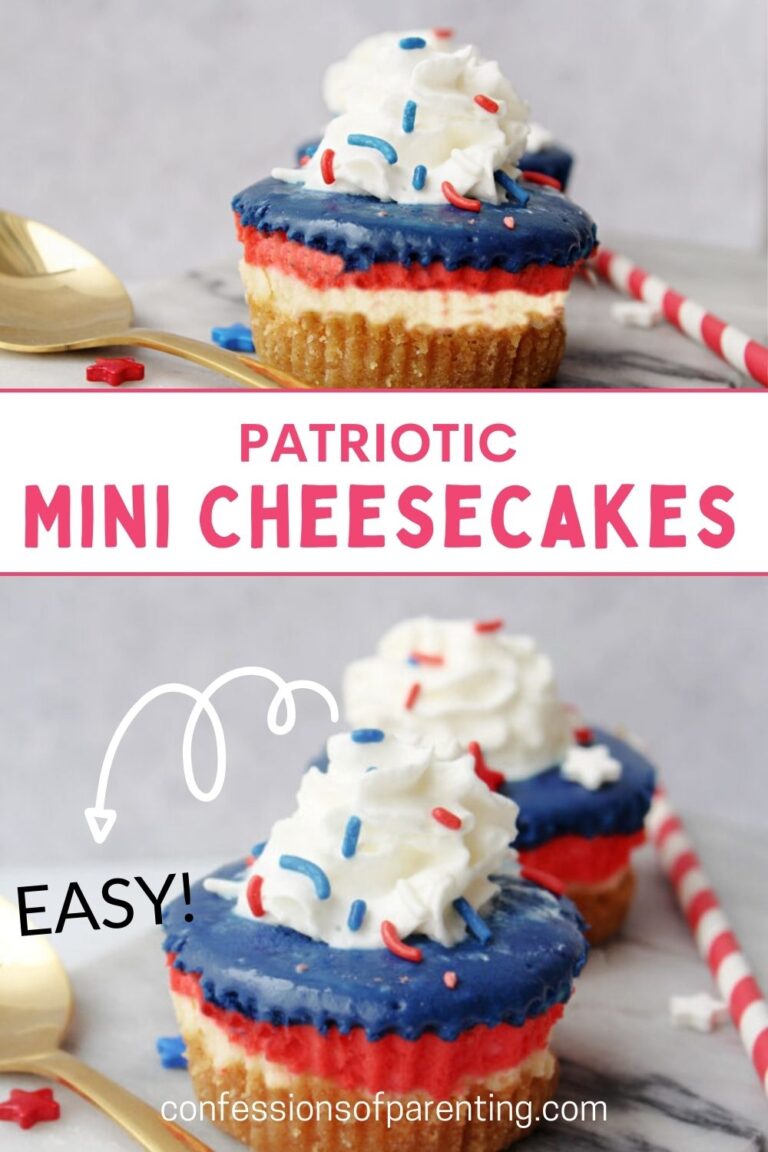 Tips and Tricks for making Mini Cheesecake bites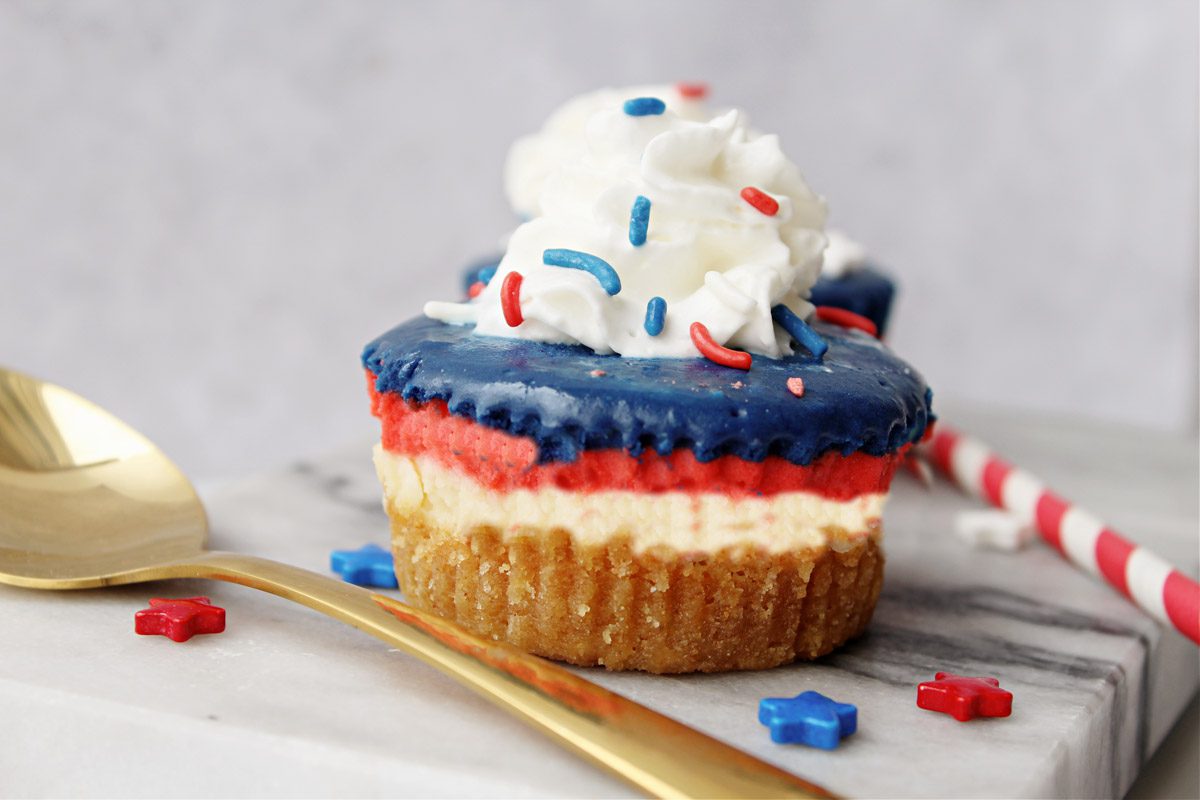 Keep these things in mind when making mini cheesecake:
Make sure you use unsalted butter for the crust.
To add a caramel-like flavor to the crust, use light brown sugar instead of white granulated sugar.
If you don't have sour cream, use heavy cream or Greek yogurt.
You can add cornstarch instead of all-purpose flour.
If you want the Mini Cheesecake bites to be dense and smooth, skip adding all-purpose flour altogether.
You can add peppermint extract or lemon zest for a different flavor profile.
Make sure you are using eggs, sour cream and cream cheese that are all at room temperature.
You can decorate the mini cheesecake with crushed Oreo, chocolate chips, hazelnuts, pecans, or chocolate syrup.
Never pipe the filling mixture into a hot crust. Always wait until the crust reaches room temperature.
How to Store Mini Cheesecake?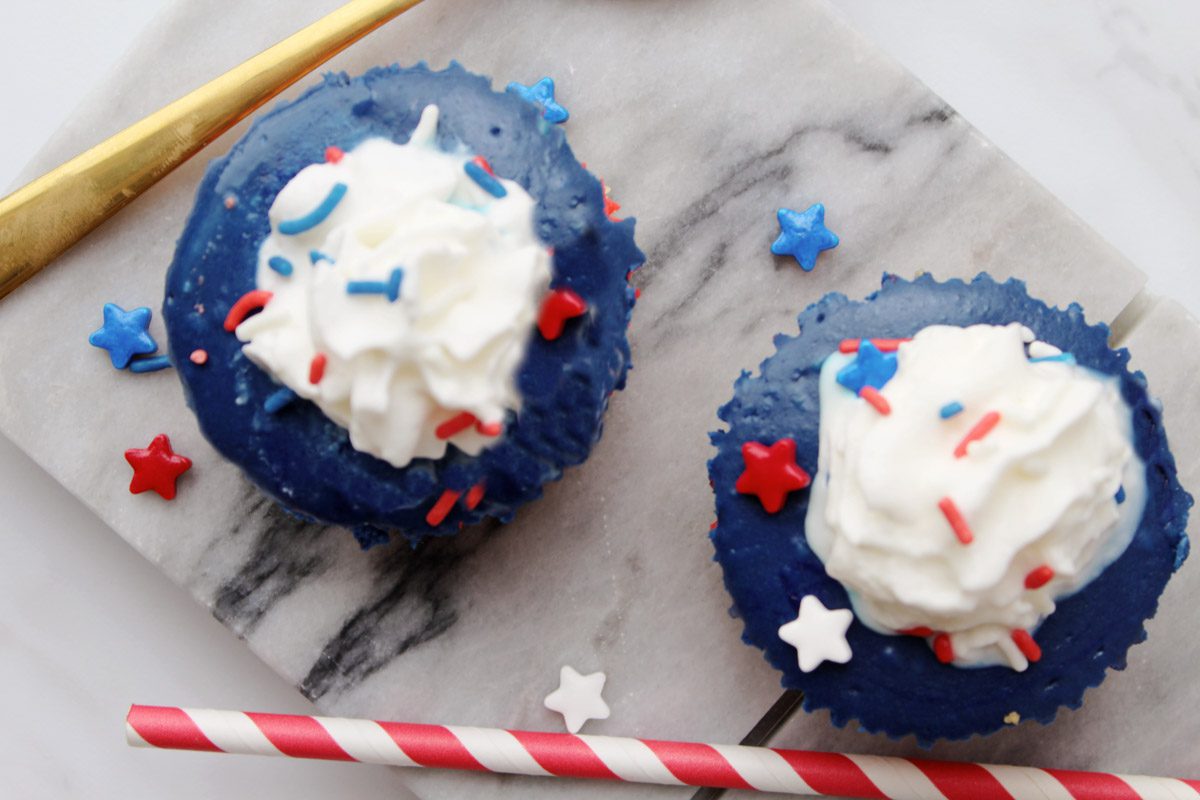 The best thing about this Mini Cheesecake recipe is that you can store them easily.
Once they are baked and cool down, place them in an air-tight container and refrigerate. They will last for up to a week.
Can you freeze mini cheesecakes?
You can also freeze mini cheesecakes. Make them in advance and freeze for up to a month.
Simply let them reach room temperature before you serve them.
Note that you don't want to add toppings if you are planning on refrigerating or freezing these mini cheesecakes. Top them up with whipped cream just before serving.
Frequently Asked Questions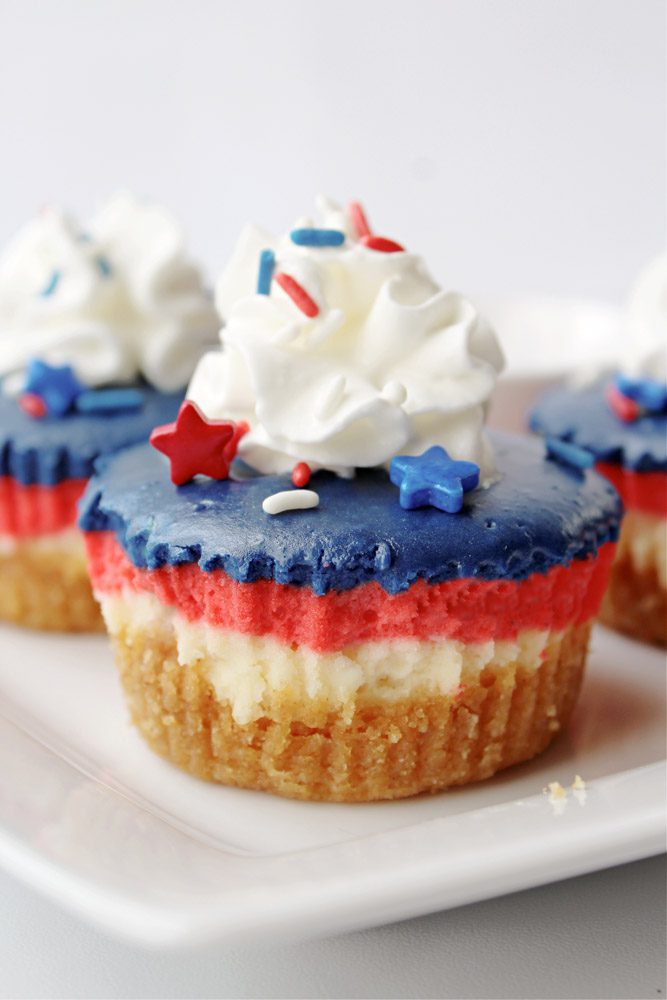 How do you know when a mini cheesecake is done?
There are two ways of ensuring that the mini cheesecakes are cooked.
First, they should look creamy to the naked eye, not dry or runny.
Second and most importantly, they will be set but have a slight jiggle.
Do mini cheesecakes need to be refrigerated?
Yes. You shouldn't let them sit at room temperature for more than 3 hours, or there are chances that they will go bad. So, to be on the safe side, always keep them refrigerated. They last for up to a week in the refrigerator.
Yield: 12-14
Easy to Make Patriotic Mini Cheesecakes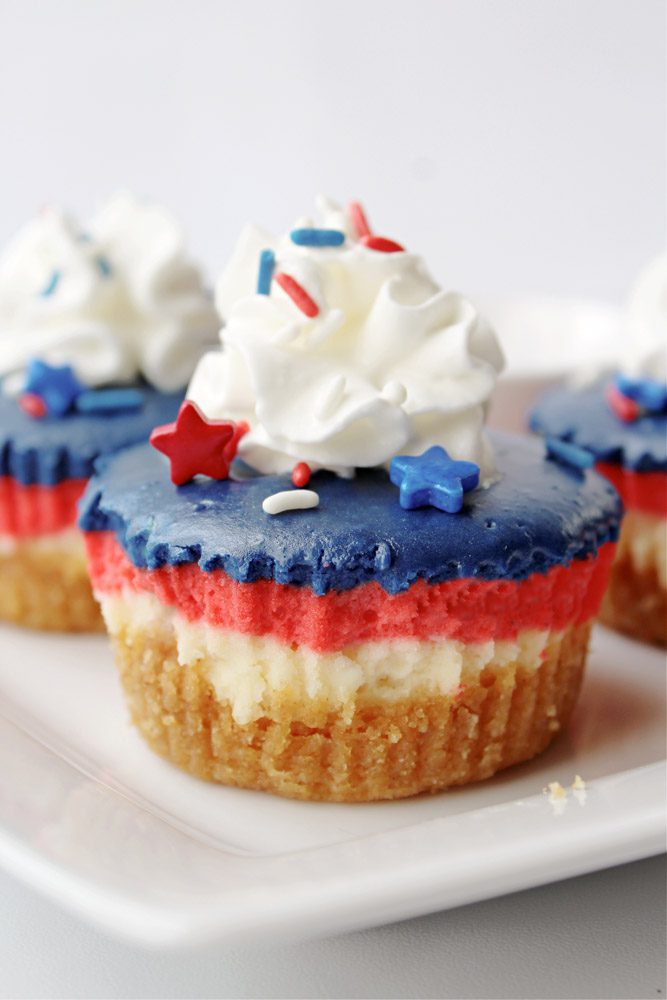 These Patriotic Mini Cheesecakes are sure to be a huge hit this year! It is the perfect way to enjoy dessert. These are easy to make, taste delicious, and are always a huge hit! 
Additional Time
30 minutes
Total Time
1 hour
10 minutes
Ingredients
1 cup graham cracker crumbs
2 TBSP. sugar
4 TBSP. butter, melted
12 ounces cream cheese, room temperature
1/2 cup sugar
½ cup sour cream
3 tbsp flour
1 1/2 tsp. vanilla extract
2 eggs
Blue gel icing color
Red gel icing color
Optional Toppings:
whipped cream
sprinkles
Instructions
Preheat the oven to 325˚F. Use a cupcake pan and insert liners into the pan.
In a medium size bowl combine graham cracker crumbs, sugar and butter.
Stir until fully combined.
Divide mixture and spoon into the bottom of the cupcake liners, press down firmly into the bottoms.
Bake the crust in the oven for 5 minutes. Remove from the oven and allow to fully cool.
Reduce the oven to 300˚ F. In a large bowl, mix the cream cheese, flour and sugar on low speed until combined.
Scrape down the sides to ensure all ingredients are mixed. Then add in vanilla extract and sour cream and fully combine.
Add eggs one at a time and slowly beat after each addition.
Divide cream cheese mix into three bowls. Leave one white, add gel coloring to one bowl and blue gel coloring to the other bowl.
Mix gel colors until you reach your desired shade.
Spoon the white batter into each cup, then layer red batter and top with blue batter. Continue with all cupcake liners. Each cup should be almost filled to the top.
Bake for 18-20 minutes, then turn off the oven and leave cheesecakes in the oven with the door closed allowing them to sit for 10 minutes.
Crack the oven door and allow mini cheesecakes to cool for an additional 15-20 minutes.
Remove from the liners and top with additional toppings as desired.
Enjoy! ☺