Skip the trip to your favorite Mexican restaurant and try these simple pork tacos right at home instead. These slow cooker pork tacos are so delicious and they can be prepped in less than 15 minutes!
No Fuss Slow Cooker Pork Taco Recipe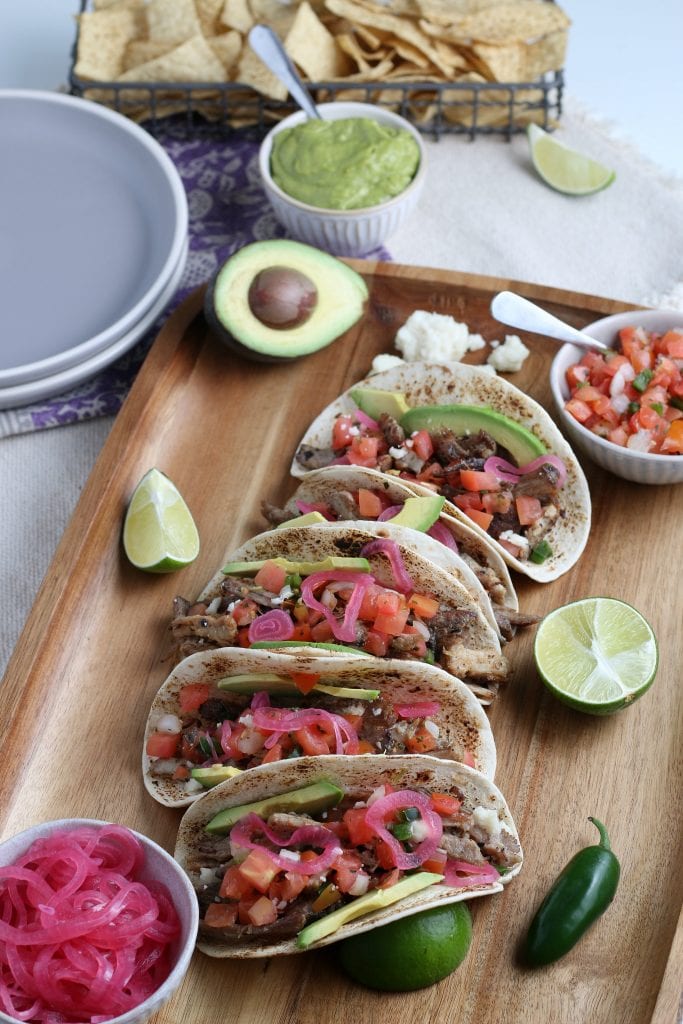 I don't know about you, but taco Tuesday is an absolute staple in our house and lately, I've been searching for a great pork taco recipe.
I've got the most amazing Fish Taco recipe, and we love some classic burritos, but nothing beats the authentic Mexican flavor of pork tacos.
After tons of searching, I've finally found the perfect pork tacos and I'm so excited to share the recipe with you! With your slow cooker, these slow cooker pork tacos will save your hours of hard work. In fact, there's only 10-15 minutes of prep!
When the pork comes out of the slow cooker you would not believe how amazing it smells! Get ready for your family's new favorite taco recipe!
Pork Taco Recipe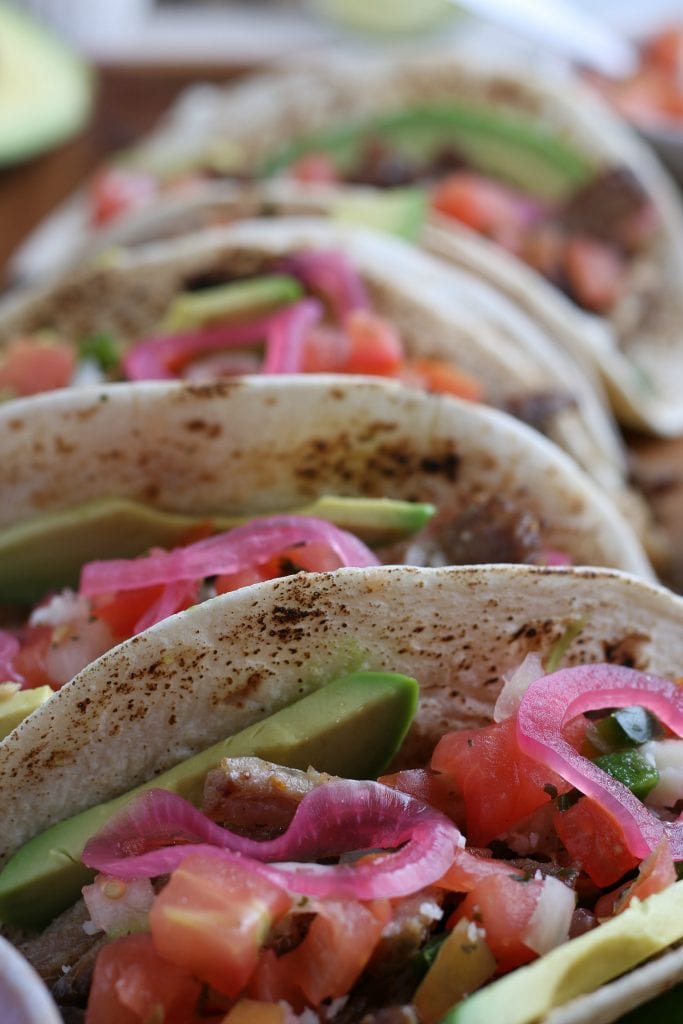 Makes: 12-18 tacos
Prep time: 10-15 minutes
Cook time: 4-6 hours
Total time: about 4-6 hours
Ingredients for Slow Cooker Pork Tacos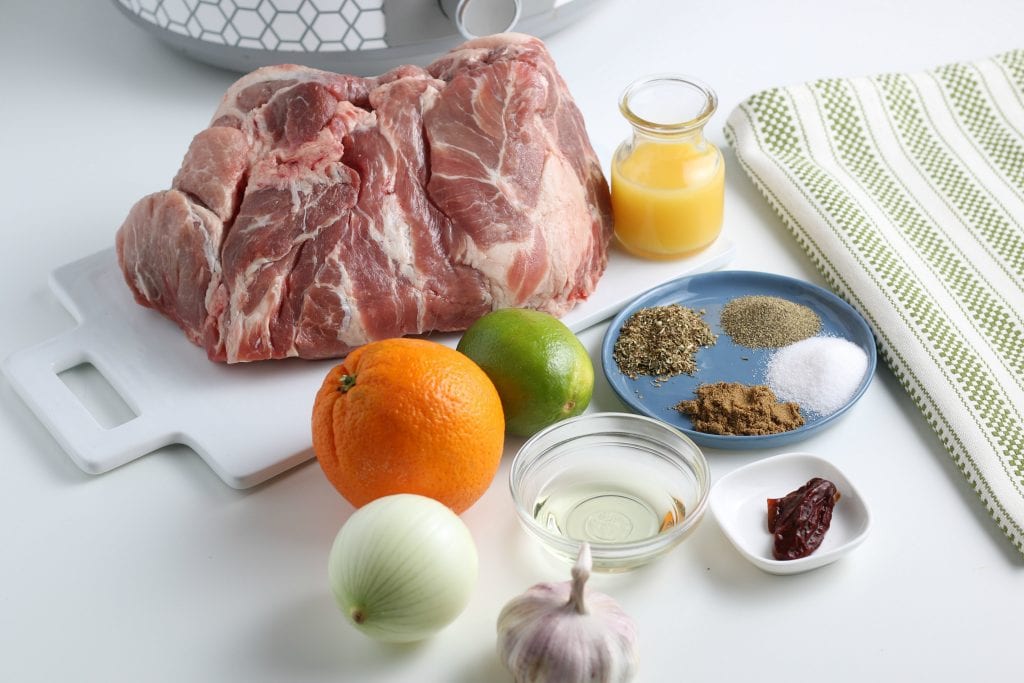 Pork
3-4 pound pork shoulder, trimmed slightly
1 ½ teaspoon dried oregano
1 teaspoon ground cumin
2 teaspoons salt
1 teaspoon black pepper
1 small onion, diced
3 cloves garlic, minced
⅓ cup orange juice
2 teaspoons finely shredded orange peel
⅓ cup lime juice
1 chipotle pepper in adobo sauce, chopped
1-2 tablespoons oil – vegetable or canola
Tacos
Corn or flour tortillas
Limes
Crumbled Cojita cheese
Pico de Gallo
Guacamole
Mango salsa
Pineapple
Other favorite taco toppings
How to Make this Pork Taco Recipe
To make your pork, you'll want to start out by prepping some of your ingredients.
Dice your onion, mince some garlic, grate and juice your orange, and chop your pepper. Set these ingredients aside.
Next, you can grab a small mixing bowl and whisk together the dried oregano, cumin, salt, and pepper.
Take that spice blend and rub it all over your pork shoulder, making sure to cover the entire surface.
In your slow cooker, add the onion, garlic, orange juice, orange peel, lime juice, and chipotle pepper, giving it a quick stir.
Place the pork right on top and place the lid on your slow cooker.
Cook the pork on the "low" setting for 4-6 hours or until the internal temperature reaches 145 degrees.
When the pork reaches the right temperature, remove it from the slow cooker and place it on a cutting board to cool.
When the pork is cool enough to touch, shred it using two forks.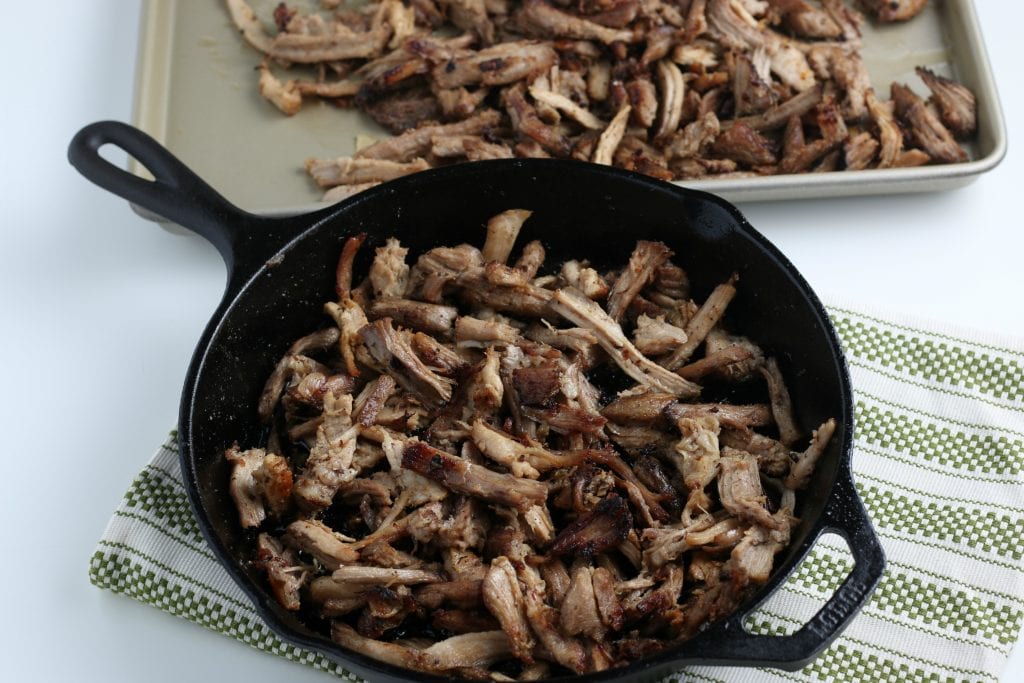 In a large skillet over medium heat, heat the oil and add your shredded pork as well as the juices left in the slow cooker.
Let the pork brown in the pan until all the juices have evaporated.
Serve right away with your tortillas and chosen taco toppings.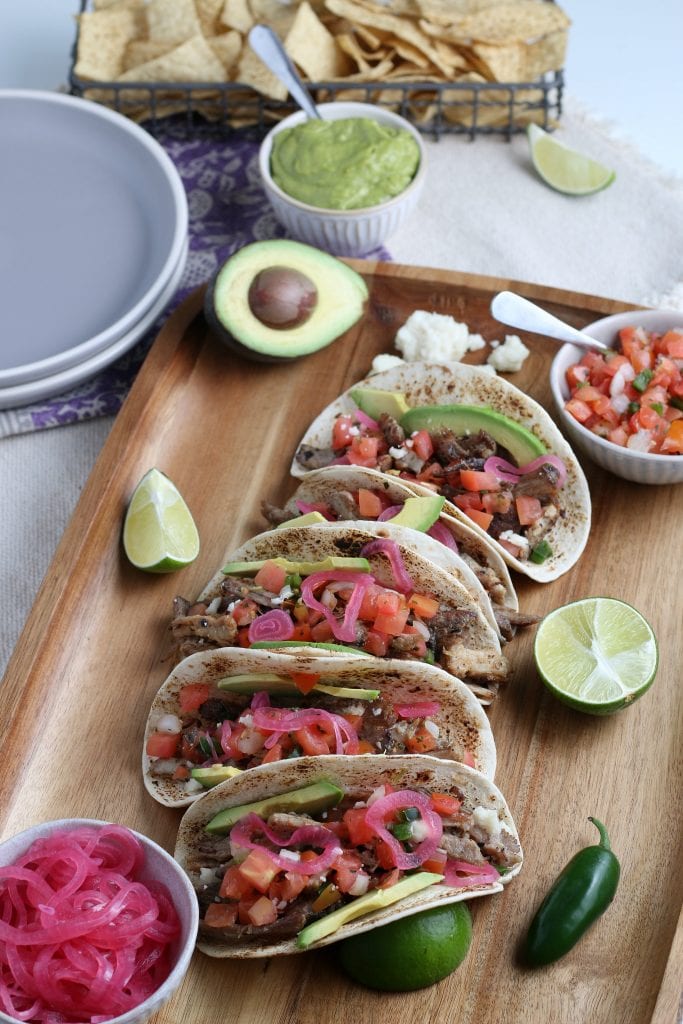 Tips Tricks and FAQs
Before adding the spice blend to your pork, pat it down with a paper towel! This will help all those flavors stick to the pork while it cooks and make for juicer and more flavorful pork!
I always make enough of these slow cooker pork tacos to have leftovers. If you want them to taste fresh even on day 2 or 3, save a bit of the juice and reheat the pork in a pan just like you did the first time. Delicious every time!
Go crazy with taco toppings! I included the toppings that I love to serve with these slow cooker pork tacos, like my amazing Mango Salsa. If you have some family favorites I'm sure they will taste great alongside this juicy pork.
How do I know if my pork is done without a meat thermometer?
Here's the thing. There's not a true scientific way to be able to tell if any meats are ready without a thermometer. That's definitely the safest way and there are some great inexpensive thermometers out there like the Amagarm kitchen thermometer.
If you don't have a thermometer sitting around, though, just cut through the center of your pork and look for a nice brown color. Since you are about to shred the pork, cutting it in half won't matter!
What side dishes go well with pork tacos?
Tacos in general are such a good meal because they don't need much on the side! There's so much going on with these Tacos that they stand alone well.
If you need a side dish, go classic with some chips and salsa or even mango salsa. Or you could make some delicious Mexican style rice to make this a perfect meal.
Storage
Fridge
Store the leftover pork in an airtight container in your fridge. The meat should stay juicy and delicious for about 3-5 days.
Check out these other great Mexican recipes:
Love what you see? Leave a comment and don't forget to rate it below! We always love knowing how your recipe turns out! Don't forget to tag me on Instagram @micheletripple to show me your finished product!