Pre-K Sight Word Bingo is the perfect way to help your preschooler learn all their sight words! Grab these fun printable bingo boards and get playing! Just download, print, and play.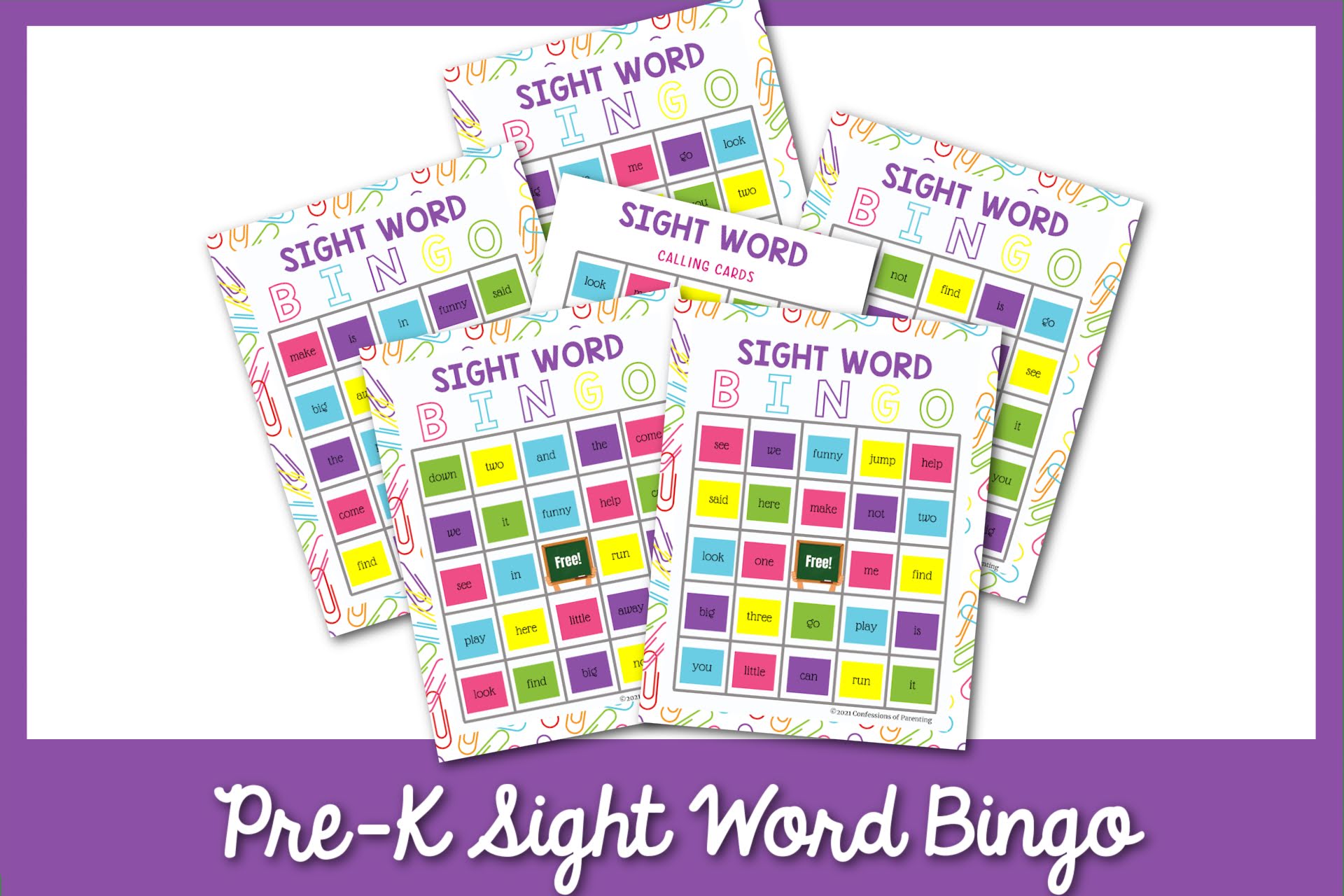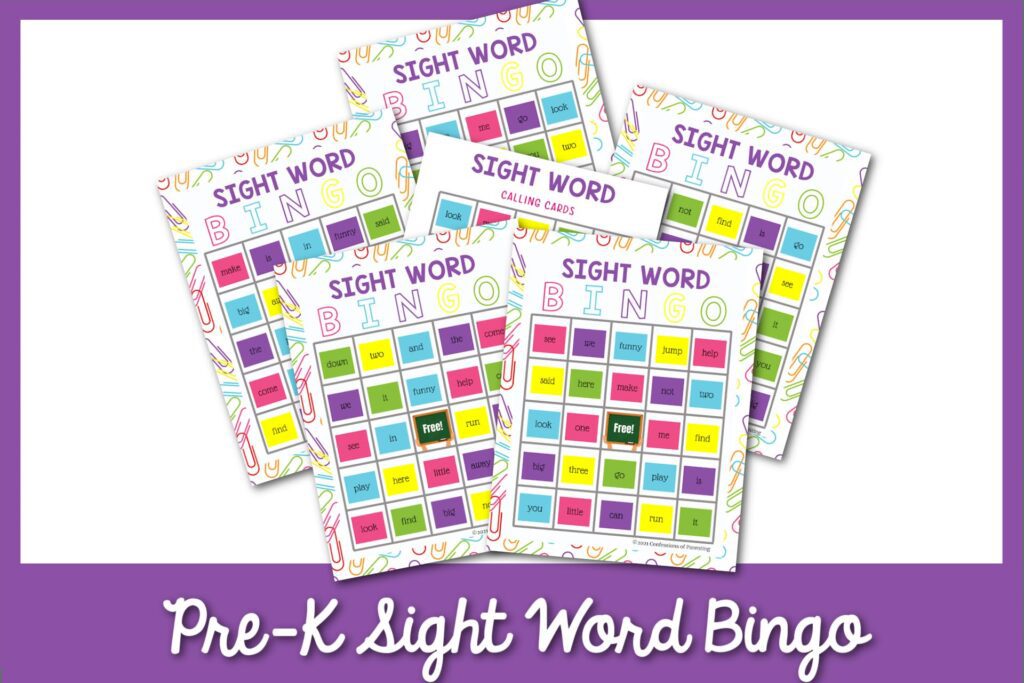 Bingo is so fun to play with the kids! In fact, it is one of our favorite things to do together! Some of our favorite bingo games would have to be this fun Ocean bingo, fall bingo, summer bingo, and of course this Pre-K Sight Word Bingo game. We love that is a game that everyone can have fun playing together no matter how old or young they are.
This is the perfect game to use at home, in the classroom, or anytime you need a fun activity for the kids to do!
This game in specific is a great way to reinforce what my Pre-K kids are learning throughout the day at school! I know your kids will love it too!
How to Play Pre-K Sight Word Bingo
One thing I love about bingo games is that the rules are very easy for new players to catch onto.
To set up the game, start by downloading the bingo calling card and boards below. Then print them out and cut out the calling cards. A great tip here is to laminate the cards and boards so they can be reused many times without damaging the paper.
Then, choose someone to be the caller. They will place all of the cut up calling cards into a bowl and take them out one by one. Next, pass out a board and tokens to each of your players.
The caller will pull the first card out and read it aloud. The players will then try to find that word on their own board. When they find it, they will mark it with their token. The first player to get five in a row (horizontally, vertically, or diagonally) yells out "bingo!" The player will repeat the words that comprised their bingo to ensure it is correct with what the caller read off. If it is correct, then that player wins!
At this point, you can wipe the boards and start a whole new round, or you can keep the boards as is and go for second and third place.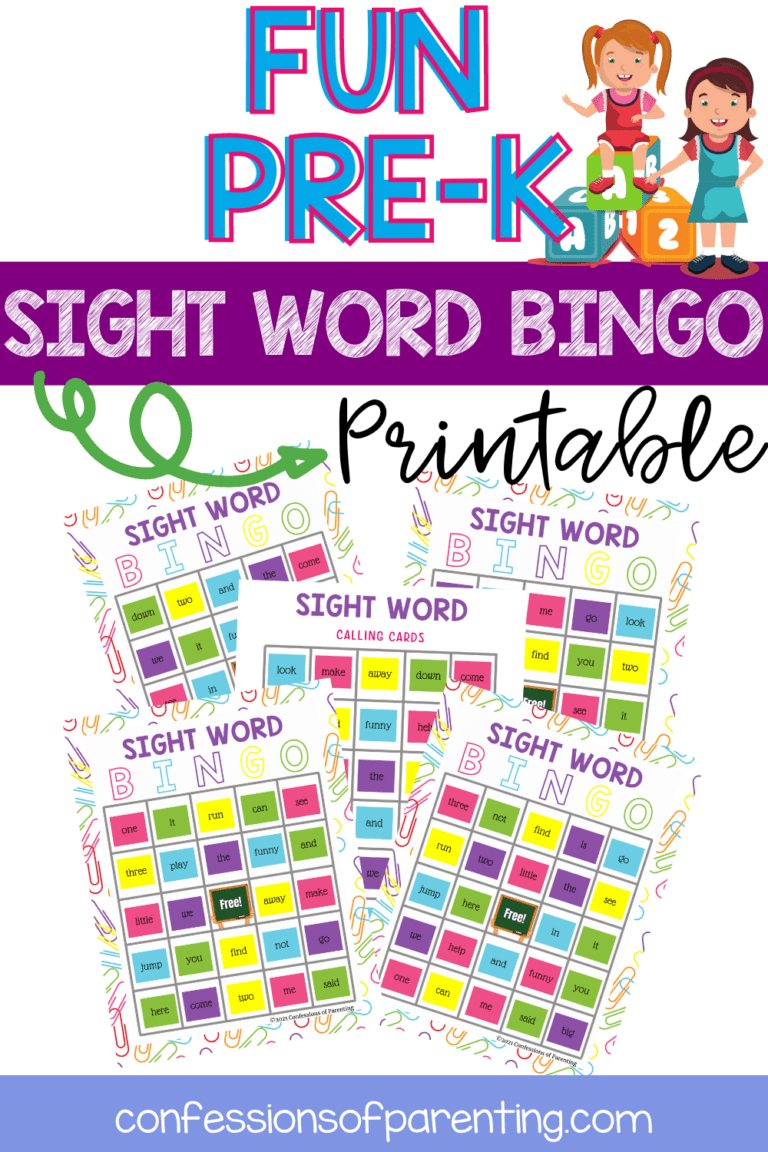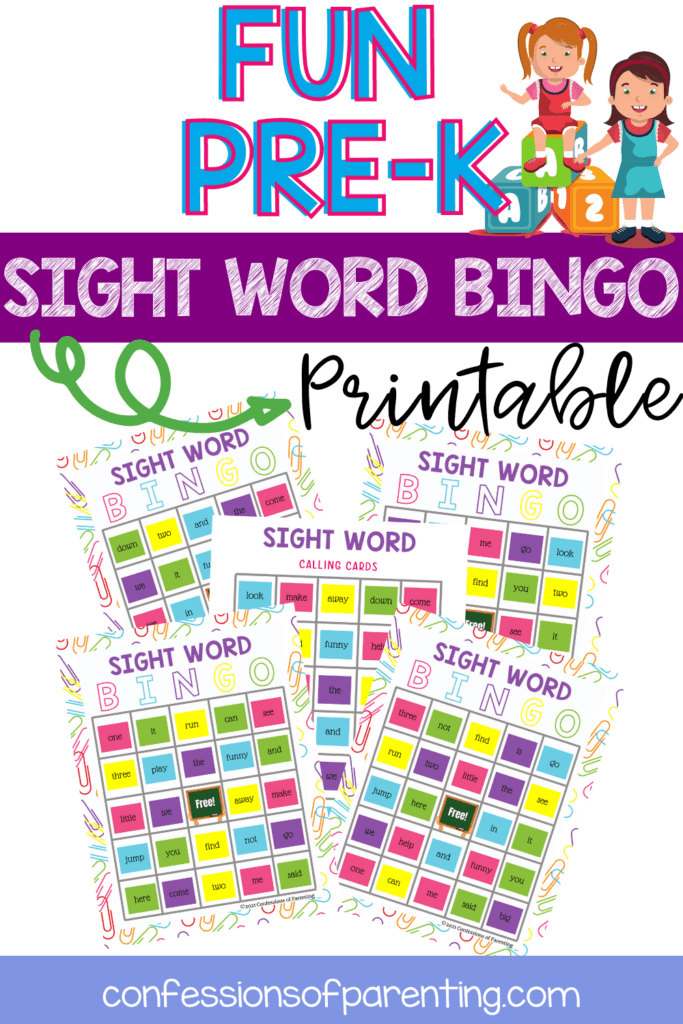 Tips for Playing Pre-K Sight Word Bingo
Get creative with the tokens used to mark the spaces! If you have laminated the boards, you could easily use dry erase markers. My kids love it when we use small candies to mark the spaces (like Smarties, conversation hearts, etc.). You could also use any other small toy or counter.
Have the players switch boards every few rounds to keep things fresh! If you're playing in a classroom, this is also a great opportunity for the kids to get to know one another better. Have them switch with someone across the room to encourage socialization as well as a mental break from studying.
If your kids need some more motivation, or they love a good competition, be sure to throw in some prizes for the winners! Even small things like stickers, treats, or small toys add that extra fun element.
Benefits of Pre-K Sight Word Bingo
This bingo game is great to help your younger kids reinforce their reading skills. They are practicing recognizing the word audibly and visually. When they repeat back to the caller they are practicing reading out loud. It is almost like flashcards, but a fun way to break from the norm and add more variety to their learning.
Another reason I love playing bingo with my kids is that they are able to practice good sportsmanship skills. Some of these skills include patience, diligence, winning gracefully, losing gracefully, taking turns, and more! 
Printable Pre-K Sight Word Bingo Game
Gran our free printable Pre-K Sight Word Bingo Game by joining our VIP club below! If you aren't quite ready to get exclusive offers and emails from us you can grab your Pre-K Sight word bingo right here!
Helpful Tools We Love When Downloading Printables
Printer– I love my HP+ printer that uses Instant Ink. I love it because we can use as much color ink as you want for one low cost starting at $.99/ month for ink. Try it out for free here!
Cardstock- I always recommend printing on cardstock. This makes it way more durable so you don't have to worry about printing it time and time again.
Laminator / Laminating Sheets- Again, for added durability, grab a laminator and laminating sheets so that you can use this again and again!
Scissors (I seriously love these ones)
Dry Erase Pens- Use dry erase pens so that you can wipe your laminated printable clean over and over again for endless use!
Love Bingo Games? Don't forget to grab these too!
How Do I access my free printables?
Fill in the form above. You will receive an email in your inbox. If you don't see it, check your spam folder! You will then click to confirm your subscription. Once confirmed, you will be sent an email with your free printable.
How Do I Print a PDF?
You'll need a program that supports PDFs. Adobe Acrobat is a great option. Open the program, click File, then print. Select your printer and the number of copies you want to print. Be sure you click double-sided if you want it to print on both sides.
Can I resell these?
You may not resell any printable found on our website or in our resource library. You may use them for class parties, at church, at home, or in the classroom. You may get these printed at an office supply store or copy center at your own expense.