These printable thank you cards for kids are a mom's best friend for birthdays, Christmas, or any other time your kids need to say thank you! With simple prompts and a cute design, you'll kids will love saying thank you!
Printable Thank You Cards For Kids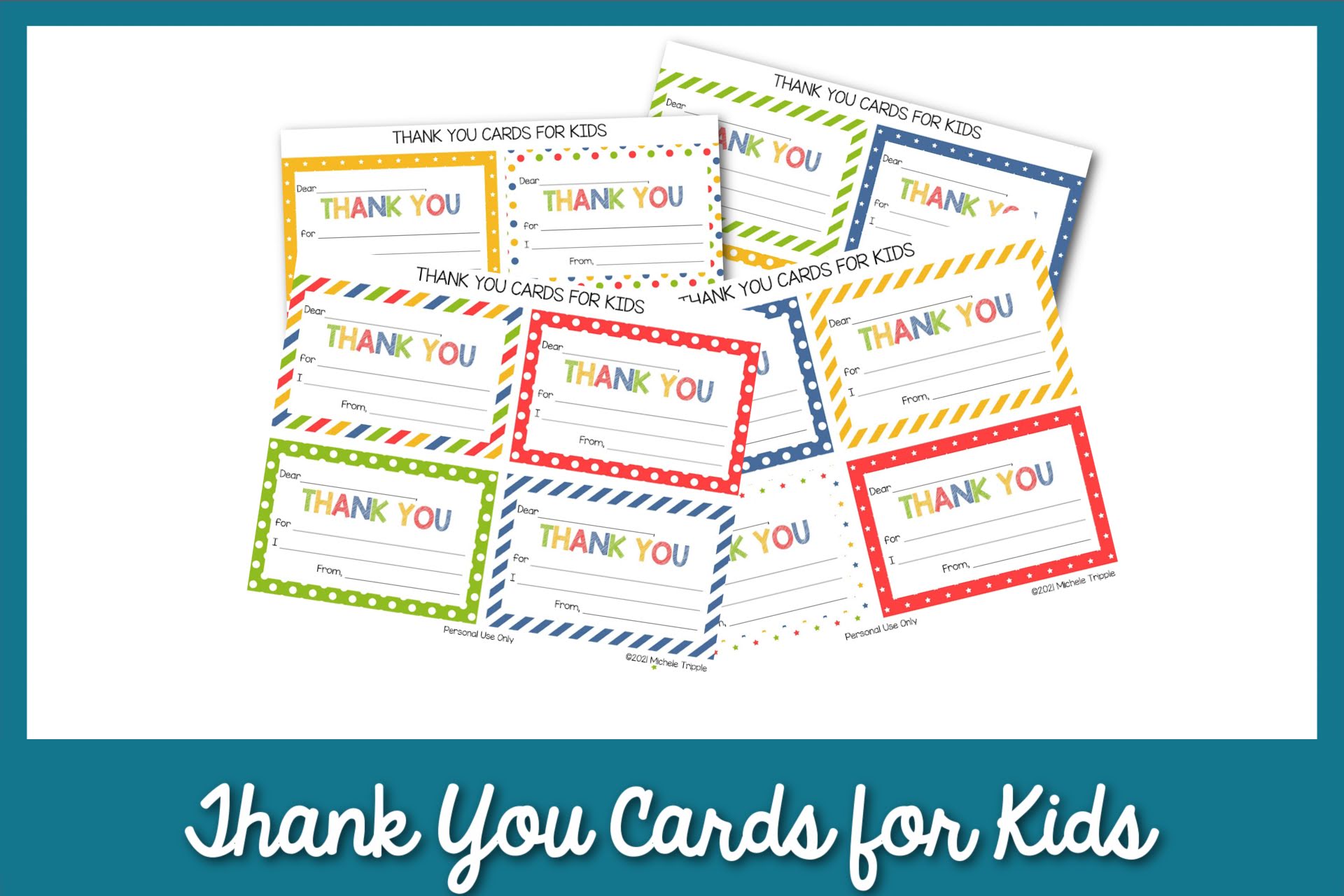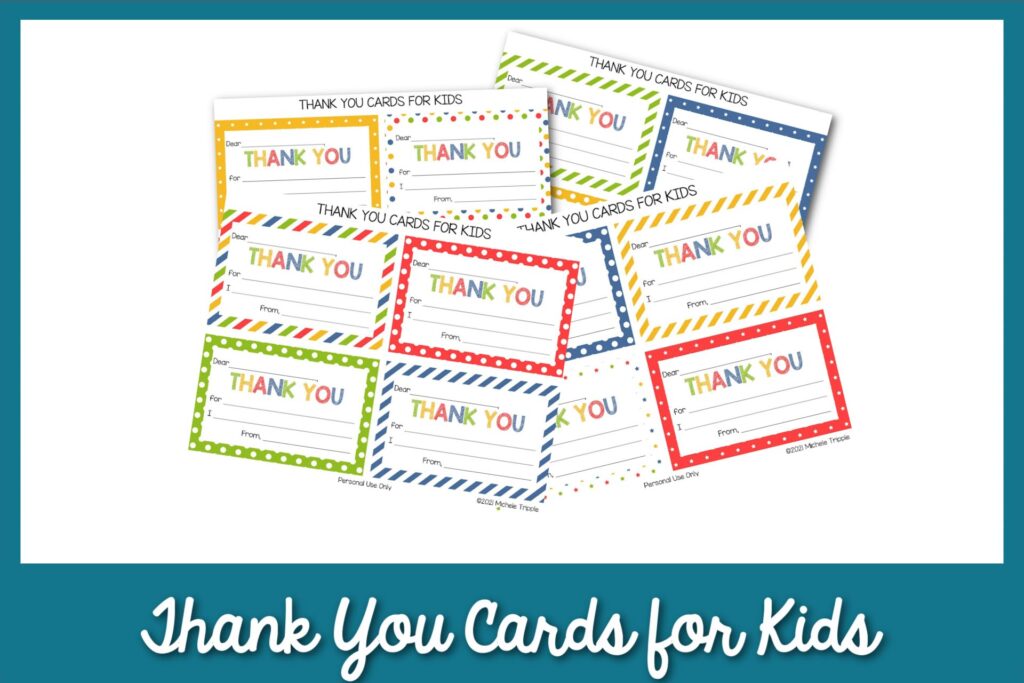 Is it just me or are you practically begging your kids to say "please" and "thank you?" sometimes? Well, thanks to these printable thank you cards for kids, now getting them to say thank you is as easy as can be.
In fact, my kids absolutely love writing thank you cards now! With these fun printable prompted notes, they can have a personalized simple thank you message to share with a loved one in just a few minutes.
What I love most about thank you cards for kids is that it helps them be thoughtful about why they are feeling grateful. Instead of just a quick thank you, they can really think about a gift they received or something kind someone did for them that made them feel thankful!
If you like these printable thank you cards for kids, you'll love my Christmas thank you cards and Halloween thank you cards too!
Benefits of Thank You Cards For Kids
Okay, I know it might seem easier after a birthday party or holiday to just write your own thank you notes on behalf of your kids, but letting your kids help out by making their own thank you cards is so worth it.
When you let your kids make their own thank you notes for friends and family, not only are you checking something off your list, but you're also setting a good habit for them that they will hopefully keep forever!
Being thankful is a wonderful gift to give your kids and expressing that gratefulness with others is something you'll love to see as a parent. I love that these cards are an easy way to build that skill while also improving spelling, handwriting, and more.
When to Use Printable Thank You Cards For Kids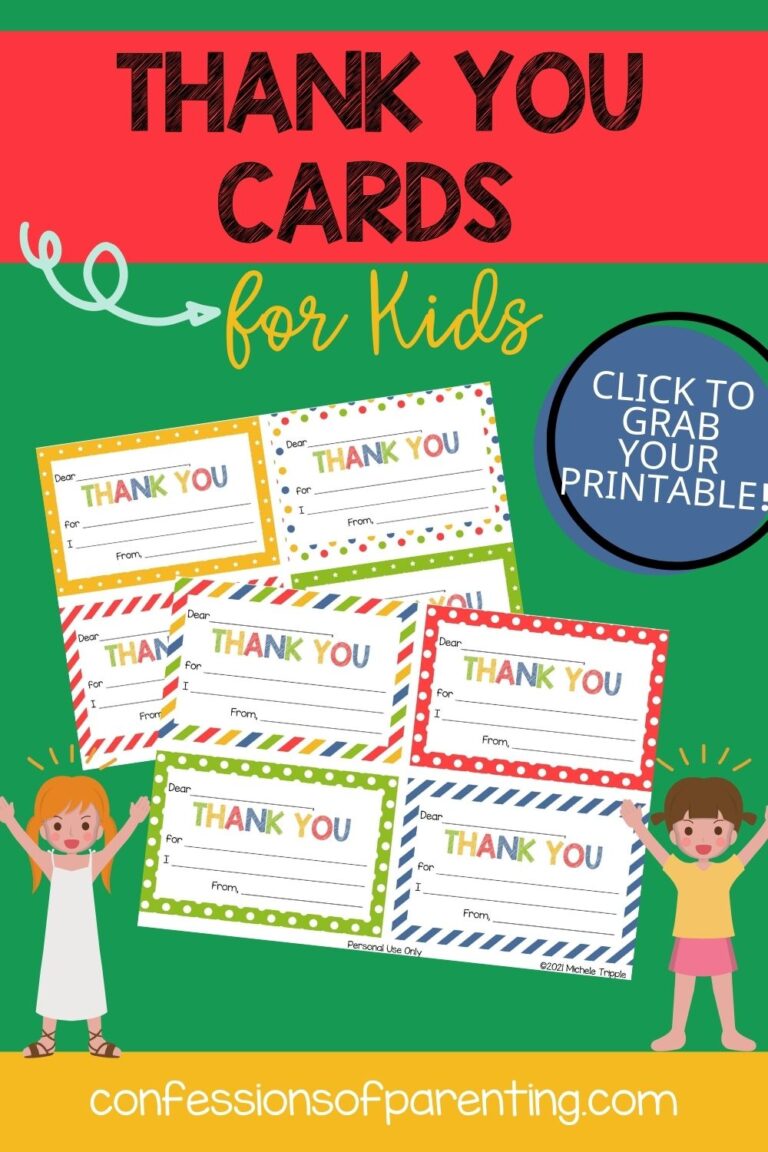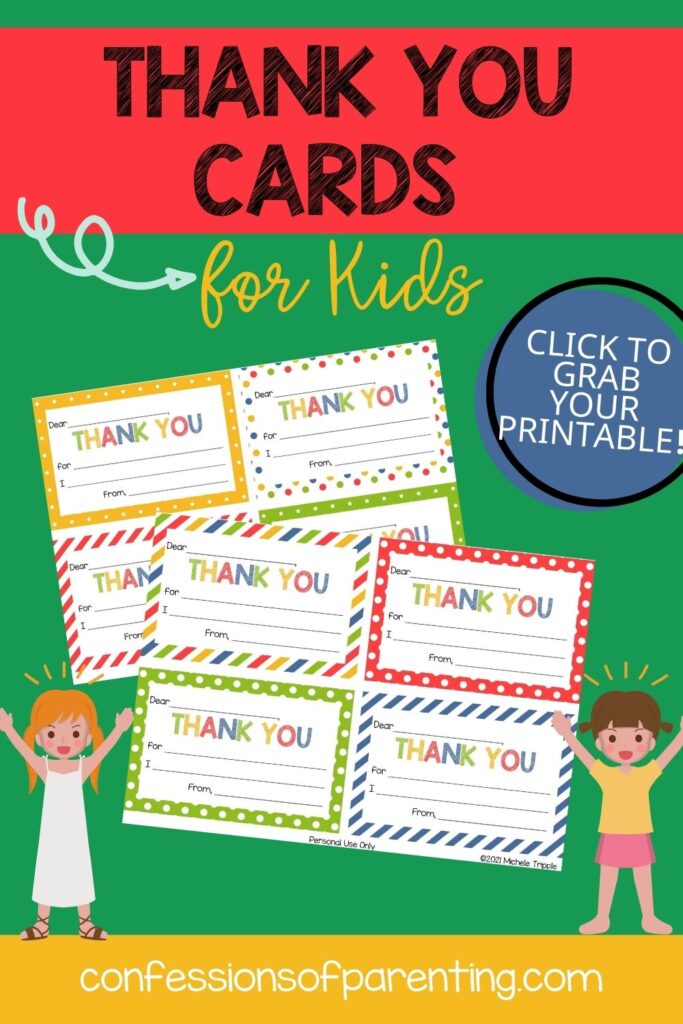 At first, I thought I would only be using these thank you cards for kids' birthdays, Christmas, and other gift-exchanging events. And although I do very often use them for saying thank you for gifts my kids receive, we have started pulling them out for just about everything!
Here's just a few of the times my kids have asked to use these fun printable thank you cards for kids:
Christmas, birthdays, Valentine's day, etc.
Tied to a teacher appreciation gift
For a friend that did something kind
To grandparents for a special day
For a babysitter the kids loved
To each other when they share, teach, or do something else nice
No matter how you use these cards, they will be so loved by those who receive them. And the bonus is that it's teaching your children such a good lesson about thankfulness.
So keep a stack on hand and remember to pull one out when your child is feeling grateful!
The best age To Start thank you cards for kids
There's no right age for thank you cards! But how you use them may differ depending on how old your children are.
For older elementary school children and teens, they could simply fill out the cards on their own and you can help with the delivery!
For younger children, you may want to give them a little more prompting about ideas for what they could write.
And for preschool kids and even younger, you can have a chat about what they are thankful for, write it for them, and have them color the card before delivering!
How to Use These Printable Thank You Cards
Ready for your cards? First, scroll down and grab your download. Then you'll need to print them out. I usually print them out on some cardstock so they're sturdy enough for my kids to handle.
My HP+ printer that uses Instant Ink might just be my favorite thing for printables like this. I love it because we can use as much color ink as you want for one low cost starting at $.99/ month for ink. Try it out for free here!
After they are all printed and cut out with your favorite scissors, then all you have to do is help your children fill out the cards! You can pass them out as they are, or grab some fun envelopes to put them in.
Get Your Printable Thank You Cards For Kids
Ready to grab your free printable Thank you cards for Christmas? Scroll down and sign up for our free Confessions of Parenting VIP club! Aren't ready to join yet? You can grab yours right here.
More Kids Printables You'll Love
How Do I access my free printables?
Fill in the form above. You will receive an email in your inbox. If you don't see it, check your spam folder! You will then click to confirm your subscription. Once confirmed, you will be taken to Airtable (a different website) where all our free printables will be waiting for you! It is free to sign up for Air Table!
How Do I Print a PDF?
You'll need a program that supports PDFs. Adobe Acrobat is a great option. Open the program, click File, then print. Select your printer and the number of copies you want to print. Be sure you click double-sided if you want it to print on both sides.
Can I resell these?
You may not resell any printable found on our website or in our resource library. You may use them for class parties, at church, at home, or in the classroom. You may get these printed at an office supply store or copy center at your own expense.