If you are looking for a quick and easy fall smoothie bowl, this pumpkin spice almond milk smoothie bowl is just what you have been looking for. It combines pumpkin puree, bananas, almond milk, and honey with the pumpkin pie spices to create the perfect smoothie that you and your family will love and it is ready to enjoy in just about 5 minutes.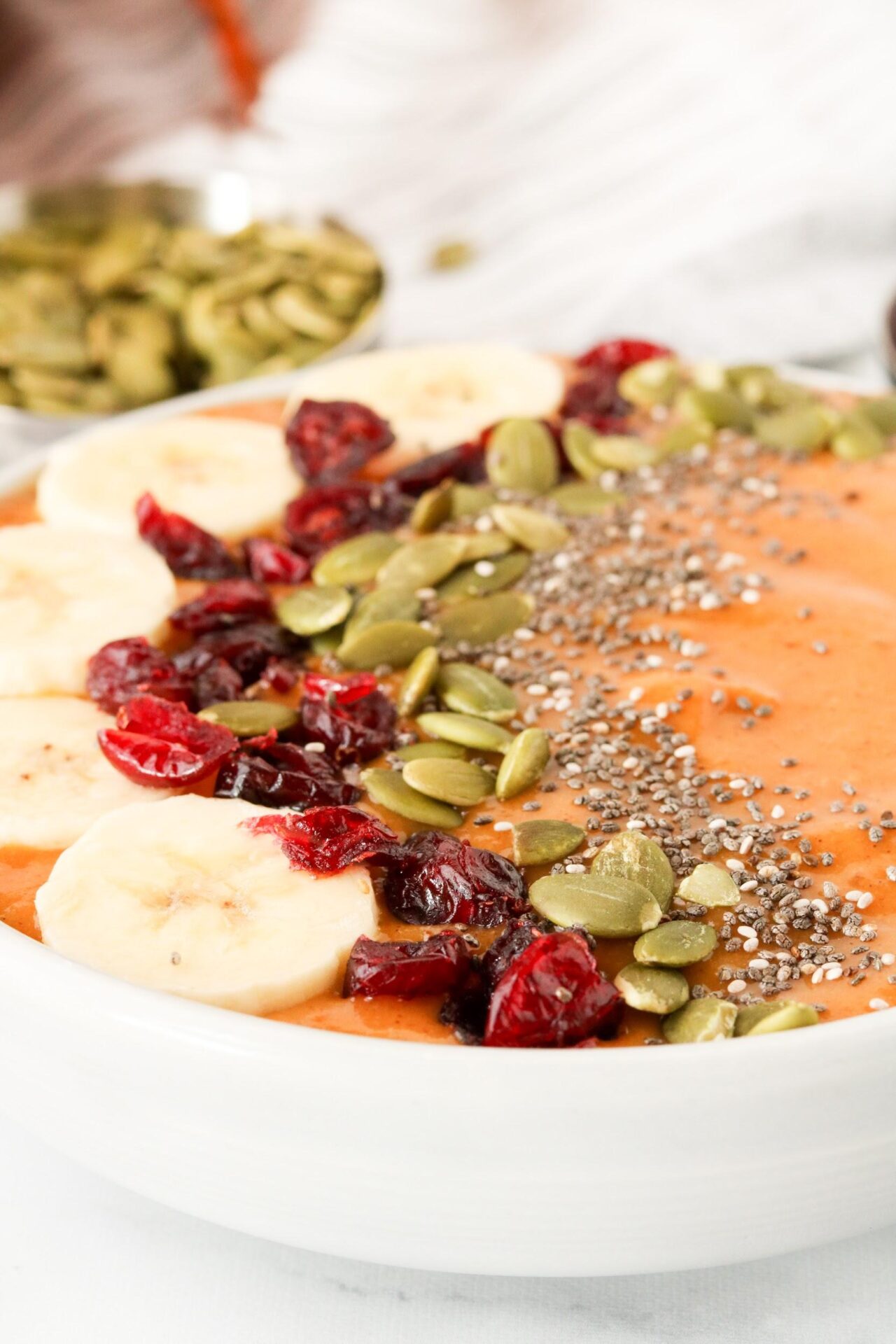 Pumpkin Spice Almond Milk Smoothie Bowl
Fall is almost here and the pumpkin craze is about to hit! Everything from pumpkin-flavored chapstick and candles to the most delicious pumpkin-flavored food like pumpkin monkey bread, pumpkin spice hot chocolate, and pumpkin whoopie pies! This pumpkin banana smoothie is no different and one of my favorites! Not only is it easy to make, but it is so delicious to enjoy!
Why You'll Love This Pumpkin Banana Smoothie Bowl
There are so many reasons why you will fall in love with this pumpkin smoothie bowl.
It's Easy! ready in less than 5 minutes.
Perfect go-to breakfast or snack!
Uses very few ingredients, including real pumpkin!
Tastes so good that it is like enjoying a nice slice of pumpkin pie for breakfast!
Tastes better and is cheaper than the ones you buy at the local smoothie shop
What is a smoothie bowl?
A smoothie bowl is just like a smoothie, but thicker. It is thick enough to enjoy with a spoon that is then loaded with toppings right on the top. This one is loaded with pumpkin flavor to give you all the fall vibes you are craving this time of year.
You can easily turn this into a smoothie by increasing the amount of milk to thin it out to your desired consistency.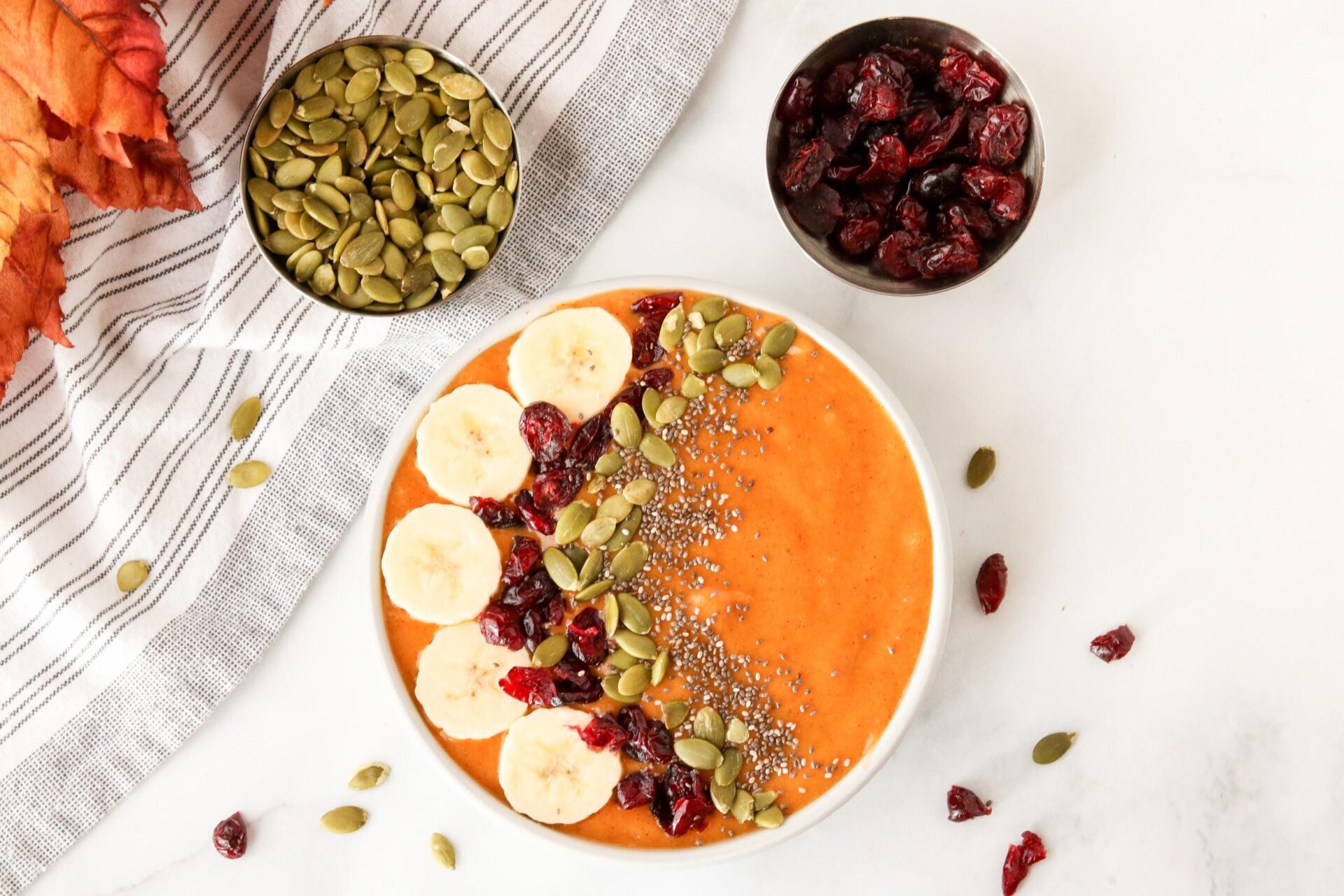 As a busy mom, I am always looking for quick and easy breakfast options because let's be honest it is a struggle to get 5 kids out the door on time for school.
So with that being said, I am a huge fan of smoothies because they literally can go everywhere with me! They are quick and easy to make and I literally just put them in my cup with my straw and out the door, we go!
Not only that, but I love how healthy smoothies are! So with it being fall and pumpkin season, I decided to whip up a pumpkin smoothie the other day and the kids were seriously in love!
So today we are sharing this totally versatile pumpkin smoothie recipe that you can drink like a traditional smoothie (when you are on the go) or transform your taste buds with this pumpkin pie smoothie bowl with toppings (when you have a bit more time)! The choice is yours!
If you are a lover of smoothies, be sure to try our healthy strawberry smoothie, tropical smoothie, our cranberry smoothie bowl, or our mixed berry smoothie!
Pumpkin Smoothie Details
Makes 2 large smoothie bowls
Prep Time-5 minutes
Pumpkin Banana Smoothie Ingredients: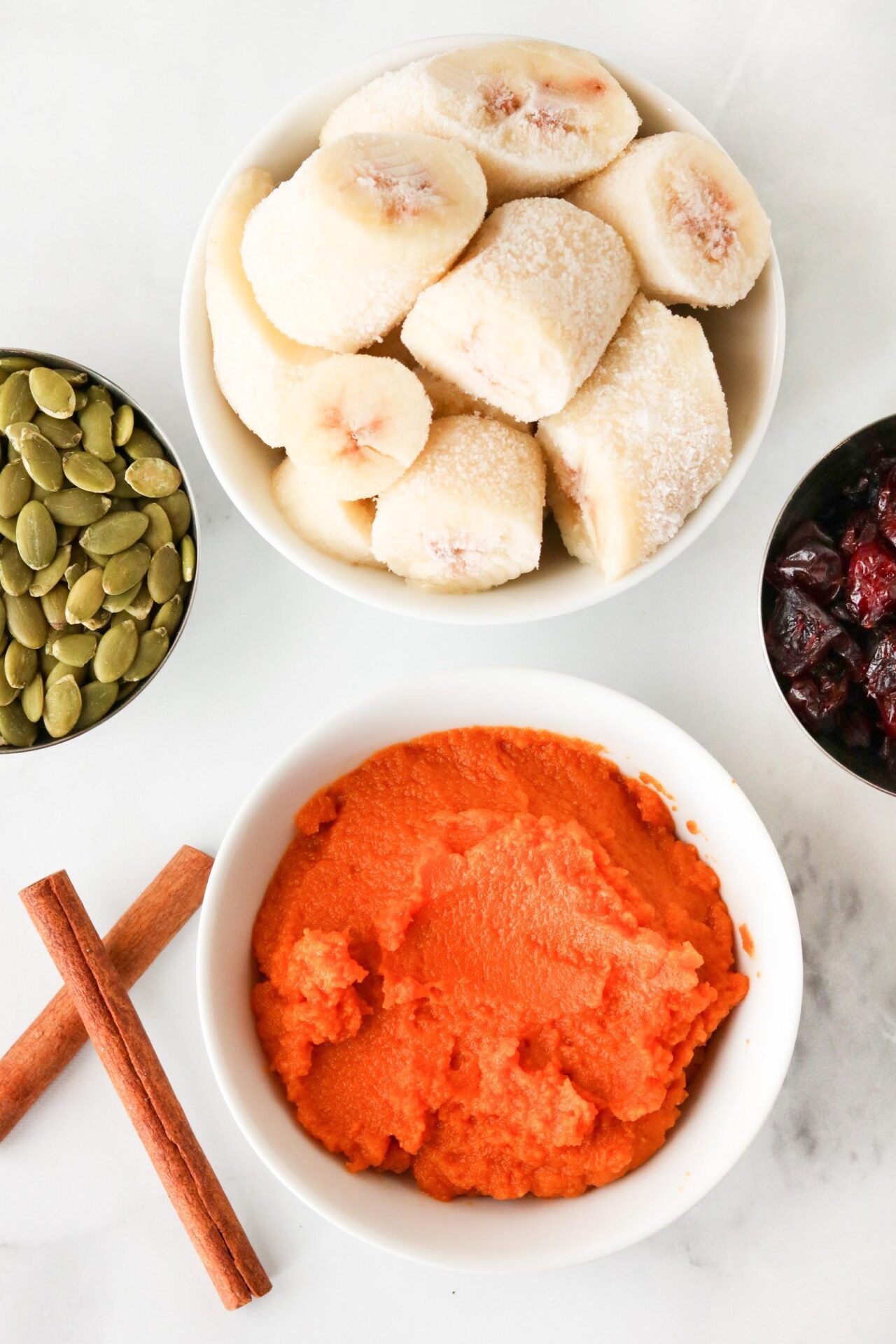 Frozen bananas- Use Frozen bananas for this pumpkin banana smoothie bowl. It helps thicken and gives a nice iciness to the smoothie.
Plain canned pumpkin- Be sure you are using plain canned pumpkin
Almond milk- I opt for almond milk when it comes to our pumpkin banana smoothie bowl, but you can use any variety of milk that you prefer.
Pumpkin pie spice– make your own homemade pumpkin pie spice or the one at the store.
Honey- Honey works as a great natural sweeter. You will love the addition of it to your pumpkin smoothie bowl.
These pumpkin smoothie bowl garnishes are totally optional! This smoothie tastes great without, but these garnishes take it to a whole new level! Some of our favorites are:
Pumpkin seeds
Dried Cranberries
Chia Seeds
Banana Slices
How to Make a Pumpkin Spice Smoothie Bowl
Place all ingredients into the blender and blend on medium-low speed until smooth.
Serve immediately and garnish if desired.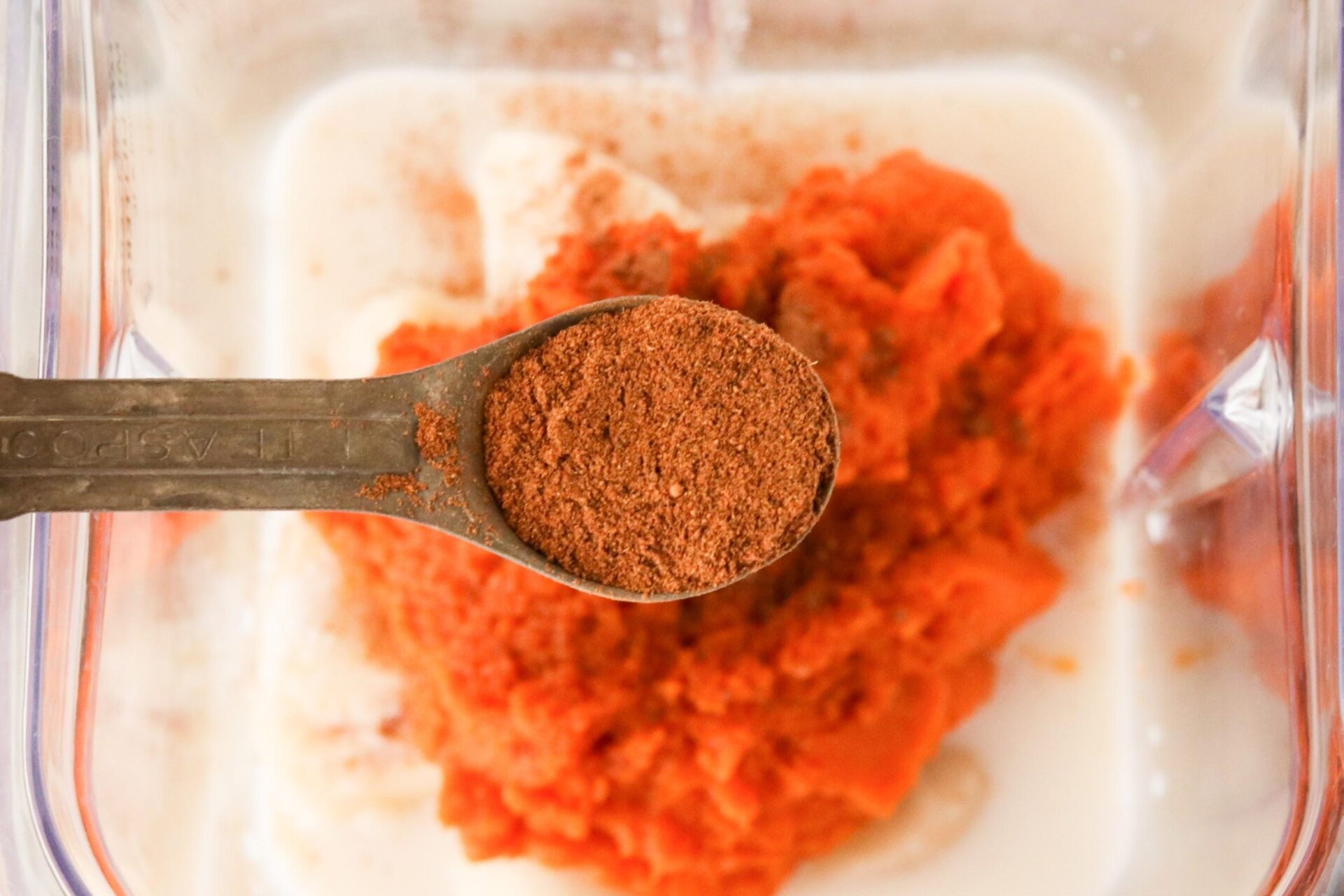 Tips and Tricks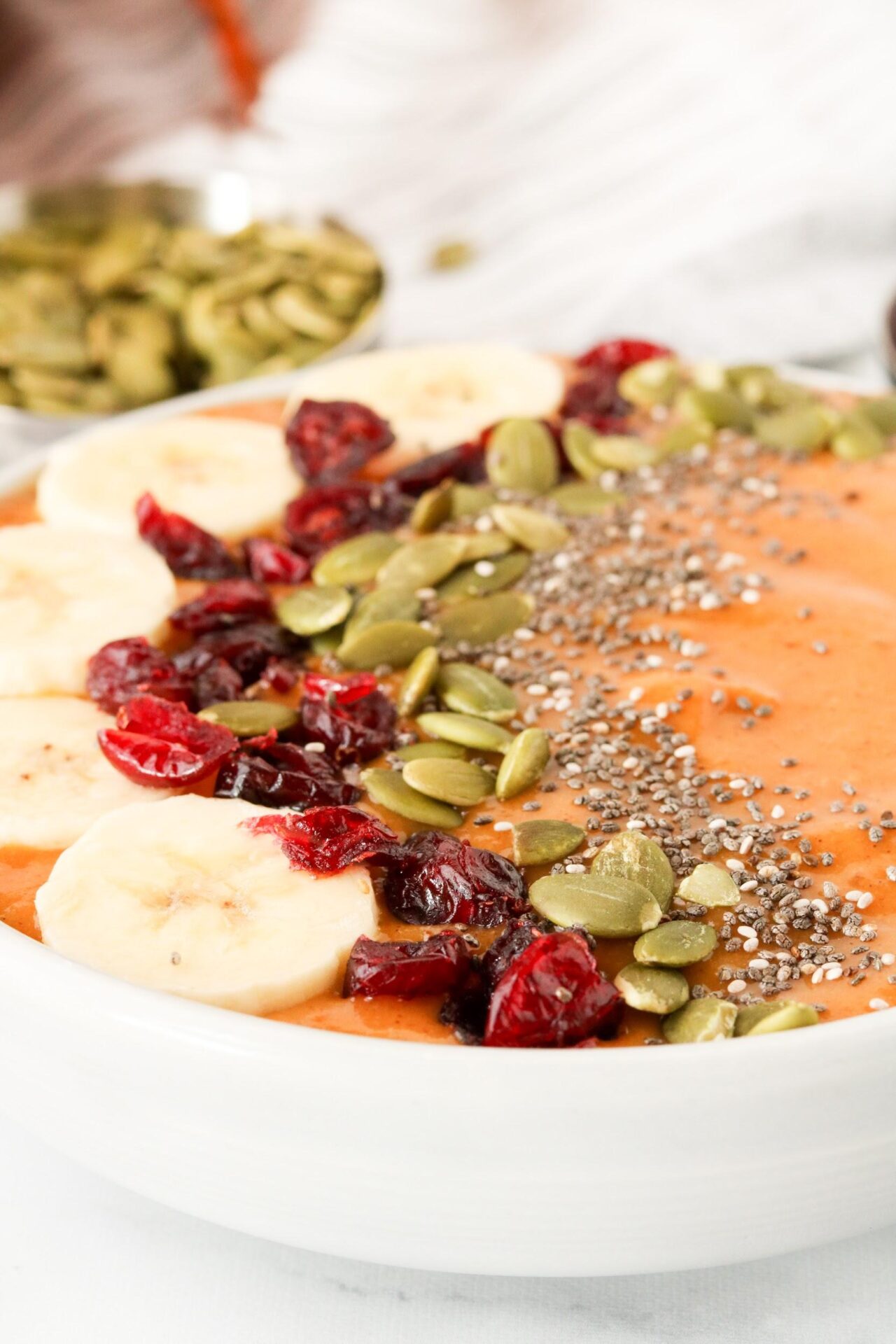 When making a Pumpkin banana Smoothie you will want to use plain pumpkin. This helps control the flavors.
When it comes the bananas it is best to use frozen bananas. I usually just freeze my old bananas after I peel them in individual baggies then I just pull them out when needed. If you use fresh bananas, add a little bit of ice before blending.
Have fun with the toppings. Try pecans, granola, coconut, or white chocolate for an extra indulgent treat. Really the sky's the limit when it comes to your pumpkin spice smoothie bowl.
I love 3 Tablespoons of honey, but for some that might be too much, and for others that might be too little. So the honey is totally adjustable.
You can use any variety of milk that you prefer.
You can double the recipe if you prefer.
Pumpkin Spice Smoothie Bowl Toppings
When it comes to pumpkin spice smoothie bowl toppings, there are tons of options and possibilities. Get creative when topping off your pumpkin smoothie. Try these:
Pumpkin seeds
Dried Cranberries
Chia Seeds
Banana Slices
Diced apples
almonds
Nut butters
Granola
Coconut
Berries
Chocolate chips
White chocolate chips
Storage Instructions
This recipe can easily be doubled or tripled. Make a large batch at the beginning of the week and keep it frozen in the freezer in individual serving freezer-safe cups or bowls. When you are ready to enjoy, remove and thaw. You can either blend them back up or stir them really well before enjoying them.
How to Thicken Up Your Smoothie Bowl
To make a smoothie bowl thick you will want to use frozen bananas and ice. This will really thicken up the smoothie bowl. The pumpkin puree will thicken this bowl as well.
Best Blender for Smoothie Bowl
When making smoothie bowls or smoothies you want a high powered / high-speed blender that will get the job done quickly.
I love my Vitamix blender because it can quickly blend frozen ingredients fast. I have had it for years and it is still as powerful as the day I bought it. It is really versatile as well.
What ingredient will you garnish your pumpkin smoothie bowl with? Share in the comments!
Love Pumpkin? Try these Other Pumpkin Recipes!
Love what you see? Leave a comment and don't forget to rate it below! We always love knowing how your recipe turns out! Don't forget to tag me on Instagram @micheletripple to show me your finished product!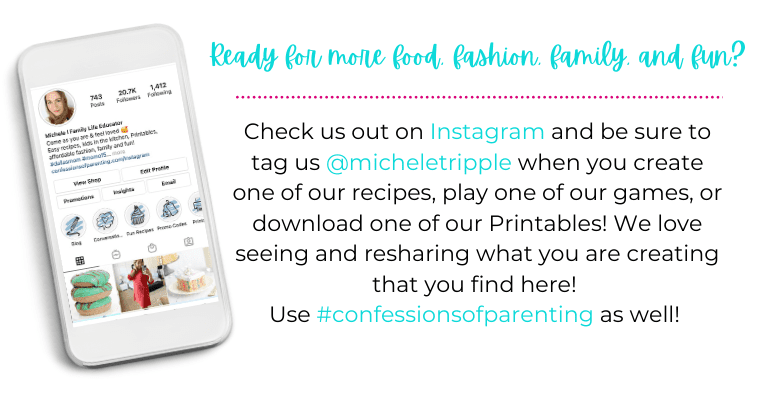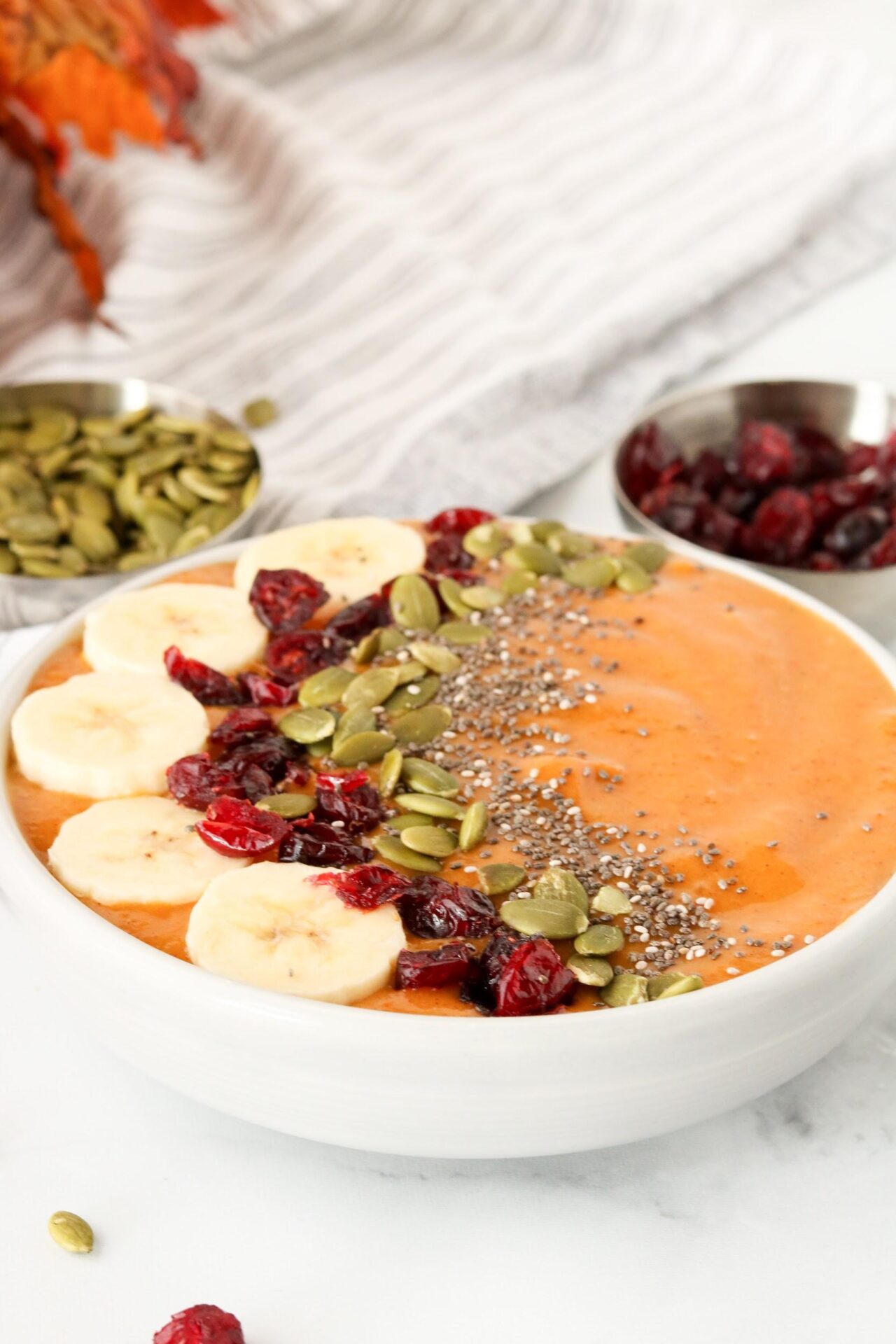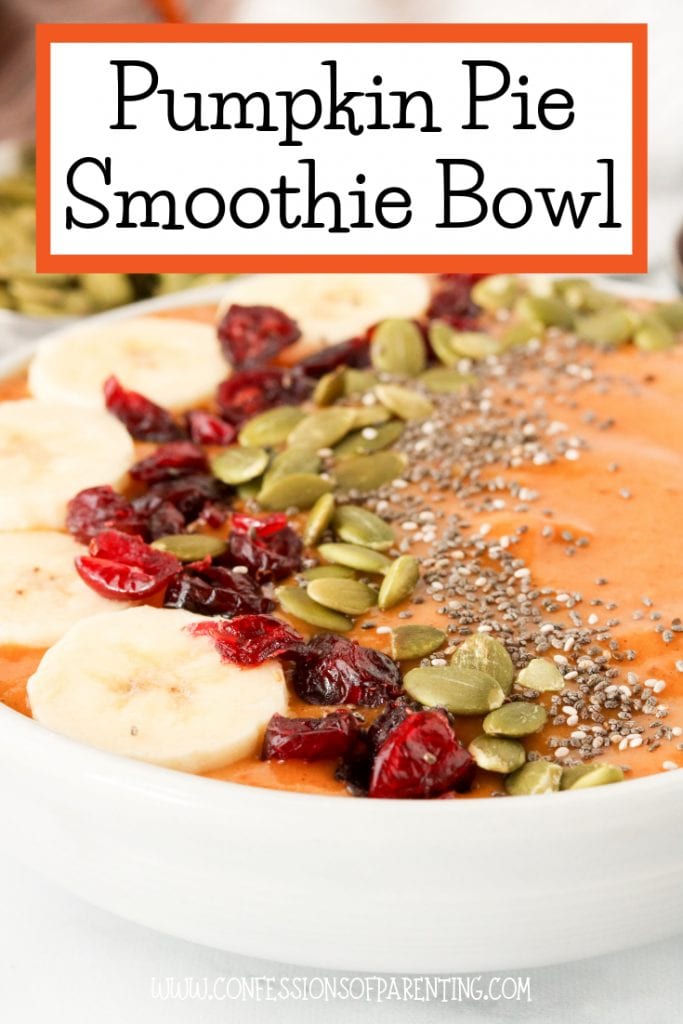 Yield: 2 Servings
Pumpkin Pie Smoothie Bowl
Are you looking for a pumpkin smoothie recipe that easily converts to a pumpkin pie smoothie bowl? Well, this pumpkin smoothie bowl is exactly what you need!
Ingredients
4 frozen bananas
1 Cup canned pumpkin - plain
1 1/2 cups milk of choice
2 tsp. pumpkin pie spice
3 Tbs honey
*Garnish Options
Pumpkin Seeds
Dried Cranberries
Chia Seeds
Banana Slices
Instructions
1. Place all ingredients into the blender and blend on medium-low speed until smooth.

2. Serve immediately and garnish if desired.