When your baby gets the desire to learn to walk these push toys for babies are perfect for helping with their development! These are tried and true favorites of ours.
Perfect Push Toys for Babies
Your baby is getting ready to take those first steps! As a parent, this is one of the most exciting milestones.
Before a baby learns to walk, sometimes they can get frustrated that they can't do it quite yet and need just a little bit of help to start learning those walking movements. I like to try standing toys first and then move on to push toys to help with balance.
We've put together a list full of the best push toys for babies to help them start feeling more confident and give your baby more experience to help them get ready to walk!
What are Push Toys?
Seeing your baby walk for the first time is super exciting. It also may be a time of frustration for your baby because they want to be more mobile, but they don't quite have the ability yet.
If your child needs a little extra help with the walking process, I totally recommend push toys. Push toys are toys that your baby can lean on and push while they are learning how to walk.
Examples of push toys:
lawn mower
shopping cart
car with a handle that your child can sit on or push
Why Use Push Toys?
There are so many great reasons to buy your baby a push toy. Push toys can help make your baby's biggest milestone a reality.
They are so wonderful with teaching your child how to walk. Push toys give your baby some extra balance when learning how to switch feet and also help your baby by giving them something to lean on or against while walking, as well as something to hold onto.
Push toys can build confidence in your baby. There is so much frustration when trying to learn something new, but toys that are helpful can make it a more fun experience!
Push toys make it so that your baby can walk longer distances without mom or dad holding onto them.
Push toys are great for your baby because they are fun and assist with their development as well.
What Age Can a Baby Start Using a Push Toy?
I would recommend buying your baby a push toy when they are as little as 9 months old. Remember that every baby develops differently, so do not be discouraged if your baby is not ready to walk at 9 months.
From 9 months to 18 months, you will have to keep close supervision while your child is pushing their toy. Although you want them to gain confidence while walking on their own, they will still need you to be right behind them in case they fall.
The great thing about push toys is that they will last long after they learn how to walk. Even your 3-5 year old might enjoy pushing their shopping cart. When toddlers use push toys, instead of using them for walking assistance, they use them for imaginary play.
How Push Toys Help with Development
Push toys not only help with walking but help with development as well. These toys are such a great investment and will benefit your baby.
Helps build and strengthen gross motor skills
Builds strength
Boosts self-esteem
Strengthens balance
Strengthens coordination
Great for imaginary play
Encourages creativity
Improves language skills
Advances social skills
Best Push Toys for Babies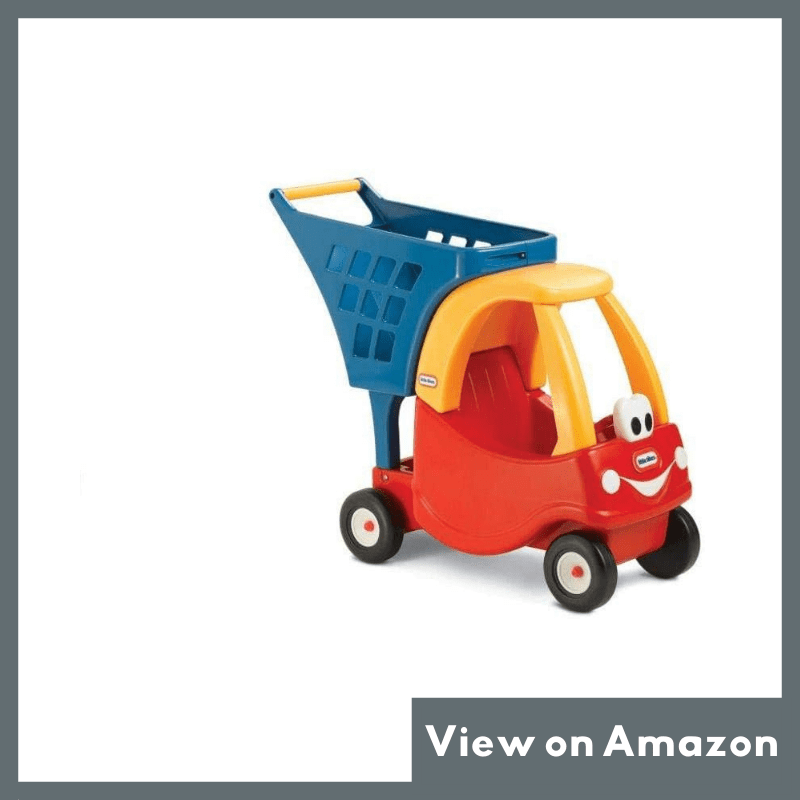 This little tikes cozy shopping cart is so adorable and perfect for your baby learning to walk. As they push the cart, they can put toys in the basket and it has a cute little car attached that they can put a stuffed animal or doll inside to push around. They are going to love pushing around their toys and animals and they'll become more confident taking steps while they're doing it!
Why we love it!
Two in One Fun with it being functional as a toy stroller as well!
Has a lot of weight for good balance and less falls
Encourages creativity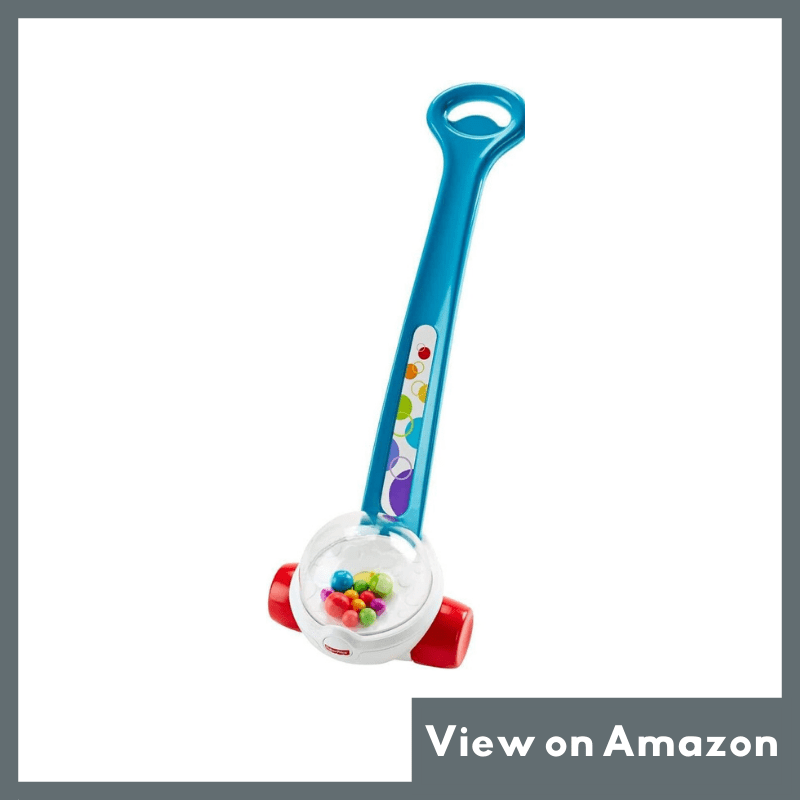 Your baby is going to love this Fisher-Price corn popper. This toy is one of the best push toys for babies because it motivates them to keep pushing as they hear the popping sound every time they push!
Why we love it!
Strengthens gross motor skills
Bright colors
Fun sounds
Cause and effect lesson
#3 Bright Starts Oball Push Toy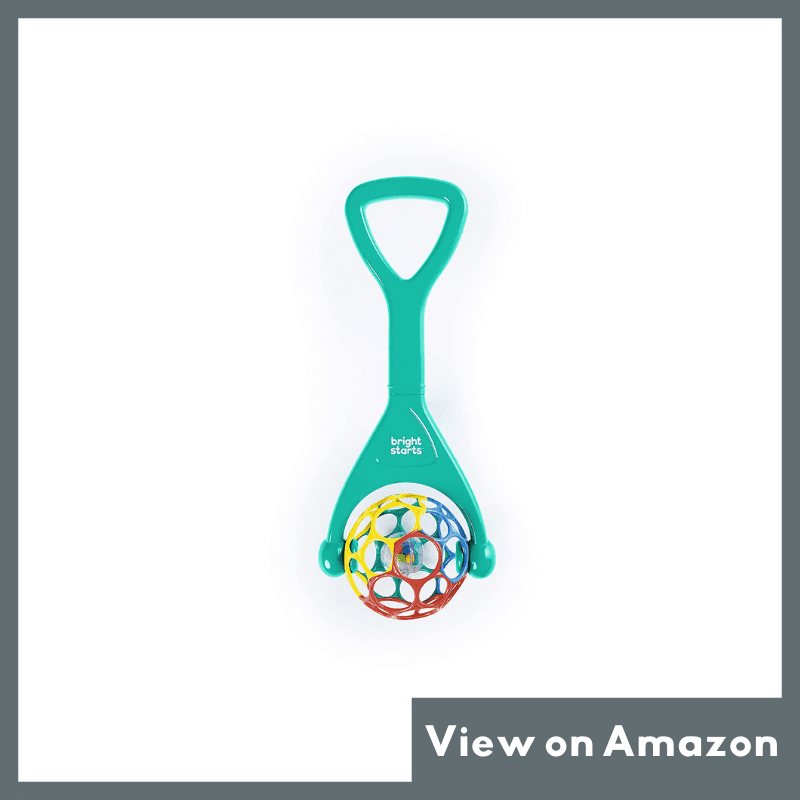 If the Fisher-Price corn popper is too noisy for you, we found the perfect alternative! This Bright Starts Oball Push Toy does pretty much the exact same thing, minus the popping noise! It does have a rattling noise to help encourage walking. Another awesome thing about this toy is that the Oball is removable, so this toy can grow with your baby! They can play with the ball while they are little and then you can attach it to the walker to encourage them to push the ball around while they take steps!
Why we love it!
Two in One Fun as a ball and a walker
Helps with coordination
Strengthens gross motor skills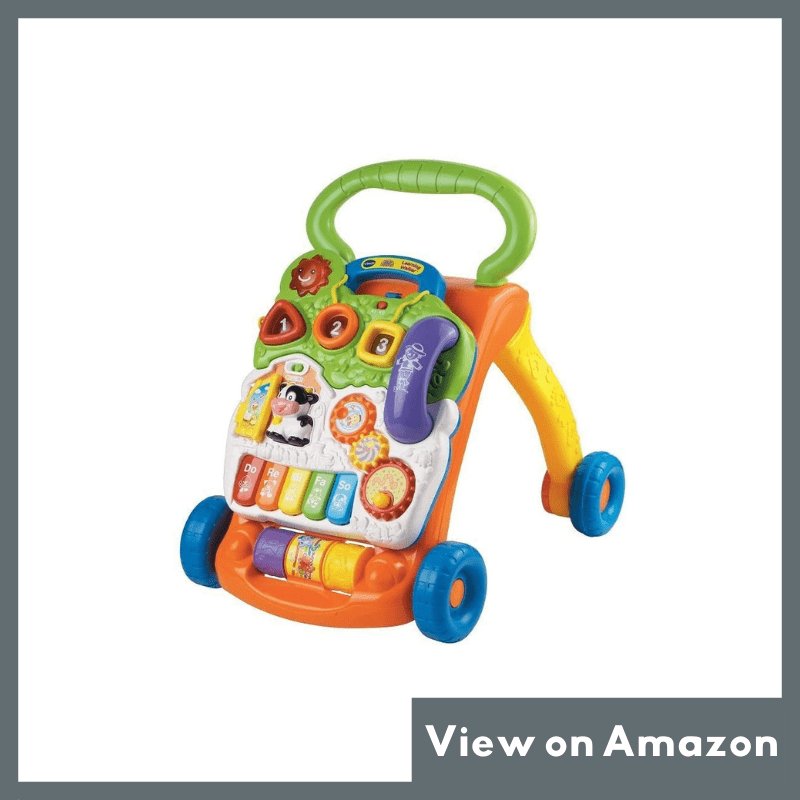 Next on our list of push toys for babies is this VTech Sit-to-Stand Learning Walker. This toy grows with your baby so while they are younger, they can sit and play with the toys on the front. It has a lot of fun interactive buttons on the front like piano keys and even a pretend phone! As they start getting ready to walk, they can stand behind the learning walker and push it around. This is one of the best push toys for babies to start getting more confident in their ability to take steps!
Why we love it!
Interactive learning
Lots of cute songs and new noises for baby to imitate
Strengthens balance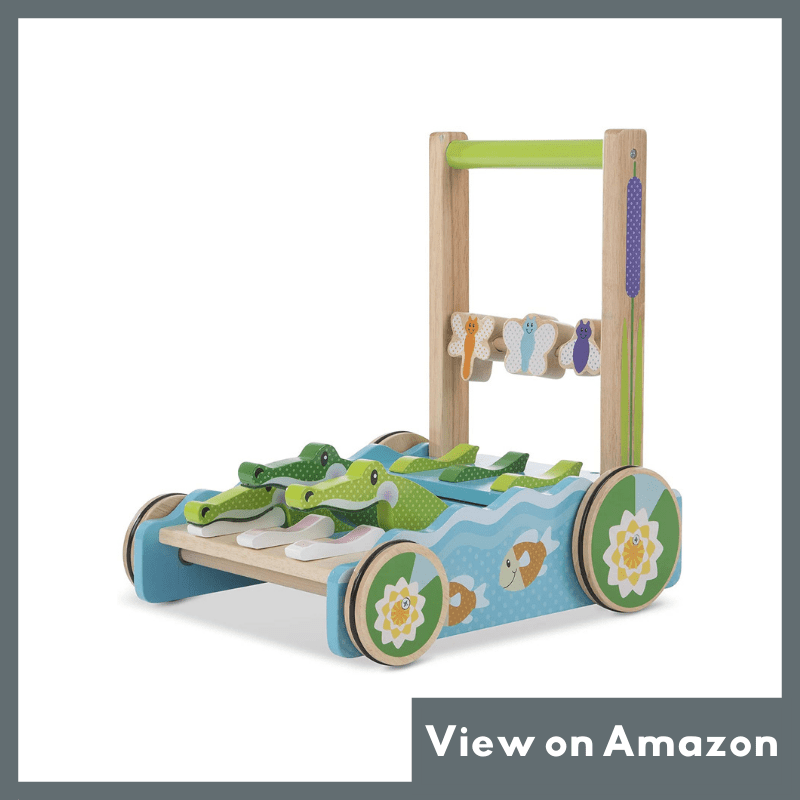 If you are looking for wooden push toys for babies, this Melissa & Doug First Play Chomp & Clack Alligator Push Toy is the perfect one. The little wooden alligators on this toy open and close their mouths and make a clicking noise as your baby pushes the toy. It is super cute and would be a great toy to encourage your baby to get walking!
Why we love it!
Old Fashioned well-made wooden toy
Encourages coordination
Color learning activities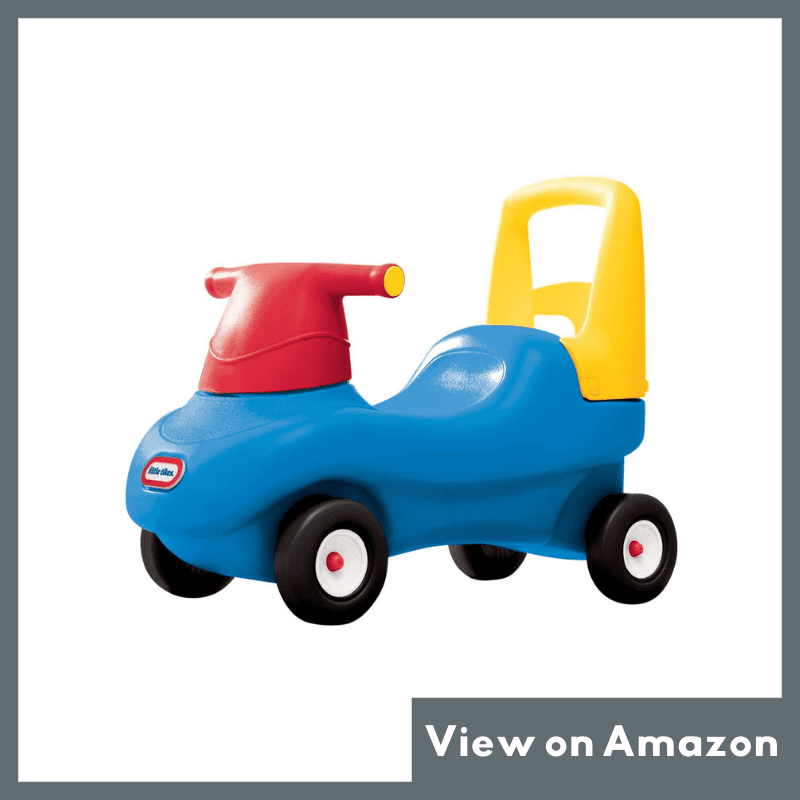 On your search for push toys for babies, you've got to check out this little tikes push and ride racer! This toy is super fun because your baby can do a couple different things with it. They can sit on it and ride the little car around, or they can push it! We love that this push toy has multiple different functions because that means even more entertainment for your little ones… And your older kids will have fun with it too!
Why we love it!
Great for indoors or outdoors
Classic design that's durable
Riding toy and walker in one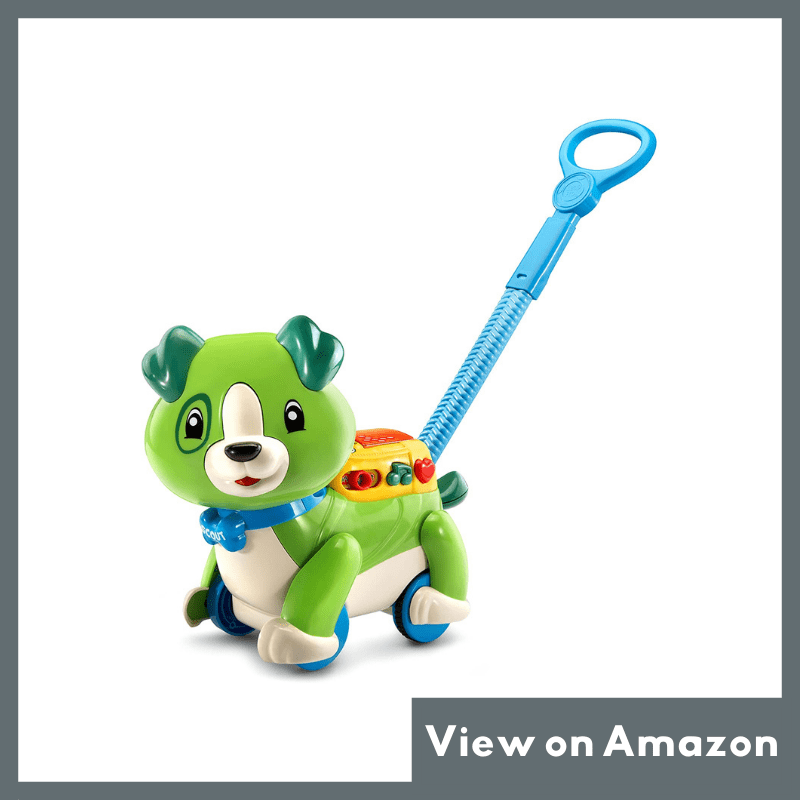 How cute is this Leap Frog Step And Learn Scout?! This cute little puppy wags it's tail while it sings educational songs and your baby can take him on a walk by pushing the long handle attached to the puppy.
Why we love it!
Educational
Improves language skills
Helps develop gross motor skills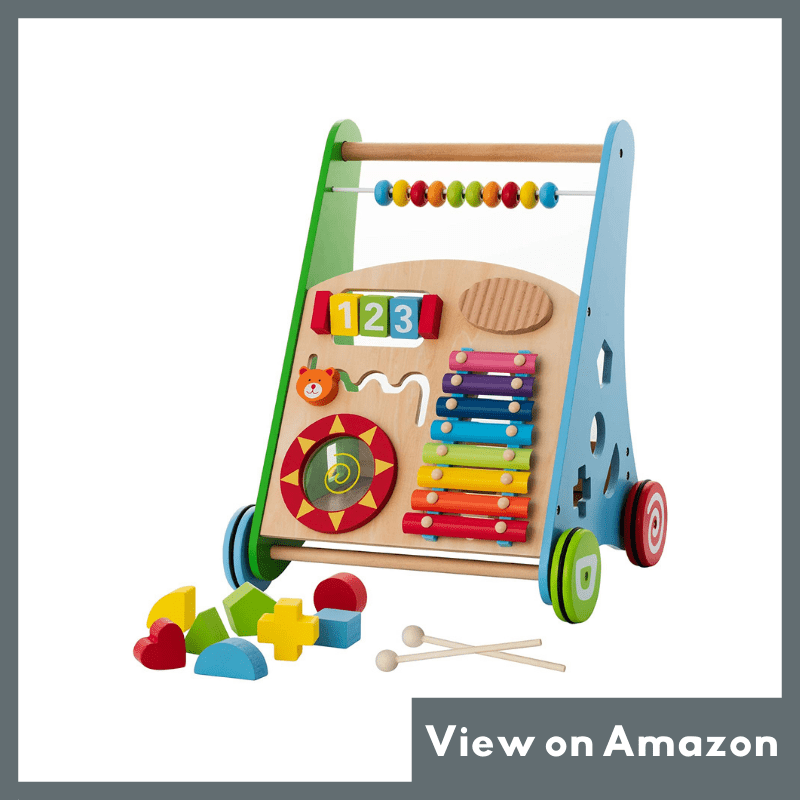 We are in love with this Wooden Push and Pull Learning Walker. On the front of this walker, it has several different activities to keep your baby entertained and happy when they aren't pushing it around. It has wooden beads, shape sorting and even a little xylophone! Your baby is going to love this one.
Why we love it!
Great for social skills
Encourages creativity
Lots of fun activities
This Fox Blocks and Roll Cart Push Toy is a cart that your baby can push while they learn to walk. Inside the cart are blocks for them to play with when they aren't' pushing it around so it doubles as a push toy and blocks! It's the best when we can find push toys for babies that have a couple of different purposes so they can keep your baby entertained even longer!
Why we love it!
Has blocks for some extra fun
Quiet wheels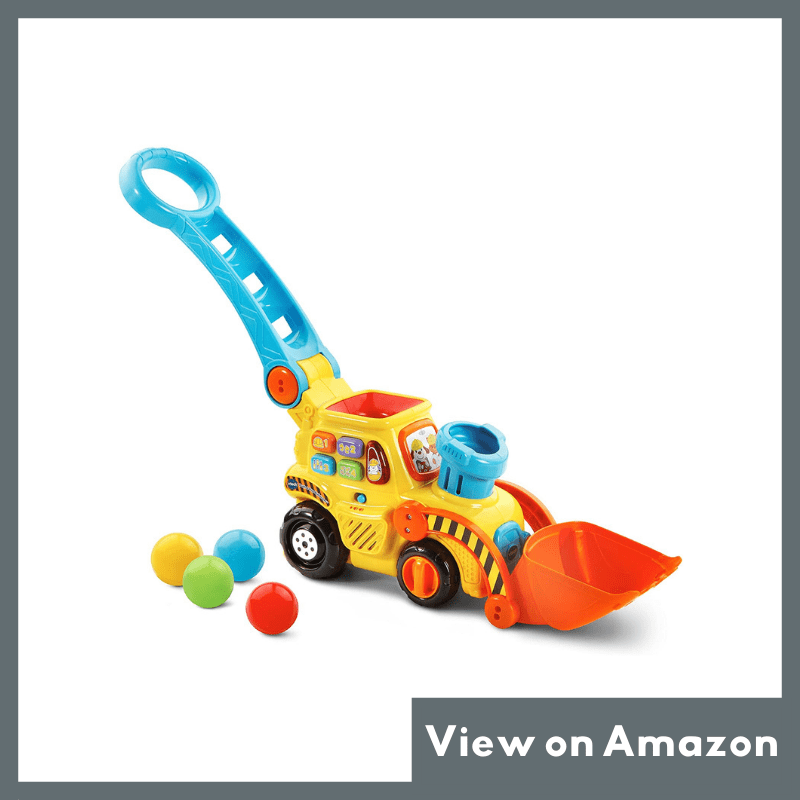 Your little one is going to absolutely love this VTech Pop-a-Balls Push & Pop Bulldozer. As they push the bulldozer, the little balls pop out the chimney and land in the little scoop. So cute! The handle is nice and chunky so your baby's hands can get a good grip on it as they're walking!
Why we love it!
Interactive design with lots of buttons to push
Perfect for development of gross motor skills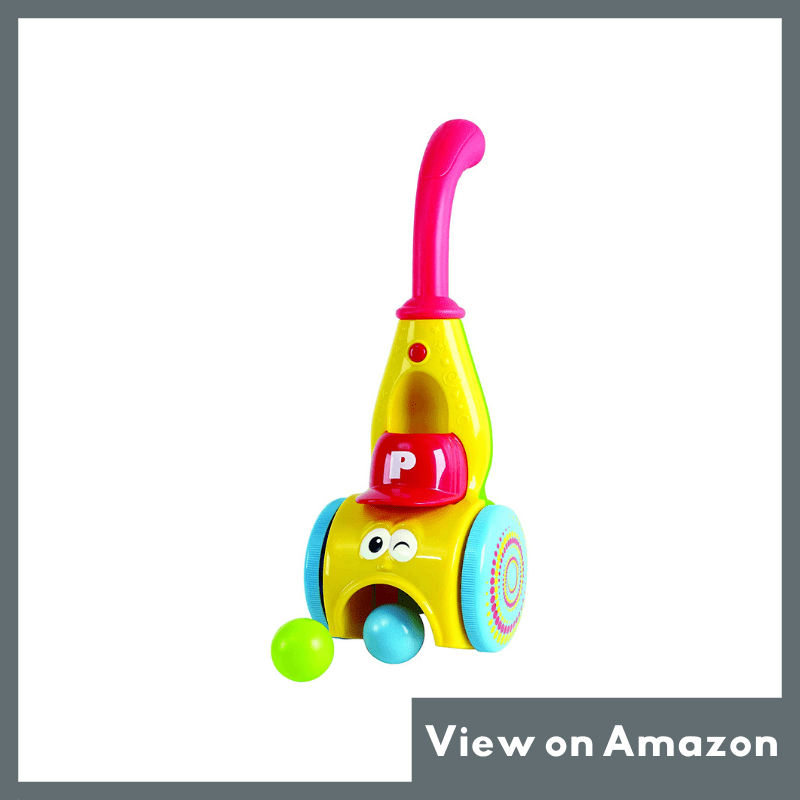 This cute PlayGo Baby Push Walker toy is such a fun toy to encourage walking! It comes with balls that it vacuums up as baby walks and then it shoots the balls back out! Your baby is definitely going to have a blast watching the balls disappear and then come out of the toy again!
Why we love it!
Great for muscle development
Encourages movement
Lots of fun noises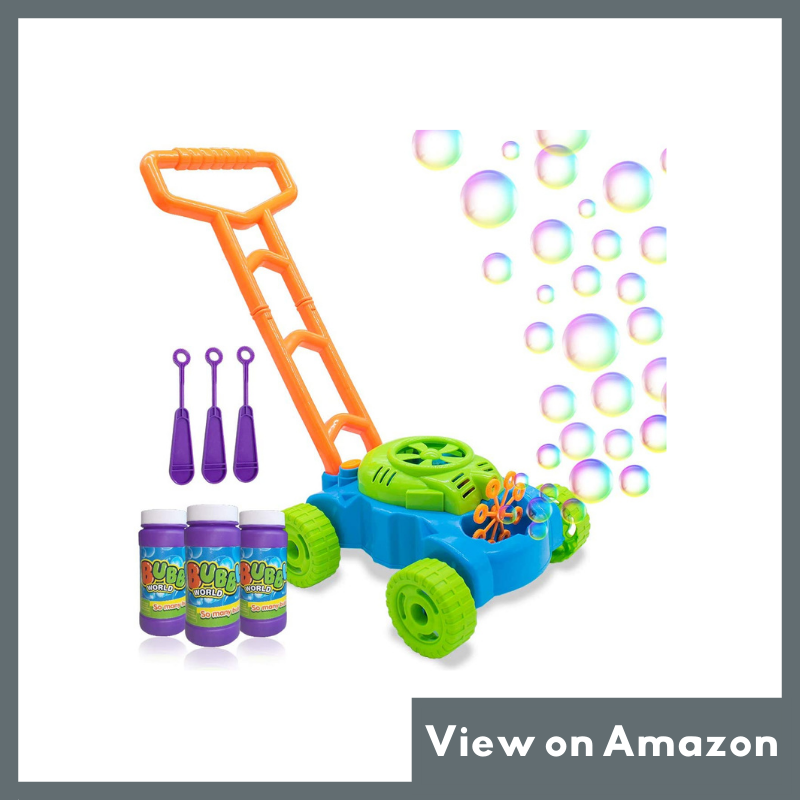 Last but definitely not least on our list of push toys for babies is this Bubble mower. As your little one pushes this toy, bubbles will fly out of the machine! This toy would be perfect for a warm summer day since you'll probably want to use this bubble mower outside. Even your older kids are going to get a kick out of this toy!
Why we love it!
Encourages kids to be outside
Perfect for pretend play
Handle folds up for storing purposes
Check out these other great baby posts!