The school year is beginning and fall weather is sneaking up on us! It's time to celebrate September with some of these fun family September bucket list ideas!
Celebrate September
It's time to start trading in your shorts for sweaters! September is here and with school starting, it's even more important to make time for some family fun.
Don't miss out on all September has to offer! Get started with a September bucket list with these great ideas that will help you and your family celebrate September. Don't forget to scroll down and download our printable!
September Bucket List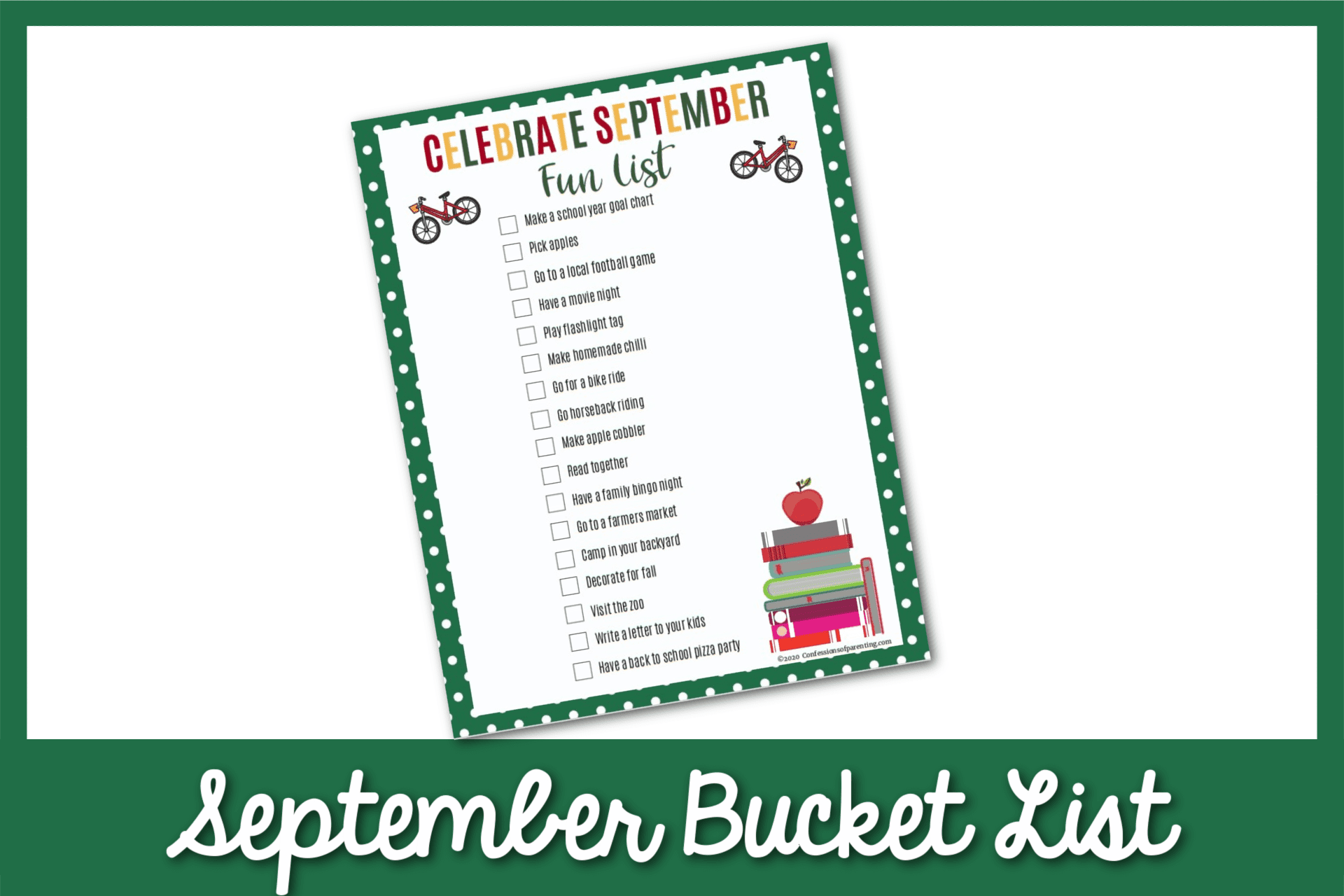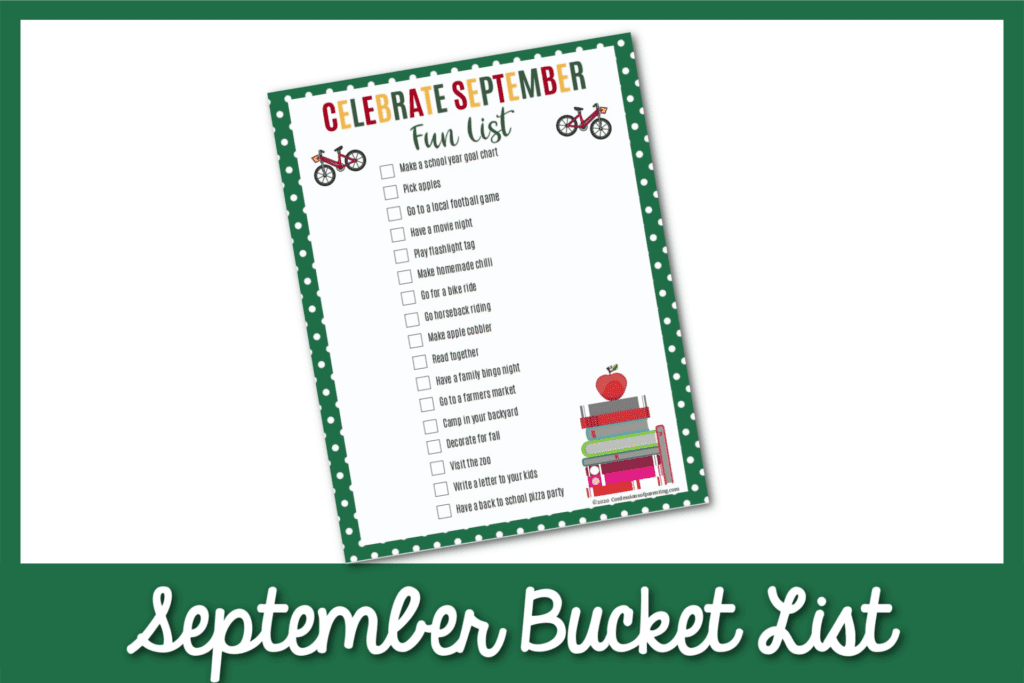 Make a school year goal chart
September is a great time to set goals for the school year. A great way to do this is by making a simple chart in your home and tracking everyone's progress!
Making goals together helps everyone stay encouraged and committed to their goals.
Perhaps you could come up with a reward when each member meets their goal to add some extra incentive!
Go apple picking
Find a local orchard and pick apples together as a family.
Decide on some fun recipes that you can make with all those apples. You could make apple butter, applesauce, juice, pie, or many other things!
This is a unique and fun activity and so easy.
Go to a local football game
It's football season! Support the local high school or go big and watch an NFL game. Either way, have fun getting into the spirit of the game.
Local games are especially fun because they are a way to get involved with the community even if you don't have kids in high school yet.
Go to the park
Before it gets too cold make sure you enjoy some time at your favorite park.
Bring some snacks or a lunch and consider inviting another family or two to meet you so the kids can all play together. It's a perfect early fall activity.
Have a movie night
On a cool night, take the chance to snuggle up together and watch a movie.
Pop some popcorn or make another family-favorite snack and change into your comfiest clothes. Let the kids choose a movie they are loving or introduce them to one of your favorites!
Play flashlight tag
Celebrate September with the perfect fall activity for a warm evening. Flashlight tag is so much fun!
It's easy to play if you haven't before. Grab some flashlights and take turns trying to tag each other with the light. Make sure you are in a safe enclosed space especially if you have little ones.
Make homemade chili
When it starts to get cool outside, it's the perfect time to make some homemade chili! Use a family favorite recipe or try something new.
Many local groups and neighborhoods even have chili cookoff contests so you could enter your chili to win!
Either way, warm up with this delicious meal that the whole family will love. Try our pumpkin chili for a twist on chili!
Go for a bike ride
Enjoy the crisp fall air with a family bike ride. Grab your bikes or borrow them from a friend or neighbor. Follow a local trail and enjoy the fun time outdoors.
The time spent together plus the outdoor exercise makes a bike ride a must-have item on your September bucket list.
Go horseback riding
Go to a local farm or petting zoo and ride horses! Your kids will be sure to get excited about this activity, and mom and dad will love it too.
Even your little ones can take a quick ride on a pony. Don't forget to take pictures!
Make apple cobbler
Yum! Apple cobbler is so delicious and it is much easier to make than an apple pie.
It's meant to be a little messy and imperfect so this is a great dessert to make with little ones. Grab some ice cream or whipped cream to top off this delicious dessert.
Read together
Reading is good for the mind and good for family bonding! If your family needs a relaxing activity, try reading together from a favorite book.
If you have little ones, spend some time reading some picture books together. If your kids are a little older you can read from a chapter book. Your kids will love it and so will you!
Have a family bingo night
Who needs a party for a bingo night? Bingo is so much fun and a super simple activity to do with your family.
If you want to reuse your boards often, try using cheerios or another small snack as the markers.
We have some really cute themed bingo games that you can check out!
Roast marshmallows
Roast some marshmallows the classic way over the fire if possible, or if not you can roast them in the oven on top of some graham crackers. Super-easy s' mores!
Not only are roasted marshmallows delicious, but this might be your last chance to do this fun outdoor eating activity before the weather shifts to winter!
Go to a farmers market
Farmer's markets will likely be closing for the winter, so make sure you get in while you can!
These markets are awesome to visit. You can enjoy some street food, find some great produce, and enjoy community treasures.
It's also a great way to raise awareness in your family of local business and show your appreciation to them.
Camp in your backyard
Set up your tent in the backyard and do some backyard camping! Skip the hassle of traveling to a campground and have some fun outdoor fun right at home.
Make some camping snacks and grab your flashlights and sleeping bags.
Celebrate September and its beautiful end of summer weather with a good night outdoors with the family.
Write to soldiers
In September we take the chance to remember lives lost fighting for our country. While you may feel some details of September 11th are too intense for young children, you can still talk about the bravery of soldiers!
Many organizations help send letters to soldiers for free. So your family could easily get together and write or draw notes for them to get sent.
Decorate your porch for fall
Pick up some seasonal flowers or some materials to make scarecrows, wreaths, or other fall-themed decorations.
Get together with your family and decide on some fun decorations for your porch or yard. This doesn't just have to be mom's job! Get creative and have some fun decorating together.
Visit the zoo
September may just be the best month to visit your local zoo. You aren't going to want to leave it off of your September bucket list.
Since the older kids are back to school, the zoo is going to be far less crowded even on those days with amazing weather!
Write a letter to each of your kids
The beginning of the school year is a great time to write a special letter to each of your kids. If you make it a yearly tradition you could keep the letters like a journal and give them as a graduation present.
Whatever you decide to do with them, it will be a special memory for both you and your kids!
Have a back to school pizza party
Celebrate the beginning of the school year with a little pizza party!
Spend time with your family and have a special dinner, or invite a few friends and enjoy each other's company. If you invite friends you can ask them to bring toppings and enjoy a simple DIY pizza night.
Take school year pictures
Don't let September pass by without taking some pictures of each of your kids!
It's always a good idea to include a note in the picture of their age, things they like, and other interesting things about them that year.
These pictures will be a special memory like a journal that you can look back on over the years.
Take a trip on labor day weekend
Take the chance to go on a mini-vacation during the labor day holiday. Since most kids and adults will be off school and work, go relax a little bit!
Go visit some family that lives nearby, or check out a town you haven't been to before.
If you can't travel, make your weekend an extra relaxing staycation!
There you have it! Some great ways to Celebrate September with your family! What would you add to the list? Share in the comments!
Looking for other ways to Celebrate all Year Long? Check out these posts!