If you are looking for a creative way to get your kids writing this month, check out these fun September writing prompts. It will help motivate your kids to write about fun things happening in their life.
September Writing Prompts
Do you remember as a kid sitting at your desk staring at the wall when it was writing time because you couldn't think of anything to write about?
This was me every single time… I could never come up with what I wanted to write about, I either had too many ideas or had none, but then one day my teacher gave me a journal prompt for kids to help spark me to start writing.
Guess what happened? My pencil started flying across the page writing about the prompt I was given. Writing prompts for kids are a great way to motivate kids to write and keep writing. It is so much easier to write when you have a direction as to what to write about, that is why we started our monthly writing prompts for kids series.
So, if you missed our August Writing prompts be sure to grab yours.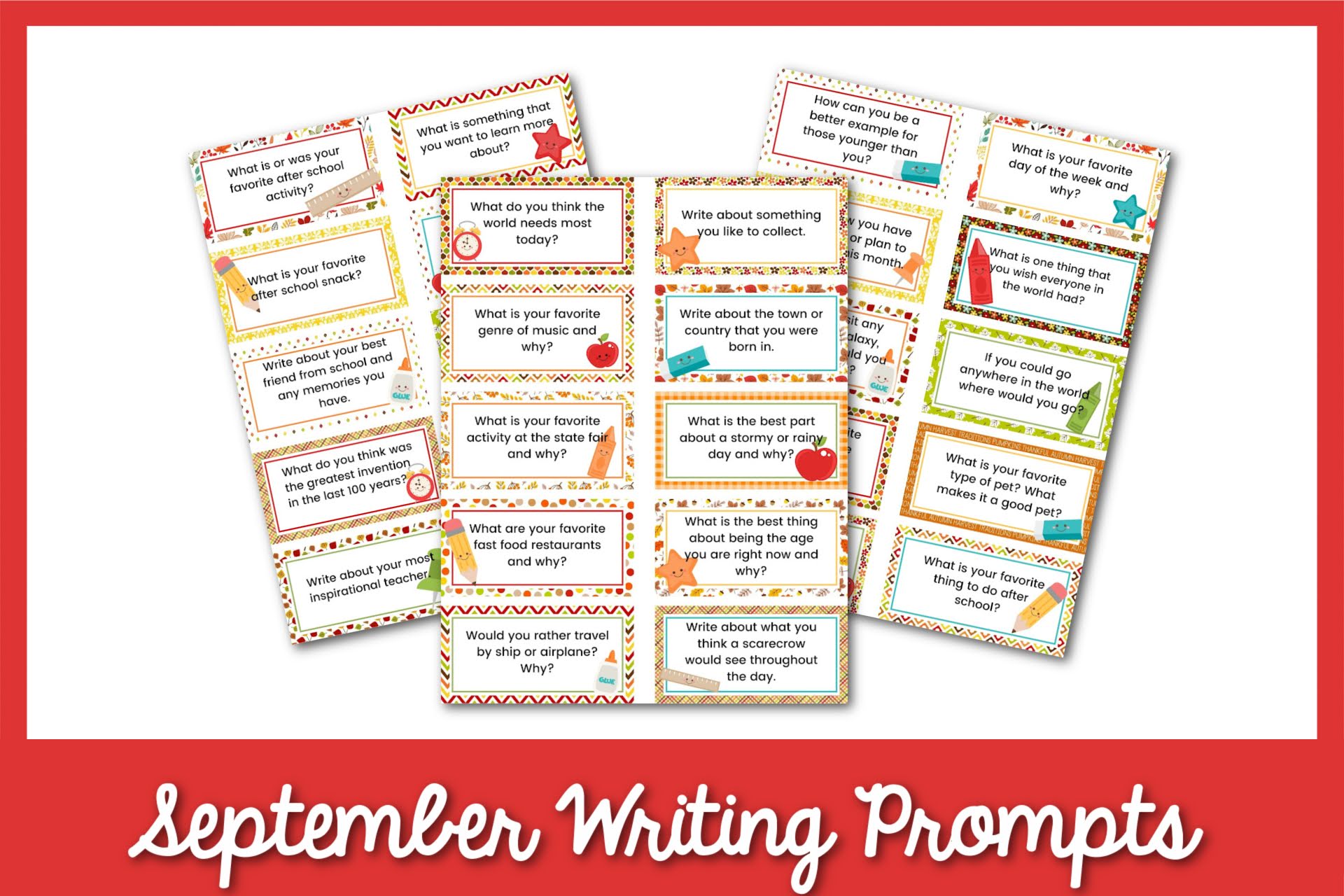 Why Writing Prompts for Kids?
Did you know many kids say that don't like writing just because they struggle on what to write about? There are so many great benefits to writing prompt for kids.
Gets their brain thinking in a new way
Helps communication skills
Helps with fine motor skills
Strengthens memory
September Journal Ideas for Kids
Ready for our September writing prompts, use the list below to encourage your child or download, print and laminate these cards so you can use them over and over again! Perfect for the classroom!
What is or was your favorite after school activity?
What is something that you want to learn more about?
What is your favorite after school snack?
My favorite thing about fall is…because…
Write about your best friend from school and any memories you have.
What are some of your greatest strengths?
What do you think was the greatest invention in the last 100 years?
What was/is your least favorite school subject and why?
Write about your most inspirational teacher.
What was the best school field trip you have ever been on?
What do you think the world needs most today?
Write about something you like to collect.
What is your favorite genre of music and why?
Write about the town or country that you were born in.
What is your favorite activity at the state fair and why?
What is the best part about a stormy or rainy day and why?
What are your favorite fast food restaurants and why?
What is the best thing about being the age you are right now and why?
Would you rather travel by ship or airplane? Why?
Write about what you think a scarecrow would see throughout the day.
How can you be a better example for those younger than you?
What is your favorite day of the week and why?
Describe how you have been able to or plan to be creative this month.
What is one thing that you wish everyone in the world had?
If you could visit any planet in the galaxy, which planet would you visit and why?
If you could go anywhere in the world where would you go?
What is your favorite thing to eat on the weekend? Why?
What is your favorite type of pet? What makes it a good pet?
Describe your best day. What does it look like?
What is your favorite thing to do after school?
What September writing prompts would you add to the list? Share in the comments!
Check out these other Writing Posts!
Check out these fun games for kids!