Never run out of fun things to do during spring break this year as you check off all the boxes of this spring break bucket list!
Spring Break Bucket List
Spring break is here and if your kids are like my kids they are looking for fun things to do during Spring break. Don't worry we have you covered with this spring break bucket list that is sure to have them having fun and not saying, "I'm bored" even once!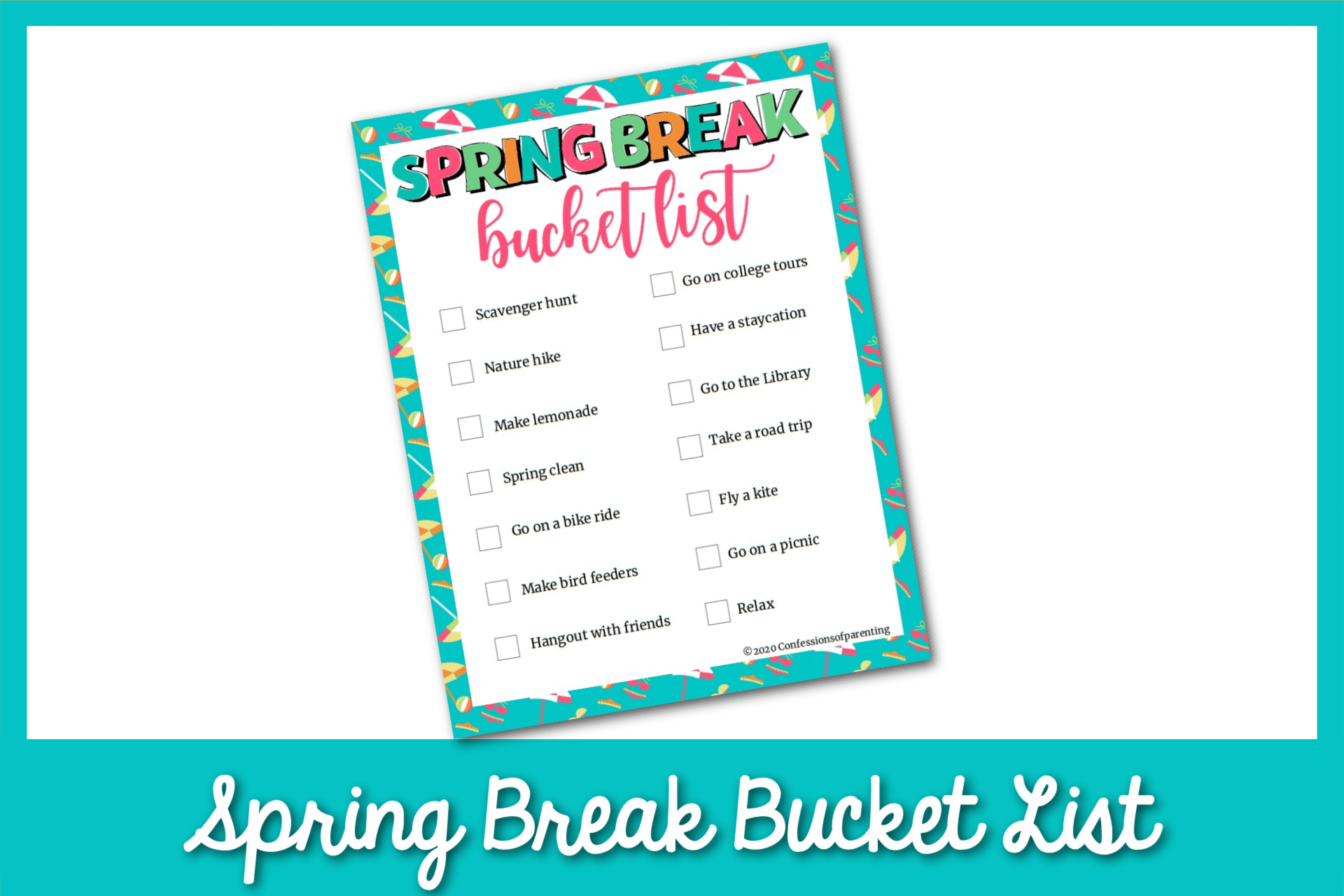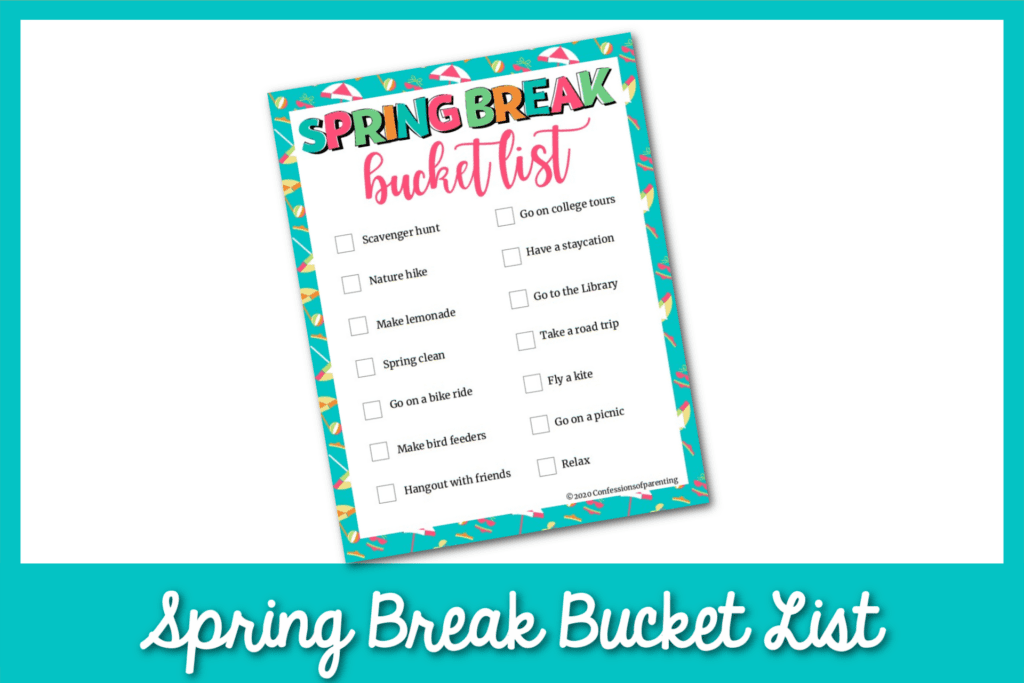 Things to Do During Spring Break
Scavenger hunt
A scavenger hunt is always an awesome thing to do during spring break. What I love about scavenger hunts is that you can virtually do them everywhere, even in hotels with this hotel scavenger hunt!
Create a scavenger hunt for your family to do around town. Make a list of spring items, separate into two teams and see which team can find all the items first!
Nature hike
Take your family on a nature hike! This time of year is so fun to get outside and see the new life that spring brings.
If you have younger kids, they might enjoy picking up items from nature and creating a picture with them when they get home. This activity is a must on your spring break bucket list!
Science museum
Going to a museum is another great thing to do during spring break.
Most cities have some kind of museum that will be great for getting your kids out of the house and learning something new! Look for discount tickets on the museum website or even Groupon.
Plant seeds
One of the best things to do during spring break is to plant your garden or even flowers.
If the weather isn't warm enough yet, plant your seeds in pots indoors and transfer them outside later.
Consider trying a herb garden this year!
This is the perfect springtime activity to add to your spring break bucket list which you can benefit from all summer long.
Spring sensory bin
If you have little ones at home, this is a great spring break bucket list activity to keep them occupied and happy.
Fill a bin full of springtime items such as dry black beans, fake flowers, bugs and pots from the dollar store and little shovels and let their creativity flow as they play!
Make bird feeders
I don't know about you, but I love to hear birds chirping right outside my window. There's something so relaxing and peaceful about it!
Try making bird feeders and hanging them on your tree to attract more birds to your yard!
Spend time with friends
If you have teenagers, a definite thing to do during spring break is hanging out with friends.
The kids love to get together and dare each other to jump in the pool, play video games, or just sit and talk.
Encourage your kids to spend some time with their friends. Better yet, have your kids invite their friends to your house so you get to know them better.
Go on college tours
I don't even want to think about my kids being old enough to go on college tours, but it is the perfect spring break activity to do.
Pack a bag and hop in the car and hit up a couple of colleges a few hours from you.
It will be a bonding experience you will never forget with your kids.
Have a staycation
Traveling during spring break is not always feasible when mom and dad are working, so a great thing to do during spring break is to plan a staycation.
Schedule some things to do locally, stay up late hanging out as you would in a hotel room and bond as a family, but yet you get to sleep in the comfort of your own bed!
Spend time at the library
Go to the library together and spend the day reading new books and picking some out to take home.
Something we like to do is pick out a topic with our kids and find books about that topic to be able to learn more. Our kids get super excited to do this, and they end up learning a ton!
The perfect spring break bucket list activity, especially if your kids love reading!
Have a Picnic
Pack up your favorite lunch and find a spot to lay out a blanket and enjoy a meal outdoors.
You don't have to go far to have a successful picnic. You could even set it up in your backyard- or living room if the weather is gloomy!
Feed the Ducks
Spring is such an exciting time when all the baby animals are being born! If you have little ones, they will love spending time watching the new little ducks.
This spring break bucket list activity is always such a hit with my kids. Take along some cracked corn or oats to feed to the ducks!
Go on a Bike Ride
When you are thinking about things to do during spring break don't forget to plan a bike ride! Bike riding is a great excuse to get outside and enjoy some fresh air.
Take your bikes to a path near your house or just ride around in your neighborhood!
Fly a kite
Growing up I remember every spring break we would go to the store, grab a kite and take them to the park and try to fly them.
Such a great family activity that the whole family will love.
Visit a new park
Look online for a new park to go to! Pack a lunch, and enjoy the day playing at the park.
Play with chalk
Create sidewalk art with chalk. Draw springtime scenes to brighten up your driveway!
Spring clean
While the kids are home from school, doing some spring cleaning might be a good idea to add to your spring break bucket list.
All those extra hands will make spring cleaning a breeze!
Make cleaning fun by splitting up into two teams, splitting the chores, and blasting music. The winning team gets to pick a treat for the whole family to enjoy!
Make lemonade
Your kids will love making homemade lemonade when they are looking for things to do during spring break.
You can use this yummy recipe to make fresh-squeezed lemonade that is super delicious and refreshing.
Press flowers
Find some beautiful flowers outside and press them in between the pages of a heavy book.
How to press flowers is really fairly simple once you learn how.
Once your flowers have dried, you can use them to create an art project or you can glue them onto the front of a card to cheer up a loved one.
Take a road trip
Spring break is the perfect time to take a road trip! Pick a place you want to visit as a family and hit the road! Don't forget to grab the ultimate list of road trip activities to entertain the kids on the way to your destination.
Paint rocks
Painting rocks is fun for the whole family! When finding rocks to paint, you will want to try to find smooth, flat rocks. Be creative and transform your rocks into a piece of art!
Cloud gazing
Lay outside on a blanket and look up at the clouds to see how many different shapes you can find in the sky!
Relax
Be sure you check relaxing off your spring break bucket list!
Your kids are working hard in school and you work hard getting them everywhere they need to go, so be sure you have some downtime and relax at least for a little bit this spring break.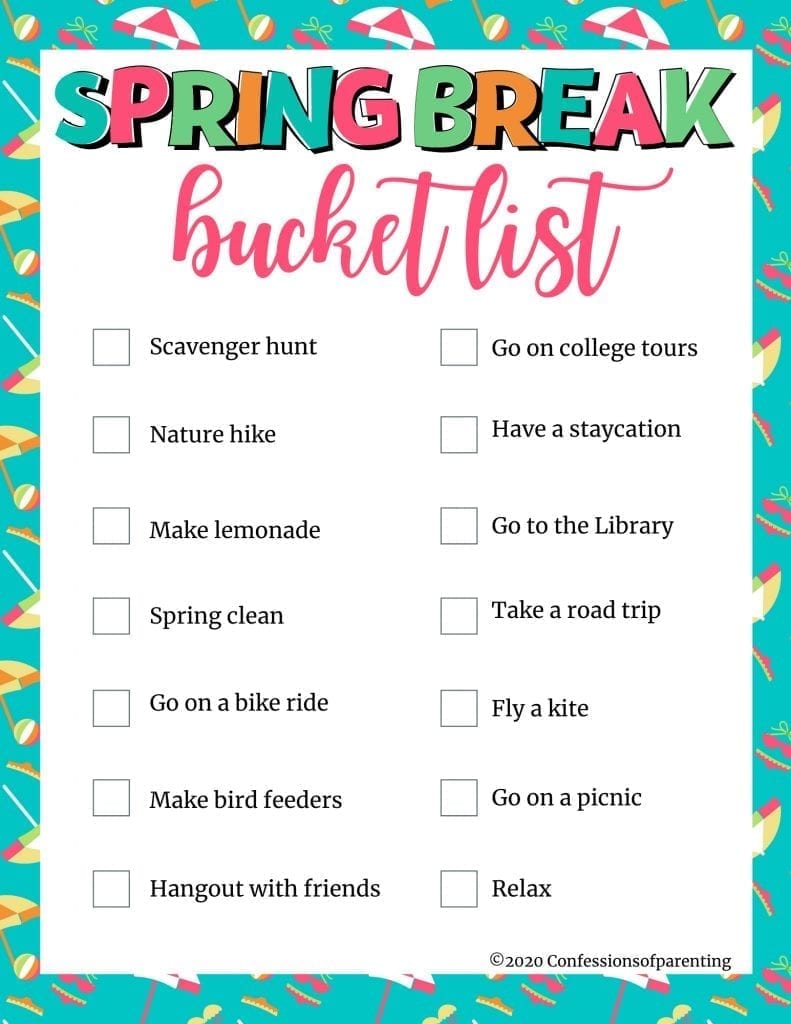 There you have it! Things to Do during spring break with the kids! Share your Spring break bucket list ideas in the comments!
Looking for more great bucket list ideas? Check these posts out!
 Don't forget to save these things to do during spring break on Pinterest so you can find them easily!