Spring is a busy time of year, but a wonderful time for family time! Here's our list of 30+ ways to celebrate Spring with your family with this Spring bucket list.
Celebrate Spring
Spring is a beautiful time full of rain showers and new blooms. It can also be a bit hectic with the school year coming to a close, lots of sports activities, and preparing for summer vacations!
It may feel like your family never gets the quality time they need during the spring.
Have no fear! There are some super fun simple activities you can do with your family. We've come up with a list of more than 30 activities for your spring bucket list that you can try out to help bring the whole family together.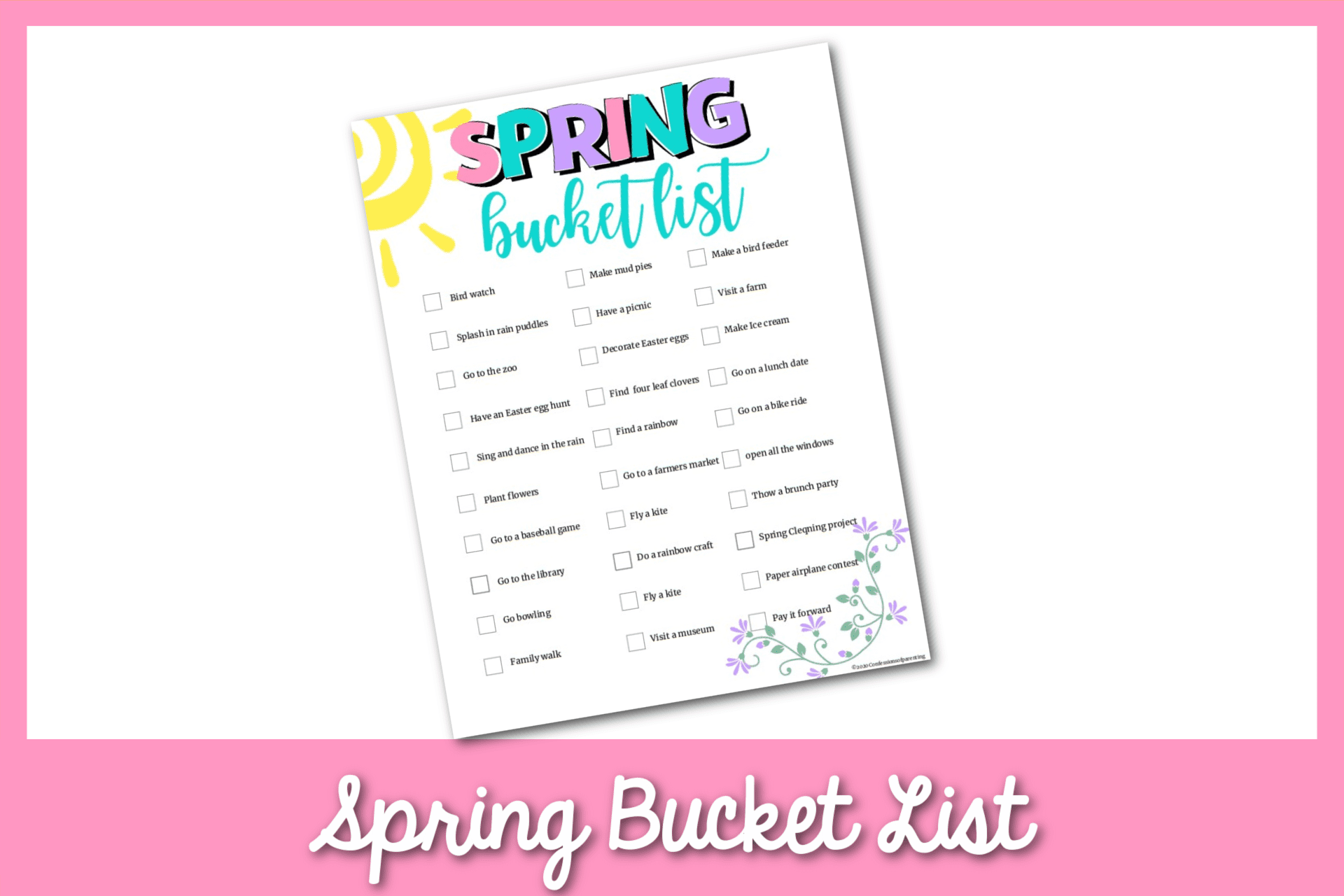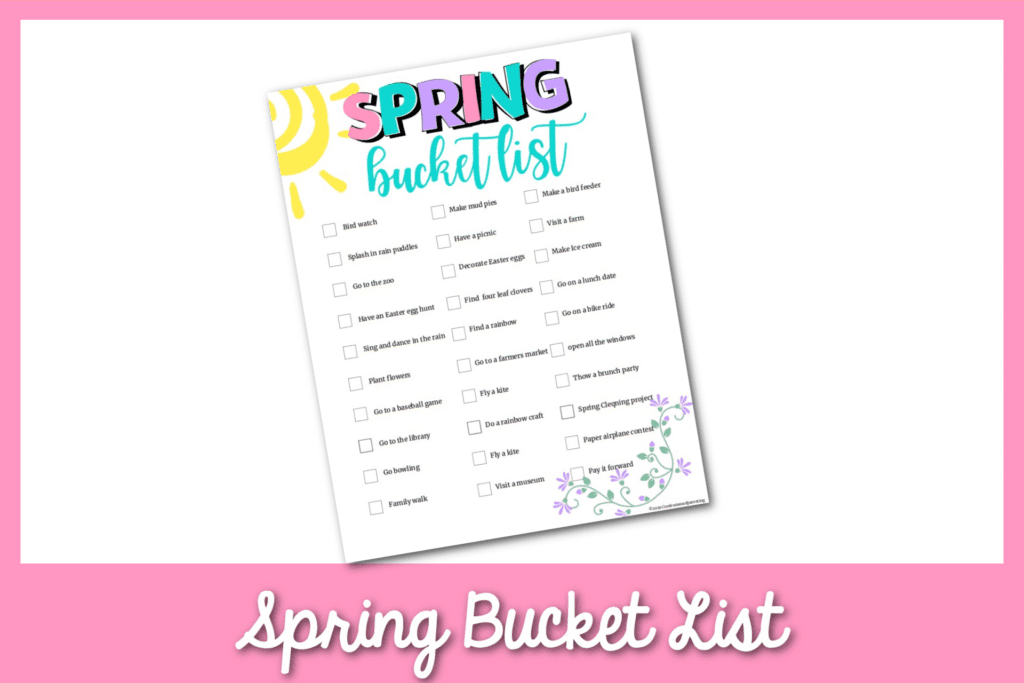 Splash in rain puddles
Take advantage of all those rainy days! Acknowledge that yes, everyone is going to get soaked. But, your kids are going to have so much fun.
Jump from puddle to puddle. See who can jump the highest! Once everyone is completely soaked come inside and enjoy a warm like our copycat swig cookies! Delicious!
Go to the zoo
Add going to the zoo to your spring to do list! Spring is one of the best times to go to the zoo!
The summer crowds haven't yet begun, but the warm weather is starting to sneak in. Embrace the beautiful days when they come and take a family zoo trip.
Look beforehand at what times they have special activities or shows to make the best experience for everyone.
Have a picnic
On a warm spring day pack a simple picnic and eat lunch at a local park!
Bring a blanket and some yummy foods for everyone to enjoy. Your kids will love the novelty of eating outside on a picnic blanket even if they are just eating a simple pb&j!
Bonus. They can play at the park while you relax after your meal!
Decorate Easter eggs
Springtime means Easter is just around the corner. Grab some eggs at the store and decorate them as a family.
You can do the traditional egg dying, or try a new trendy way to decorate your eggs. Whatever you choose, decorating Easter eggs has to be on your spring bucket list!
Have an Easter egg hunt
Easter egg hunts are less work than you think. Some stores even sell pre-filled eggs so you don't have to worry about filling them!
Grab some plastic eggs and spend an evening filling eggs while you watch your favorite movie. Hide the eggs and when your kids wake up they will have a blast finding them!
Search for four leaf clovers
Have you ever found a four leaf clover? They can be hard to come by but fun to look for!
The good news is springtime usually means tons of clovers are all over your neighborhood and parks.
Make adventure binoculars with toilet paper tubes, or use a magnifying glass if you have one. Be explorers with your family and try to find a lucky clover!
Sing and dance in the rain
Celebrate spring by turning on some music or making some of your own while you dance in the rain.
It's easy to complain about all those rainy days but once in a while, it's good to go out and remember how fun the rain can be!
Find a rainbow
If you have a rainy day and the sun starts coming out, try and search for a rainbow!
Go for a drive or a walk and see what you can find. If you want to get educational with your kids you can talk about where rainbows come from and do a fun rainbow craft together!
Plant flowers
Spring is a good time of year to start those lovely gardens!
If you have never gardens before, try something simple and just plant a flower or two. Do a little research on some no-fail plants that your family can take care of. Make a schedule so you aren't the only one doing the watering.
Go to a local farmers market
Farmer's markets are perfect for your spring to do list. They are great around the springtime and would be a perfect addition to any spring bucket list.
It's lovely weather and a great place to walk around with your family. It also gives you the chance to see some local businesses and farms and shop around.
Go to a baseball game
Baseball season starts in the spring! Go support your local school teams, or attend a major league game.
Baseball games are a family-friendly activity that every age will like.
Fly a kite
Your spring fun lists have to include a lovely afternoon of flying kites! On a nice windy day, go to the park or a nearby beach and fly kites.
If you don't have a kite, look up how to make one yourself! It's a fun project that your kids will enjoy. Flying kites can be so peaceful!
Go to the library
Go to your local library and have some fun!
Libraries are a great family resource. They have classes for adults, programs for kids, and most have a children's center full of toys and books.
After you are done playing, grab a new book to check out and take home!
Do rainbow crafts
Look up some fun simple crafts online that your family can do and display them during the rainbow season!
Or keep it extra simple and get some crayons out for a simple coloring activity. Celebrate spring and the beauty that it brings!
Bird watching
Have you ever gone bird watching? It's really fun!
Head to your park, grab a book about birds and see if you can find any that you can name.
Even if you don't know much about birds or don't have time to grab a book, it's still fun to look at all the birds and try to copy all their songs.
Go bowling
If you are sick of the rainy days keeping you inside, go and do something different! Go to your local bowling alley and have some fun.
A lot of bowling alleys do a family night where prices are substantially lower and the alley is family-friendly!
Go on a family walk
If you're looking for a simple activity this is it! Just get outside and go for a family walk.
Spending time together will be rewarding enough, but going for a walk in the fresh air will also be great for everyone's health and mood!
We love taking walks around the neighborhood. The older kids throw the football and the littles ride bikes and scooters.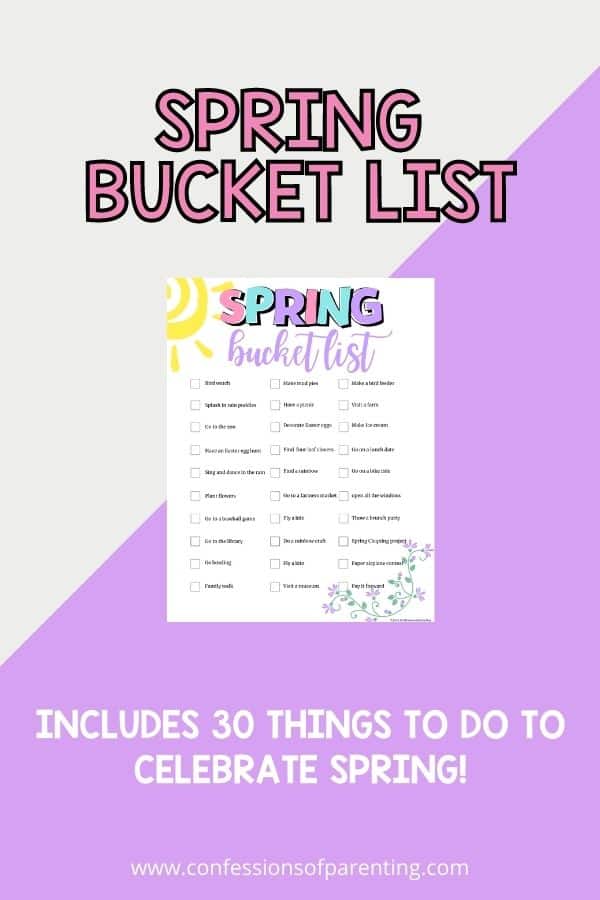 Make mud pies
If you have young kids get outside and make mud pies.
Wait for some rain and head outside or to your local park and let your kiddos go to town! It's a really good sensory activity for your kids and a way to build imagination.
Make sure you have a bath ready for those messy kids when they come inside.
Visit a museum
Add a fun visit to a local museum to your spring bucket list!
There are museums for all sorts of interests and you are sure to find one that the whole family will like. Many museums have activities or scavenger hunts for kids to play while at the museum to keep them busy and happy.
Make a bird feeder
Grab some simple supplies and make a bird feeder to hang in your yard. Hang it in a place that you can see so you can see if you have any visitors!
Not only is this a fun and educational activity, but the nearby birds will love this addition to your spring fun list
Visit a farm
Before it gets too hot near summertime, celebrate spring by visiting a farm!
If you get a group of friends to go, they often have group rates that allow for a much cheaper visit.
Farms are a great place to learn about agriculture and local businesses. They are also really fun! They often have petting zoos, horse rides, and other exciting activities to try while you are there.
Make ice cream
Ice cream in a bag! Or if you have an ice cream maker you can get that out too!
Lookup a new fun recipe, like homemade oreo cookie ice cream and enjoy!
Who doesn't love some yummy homemade ice cream?
Take each of your kids to lunch
Take your kids on a little lunch date! It'll make them feel so special and you will get to spend some much needed time talking with them.
If your kids are in school you could wait until a weekend or take them out of school during lunchtime. Or you could bring lunch to them if the school allows it!
Let them choose their favorite restaurant, within reason, and enjoy your special meal together.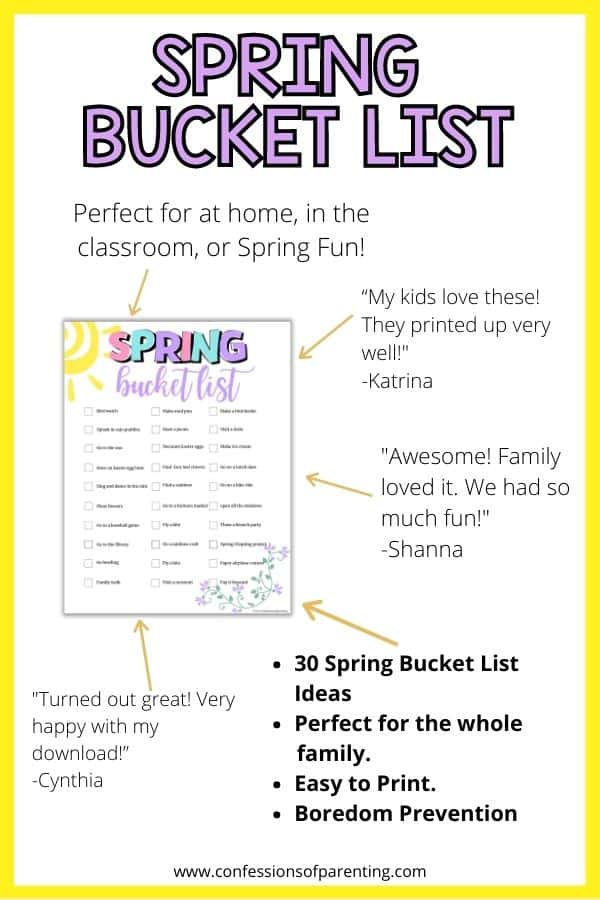 Go on a bike ride
No spring to do list is complete without going on a bike ride.
Biking is a healthy, fun activity that will bring some much needed fresh air and outdoor time.
If you have bikes at home, go on a nearby trail and enjoy your family activity. If you don't have bikes you can rent them or borrow them from friends!
Add a bit of fresh air to your spring fun list!
Open all the windows
On a nice sunny day with a cool spring breeze, a simple thing you can do to improve your family's day is opening all the windows!
Let the cool air come into your home and enjoy the sounds of the neighborhood.
Spring cleaning project
Looking for a good productive spring bucket list activity: find a spring cleaning project to work on!
There are always one hundred things to do in a busy family's home. If you want people to get excited about the project instead of hesitant, get your kids involved in choosing what project you are going to do.
Once you choose your project, pick assignments and get to work!
Throw a brunch
Spring is a great time of year for a good brunch with friends and family.
Try out some new recipes or use some old reliable ones and make a brunch feast. Make your brunch extra special by letting your kids invite a friend over to enjoy the food with your family.
Paper airplane contest
Another great rainy day activity is to have a paper airplane contest!
Who can make an airplane that goes the farthest? The fastest? The best trick? Your family will likely get competitive and have a fun time trying to come up with the best paper airplanes that you can!
Blow bubbles
Bubbles aren't just fun for young kids! Grab your bubbles and start having fun.
If you have older kids, turn it into a game. Have everyone try to pop bubbles with their toes, elbows, or noses. See who can keep a bubble unpopped for the longest.
You could even grab some of those fun long-lasting bubbles that don't pop for your older kids to play with.
Donate old clothes and toys
After all your new Christmas toys and spring cleaning, you are likely to have a lot of things that you don't need anymore.
Teach your children about the power of giving and choose what things you want to give to a local group or cause.
Visit a botanical garden
Botanical gardens are so beautiful and the perfect way to celebrate spring!
Most cities have a local garden that you and your family can visit for free. They are such a lovely place to walk around and get to know about local flowers and plants.
They are also a great place to take a few family pictures!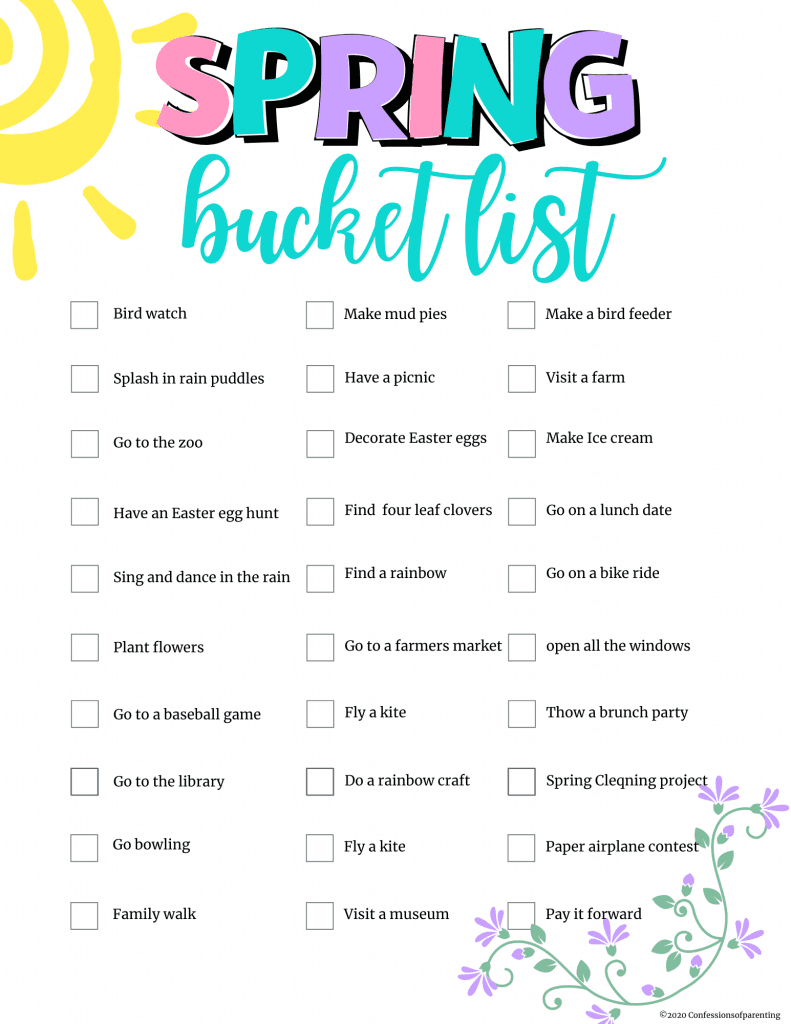 Pay it forward
Pay it forward at a restaurant. Let your kids be in on the surprise and they will be so excited.
A great lesson about giving can be learned by doing this, and it is sure to be a simple activity that will make the whole family feel good.
Have a science experiment day
It can be a little bit of work to do a science experiment, but you can also find some great simple experiments to do!
Science has a way of really impressing your kids and each experiment will teach a fun educational lesson as well.
Rainy Day Moviethon
When it is raining, the perfect thing to do is cuddle up with a great rainy day movie!
Grab the popcorn and the snacks and snuggle and have a rainy day movie marathon!
Have a bbq
Invite a few friends over or have a private family barbeque on a new spring day.
Grill up some of your favorite food, or if you don't have a grill just make your favorite bbq foods in your kitchen and bring the food outside to enjoy the beautiful weather.
Visit local relatives
If you have relatives close, go visit!
It can get pretty stir crazy during the springtime if you have a big rainy season. Not only will you get to visit with someone that you don't see that often, but they will be so happy that you thought of them and decided to come for a visit.
Plus going to a relative's house usually means you have a break from entertaining the kids for a little bit.
How does your family like to celebrate spring? Share in the comments!
Check out these other posts with fun family ideas for every season!
Don't forget to save this Spring Bucket list on Pinterest so you can find it easily each spring!