This Springtime Word Search is perfect for kids of all ages. Heck, even I enjoy sitting down for a few minutes and putting my brain to work. Get your kids thinking and having fun all at the same time with this free printable!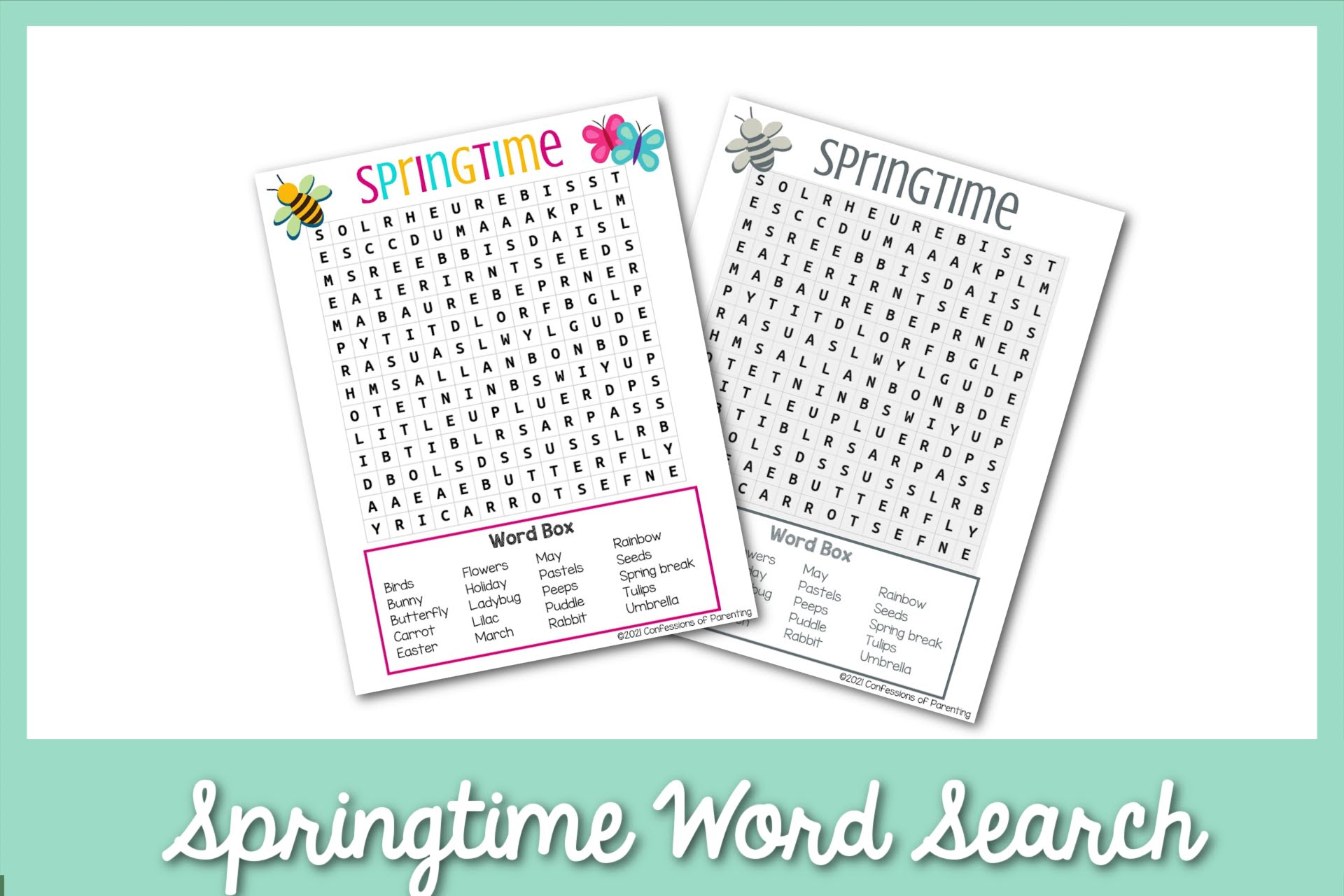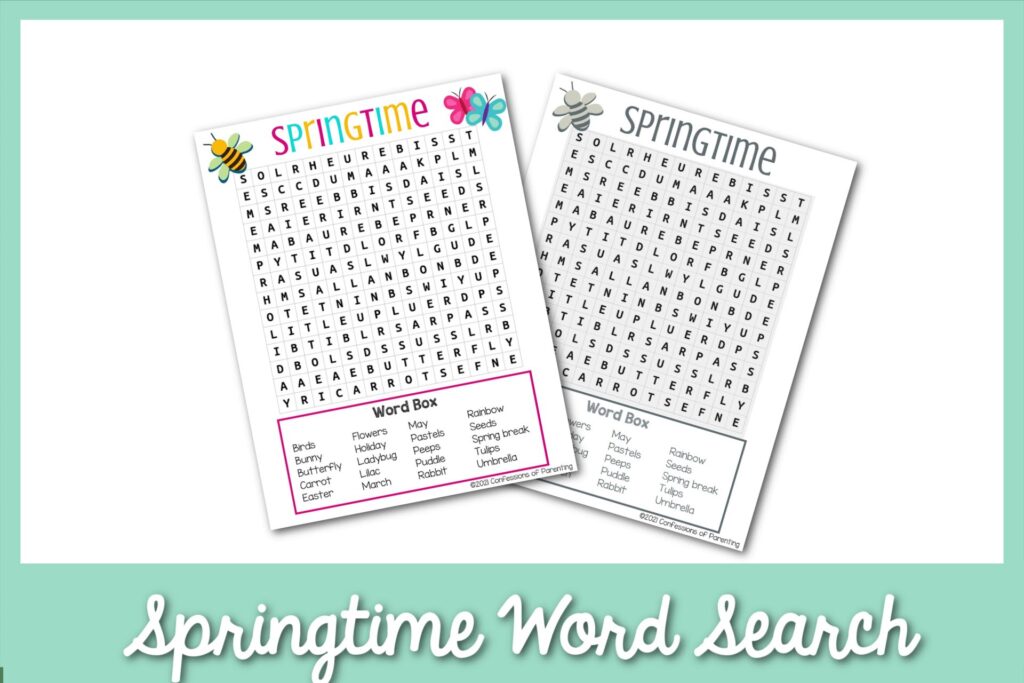 Springtime Word Search
My daughter loves reading. Every time I turn around, she's got a book open in front of her. I think that is part of the reason she loves word searches so much! Recently, she was working on our Animal Word Search and she had a blast! I knew at the moment I needed to add a few word searches to our collection like this springtime word search and our Superhero word search.
If you have a competitive group of kids, you could turn these simple word search sheets into a challenge. Whoever finishes finding all of the words first, or the most words in a set time, wins! Having prizes like candies, toys, accessories, books, or whatever you think will motivate your group is sure to spice things up!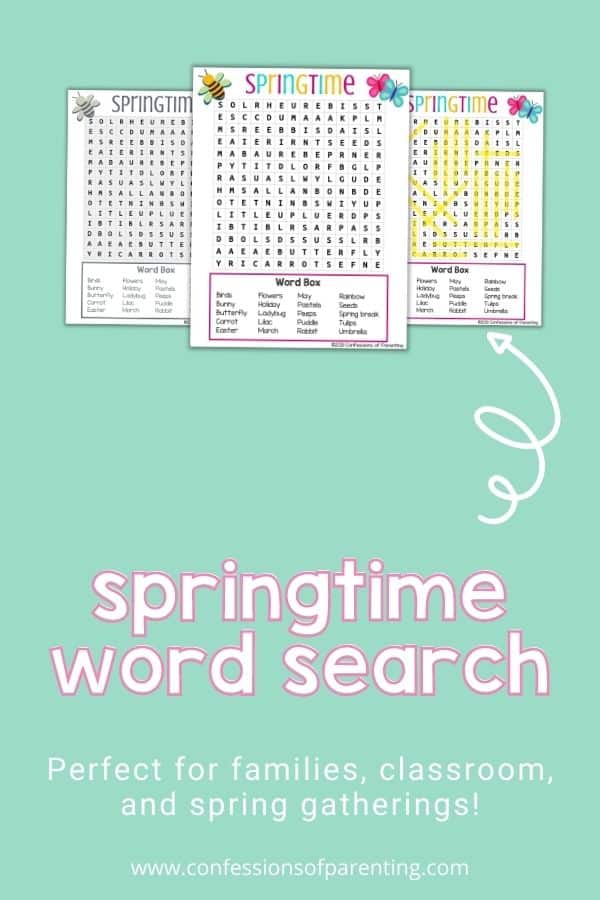 Tips to Complete Word Searches
One tip that my kids find helpful in finding words is to go line by line, like you're reading a book, looking for the first letter of one specific word. Every time you find that first letter, stop and look at the letters touching that one in a square around it to see if the second letter is there. If you see the second letter, look to the third and so on! If the second or third letter is not, keep going through all of the lines.
Sometimes it helps to start from the bottom line and work your way up to the top too! Sometimes I even start at the top left corner and go through the lines vertically instead of horizontally to catch things I may have missed!
Remember that the words can be forwards, backwards, vertical, or diagonal!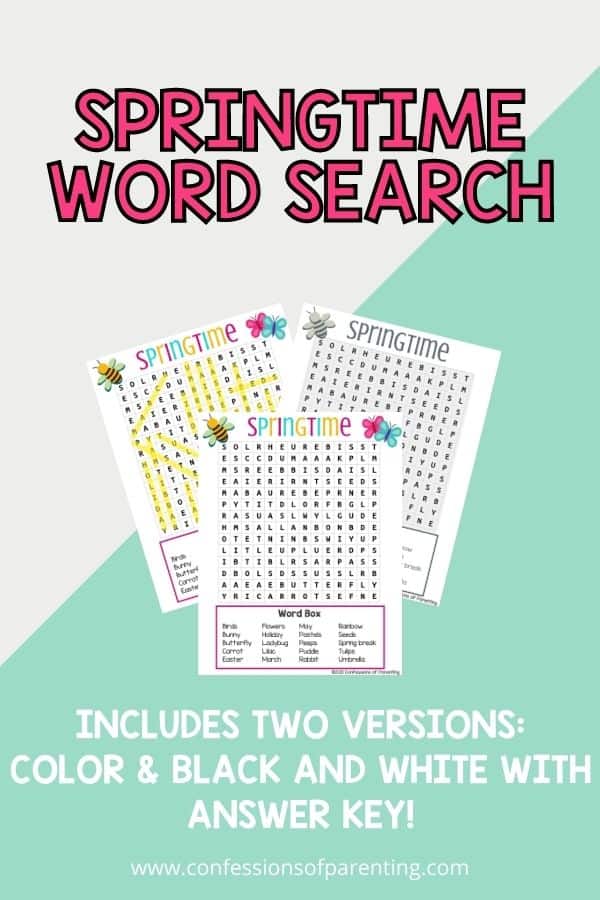 Why Do Word Searches?
Word searches are a great mental activity! Your kids will be practicing reading, spelling, vocabulary, and problem solving. By taking the time to figure out the puzzle, your kids are building resilience and dedication.
Not to mention, your kids will be filled with a sense of accomplishment when they finish their sheet!
Even younger kids can have fun looking for words! Your older kids could work together with your younger kids and guide them along. This builds even more skills such as teaching (which reinforces what they are learning), patience, and helping others!
Word searches are a great busy activity. They require no clean up and minimal supplies (just the download and a marker of choice!). This makes Word Searches very convenient for on the go entertainment. Especially for things like plane rides, waiting at a restaurant, driving, or waiting for a doctor's appointment… The list goes on!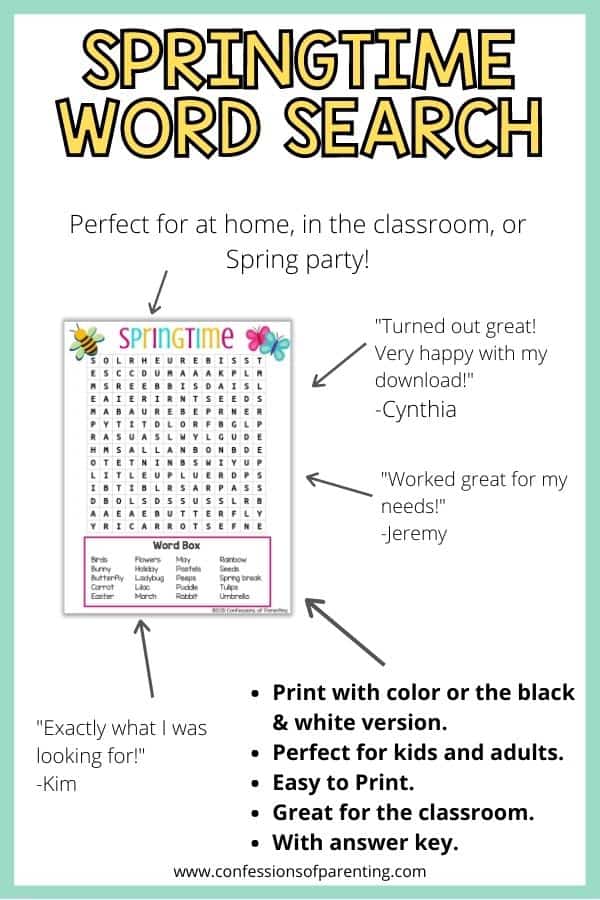 Download Free Springtime Word Search
Grab your free Springtime Word Search by joining our Free Confessions of Parenting VIP club below! If you aren't quite ready to join, you can grab it right here!
Add Even More of A Learning Experience to Your Word Search!
Create a list of definitions for the words that your kids have been asked to find. For younger kids, you could use pictures instead. Cut out each definition. As your kids find each word, they can match the definition to the word.
This dual activity further reinforces the vocabulary and reading skills they are practicing.
Or, instead of a vocabulary challenge, you could encourage your kids to write a story including as many of the words on their word search as possible. They will love using their imagination to create a story!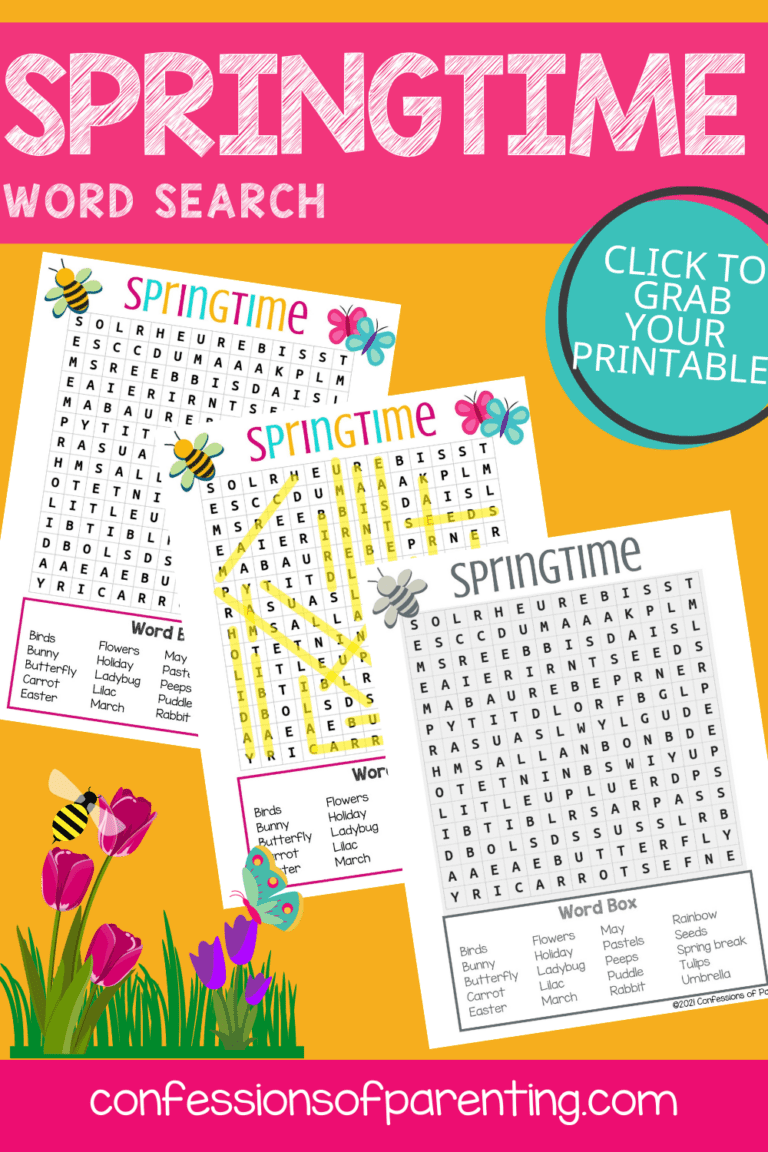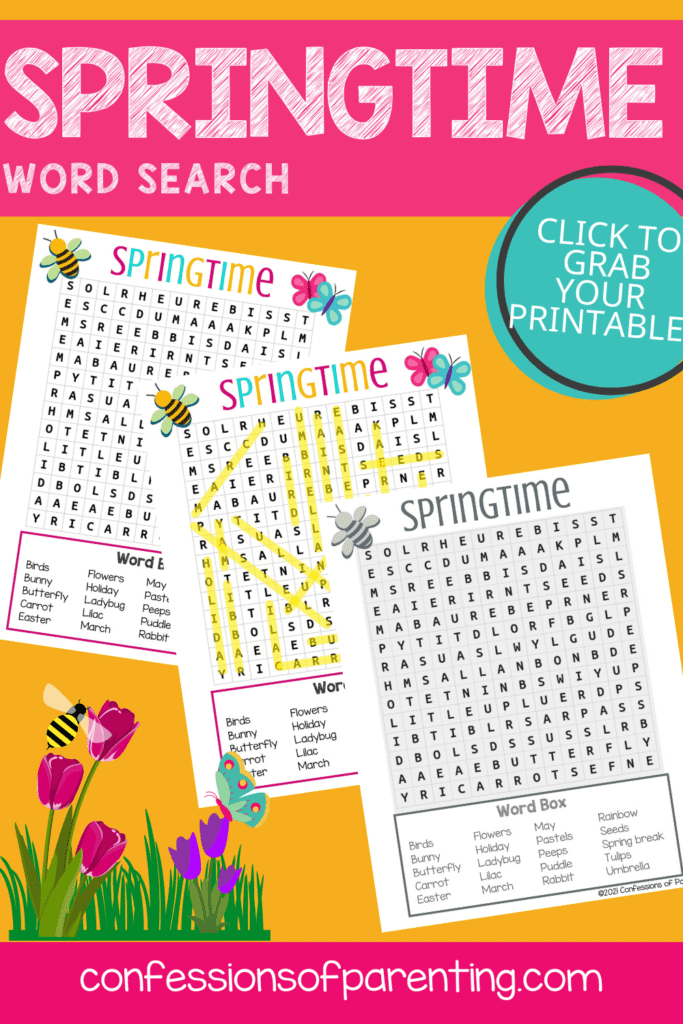 Free Printable Springtime Word Search
This free printable spring word search comes in color and black and white. It is a perfect stress-free way to add a little fun to the classroom or at home when you need a little downtime.
With the 20 spring-themed words for your kids to find it is sure to keep them busy for a while as they find the words horizontally, vertically, diagonally, and backward. Don't worry, if they get stuck there is an answer key available as well.
Springtime Word Search Words
On this springtime Wordsearch you will be searching for these 20 words.
Birds
Bunny
Butterfly
Carrot
Easter
Flowers
Holiday
Ladybug
Lilac
March
May
Pastels
Peeps
Puddle
Rabbit
Rainbow
Seeds
Spring break
Tulips
Umbrella
Helpful Tools We Love When Downloading Printables
Printer– I love my HP+ printer that uses Instant Ink. I love it because we can use as much color ink as you want for one low cost starting at $.99/ month for ink. Try it out for free here!
Cardstock- I always recommend printing on cardstock. This makes it way more durable so you don't have to worry about printing it time and time again.
Laminator / Laminating Sheets- Again, for added durability, grab a laminator and laminating sheets so that you can use this again and again!
Scissors (I seriously love these ones)
Dry Erase Pens- Use dry erase pens so that you can wipe your laminated printable clean over and over again for endless use!
You Can Never Have Too Many Word Searches! Grab our whole Collection!
Ready to Grab your free word search? Sign up for our free Confessions of Parenting VIP Club to get access to it now!
How Do I access my free printables?
Fill in the form above. You will receive an email in your inbox. If you don't see it, check your spam folder! You will see an email with your free printable.
How Do I Print a PDF?
You'll need a program that supports PDFs. Adobe Acrobat is a great option. Open the program, click File, then print. Select your printer and the number of copies you want to print. Be sure you click double-sided if you want it to print on both sides.
Can I resell these?
You may not resell any printable on our website or in our resource library. You may use them for class parties, at church, at home, or in the classroom. You may get these printed at an office supply store or copy center at your own expense.