Nervous about transitioning to summertime and losing your structure? This simple summer morning routine for kids helps keep kids and moms organized all summer long.
Simple Summer Morning Routine Kids Love
Summer vacation is almost here! I love summer because it allows for so much family fun and time to create memories with one another! But unfortunately, the flexibility of summer may leave you feeling like your mornings don't have any structure anymore.
If you are missing the structure that comes with getting the kids ready and off to school, then you are not alone. Moms and kids need a summer morning routine to help them stay motivated to stay on track to fully enjoy summer.
In our home, we started morning routines for summer a few years back when we ran into a slump. Our summer morning routine for kids looked something like this: wake up whenever stumble to the playroom to play video games, head downstairs at some point (usually about 11) to eat "breakfast" head back upstairs for more whatever time…
Our summer days had no structure and we weren't getting much done around the house and we certainly weren't going out having fun because all of our morning routines for summer were way different from one another. I knew we needed to change something.
That is why we started adapting a summer morning routine for kids (and mom)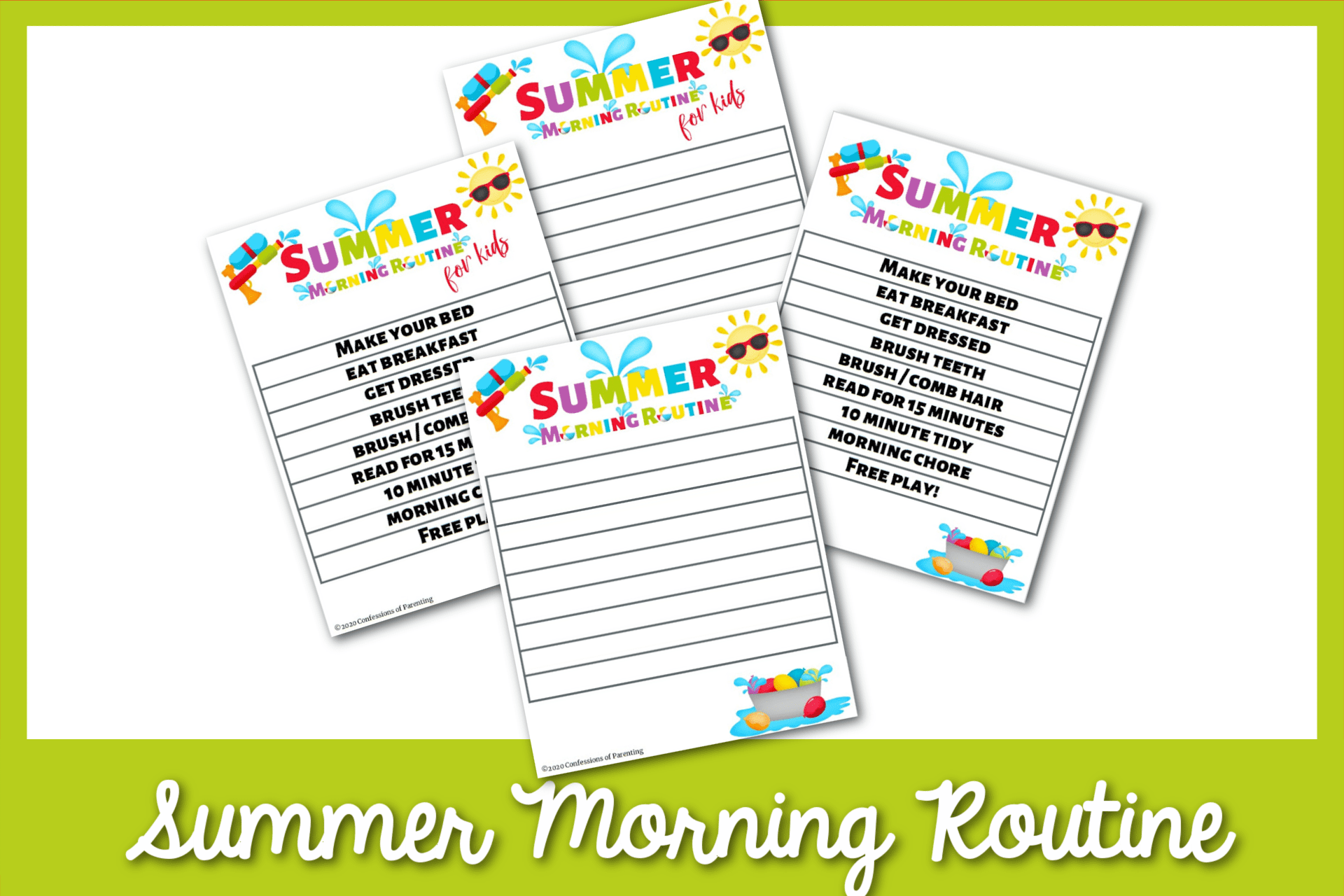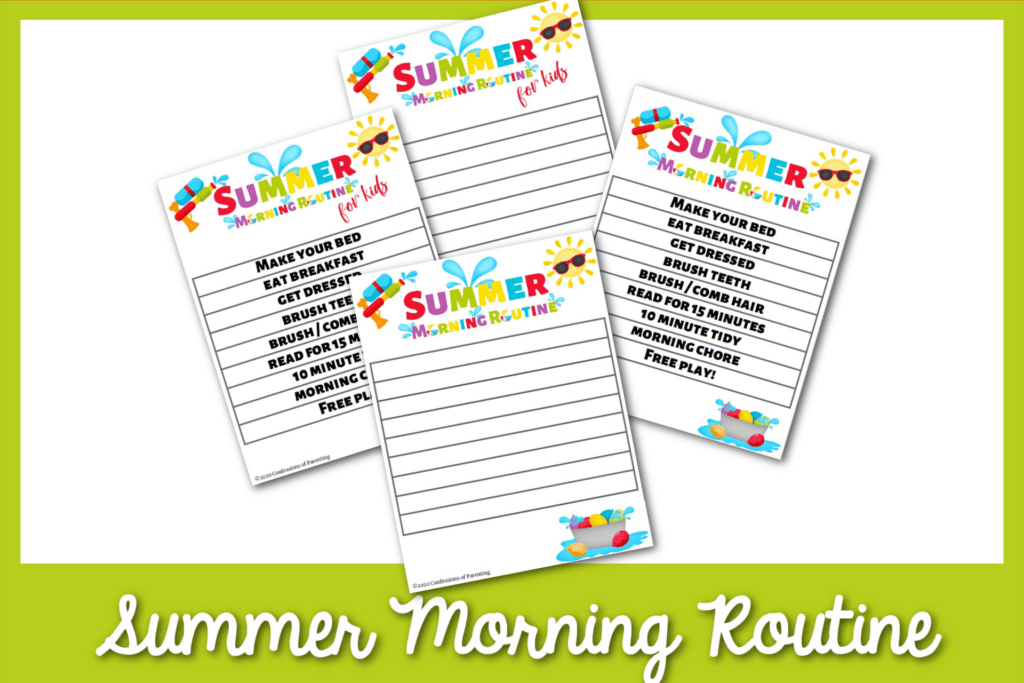 Why you should have a summer morning routine for kids
Finding a summer morning routine kids love is essential for easing your family through the transition to summer. Here's why.
Mornings are so important! They set the tone for your day. You've probably noticed that the simple task of making your bed each morning gets you started on the right foot. It's no different for the rest of your family!
The key here is creating a simple summer morning routine for kids and yourself.
When you have simple morning routines for summer in place, it just makes your whole day a little bit smoother.
During the school year, this feels natural because you need to get the kids off to school and other structured activities.
Just because summer schedules may be looser doesn't mean your summer mornings have to be!
Carrying a morning routine into summer will help you feel in control of your mornings!
Whether your family does routine charts or just has a mental plan, try it out during the summer for more productive and happy days.
How to get started with summer morning routine kids actually Like
The best way to start a summer morning routine kids like is to sit down as a family and discuss the plan of having morning routines for summer.
Your kids will be a lot more willing to try something new if they were a part of the decision.
Talk together about what in the morning helps your family have a better day. Make a big list and see what you can include in each person's routine.
Your summer morning routine doesn't have to be different than your school year schedule if you like how things have been going.
However, you may discuss including some educational activities, sleeping in an extra hour, or some other summer adjustments.
The other thing you want to do is think about how you are going to keep your routine going. If you like to keep things simple, just remembering your tasks and going for it may work great for your family.
If you want to have a little bit more interactivity in your activity you could think about one of these chart styles:
A flip chart with magnets to turn once each child's tasks are done.
A big checklist with stickers
A simple sign to hang up
A morning basket with activities to do
Summer morning routine for moms
I know during the summer I like to create a little structure in my day too! In order to do this, I have a summer morning routine I follow.
Of course, things change from time to time, but as a general rule of thumb, I follow a summer morning routine for moms.
Here are some things I do on my summer morning routine for moms
Wake up before your kids.
I love waking up before the kids, except in the mornings after I stay up way too late. Give yourself some extra time to get things done without the kids awake and a little peace for the summer activities planned that day.
Make your bed.
I am a firm believer in bed making. There is something about walking into your room and seeing a made bed. Honestly, this is my number one priority on my summer morning routine for mom because it just makes me feel so good! Even if I get nothing else done that day, I made my bed!
Exercise.
Exercise your body with your favorite workout, exercise your mind with meditation or reading, or whatever you need. Take some time to focus on you.
Get ready for the day.
Getting ready every day is a must in a summer morning routine for moms. Set aside some time to shower, get dressed, and do whatever you need to do to get ready.
Even if you don't have plans for the day, getting dressed will help you be more productive and set a good example for your kids!
Kid-prep.
Another thing I love to do for my summer morning routine for mom is to start breakfast, set out clothes for the little ones, prep activities if you are doing something special that morning, or anything else that will help your family's morning run smoother.
Summer morning routine for kids
When it comes to your kids, their summer morning routines may not look too different from yours! Here are some good options for summer morning routine kids actually don't mind doing!
Make your bed.
Having your child make their bed is a great way to start healthy habits. This also prevents your kids' bed from contributing to a messy room, because sometimes their room might look messy because of their bed.
Eat breakfast.
Have your kids start the day off right by eating breakfast. Instill eating hours for breakfast to ensure your kitchen is not a revolving door of breakfast messes all morning long.
Brush your teeth.
I hope my kids are not the only ones who forget to brush their teeth when we don't follow a summer morning routine. Hygiene is super important, especially in teens. Here are some helpful ways to talk to your teen about teenage hygiene.
Get dressed.
In your summer morning routine kids should follow should probably have get dressed on the list.
To me, I don't care if you put your swimsuit on and a shirt or a coverup if we are headed out the pool, but I just don't need to see their Christmas pajamas still on at noon in the summertime.
All these summer routine ideas for kids are adaptable for any age child, especially with a little help for your toddlers. For older kids that can handle more responsibility in their summer morning routine, some extra options make be a good idea!
More morning routines for summer ideas for kids ages 4-10
Independent reading.
Your child may not be reading yet, but they can still flip through books and have a bit of quiet time in your summer morning routine.
We do this for about 15 minutes, of course, they can do it longer.
Educational activities.
Your kids may not want to sit down and do homework, but you can have some activities prepared for them that keep their brains moving during their break from school! There are some great subscription boxes or online tools to help with this as well even some education apps that do wonders, especially for speech development.
Cleanup.
However, you do housework in your home, have your little helper do a task in the morning.
Younger kids may be able to help pick up toys in their rooms, and older kids can help with tasks around the house. There are lots of chores kids can do to help.
We do a 10 minute tidy in our house. I pick the room you get to clean up for 10 minutes, we call it a 10 minute tidy.
Free play.
Play is how your kids learn! Don't forget to allow some time to play between all these tasks.
Additional options for kids ages 11+
Summer homework.
Many schools send homework packets or assignments for the summer vacation. Your child can spend a few minutes in the morning getting their brain moving.
Skincare.
Start teaching your teen about taking care of their newly hormonal face and skin. Fight off the teen acne and help start a good habit.
Exercise.
Teenage years is when your kids may start slowing down their daily routine. Encourage them to do something to get their physical activity.
Chores.
Your teens should be able to help you out around the house more than your littles. Give them a couple of chores kids can do each morning before they head off for the day.
Of course, a visual of your summer morning routine is always so helpful! So don't forget to gran your summer morning routine checklist for kids!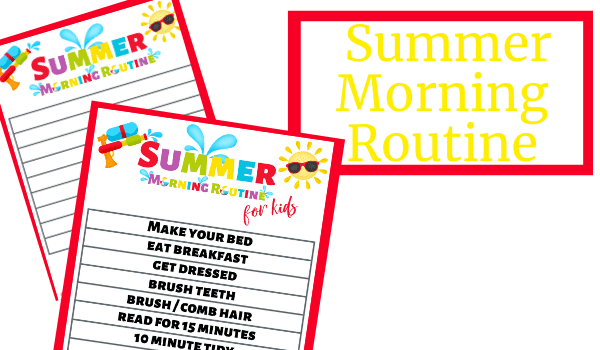 There you have it! Summer morning routine ideas for kids as well as mom! Whar summer morning routine do you and your kids follow? Share in the comments.
For More Summer Ideas, Check these out!
Be sure to save this summer morning routine on Pinterest so that you can find it easily this summer and for summers to come!