These 20 Thanksgiving books for preschoolers are sure to help your kids learn more about the story and purpose of Thanksgiving. Plus, they are so much fun to read!
Thanksgiving Books For Preschoolers
It's almost turkey day and I can't wait because it's one of my favorite holidays! With all the history in it, I really want my kids to love it too, so I can't wait to start reading these thanksgiving books for preschoolers!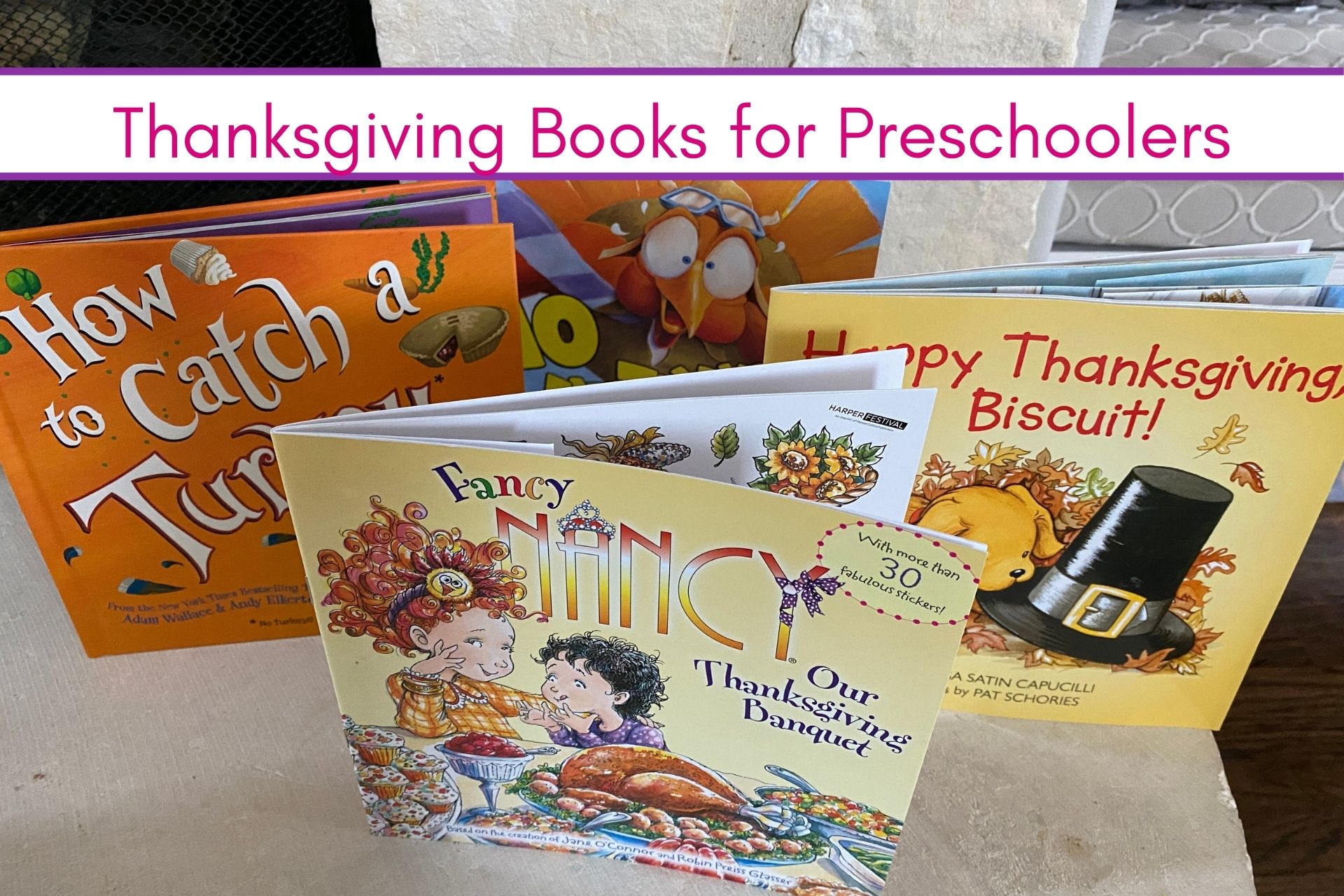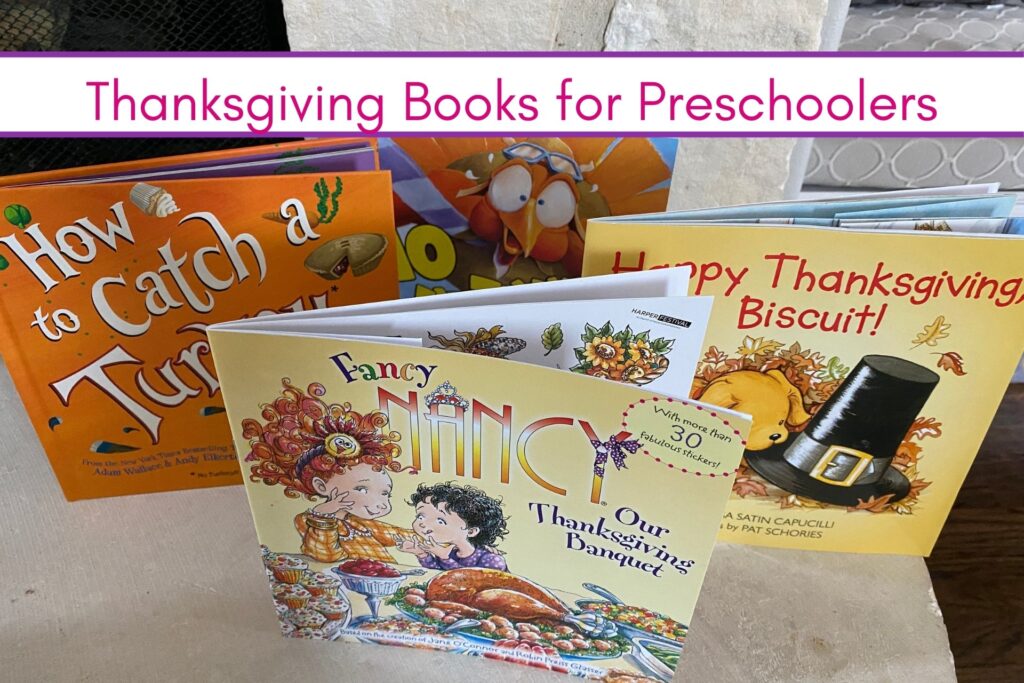 Books are a great way to teach, and preschoolers are always so eager to learn! I'm working my way quickly through my preschool fall books and with Thanksgiving approaching I'm piling on all the books about turkeys, pie, and counting your blessings!
And this list of Thanksgiving books is so fun! There are some books that teach, some that are silly, and some that are sweet. Truly, there's something for everyone.
Whether you are looking for books to read during a class Thanksgiving celebration, as a bedtime story, or while Thanksgiving dinner is being prepared, any of these Thanksgiving books for preschoolers would be a great choice!
Top Picks!
More book recommendation posts you'll love
When To Read Thanksgiving Books for Preschoolers
You can't go wrong with reading, but I've found lots of things that work in my family when incorporating books into holidays. For Thanksgiving, I like to read a Thanksgiving book as we begin November to kick off the feeling of gratefulness. Sometimes I even pair it with some activities like Thanksgiving word scramble or Thanksgiving word searches and make it a party!
I have also gotten in the habit of keeping books in the car for pickup lines or other times we are sitting in the car for a few minutes, and keeping one of these books in there during the Thanksgiving season would be fun.
And of course, you can read books with your preschooler as they wait for your yummy Thanksgiving feast to be ready, or as everyone sits happy and full that evening!
20 Thanksgiving Books For Preschoolers
You don't want to miss these! Here are my 20 favorite Thanksgiving Books for Preschoolers.
This Caldecott Award-winning book is one of my favorites around Thanksgiving time. It tells a story about children who were on board the Mayflower and really teaches your kids about giving thanks and helping friends.
Fancy Nancy is a huge hit in my house so this Thanksgiving book is a no-brainer. Nancy does what she does best and puts a glamorous touch on her family's Thanksgiving!
What would you do if your preschooler invited all their friends to your house for Thanksgiving without you knowing? This Franklin book about friendship and problem-solving is a great one!
This story puts your preschooler right in the middle of the first Thanksgiving. This book might be a little advanced for some preschool children but the story is so good and even you might learn a bit!
My kids always get a kick out of the worst books in the entire world series, and I'll admit I think they are pretty funny too. This story has a great Thanksgiving theme with a funny twist that will get your kids giggling.
I don't know what it is about preschoolers and flap books, but my kids can't get enough of them! And with a classic like the Biscuit books, you know this Thanksgiving story is going to be sweet!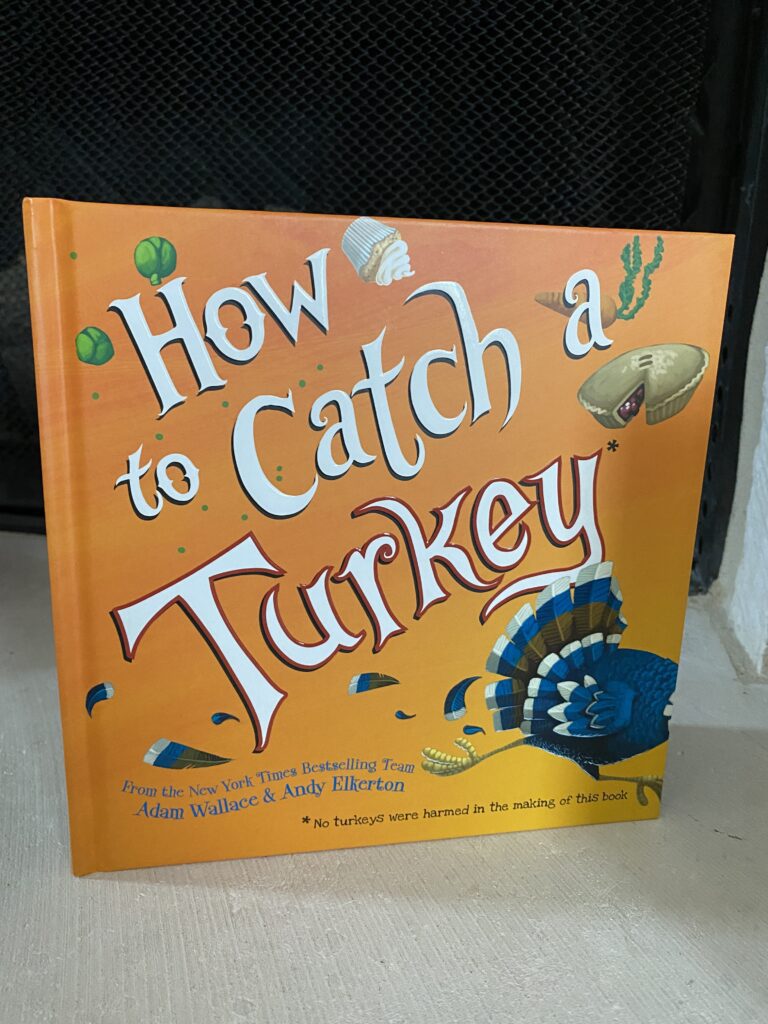 This story is seriously hilarious! When a turkey gets loose at the school, the kids all have to figure out how to catch it, but it's trickier than it looks!
Little Critter is another favorite series of mine and watching him and his friends put on a Thanksgiving-themed play and enjoy the festivities definitely gets me in the spirit for turkey-day!
You know what Thanksgiving means for turkeys… So in this story, a turkey tries to dress up as Thanksgiving approaches to avoid his fate!
I don't think it gets much more classic than Charlie Brown! In this adaptation of Charlie Brown Thanksgiving, Charlie agrees to prepare a Thanksgiving feast for all of his friends.
If you can handle a little bit of potty humor, this Thanksgiving book is always a crowd-pleaser! Tilly lives at a petting zoo and toots all around as people visit her.
This book is so simple and the perfect level for preschoolers while still teaching so much about the first Thanksgiving!
Rhyming books like this one are great for preschoolers who are beginning their journey of learning to read! And I love this simple story about being grateful for all our many blessings.
Counting backward is an important skill for preschoolers and it's even more fun when silly turkeys are around! You won't want to miss this book this Thanksgiving.
Another great series, Pete the Cat, has the best story about Pete being so nervous to be in his Thanksgiving play! It's a fun tale about Thanksgiving but also a greatly relatable story about learning to conquer your fears.
Although this story is few in words, it is always a fun short story to read around Thanksgiving time. I love how Anna Dewdney can always capture so many feelings in her little stories!
I wish I had known that the little old lady series had all these other books earlier because preschoolers and even older kids always love them! In this Thanksgiving version, the little lady eats all the Thanksgiving favorites from cider to rolls to pie.
This story is sure to be something your preschooler can relate to. It's about two kids who try to make their break for the playground before Thanksgiving dinner and end up having quite the adventure.
This book is a perfect reminder of all the things, little and big, that we should remember to be thankful for. It's always a great idea to help our little ones think about their blessings!
There's no wrong time to practice the alphabet with preschoolers, and this Thanksgiving alphabet book is so wonderful. It tells the story of Thanksgiving all while working on your ABCs.