Thanksgiving quotes for kids are a great way to help our kids find gratitude in all things. These 30 quotes will inspire your kids this time of year.
Thanksgiving Quotes for Kids
Thanksgiving is the perfect time of the year to spend a little extra time to reflect and help our kids reflect on the things that they are truly grateful for. We love creating our gratitude garland and writing down all the things we are grateful for and really trying to find more gratitude.
Of course, this can happen through the whole year, but it is on everyone's minds this time of year. We love these Thanksgiving quotes for kids to help inspire more grateful hearts among our kids.
If you want a fun way for your kids to find a little more gratitude, you can even do our thankful gratitude challenge with them! My kids love doing this together!
Be sure to check out these gratitude quotes as well.
Our Favorite Thanksgiving Quotes
It isn't what you have in your pocket that makes you thankful, but what you have in your heart.

— Unknown
We should certainly count our blessings, but we should also make our blessings count.

— Neal A. Maxwell
Kindness in words creates confidence. Kindness in thinking creates profoundness. Kindness in giving creates love.

— Lao Tzu
Hey, Ho, Dee-o, Dee-o! The Pilgrims came to Plymouth Rock; Hey, Ho
Simple people, strudy stock; Hey, Ho
To be free they crossed the sea,
Thanked the Lord on bended knee; Hey, Ho, Dee-o, Dee-o!

Linda G. Paulsen, Ballad of the Mayflower
A tree is known by its fruit; a man by his deeds. A good deed is never lost; he who sows courtesy reaps friendship, and he who plants kindness gathers love.

— Saint Basil
To speak gratitude is courteous and pleasant, to enact gratitude is generous and noble, but to live gratitude is to touch Heaven.

— Johannes A. Gaertner
You simply will not be the same person two months from now after consciously giving thanks each day for the abundance that exists in your life. And you will have set in motion an ancient spiritual law: the more you have and are grateful for, the more will be given you.

— Sarah Ban Breathnack
A thankful heart is not only the greatest virtue but the parent of all the other virtues.

— Cicero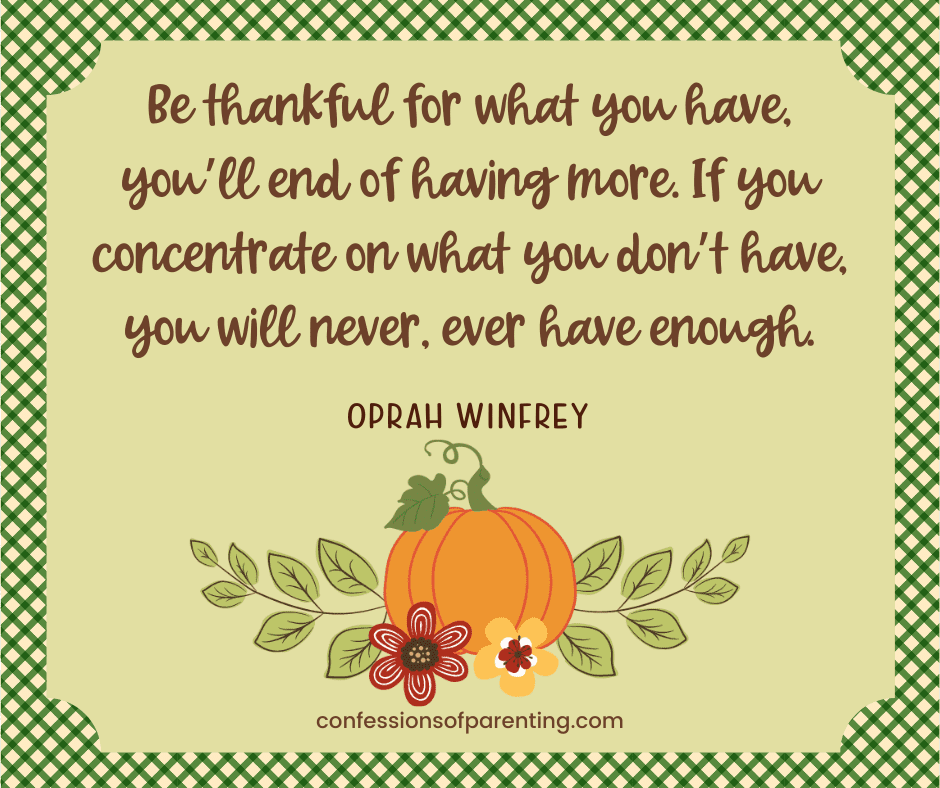 Be thankful for what you have, you'll end of having more. If you concentrate on what you don't have, you will never, ever have enough.

— Oprah Winfrey
Thanksgiving is the meal we aspire for other meals to resemble.

— Jonathan Safran Foer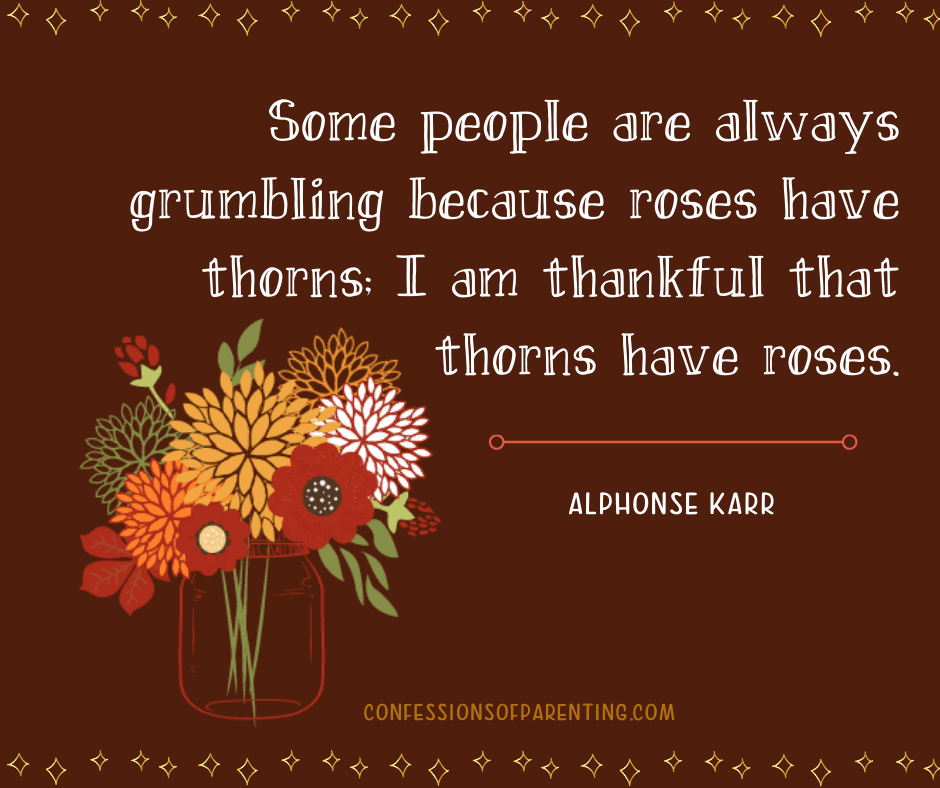 Some people are always grumbling because roses have thorns; I am thankful that thorns have roses."

— Alphonse Karr
All that we behold is full of blessings.

— William Wordsworth
Gratitude also opens your eyes to the limitless potential of the universe, while dissatisfaction closes your eyes to it.

— Stephen Richards
After a good dinner, one can forgive anybody, even one's own relations.

— Oscar Wilde
The only people with whom you should try to get even are those who have helped you.

— John E. Southard
As we express our gratitude, we must never forget that the highest appreciation is not to utter words, but to live by them.

— John Fitzgerald Kennedy
Now is no time to think of what you do not have. Think of what you can do with what there is.

— Ernest Hemingway
Showing gratitude is one of the simplest yet most powerful things humans can do for each other.

— Randy Pausch
If you are really thankful, what do you do? You share.

— W. Clement Stone
Gratitude unlocks the fullness of life. It turns what we have into enough, and more. It turns denial into acceptance, chaos to order, confusion to clarity. It can turn a meal into a feast, a house into a home, a stranger into a friend. Gratitude makes sense of our past, brings peace for today and creates a vision for tomorrow.

— Melody Beattie
When you give and carry out acts of kindness, it's as though something inside your body responds and says, 'Yes, this is how I ought to feel.'

— Rabbi Harold Kushner
If there's one thing I've learned over the eons, it's that you can't give up on your family, no matter how tempting they make it.

— Rick Riordan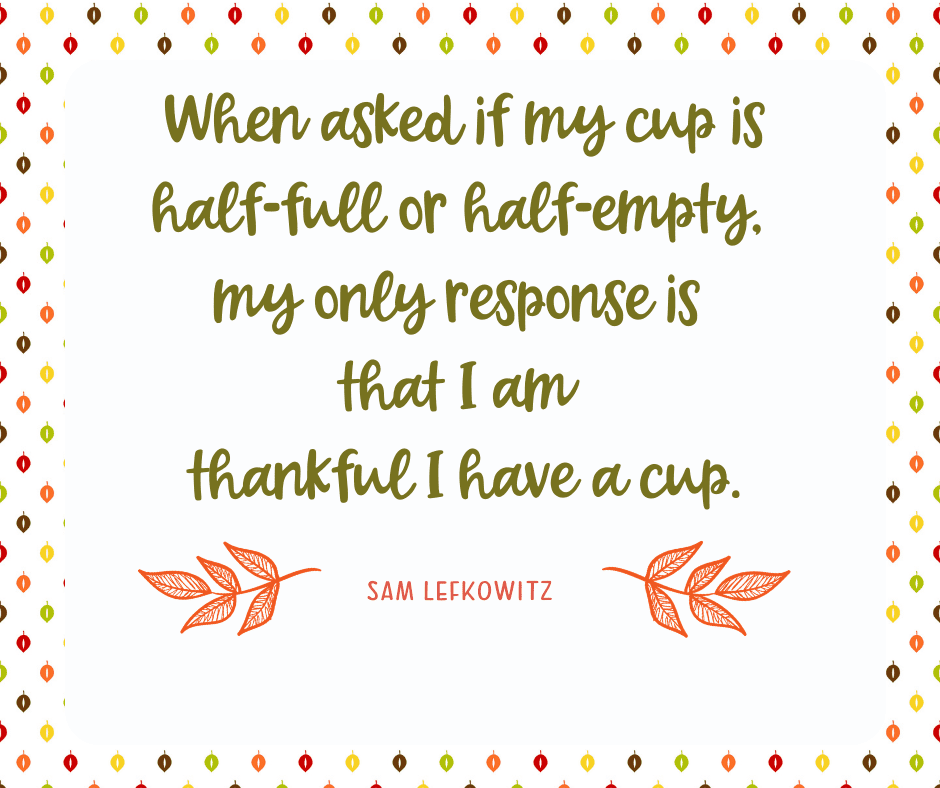 When asked if my cup is half-full or half-empty, my only response is that I am thankful I have a cup.

— Sam Lefkowitz
If a fellow isn't thankful for what he's got, he isn't likely to be thankful for what he's going to get.

— Frank A. Clark
We can only be said to be alive in those moments when our hearts are conscious of our treasures."

— Thornton Wilder
Reflect upon your present blessings — of which every man has many — not on your past misfortunes, of which all men have some.

— Charles Dickens
We often take for granted the very things that most deserve our gratitude.

— Cynthia Ozick
The world has enough beautiful mountains and meadows, spectacular skies and serene lakes. It has enough lush forests, flowered fields, and sandy beaches. It has plenty of stars and the promise of a new sunrise and sunset every day. What the world needs more of is people to appreciate and enjoy it.

— Michael Josephson
Forever on Thanksgiving Day, the heart will find the pathway home.

— Wilbur D. Nesbit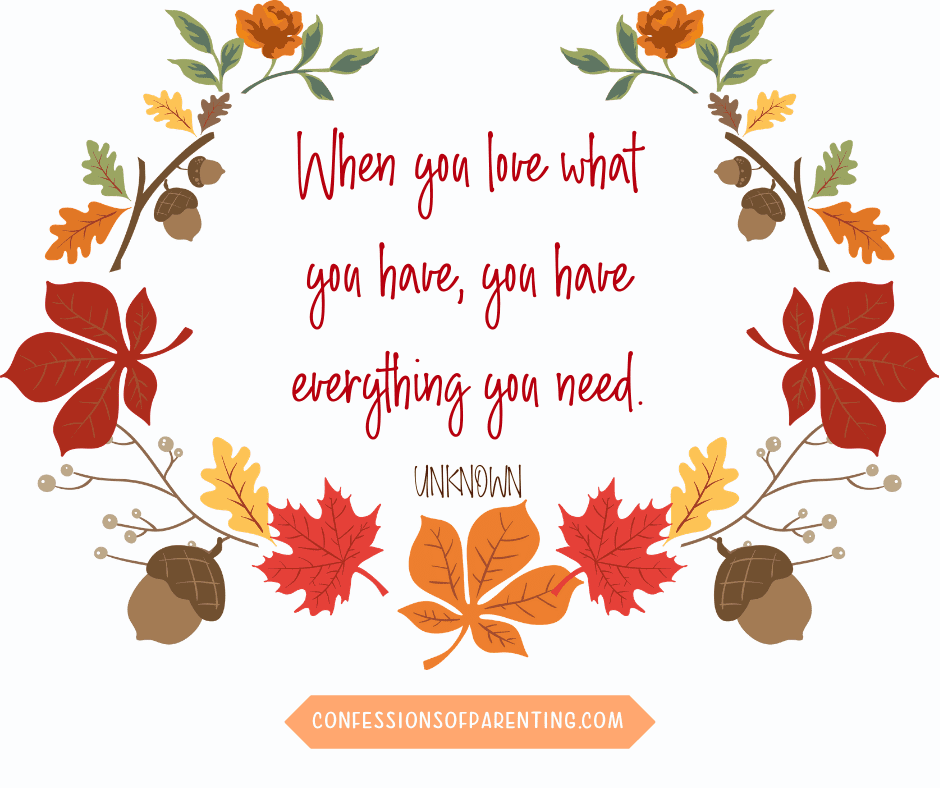 When you love what you have, you have everything you need.

— Unknonwn
There you have it! 30 of the most inspiring Thanksgiving quotes for kids! What quotes are your favorite? Share in the comments!