Searching for the best trivia games to play with your friends and family? This is the ultimate list of Trivia Games to keep kids and adults entertained while learning about all kinds of fun topics!
Trivia games are always fun no matter if you have others to play with or you want to test your own knowledge. We are so excited to share the best trivia games that you can play over zoom, over the phone or in person with your friends, family or strangers!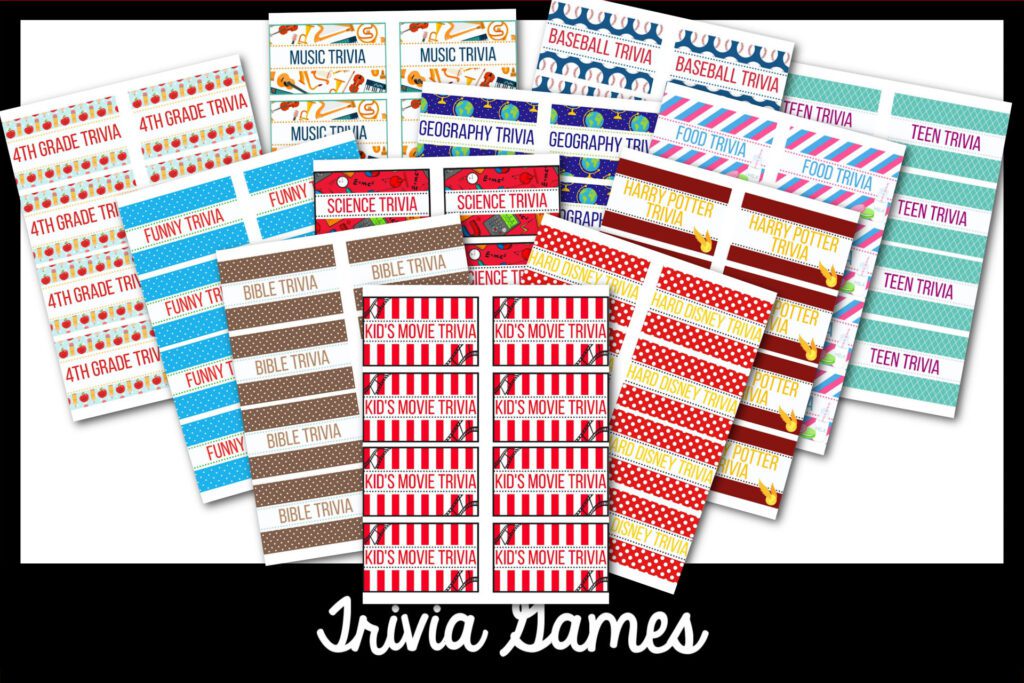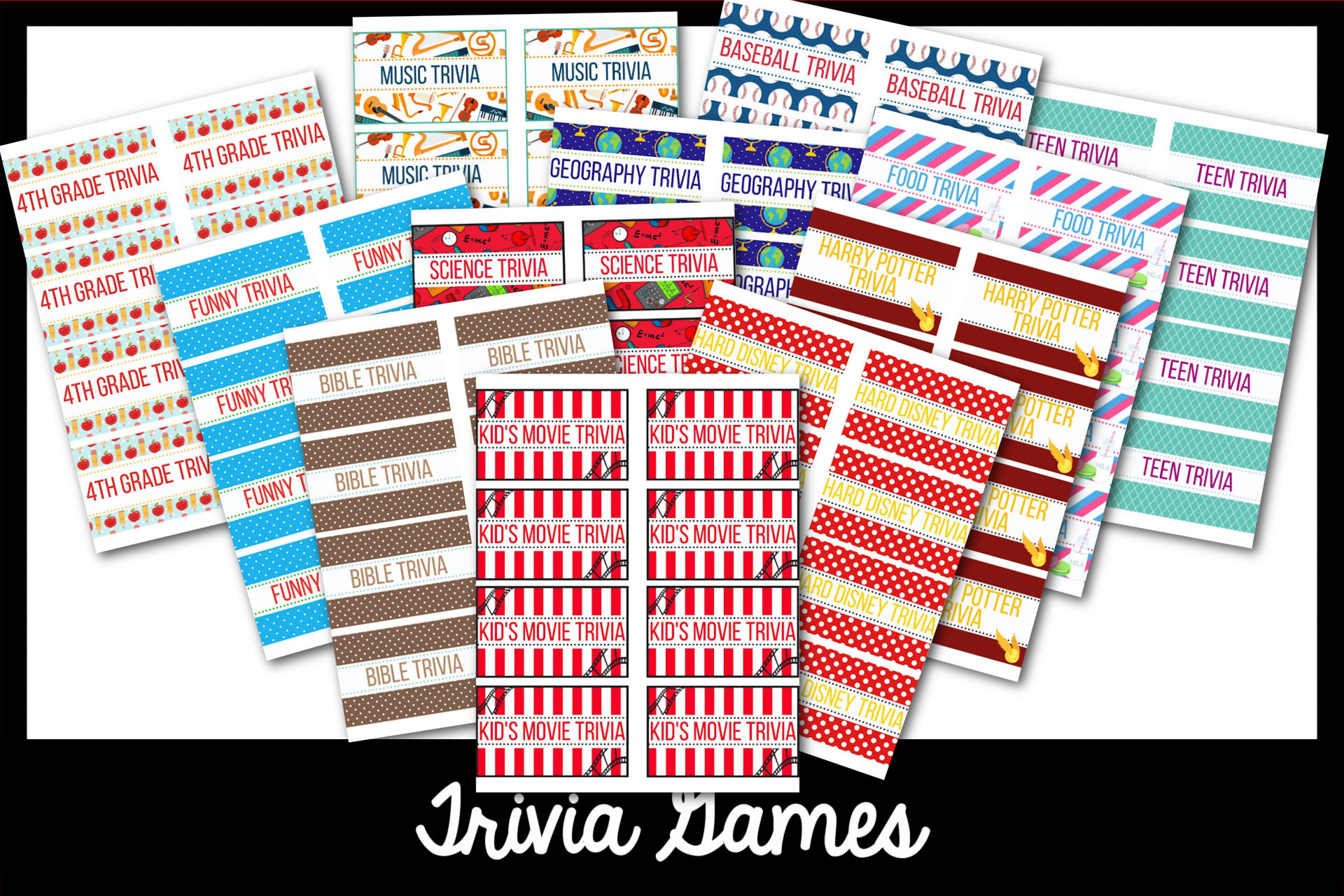 The Ultimate List of Trivia Games
Test your knowledge or build new knowledge in all different sorts of categories. Trivia games are a fantastic way to pass some time while learning and having fun all at once! Because trivia games are so simple, you can play them in the classroom, on a road trip, at home, or even sitting around the dinner table.
How Do You Play Trivia Games?
Start by choosing which trivia game you want to play. Check back to this page often as we are always adding new trivia games to the list.
You can play in teams, with just two players, or test your own trivia knowledge. Decide if there are any time limits per question or round. Take turns asking the trivia questions to each other, or have a designated question reader. You will get a point for each question you answer right.
The great thing about trivia games is that they can be super simple (just ask each other questions), or you can make it into a full-blown competition, or anywhere in between. However you play, everyone is sure to have a great time practicing their knowledge in sports, movies, school subjects, and so on!
How to Improve Your Trivia Skills
Having a healthy curiosity about all kinds of subjects can help your players improve their trivia skills. Just start playing trivia games, even if you don't know many of the answers yet. As you play, you'll gain more knowledge to use for future trivia games.
Don't Forget to Add Prizes Too!
You can play these games just for fun, but who doesn't love a good competition? Up the stakes by adding a prize for the winner(s). The prize could be anything – a book of stickers, a yummy dessert, small toys, books, a gift card, etc. Whatever you think will entice the players!
Benefits of Playing Trivia Games With Your Kids
There are so many benefits to playing trivia games. First of all, it is a great way to test and reinforce their knowledge. Think of a more fun version of flashcards. Trivia also helps increase memory and learn facts about all sorts of topics.
And most important, playing trivia games encourages a love of learning! Y'all can see firsthand that learning can be fun and intriguing!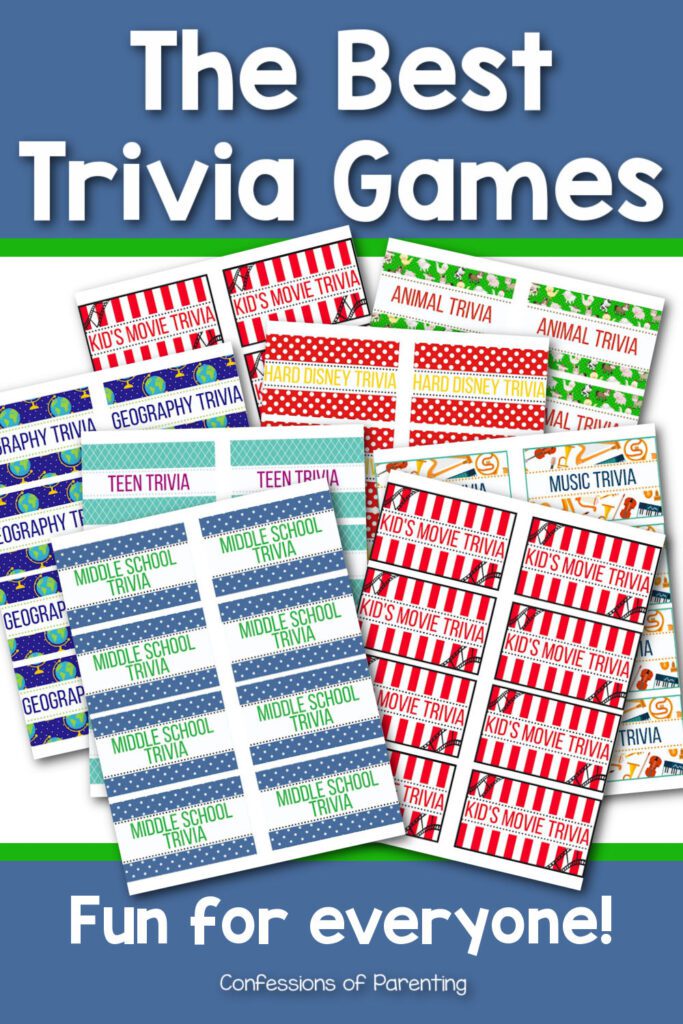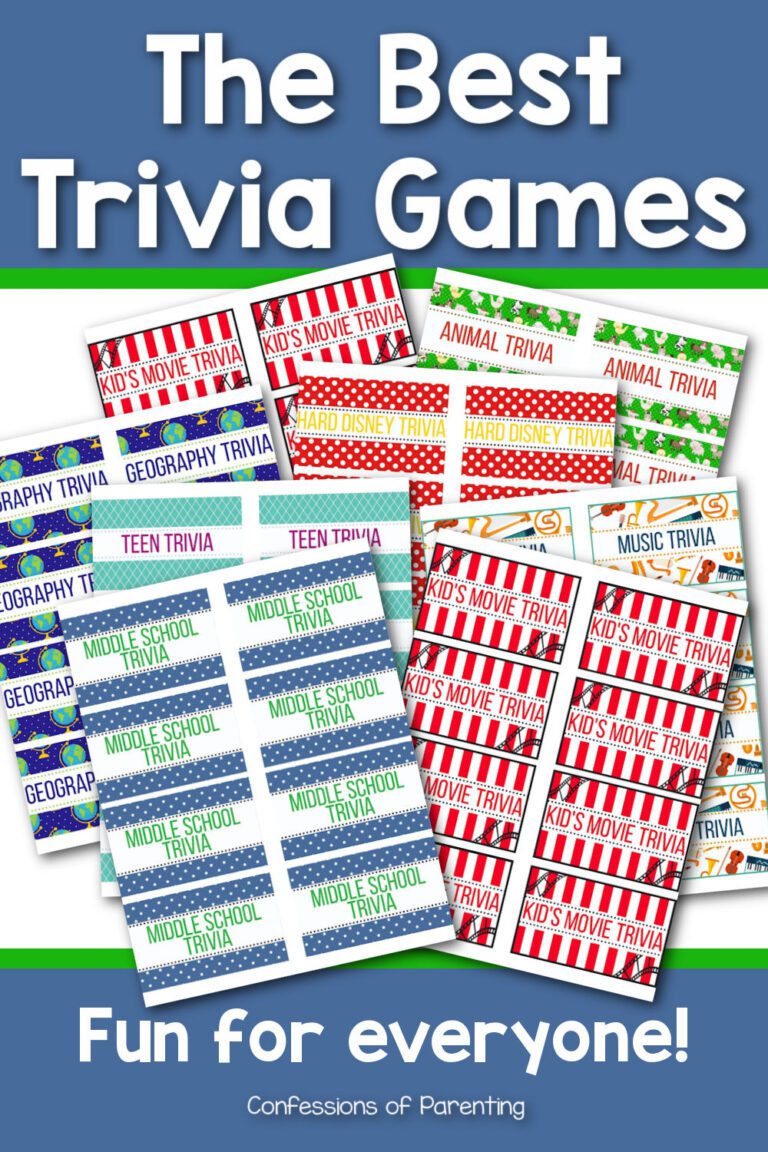 Fun Trivia Games For Everyone
With so many trivia games to choose from, and more coming all the time, you will be able to enjoy learning more about all different topics.
Middle School Trivia Questions: These Middle School Trivia Questions cure boredom while practicing and reinforcing what your kids are learning at school. Not only that, but they are great to use in the classroom as well.
Funny Trivia Questions For Kids: Get your kids laughing with this list of Funny Trivia Questions for Kids. There are plenty of silly questions to keep the smiles going and the laughs coming.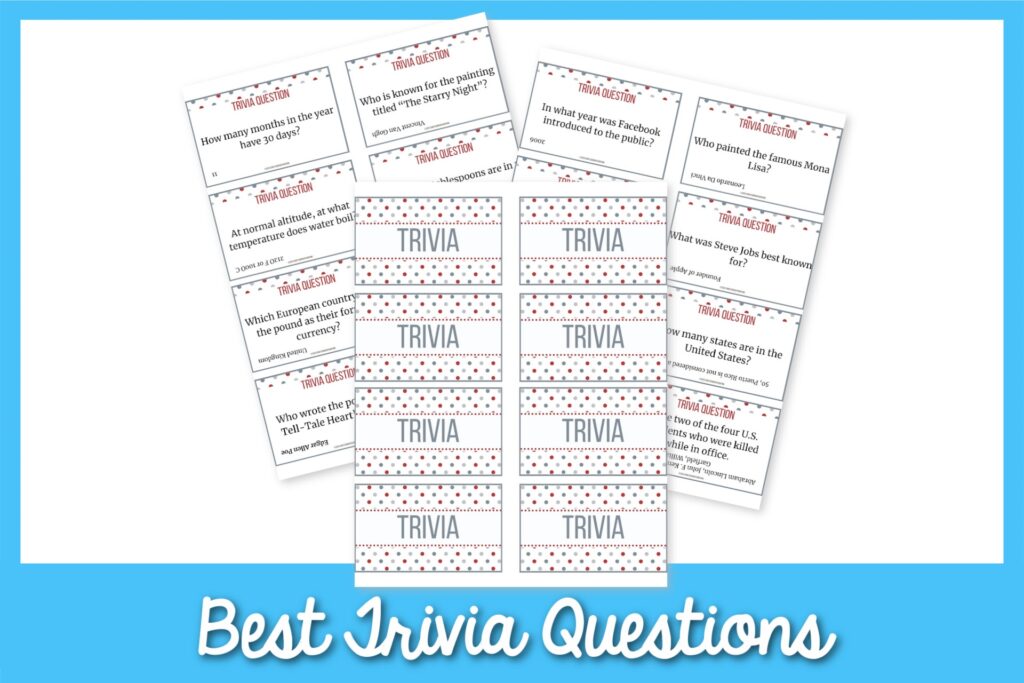 The Best Trivia Questions: This list of the Best Trivia Questions covers a broad range of topics from movies to geography and more. So if you want lots of different categories this is the trivia game you want to grab.
100 Trivia Questions For Teens: These Trivia Questions For Teens put into practice what they are learning at school, while also throwing in some fun pop culture references and more! Teen trivia is a huge thing kids love! In fact some even test their knowledge over text with their friends.
Sports Trivia Questions For Kids: These Sports Trivia Questions for kids are perfect for testing your kids' knowledge on the details of various sports including football, basketball, golf, and more. These questions are a bit easy for adults but can totally work for the novice sports fan as well.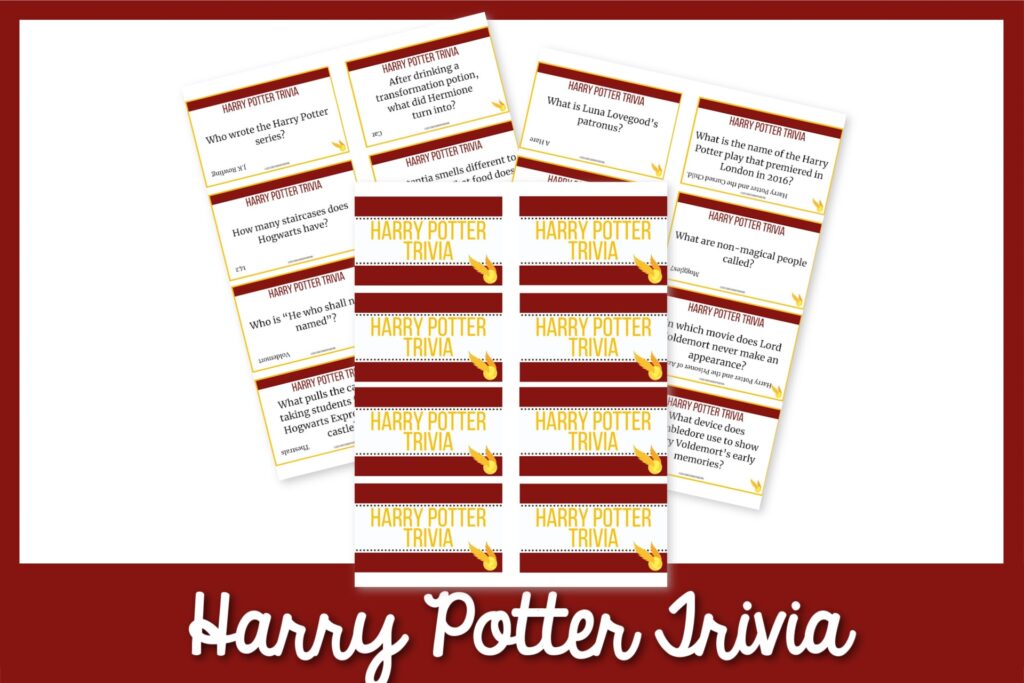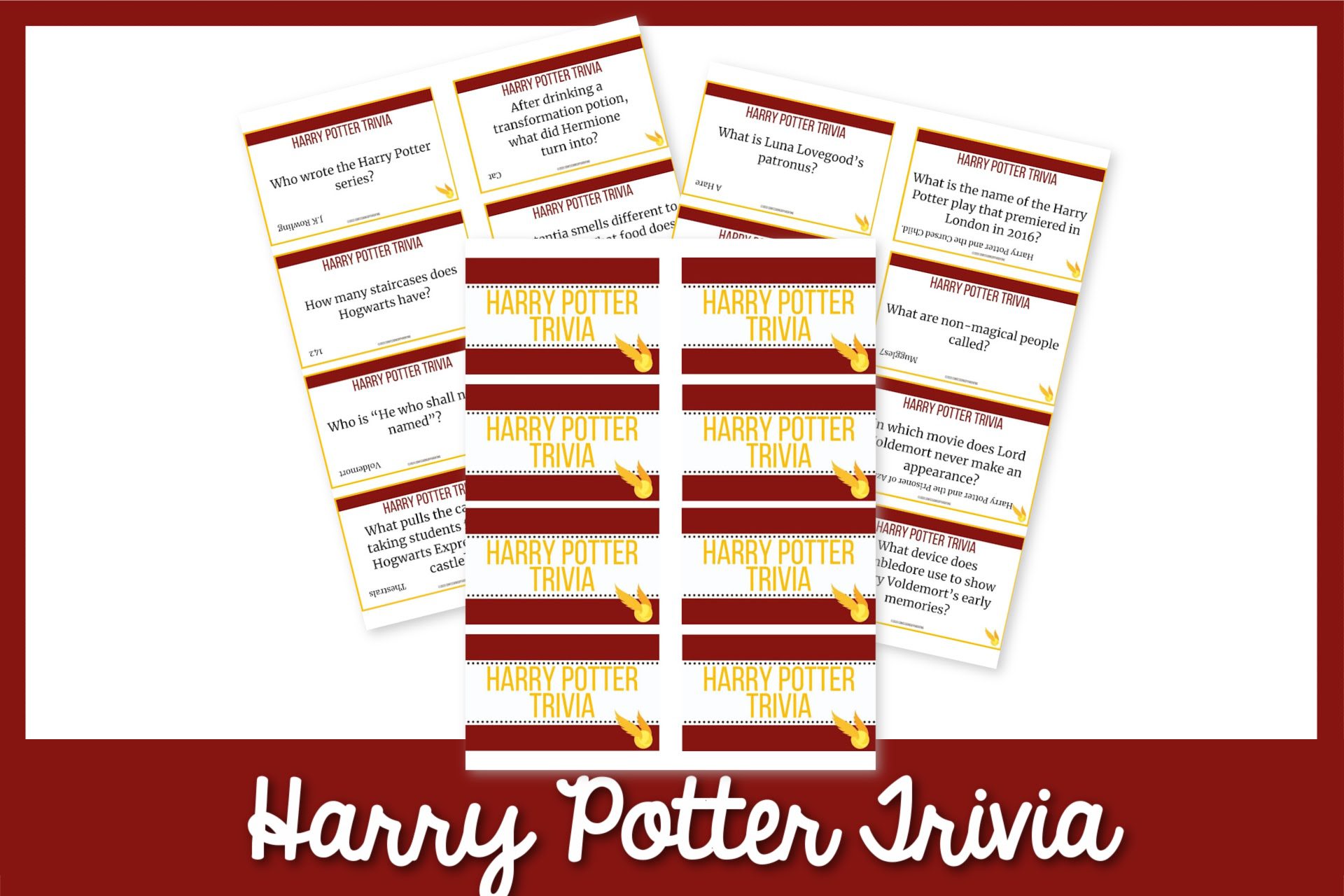 Harry Potter Trivia Questions: This list of Harry Potter Trivia Questions is perfect for the Potterheads in your life. Test your knowledge of the wizarding world with this fun game. Do you know the answers to all the Harry Potter trivia questions? Only time will tell!
State Trivia Questions: This list of State Trivia Questions are perfect for those interested in geography, history, and other fun facts about the states. This is another great way to learn about our country on a deeper level.
National Park Trivia: This National Park Trivia is perfect for your National Park vacation, or for kids who are interested in the details of various National Parks. You might be surprised about our national parks as you learn all about them!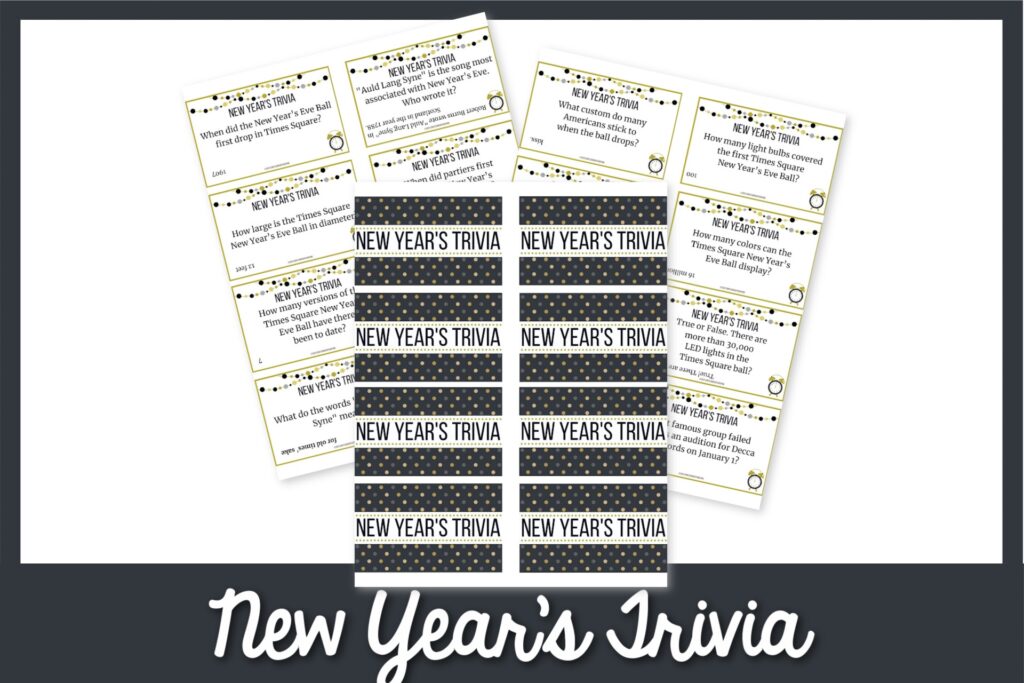 New Years Trivia Questions: Learn some new facts while waiting for the ball drop at midnight with these New Years Trivia questions. Do you know who sponsored the first ball drop? Play and find out!
Bible Trivia Questions And Answers: Help your kids to better understand Bible stories with this list of Bible Trivia questions. This game is the perfect Sunday activity. It is perfect to use in Sunday School classes as well to break the ice or to fill time.
Geography Trivia For Kids: This Geography Trivia game includes questions ranging from the states, to other countries, and even the solar system! Grab these for loads of fun.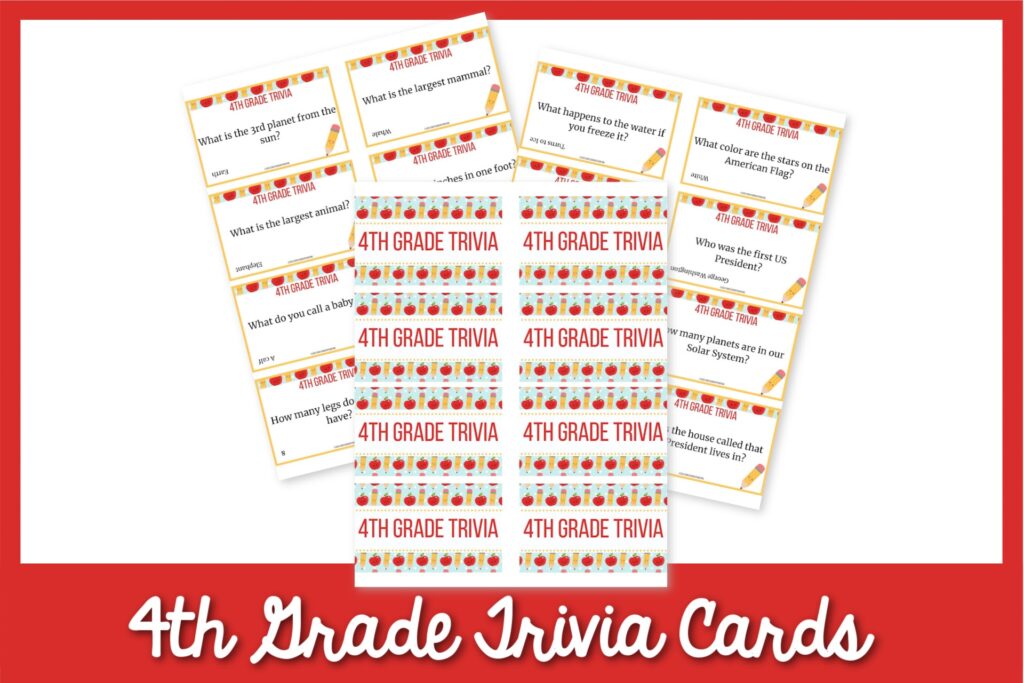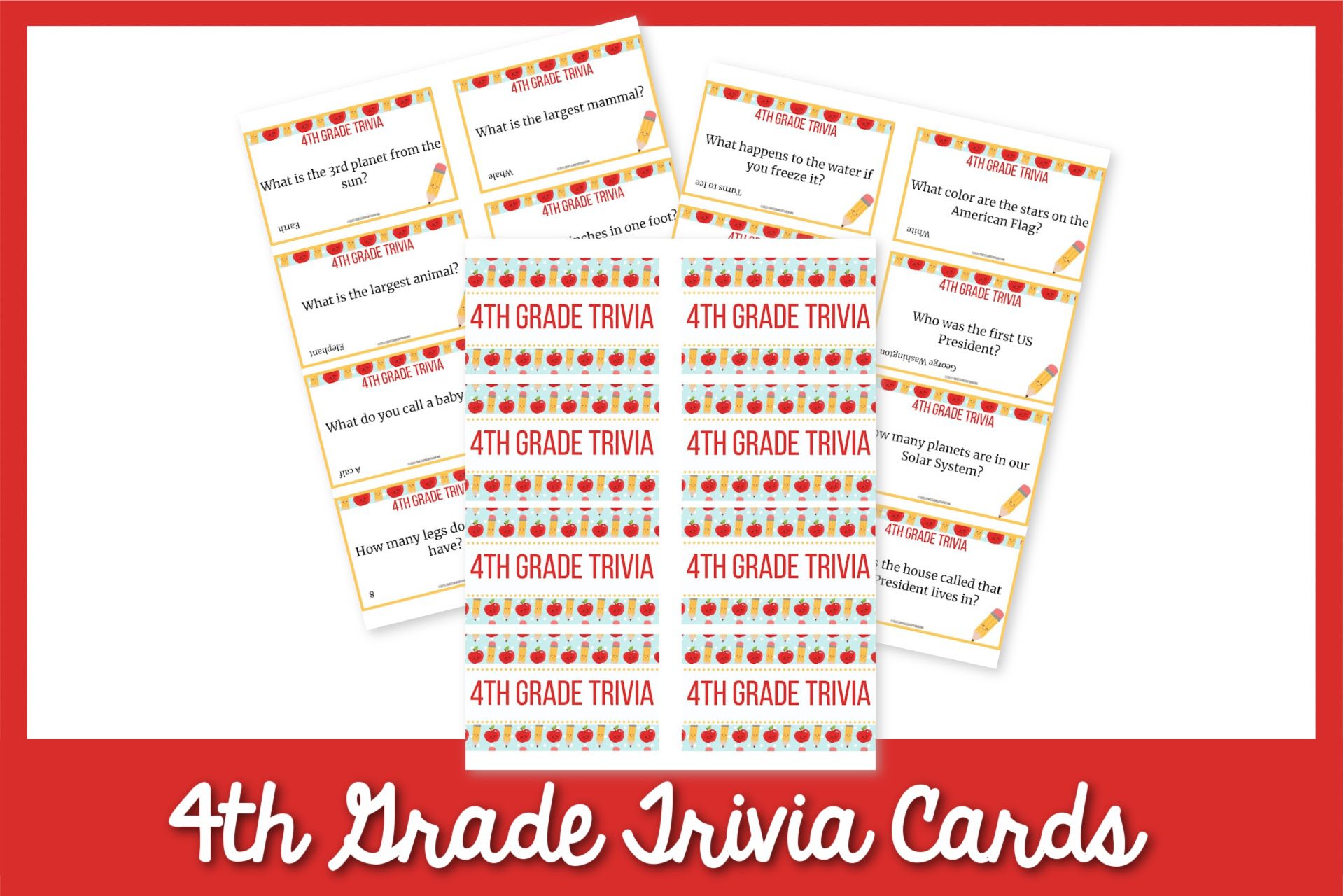 4th Grade Trivia Questions: This 4th Grade Trivia game, although designed for 4th graders, provides fun for the whole family! The knowledge needed is specific to 4th grade but perfect for kids older to help them remember important facts as well.
Christmas Trivia for Kids: Get the cousins together and play a round of this Christmas Trivia. Trivia games are easily adaptable to large groups, which is perfect when extended family comes to visit!
Christmas Movie Trivia Questions: Movie trivia games are always a blast, but the Christmas version is extra fun! This list of Christmas Movie Trivia questions is perfect for those cozy evenings at home. It asks questions from all your favorite Christmas movies!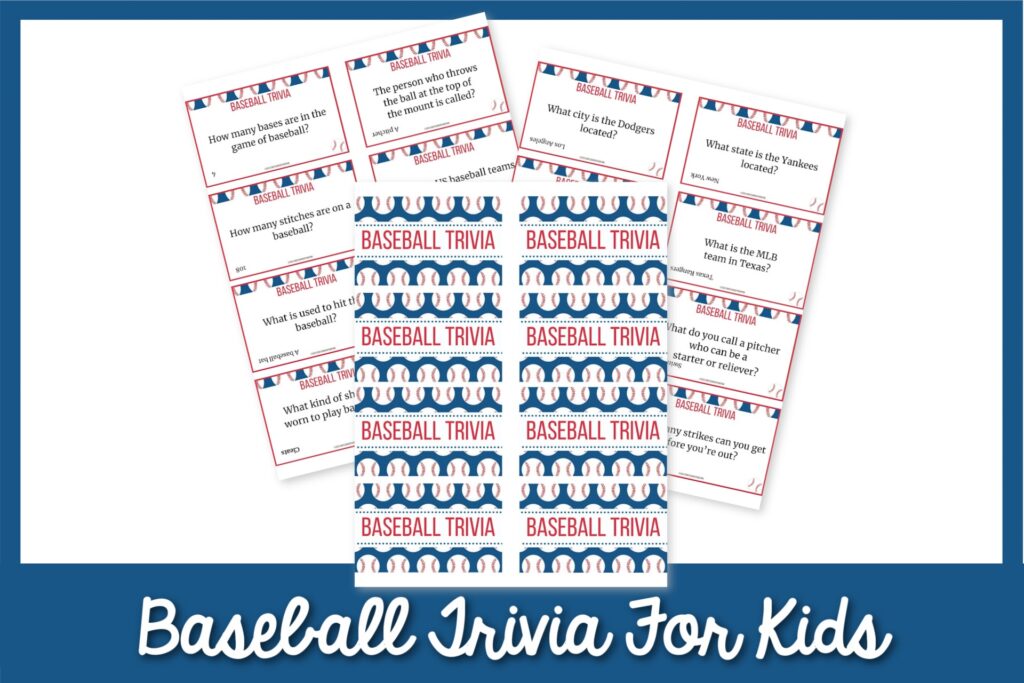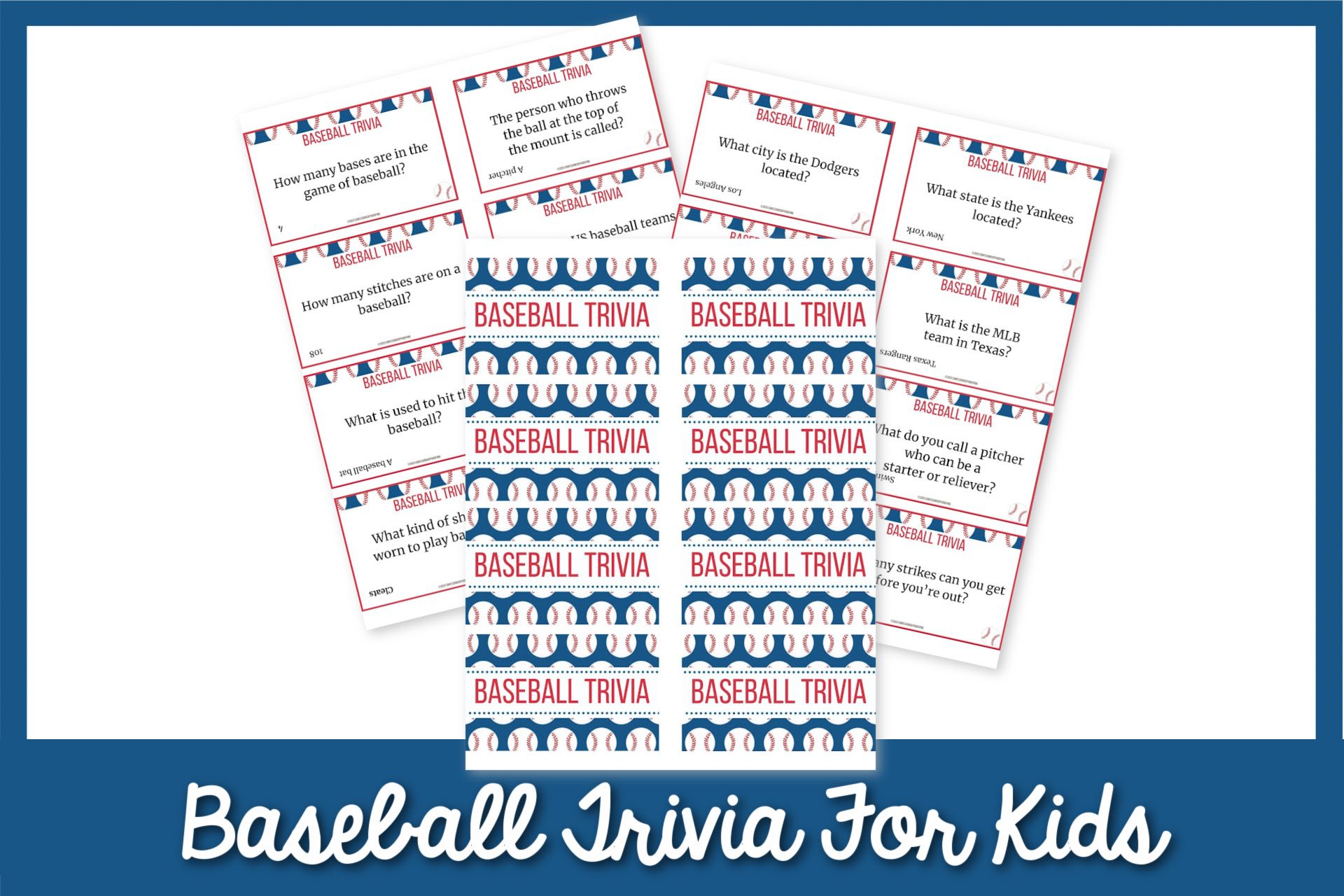 Baseball Trivia Questions: Dive into your kid's baseball knowledge with these All-Star Baseball Trivia Questions. Do your kids know what a full count is? Grab these questions and find out?
Animal Trivia Question For Kids: Learn more about animals with this fun Animal Trivia game. It is great for all ages!
Halloween Trivia Questions: This Halloween Trivia game is perfect to play at your next Halloween party or classroom party! It ensures some spooky fun.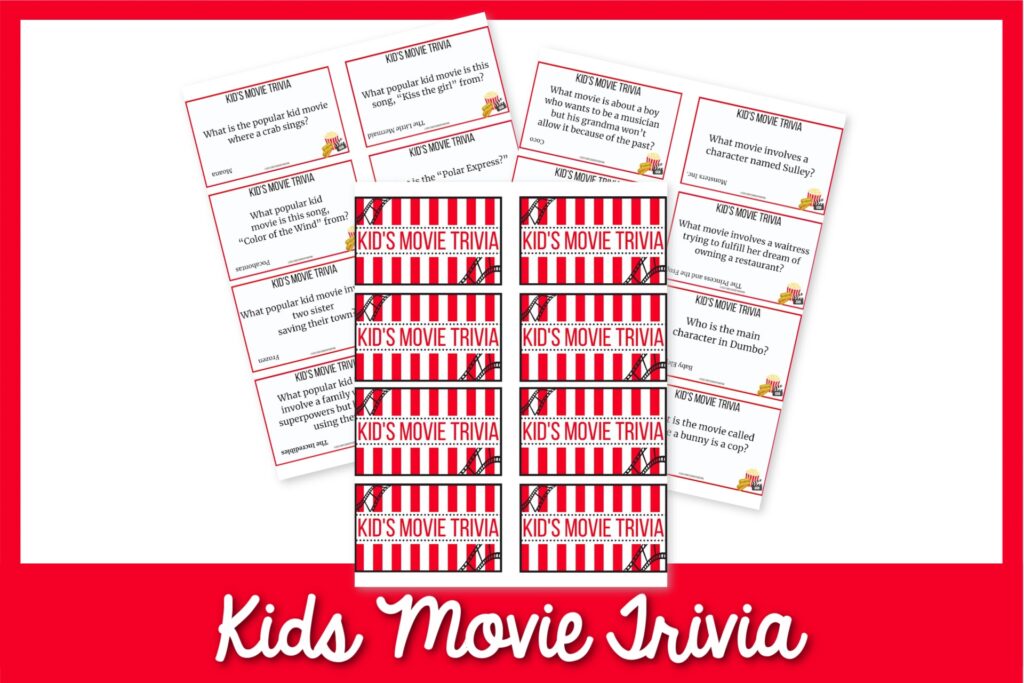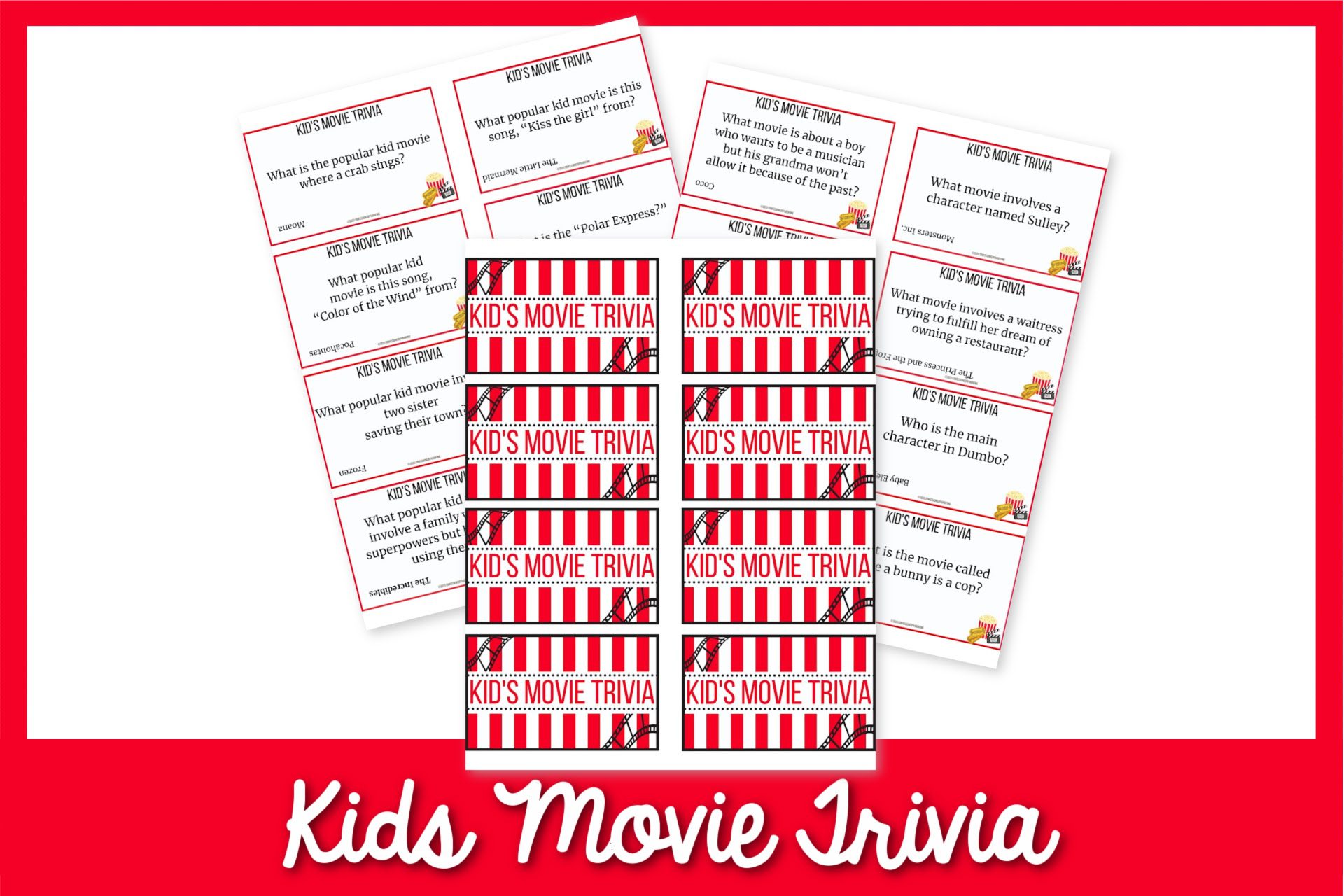 Kids Movie Trivia: If your kids loves movies like Disney movies, this is the best trivia to test their knowledge! This is also good for grown-ups and adults!
Football Trivia for Kids: Practice your knowledge of football teams, players, rules and more with this Football Trivia for Kids.
Trivia Questions For Kids: These Trivia Questions For Kids include a variety of topics to quiz your little ones. This trivia game is perfect for the whole family. So grab it for your next game or family get together and get started having fun quizzing one another.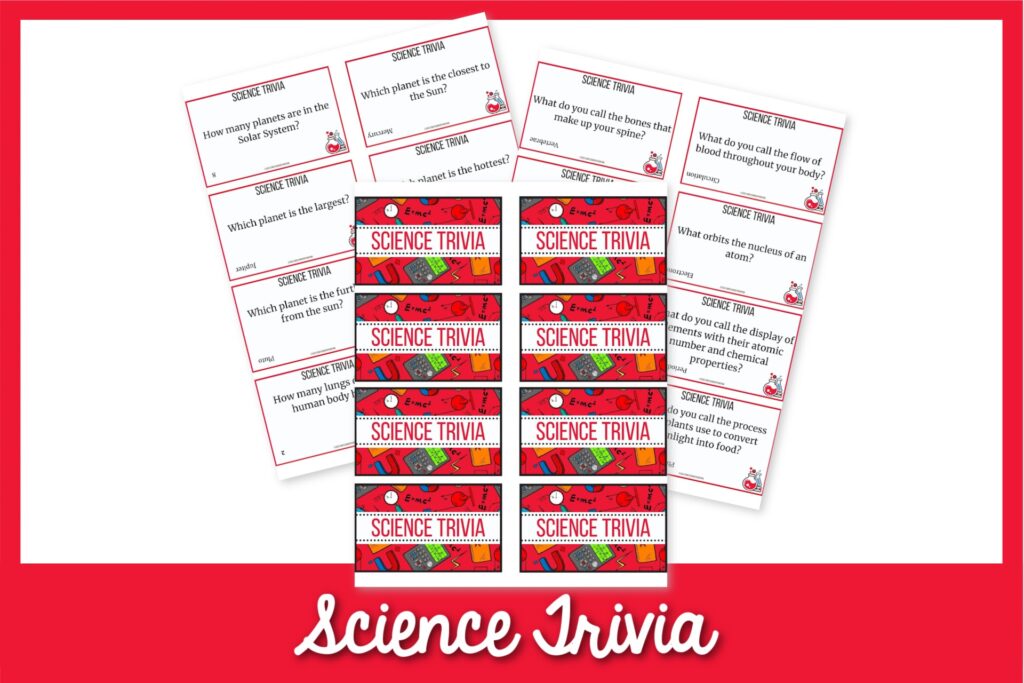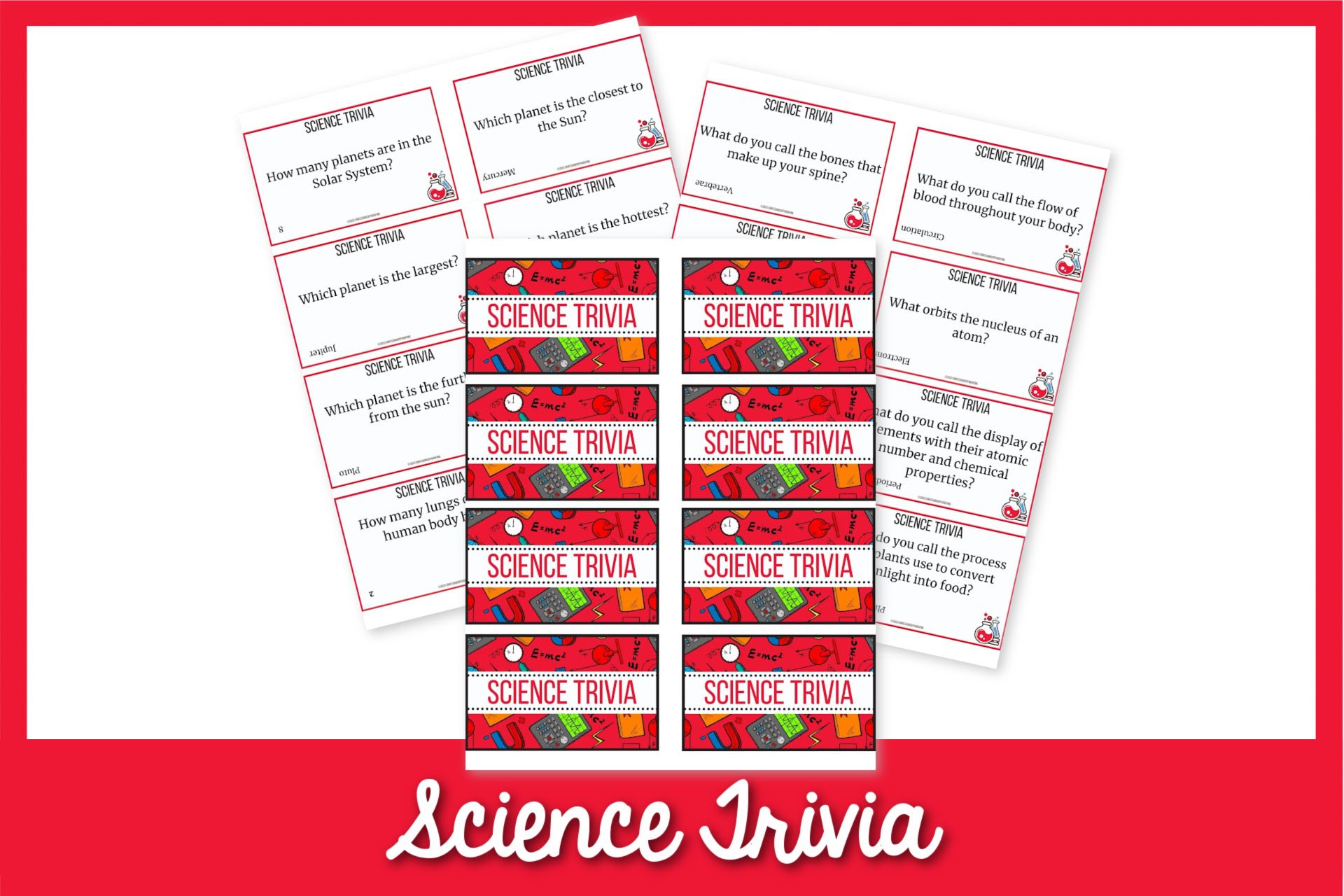 Science Trivia: This is one simple way for your kids to learn the basics about Science. The Science trivias will help them acquire knowledge and refresh the adult's memory!
Food Trivia: Do you and your family love food? This is the ideal game that your family should play! This food trivia questions will make you excited and learn more about foods.
Fall Trivia Questions: Test out these 100 fall trivia questions to see how much you know about fall. These trivia questions are sure to put your knowledge to the utimate test. These fall trivia questions are perfect for kids, teens, and adults.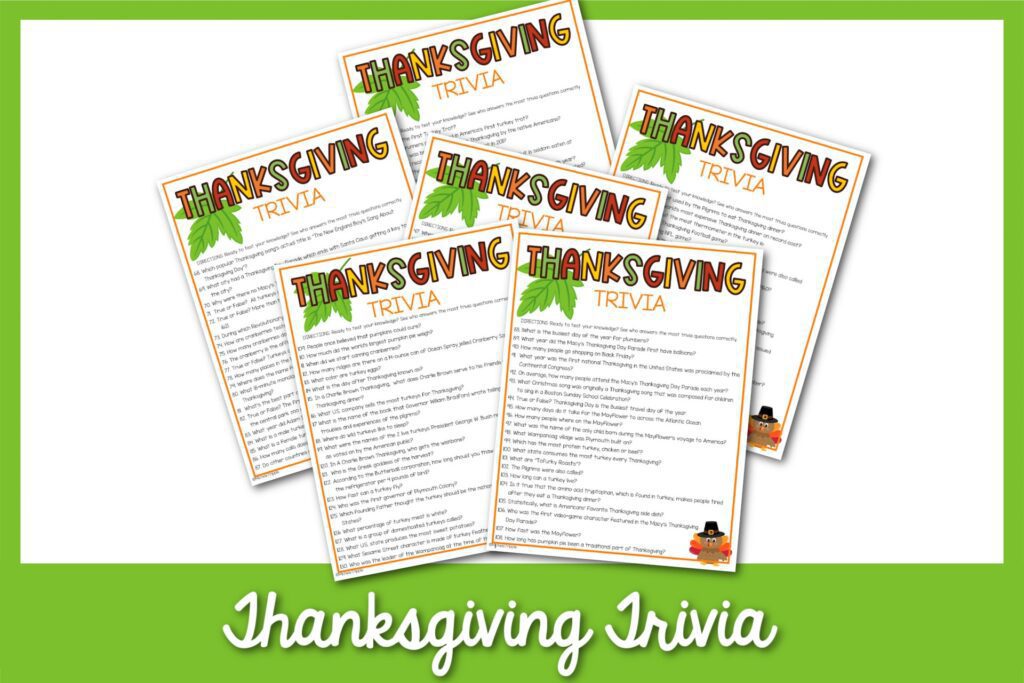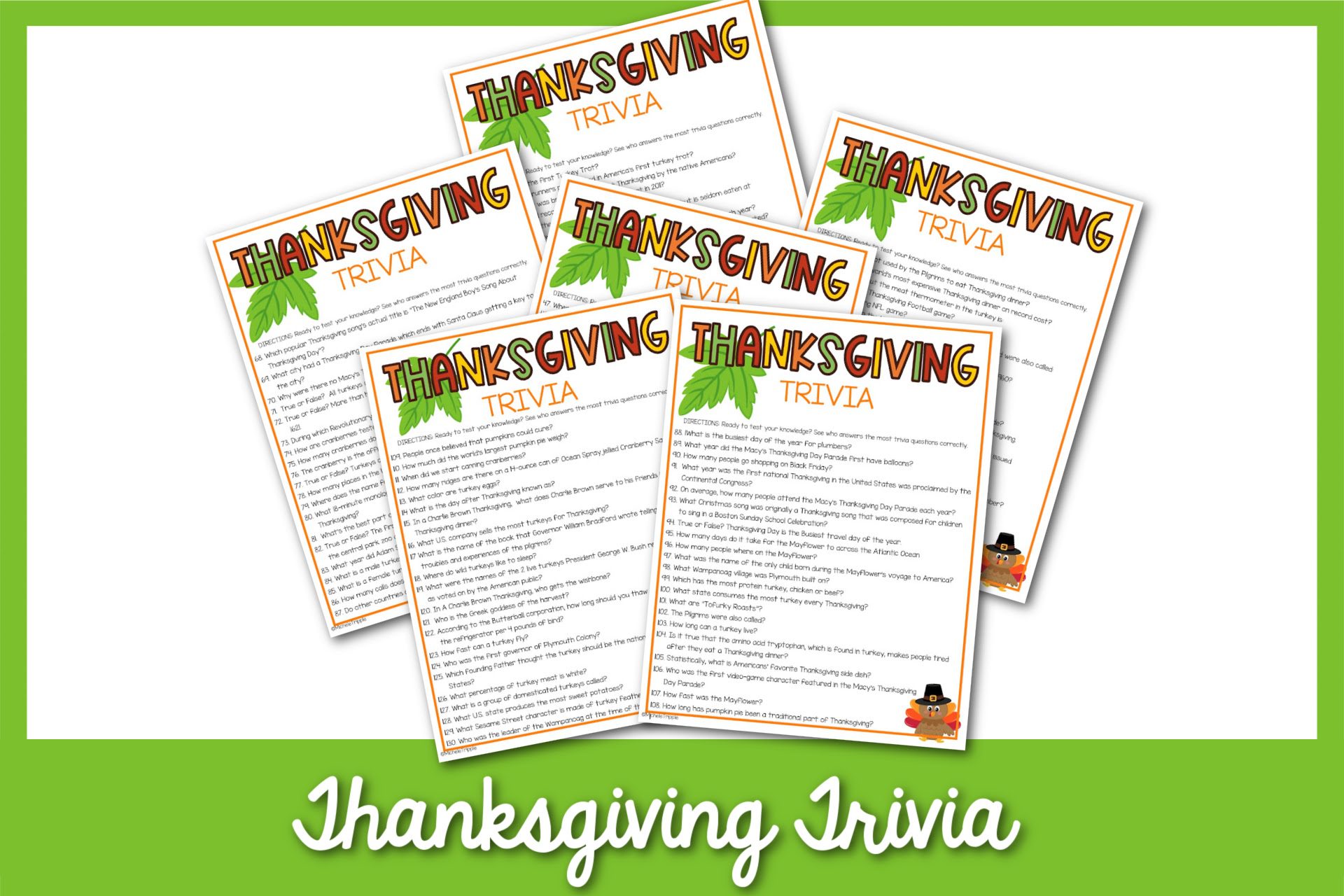 Thanksgiving Trivia: Ready to test your Thanksgiving trivia knowledge? Step right up and see how many of these Thanksgiving Trivia questions you can get right! Use these in the classroom, for family game night, or for trivia night with your friends.
Santa Claus Trivia Questions: Ready to test your knowledge of everything Santa Claus? Then you will want to grab these Santa Claus Trivia Questions to see who knows the most about Jolly Old Saint Nicholas. 
Fascinating Space Trivia Questions: Test your knowledge about all things space with these fun and engaging Space Trivia Questions. Your family is going to love learning more about planets, rockets, and more!
Fairy Tale Trivia: Think you are a fairy expert? Try your hand at these fairy tale trivia questions to see if you are the ultimate fairy expert!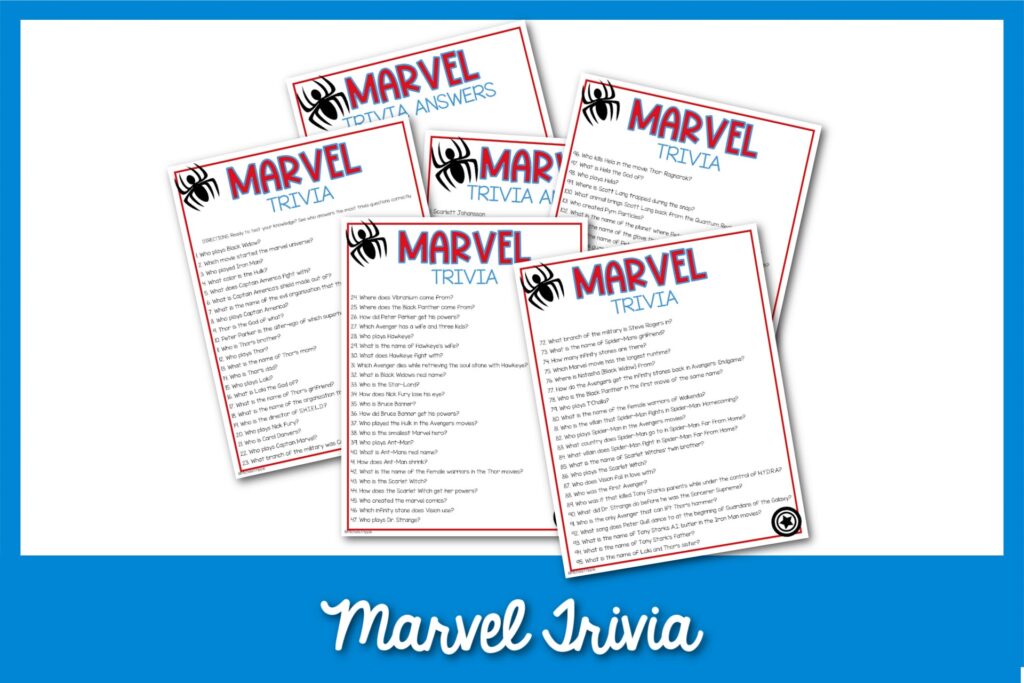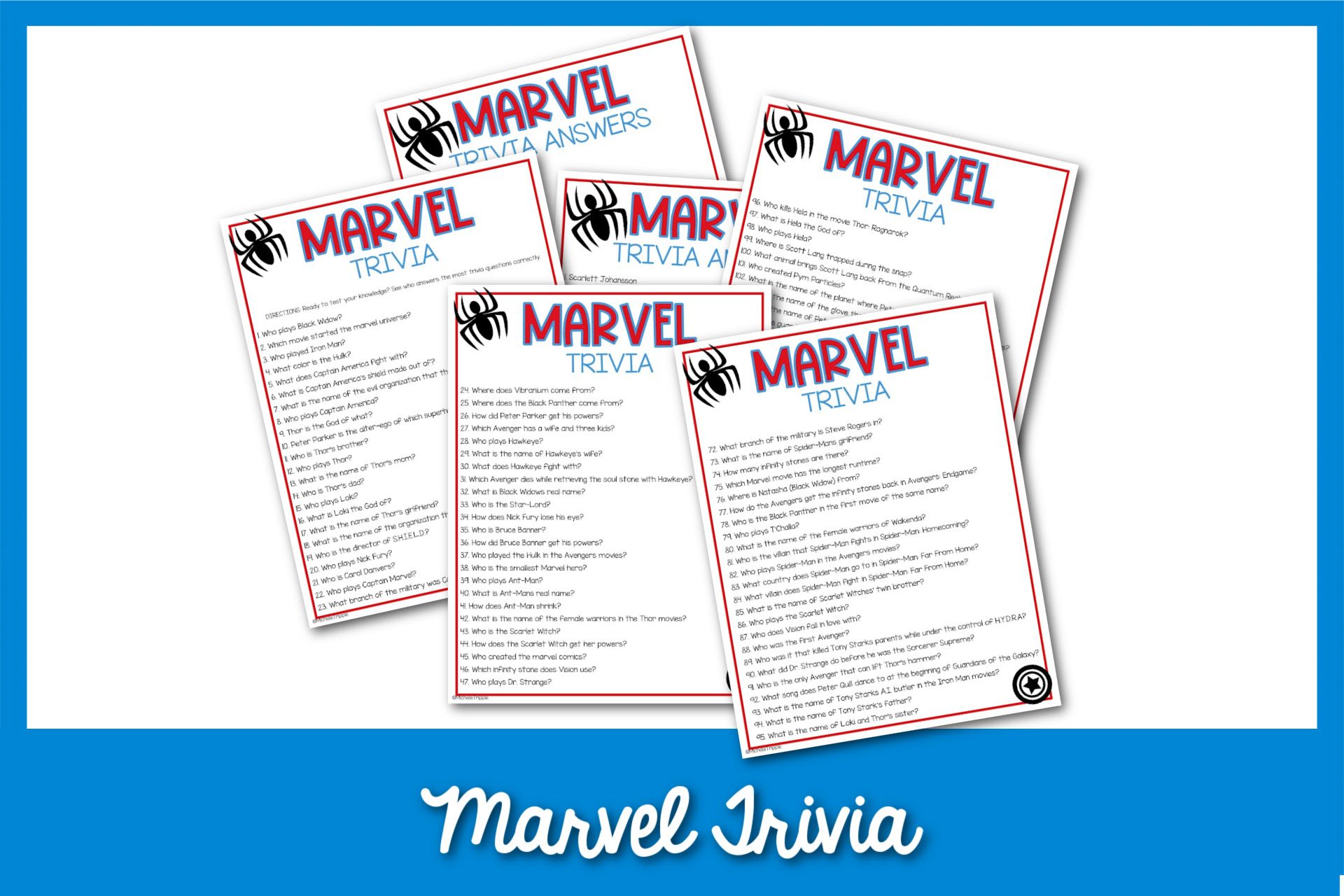 Marvel Trivia Questions: Calling all Marvel movie fans! Test your knowledge with these Marvel trivia questions that will engage the whole family in no time. These 110 trivia questions range from easy to difficult, ideal for kids and adults! Grab the popcorn and see if you have what it takes to become an Avenger.
Elf Trivia Questions: Ready to test your elf knowledge? These elf trivia questions will help determine if you are an elf expert!
Star Wars Trivia Questions: Do you have any Star Wars fans in your house? See how much they know with these Star Wars Trivia questions! With 90 questions of varying difficulty, everyone from the Star Wars novice to the expert can play and have fun together.
Valentine's Day Trivia Questions: Will you Be Mine? Before celebrating Valentine's Day with flowers, cards, and chocolate, take a moment and test your Valentine's Day knowledge with these 100 fun Valentine's Day Trivia Questions. Grab your Valentine, a group of friends, or your family, and see how much you know about this fun time of year.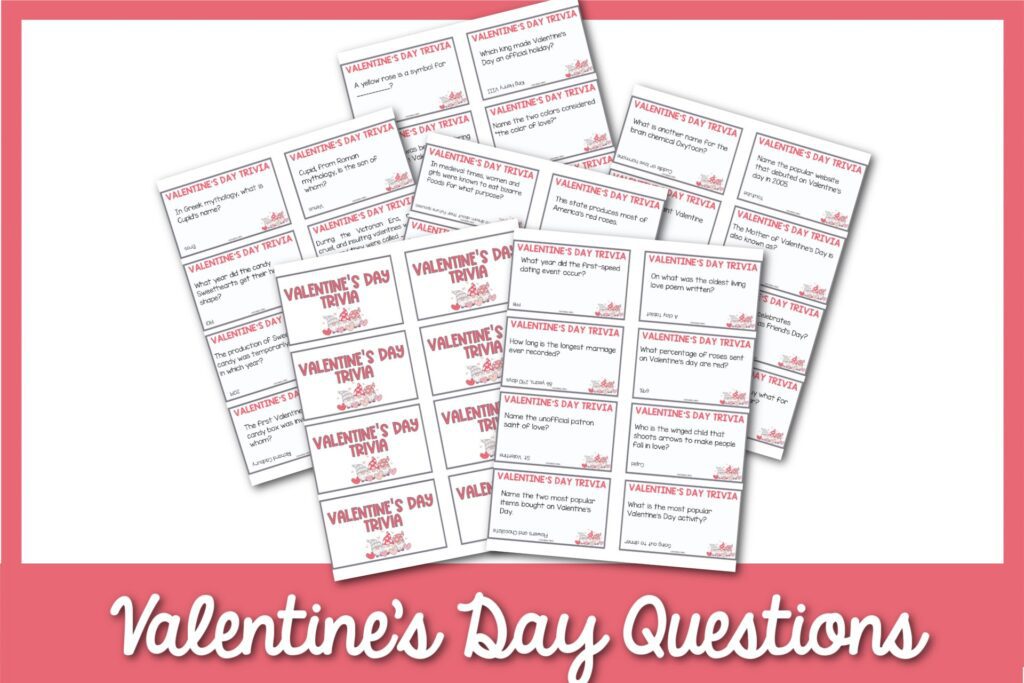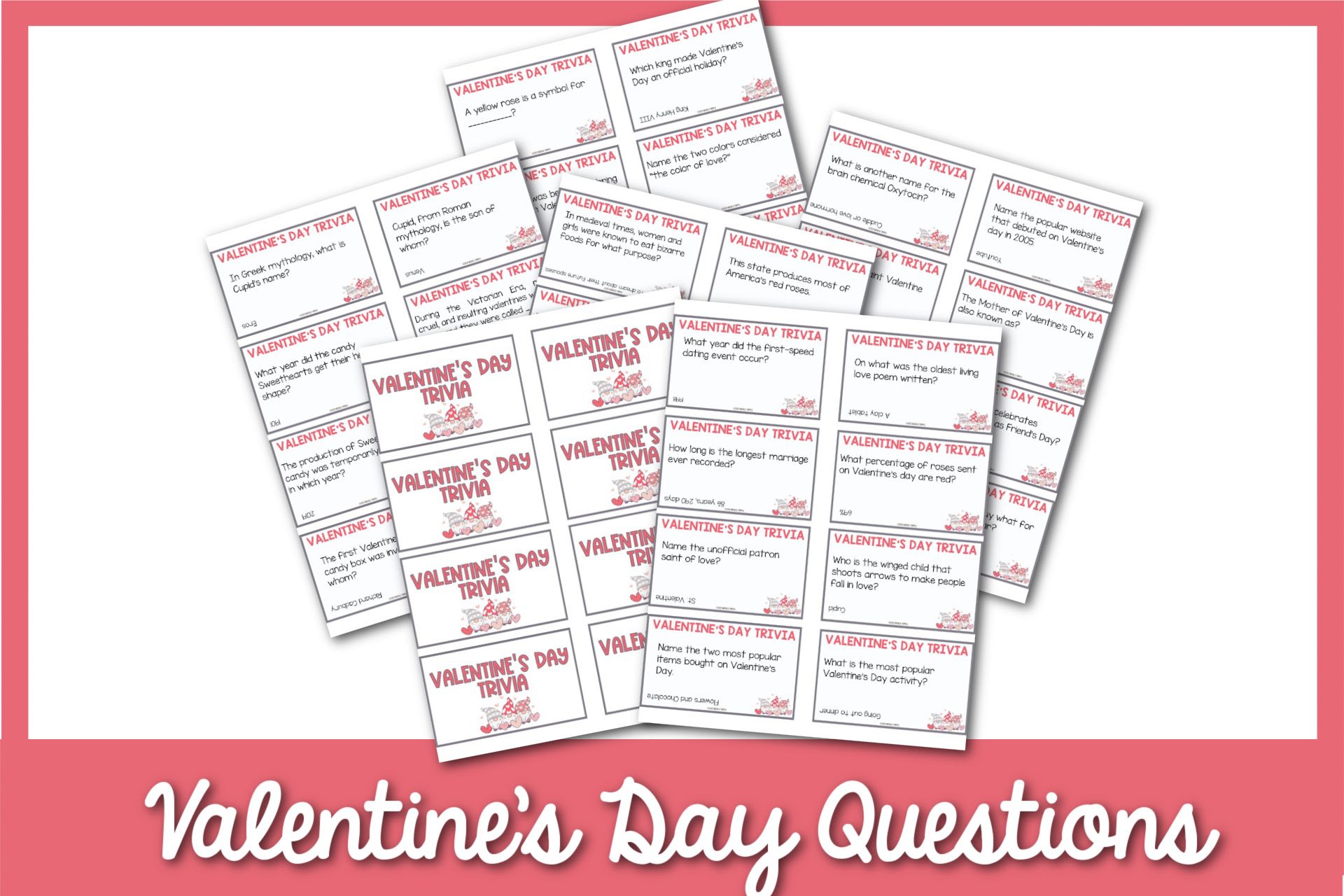 These trivia games provide fun for all ages, all the while encouraging curiosity and learning! What trivia games do you want us to make next? Share in the comments and we can try to add it to the list!