Are you looking for ways to get your kids involved in service this holiday season? Consider doing 12 Days of Simple Acts of Service for Christmas.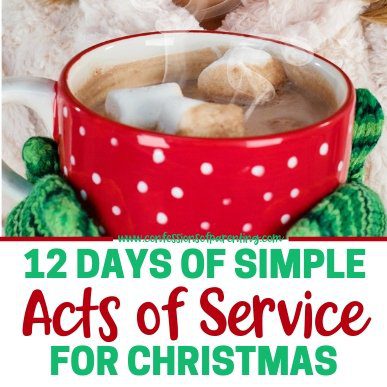 12 Days Acts of Service for Christmas
~We are a participant in the Amazon Services LLC Associates Program. As an Amazon Associate, I earn from qualifying purchases.
Your kids will love to help plan and carry out each activity!
Here are some ideas to get you started on the 12 Days of Simple Acts of Service for Christmas, but feel free to adjust each day to fit your family schedule and budget.
1. Warm-Up Holiday Shoppers with Free Hot Chocolate
I've done this a couple different years with my kids. One time we set up a table with a large beverage dispenser and disposable foam cups outside a popular store with a sign stating the hot chocolate was free. Last year we set up the table outside the local high school for kids heading out into the cold when the school day ended.
2. Pass Out Candy Cane Messages
Last year, my kids and I wrote simple holiday messages on notecards and attached a candy cane. Then we walked through a busy parking lot and left a message on the windshield of each car. The kids loved this simple service activity and watching people find the message when they returned to their car.
3. Leave Quarters at a Laundromat
This is a fun service, and the recipients will be very surprised! Go to the bank ahead of time to get rolls of quarters and then leave quarters in the slots of the machines at the laundromat.
4. Pay for Someone's Groceries
While checking out in the grocery line, hand the cashier an envelope with cash inside. On the outside of the envelope write, "Shh! Please use this cash to help pay for the groceries of the person behind me in line. Merry Christmas!" Try to sneak out before the person is presented with the cash!
5. Make Treats for First Responders
I live in an area of the country where fires threatened our home and neighborhood this past year. More than ever, our family appreciates first responders for the brave work they do to keep us safe. Show your appreciation by dropping off a plate of cookies at the police station or firehouse.
6. Take Flowers to the Lonely or Homebound
Buy a bouquet of cheap flowers at a local grocery store and take them to a local hospital, nursing home, or lonely senior citizen. Spend some time visiting or singing Christmas carols.
7. Babysit Young Children
Offer to babysit kids in a young family so the parents can do their Christmas shopping or get an evening alone. I remember a charitable family doing this for us one year when we had 3 small children and no extra money. It was so meaningful and our kids had a lot of fun being spoiled for the evening!
8. Get to Know a Neighbor or Family Better
Every December, we invite over a family that we don't well. It has become a tradition for us to make chili and cornbread to enjoy with the family. After dinner, we cut sugar cookies into various Christmas shapes and let the kids make a giant mess with frosting and sprinkles.
9. Be a Secret Santa
There are many organizations that need people to purchase gifts that will be given to families in need. Find a way to help by asking around your community. It's especially fun to get your kids involved in picking out gifts for the children that are less fortunate.
10. Pass Out Gifts to Neighbors
Everyone loves getting a treat from a neighbor at Christmastime. This year, consider giving a useful gift that won't cause cavities! One of my favorite gifts for neighbors is a roll of wrapping paper and some scotch tape. Everyone needs these items and it's simple to attach a small note that says, "Hope you feel wrapped up in the spirit of the season!"
11. Surprise the Mail Carrier or Garbage Collector
Wrap up a simple gift and attach a large bow so it doesn't go unnoticed. Leave the gift in your mailbox for the mail carrier or on top of your garbage can for the garbage collector. I would love to see their expression when they realize their service has been appreciated this year!
12. Give a Cash Wreath
And finally, one of our favorite family traditions is to get $1 bills from the bank and purchase small wreaths and curling ribbon. We spend time together tying each dollar bill individually to the wreath before taking the wreath to the home of someone in need.
It's most fun to wait until dark, place the wreath on their porch, then ring the doorbell and run. We usually get a loud "Thank you! Merry Christmas!" when they get the surprise.
Were these the perfect 12 Days of Simple Acts of Service for Christmas for your family this year?