These DIY Christmas place cards will jazz up your holiday table this year, that will really wow your guests that don't take a lot of time or money!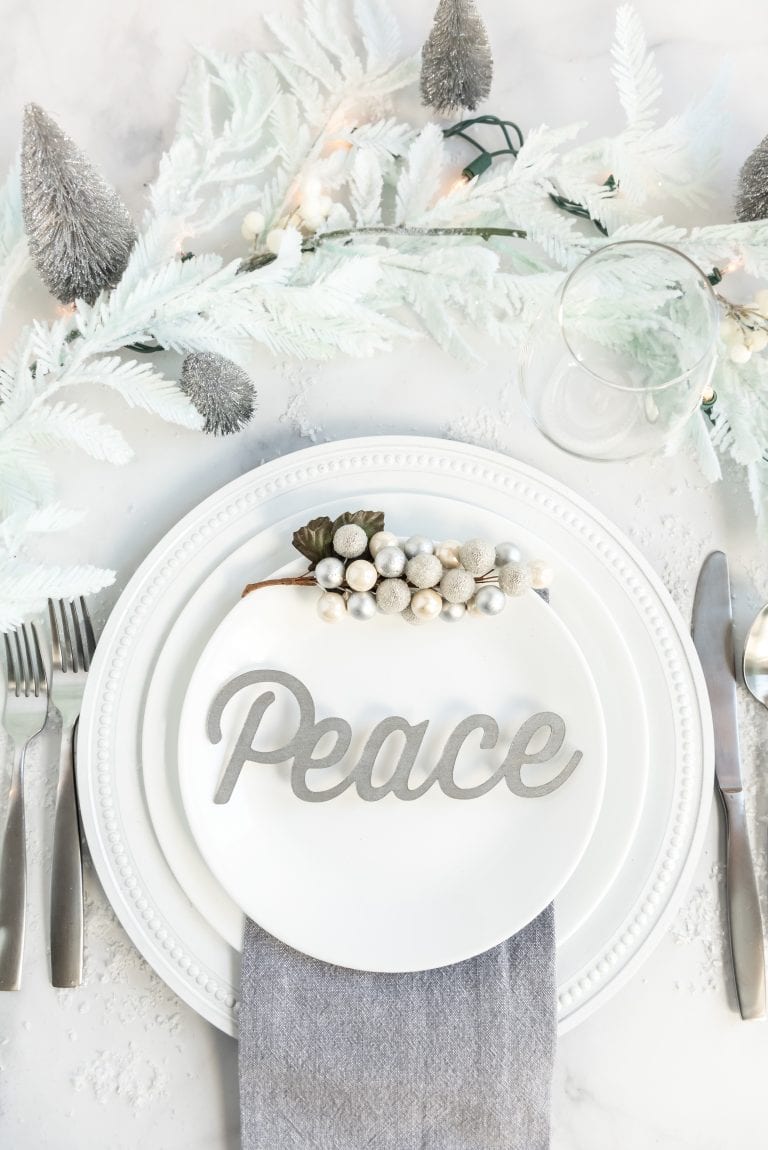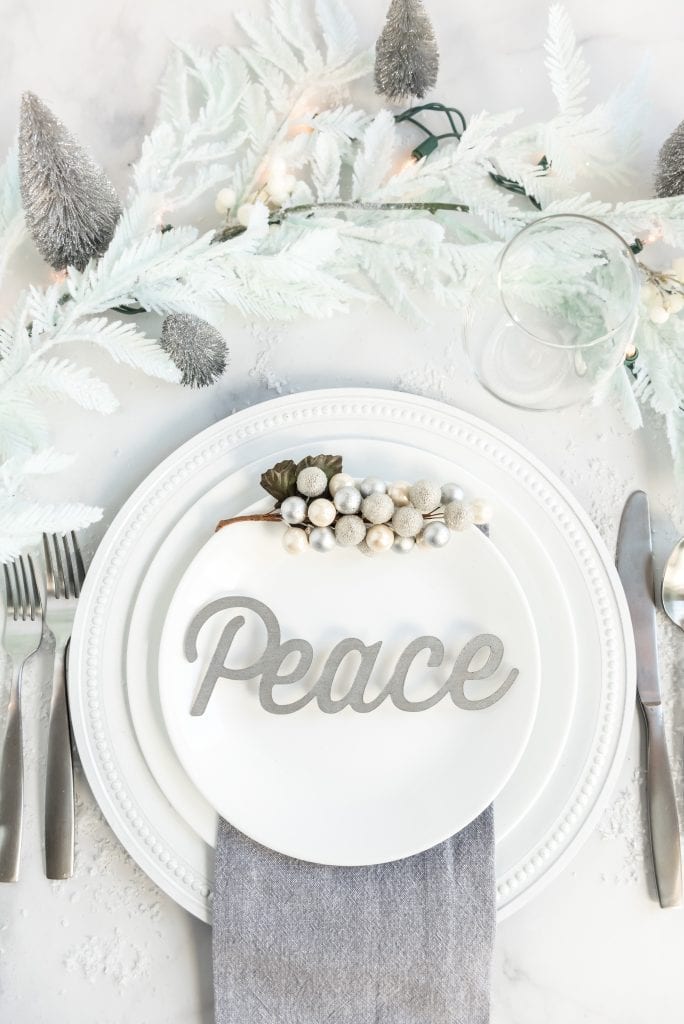 DIY Christmas Place Cards
I am a lover of Christmas and the holidays! There is something about gathering around with friends and family and sharing memories and laughs together.
This year I have been in a total DIY Cricut craft mood, and who can blame me right, have you seen how many fun projects are out there like our DIY Rae Dunn Rolling Pins?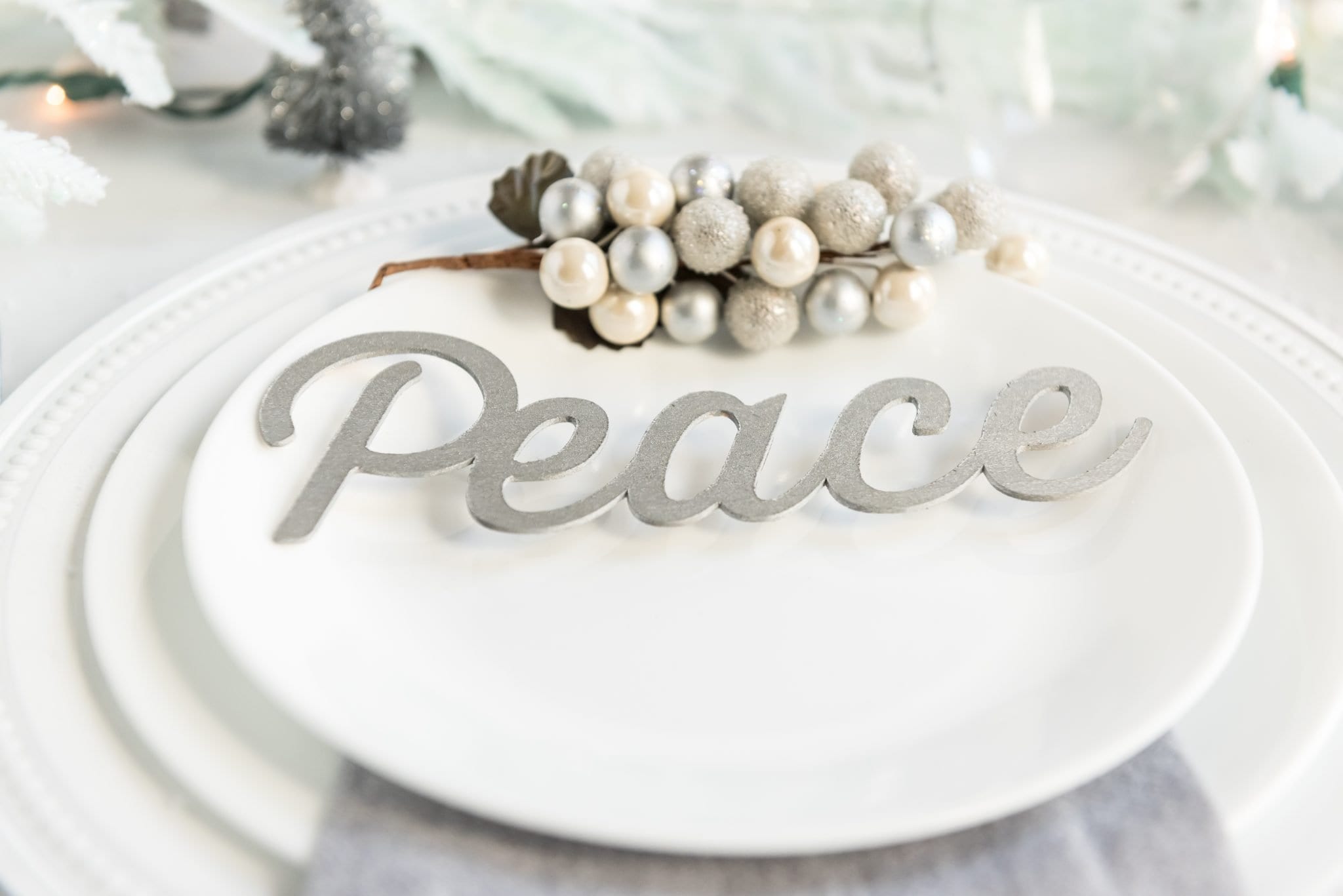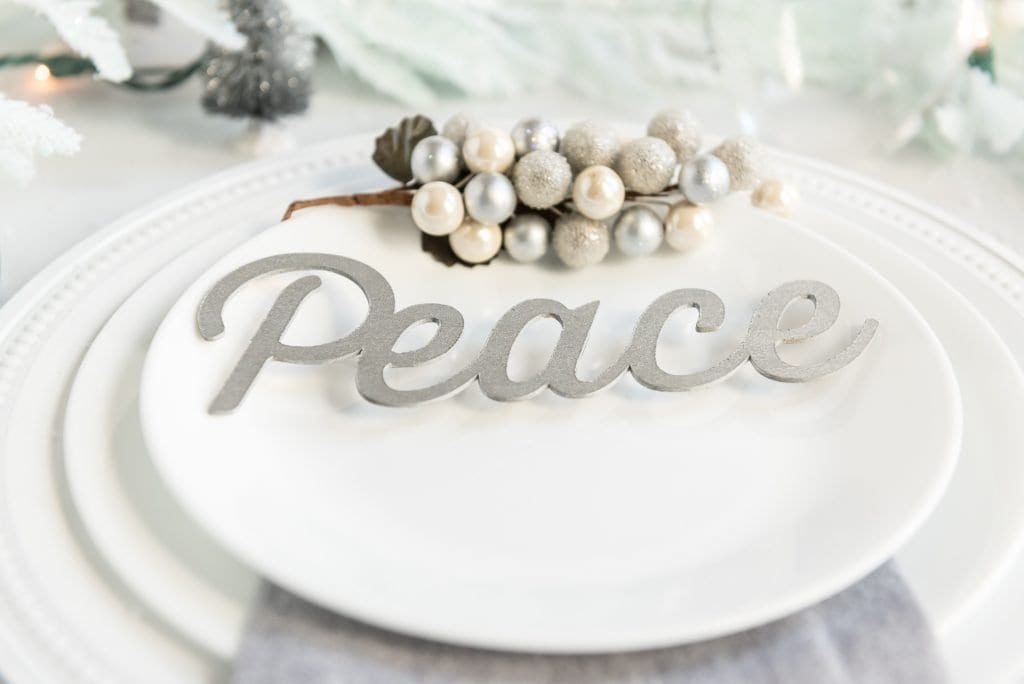 So in my DIY Cricut creation phase I decided to whip up some DIY Christmas place cards for our holiday table this year and I am so excited to share this project with you!
How to make Christmas place settings
Making Christmas place setting cards with your Cricut machine is easy with these simple instructions and the svg file.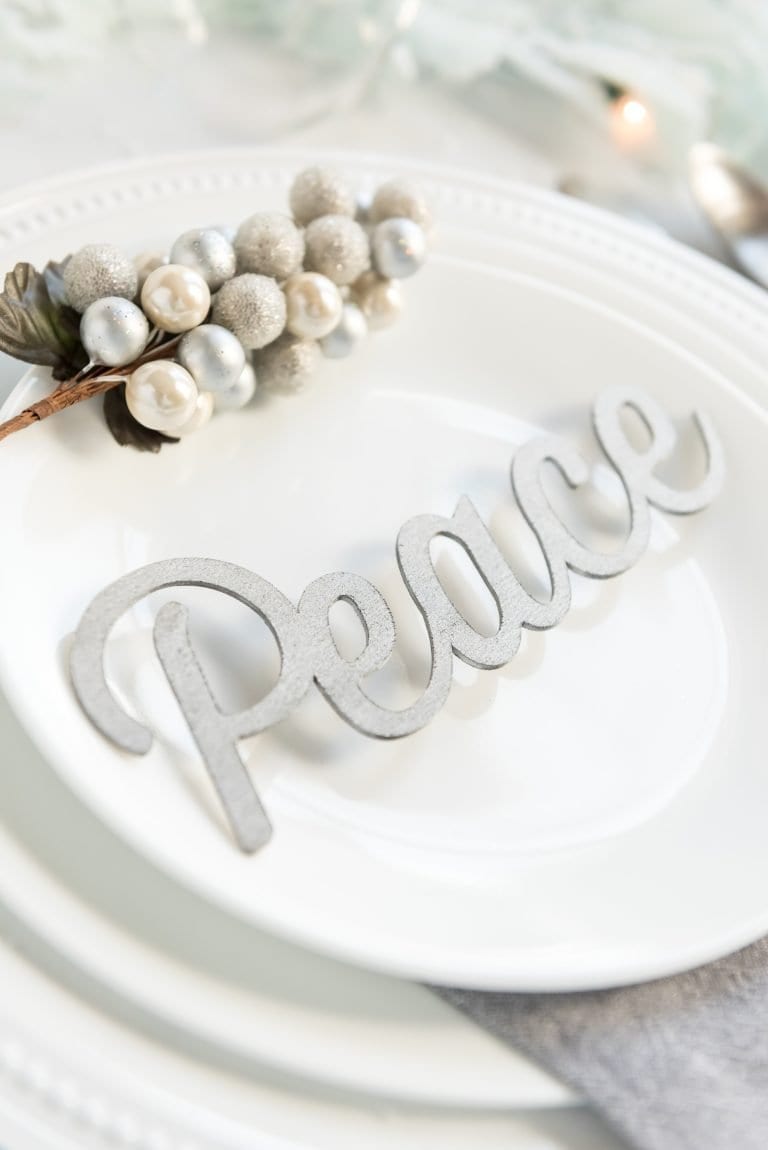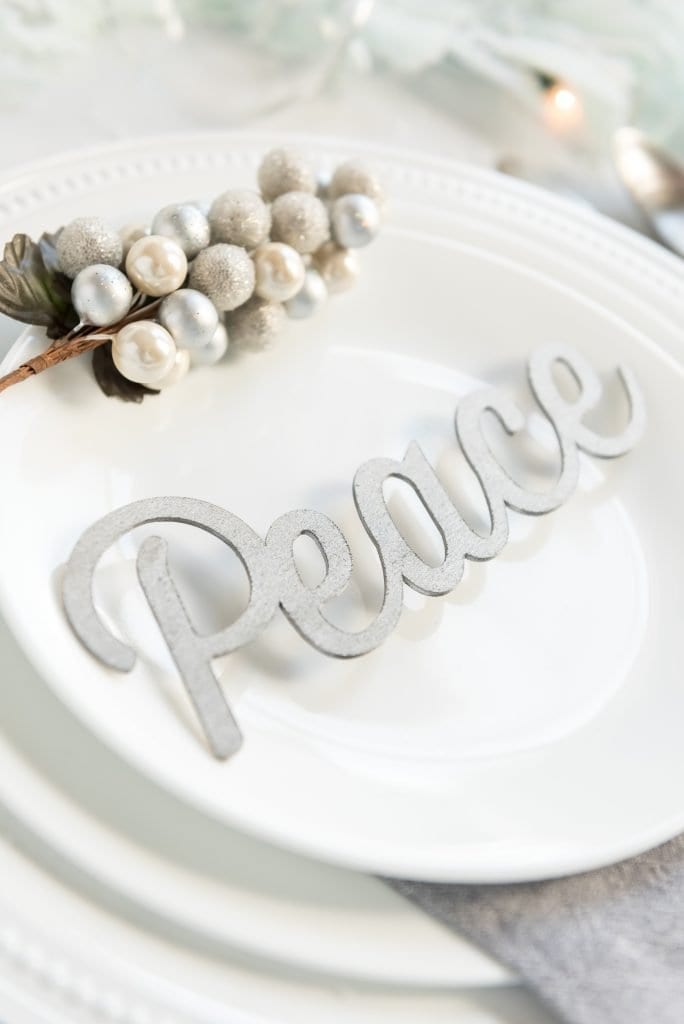 Materials List for your DIY Christmas Place Cards: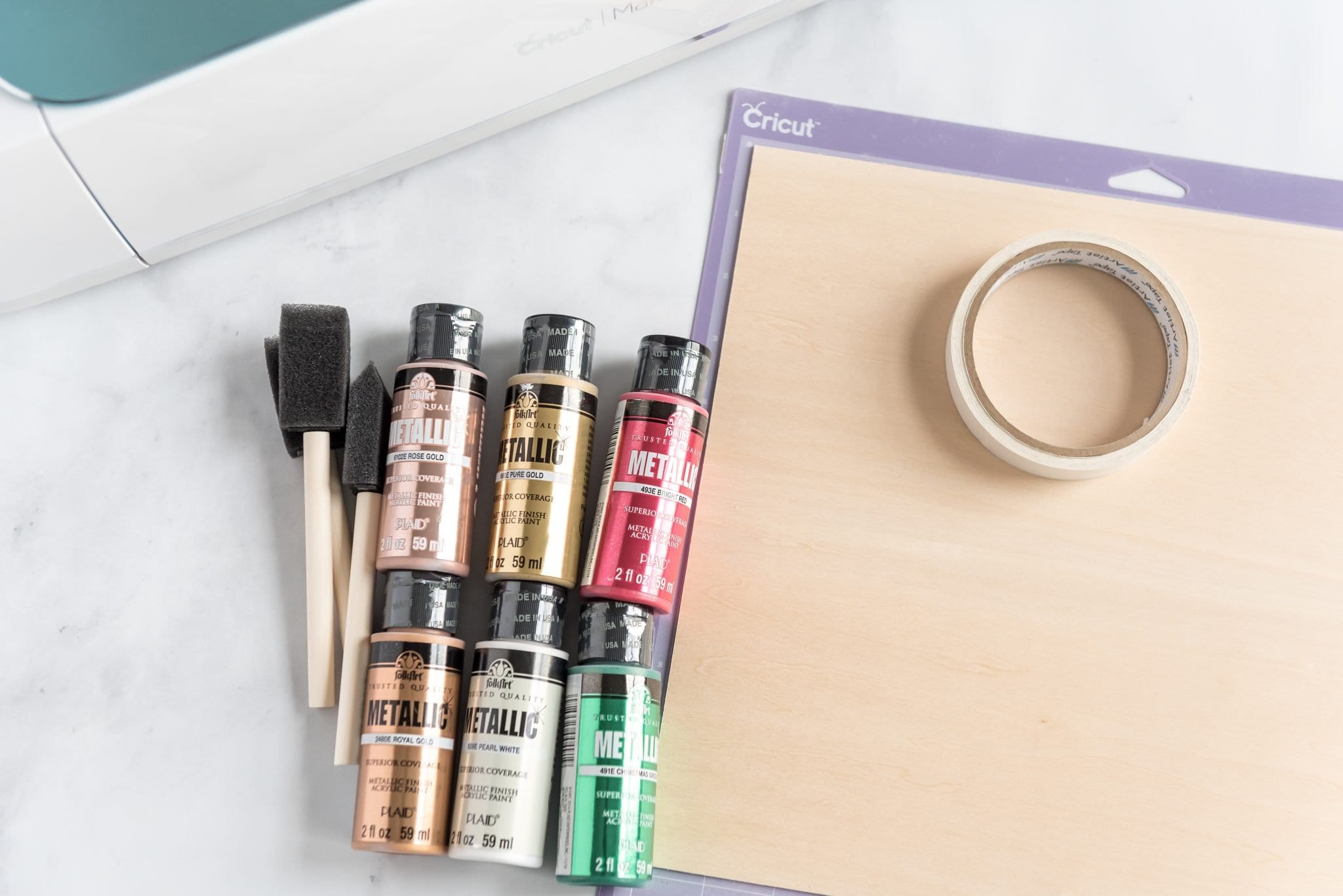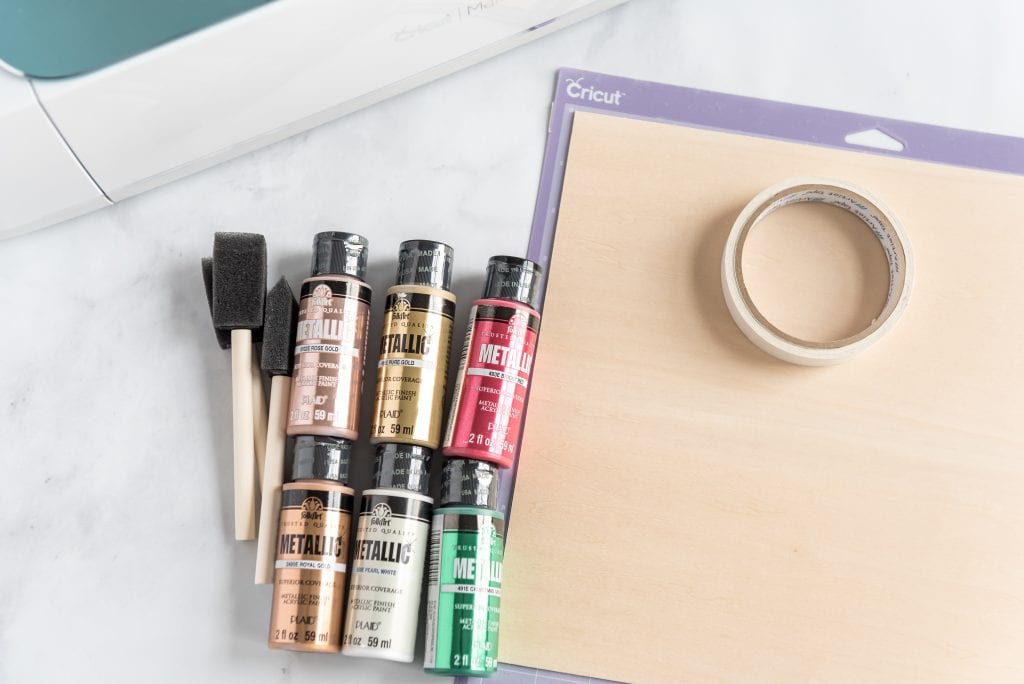 ~We are a participant in the Amazon Services LLC Associates Program. As an Amazon Associate, I earn from qualifying purchases.
• Paint Brushes or Sponge Brushes
• Exacto Knife (Optional)
• Folkart Metallic Paint (Colors Shown: Rose Gold, Pure Gold, Bright Red, Royal Gold, Pearl White, and Christmas Green)
• 11"x11" Cricut Basswood Sheet
SVG Cricut Download File (See download below for free!)
Instructions for DIY Place Cards: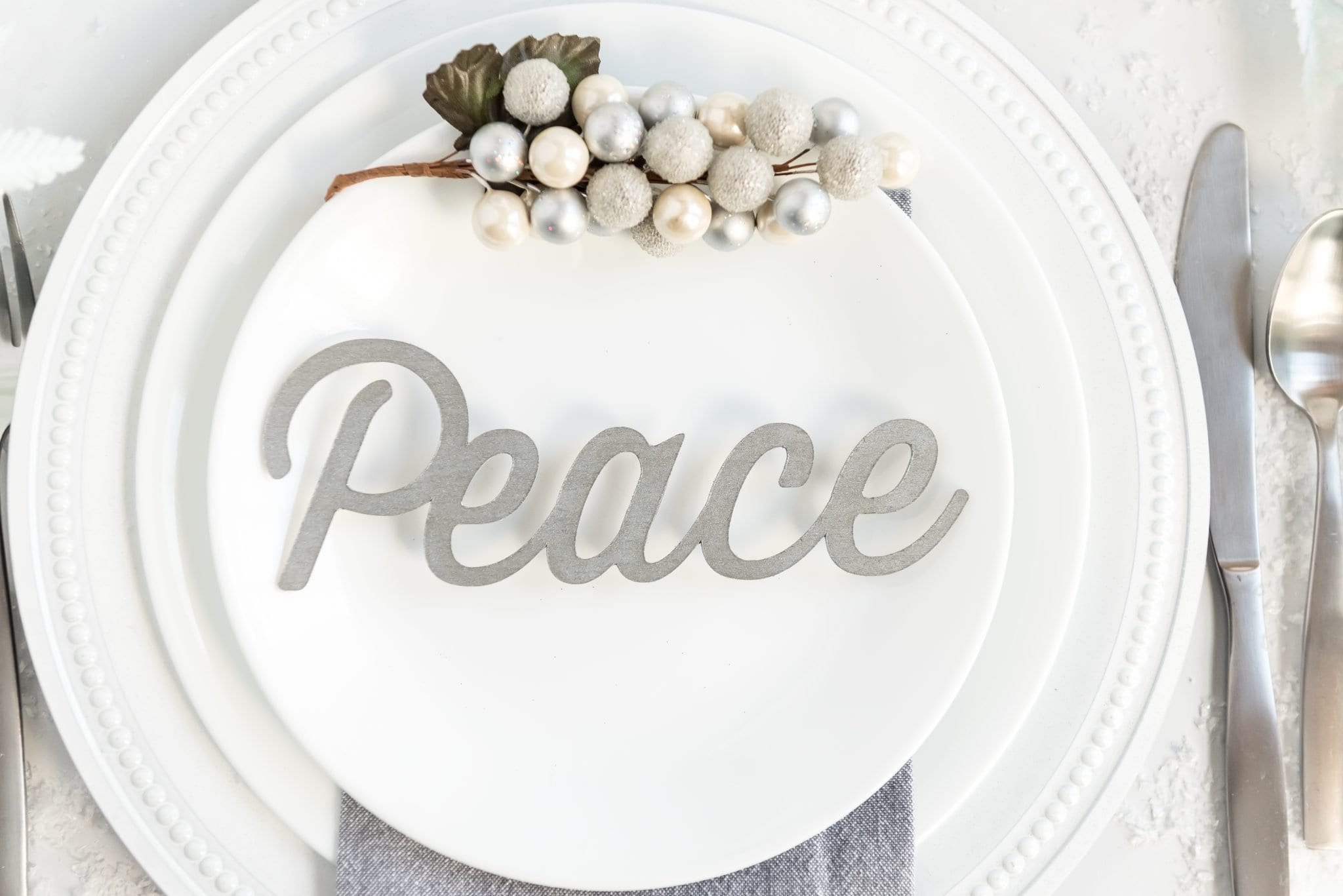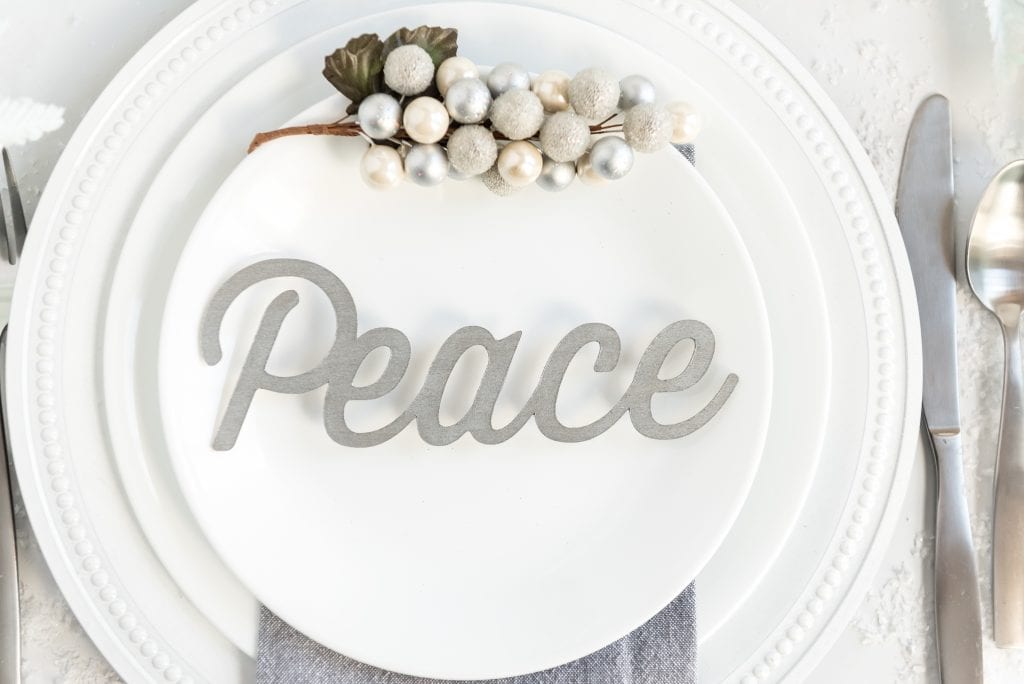 To begin this Cricut Christmas craft you will want to turn on your Cricut Maker machine.
Once on you will want to insert your deep knife blade. It is important that you use this blade to cut through the basswood.
Before you start designing in Cricut Design Space be sure to upload the Cricut Christmas Place Cards.svg for this project. (Below)
You will then want to open up your Cricut Design Space and click "new project".
Select the "Upload" button on the left panel.
Then you will want to hit the "browse" button and look for the SVG file you just downloaded to your computer.
On the next screen, select the image you just uploaded, and then press the "insert images" button in the lower right-hand corner.
Before doing anything else, make sure your size is set to the correct measurements: (W 10.18, H 10.341).
Also set the position of your project to X 0, Y 0. 5.
If you would like to cut all of the DIY Christmas words in the SVG file, select all and click on the "Attach" button in the lower right-hand corner and proceed to the next step.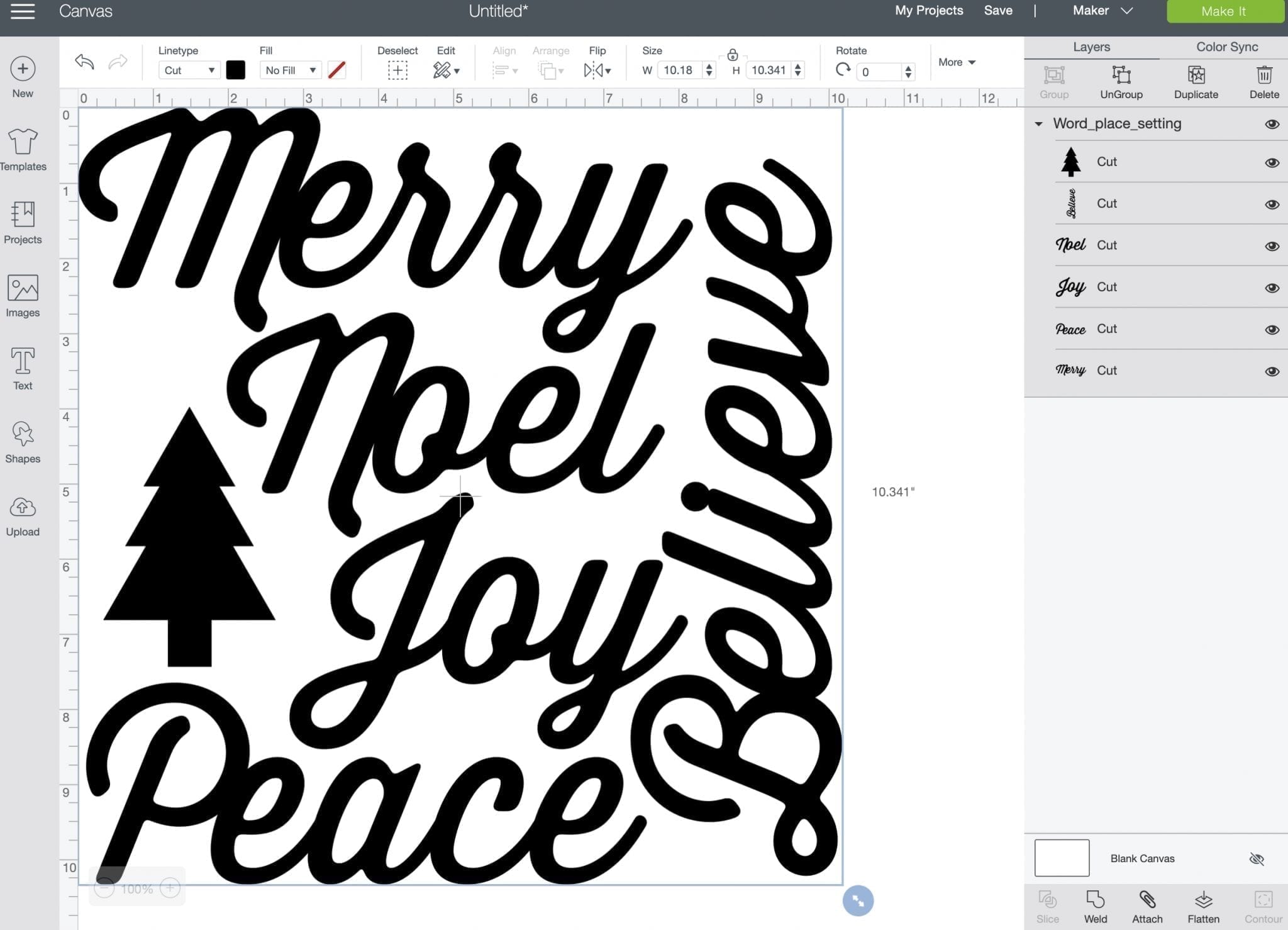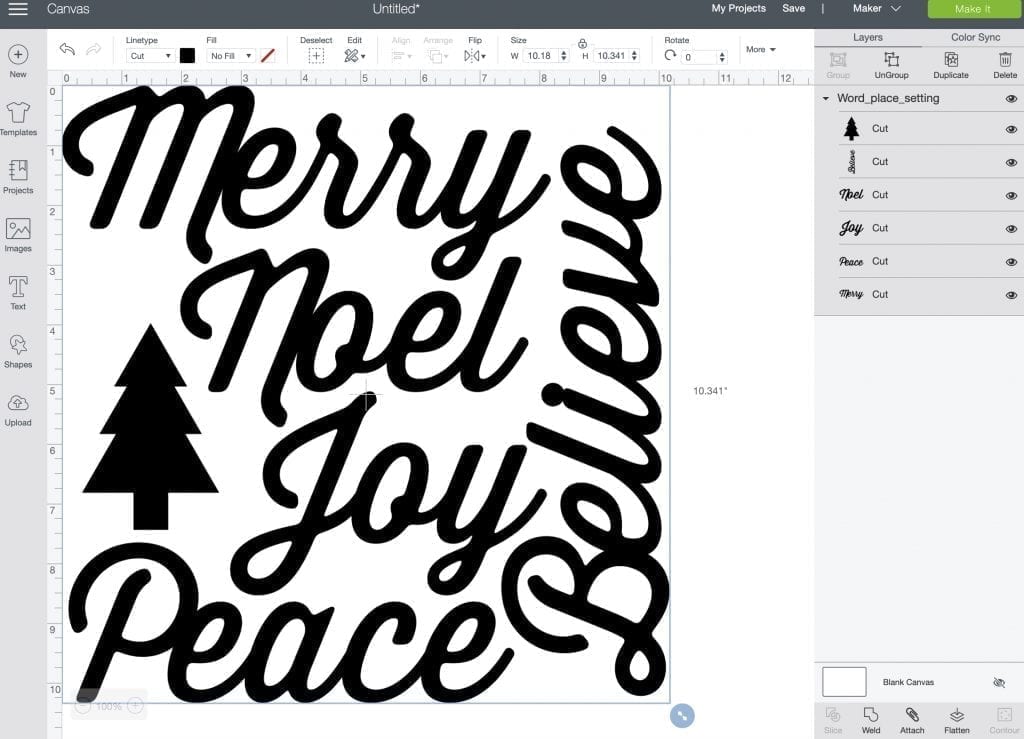 However, if you only want to cut some of the words, you need to select all and then "ungroup" them. This button can be found at the top of the Layers panel.
Once you have ungrouped the words then you can delete the ones you do not want to cut.
After this, you will then want to select the green "Make It" button in the top right-hand corner.
Select the Material Size that says 11"x11".
Press the green "Continue" button in the lower right-hand corner.
You are now ready to make your project.
You will want to use 1 strong grip mat for these Christmas word place cards.
Place an 11" x 11" sheet of Basswood in the upper left-hand corner of the mat.
Then take your masking tape and tape down all 4 edges of the basswood material.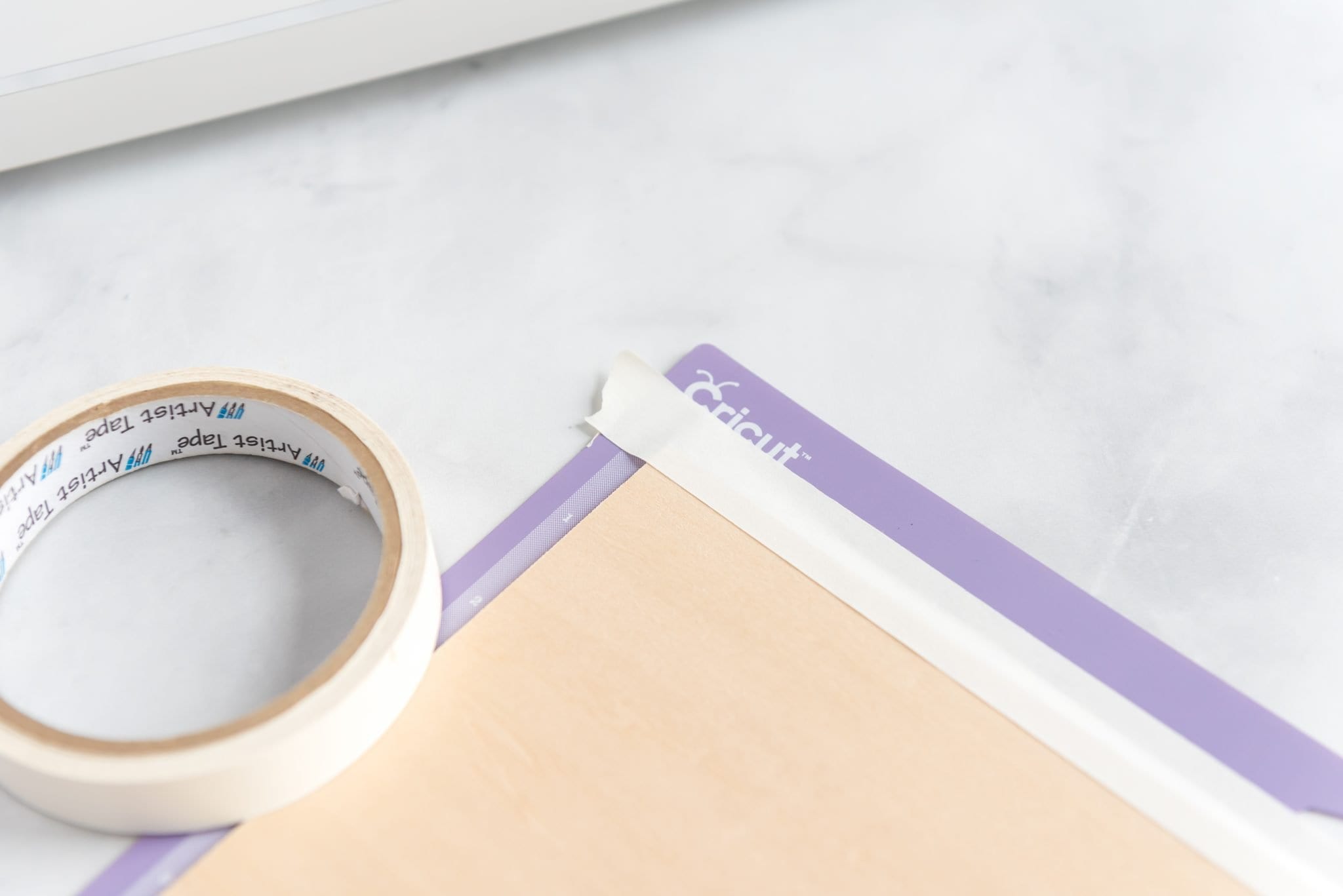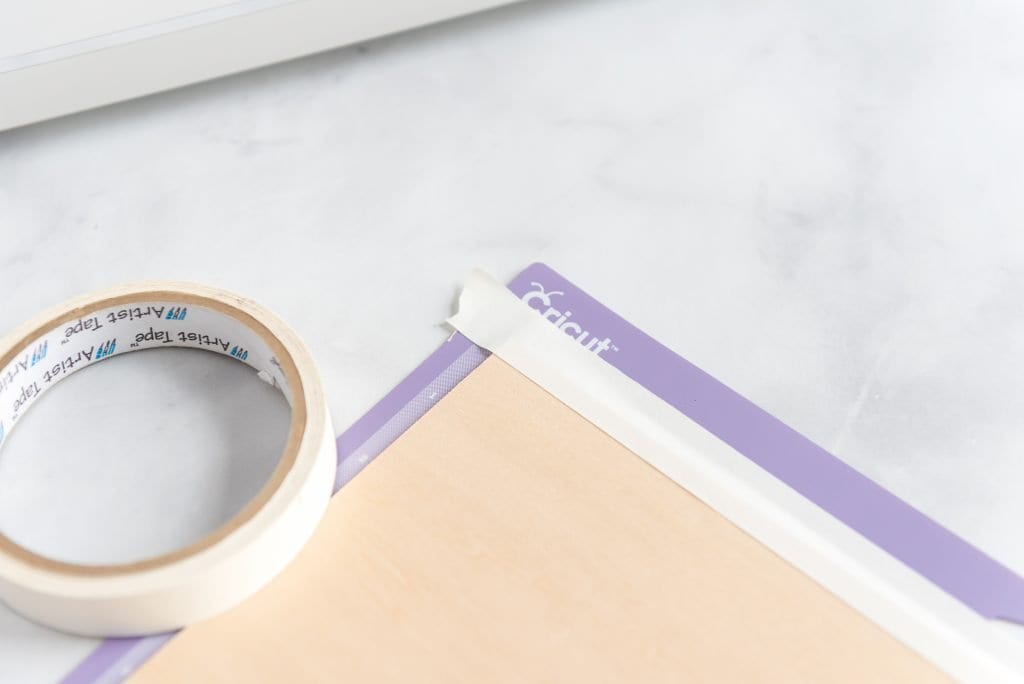 In Design Space select your Cricut Basswood Material and follow the instructions on the screen. It will prompt you when to load your mat and when to proceed to cut.
Your Cricut machine will give you an estimate of how long it will take to cut your project. If you are cutting all the words on one sheet of basswood it will take around 1 hour.
All the machines and basswood are different, so some machines may take more or less time it just depends.
Once all of your cuts have been made, check to make sure the machine has cut all the way through the wood before removing the mat.
Then remove the mat, and carefully extract the cut words. They will be delicate, so proceed with caution.
I always like to keep and Exacto knife handy in case the words do not cut all the way through in certain areas.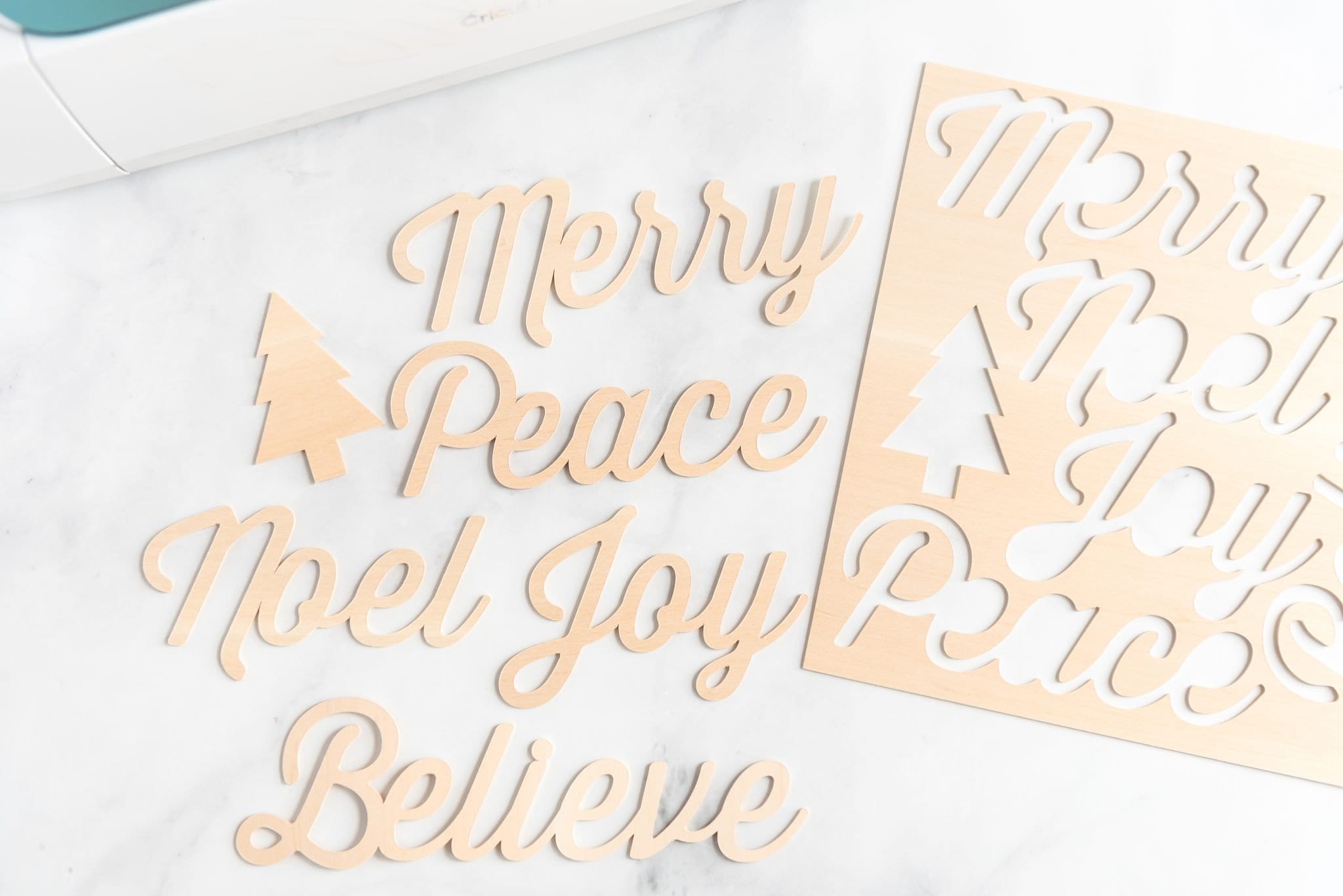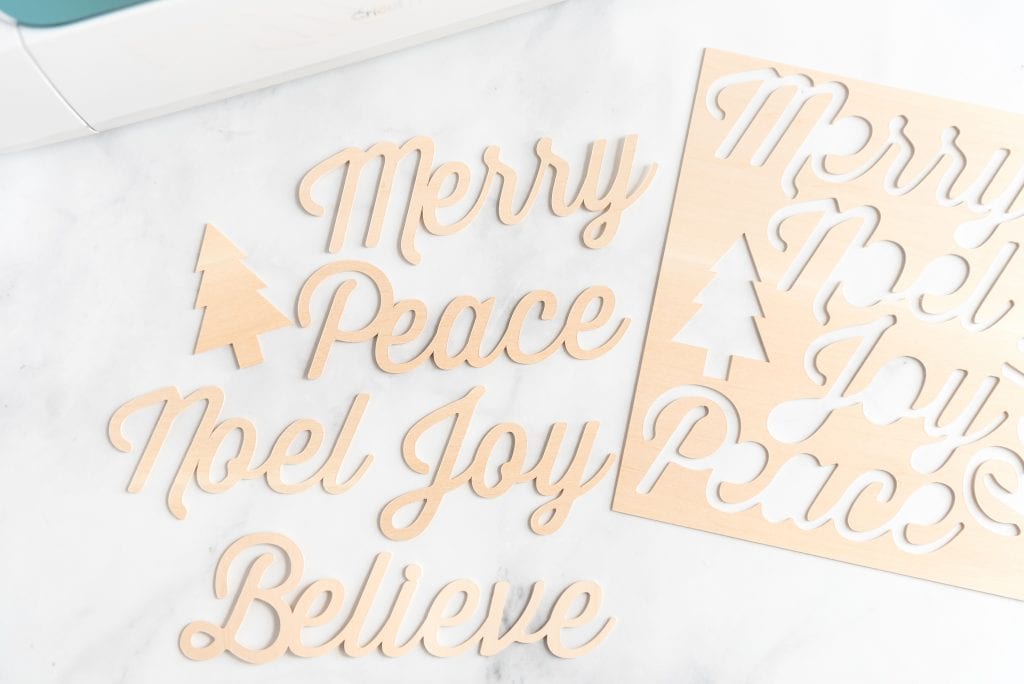 Once your words have been extracted, you will want to paint the words. For this, I use metallic paint and a sponge brush.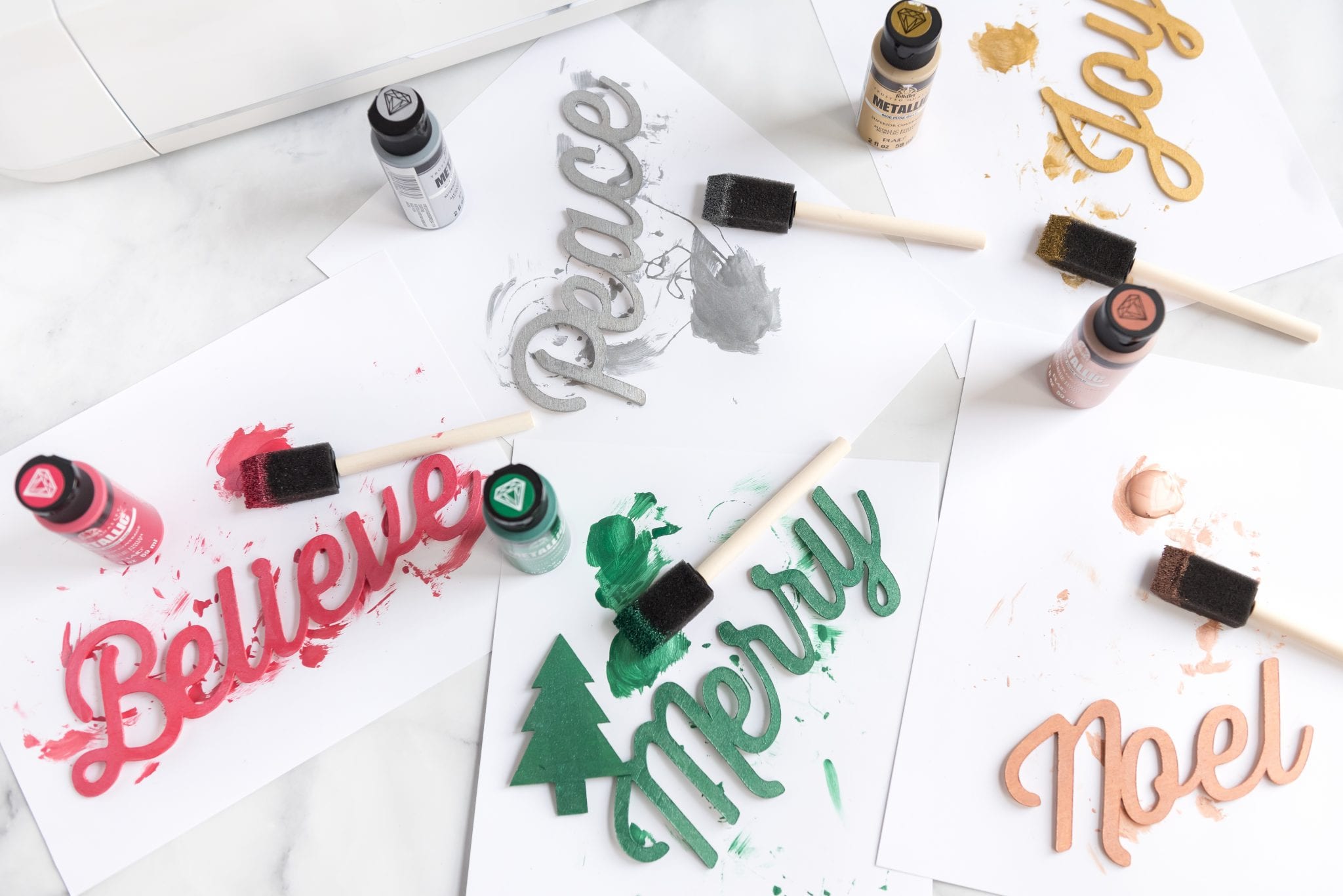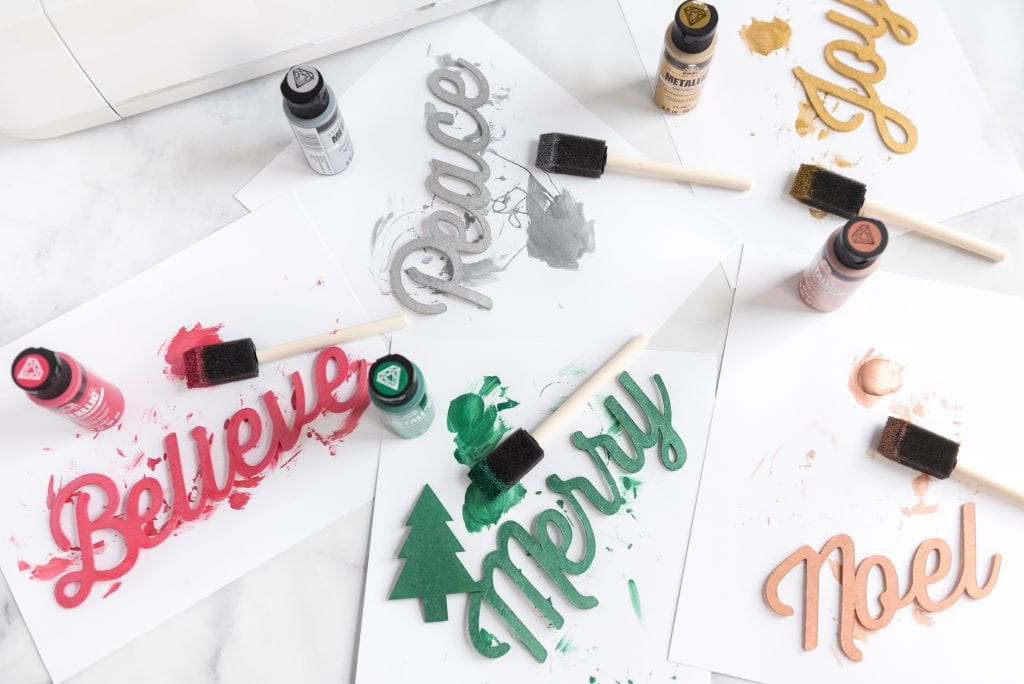 I let these dry overnight. If you would like to use them sooner, you can dry them with a hairdryer.
After they have dried, you are ready to use your DIY Christmas place cards to set your table.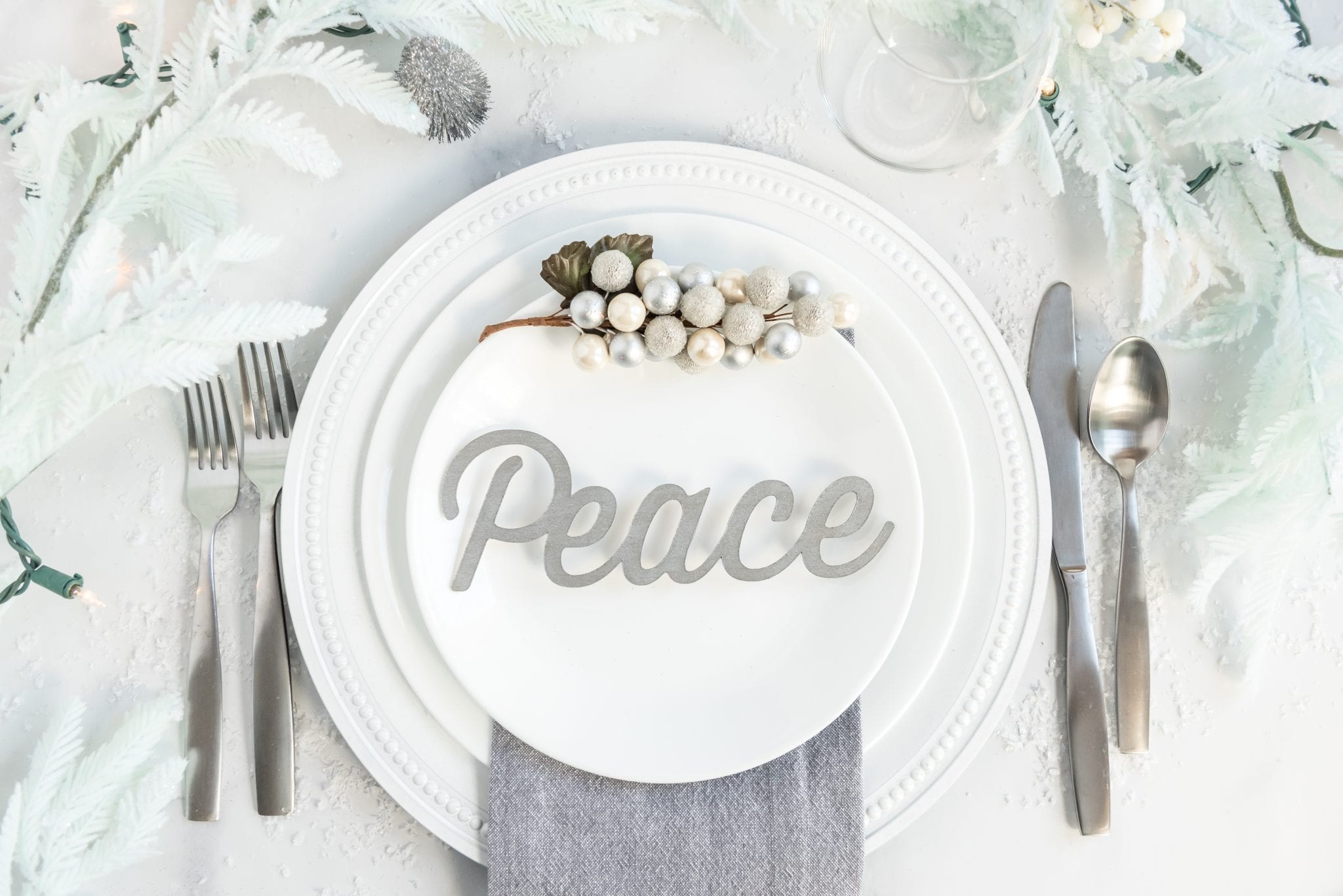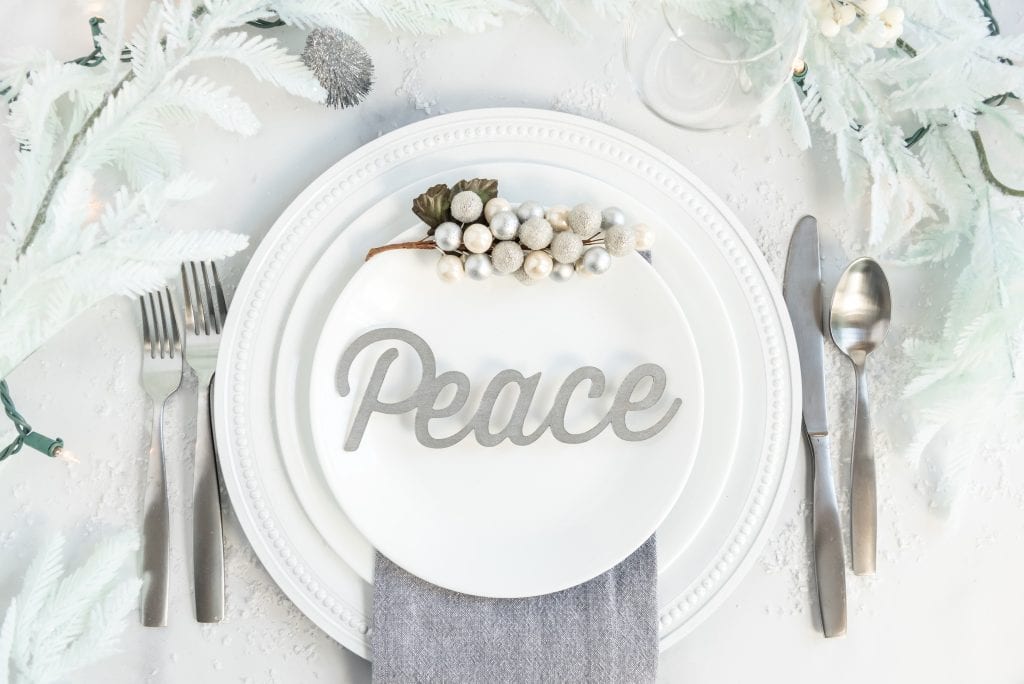 Tips and Tricks for Cricut Christmas Crafts
Is the Cricut hard to use?
The number one question people have when thinking about doing a Cricut craft is if the Cricut is hard to use.
I would be lying if I said that there are not any really advanced things you can do that takes a lot of time and a bigger learning curve. Thankfully for these projects, there are great tutorials out there.
But this Cricut Christmas craft is easy to make, especially because I am providing you with the SVG file for the project. This means that a lot of the hard work is done… Just follow the simple instructions and you are on your way to a beautiful table this Christmas.
Can I use my Cricut without design space?
Yes, you can access your projects without the internet in the offline feature. In fact, you can use the app to take advantage of all your projects in the whole Cricut image library.
What Cricut blade do I need to cut Cricut basswood?
You will want to use a deep cut blade to cut through basswood. I always like to have an Exacto knife nearby just in case I need to help it just a bit.
The basswood will be very delicate so be careful as you are working with it.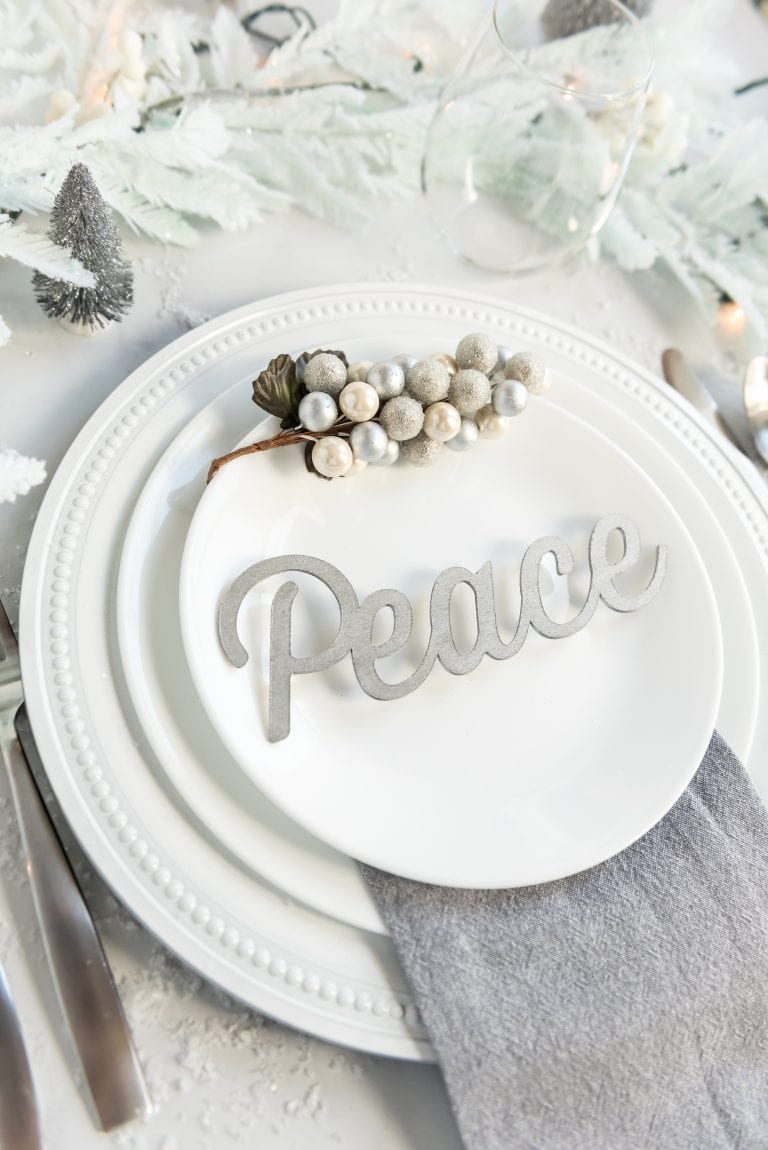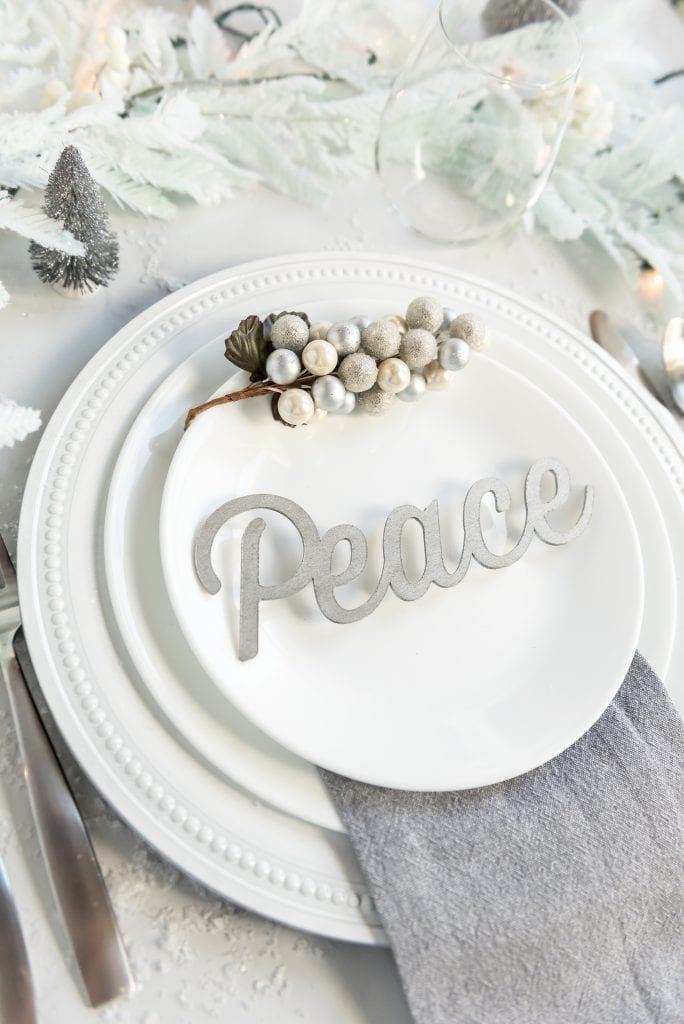 Download the FREE SVG Design template here.svg
How did your Christmas DIY place cards turn out? Share in the comments!
Share this Christmas Cricut Craft on Pinterest!