Planning to spend some time in a hotel with your family soon? Give your kids a great activity to kill the hotel boredom with this fun Hotel Scavenger Hunt!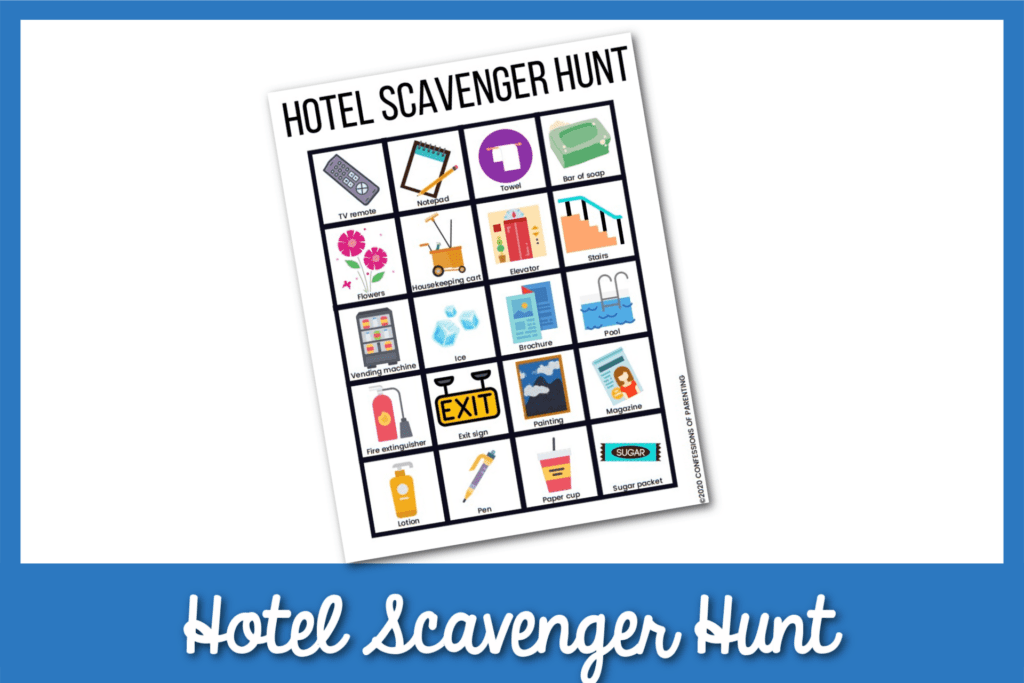 Hotel Scavenger Hunt
Am I the only mom that dreams about having a hotel room to myself? Nothing to clean up, no cooking, and no responsibilities? It seems like a comfy vacation to me!
For kids, though, it may not be such a dream come true. Often hotels are just a stopping point on the way to something more exciting, so your kids can easily get bored or antsy!
The perfect way to cure that hotel boredom is with a fun hotel scavenger hunt!
The Benefit of Hotel Scavenger Hunts
Scavenger hunts are a great activity for your kids! They encourage exploration and creativity and help your children build their determination for discovery.
Honestly, the best thing about a hotel scavenger hunt is that it kills some time! It also lets your kids burn off some steam as they run around looking for all the items. They'll have a blast!
I love that ALL my kids can enjoy scavenger hunts. No matter what age they are, you can adjust a hotel scavenger hunt to make it a fun challenge.
How to do a Hotel Scavenger Hunt
Doing a hotel scavenger hunt is completely stress-free, and easy! Just download our free hotel scavenger hunt printable below and you'll be all set.
The list is full of fun items for your kids to find around the hotel, some inside the room and some in the rest of the hotel. Just walk around and see what items you can find. You can make it a competition or just find things for fun.
You'll want to have an adult or a trusted older sibling go with young kids to make sure they are safe and not running through the hotel as they find everything.
How to Adjust Scavenger Hunts for Different Ages
If you're wondering how to make this activity great for toddlers or teens, it's definitely possible!
For younger kids, you might just go along with them on the scavenger hunt. Resist taking the lead and follow them as they try to find everything. Help them read the items and give directions, but let them search and find. They'll love exploring!
For teens and older kids, try making it a friendly competition! Time them and see how fast they can find the items. Split into teams and try to find things before other family members. You know your kids best, so do what you can to encourage them to have some fun.
And don't forget that no matter what age your kids are, they would want you to play with them! Even if your teens don't admit it, they want to spend time with you. Make an extra copy of this hotel scavenger hunt printable and join the fun!
Hotel Scavenger Hunt
Here are hotel scavenger hunt items on this Free Hotel Scavenger Hunt Printable! You can find the download below.
TV remote
Notepad
Towel
Bar of soap
Flowers
Housekeeping cart
Elevator
Stairs
Vending machine
Ice
Brochure
Pool
Fire extinguisher
Exit sign
Painting
Magazine
Lotion
Pen
Paper cup
Sugar packet
Free Hotel Scavenger Hunt Printable
To get your free hotel scavenger hunt printable, you can download it here!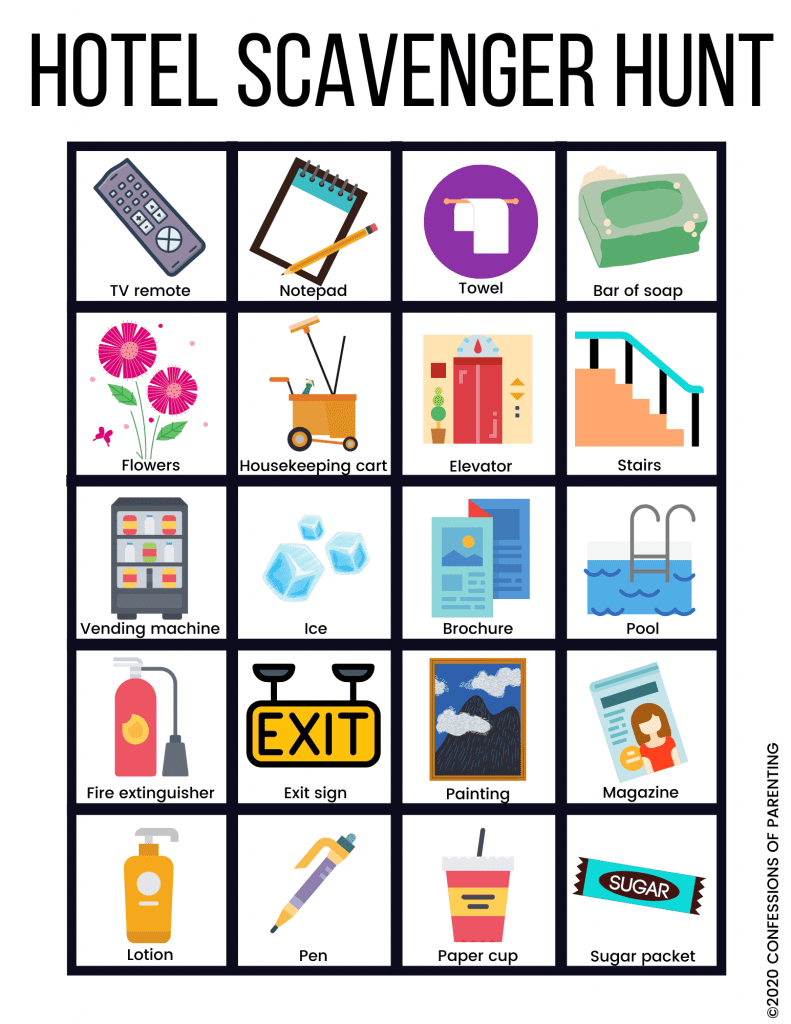 There's no cutting necessary. All you need to do is print it and take it with you on your next hotel stay! You could even laminate it and keep it around for future hotel trips! If you do this, grab some dry erase pens so that you can wipe them clean after each use.
Your kids will have so much fun with this hotel scavenger hunt.
This Hotel Scavenger Hunt will make any hotel stay one to remember! Where is your family taking their next trip? Share in the comments!
We hope that you enjoy this Hotel Scavenger Hunt! Be sure to share your experience in your stories on Instagram and tag us @confessions_of_parenting! We love seeing what you are up to!
Don't forget to save this Hotel Scavenger Hunt on Pinterest so you can find it easily when you are planning your next hotel stay!