Oven Baked Ham and Cheese Sliders Recipe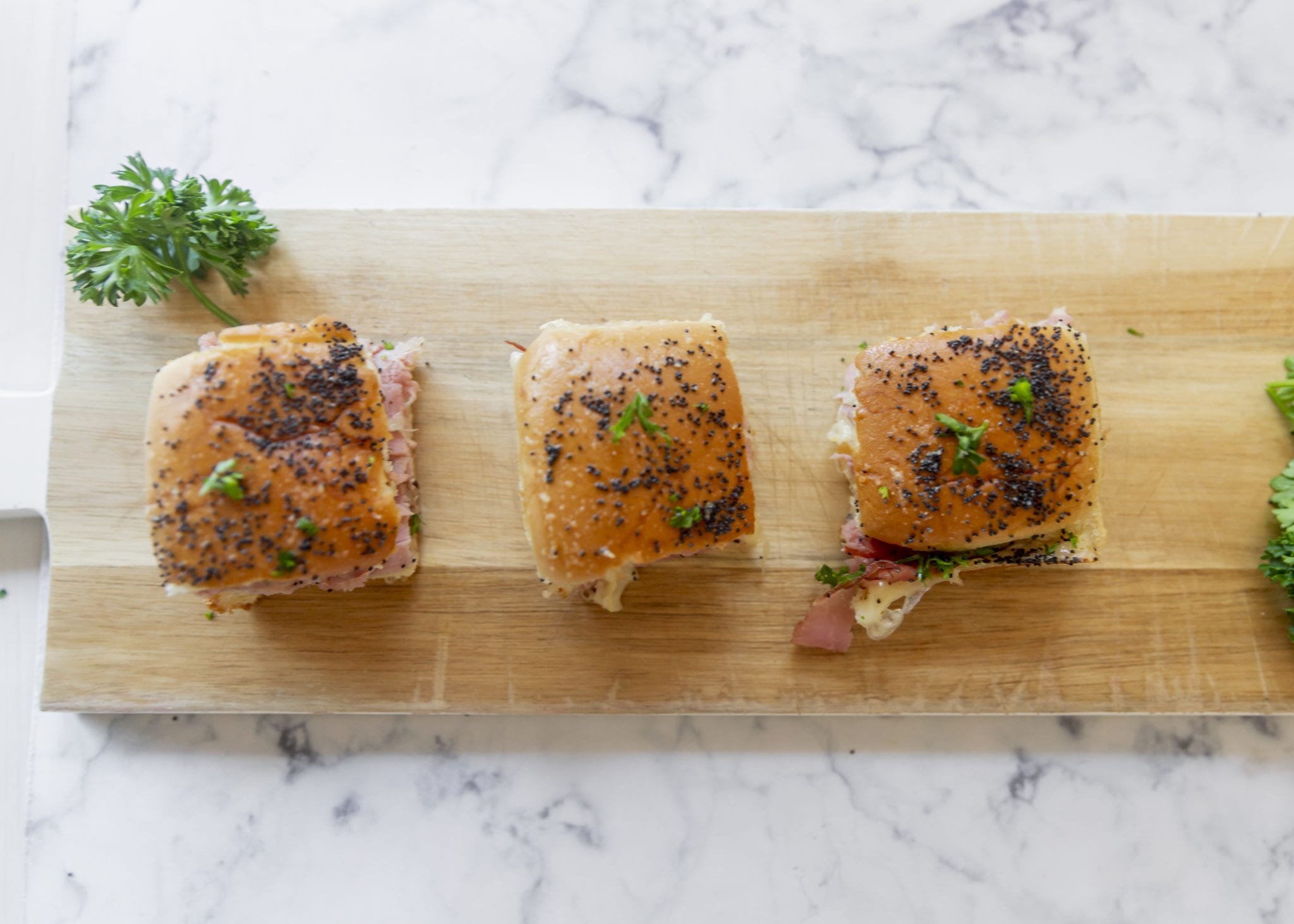 I love a quick and easy meal that comes together in minutes. It's even better when everyone in the family raves about how good it is, which doesn't always happen in my house with some picky kids. These oven baked ham and cheese sliders have become a go-to busy weeknight meal. Not only that, but they are the perfect food to take to a party or to eat during football season while you watch the big game! 
If you love easy sliders, you definitely want to check out our Turkey Cranberry Sliders as well!
Baked Ham and Cheese Sliders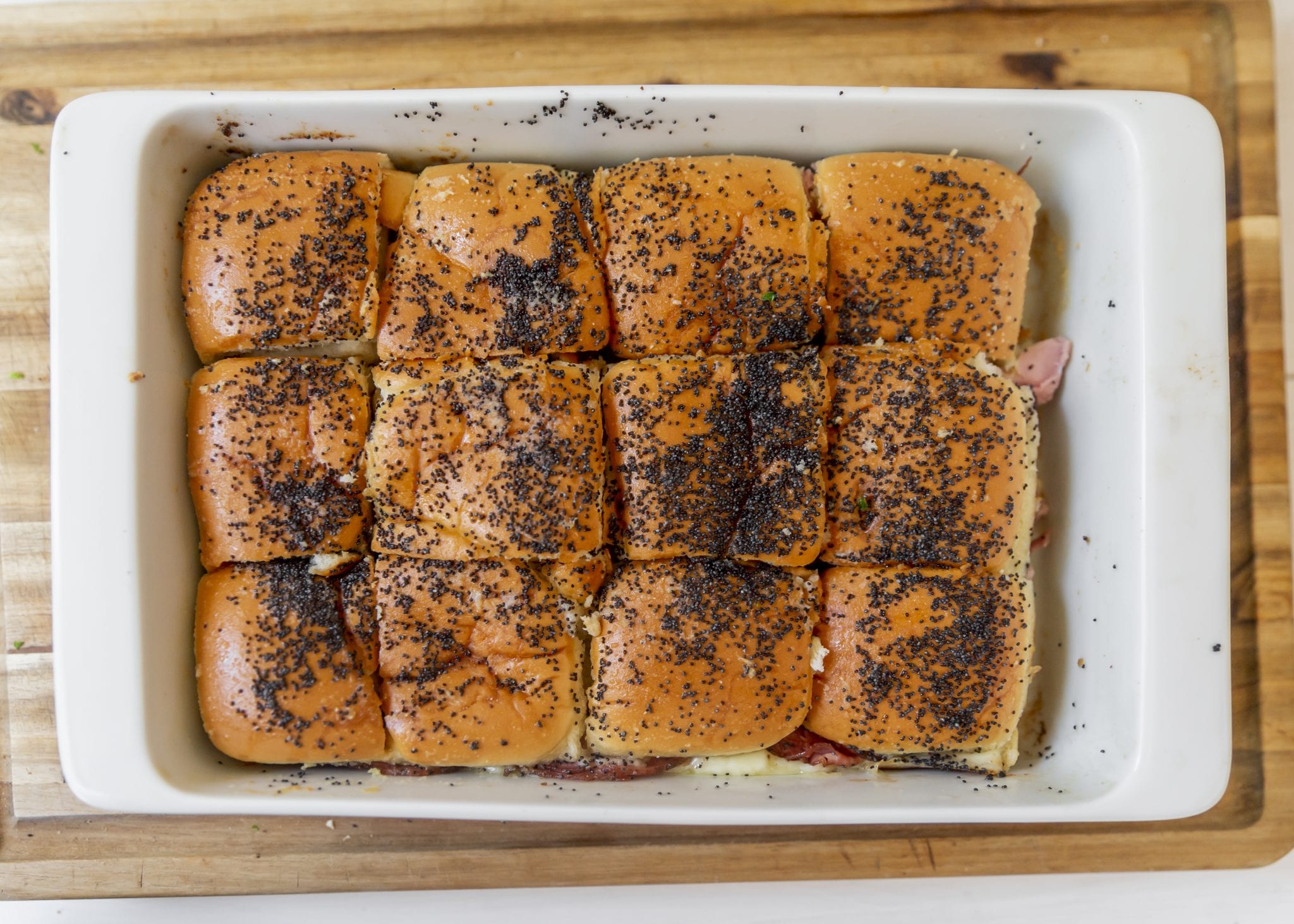 Prep time: 15 minutes
Bake time: 30 minutes
Rest time: 10 minutes
Ingredients
4 tablespoons of unsalted butter
½ teaspoon minced garlic clove
¾ teaspoon dried onion powder
⅛ teaspoon salt
3 tablespoons of mustard
½ deli cut ham
½ cheese (swiss or cheddar)
2 tablespoons of poppy or sesame seed
Package of Hawaiin Sweet Rolls, unseparated
Parsley for garnish* optional
How to make ham and cheese sliders
Preheat oven to 350 degrees.
In a small liquid measuring cup, melt 3 tablespoons of butter.
Add garlic, onion, and salt, and mix. Set aside.
Butter your casserole dish with the extra 1 Tablespoon of butter. Set aside.
Take your Hawaiian rolls, and cut the entire loaf in half, separating the top of the loaf from the bottom. Be sure you do not separate each individual roll.
With your spatula, spread 3 tablespoons of mustard on one side of the bread. I like to use a dijon, but you can use any mustard of your choice.
Place one layer of cheese and one layer of ham on the bottom layer of bread.
Stack the top loaf gently onto the ham and cheese.
Brush the melted butter mixture evenly over the top of the rolls, then sprinkle with poppy seeds or sesame seeds.
Cover with aluminum foil and place in the oven.
Cook for 30 minutes.
Remove from oven and let sit for 5 minutes covered.
Remove tin foil cover, and let sit another 5 minutes.
Cut the rolls while they are still inside the casserole pan.
Separate, garnish, and serve!
Baking Tips and Tricks and FAQ
With this oven baked ham and cheese slider ecipe, there is a ton of flexibility. We used swiss cheese and balck forest ham, but you can be creative and do any kind of ham and any type of cheese.
Test different mustards. We love dijon mustard with this recipe, but yellow mustard tastes good too. Try some flavored mustards for an even better treat!
If you don't like mustard, you can omit it, but you want to replace it with a different sauce. If you don't it will make these sliders soggy.
How do you prevent your sliders from getting soggy?
One of the most asked questions is how do you prevent your baked ham and cheese sliders from getting soggy. You first want to make sure you keep all your buns together. Separating them allows liquids to seep down and make the bread soggy. Next, rather than pour the butter mixture on top, brush it on with a pastry brush. This prevents liquid from draining down the sides and making the bread soggy.
Can you make baked ham and cheese sliders ahead of time?
You can make these ahead of time if you prefer. You will want to assemble and cover so they don't dry out, but wait to add the butter mixture to the top until you are ready to bake them. Be sure to store in the fridge until you are ready to bake.
Storing Instructions
Fridge
You can store these in the fridge for 1-2 days before or after baking. Be sure to cover well to prevent them from drying out.
Freezer
This is a great dish to make and freeze for later. It definitely is a great option for make-ahead freezer meals for new moms. To make these assemble as normal (be sure you use a freezer-safe dish or a disposable aluminum pan). Brush on the butter sauce to the top of the rolls. Cover tightly with aluminum foil. You will want to spray the aluminum foil to prevent sticking. When you are ready to bake, pull out of your freezer and throw it into your oven and bake as normal. You will need to increase your cooking time. These will store for up to 3 months in the freezer.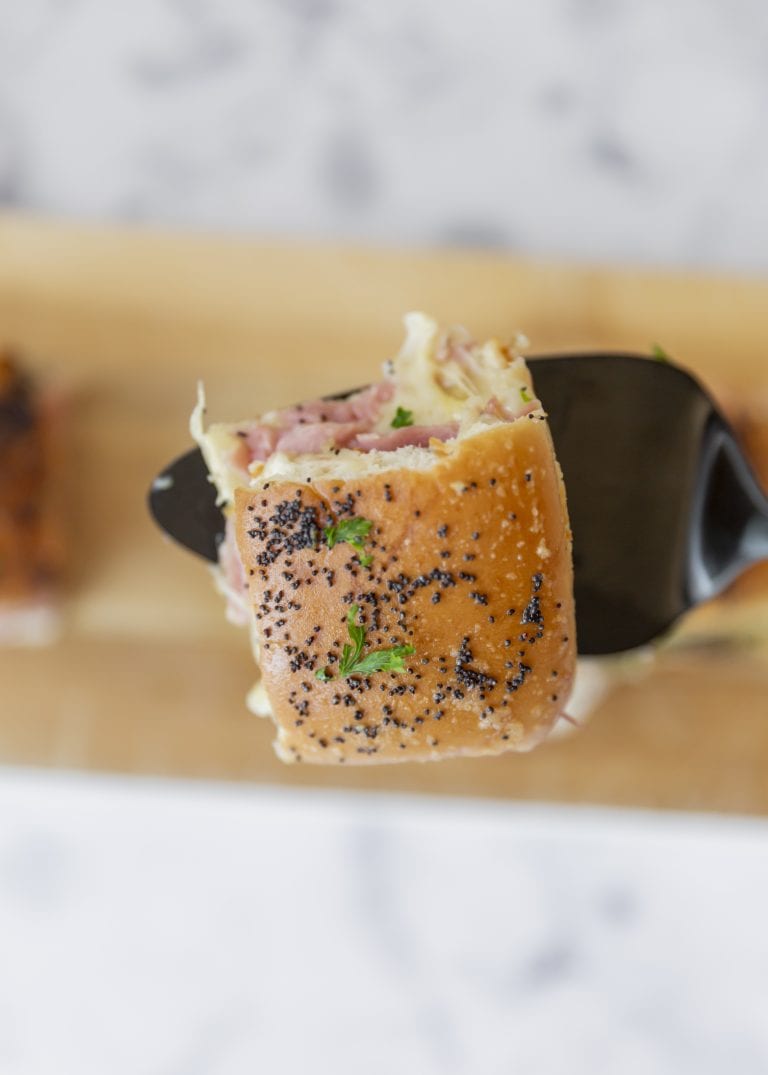 Check out these other easy dinner recipes!
Love what you see? Leave a comment and don't forget to rate it below! We always love knowing how your recipe turns out! Don't forget to tag me on Instagram @micheletripple to show me your finished product!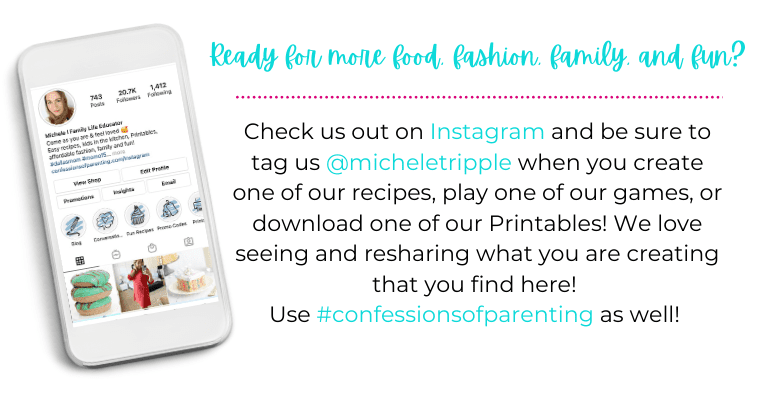 Yield: Makes 12 sliders
Baked Ham and Cheese Sliders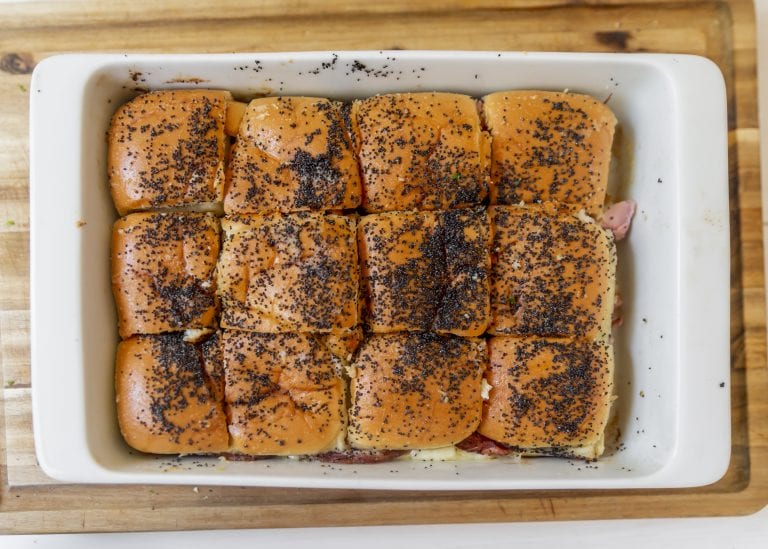 Additional Time
10 minutes
Ingredients
4 tablespoons of unsalted butter
½ teaspoon minced garlic clove
¾ teaspoon dried onion powder
⅛ teaspoon salt
3 tablespoons of mustard
8 oz deli cut ham
8 oz cheese (swiss or cheddar)
2 tablespoons of poppy or sesame seed
1 Package of Hawaiin Sweet Rolls, unseparated
Parsley for garnish* optional
Instructions
Preheat oven to 350 degrees.
In a small liquid measuring cup, melt 3 tablespoons of butter.
Add garlic, onion, and salt, and mix. Set aside.
Butter your casserole dish with the extra 1 Tablespoon of butter. Set aside.
Take your Hawaiian rolls, and cut the entire loaf in half, separating the top of the loaf from the bottom. Be sure you do not separate each individual roll.
With your spatula, spread 3 tablespoons of mustard on one side of the bread. I like to use a dijon, but you can use any mustard of your choice.
Place one layer of cheese and one layer of ham on the bottom layer of bread.
Stack the top loaf gently onto the ham and cheese.
Brush the melted butter mixture evenly over the top of the rolls, then sprinkle with poppy seeds or sesame seeds.
Cover with aluminum foil and place in the oven.
Cook for 30 minutes.
Remove from the oven and let sit for 5 minutes covered.
Remove tin foil cover, and let sit another 5 minutes.
Cut the rolls while they are still inside the casserole pan.
Separate, garnish and serve