Want to add more carrots to your toddler's diet, but at a loss how? Try these easy carrot recipes for toddlers. They are filled with so much nutrition and your kids will be begging for more! Especially those carrot cake mix cookies if you want to add carrots to dessert!
I feel like we all add a bag or two of carrots to our grocery list each week thinking our kids will grab a handful for a snack. At least in our house, this is not the case, so by the end of the week, I am trying to find some easy toddler-friendly carrot recipes to serve! We have rounded up 44 of the best carrot recipes for toddlers that they are sure to love! The list contains carrot drink ideas, carrot desserts, carrot side dishes, and more!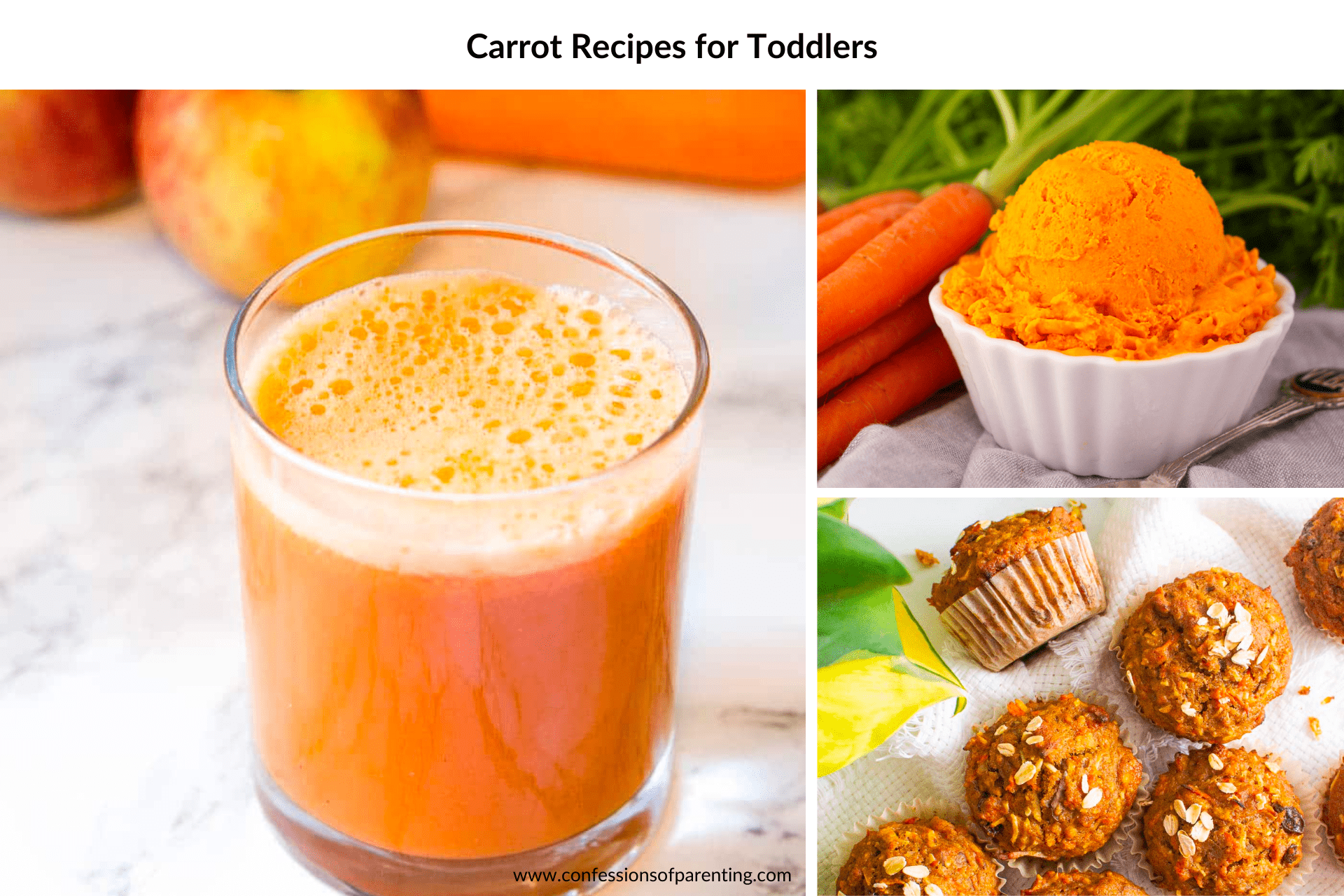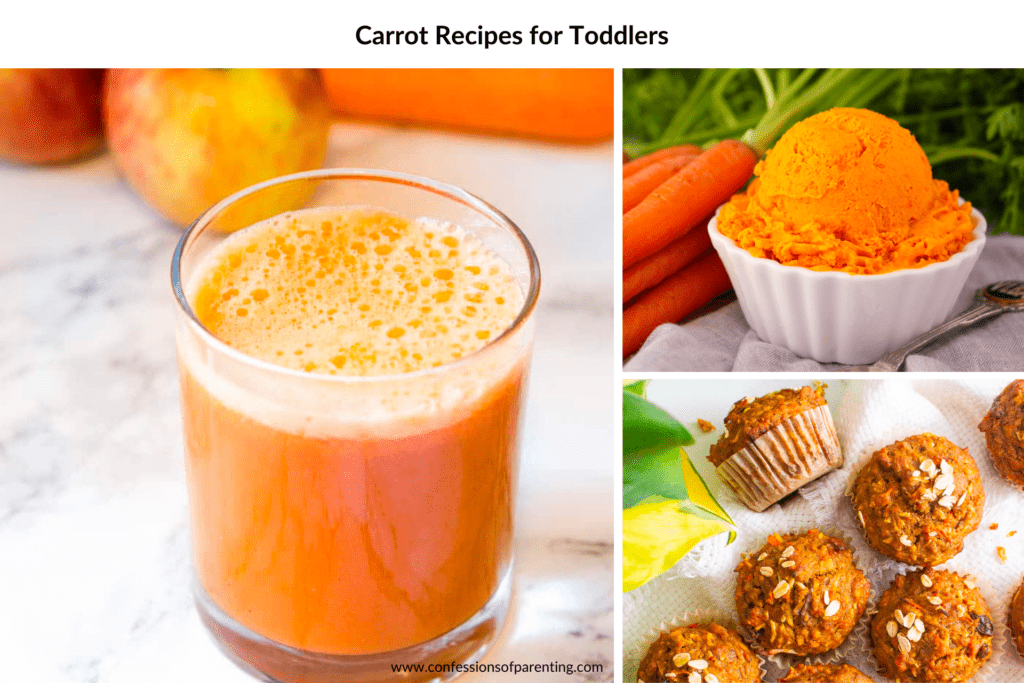 Are Carrots good for toddlers?
Yes! Carrots are very good for toddlers! They are high in vitamins, fiber, and antioxidants. Kids typically love the sweet crunchy taste that carrots have.
Can toddlers eat raw carrots?
Most toddlers are able to eat raw carrots. Not only will they love the taste, but the crunch as well. You want to make sure when you are feeding your toddler raw carrots that you are sitting with them at the table and that you cut them into very thin slices. This will help prevent choking.
How to Serve Raw Carrots to Toddlers
Raw carrots can be hard to chew with younger kids especially if they do not love the texture of the carrots. Try these tips when serving your toddler's raw carrots.
Rinse and dry baby carrots.
Cook your carrots until they are tender. This will still give them a crunch, but takes away some of the texture that they struggle with.
Add a little bit of olive oil, butter, or salt to the carrots. Hummus is also a great choice for dipping.
Cut the carrots into thin slices so that they are easier to chew.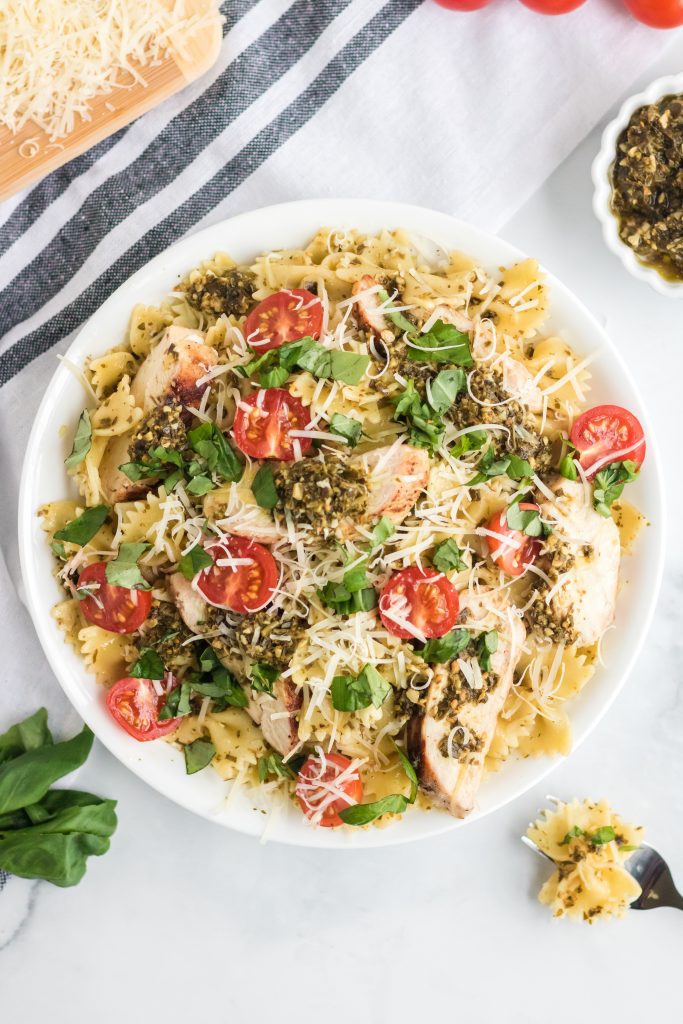 Tired Of Spending Hours Searching For What To Make For Dinner And Then Ending Up In The Fast Food Drive Through Line? Let Us Help!
Sign up for our free meal plan where we scour the web to deliver great meal options right to your inbox! We include main dish ideas, sides, dessert and more!
You don't want to miss these delicious ideas!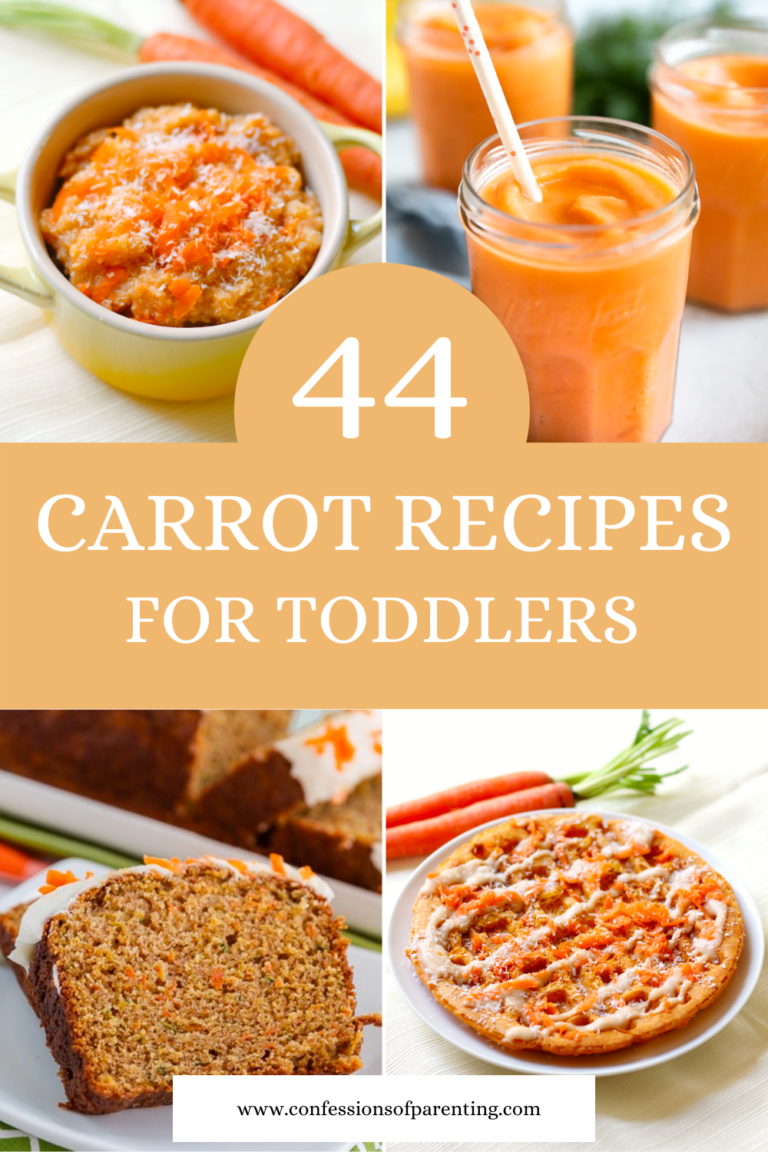 What to look for when buying baby carrots
Many of us opt for baby carrots when shopping at the store and for good reason. They are quick and easy and are perfect for most recipes. So what do you look for when buying baby carrots? Here are some tips to keep in mind.
Look for ones that are not dried or shriveled. This is a sign that they are old and have been at the store for a while.
Look for ones that don't contain a lot of water within the bag, this could change the texture a bit.
Try to get ones that are not too pudgy. These tend to have an off-flavor. Skinnier carrots tend to have the best flavor.
Once your purchase your carrots, I always like to take them home and wash them and store them in a plastic bag with a paper towel to absorb all the water.
The Best Carrot Recipes for Toddlers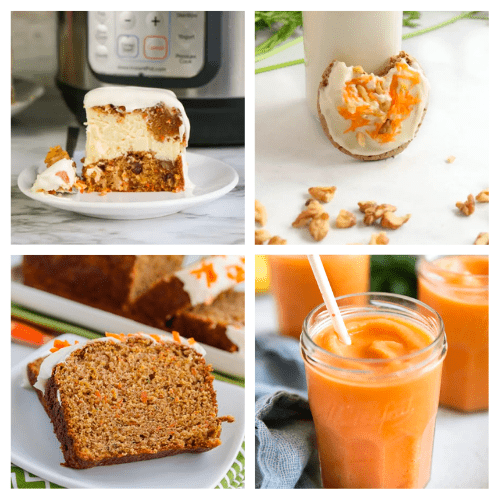 Instant Pot Carrot Cake Cheesecake by Frosting and Glue
Carrot Cake Mix Cookies by Confessions of Parenting. That's right! Add a little sweetness into carrot recipes for toddlers with our carrot cake mix cookies! They will love these!
Carrot Bread by Love from the Oven
Tropical Carrot Smoothie Recipe by The Forked Spoon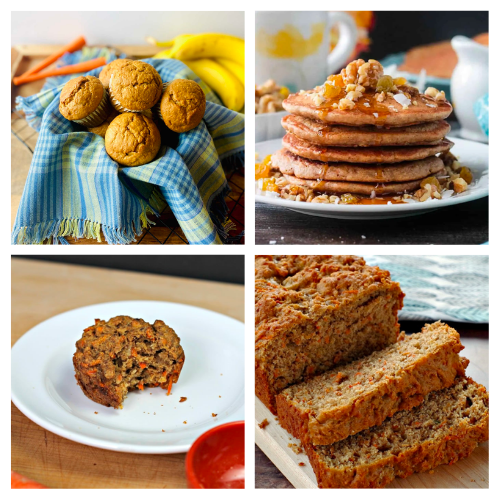 Banana Carrot Muffins by Aubrey's Kitchen
Carrot Cake Pancakes by Veggie Inspired
Vegan Carrot Oat Muffins by Veggie Inspired
Healthy Carrot Bread by Food Meanderings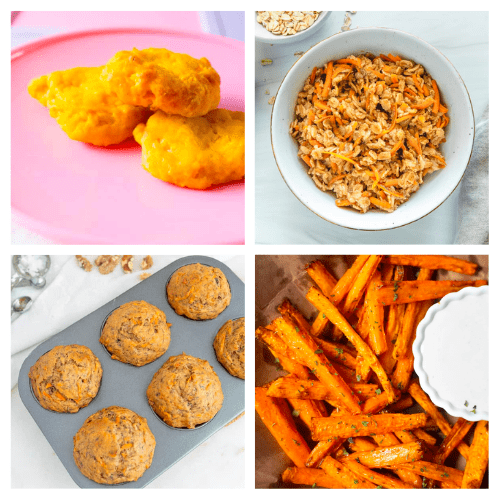 Soft Carrot Cookies, Dairy Free by Kidgredients
Carrot Cake Oatmeal by Plantbased on a Budget
Carrot Cake Muffins by Plantbased on a Budget
Air Fryer Carrots by Piping Pot Curry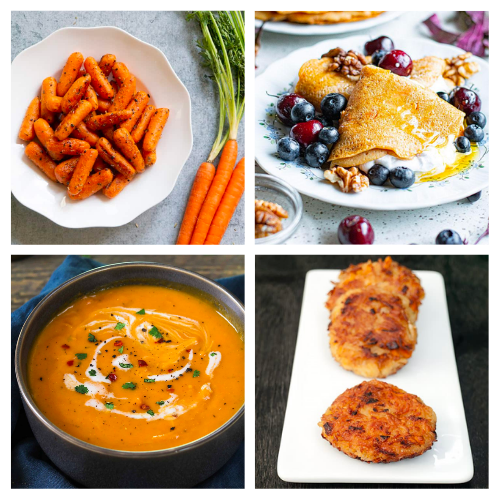 Garlic & Herb Carrots – Instant Pot by Piping Pot Curry
Carrot Cake Vegetable Crepes with Berries by xoxoBella
Vegan Carrot Ginger Soup by Vegan Huggs
Rice Patties Recipe with Carrots by Masala Herb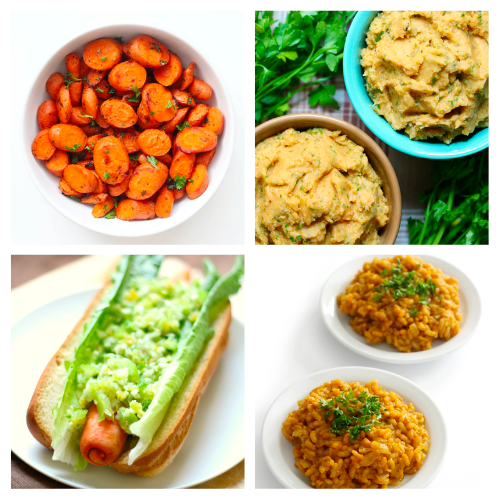 Easy Oven Roasted Carrots by Strength & Sunshine
Spicy Garden Carrot Hummus by Strength & Sunshine
Mexican Carrot Dogs With Chunky Salsa Verde by Strength & Sunshine
Creamy Vegan Carrot Risotto (Gluten-Free, Allergy-Free) by Strength & Sunshine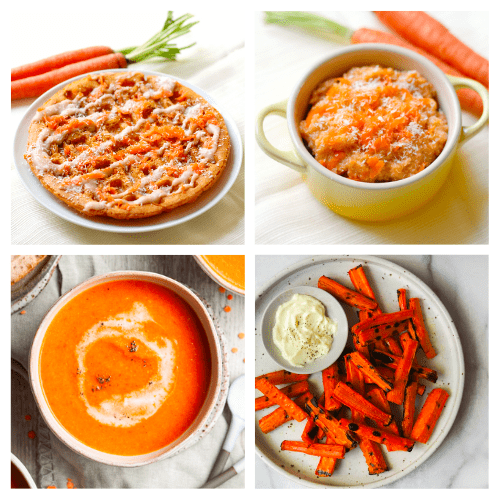 "Secret Ingredient" Carrot Cake Waffles by Strength & Sunshine
Carrot Cake Quinoa Flakes by Strength & Sunshine
Spiced Carrot And Lentil Soup by Mrs Jones's Kitchen
Carrot Fries With Chipotle Aioli by The Healthy Epicurean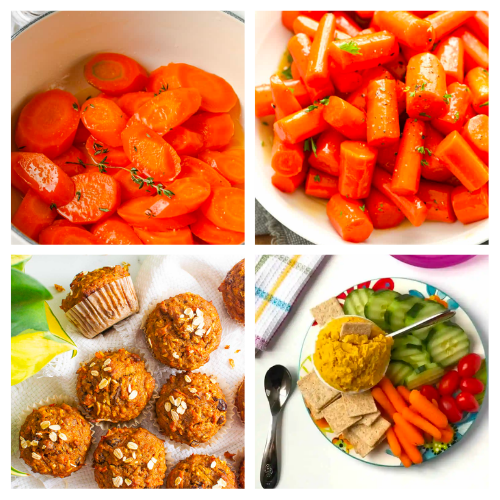 Honey Glazed Carrots by Spend With Pennies
Buttery Glazed Carrots by Spend With Pennies
Healthy Morning Glory Muffins by ifoodreal
Sunshine Carrot Dip by On My Kids Plate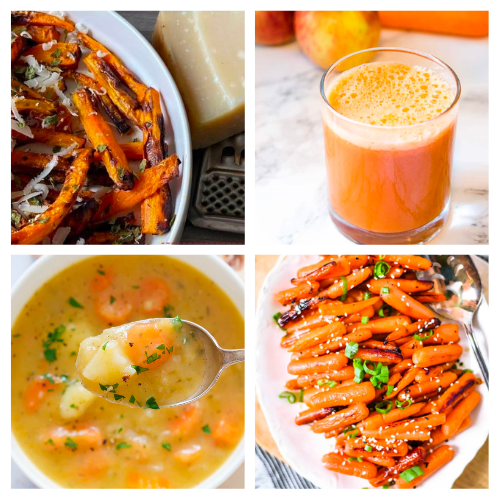 Air Fryer Carrot Chips by Recipe This
Apple Carrot Juice by Fantabulosity
Carrot Potato Soup by The Clever Meal
Ginger Honey Roasted Baby Carrots by The Gingered Whisk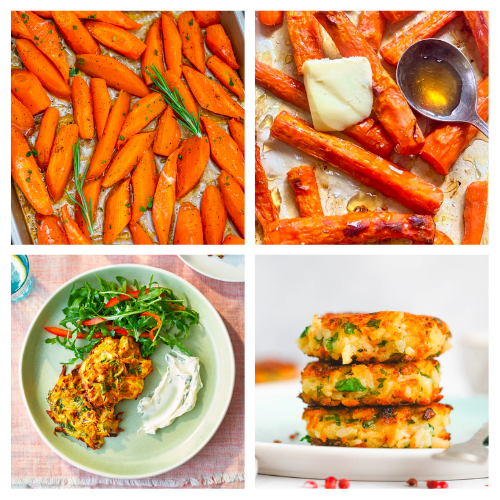 Brown Sugar Roasted Carrots by Sweet & Savory Meals
Honey Butter Roasted Carrots by The Family Food Kitchen
Carrot Patties by Emily Leary
Vegan Potato Cakes With Carrot And Rice by Little Sunny Kitchen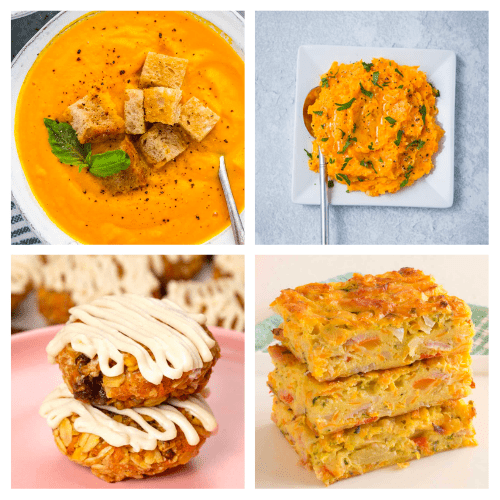 Roasted Carrot Soup by Little Sunny Kitchen
Carrot and Parsnip Mash by Greedy Gourmet
Carrot Cake Cookies Recipe by Healthy Recipes 101
Zucchini and Carrot Slice by Recipe Pocket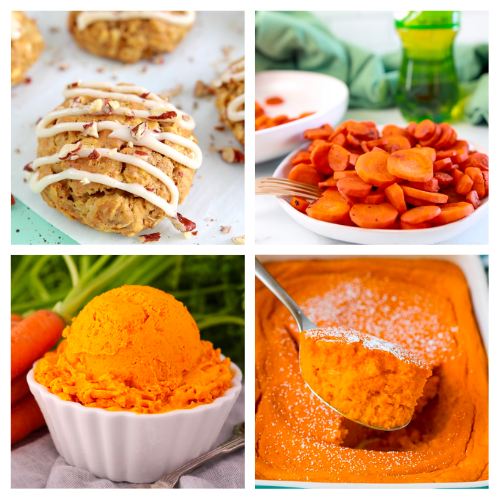 Carrot Cake Oatmeal Cookies by The Soccer Mom Blog
Ginger Ale Carrots by The Soccer Mom Blog
Carrot Ice Cream by Keep Calm and Eat Ice Cream
Carrot Souffle by Dinner at the Zoo